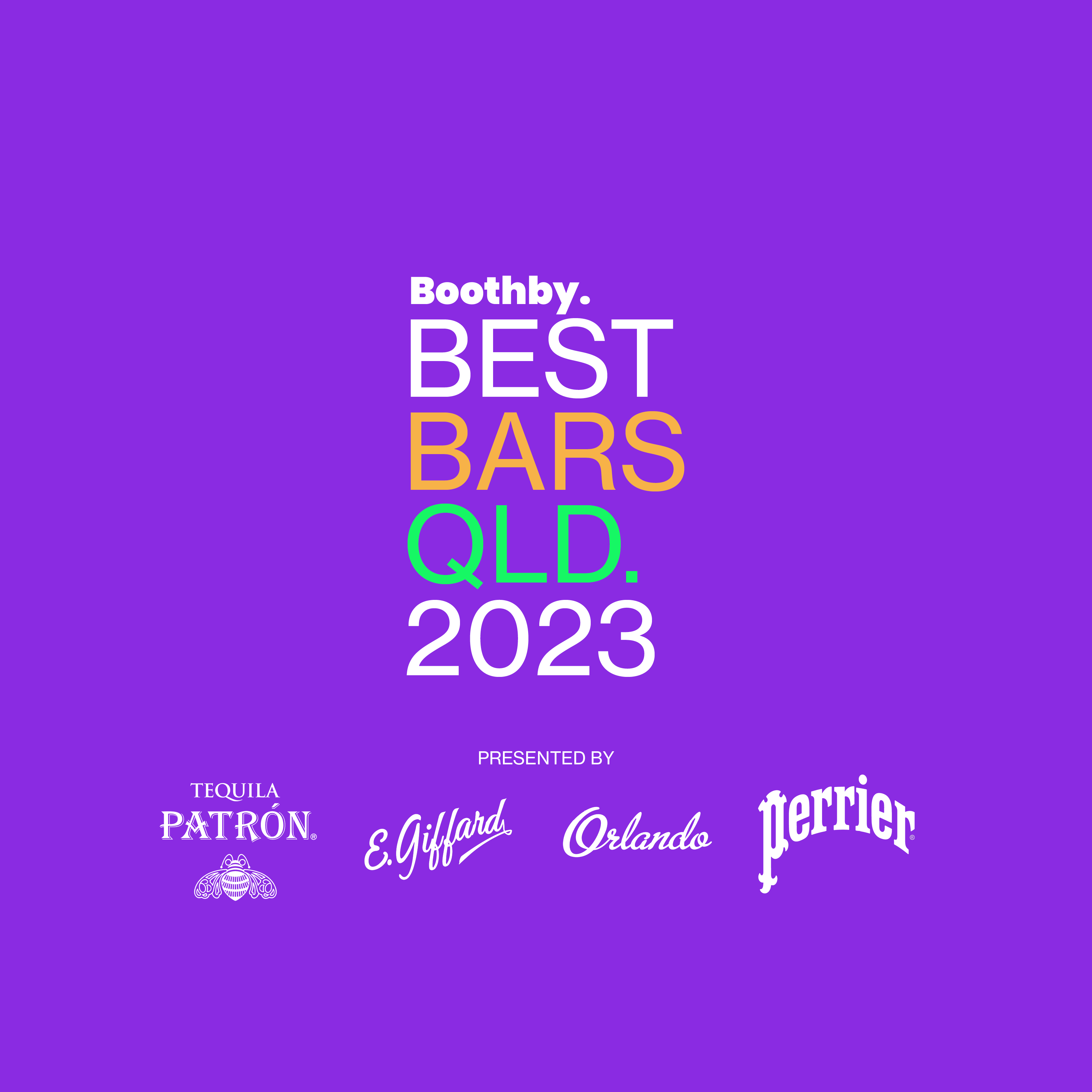 What makes a great bar? We asked the best of Queensland's bar industry to point the way.
What makes a great bar? There's the hospitality, first and foremost — it helps, too, if the drinks are delicious. You want a well designed place, somewhere it's nice to spend some time in — you want atmosphere, experience, and a good time.
But I think you also want a sense of place. That's what the Boothby Best Bars awards are about, and we're kicking off this feature with the best bars in Queensland.
We asked bartenders and bar owners to nominate the bars they think are best in their state. And then we polled a select group of them — elite bartenders, influential bar operators, and the smartest bar industry figures — to find out how the rankings should look. The result? The Boothby 30 Best Bars QLD.
Some 30 percent of the bars are outside of the state's capital city, Brisbane, and you'll find the best bars in Cairns, the Sunshine Coast, Toowoomba, Townsville, and the Gold Coast below. We've also awarded five major awards: the Best Bar in QLD sponsored by Giffard; the Best New Bar QLD sponsored by Patrón Tequila; the Best Cocktail Bar QLD sponsored by Perrier; Person of the Year QLD sponsored by Orlando; and the All Time Great, to a high-placed bar on the list that has been operating for seven years or more.
Get a look at the list below.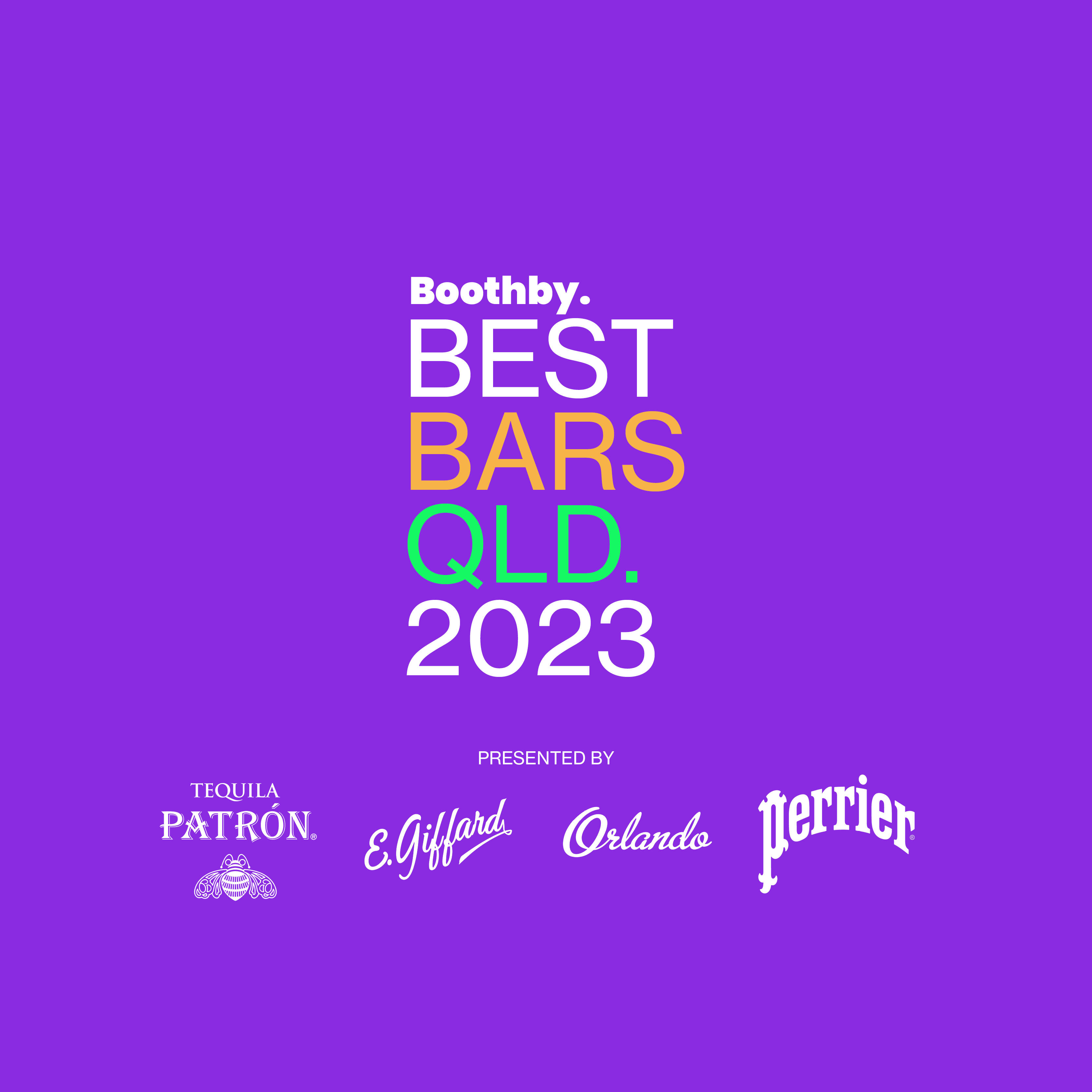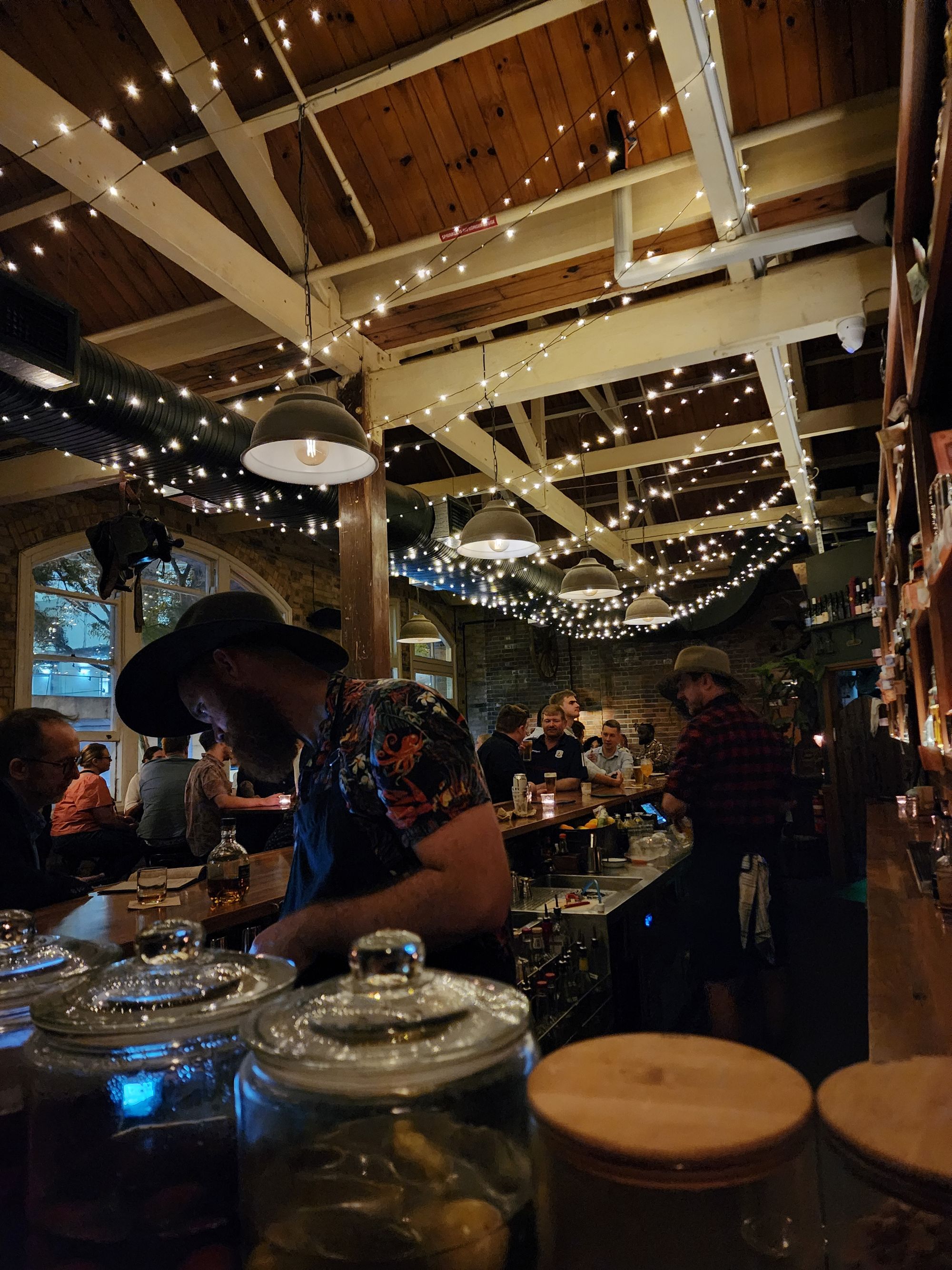 1. Frog's Hollow Saloon
26 Charlotte St, Brisbane City | Open in Instagram | frogshollow.com.au‌‌
THE 2023 BEST BAR QLD PRESENTED BY GIFFARD LIQUEURS‌‌‌‌
THE 2023 BEST NEW BAR QLD PRESENTED BY TEQUILA PATRÓN
Step into Frog's Hollow Saloon, and you're set for a good time. The bar opened in May of 2022, and is the product of three accomplished bartenders: Nick Winter (ex-Mjolner Melbourne, The Rockpool Group), Pete Hollands (ex-The Gresham, Bacardi), and the Darwin-based bartender and owner David Robinson.
They've quickly made a name for themselves not just in Brisbane, but around the country. Here, you're drinking whiskey — the cowboy hats and leather saddles on the wall remind you that they bill this place as a saloon — but you can also get a great cocktail (whether it's on their list, or not). That's because they've assembled one of the best bar teams in the city. It might be a new bar, but it feels like it has been here a long time. No surprise, then, that Frog's Hollow Saloon is the Best New Bar QLD, as well as topping this year's list at number one.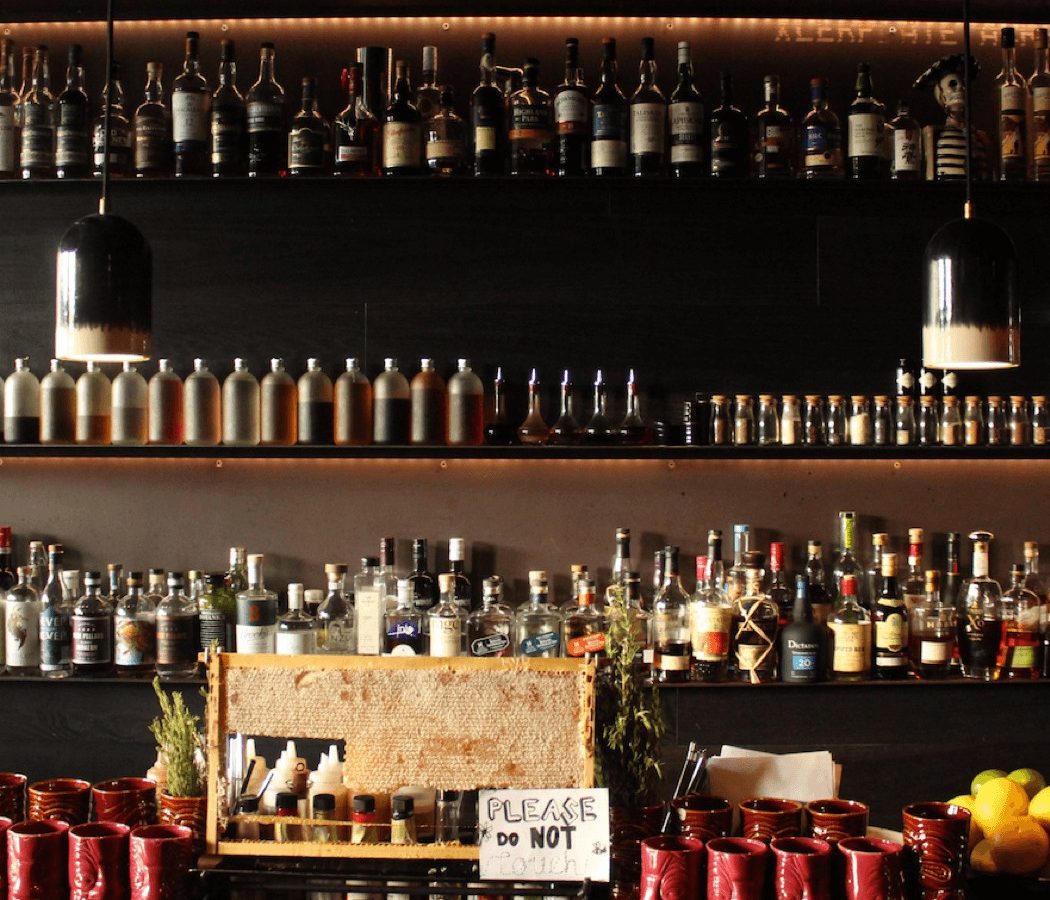 2. Maker
9 Fish Ln, South Brisbane | Open in Instagram‌‌‌‌
THE 2023 BEST COCKTAIL BAR QLD PRESENTED BY PERRIER
Maker still feels fresh and vital eight years after it opened in Fish Lane in South Brisbane. It's a small room with space for 20-odd guests, attracting regulars, pre-theatre goers, and those appreciative of the cocktailing arts.
Because the cocktails here are as good as you get anywhere in Australia. Bartenders Ed Quatermass and Ellery Low are maestros of layering flavour in the glass, with a short and smart list of cocktails on offer. But it's their laidback, unpretentious take on service — in a small, minimalist, almost very Melbourne space — that is refreshing, and keeps us coming back.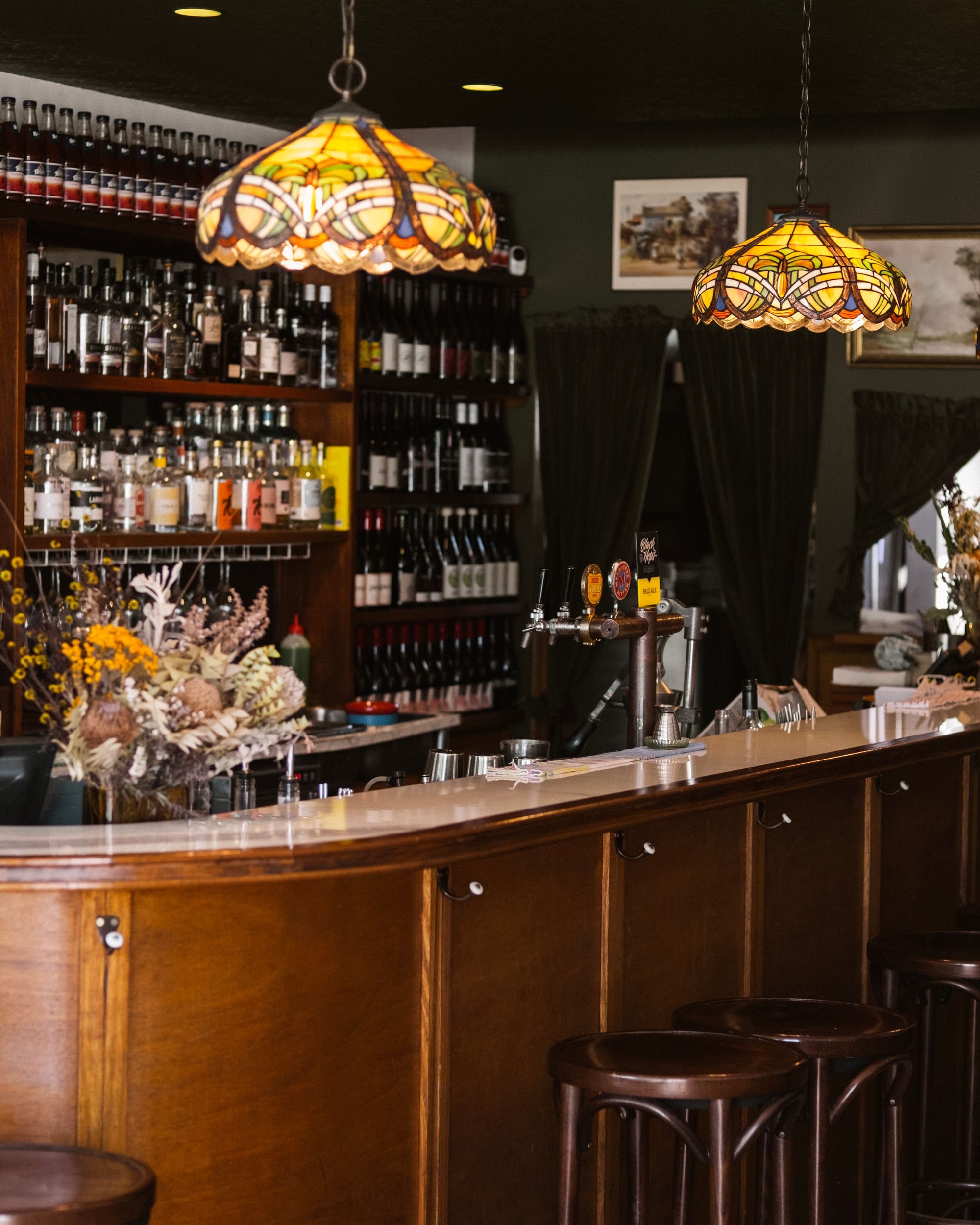 3. Rosella's
1734 Gold Coast Hwy, Burleigh Heads | Open in Instagram | rosellasbar.com.au‌‌
THE 2023 BEST BAR ON THE GOLD COAST
Rosella's is a little Gold Coast bar that is a big surprise. It's kind of kitschy, but not cringey, a cocktail bar with an Expo '88 atmosphere that makes modern, delicious drinks; their Blinky Bill cocktail (eucalyptus, strawberry gum, and lime leaf vodkas, with quandong gentian liquyeur, chardonnay verjus and aloe vera) uses hyper-local ingredients and modern carbonation techniqes, and ended up on the 2022 Drinks of the Year top 50.
In fact there is a strong emphasis on using local ingredients and Australian flavours wherever possible, with native fruits being preserved by the team for use when they're out of season, and pouring spirits that come from nearby distilleries.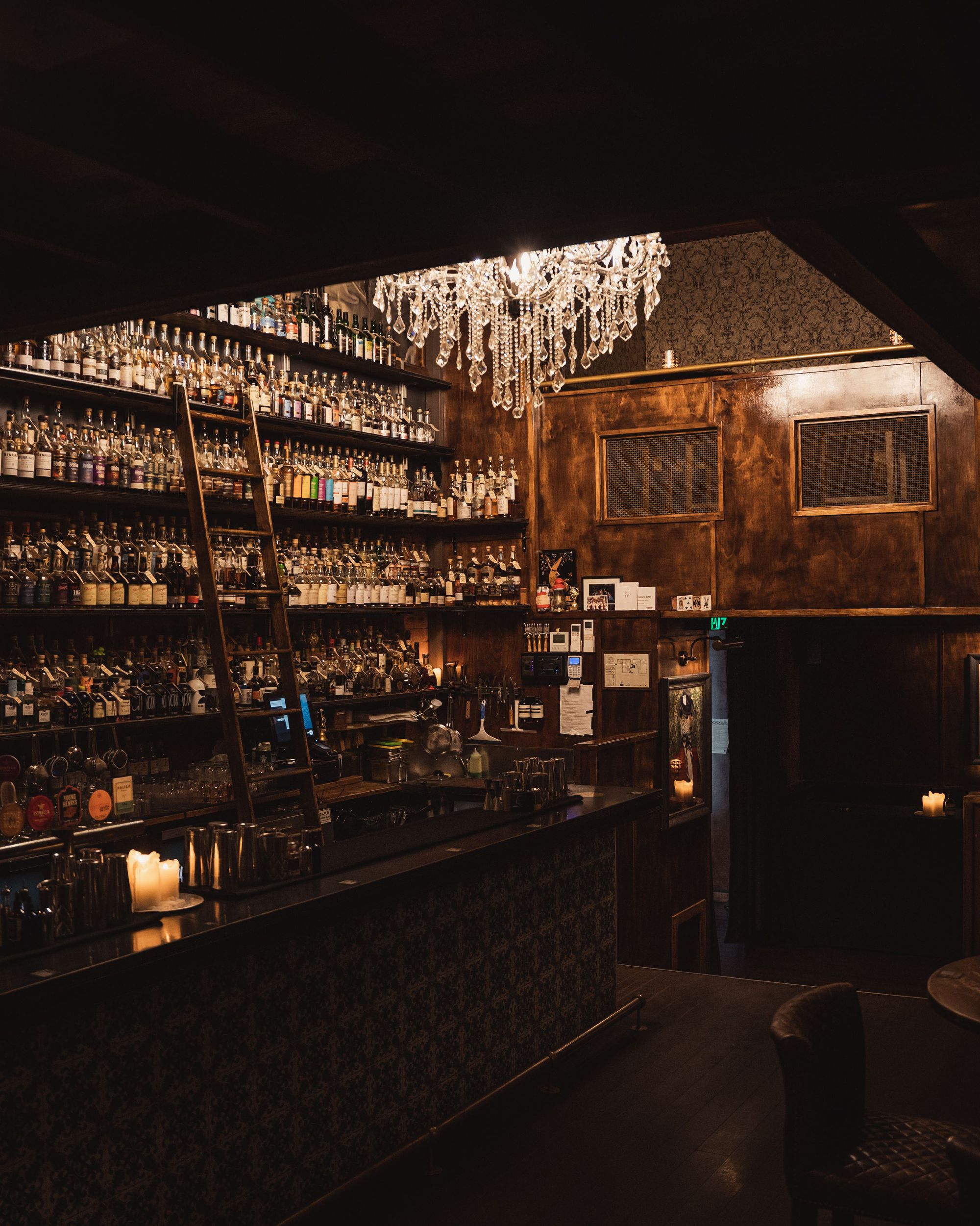 4. Savile Row
667 Ann St, Fortitude Valley | Open in Instagram | savilerowbar.com.au
Savile Row is the cocktail and whisky bar that sits behind the unmarked orange door on busy Ann Street in Fortitude Valley. Step inside, and you'll feel like you've left the mega pubs and nightclubs of the Valley for good.
TThe cocktails have always been good here, but there's something of a renewal going on; their latest menu, inspired by the bar's namesake of Savile Row in London, each of the 25 drinks are named for a piece of fabric (think Lace, Corduroy, etc) and presented in a hard bound book along with a swatch of each material. The breadth of drinks on the list means that there is something for everyone, but whisky lovers will rejoice when stepping up to the Savile Row bar: there are 1000 bottles of the stuff upon its shelves.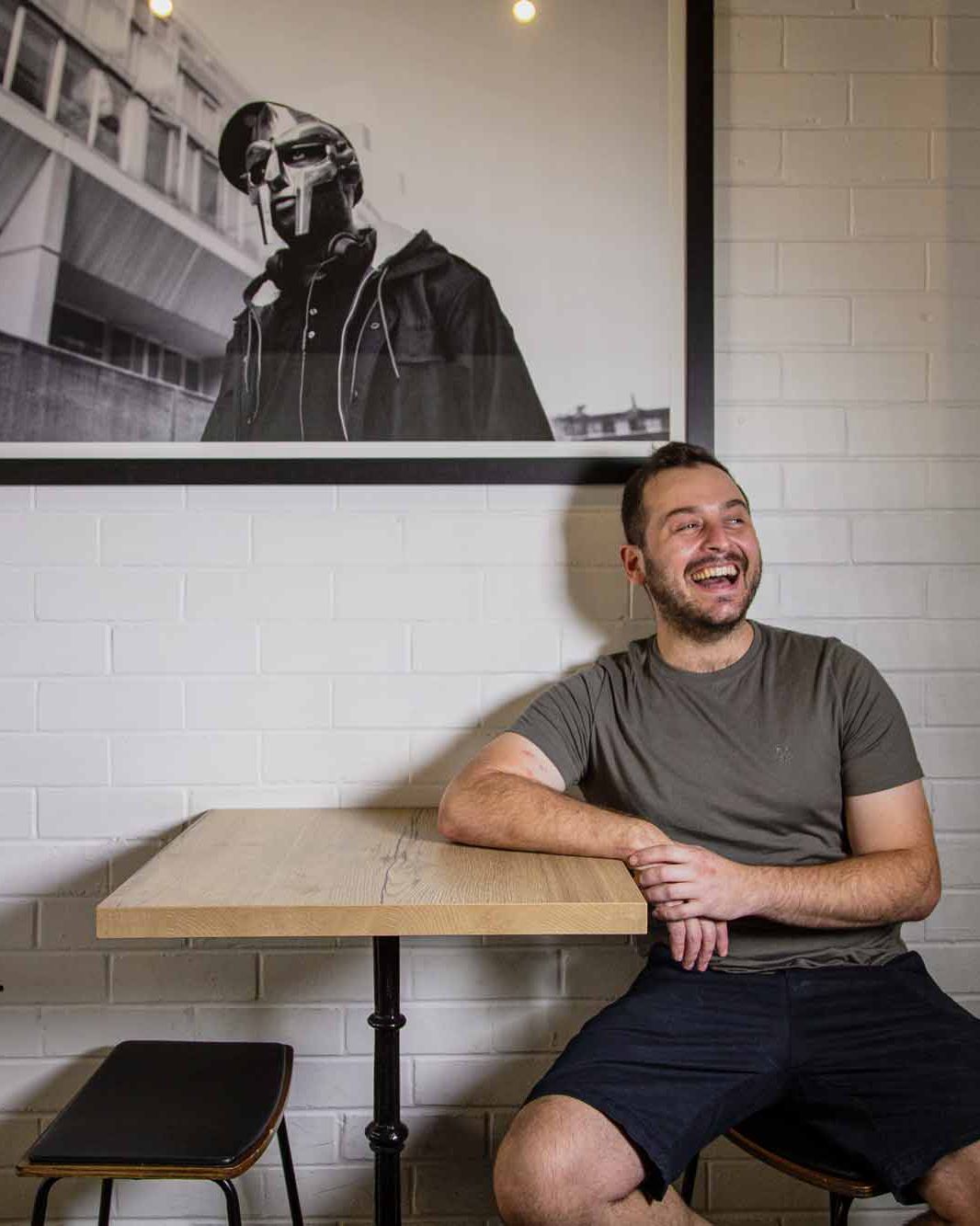 5. Alba Bar & Deli
34 Burnett Ln, Brisbane City | Open in Instagram | albabar.com.au
Sherry, hip-hop, and quality tinned goods from Spain and elsewhere — that's the very simple proposition from Alba Bar & Deli.
Located at the midpoint of Burnett Lane in the Brisbane CBD, and sandwiched between a Korean restaurant and the impressive Death & Taxes, Alba Bar & Deli comes from longtime bartender Jamie Fleming and is headed up by Cecile Schoen; you'll find smart food, well-crafted cocktails, and plenty of good things made from grapes: there are few finer things than a good glass of manzanilla sherry and some high-quality tinned anchovies, drunk and eaten at the bar right here.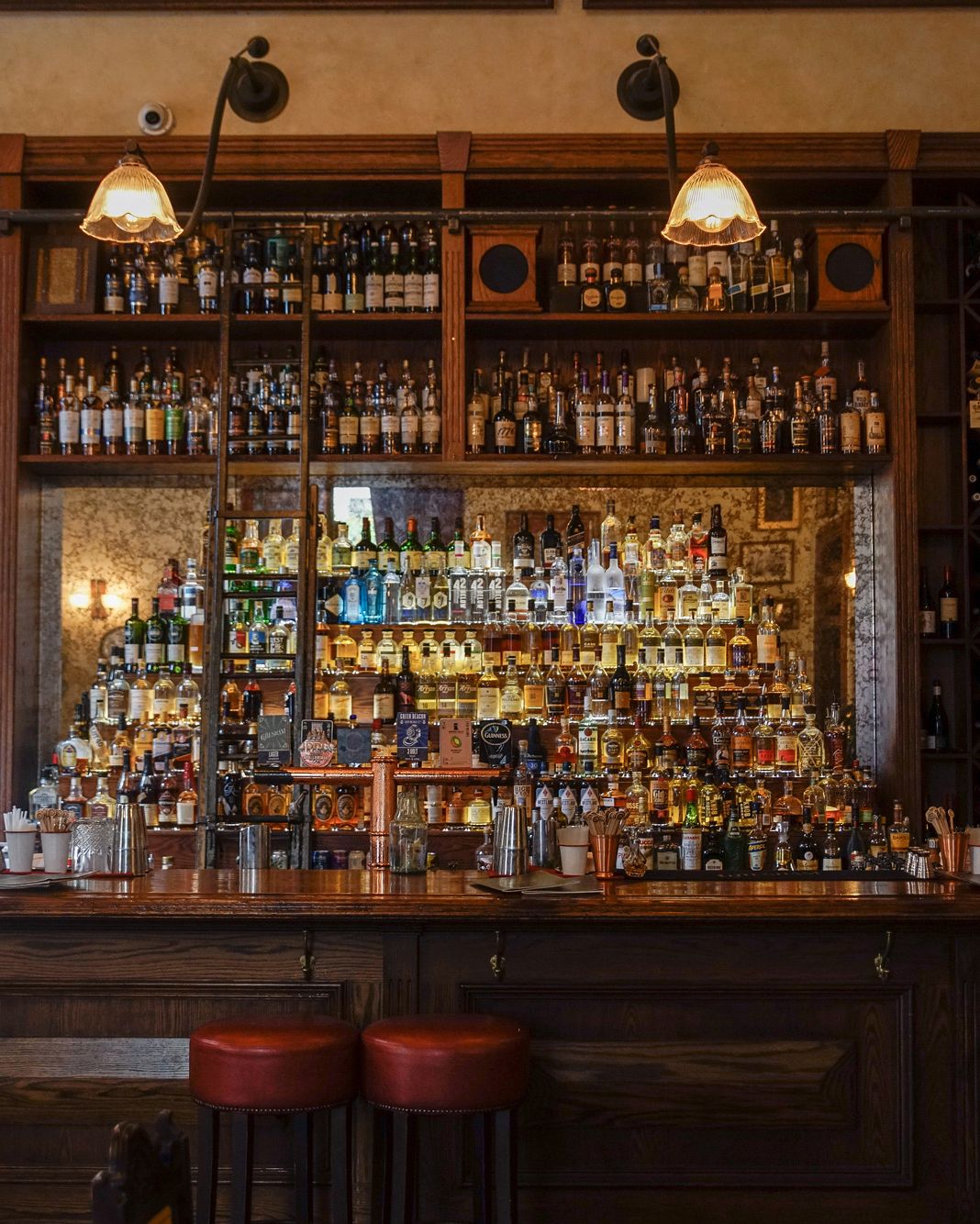 6. The Gresham
308 Queen St, Brisbane City | Open in Instagram | thegresham.com.au‌‌
THE 2023 ALL TIME GREAT QLD PRESENTED BY BOOTHBY
The Gresham is the bar that kicked off the revival of the Brisbane CBD 10 years ago, and post-Covid it's still going strong today. Run by former bartender of the year, Dan Gregory, and with a focus on whiskey, the cocktail game here has stepped up in recent years. There's a young team of generous bartenders behind the stick, table service is the order of the day, and it's still one of the best looking bar rooms anywhere in Australia. It's an All Time Great for a reason.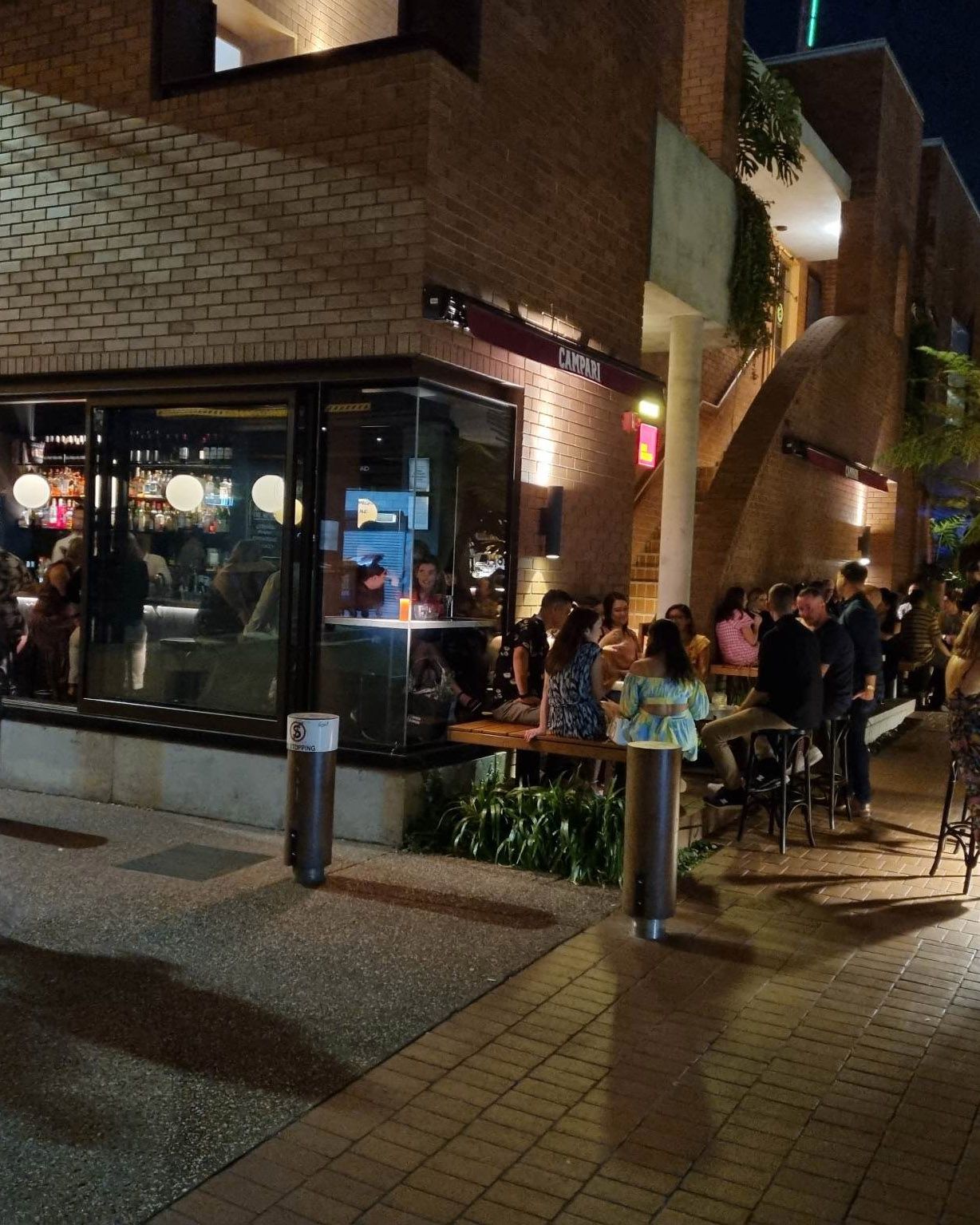 7. Bar Brutus
62/49 Melbourne St, South Brisbane | Open in Instagram | barbrutus.com.au
You folks like your amaro, right? Bar Brutus is a relative newcomer to the Brisbane scene and sits in Fish Lane across the road from Maker. The talented bartender Liam Shepherd is in charge here, overseeing a smart-looking bar with a focus on aperitivo-style drinks and a healthy selection of amaro.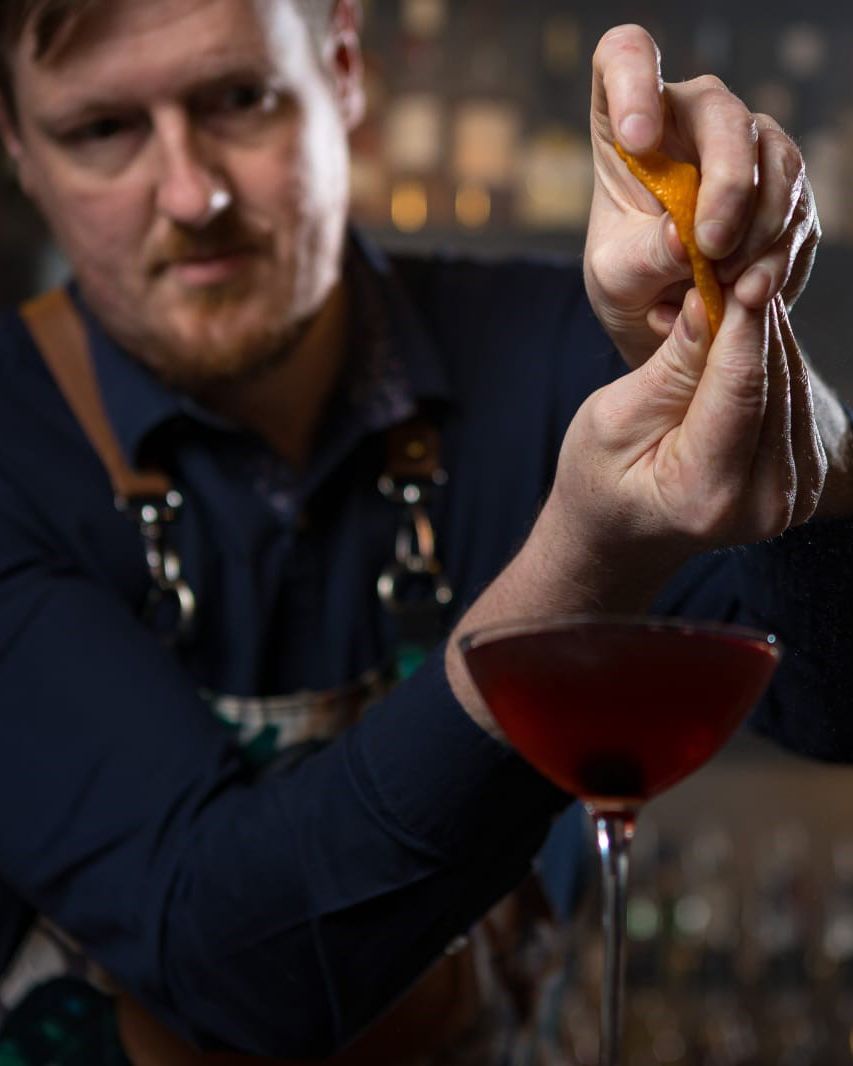 8. Santé Cocktail Bar
14 Duggan St, Toowoomba City | Open in Instagram | santecocktailbar.com.au‌‌
THE 2023 BEST BAR IN TOOWOOMBA
Alexandra Percy and Loic Michelin are the owner-operators of this Toowoomba cocktail bar. It's a small, warm and inviting bar with rich timber tones and exposed brick, but it's their skill with the tins that has seen Santé — that's cheers, in French, by the way — pick up the accolades.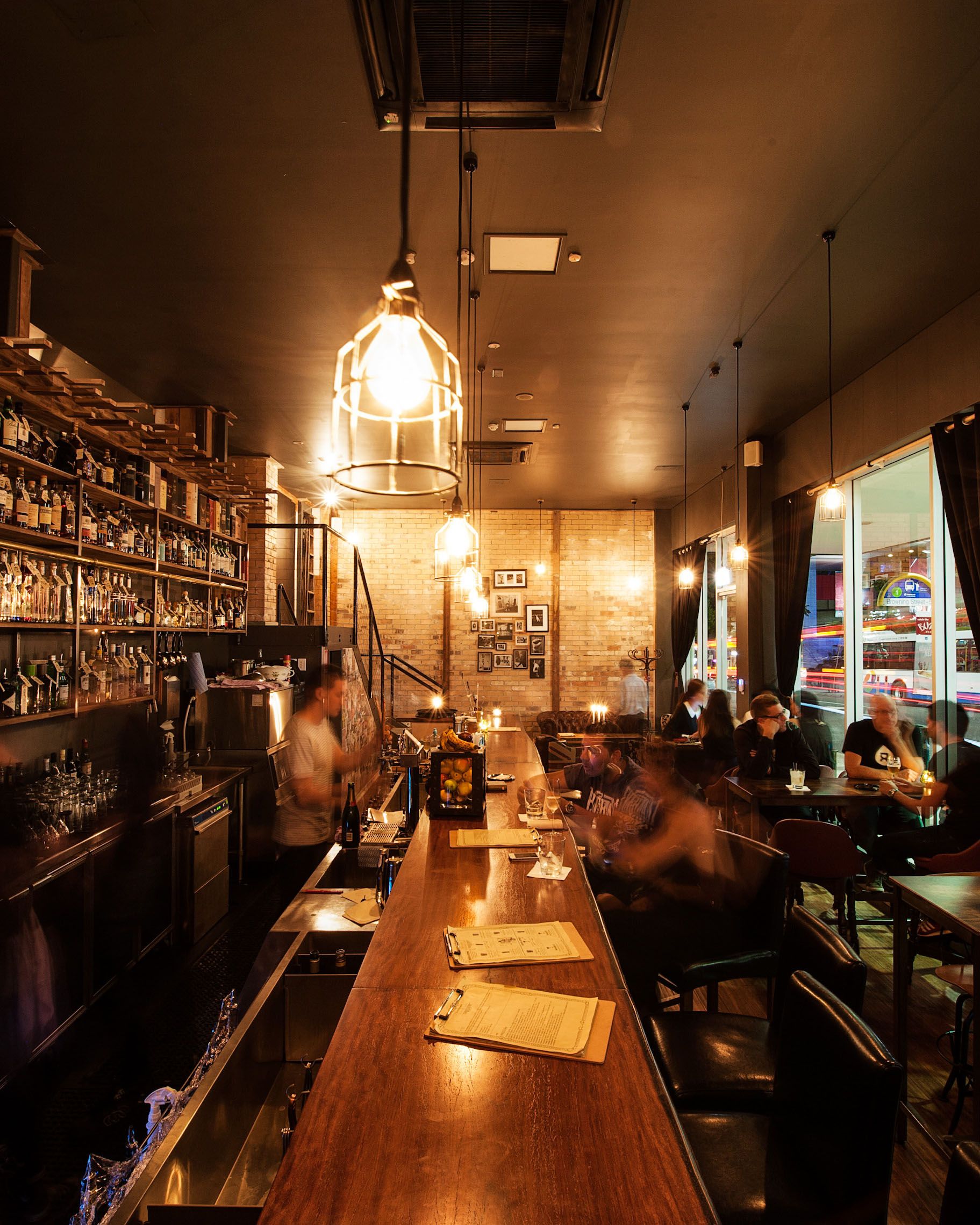 9. Cobbler
7 Browning St, West End | Open in Instagram | cobblerbar.com
There's a lot of whisky, and many whisky bars, in Brisbane. But Cobbler and its Scotch whisky focus was there at the very start. It's a neighbourhood bar, opened by bartender Martin Lange back in 2013 in West End, and the scale of its whisky ambitions has always been impressive: multiple bottlings from distilleries, independent bottlings, whiskies you can't get elsewhere. But it's also a cocktail bar, and one that has turned out some of the city's best bartenders throughout the years. The latest generation behind the stick there continue its tradition of having personable, talented barkeeps dedicated to giving you a good time.
10. The End
73 Vulture St, West End | Open in Instagram
Neighbourhood joint The End does precisely what you want a great nighbourhood bar to do: they treat their guests like locals,  fostering a community around them; they love good wine and drinks and offer up some delicious cocktails, too. There are regular events (trivia and karaoke feature here), and after 12 years of service to West End, a very good time to be had.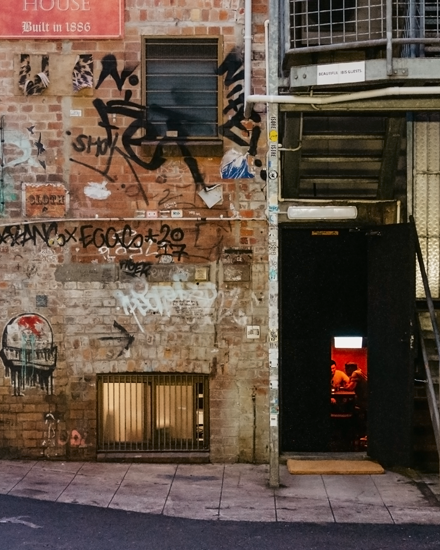 11. Before + After Bar
181 George St, Brisbane City | Open in Instagram
The clue here is in the name: Before + After is an amaro bar, and that's the idea with amari; you drink them before a meal, and after a meal. Set in a basement, down an alleyway in the Brisbane CBD, Before + After offers an intimate space and the talents of bartender and owner George Curtis. There's also a load amari the likes of which you won't have tasted before — your best bet is to ask George to take you on the journey — you're gonna like the trip.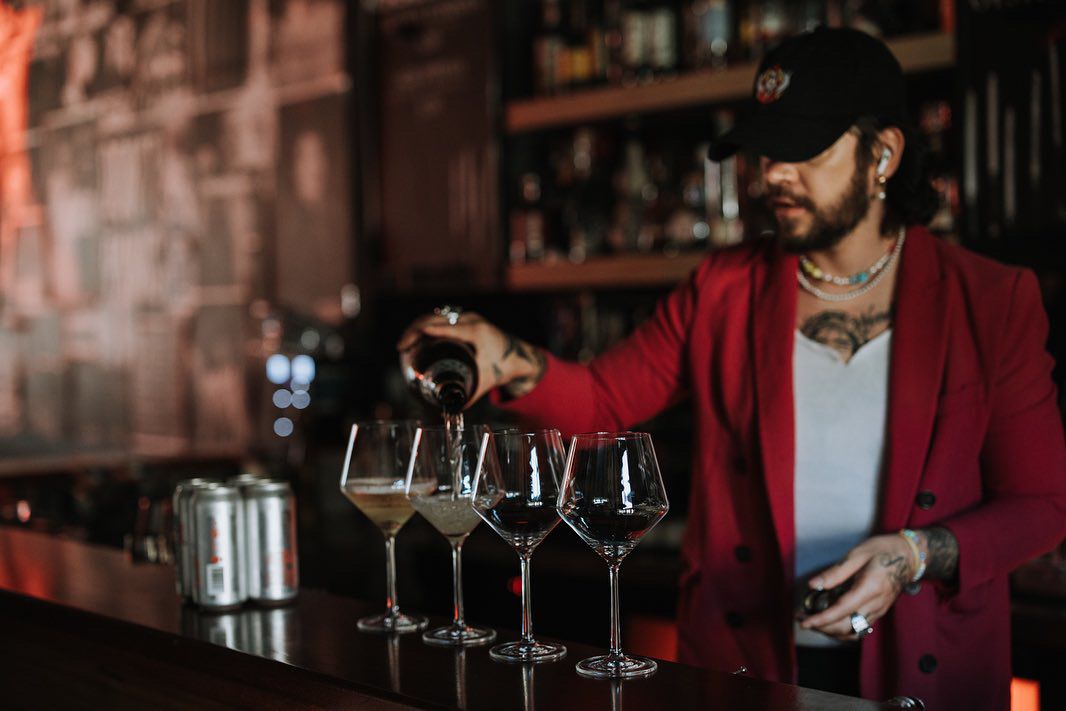 12. Queens
368 Brunswick St, Fortitude Valley | Open in Instagram
Queens is loud, it's brash, a gleaming, sparkly mirrorball bringing disco and life to the Valley. Owner and bartender (and sometime DJ) Kyle Weir just wants everyone to have a good time. This is an atmospheric place, and there's plenty of good things to drink (whether that's natty wine, craft beer, or well-constructed cocktails).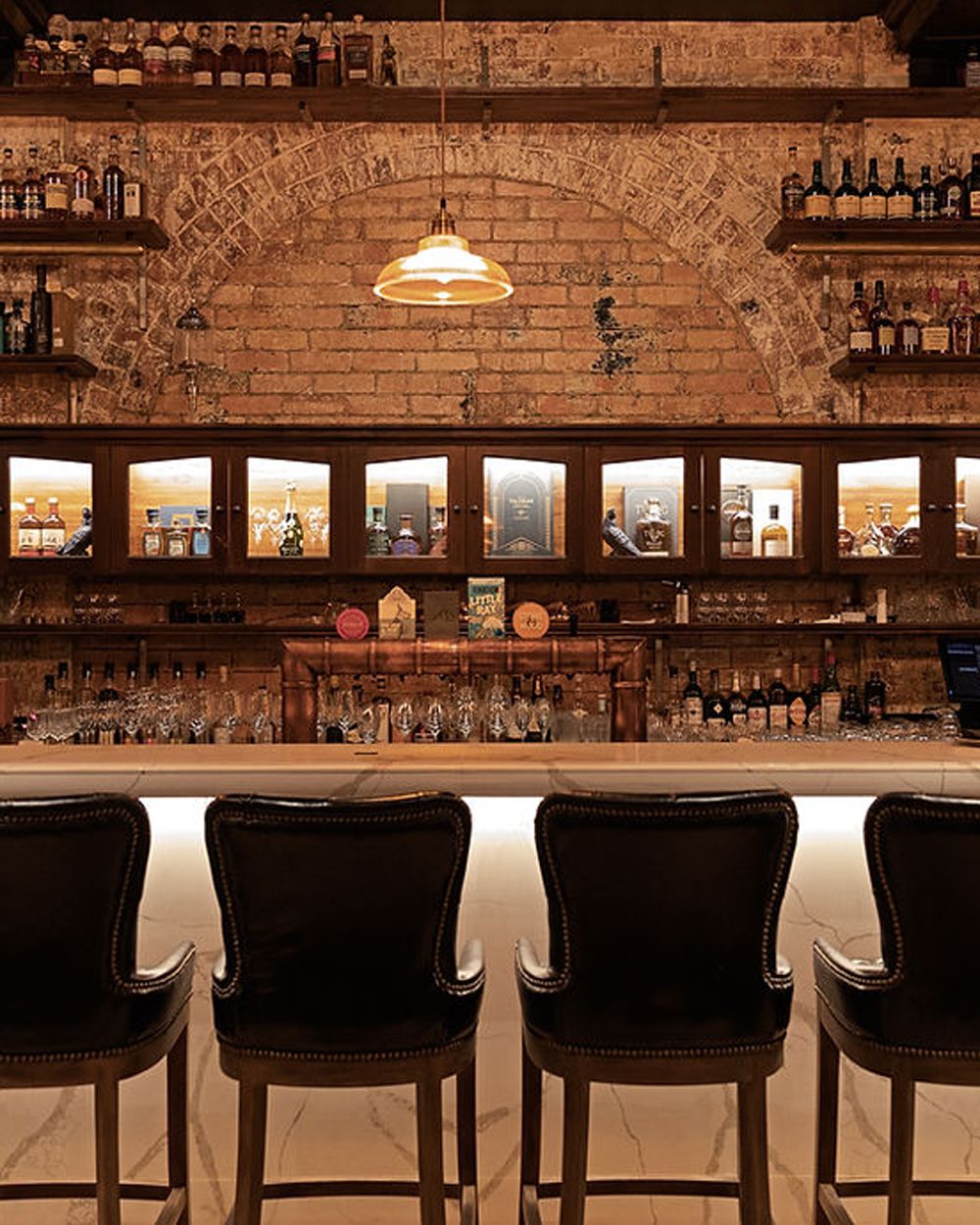 13. Dr Gimlette
109 Edward St, Brisbane City | Open in Instagram | drgimlettebar.com.au
Another bar from the ownership group of Wiebke and Martin Lange, and Blake and Belle Ward, Dr Gimlette opened in 2021  with a focus on providing superlative cocktails. The cocktails here take inspiration from the bar's namesake, Rear-Admiral Sir Thomas Gimlette, who is said to have been the one who first added lime to the British navy sailor's daily gin ration as a means of warding off scurvy (and which would eventually result in the Gimlet).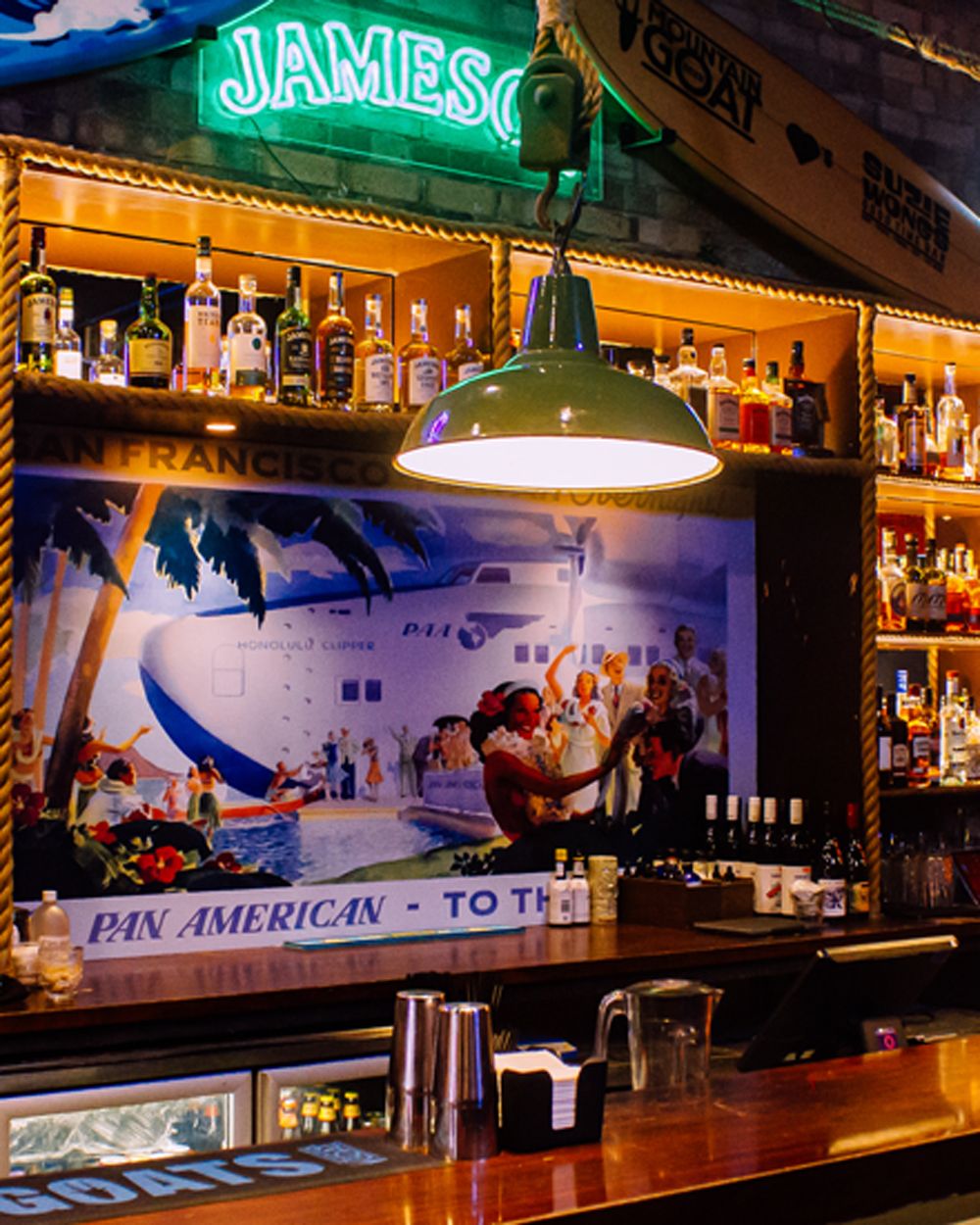 14. Suzie Wongs Good Time Bar
678 Ann St, Fortitude Valley | Open in Instagram | suziewongs.com.au
From the team behind Brooklyn Standard, this Fortitude Valley bar is all about having a good time. There's some tasty drinks on the list at this Hawaii-inspired joint, but you're here for party atmosphere, with live music five nights a week — the perfect pairing to a tall glass of their OG Colada.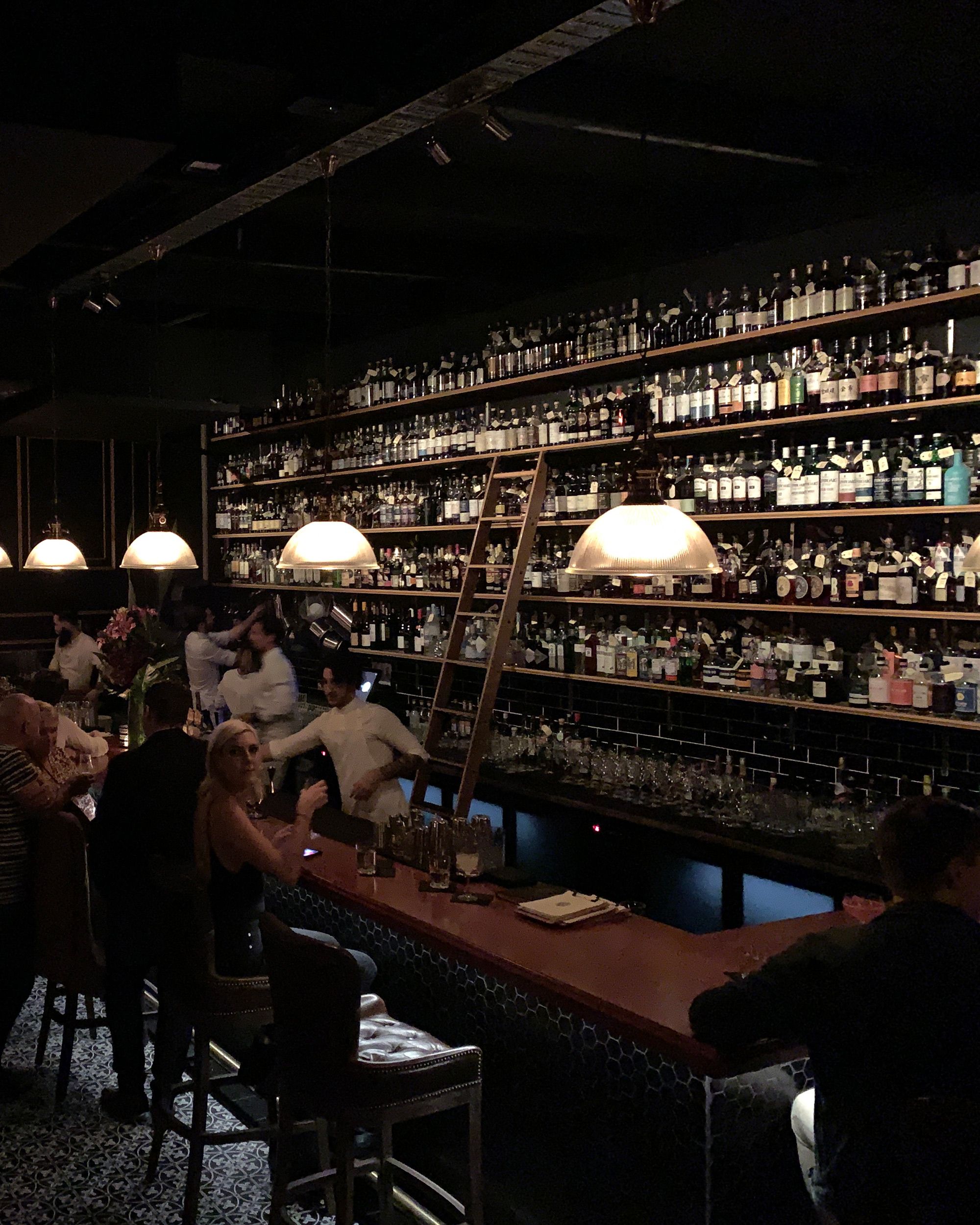 15. Death & Taxes
36 Burnett Ln, Brisbane City | Open in Instagram | deathandtaxesbar.com.au
Brisbane cocktail bar Death & Taxes opened in the Before Times of April 2019, and quickly established itself as one of the leading lights of the city's bar scene. There's a more than impressive back bar here, highlighting co-owner Martin Lange's love of whisky, and a smart cocktail list of signature drinks — the best part is, they're one of the few CBD cocktail bars open on a Sunday, too.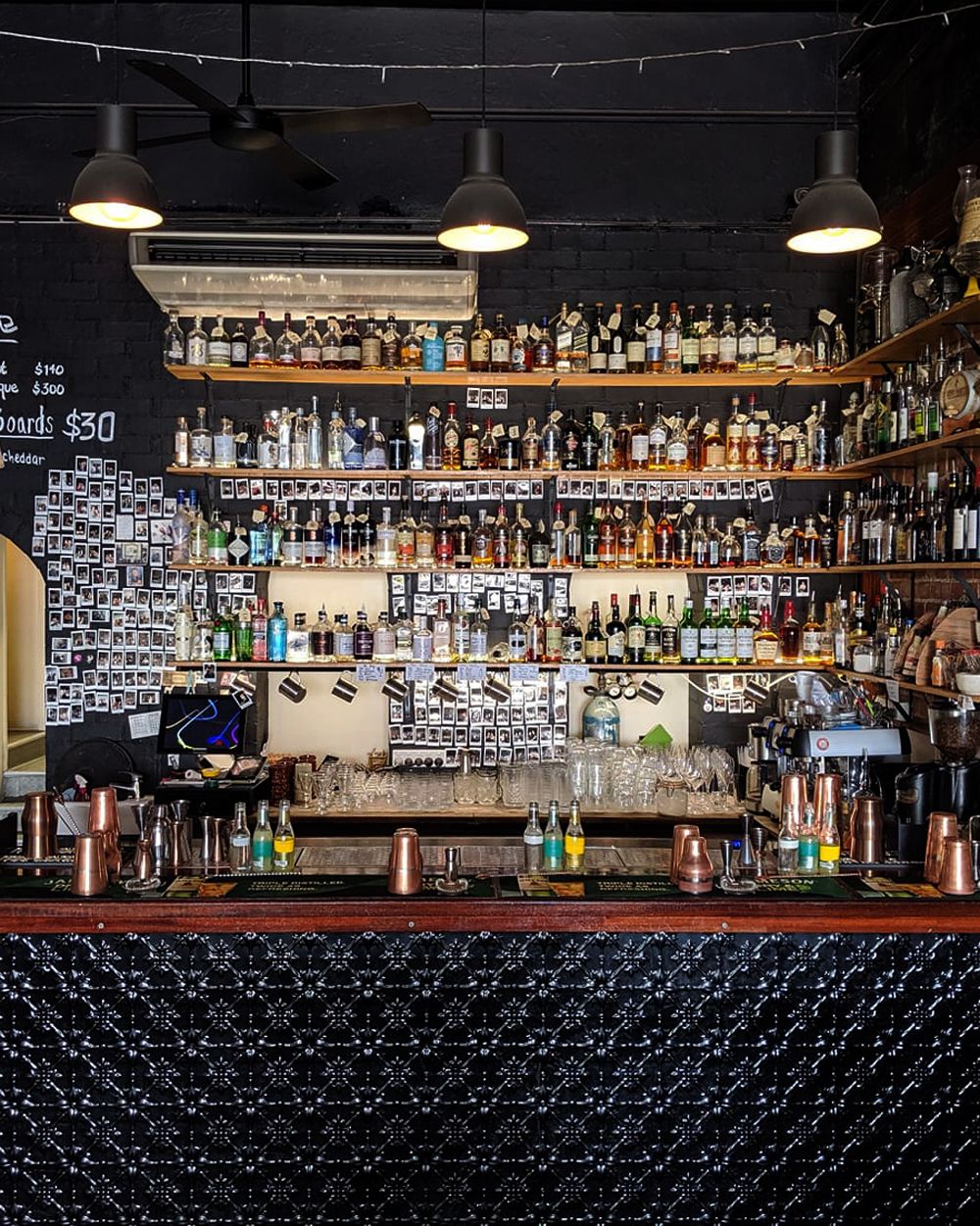 16. Hooch & Fellow
181 Flinders St, Townsville | Open in Instagram‌‌
THE 2023 BEST BAR IN TOWNSVILLE
Owner and bartender Josh Agostino has been fighting the good fight, making proper cocktails in Townsville for over a decade, and Hooch & Fellow is where he does it. It's a small, intimate bar, with great hooch on the shelves and bartenders who know how to mix a good drink.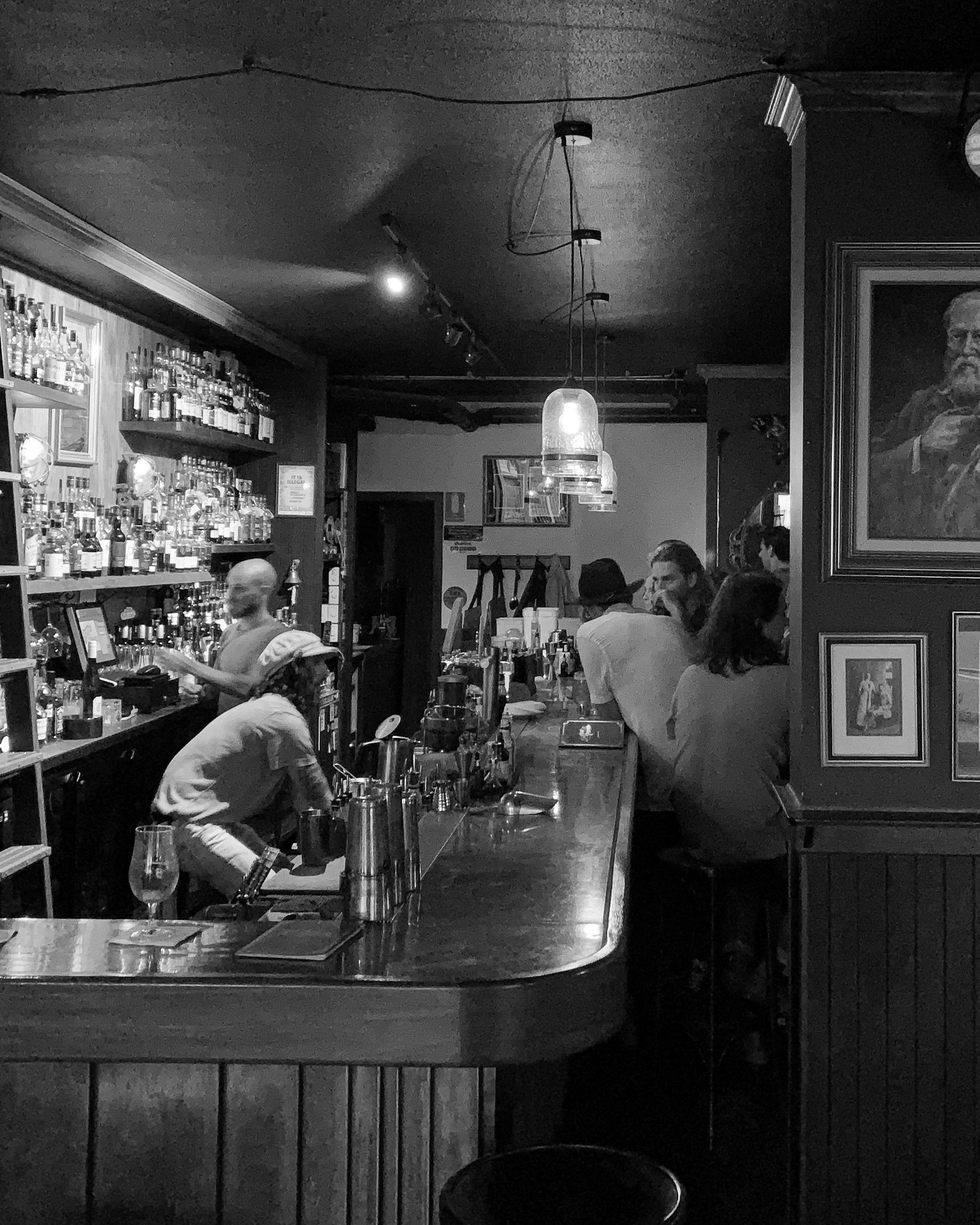 17. The Scottish Prince
27/1176 Gold Coast Hwy, Palm Beach | Open in Instagram | thescottishprince.com.au
The Scottish Prince is a Gold Coast bar that bets big on whisky. They've got a large offering of single malt, but you'll be able to satisfy your cocktail needs here too. Events and live comedy are also a regular fixture at the bar, along with some traditional Scottish eats.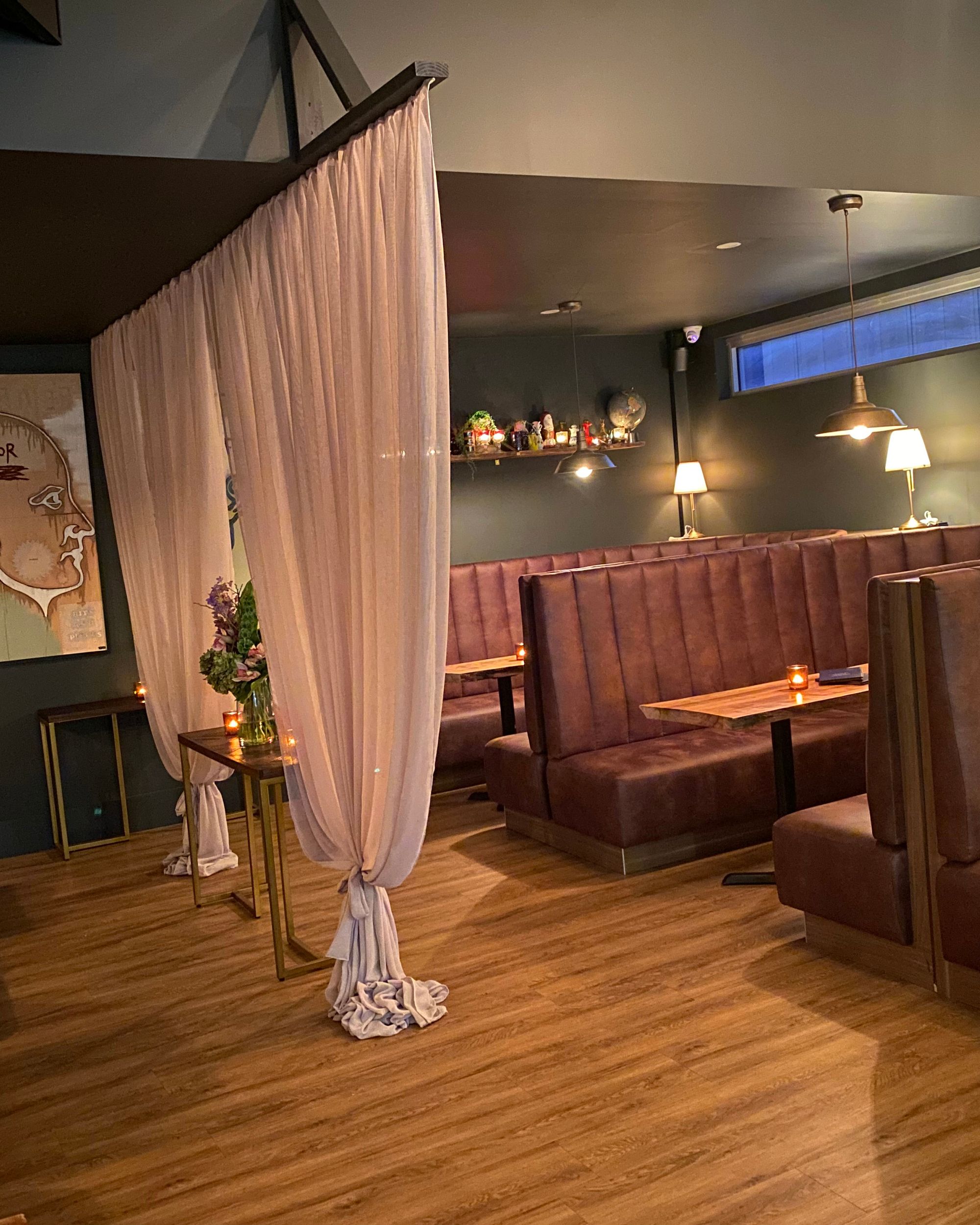 18. OverProof
14 Duggan St, Toowoomba City | Open in Instagram | proofbbq.com
OverProof is the Toowoomba bar from veteran bartender and former GM of Brisbane's The Gresham, Ryan Lane. It sits above his meat-centric restaurant, Proof BBQ & Booze, and has a focus on whisky from around the world, and cocktails made using local ingredients.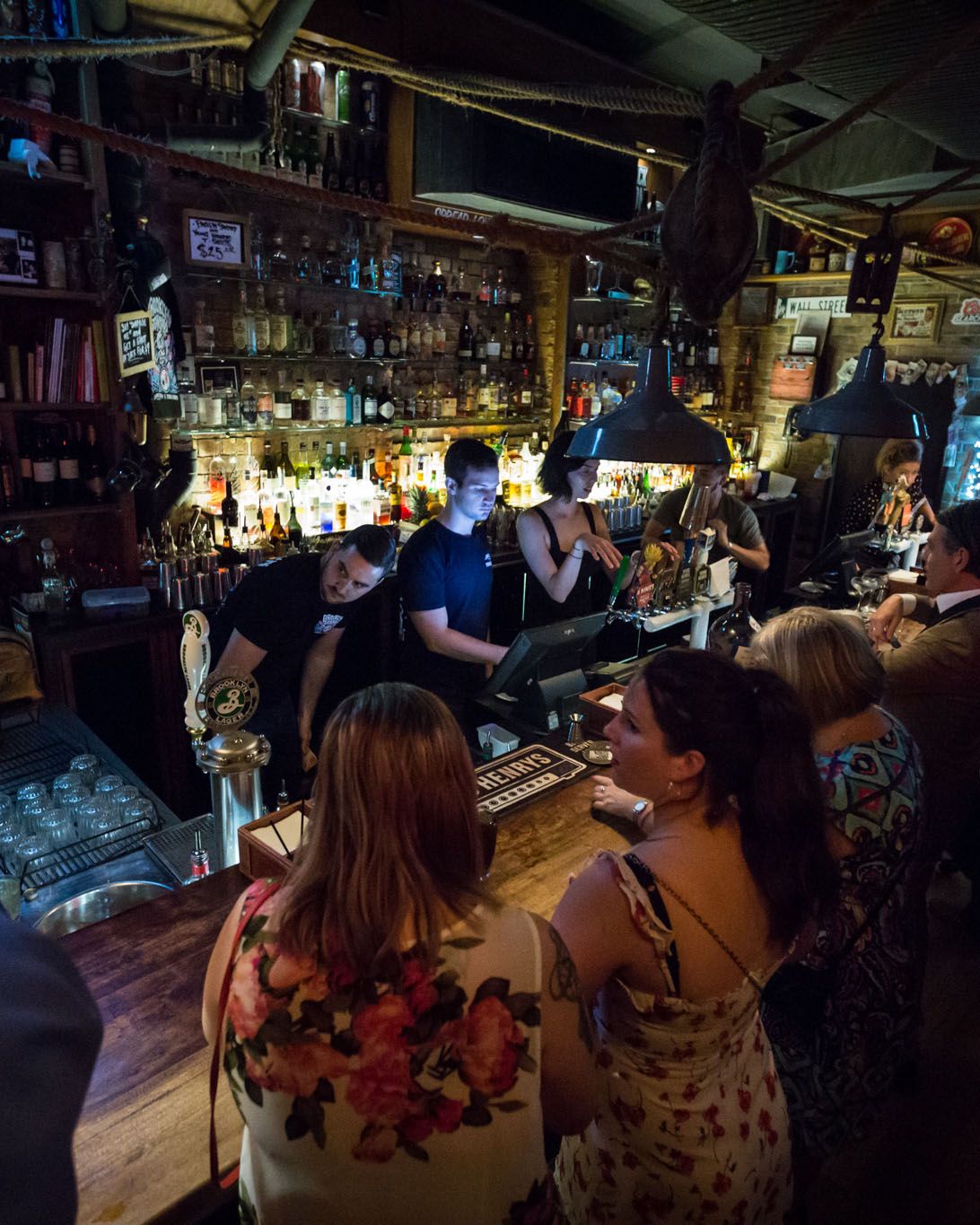 19. Brooklyn Standard
Eagle Ln, Brisbane City | Open in Instagram | brooklynstandard.com.au
Brooklyn Standard is the Brisbane City bar that has been keeping the party going since 2014. The place opened when much of the CBD was a ghost town, and has been a big part of the city's revitalisation; they've got live music playing five nights a week, and combine that with tasty drinks and a fun, unpretentious approach to service.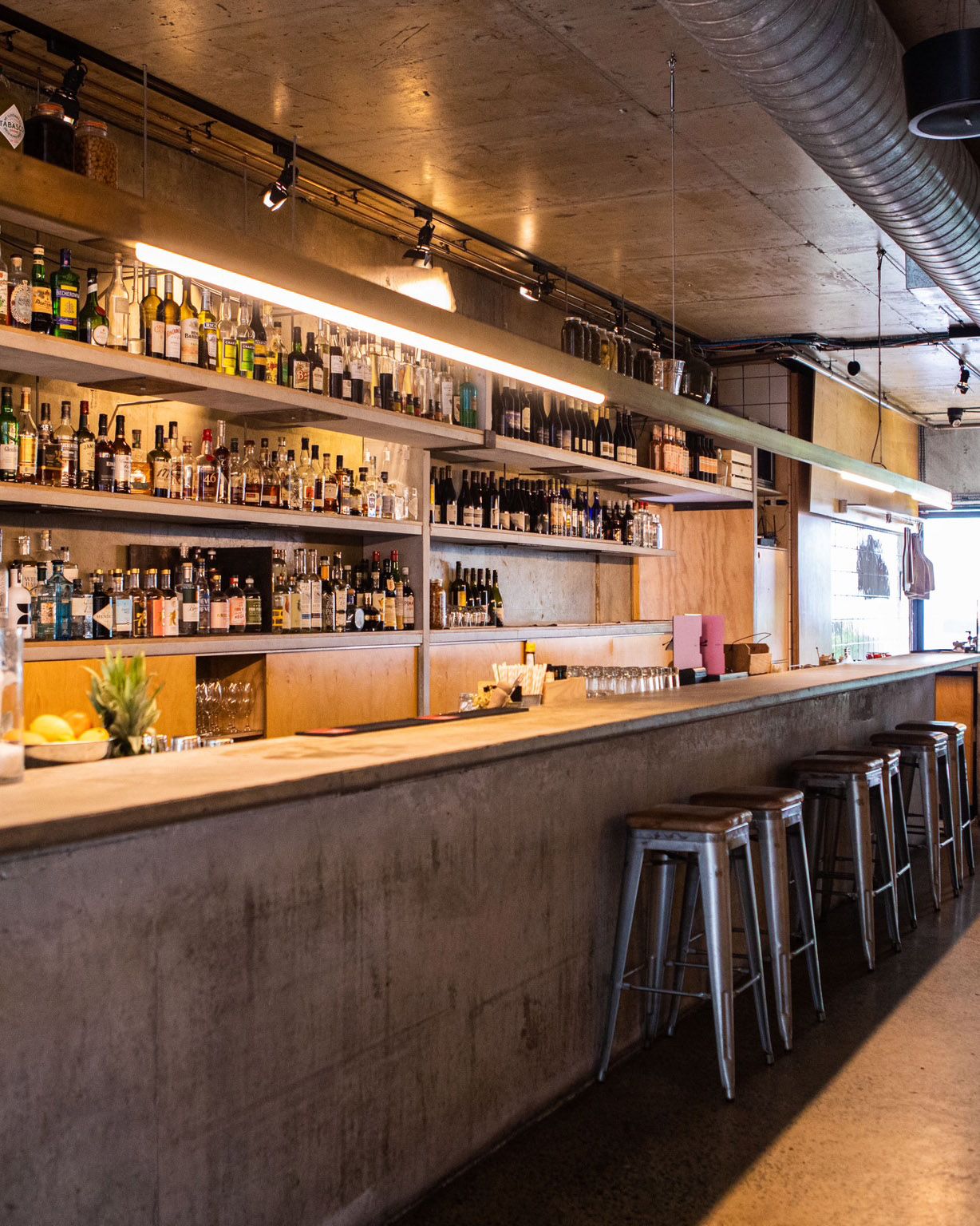 20. Gerard's Bar
13A/23 James St, Fortitude Valley | Open in Instagram | gerardsbar.com.au
Gerard's Bar opened in Fortitude Valley in 2014, the companion bar to the nearby popular restaurant, Gerard's Bistro, from owners Elie, Mel, and Johnny Moubarak. Since opening, the food focus of the bar has grown to include more of the Middle Eastern touches that the bistro is known for, but what hasn't changed much is the space: it remains an attractive, industrial chic room with a striking, long bar to sit at.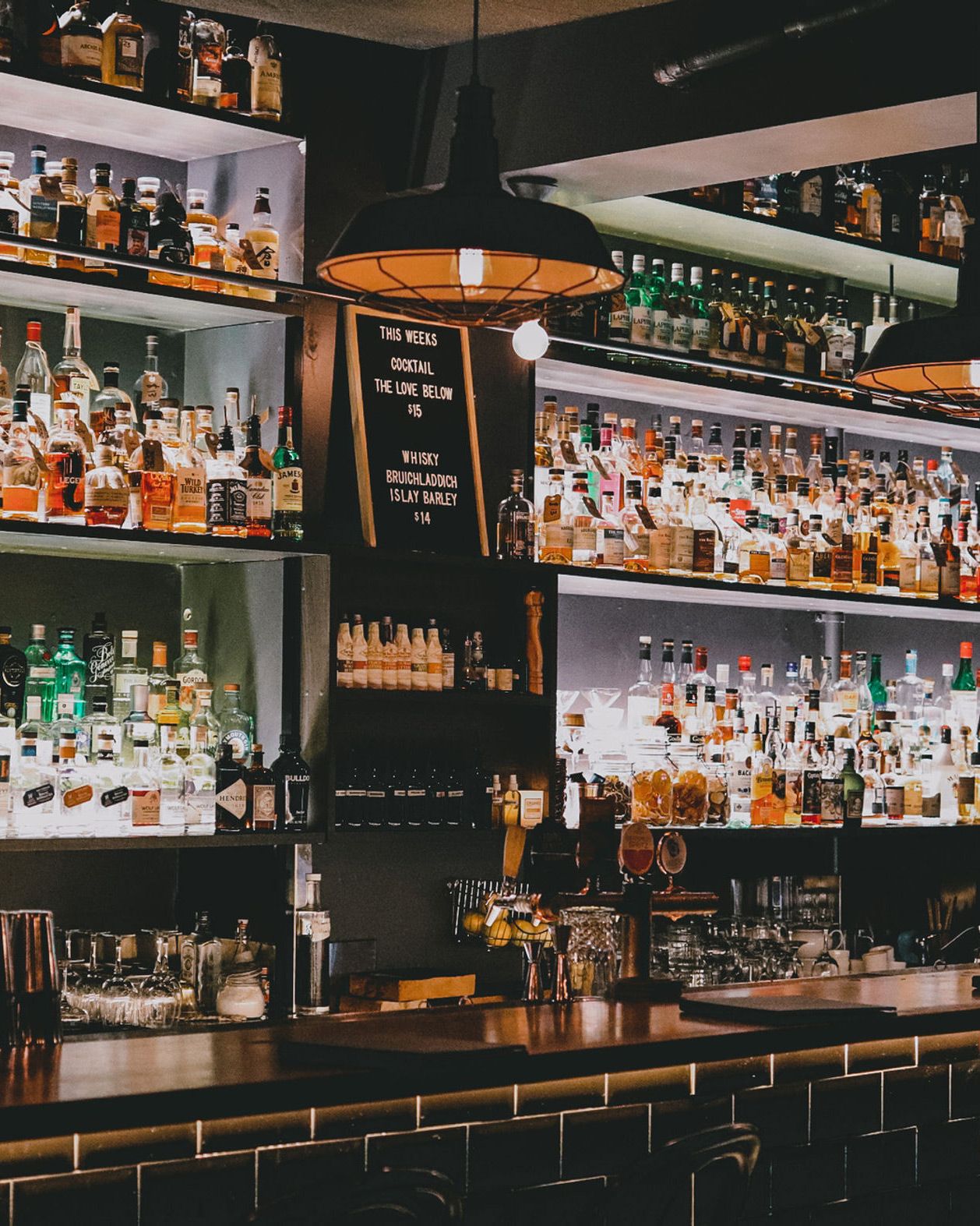 21. Three Wolves
32 Abbott St, Cairns City | Open in Instagram | threewolves.com.au‌‌
THE 2023 BEST BAR IN CAIRNS
Getting its name from the original ownership trio, Three Wolves was the first small cocktail bar to open in Cairns, a place better know for big booze barns. Here you'll find riffs on classics, hospitality that cares, and a handsome back bar stocked with good things to drink. The bar's success has spawned something of a mini empire, with Flamingos Tiki Bar, Wolf Lane Distillery, and The Fox all falling under the group's umbrella.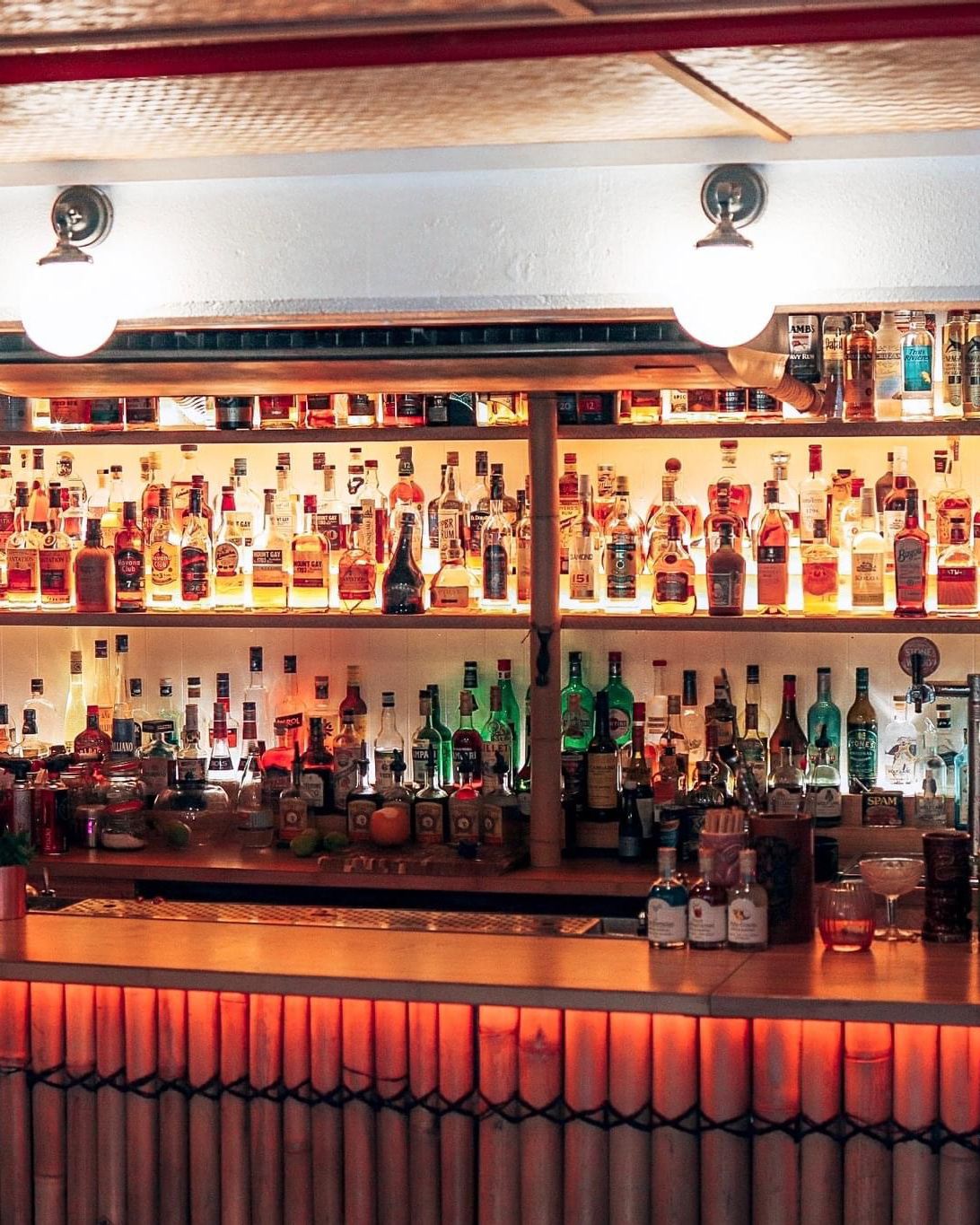 22. Flamingos Tiki Bar
43 Esplanade, Cairns City | Open in Instagram | flamingostikibar.com.au
You folks like your tiki, right? Co-owner and bartender Andrew Pare heads up Flamingos Tiki Bar, which brings a lot of rum and a big emphasis on tropical cocktails to the Far North. This Cairns bar has garnered attention around the country — expect riffs on tiki classics, as well as tiki must haves like the mighty Mai Tai.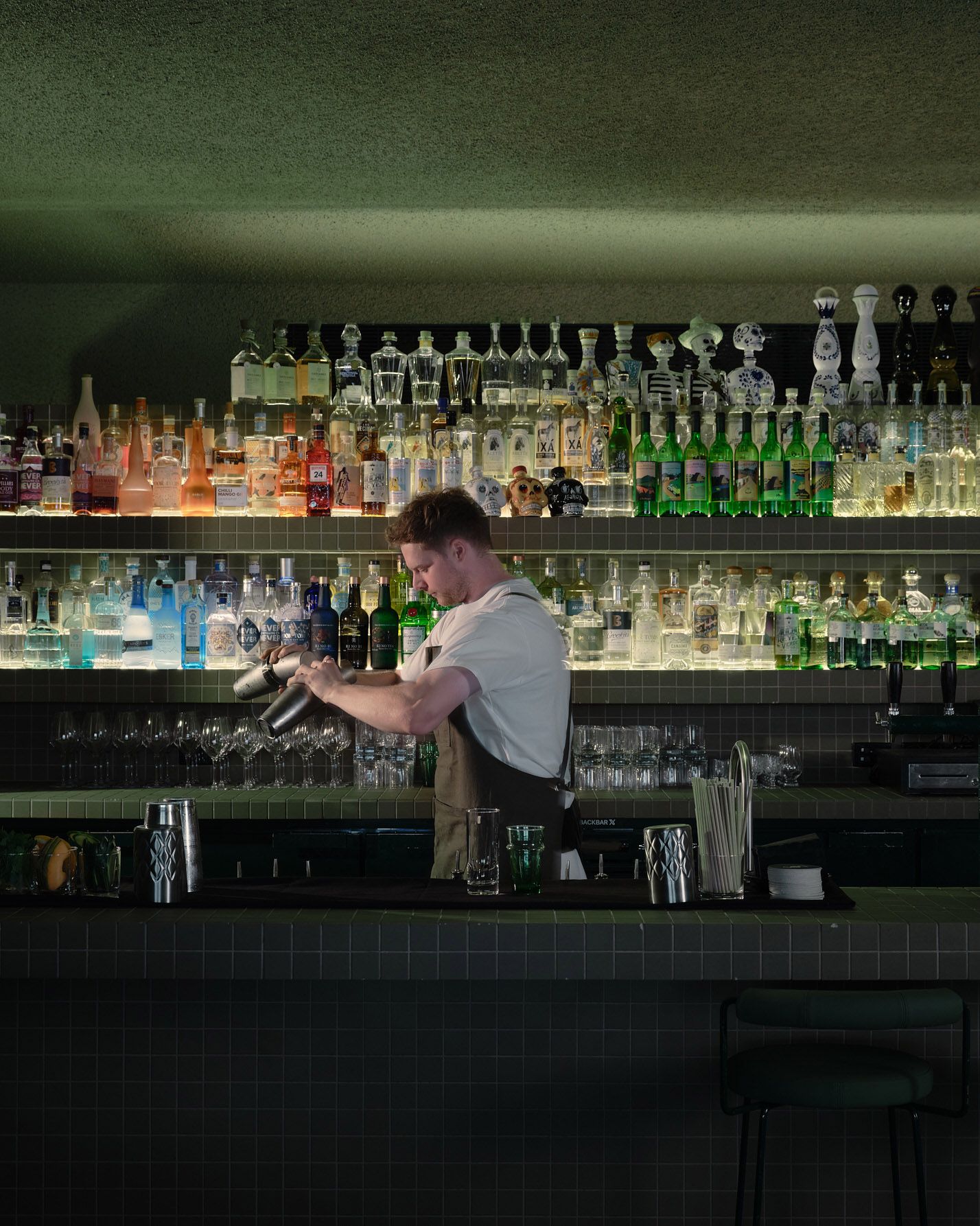 23. LOS
46 James St, Fortitude Valley | Open in Instagram | samesamerestaurant.com.au/los
Fortitude Valley's James Street is home to some great restaurants, but if you ask us, the real interest lies in its bars — like this one, above the Thai restaurant Same Same. LOS — which stands for Land of Smiles — is a smart looking bar with interesting cocktails (inspired by Thai flavours) and a focus on quality tequila. It's a delicious combination.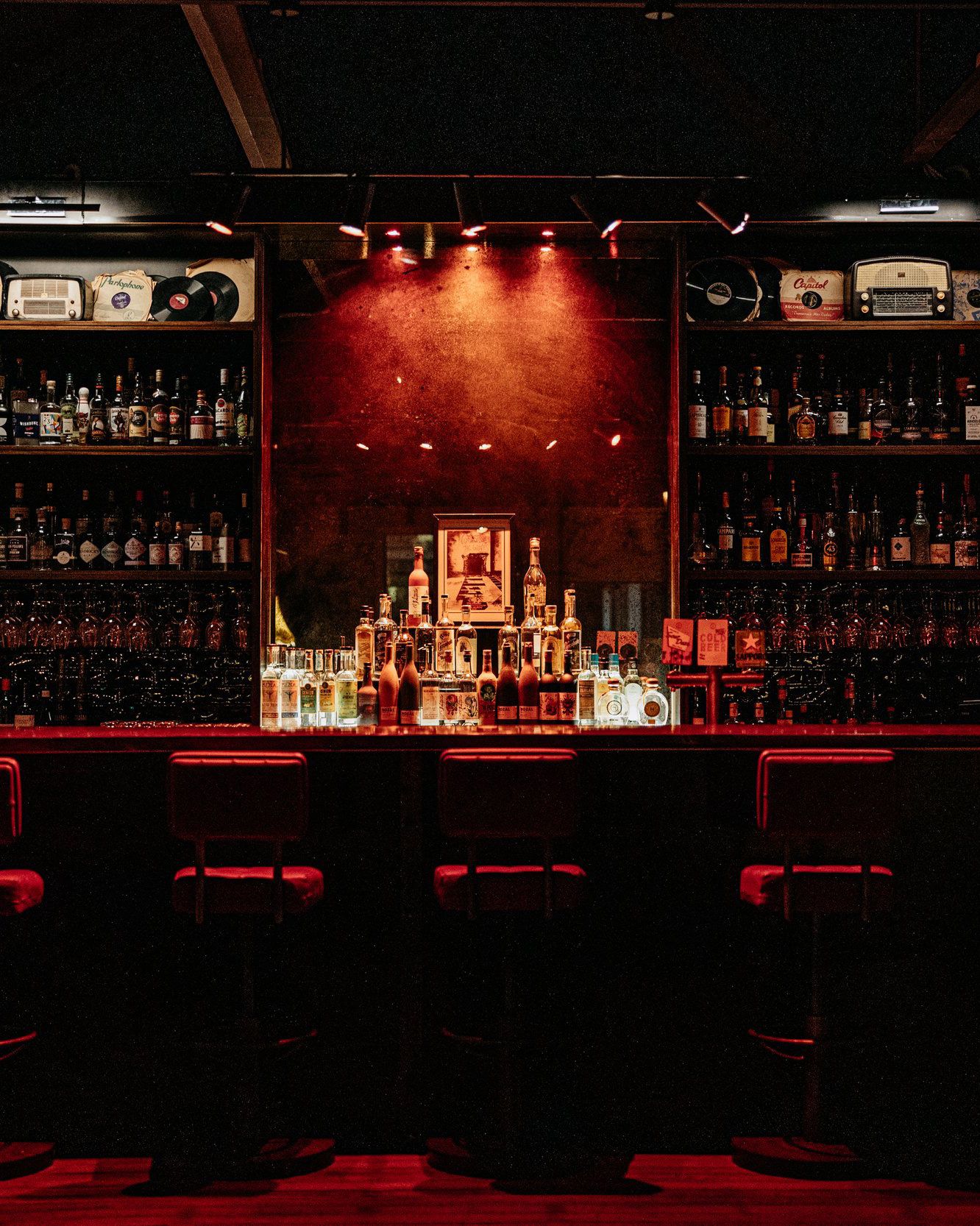 24. Stranded Bar
3 Winn St, Fortitude Valley | Open in Instagram | strandedbar.com.au
It's a bar that's only open Friday and Saturday nights, but  Stranded Bar is already proving popular; run by accomplished Brisbane bartender Tim Speechly, picture the marriage of an old school cocktail bar and the neon red haze of a punk rock dive, and you'll have an idea of what you're in for.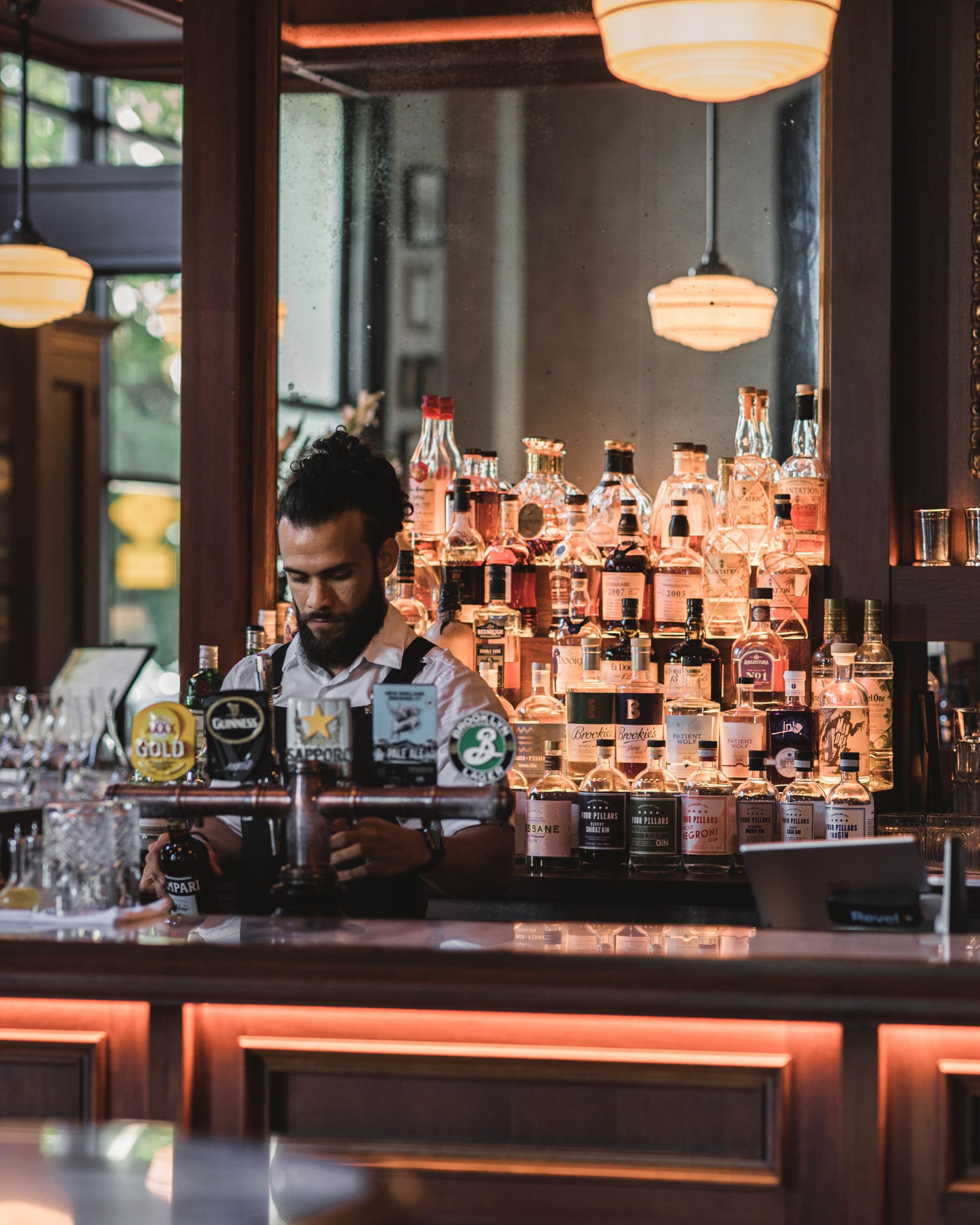 25. Walter's Steakhouse & Bar
219 Alice St, Brisbane City | Open in Instagram | waltersbrisbane.com.au
Walter's Steakhouse & Bar is a love letter to the classic grand steakhouses of New York, but written in a distinctly Brisbane language; in the bar, you can pick up a well crafted cocktail, or sip on some whisky (the wine list is impressive, too) while you plan the next stage of your world domination plan. They're a few better rooms in the city than this.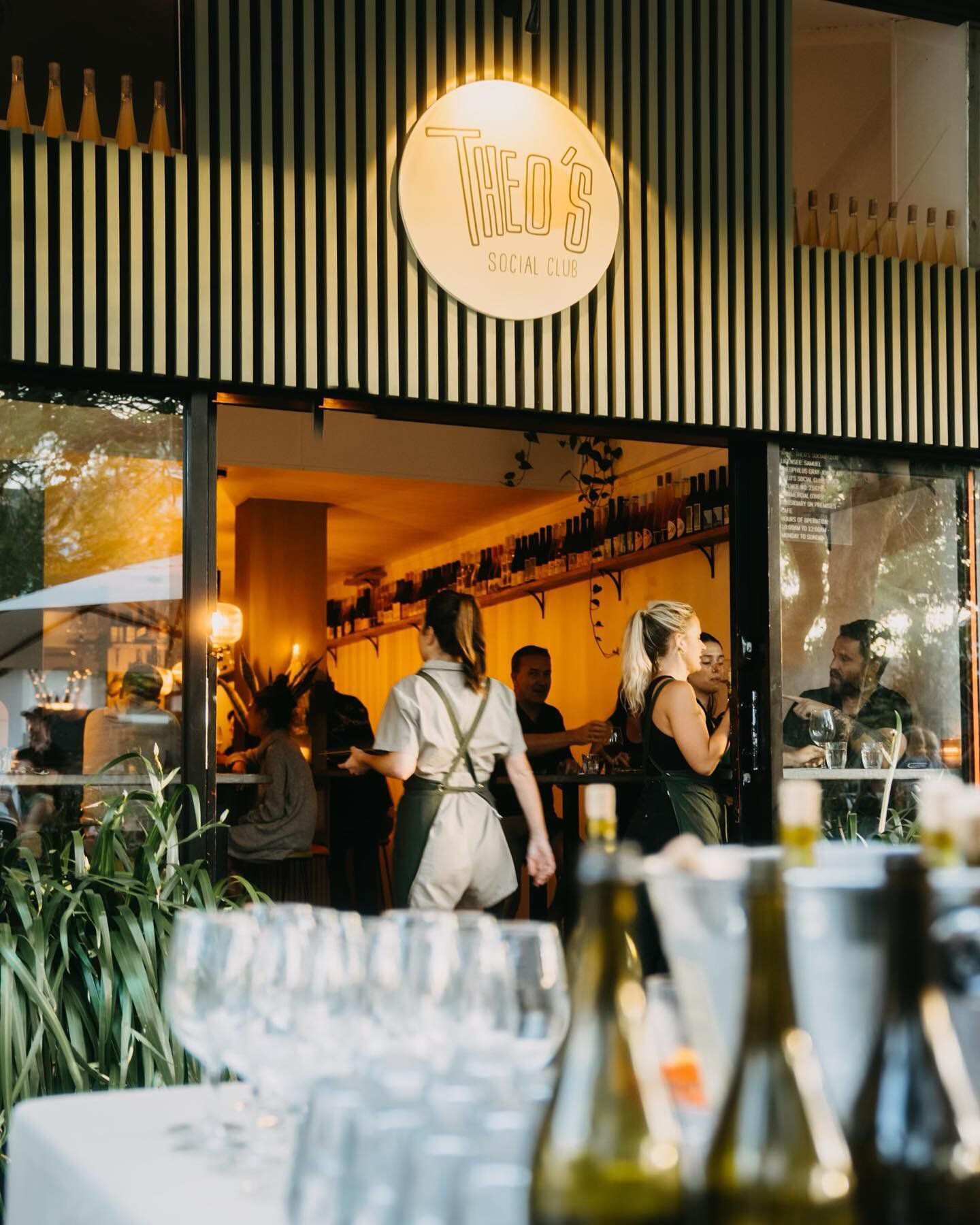 26. Theo's Social Club
2A/14 Sunshine Beach Rd, Noosa Heads | Open in Instagram | theossocialclub.com‌‌
THE 2023 BEST BAR ON THE SUNSHINE COAST
Owners Madeleine Campbell and Samuel Gray Jones have created a neighbourhood wine bar stocked with the things they love: lucky for us, that those things include French bistro classics like chicken liver parfait and steak tartare on the food menu, and they're making classic cocktails and pouring low intervention wines that change regularly.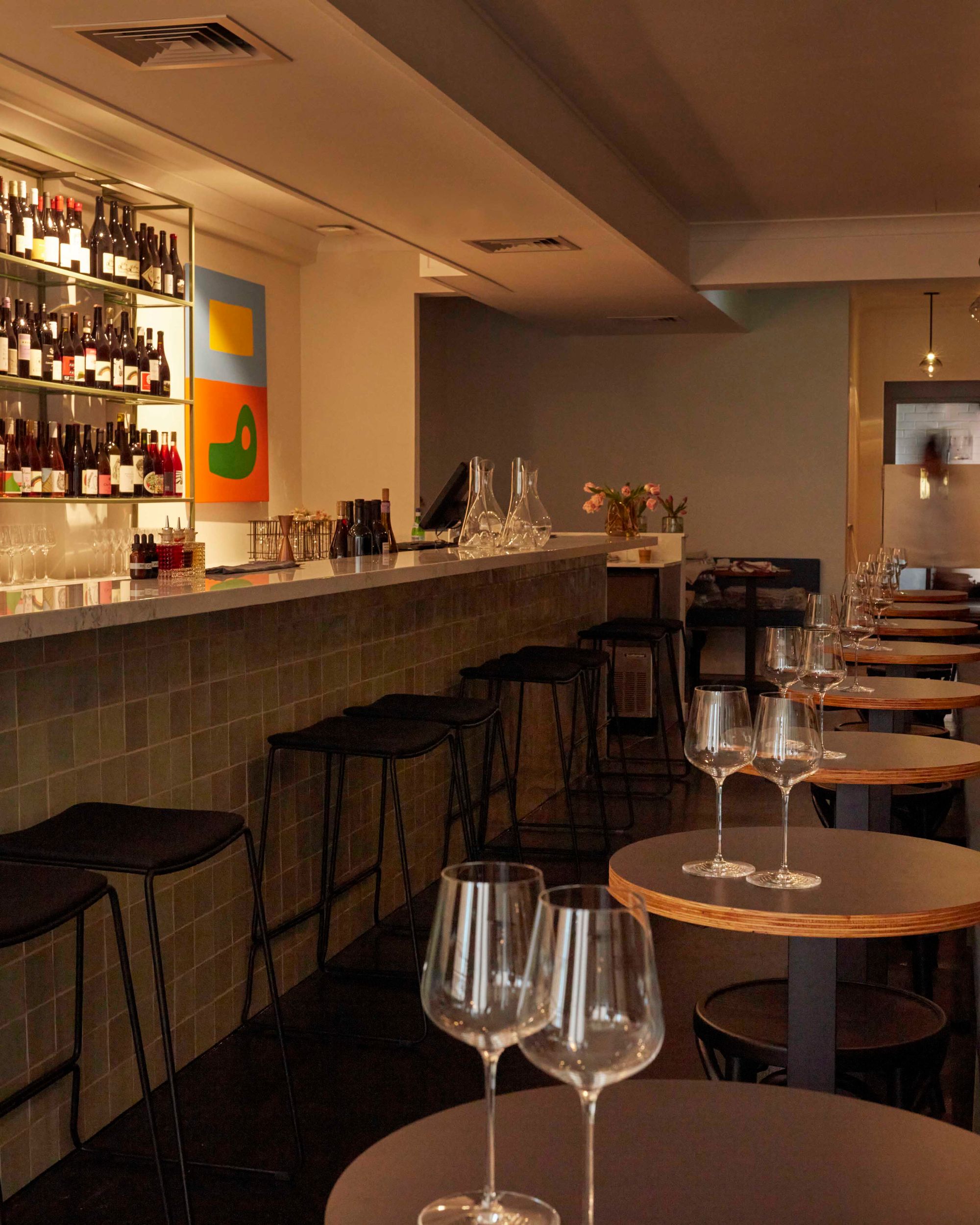 27. Paloma Wine Bar
1/12 James St, Burleigh Heads | Open in Instagram | palomawinebar.com
This Burleigh Heads bar might have wine in the name on the tin, but they also do a solid line in cocktails here thanks to bar manager Elisa Rodrigues. Owners Karla and Alex Munoz Labart have created a smart, chic space in which to drink some very good things.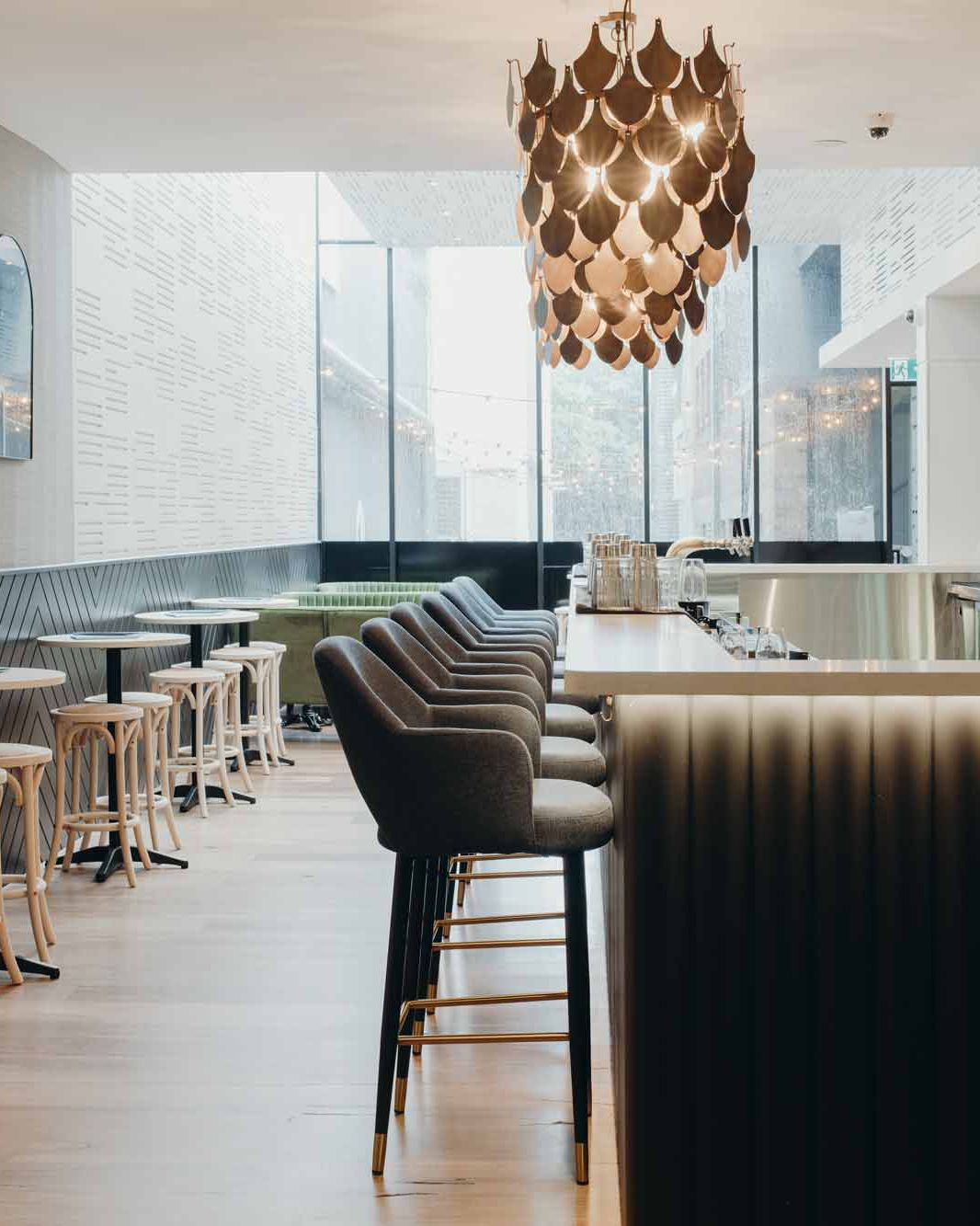 28. Leonard's Bar & Bistro
181 Mary St, Brisbane City | Open in Instagram | leonardsanddawn.com.au
The bar at Leonards's Bar & Bistro once went by the name Dawn, and you can find it via the alleyway behind the restaurant; here, you've got a great laneway courtyard, some smart signature drinks, and a chic atmosphere in which to put away a few.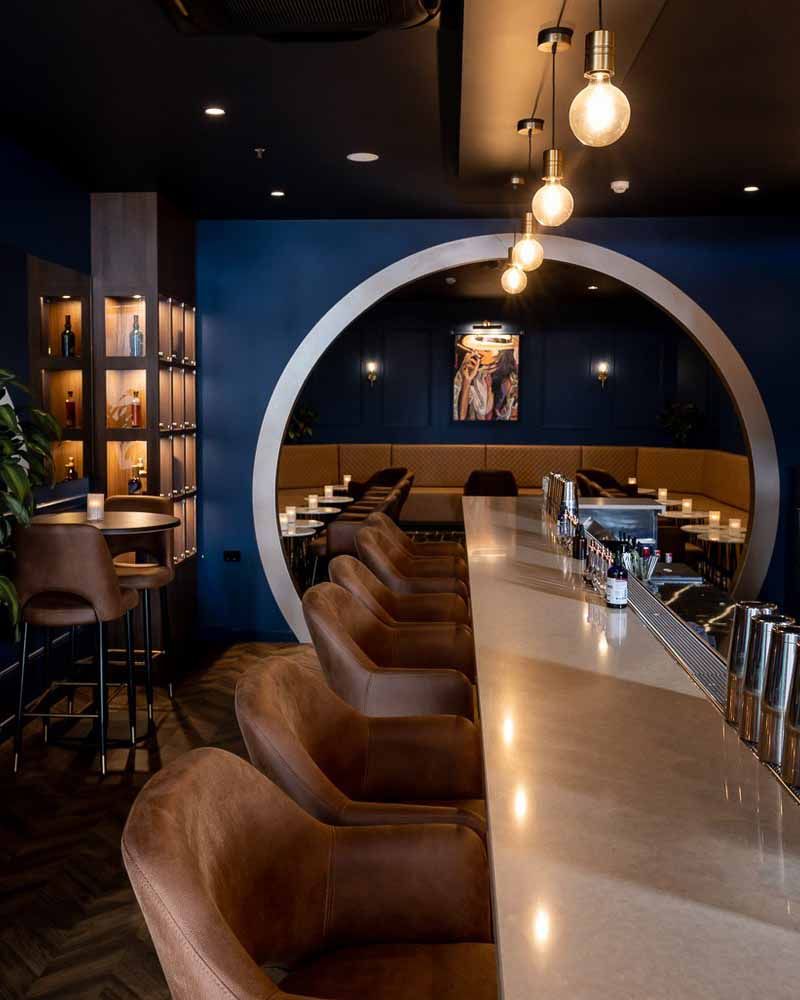 29. Wat Den
105/101-105 Mooloolaba Espl, Mooloolaba | Open in Instagram | watden.com.au
Wat Den brings a taste of proper cocktailing to Mooloolaba, with the kind of accoutrements you might expect from a high end big city bar; there are liquor lockers where guests can stash some good spirits, along with a big emphasis on whisky and tequila.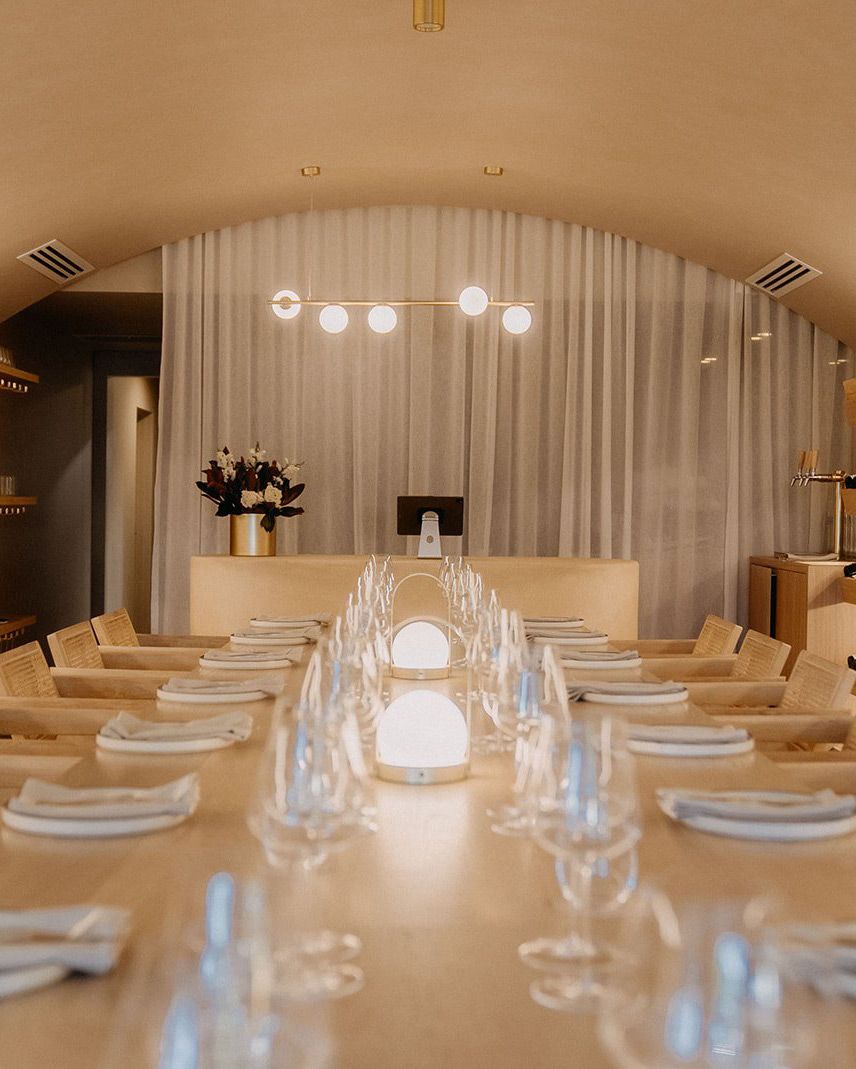 30. Atelier Wine Bar
3/9 Sunshine Beach Rd, Noosa Heads | Open in Instagram | atelierwinebar.com
Atelier Wine Bar in Noosa offers a beautiful room reminiscent of a traditional wine cave, and built around one long communal table. There's an extensive and comprehensive wine list here, with small plates (a bump of caviar, anyone?) and snacks things available.