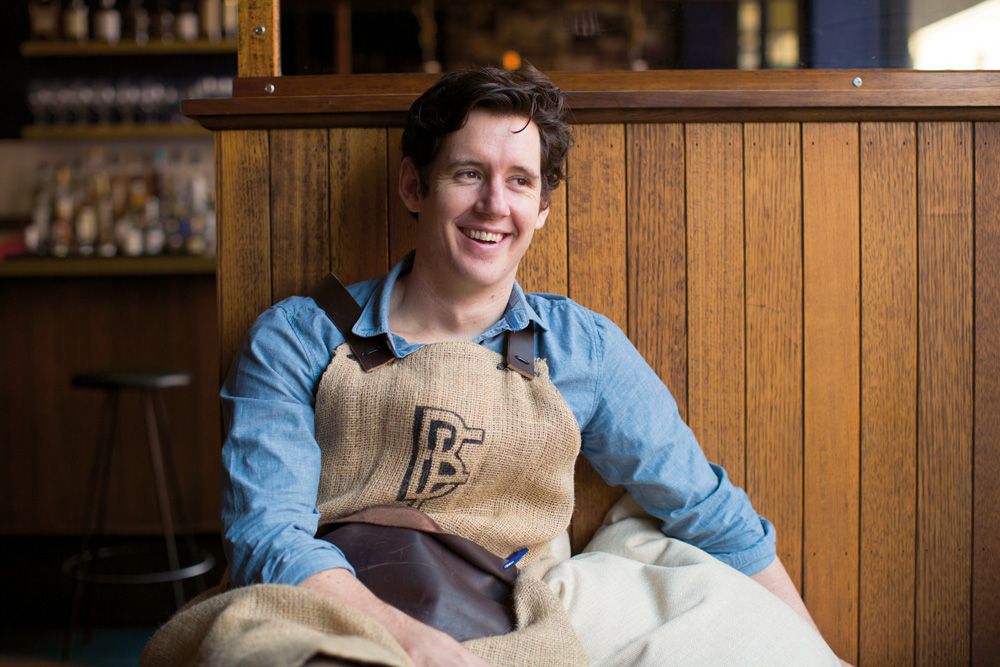 The little gold medal on a bottle of spirits might convince you to buy that brand over another — but who decides who wins? Here's how it happened at the 2020 Australian Distilled Spirits Awards.
Surely you've noticed the gold medals on a bottle of wine before. You may even have seen them on some spirits. And it's likely that these medals have influenced you to buy a bottle.

Those medals come from organisations like the Australian Distilled Spirits Awards, which is the longest running of the awards dedicated to Australian made spirits.

(Full disclosure: I have acted as the head judge in the past and was a judge again for this year's awards).

Conducted by the Royal Agricultural Society of Victoria, the awards have been taking place since 2016 and are now their fifth year.

But this year — as you might guess — was a little different.

We spoke to head judge Sebastian Costello — pictured above — and RASV food and beverage awards manager Michael Katoa to find out more.
How do the Australian Distilled Spirits Awards work?

In a typical, non-2020 pandemic year, judges from across Australia gather at the Melbourne Showgrounds. They are divided into panels, where one will judge whisky, another panel judging gin, and so on.

The spirits are blind tasted and scored. The judges don't know the brands or who makes the spirits they're tasting. The spirits are marked on appearance, aroma, balance, and finish.

Medals are awarded depending upon the score each spirit receives. A bronze medal is for spirits that score between 74 and 81.9; a silver for 82 points to 89.9; and gold medals awarded for 90 points and above.

To determine the trophies for champion gin and the like, the gold medals in those categories are reassessed in a new round of judging. Each of the panel chairs and the head judge rank the gold medal spirits in each category according to the Borda count method.

How did it work in 2020?
Obviously this year things have had to operate differently.

"We were two weeks away from having the awards, and then they were canned by the coronavirus," says head judge and owner of Bad Frankie, Sebastian Costello.

After waiting and assessing the impact the pandemic would have on their ability to hold the judging, the RASV's manager of food and beverage awards, Michael Katoa, decided to go ahead with virtual, online judging through Zoom.

"Once we figured the integrity of the awards online would be fine, we thought let's do it," says Costello.

But that doesn't mean it was easy to do — it took some considerable logistical work to do this.

"Logistics are difficult in any judging event, but when you are trying something for the first time, the challenges double," says Katoa.

The first step, he says, was "receiving 619 entries from all across the country, sorting them into their classes, assigning the competition labels and decanting them into 30ml bottles.

"We decanted each entry into 3500 30ml tamper-evident bottles supplied by Plasdene. They were divided into panels and packed for each of the 42 judges, along with Plumm glassware and other supplies before each pack was couriered across the country.

"Thankfully, we didn't have breakages or loss of the judging samples, but did lose a few glasses.

"On the judging day, it was just getting all of the 42 judges together on Zoom with a breakout 'room' assigned to each of the ten panels."
<h3>The results</h3>
The awards were released on Thursday 12 November through a virtual ceremony held over Zoom. <a href="https://boothby.com.au/spirits/gold-medal-australian-distilled-spirits-awards/">You can view all the gold medal and trophy winners in our story on that here.</a>

As for the state of the Australian distilled spirits industry in general, both Costello and Katoa are excited at the growth they are seeing.

"This year we had 619 entries from 162 distilleries," says Katoa.

"It's really exciting to see the growth in the whisky category. It's good to see all of those newer distilleries are now at the stage of releasing whiskies. It's a real milestone point in the Australian distilling industry and will be great to see how it continues," he says.

"I think with competitions like this, the standard of spirits has gone way up, Costello says.

"Gin is changing — it is becoming a lot more juniper-dominant, and what we're finding is the Australian botanicals are becoming a lot better integrated. You can see the fact that people now are really enjoying their distillation and not just throwing in heaps of lemon myrtle or strawberry gum. They're actually trying to work with them," he says.

And there is growth too in the array of spirits being produced. This year saw Never never Distilling Co's Stockholm Syndrome Aquavit win the trophy for champion alternative spirit, and a new class of spirits made from sugarcane was added.

"We had a whole heap of stuff," Costello says, "an aquavit, ouzos, some baijus — it's great to see those sorts of things. People doing whatever they want and making great juice.

"The cane spirits were really cool as well. Anywhere else in the world they would probably call them rums, but [we don't] because of Australia's two year ageing rule. But they're making really expressive cane spirit too."