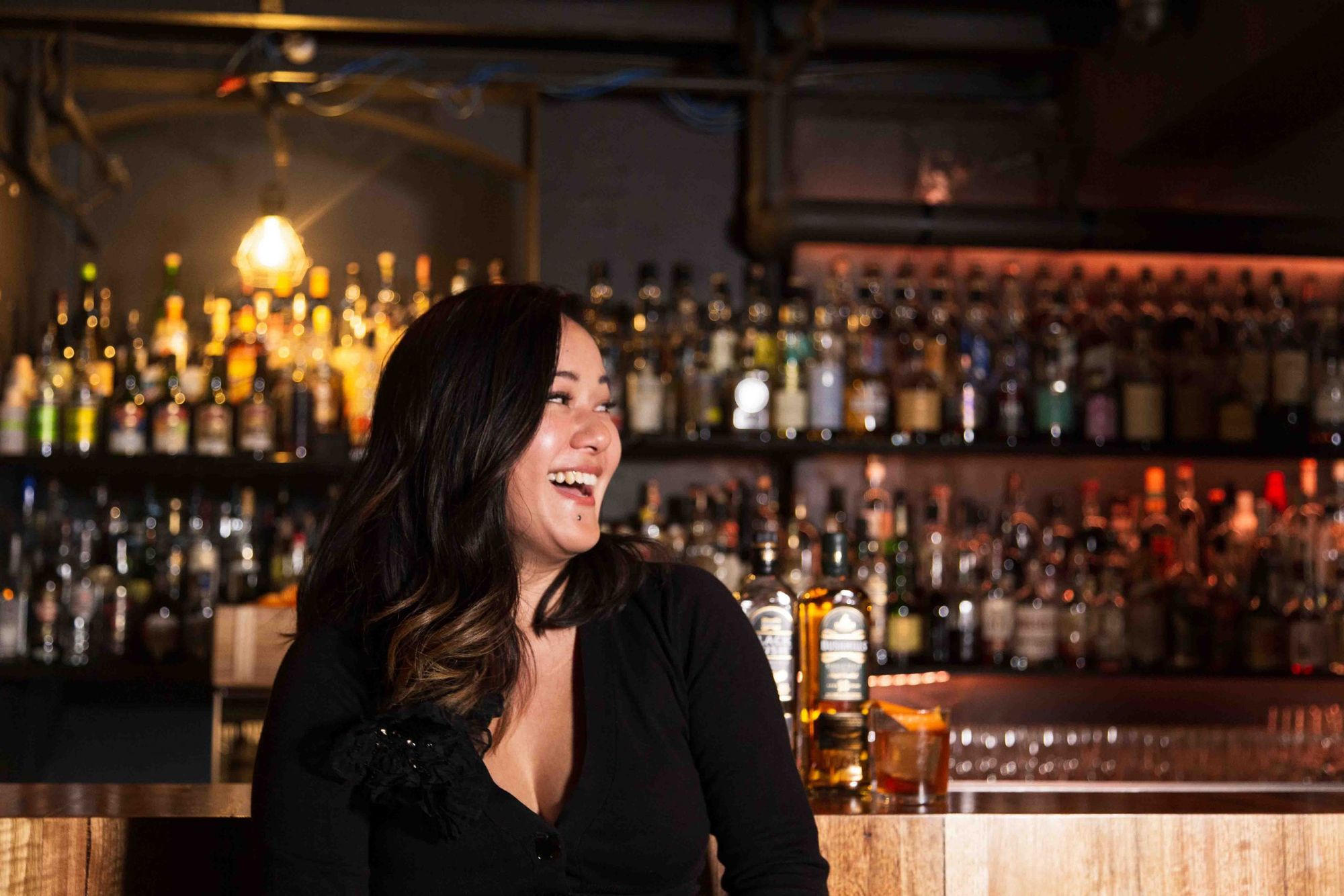 Chau Tran is both co-owner and bartender at Burrow Bar in Sydney; here, she shares why her regulars are so important to the bar, and how they become family.
PRESENTED BY BOOTHBY IN PARTNERSHIP WITH BUSHMILLS
Bushmills has a saying: "without the village there would be no whiskey, and without the whiskey there would be no village." It's the Bushmills village — and the people — that makes the craft possible. In our bars we have our own 'village' — our regulars — the people who help make a good bar become great.
Because when we talk about what makes a great bar, we tend to talk about the drinks, the service, the decor and atmosphere — sometimes even the location is billed as marker of greatness. And sure, those things are essential to a good bar.
But what we don't talk about nearly often enough is the people.
Of course, great bartenders are often discussed, but that's not who we're talking about in the latest video in the Boothby At The Bar series with Chau Tran and Jason Crawley. the people we're talking about are the guests. You can't have a great bar without good guests, and the best guests are your regulars.
Chau Tran is the co-owner of Burrow Bar on busy Clarence Street in the centre of the Sydney CBD. As she tells us in the full interview below, the fact that the bar has made it past the five year mark and been able to move to a better location is a testament to its regulars.
That's something that our partners for these interviews, Bushmills, understands well. They know the importance of people, and that just as you can't have a great bar without good guests, you can't get Bushmills Irish whiskey without the people and their place. Read more about Bushmills in our primer, here.
Boothby: So Burrow Bar is how old?
Chau Tran: We're five and a half years old.
And you've just moved from a previous space.
Yep, from De Mestre Place, which is a really seedy looking alleyway.
Yeah, because to go down there you've got to go down a quite a long alleyway, take a right, and then find the door there.
Yeah past the trash cans, through the magical door, surrounded by astroturf.
So you wouldn't get a lot of foot traffic, it's the kind of place you've got to know is there to get there, is that right?
Yeah, absolutely. I think for us you had to be looking for the venue, you couldn't just stumble past it. It's really important to make sure people are coming back or try to find you at least.
How would you describe Burrow Bar, what's Burrow all about?
For me it's a neighbourhood bar that's not in a place that a lot of people live, so it's a neighbourhood bar where a neighbourhood bar shouldn't exist. It's a place where I think you can go in and have an amazing time whether you're with a group of people, [or] if you're by yourself, you can have the type of experience you want and the staff are always spectacular and really, really talented — they'll talk if you want them to talk and they'll leave you alone if you need to be left alone.
How did you get into owning the place, because you own it with Bryce McDonough?
I started bartending during university, working in a big three level pub in Newtown, and having the best time, always on the club nights. And I love club service: it's just fast, and it's the touchpoints to be on point and get people moving, but make it fun — you have like 20 seconds to do that.
I was in university, I kind of changed my degree, it didn't sit well with me doing speech pathology. I changed to a marketing and commerce degree and while I was studying, the owner of the venue asked me to take up the marketing for the pub and launch a rebrand, so I met Bryce and we did the rebrand for that particular pub in Newtown.
It became really fancy, and had a whisky den, and a cocktail rooftop, and that for me was when I fell in love with the idea of possibly owning a place at some point.
That for me is where the tipping point was.
You've moved from this dingy alleyway down the back of wherever, you're now on Clarence Street, have you noticed a difference in trade at all?
Yeah absolutely. We definitely get more random foot traffic — so people who are on the way from one venue to another venue, in between going to dinner, they're definitely coming down, and cracking open the door and walking down. So that's definitely helpful.
I would assume getting people down that alleyway for the first five years, regulars are important to you?
For me, I remember going out as a bartender — and I worked at terrible places, I'm not in the clique of really cool, award winning venues — so I remember going out and you'd have a kind of mixed night. You'd have night where the bartender either has no time for you or the bartender has completely turned a really average night around. And I remember going, why is it really inconsistent? Is it because I'm with other people or is it because the other half are acting like idiots' why is it such an inconsistent experience?
With Burrow Bar, we just wanted to make sure that the experience was always on point. Whether it's you're anticipating coming, if you've emailed us or called us, it's always a really bright and funny response because it's always Bryce and I responding to the calls.
For me your experience within that venue is what I can control and it's really important, people remember how they feel, a lot clearer….. A lot better than when you've left and you can actually recall what you had and what you drank, you just remember how you felt. And if you felt really, really amazing you're more than likely to come back.
I think that's the beauty of our regulars, they had a random amazing night, and we didn't know them, but they keep coming back, and then that friendship builds until a point where they're invited to our birthdays that are outside the venue.
Yeah, you've spoken before about how your regulars have become your friends.
Yeah, I hold dinner parties with these regulars that are now my family. These are genuine, genuinely good people that have gravitated to what we do. My staff are amazing, they're beautiful people through and through — you know, terrible jokes — but they're beautiful souls. And if you crack through that you're friends for life. They are really, really amazing people. So for us, a lot of regulars have gone beyond the bar, and we've hung out outside the bar.
Are there any particular regulars that come to mind as your A-team regulars?
Yes, I actually call them my Burrow Bar OGs, they got us through that first year. The first year was hard. We didn't gave a marketing budget, we barely had enough money for stock, none of the owners — which were the staff — were getting paid, everything was being reinvested back into the venue. There were a lot of nights where you didn't have people coming in for hours at a time, and it was a really scary thing.
So these OGs are literally the people who came in and kinda got it, and it's really hard to enjoy a space when it's completely empty but keep coming back. So for me they're like my originals.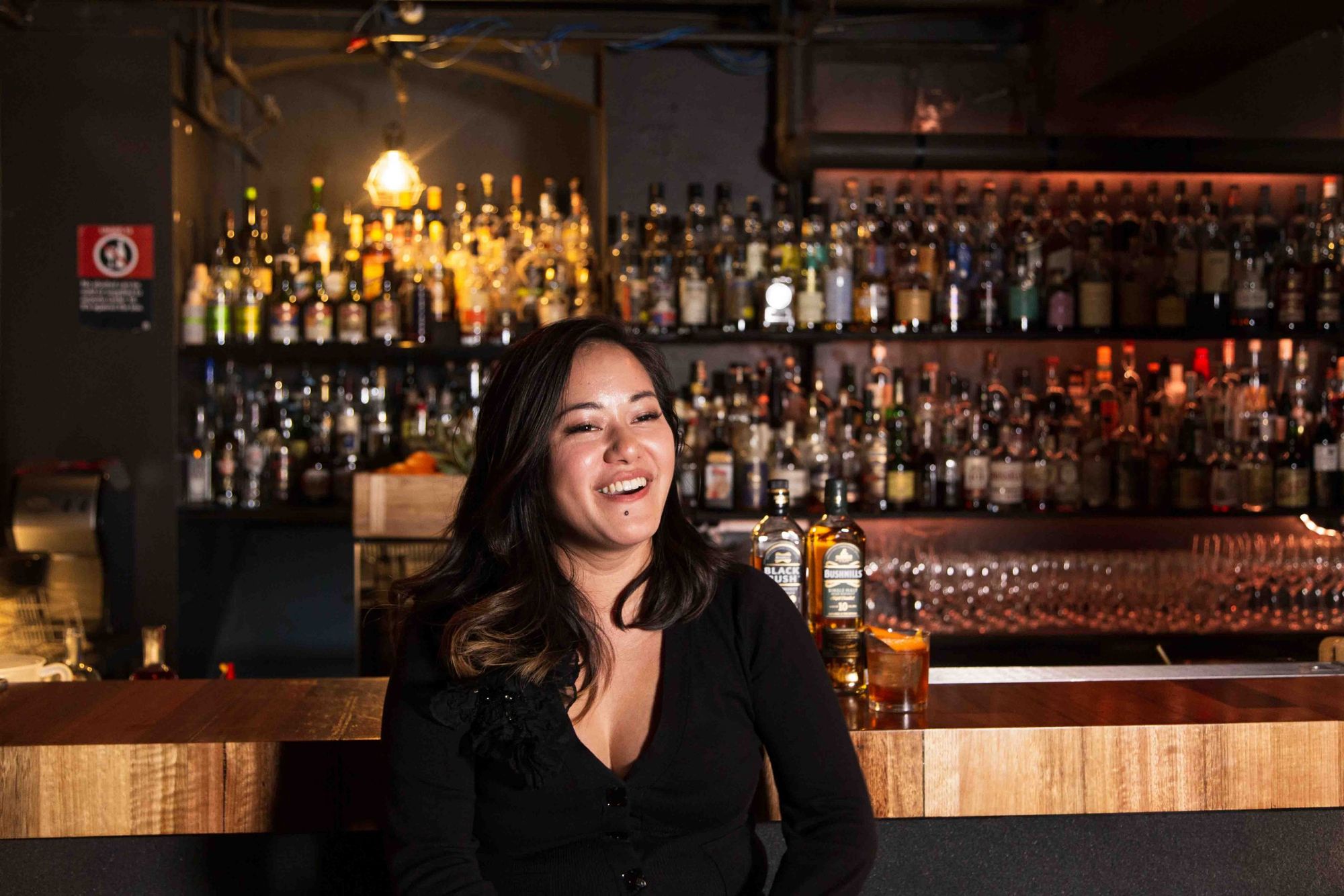 When we talk about what makes a good bar, we often talk about the bar team, the drinks, the decor, the atmosphere, the vibe, we don't often talk about the guest being a crucial part of that.
Yeah. The guests are incredible. They create the vibe. There's only so much the bartender can sing and dance behind the bar to bring up that vibe. My OGs, they are people that come in, they're happy to just come and sit and smash through their set drinks list, or try different things, but they're also really open to making friends.
So if I have a customer that's come in by themselves as well, and you get talking, you almost vibe check them if they're ready to meet one of the regulars. That means they're gonna have a friend.
Everyone craves a little bit of connectivity, we want to talk to people.
Particularly that lone ranger at the bar.
Yeah. They might be from out of town. Might just be stopping in for a couple of drinks.
I remember travelling and working overseas, it gets a bit lonely wen you're the only person that you know, and I'm shy, I don't like talking to be people — bad industry to get into — but I'm introverted, it takes me a while to warm up to people and hit my straps.
For me I remember feeling really lonely at times, and I never want a customer to feel lonely. Because if you feel lonely, and we're such a warm type of service, we've gotten something wrong. We'll introduce you to another warm person who's a bit quiet, who's really happy to chill by themselves, and if you want to have a chat they're great.
I've actually seen us connect people and they've become friends. And then they've become part of that recurring group, and that's happened at least 20 times.
What makes a good regular? To be a good regular, what kind of traits should you have?
Don't be a creep!
That's probably number one.
To be a good regular is, you enjoy being in the space, you know, and you understand what we do, and sometimes the regular actually does the selling for us. They're smashing a tipple or whatever it is, and they'll go hey, I just had this amazing drink, we definitely get that as well.
I think a great regular, let us get to know you, don't hold back, that's kind of how you find out if you can become friends outside the bar as well.
Has anyone gone from being a good regular, to on the banned list — just taken that friendship too far?
Yeah, absolutely.
It's hard, sometimes you get really comfortable with someone and they really push the envelope and you actually have to have that awkward conversation and usually they're mortified.
You can become too familiar — I think you've still got to be a good guest at the end of the day, right?
Yeah.
There's a bargain there.
Yeah. And I think good regulars are the ones who just take it, and go I'm sorry, I didn't realise I did that.
My team are really, really good at diffusing those moments.
Do you get any time to go be a regular at other bars?
I don't think I get enough time. But there are definitely places I go to and I feel like I'm at home. Like Jangling Jack's is definitely one of them. Also, you know, I'm a little bit in love with Rachael — who isn't?
Rachael Merritt?
Yeah. I love Moya's Juniper Lounge. Honestly that entire team are complete sweethearts. I love each and every one of them, they're amazing.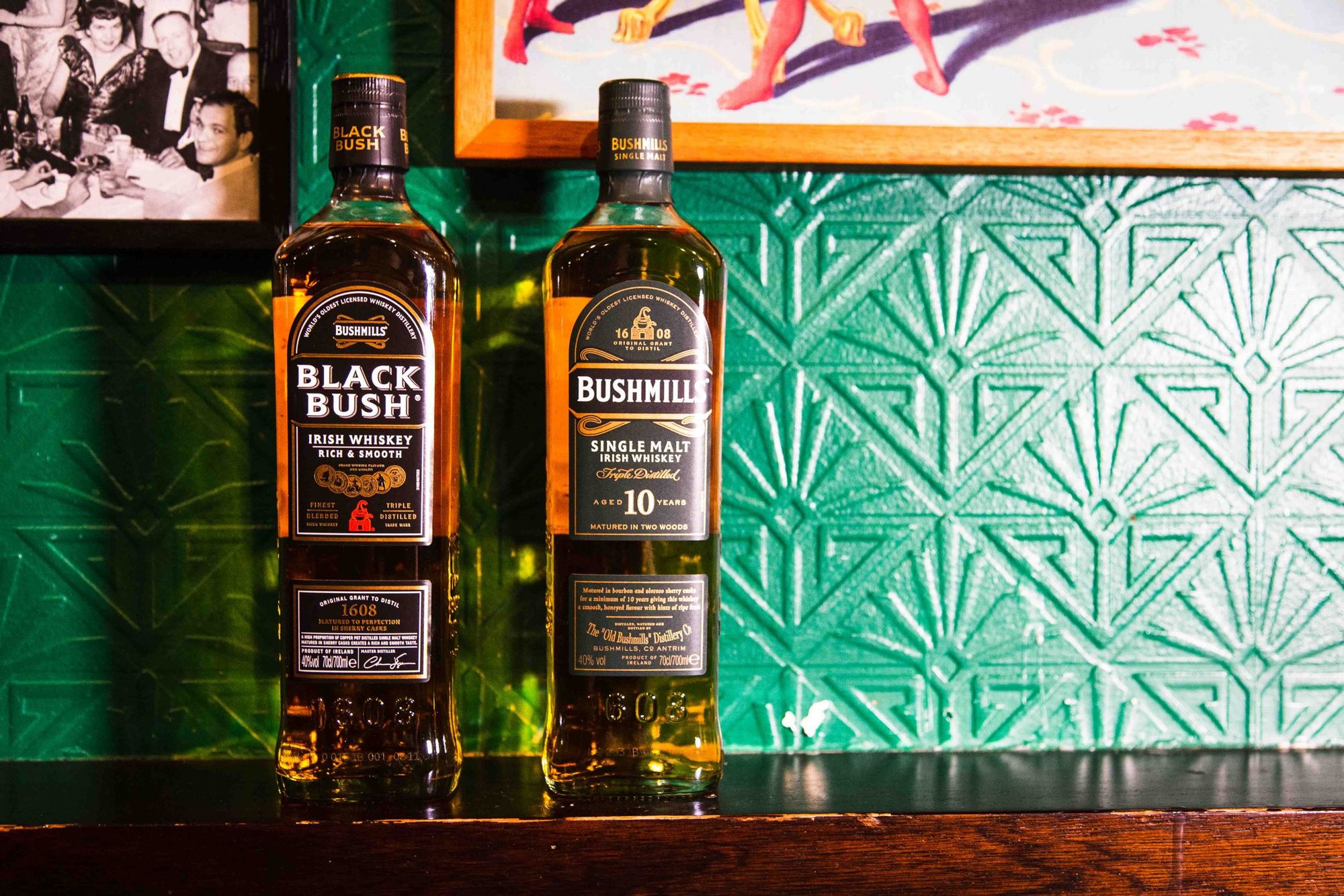 What we're drinking
Bushmills Black Bush is made with a high component of malt whiskey in the blend, and by using predominantly ex-oloroso sherry casks for maturation, means that Black Bush has a rich, malty character, with fruity sherries notes and a smooth finish.
Bushmills Single Malt Irish Whiskey 10 Year Old is triple distilled from a mash of malted barley before being matured for at least 10 years in both former bourbon and sherry casks. It offers up a light, fruity aroma on the nose, with honey, vanilla and milk chocolate flavours on the palate.