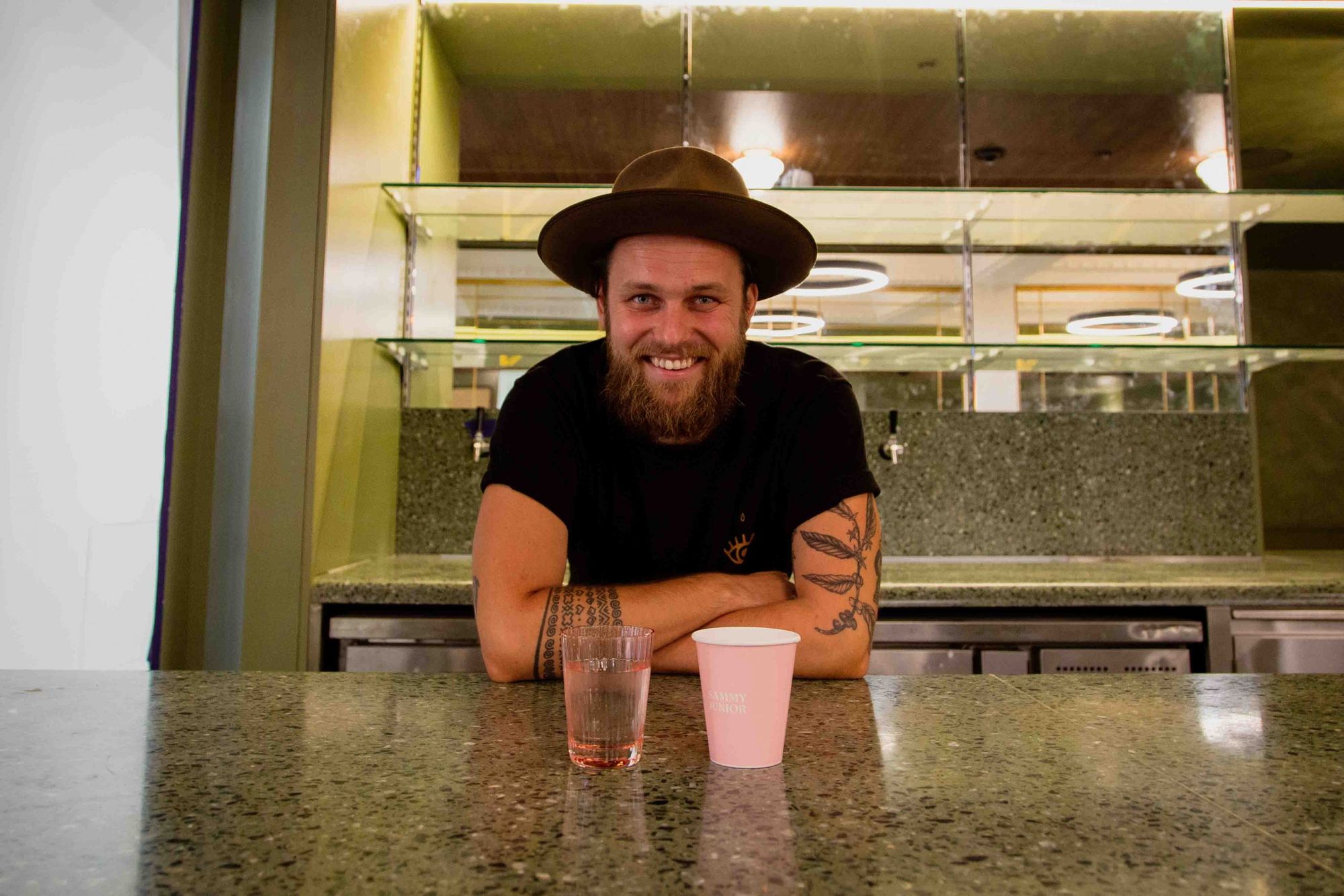 Here's what we know right now about Sammy Junior from Maybe Sammy — when it's opening, what it's all about and more.
You may know the Maybe Sammy team from their number 11 position on The World's 50 Best Bars list; perhaps you know the Sydney bar for its playful and whimsical take on cocktails and unbeatable service; you may know them from such stories as this one on their Martini. Soon, however, you'll be able to know them for coffee and cocktails at Sammy Junior on York Street.
We spoke to Sammy Junior's Martin Hudak to find out everything we could about their entry into all day coffee and cocktails.
What is Sammy Junior?
Sammy Junior will serve coffee and cocktails on tap from the morning into the night.
Where is Sammy Junior?
You'll find them on the corner of York and King Streets in the Sydney CBD — a stone's throw from the bustling bar district that is the Clarence Street shuffle.
"It's a heritage building, the ACA — the Australian Catholic Assurance building — dating back years ago," Hudak says of the Art Deco building that houses WeWork and which sees Sammy Junior take over the lobby.
You can find them on Instagram right here.
What is the big idea behind Sammy Junior?
"Since we opened Maybe Sammy [in 2019] and saw the success there, we were thinking of how can we introduce the same concept during the daytime, and coming closer to the city centre," says Hudak.
"And of course with my coffee background, it was obvious to us to open a cafe in the city focusing on cocktails and coffee."
Hudak and the team want Sammy Junior to fill a gap in Sydney's drinking scene.
"When I moved to Australia a few years ago, I was really shocked that after a certain time — three or four o'clock in the city — it's impossible to get a good cup of coffee," he says. "The coffee shops are basically closing at that time, and I was frustrated — it's impossible. In Europe it's normal to have a coffee at six, seven, eight, nine at night, as it is at seven o'clock in the morning.
"I was like, we have to bring that back and we have to bridge the gap between the world of coffee and cocktails and we have to fill the gap in the city to provide both roles. That was the main reason for opening Sammy Jr. A younger, smaller, fresher version of Maybe Sammy to fulfill the needs of the morning crowd and the evening crowd.
"We're going to bring the beautiful life to the city," says Hudak.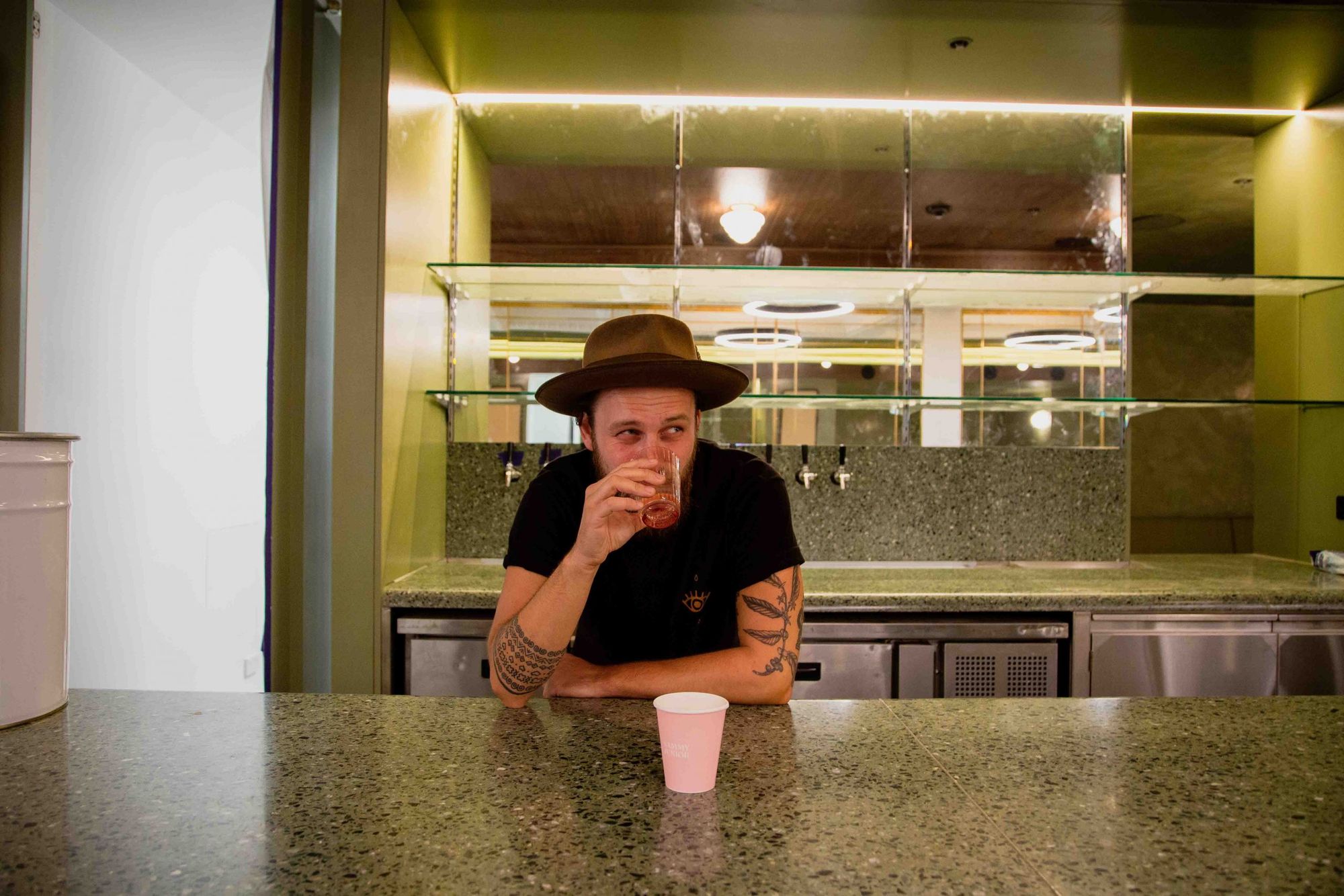 Who is behind it?
The partners involved in the project are the trio of Maybe Sammy owners, Stefano Catino, Vince Lombardi, and Andrea Gualdi, with Hudak coming on board for Sammy Junior.
They're one of the hottest bar industry groups in the country right now, with their flagship bar, Maybe Sammy, landing at number 11 on The World's 50 Best Bars list in 2020 — the highest such placing for an Australian bar that year.
Hudak and Gualdi both have five star cocktail and hotel bar experience from London.
"I've been fortunate and lucky enough to work in one of the world's oldest surviving American bars in the world, the American Bar at The Savoy [in London]," Hudak says. "We're talking about a legend on the cocktail map — 130 years of history, people who meant something; Sammy Davis Jr. and the Rat Pack used to spend time there.
"I was lucky to be the senior bartender there for four years, until we got the award for the best bar in The World's 50 Best Bars, Best Bar Team, and at that point I said my journey is done here — it's time to create a new journey and move to Australia and try my luck."
Hudak is no slouch when it comes to the coffee world, either. He was twice runner up in the World Coffee In Good Spirits Championship (which sees competitors from around the globe mixing coffee and alcohol), before winning the title in 2017.
The group also includes Maybe Frank in Randwick.
In terms of the bar's brand, the design work has been done by Sydney outfit The Bar Brand People.
What can you expect from the drinks?
"I want a classic grand European cafe," says Hudak.
To that end, not only will you be able to grab a coffee in the morning, you'll also be able to have a civilised drink should you wish, which is centred around a communal table which brings the guest right into the middle of the bar service.
"There are not many of those around the world, but I really like this kind of coffee community sharing table, where I want people to sit around and be part of the experience," Hudak says.
"We have seating on both sides. People are going to sit behind you and in front of you."
There is also a more traditional lounge setting, where you'll have typical relaxed cafe service.
Cocktails as well as wine and beer will come via a 10 tap system behind the bar, according to Hudak.
"The main idea was having to make cocktails in a cafe fast and consistently without spending too much time thinking about how to shake it and how to make it. I'm a big fan of tap cocktails myself, so we have 10 taps — we're going to be running beer, wines, we're going to have some Spritzes, some coffee cocktails, Martinis, [and] Negronis," he says.
"The highlight of the coffee cocktail menu will be the Espresso Martini, because it will be made not from the tap, or from the shaking, but from the old traditional Greek way which is as a Frappe," Hudak says, and they'll be using coconut water, rum, Mr Black, and their house espresso to make it.
The tap cocktails will be served as minis, for $13 per 100ml serve.
"The whole idea is to bring the success of mini cocktails from Maybe Sammy to the city, and during the day time offering people less but with more flavour, and a wider choice of drinks," Hudak says.
They also have a number of collaborations in the works.
"We have our very own beer, we call it Morning Draft, by Nomad Brewery on the Northern Beaches,:" says Hudak. "We have lots of cool collabs with other brands, we have some organic wines coming from Sicily in big kegs; we're going to have prosecco on tap, and what's exciting is that we're going to have all our champagne and wines as 375ml half bottles."
But what about the coffee?
A great cafe is nothing without great coffee, something Hudak knows well.
"It's my passion for many years," he says. "I've been roasting for the last few years, we have a co-working space in Alexandria where we roast our own beans, which we already use at Maybe Sammy.
"This is going to be a little different blend and a different origin."
Hudak says that they are sourcing the beans from farmers he made connections with having visited them in the Covid before times.
"I'm not saying my coffee's the best, it's as equally good as anyone else's. But we can say that the coffee is roasted and made by a World Coffee in Good Spirit champion like myself, it's roasted by us, there are no collabs, we are not asking third parties to do this — this is all us.
"It's a coffee I like," he says.
He has also sourced a top of the line espresso machine — a new toy he likes very much.
"It's a custom made Synesso S300 series made in a beautiful walnut design. It's like a Ferrari for coffee shops. I've got this now, I'm so excited and I don't know what to do — you can play so much with it. You can influence the flow of water through your coffee from beginning to end," Hudak says.
Oh, and if you work in hospitality? They'll have a batch brew coffee available for you for a dollar.
Can you eat at Sammy Junior?
You bet. The food will consist of a range of cafe-suitable choices, Hudak says, and is made in collaboration with Blackwood Pantry in Cronulla with chef Rob Lechowicz.
"He's a two star Michelin chef from London," says Hudak. "He curated and consulted on the whole menu, more than 12 dishes, sandwiches, bowls, wraps, mueslis and birchers. Half of the menu is vegan, pescatarian, vegetarian — myself I'm vegan, that's why."
When does it open?
Sammy Junior is set to officially open on Monday 22 March.
"And the week of the 22nd, all coffees will be free," says Hudak. "For five days from morning to night, I want people to come here and drink it [for free]."
When can you visit?
From Monday to Wednesday, as they find their way, Sammy Junior will be open until 5pm — though they plan to extend this as time goes on. Then on Thursday and Friday they will be open until 10pm.
"We're going to bring aperitivo back into town until 10pm," says Hudak. "From 7pm til 10pm, we're planning live jazz session on Thursdays and Fridays. We'll have aperitivo deals, like a classic Italian bar, so people can grab them — we really want to create that vibe."