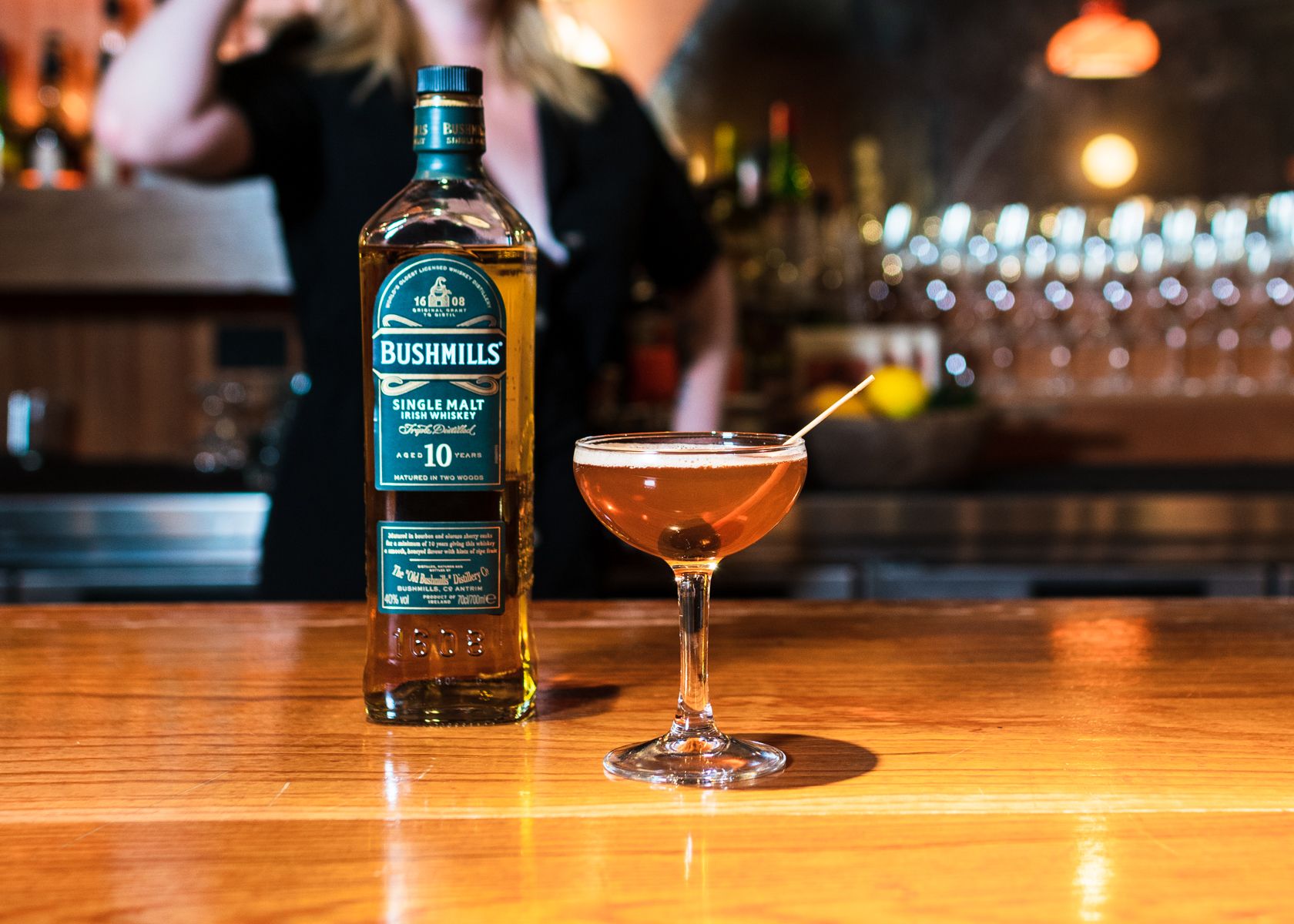 Throwing is an old technique which makes for delicious drinks — and nearly disappeared.
PRESENTED BY BOOTHBY IN PARTNERSHIP WITH BUSHMILLS
Bartending is an old trade. Many of the ways bartenders work today — the techniques, drinks, and ingredients — hark back to the 1800s and earlier. But why is that? Why is there such reverence for the old ways?
The old ways aren't necessarily good because they come from a time before the internet. The old ways are in use today because they work. Sometimes the old way, the long way — the less efficient way — tastes better.
That's what we're exploring in this three-part primer on bartending technique, starting today with the throw. It's something that the folks who make Bushmills know well, too.
Bushmills is the oldest licence distillery in the world, having received their licence all the way back in 1608. Bushmills has survived Irish whiskey industry booms (and prolonged busts) to arrive in the 21st century as the award-winning Irish whiskey distillery that it is.
It's like their master blender, Helen Mulholland, says: "We're not good because we're old, we're old because we're good."
In fact, the cocktail throwing technique is one which, like Irish whiskey more broadly, was popular and practised by many bars in the 1800s, before almost disappearing in the 20th century.
So let's throw down with some throwing history and technique below.
What is throwing?
One of the first things you learn as a bartender is when to stir a drink and when to shake one. Stir a drink if it's all liquor; shake it if the recipe calls for juice. It's a texture thing: shake a spirit-forward drink like the Martini with ice and the drink becomes over-diluted and seems to fall apart. By the same token, stir a Daiquiri, with its combo of spirit, sugar and lime juice, and the ingredients won't come together well.
Somewhere between these two ways of combining liquor lies the throw. Throwing or rolling a cocktail is the act of pouring a drink from one vessel to another. You can throw a cocktail containing juice — the Bloody Mary is often rolled rather than vigorously shaken (again, it's a texture thing) — and you can throw a Martini or, as we've done here, a Manhattan.
The throw isn't as vigorous as a shake, but it does introduce greater aeration into the drink than stirring does, resulting in a lighter texture and a more aromatic drink (it works particularly well with drinks containing vermouth or other wine-based ingredients for this reason).
How to throw a cocktail
You'll need two tins — a toby tin set with one larger than the other — and a hawthorn strainer. The liquid and the ice go into the big tin. Start by bringing both tins to eye level. Using the hawthorn strainer on the large tin, slowly start straining the mix from the large tin into the smaller tin, and as you do slowly lower the small tin while keeping the big tin at eye level. This will create a nice, long, and steady pour. Always keep your eye on the small tin, to ensure you're not spilling any of that precious drink.
Once that process is completed, it's time to pour the contents from the small tin back into the large tin (keep the strainer on the large tin throughout the process). Then repeat the process several times.
History
Drinks historian Jared Brown has found evidence that the throw is a technique that dates to at least the mid-1800s. It seems it was a rather popular and proper technique — it is rather theatrical, too — but one that was on its way out by the turn of the century.
But not everywhere gave up on the technique. Used for drinks we'd usually stir — spirit forward cocktails like the Martini, yes, but also the Manhattan and others of its ilk — the technique was kept alive in the bars of Cuba.
And it's in Cuba that Miquel Boadas learned the technique, during his time at the Floridita in Havana, bringing it back to his native Spain when he opened the Barcelona bar, Boadas, in 1933.
That's where the technique kept on through the 20th century — you can still see it there today. Boadas is the kind of place a lot of bars imitate; an interior of dark wood with framed photographs, illustrations, and paintings from a time long ago adorning each wall, serving as reminders of all the bartenders and customers who have passed through and who have passed on. Order a Manhattan here, and the bartenders, well into their 30s, 40s and older, wearing tuxedos and well practiced in their trade, will throw your cocktail from tin to tin.
Throwing drinks between two vessels isn't something peculiar to bartenders, either. Tea Tahrik — pulled tea — is a drink you'll find in Malaysia and Singapore that came about after the second world war. It's not dissimilar to throwing: a mix of hot tea and condensed milk is thrown back and forth to create a ropey, airy consistency to the drink — and it can be quite an athletic display, one that would make even a flair bartender stop in awe.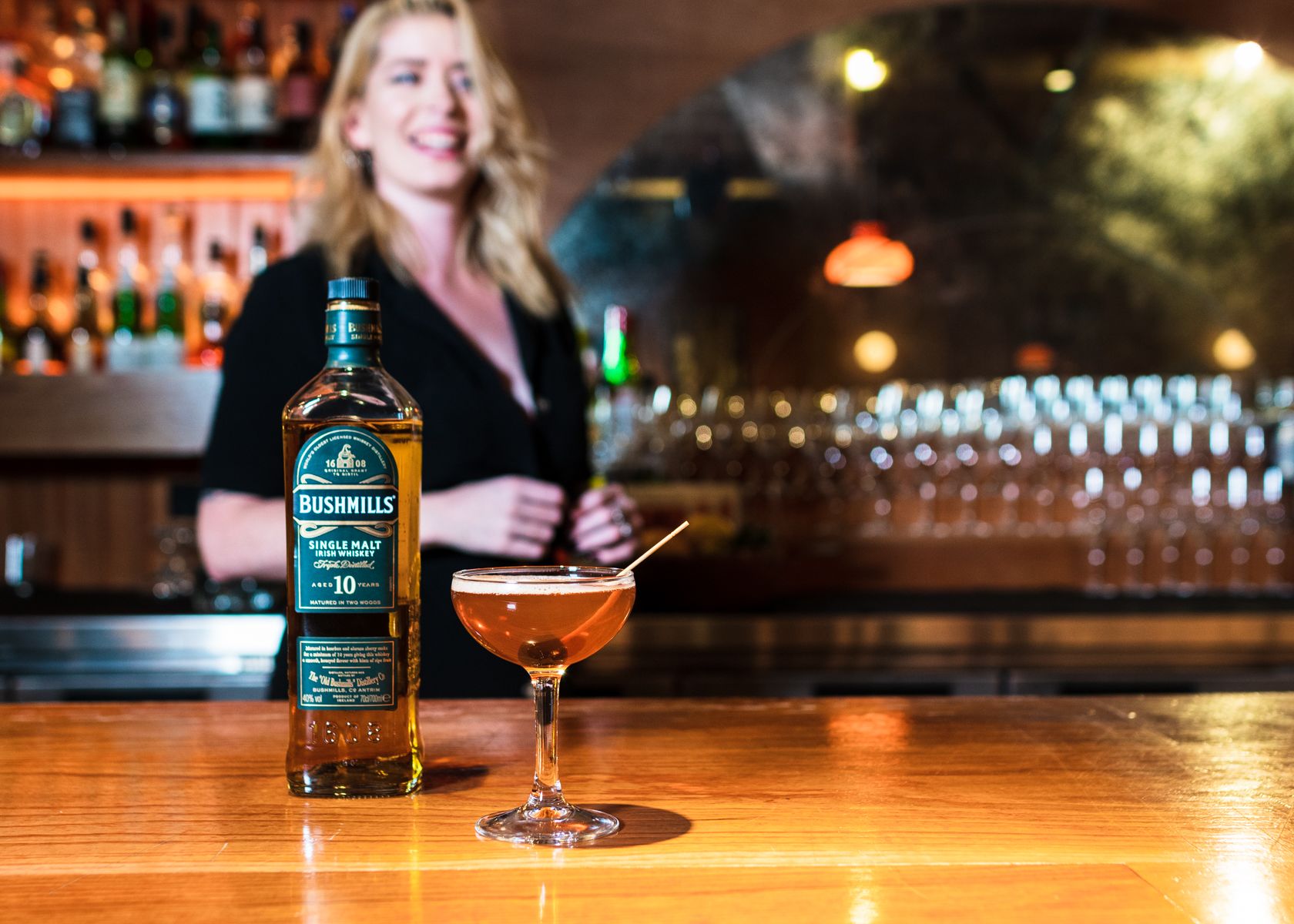 Thrown Manhattan
Ingredients
50ml Bushmills 10 Year Old Irish Whiskey
25ml sweet vermouth
2 dashes of Angostura aromatic bitters
Instructions
Combine the ingredients with ice in a large toby tin. Throw the cocktail by straining the liquid from the large toby tin to a small toby tin. Repeat this several times.
Strain into a chilled cocktail glass.
You'll usually find the Manhattan made with American whiskey — either rye or bourbon — but it works well with a flavoursome Irish whiskey like the Bushmills 10 Year Old, too.
Bushmills Single Malt Irish Whiskey 10 Year Old is triple distilled from a mash of malted barley before being matured for at least 10 years in both former bourbon and sherry casks. It offers up a light, fruity aroma on the nose, with honey, vanilla and milk chocolate flavours on the palate.