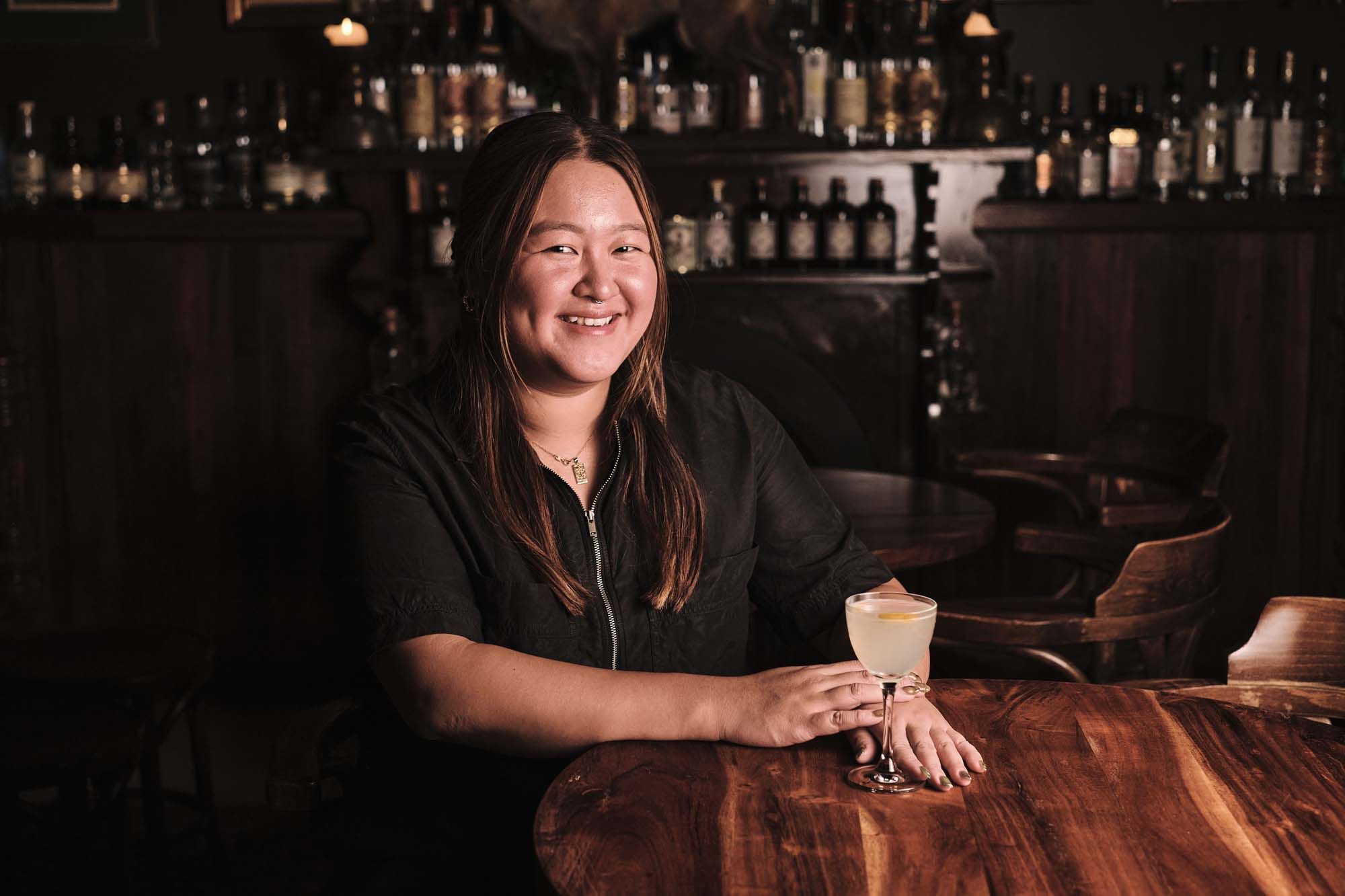 When the pandemic saw people leave hospitality, Shirley Yeung doubled down.
---
It's no secret that the bar industry is having problems finding staff. The pandemic closed borders, shut down bars, and many casual staff who weren't really committed beforehand, left the industry in search of better prospects.
That's not what Perth bartender Shirley Yeung did.

Shirley is the venue manager at Foxtrot Unicorn in Perth, a bar that quickly established itself — despite opening on the eve of the pandemic — as one of Perth's best bars, and in 2021 she was named the WA Good Food Guide's bartender of the year.
She says in the interview below how the experience of the pandemic solidified her feelings on the industry — and also spurred some meaningful action, as the co-founder of the non-profit group, Mix Haus, which aims to encourage and empower women in WA hospitality.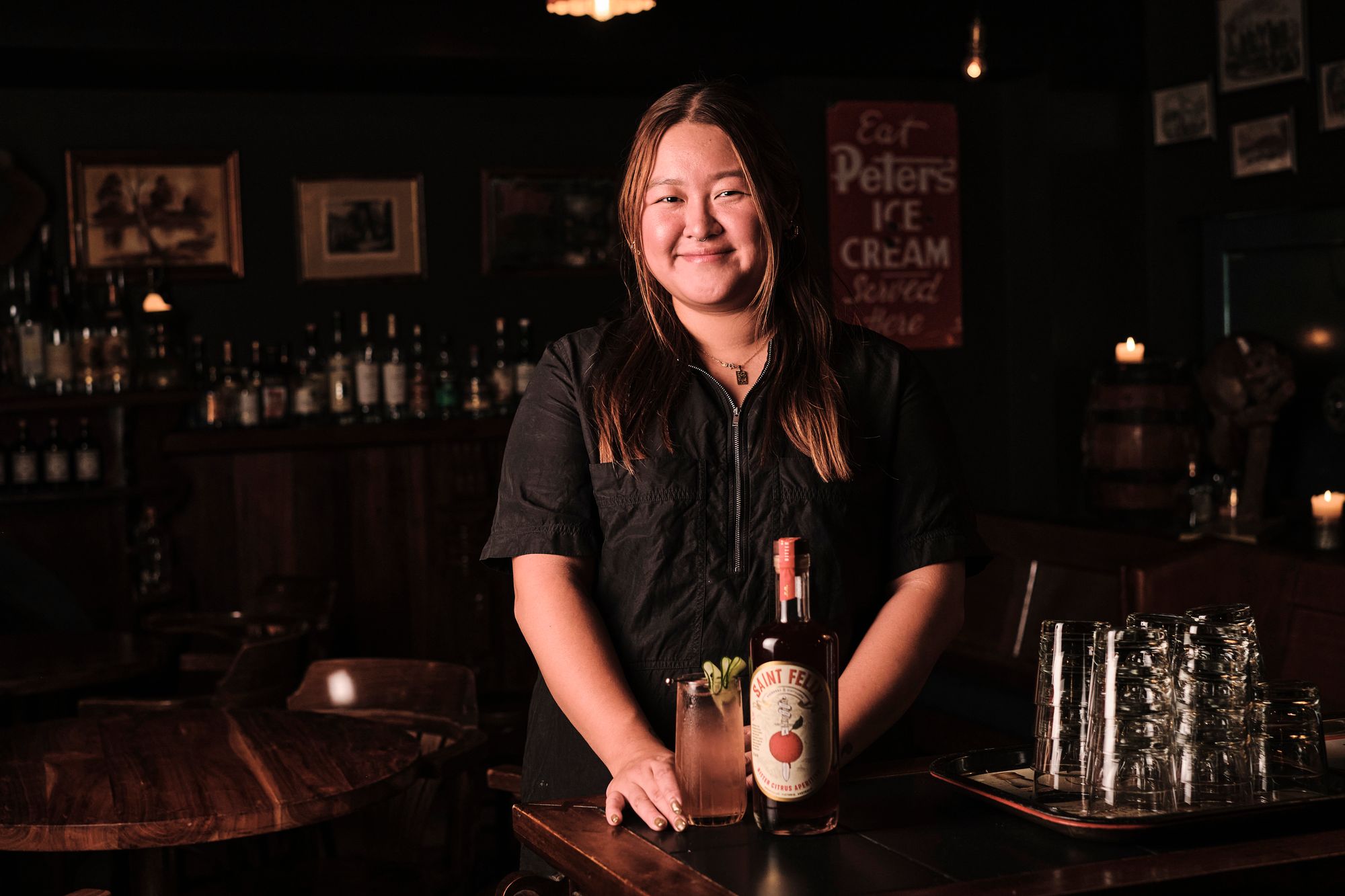 Sam Bygrave: You're the venue manager at Foxtrot Unicorn in Perth, were you on the opening team there?
Shirley Yeung: Yeah, I started I think at the end of December 2019, before Covid.
What was that like, because it ended up being a bit of a strange time to open a bar. But you guys have been pretty much okay over in WA, right?
Yeah, absolutely. Because we were been in this bubble for the last two years, it was really weird. The rest of the country and the rest of the world were in lockdown. Everything was not great. And then meanwhile, in WA, everyone's flown back home, there's been this huge surge of money coming back into the state that's staying within the state. So after the first few months of [Covid lockdown] closure, every single venue was pumping. It was the busiest it had ever been.
These are boom times, right?
Absolutely. It was crazy. Every week was busier than the last.
How important are initiatives like Australian Cocktail Month in encouraging the punters back to bars?
I think it's great that initiatives like this exist. I believe it plays a great role in both supporting venues in WA (and across the country) while also encouraging punters out to the great bars their city has to offer. I think with Covid being so recent here in WA that we easily find ourselves becoming too comfortable staying in or hanging out at a mate's place instead of being in a bigger social setting. ACM offers both with the added support for the venues too. It also offers punters a chance to go and check out venues they haven't been to yet.
How is 2022 treating you and the bar so far?
2022 started off with renewed Covid restrictions off the back of a hectic 18-plus months of trade, so it was definitely weird going from such a vibrant and busy city to an almost ghost town in a matter of weeks into the new year. For us at Foxtrot, it gave us time to refine a lot of things that we didn't get the chance to during those busy months and to also work and build up our team again — we had a few staff members move back home over east or move onto other projects of their own. As the peak of Covid has passed, we're seeing a gradual growth of punters coming back out to the city, but most importantly we're seeing an influx of international and national travellers coming to visit since our borders have opened back up, which is great and something I didn't know I missed.
Did you start at Foxtrot Unicorn as the venue manager?
No, I was just a casual bartender. We started off with a pretty small team of five of us. Tom [Kearney] started off as our bar manager, then he moved up and on to his own business. And then I moved into the bar manager role. And then, once the business kind of started getting busier, I moved into a venue manager role.
So how long have you been in the business? How long have you been bartending for?
I've actually been bartending only for six years. But I've been in the industry for over 10 years; one of my first jobs was just waiting tables. And then I moved up into different positions and almost every other single position and then bartending was kind of like the last thing — I'm like, yeah, we'll give this a try.
Why not? And I did see you got named bartender of the year at the WA Good Food awards.
Yeah.
That's pretty cool. How did that feel?
It was definitely a shock. I didn't expect it. For me, I still have this whole impostor syndrome of, you know, is this right? Should it be me? Because I know so many other people that would do much better than me here in the industry. But no, it was really nice. It's very — I felt really honoured. And more than anything, it kind of gave me a little bit of a push to be a bit more confident in what I do and that I am doing the things that I want to do, and on the right track.
What's the kind of bartending that you like the most? What are the aspects about it that you like?
For me, it should always be, you know, you always make the guests feel comfortable. And that's kind of a thing for me if I'm going to any bar, it doesn't matter what scale or whether it's fancy or just casual, your pub kind of thing. As long as you're comfortable, you've got good banter — what I really deem as a good bartender.
Where were you before Foxtrot Unicorn?
Before I was at Foxtrot, I was at Panama Social with Tom [Kearney] and Brett [Robinson]. I was there for like, for a year. And that wrapped up but, I then moved over to Foxtrot. But prior to that I was at Clarences, which was like a small little neighbourhood bar.
And then prior to that I kind of it was I worked for Tris Fini at Late Night Valentine when it was a thing. And that was I guess my first proper bar job. And that opened my eyes up a little bit towards the industry and a lot of more things that were going on behind the scenes as well.
Do you reckon you're a hospitality lifer?
Yeah, absolutely. I think so. I think what maybe it was — really up until Covid hit — the plans was like, oh, yeah, you know, just be here for a bit and see what else is out there in the world. Once Covid hit, everything settled for a bit. And I was like, actually, you know what I really enjoy doing what I'm doing, and decided that okay, I'll start pursuing this as a career. With that, we also began Mix Haus as well. What I'm doing now, it's really kind of settled me to where I want to go [and] what I want to continue doing.
Tell us about Mix Haus. What was the idea behind that? And why? Why did you form that?
In the past, I've been really fortunate, I've been to the Coleman Academy's things in Sydney, to Speed Rack when it was here in Australia as well. It was one of those moments where just being in a room filled with women just felt really powerful. There was this amazing energy that was in it. And so Mix Haus is based upon that, because there wasn't really a lot of support for anything over in WA.
You guys kind of have to go your own way out there don't you.
Either you make it or you wait, and we can die waiting for that. It was also born out of frustration. So Pippa Canavan and I, we were just talking, it was one of those conversations you have with friends: imagine if this happened, or we did this. And no one's doing anything for women in hospitality here. It's not so much there wasn't any support, there was just nothing happening. And so we're like, well, why don't we? We've got enough contacts across us, we know enough people and support that we could do something. That's how it started.
We did a fundraiser on International Women's Day in 2021, and we raised about $15,000.
That's amazing, isn't it?
Yeah. And so from that we've been able to do what we wanted to do, we've been able to put together free trainings and workshops that are exclusive to women in the industry. You know, wine training, WSET wine scholarships as well. We've been able to offer some guest panels and our female cocktail competition. There has been really cool, smaller, exciting things: we made a collaboration beer with one of our local breweries in celebration of International Women's Day this year.
What we wanted to do was just to form a community and create safe spaces for women.
Are you struggling to find staff over there like we are on the East Coast?
Yeah. So during the busy period, it was definitely, it was definitely really hard just because a lot of people were leaving and going to do FIFO. And then there was also that there were no international students or working holiday visas as well. So all that combined was really tough. But then it's funny, since January up until recently, heaps of people [have been] getting let go from bigger companies because Covid had hit us. It just wasn't as busy, people were losing jobs, and everyone was trying to find work.
What a freaking rollercoaster huh? What do you look for in a great bar when you walk into a bar?
First, definitely atmosphere but I think it's — it's a very hard question, it's very subjective. I don't think there is such thing as the perfect bar. But as a great bar? I think atmosphere, and service as well. Drinks don't have to be amazing. I've been to some really great bars that I would say that are great but [where] I've had some really shit drinks.
Other than your bar, where else will you be going for a drink during Australian Cocktail Month?
Other venues I'd love to visit in Perth during Australian Cocktail Month will be Mechanics Institute, Nieuw Ruin and L'chaim.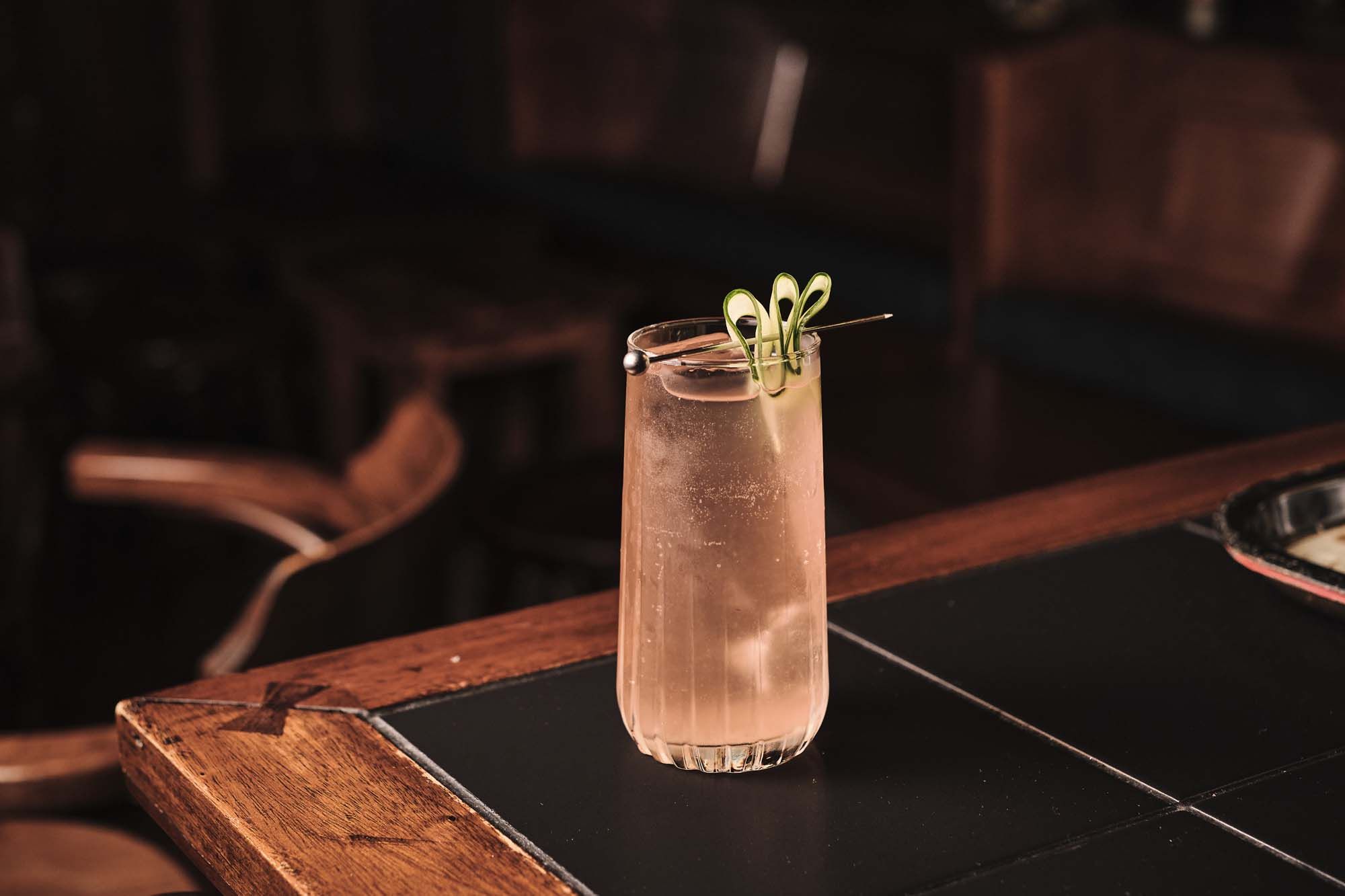 Basking In The Desert
Ingredients
30mls Feels Botanical Eau De Vie Bask
5ml Supasaya
10ml Saint Felix Bitter Citrus Aperitivo
150ml quandong & mixed sherbet soda
Instructions
Build all ingredients over ice in a highball glass.
Recipe from Foxtrot Unicorn, Perth.