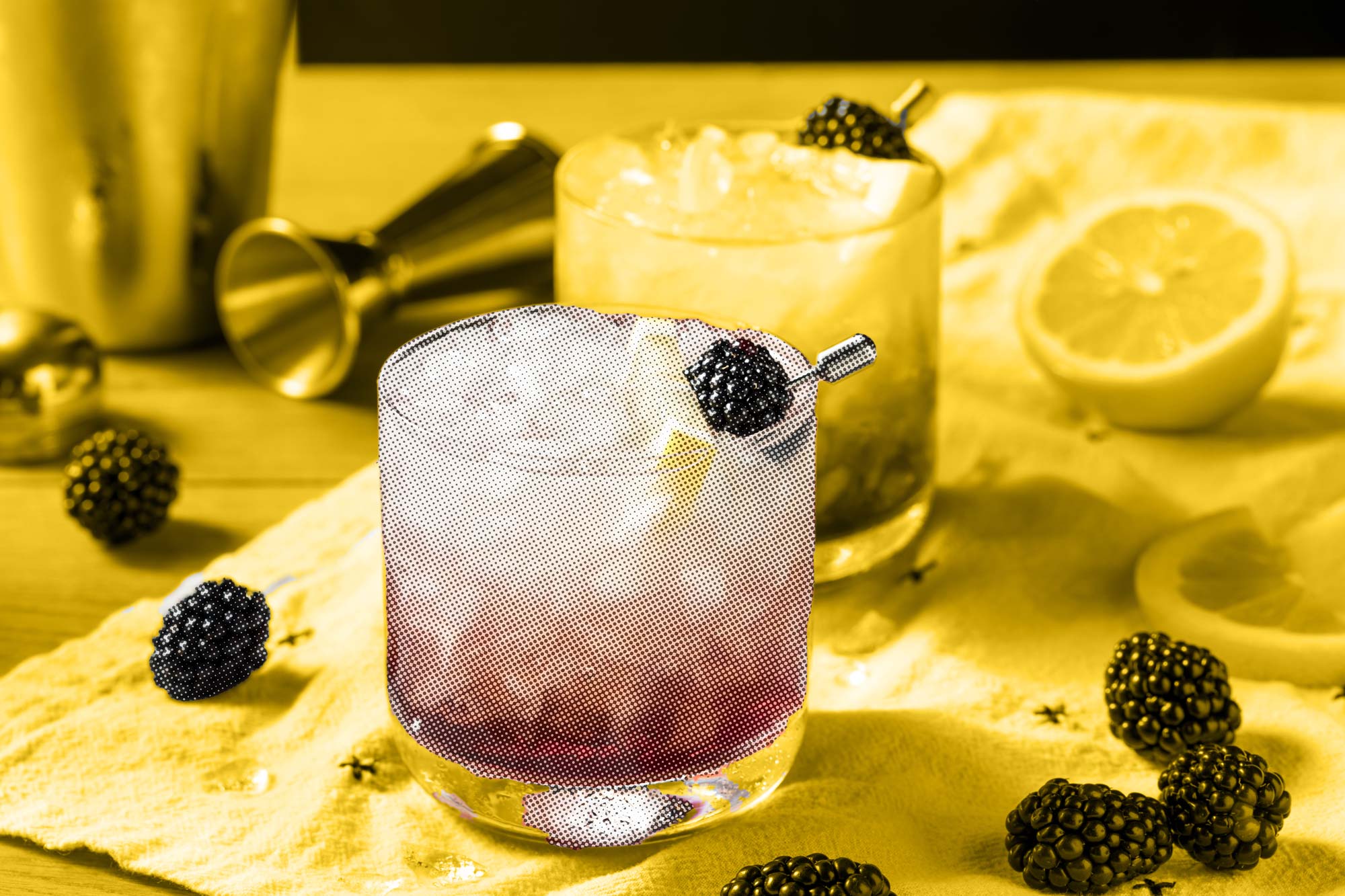 The Bramble cocktail is a modern classic from London's legendary bartender, Dick Bradsell.
There were two great bartenders of the 1980s and 1990s whose drinks survive in bars around the world today: one, Dale DeGroff, worked in New York; the other, Dick Bradsell, was at the top of the talent tree in London.
Each of them is responsible for a few modern classic cocktail recipes, and their influence extends down through generations of bartenders on both sides of the Atlantic. DeGroff is still with us, but Bradsell passed away in London in 2016 at the age of 56, as a result of a brain tumour.  
And it is Bradsell who gave the world this refreshing, zesty twist on a classic Gin Sour: the Bramble.
It's the use of creme de mure — that is, blackberry liqueur by way of France — that is the signature of this drink. The fact that it is also built over crushed ice means that this drink refreshes — a perfect accompaniment to some summer berries (or simply an excellent afternoon appointment).
If you can use a gin that lands at a slightly higher alcohol content than standard, somewhere around 47% ABV, that will stand up best in this drink; but because the creme de mure is really the star of the show, make sure you use a high-end creme de mure — one from France, perhaps, or the excellent Mure from Australian craft makers, Marionette.
You may know Bradsell from perhaps his most famous drink, the Espresso Martini. That drink has taken on a life of its own;  many people wholly unrelated to Bradsell have made serious money from his creation, its fame long ago reaching escape velocity. Today, the Espresso Martini is a household name. But if you ask a bartender which drink of Bradsell's is their favourite?
They, like Bradsell himself, would pick the Bramble.
Bramble Cocktail
Ingredients
60ml London dry gin
30ml fresh lemon juice
15ml sugar syrup
15ml creme de mure
Instructions
Shake all ingredients except the creme de mure with ice.
Strain into an Old Fashioned glass.
Add crushed ice to fill.
Drizzle the creme de mure on top, garnish with blackberries.
Adapted from a recipe by Dick Bradsell.