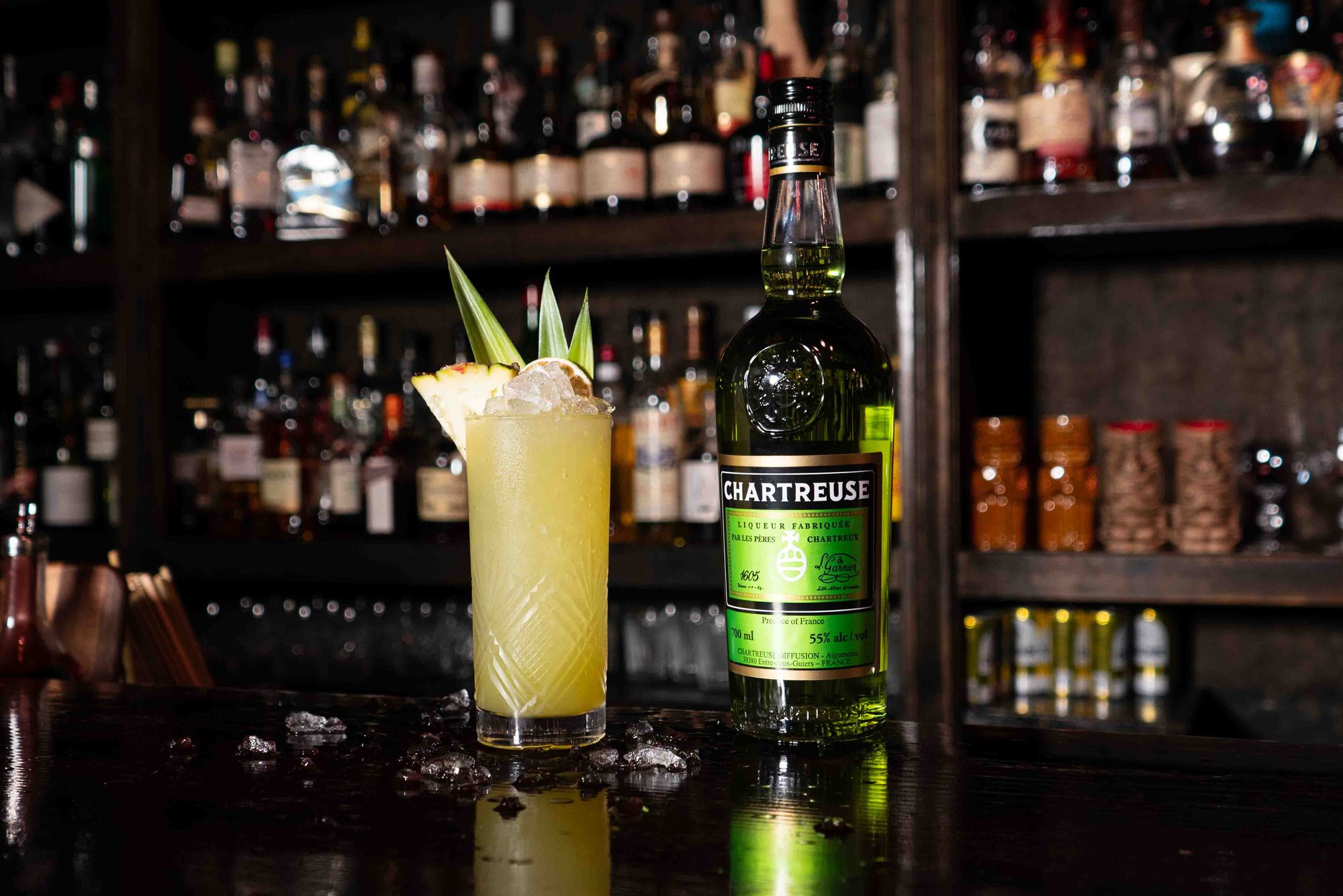 This is what makes the latest addition to the Swizzle pantheon a modern classic.
In Breaking Down, I look at what makes classic drinks so delicious and, well, classic.
To that end, our sponsor for this series, Spirits Platform, are offering training across the country on classic cocktails, spirits and more — contact your state's ambassador (details below) to learn more.
---
The Chartreuse Swizzle is fairly considered a modern classic. It's a long, refreshing, cold drink — with plenty of complexity to be found in its frosty depths.
The (brief) history
The Swizzle is a style of drink that has been around since at least the 1700s; drinks historian David Wondrich thinks that the name comes from an old Caribbean drink called Switchel — little more than spirit distilled from molasses (a kind of proto-rum), ice and citrus. It was said to be stirred with a stick from the swizzlestick tree (Quararibea turbinata), hence the name.
The Swizzle would come to be a long, refreshing, spirit plus ice, citrus and bitters drink in varying stripes (and not all of them made with rum). The Queen's Park Swizzle is perhaps the most famous among bartenders today, made with punchy dark rums, sugar, lime and mint, and swizzled together with crushed ice before being doused with aromatic bitters. That dates to the hotel of the same name in Trinidad in the 1800s, but there's also the Green Swizzle (made with gin), and the Barbadian Swizzle made with genever.
So when Marcovaldo Dionysos created the Chartreuse Swizzle in San Francisco back in 2002, he was drawing upon a long history of mucking about with the recipe.
The ingredients
Drinks and recipe writers tend to have a habit of leaving ice out of the ingredients list, but I think in drinks like this one, it's an even more crucial component; it's not a Swizzle without the ice, and that ice best be crushed.
That's because crushed ice offers a speedier dilution of the other ingredients, and when a high proof spirit like Chartreuse (it lands at 55 percent ABV) has water added to it, the aromas and flavours you find are transformed.
"With the crushed ice in this, you're slowly releasing different types of botanicals in the Chartreuse," says Josh Varna, the NSW brand ambassador for Spirits Platform (and an accomplished bartender, too). "[It's] opening up the sweetness of the pineapple and the falernum together."
Using any other type of ice would result in a fundamentally different drink.
"If you were to just have it on block ice, it would stay kind of one dimensional for a longer period of time. You would have to wait till it starts to really dilute before you open it up," he says.
It's important to note the vital role that the namesake ingredient, Chartreuse, plays in the recipe. Because it is made, according to Varna, with some 150-odd botanicals, the drink is complex in flavour; it's 55 percent ABV also stands up to the dilution that comes from the crushed ice. That crushed ice not only dilutes, it makes the drink plenty cold, too — something we appreciate whenever the weather turns hot and humid.
As to the recipe for Chartreuse and what those botanicals are, you've likely heard this story before: the exact recipe and proportions of ingredients needed for making Chartreuse is known only by two monks; even then, in a plot twist worthy of The Da Vinci Code, each of them knows just half the recipe. But is that really true? It seems a rather dangerous way to run a brand in any era. Then again, the monks have also decided not to ramp up production to meet the global demand for the stuff — so it's fair to say that business isn't perhaps their only concern.
The technique
Now, anyone suggesting one must swizzle a Swizzle — with a particular piece of stick, mixing the drink by rubbing it back and forth between your hands — needs to loosen up a bit. The same job, obviously, can be done by churning the crushed ice with a bar spoon, as Varna demonstrates in the video here above.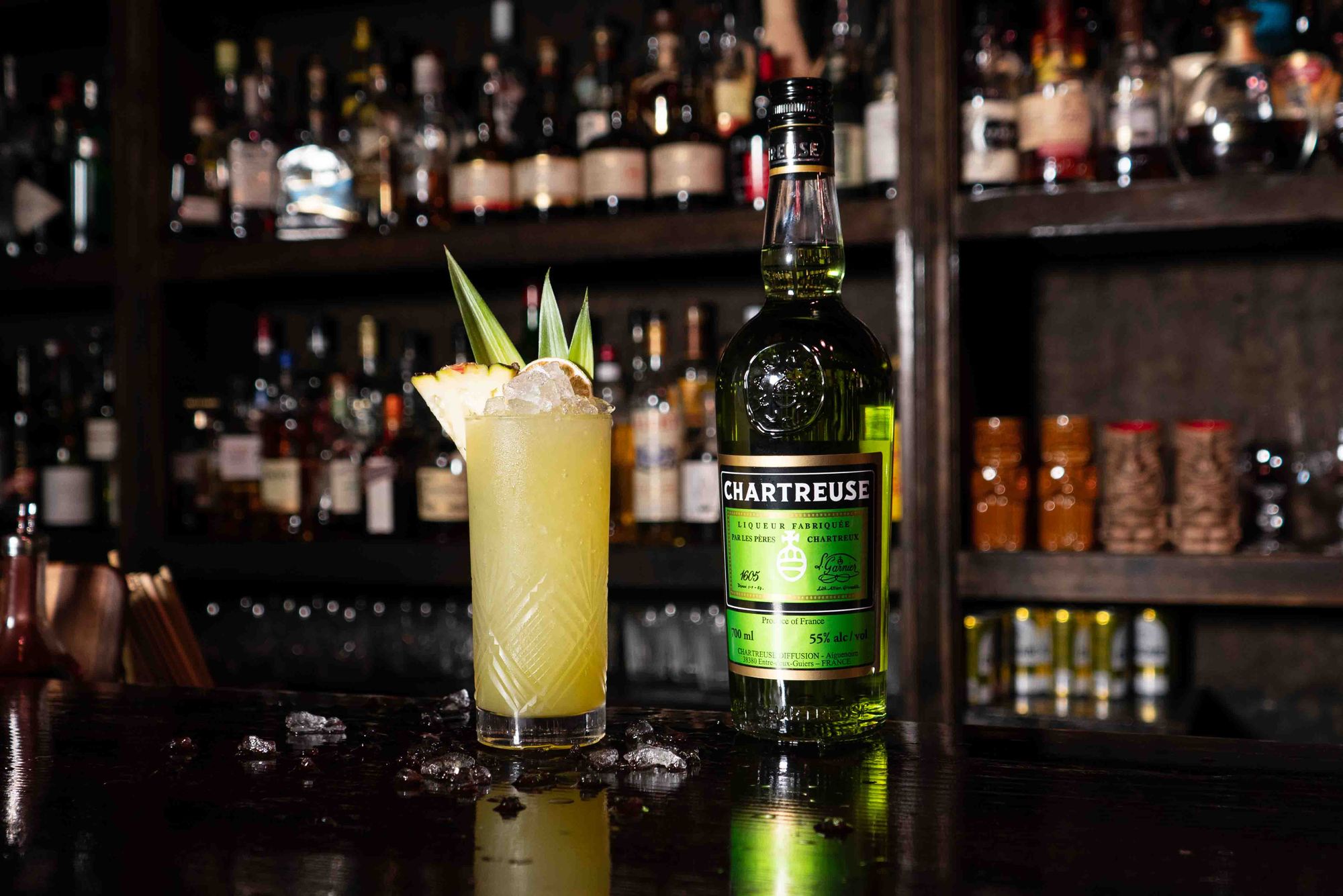 The Chartreuse Swizzle recipe
Ingredients
45ml Green Chartreuse
30ml pineapple juice
25ml lime juice
15ml falernum
loads of crushed ice
Instructions
Add all ingredients except the ice to a Collins glass.
Add crushed ice, and churn with a bar spoon, knife, or some other rudimentary device.
Top with more crushed ice. Garnish with love.
Adapted from a recipe by Marcovaldo Dionysos, San Francisco, 2002.
---
Want to learn more?
This recipe and video was made possible by Spirits Platform's Spirits Academy. Their team of ambassadors conduct trainings around the country, sharing their in-depth knowledge of spirits, cocktails, and their big portfolio of products.
Get in touch with your Spirits Platform ambassador for your state to find out more.
National Ambassador Manager: Mark Hickey — email him on mhickey@spiritsplatform.com.au
National Ambassador (Tia Maria, Disaronno, Busker): Danilo Migliorini — email him on dmigliorini@spiritsplatform.com.au
NSW, ACT: Josh Varna — email him on jvarna@spiritsplatform.com.au
QLD, NT: Jack Creighton — email him on jcreighton@spiritsplatform.com.au
VIC, TAS: Max Borrowman — email him on mborrowman@spiritsplatform.com.au