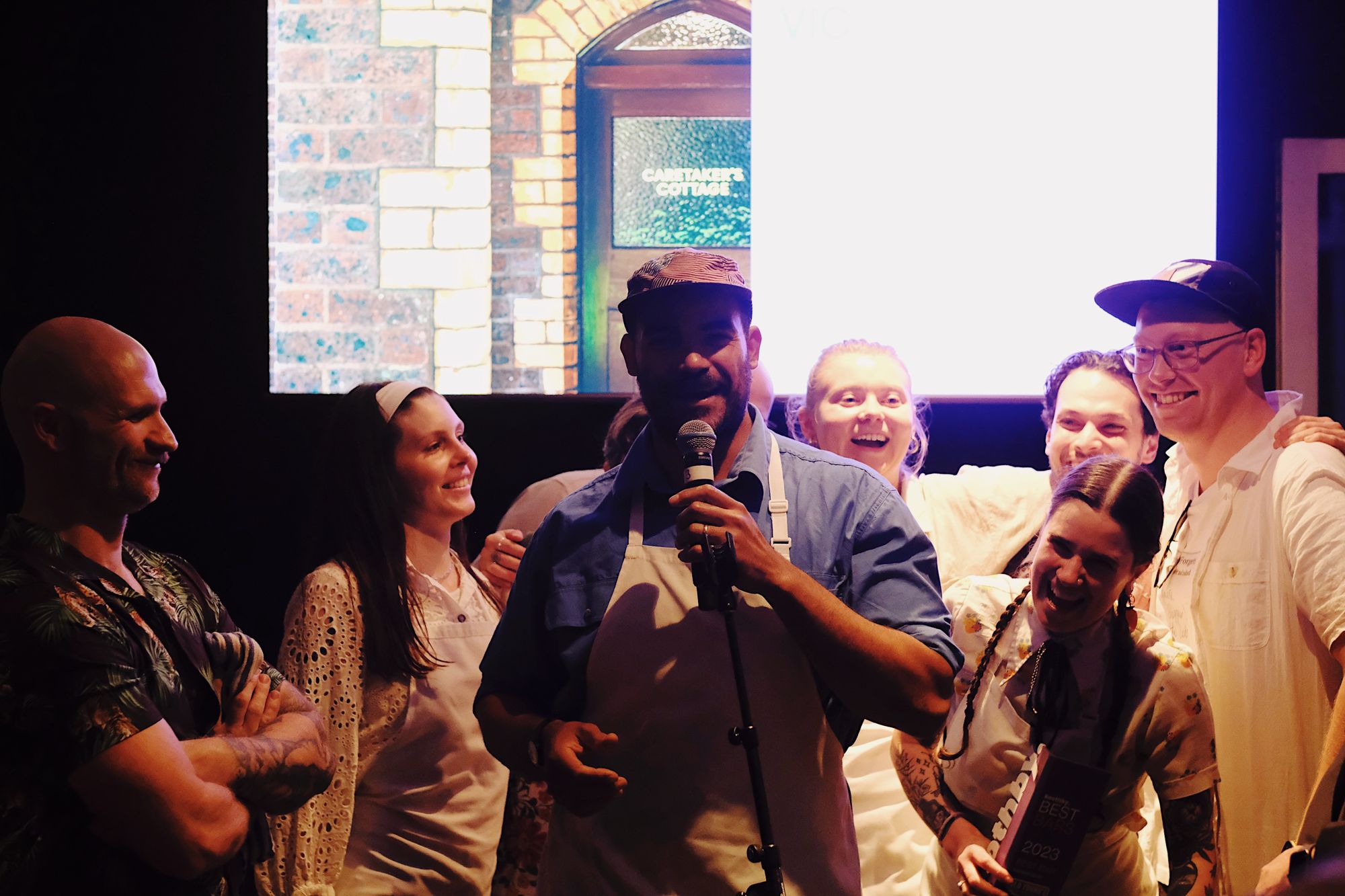 It pays to be patient — you might just find yourself with one of the world's best bars.
Sometimes you know right away about a place. I know I did.
When I first stepped inside Caretaker's Cottage in Melbourne, just after they'd opened in March 2022, a range of feelings swept over me; the place is cosy — it is, after all, a little old cottage aside a church — and it felt like a refuge from the glass and concrete and traffic of the city all around it.
The ambience — the lighting, music, the texture of the materials — made it feel like home, but if you looked closely, conveyed a sense of quality and polish, too.
That feeling was mirrored in the hospitality and deft touch with which the people behind the bar, co-owners Ryan Noreiks, Matt Stirling, and Rob Libecans, did their thing: each of them have worked in some of the world's best bars, with a depth of experience not often found in Australia, and without any of the pomp or seriousness or fakeness that can sometimes come with that. Instead, you got a genuine sense that they actually gave a shit, and their drinks had all the polish and precision of the world's great bars (whether that be for their Martini, or their very good Guinness).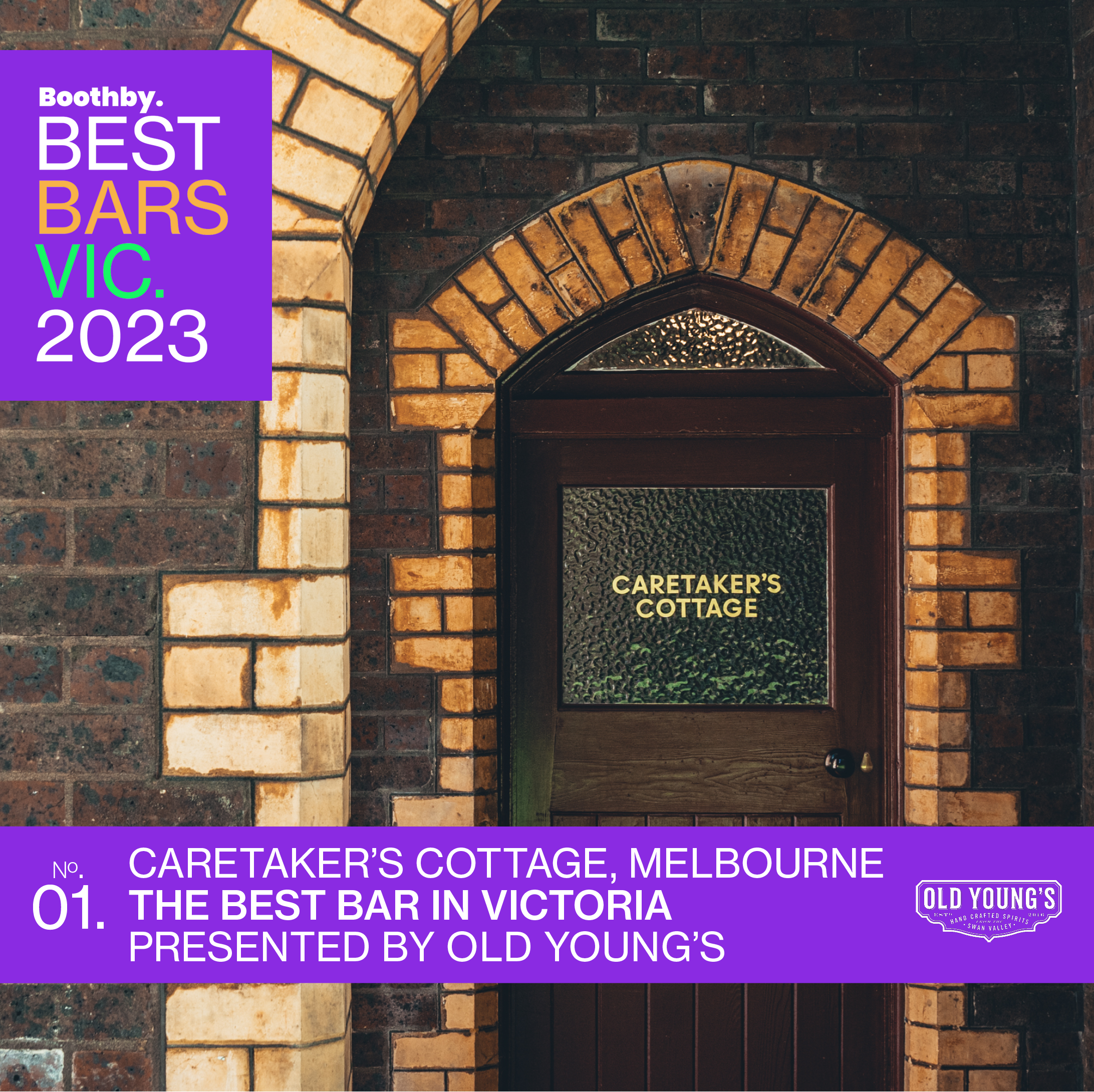 From my first drink at the bar, everything felt complete. They didn't have to shout about how good the place was. You just knew you were sitting somewhere special.
In the time since then, those initial feelings have been confirmed time and time again. The team has grown, but the DNA of the service remains the same. And they've picked up a lot of attention and accolades along the way, among them picking up the trophy for the Boothby Best Bar in Victoria presented by Old Young's.
(Oh, and they landed at number 23 on The World's 50 Best Bars list last month.)
Below, I talked Rob to get his take on those accolades, and he talks about how he's glad that they waited — longer than they wanted to, by the way — to find the right space and open their bar. He also talks about how the 50 Best result changed their business literally overnight. You can read that chat below, lightly edited and condensed for clarity.
While I have you: if you're in Sydney on Sunday the 19th of November, you can hear from not just Rob but also Stefano Catino, whose bar Maybe Sammy also landed on The World's 50 Best Bars list this year (for a fifth straight time, too). I'll be hosting a panel talk with them about what goes into the world's best bars, and will be quizzing them for their insights and advice. It's on at Burrow Bar at 2pm, tickets are only $15, and we'll have complimentary drinks for you, too. If you care about hospitality and you're keen to up your game, this is one talk you won't want to miss. Get your tickets here, space is limited.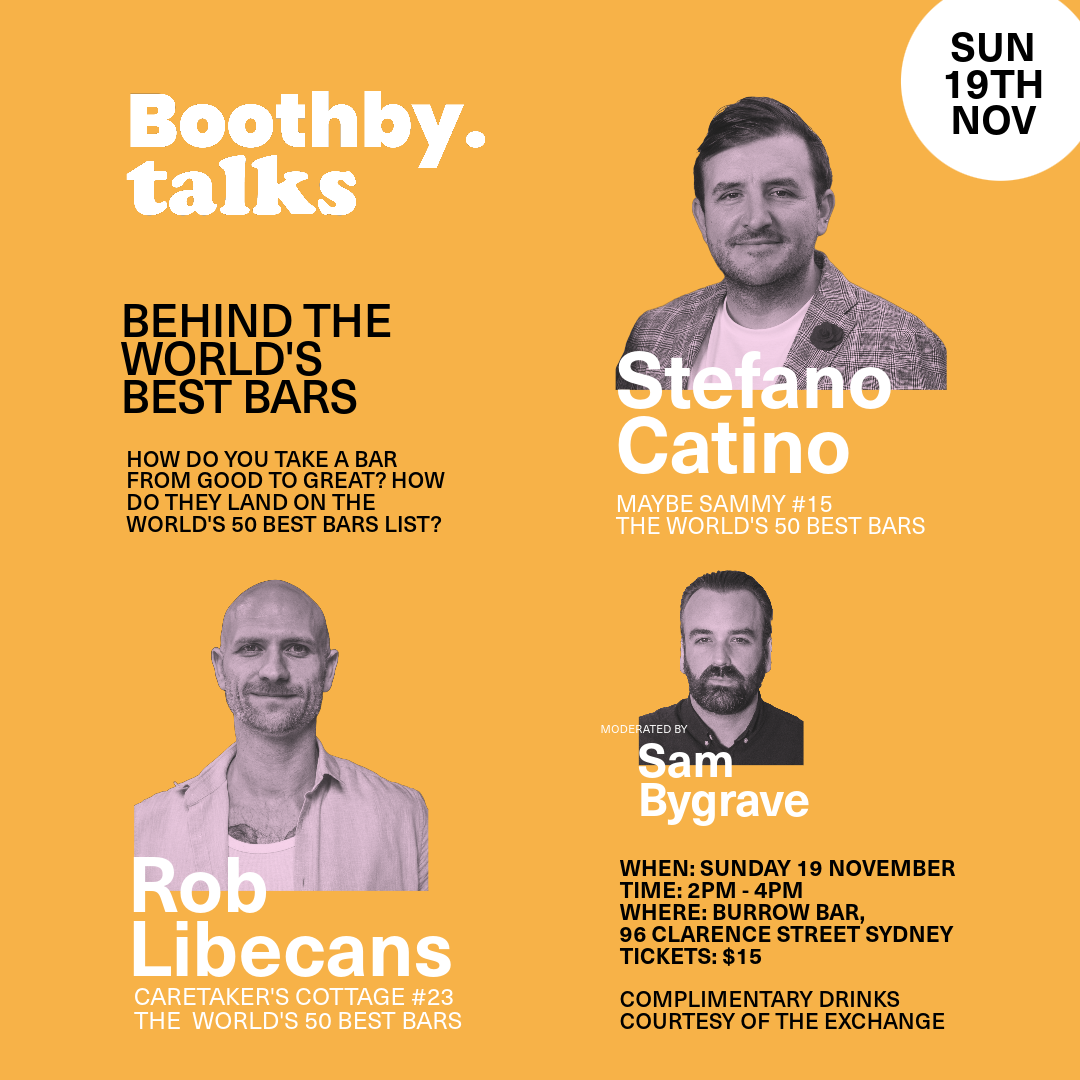 Sam Bygrave: Let's talk about the Boothby Best Bars VIC awards. You guys came in at number one. You've had some really good results in general — including on The World's 50 Best bars list. First of all, what does that feel like? I mean, this is your baby, this is your first bar.
Rob Libecans: It's always a bit surreal. I mean, we live in our own little echo chamber where we don't really get out a lot. We don't get to see a great deal. [We're] head down, we get through our own stuff and work on our own team and their own development.
I guess you don't get to see the other places that much, right? You're kind of busy at the moment.
It's like cars, kids and work — they're the only things I see. I don't even really get to speak to a lot of people.
I always find it surreal. We've worked in busy places, we've worked in famous places and we've worked in venues that have cleaned up, but I think it's kind of different when it's ours and every decision we make, we can make at our pace, not dictated by someone else's. That's when it feels, I don't know, it just feels pretty special.
On that, do you wish you'd opened your own place sooner?
I think, had we opened up what was going to be Fancy Free when we wanted to, which is maybe five years ago, I reckon we wouldn't have survived Covid. All these little things have really shaped us, they've toughened us up a little bit. You know, we changed our mind and what we wanted to do — if we'd opened up earlier, we probably wouldn't have found the pub. It's all kind of serendipitous. It feels a bit like fate, you know?
[The Lincoln owner] Ian Ling said to me years ago, you're going to see a lot of venues and you're going to have to kiss a lot of frogs. And it kind of made sense.
I feel like if we'd done anything differently, it wouldn't have ended up where we are.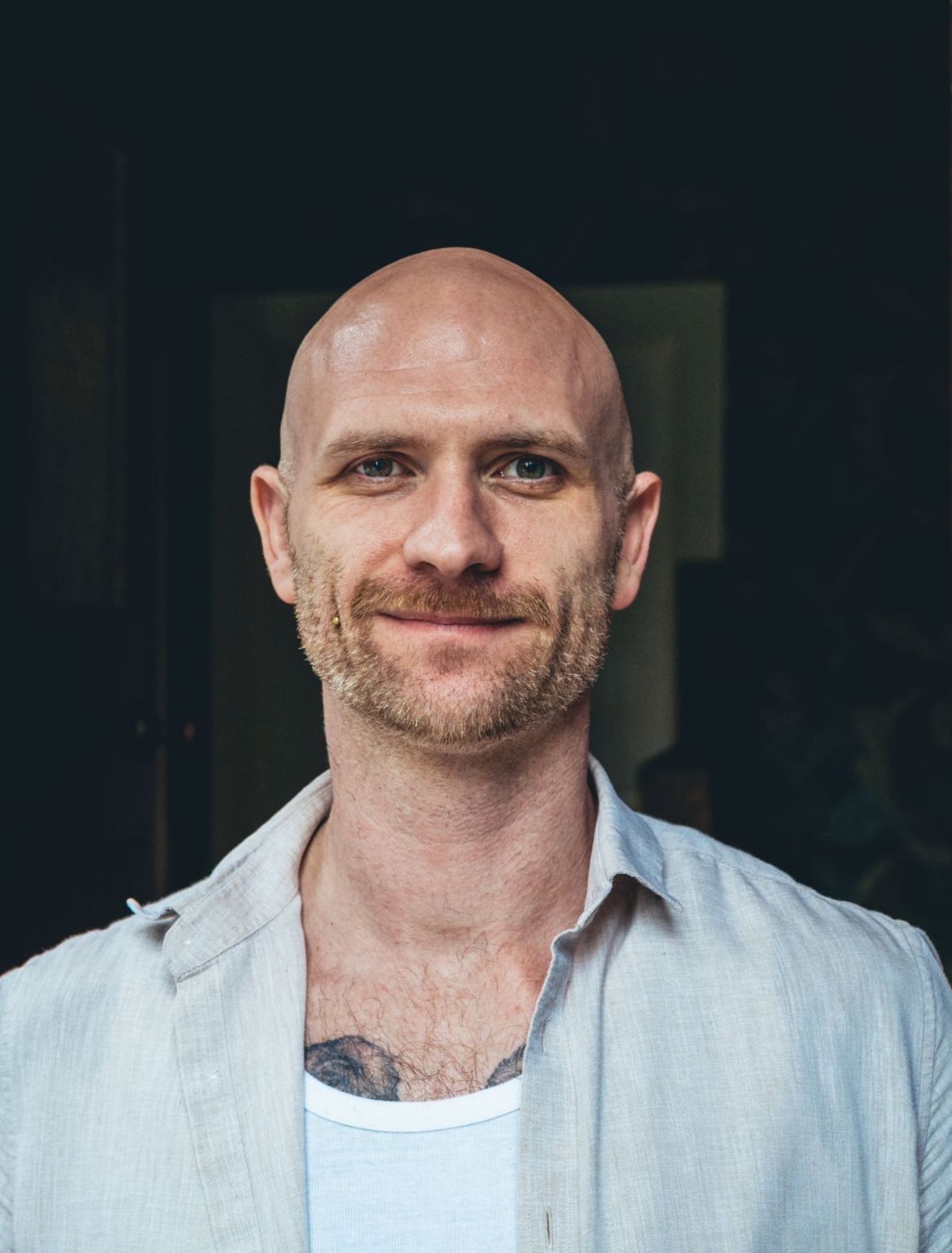 So you just waited for the right place.
Yeah, I mean Ryan and I, you know, we're very picky. We're quite peculiar and our gut instincts are invariably always the same. And there's a good dose of being completely naive to the project that was the pub.
But you get a feeling when you walk into the space and you go well, this is something quite unique. And your mind goes into overdrive. It doesn't happen with everywhere you see — most places you walk into, you pick fault with immediately. We just didn't get that when we found our venue.
It's pretty special. What is it you think attracts people to Caretaker's Cottage? Are you able to get that kind of insight on what you're doing considering you're so close to it?
Yeah I think so. We have a real strong culture [in which] you speak to every single person who comes into the venue. So even when we have quiet moments, staff are tasked with getting to know each and every guest that walks in. We do find out things like someone's first time, how they were recommended, how they got here, how long they're in town for. We get a really good snapshot of why people are there.
But like I say, it's unique. We're pretty much the only place in the CBD where you can drink outside between three skyscrapers. It's got a private garden. So it doesn't take much to kind of bring people to it. It being a house with a fireplace in every room, there's well-considered artwork, the lighting is really good. It makes people feel comfortable because it does feel like you're in someone's house. It doesn't feel like a bar.
You had an amazing result on The World's 50 Best Bars list. You climbed pretty damn high. First time on there. What was that whole thing like, because it's quite the caravan, this World's 50 Best thing.
During the [countdown from 50 to 1 with] numbers ticking away, I was like... I'm not a nervous person and that was like — I felt sick. We're pretty fortunate that we knew a lot of venue owners and bartenders at the ceremony, so we're all kind of cheering for each other, but out of our group of friends, we were the last ones to be called. A lot of it is pride. A lot of it is understanding that the lower your number is, the more busy you're going to be.
And when it ticked over from 39 to 29, I was like, well, that's the biggest leap for me, you know, breaking that barrier. And then the dread set in. I mean, you saw my face. It was not an enjoyable experience. I was relieved when our name was called out. I was like, thank you Lord.
Well, you texted me afterwards and you said, oh, now we're fucked.
Absolutely. The repercussions of placing quite well are that we're doing Saturday numbers on Tuesday now. We've had to delay opening up an extra day [in the week], because we need more staff on the days that we're already operating.
Really? It's that quick? That's amazing.
Yeah, I mean, it was the next day. It was insane.
What did the rest of the team feel about it? How did they feel?
I think half of them are in the same bubble as us. The senior ones understand that this kind of work and this kind of commitment that they're putting in and plan to put in over the next years, it could really make a career for them. This could be really huge for them — the kind of venue where you don't have to write a CV afterwards. So I think they're seeing the fruits of their labour.
I think everyone understands the gravity of it. We don't not talk about it, but it's not something that we lead every conversation with. It's just pretty awesome to have.
What's a bit of advice that you'd give to someone who's maybe around that 25 to 30 year old range, who takes it seriously as a career, and is looking to open their own bar one day?
Listen, I think by the time I was 30, I worked or ran three bars that had placed in the 50 and two of them [placed] in the tens. I thought I was ready then. I think going through the journey of having your heart broken is probably the best thing, not rushing into the decision. If you have to wait a couple of years and you've taken part-time jobs like we did just to be flexible enough to go and see venues on a dime.
And that was going to be Fancy Free?
Yeah, yeah, absolutely. I mean, I was working in a Chinese noodle joint for a year and a half and then part-time at Above Board. Just being resilient, but also really patient. You know, if I'd opened up a bar when I was 30, I'd be flat broke now. I'm so glad.
The other [piece of advice] is, you don't have to give everything away. People are happy to pay and happy to see you do well. You don't have to buy friends.
You don't want those people anyway, I don't think?
No, I mean, I want to be one of those people when I'm out!
I think our venue in the list really stands out from a lot of those places on the list because it's just pretty simple. We just do what we do well and stick to it. You can get better drinks at places like Byrdi. I think holding out for that really unique spot, that you know you can make a go of, it is definitely worth it.