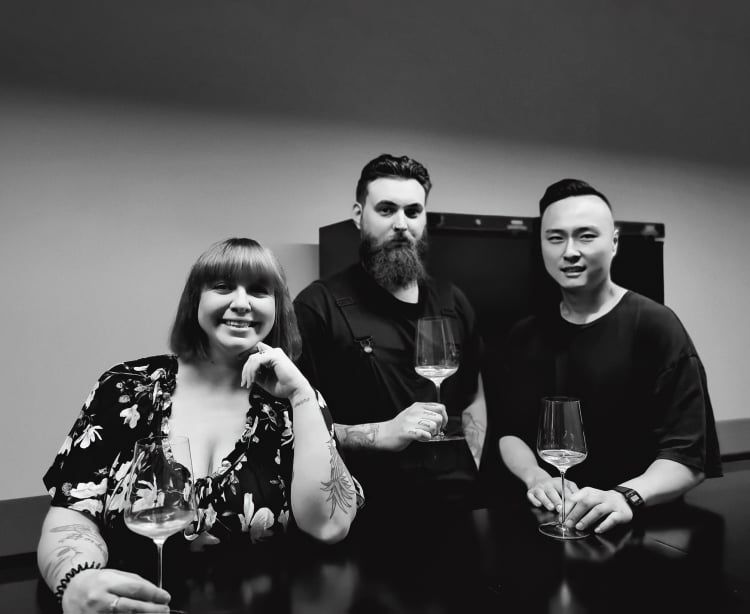 At Par, a bartending double act makes their bar owner debut.
There's a new cocktail bar on the way for Melbourne's Brunswick street strip, and it's called Par.
The bar is a partnership between bartenders Tony Huang and Tim Pope — who have spent the last four years working together — and Pope's wife Aimee, whose background is in wine service.
"It's a contemporary concept bar, it's championing the kind of style and the service that me and Tony have been doing over the years," Pope says.
"[It's] focusing heavily on aroma and flavour as the champion, while keeping that minimalistic approach."
Pope and Huang are two bartenders with an impressive resume of cocktail competition performances, who first began working together at The Cloakroom in Melbourne's CBD in 2018. They've since become something of a double act in the following years.
"It's very rare in the industry to come across another person that has a very similar style and creative mind as you do," Pope says of his partnership with Huang. Par will be the first time either bartender has owned a bar of their own.
They've taken over a narrow site that formerly housed a French creperie on Brunswick Street in Fitzroy, a stone's throw from The Rum Diary Bar and a block up from Black Pearl. Pope says that they see Par as complementing the other bars on the busy strip.
"We're hoping to add an extra, new thing to the street," he says. "It's just one more reason to come down to the street."
Expect the drinks to be thoughtful and neatly designed, with much of the work done before service.
"We're of the opinion that we like to time shift, we like to spend a bit more time prepping our stuff, so we can produce the drink faster and have more time for guests and interaction," says Pope.
"Our cocktail offering is going to be just the signature list that we that we serve, but to keep it interesting and fresh, we're going to rotate it frequently," he says.
"You can come in twice in a week and get a different drink, and have a different menu."
Wine is the other big focus of the bar, thanks to Aimee Pope's wine background.
"We're trying to blend the disciplines," says Pope of the cocktail and wine emphasis, "instead of keeping them as two separate elements, and just trying to find a middle ground, which is where that name Par comes from, as well. Par is derived from balance, and we're just trying to find that perfect balance between what we like to do and what we find enjoyable."
The Brunswick Street space is intimate, with table service on offer and room for just 32 people.
"It's not like a classic speakeasy basement," says Pope. "It's quite open and inviting, which we're wanting to do. We put in a really nice, six metre-long bar, so it's encouraging people to be up there, actually front and centre rather than tucked away in a corner."
For now, they're keeping the details on the drinks and any thematic concepts under wraps, preferring to reveal more when the time comes for them to swing open the doors. Pope hopes to be open by late March.
For now, however, you can follow them on Instagram at @par.melb. Par is set to open at 360 Brunswick street, Fitzroy and is planning on serving Wednesdays and Sundays until 11pm, and Thursdays to Saturdays until 1am.