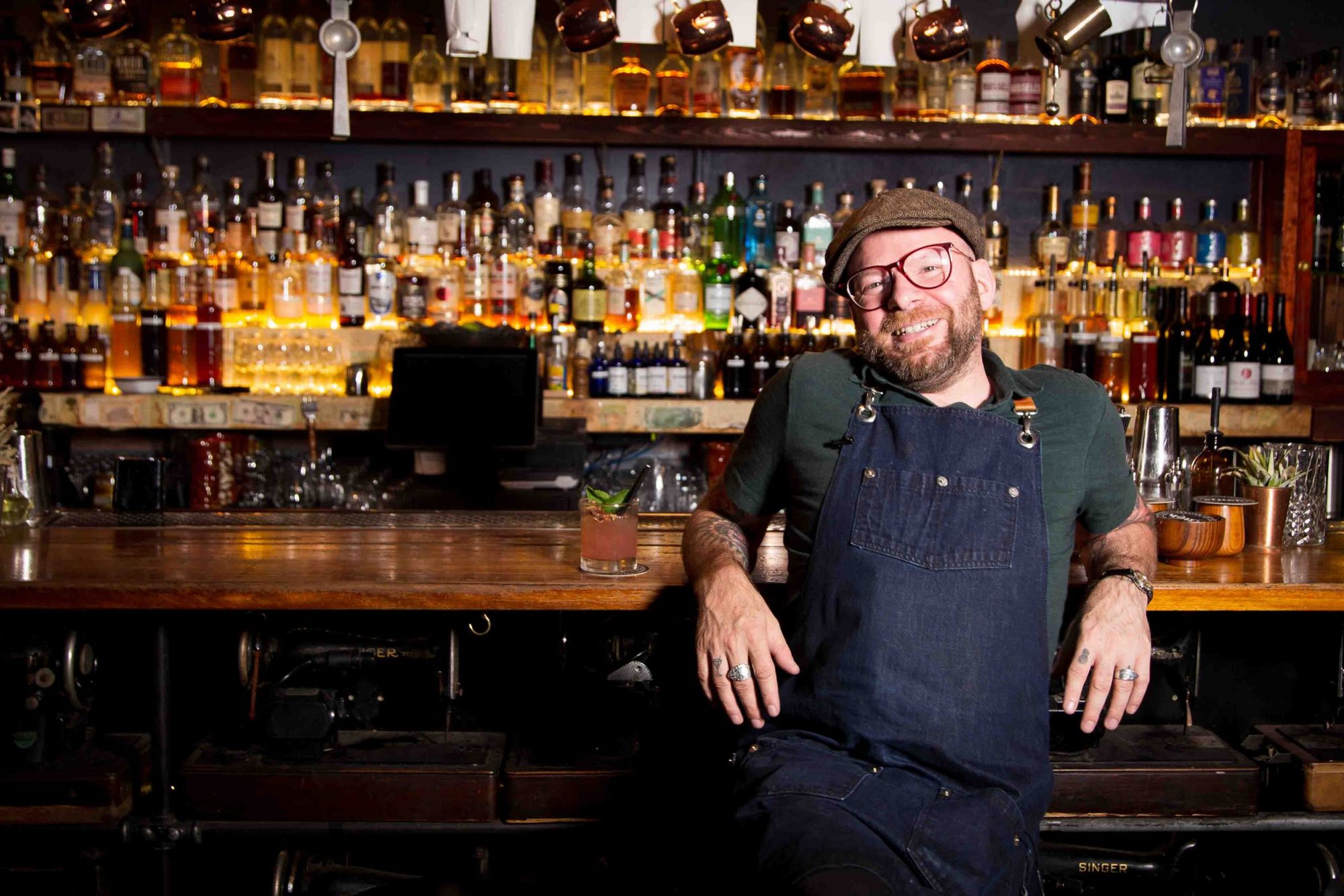 Cristiano Beretta talks about growing up in a bar, inspiring guests to drink better, and his ideal bar to drink at.
Bartender Cristiano Beretta is one of Australia's most respected bartenders, having spent time behind the stick at some highly regarded bars: Black Pearl, The Rook, The Barber Shop, and these days in his role as bars manager for the Pocket Group.
As a teenager, he didn't know he'd end up behind the bar, but perhaps the die had already been cast; Beretta's parents owned a bar in their hometown in Italy until he was 10.
"The bar was my playground," he tells us in the interview below.
When he was 21, he got his first job working in a bar in London, working nightclubs and pubs around Soho. But it was only when he moved to Melbourne, and began working at Tash Conte's Black Pearl in Fitzroy, that he got into cocktail bartending properly.
Beretta spent six formative years at Black Pearl when he was already deep into his career working behind the bar. There, alongside some of Australia's biggest bartending names — Tim Philips, Rob Sloan, Chris Hysted, Nathan Beasley and more — Beretta honed his craft and became the bar manager.
After the Pearl, Beretta moved to Sydney to take on the bar manager's gig at The Rook, and spent time managing gin bar The Barber Shop across the road.
These days, he's the bars manager for the Pocket Group, and is based out of Pocket in Terrigal.
He also spends a few shifts a week at the group's subterranean York Street cocktail bar, Stitch, which is where we caught up with him for the chat below.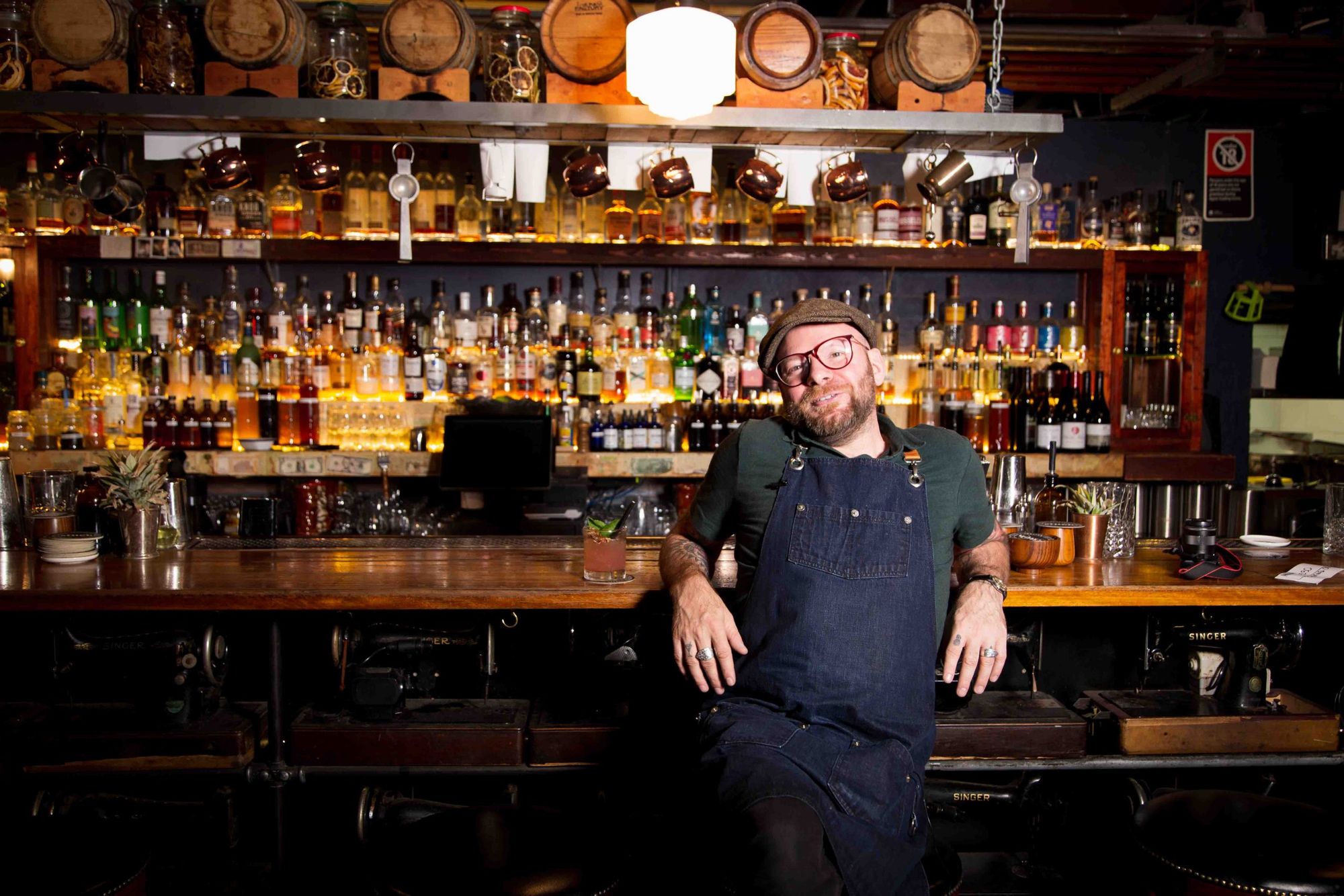 How long have you been bartending for?
Legally or illegally?
Give us both estimations.
Legally 26 years, illegally 36 years. Until I was 10 years old, Mum and Dad used to own a bar, and I used to live right above it. So the bar was my playground. Until 10 I was just around, helping out, meeting locals, and being part of the whole thing.
Mum was working, Dad was not.
What was Dad doing?
He was entertaining.
So client relations?
Sitting down, drinking, playing cards and whatnot.
Are they good memories from that time?
Oh that's the best memories I have, I still have them.
Do you think that set you up for a career in hospitality? Were you always going to end up behind the bar — or did you want to do something different?
No actually, I did not know what I wanted to do when I got out of school at 14, I did not think about it. And I started doing other things. Until when I started traveling, when I had to choose a career that was pretty easy for me to figure out what I wanted to do.
You travel, you learn different cultures, languages, and [it's] a job where you can go anywhere you want to.
What makes a great bartender? Who do you want to be served by?
Who do I want to be served by? Someone that keeps me entertained. I value them more than someone who can make a good drink.
You like the banter across the bar?
As a bartender I can make my own drinks, right? So all I need is someone that makes my night, so an entertaining person. These days you can get good drinks in any place.
At the corner pub you can get an Old Fashioned.
Exactly. But sometimes I find that it's easier for me to go to a pub and have a more entertaining night than go to a cocktail bar where I don't.
Are you kind of a bit over all the mixology?
No, I think that's a big part of it. We just need to be able to balance out the knowledge that we have, and how to inspire people to drink better — we don't want to teach how to drink better, we need to inspire.
You don't want to tell them what to drink, to start with. Or if they order a drink that you don't like making, just make it. That's what they want — just make it. And then after that, say you've already had what you like, ow about you try something similar but different? And that's how you try to change what people drink.
What makes a good bar?
There's a lot of parts. It's not only the bartenders, it's not only the site, it's not only the offering, [there's] a lot of parts to that.
Describe your ideal bar to me — if you didn't have to work tomorrow, you had the whole week off work, where would you like to be sitting at?
I would like to be sitting at a neighbourhood bar. Because I think that's my favourite — I've been working in similar establishments pretty much through my career, and where I started illegally. My parents bar was a neighbourhood bar. You've always got regulars, you know how they interact, you know what they drink, you know what they like, and that's the kind of thing that I think a good bar should have.
Look after your regulars, and they will bring more and more people in.
So you don't need a rotovap?
I don't think that you do.
It's not bad if you have one.
I'm a pretty classic kind of guy where if I've got six bottles, I can make you four drinks out of it — I'm okay with that.
And away we go.
Obviously, the way bartending goes, it's more and more experimental, which is great in a way that our guests can try new flavours that would [otherwise] not be able to.
That's not essential. It's good if that's your ethos on what you want to do in your bar, but there's at least 150 years, 200 years without it, I think we can carry on without it. It's good if you have it, but it's not essential.