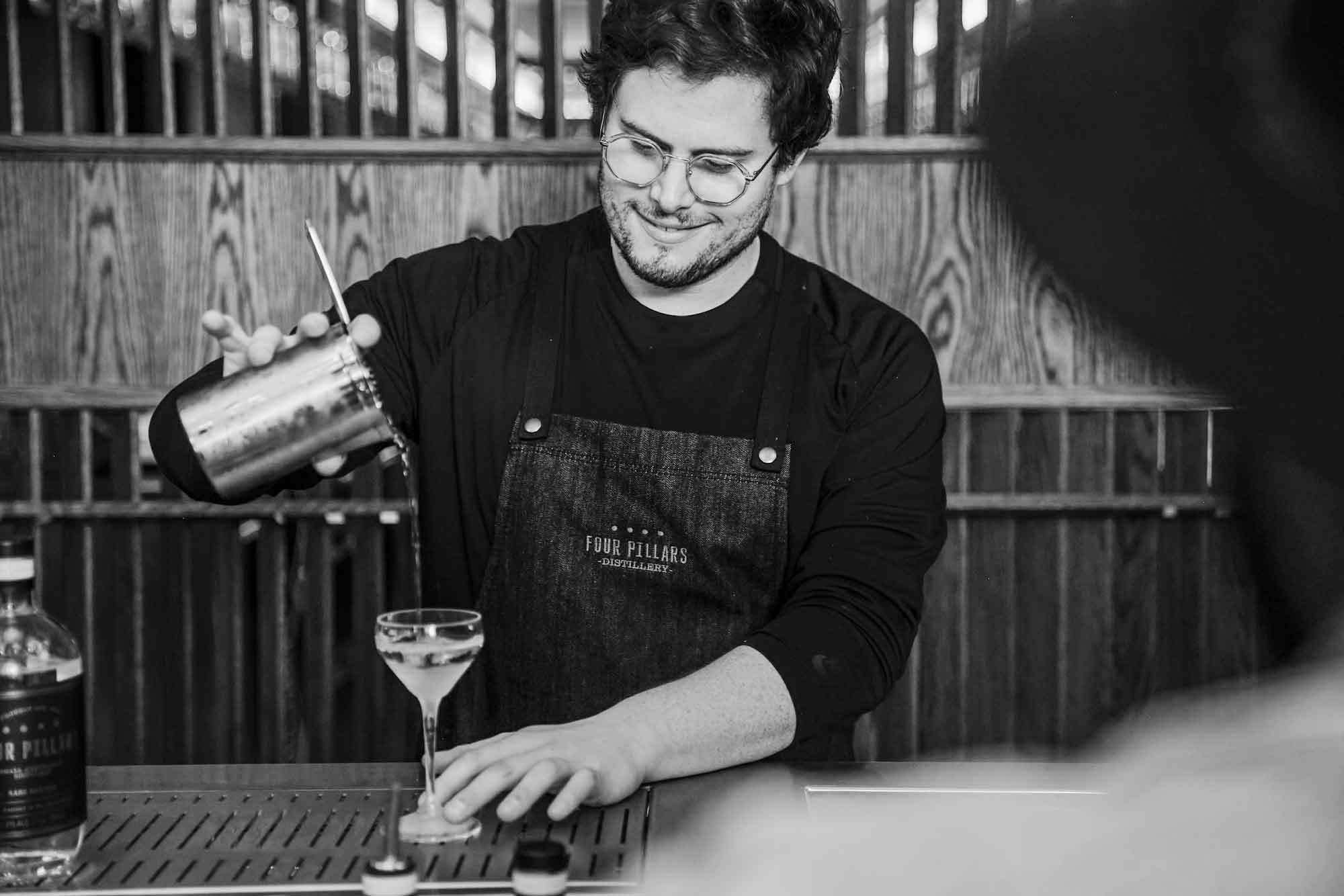 In the Decoder, we take one great drink and ask its creator to break it down for us. First up is James Irvine, from the Four Pillars Lab in Sydney.
Welcome to Boothby's Decoder, in which we take one great drink and ask its creator to break it down for us.
First up is James Irvine. He's been working for Australian gin brand Four Pillars for the last two and a half years, having served as the creative in charge of the drinks program for some of Australia's best bars before that: The Baxter Inn, Restaurant Hubert, and Shady Pines Saloon among them.
Irvine's current role is as Creative Director – Gin Drinks which sees him working with Four Pillars "on a drinks, trade and consumer front; now all of which has come into fruition in our newly opened Four Pillars Laboratory in Surry Hills, Sydney," he says.
Below, Irvine tells us how he developed the wonderfully named Oki Doki Hinoki (Changing Seasons Gin, Tōji Junmai, yuzu and hinoki), from the menu at the Four Pillars lab.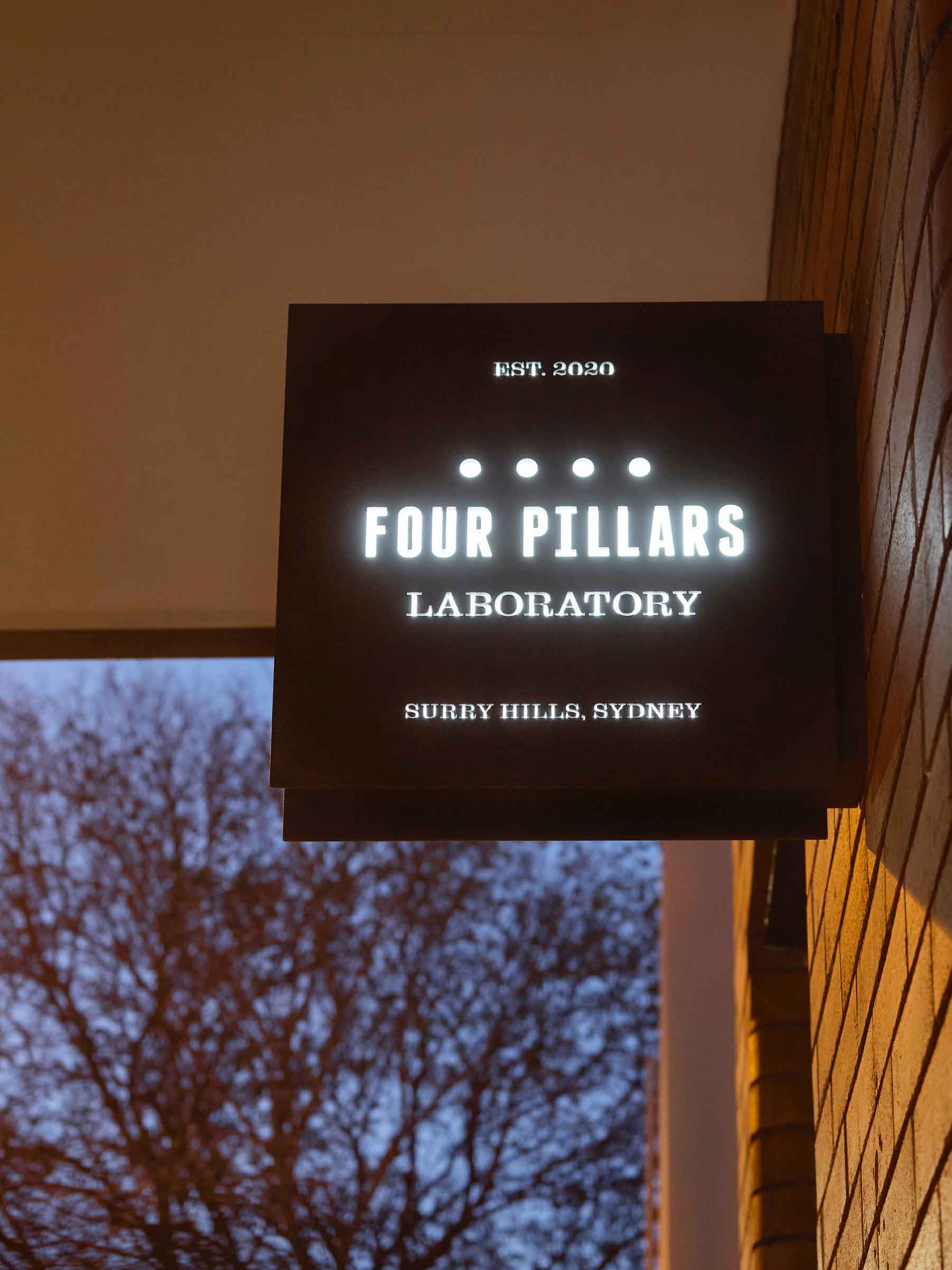 For me, this adult beverage is applicable to many an occasion, as it's a hybrid cocktail of a wet Martini and a Gimlet. However, I enjoy it most pre-dinner, maybe with a tray of oysters.
This drink had a really quick turnaround. I tried the juice and had it on the menu for an event the next fortnight! I came up with it when I was lucky enough to be at the Four Pillars Distillery the day Changing Seasons Gin was being made (a collaboration between Four Pillars Gin and the Kyoto Distillery). I was caught rummaging through the botanical sets, like a rottweiler on bin night. But I found some really cool stuff! Mainly, hinoki: a bougie perfumed Japanese oak. The gin also uses yuzu as a key citrus botanical and that got me thinking Gimlet.
This drink has a chicken and the egg theory… I had the building blocks in my head. Clean, lineal and structured. The gin has great weight, but at the same time delivers an awesome bouquet of citrus and spice, it's beautifully elegant and I wanted to deliver on that. So in my head I wanted a geometric, minimalist look as well. That element of class made me think Martini and hence the hybrid format came into play.
Instead of using your go-to dry vermouth, I opted for daiginjo sake, the highest grade of sake there is — the rice has been polished to half its original size, so you're only getting the purest exposure for the koji mould.
We adapt this process to the way we handle the yuzu as a cold ferment in koji solution for three to six days. Depending on the quality of the yuzu you'll get an unreal preserved yuzu, savoury pow-pow!
We then make a hinoki cordial (just like a Gimlet), hinoki oak, stabilising acids, sugar and water. Thermomix and clarify. Keep that sweet action cold for later. And that's it, all elements prepped and ready to go. We batch this drink for ease of service. But if you're playing at home, the spec is below.
I think it ticks boxes. Approachable, but interesting. Maybe a new flavour for some to wrap their laughing gear around, but most importantly; (I think) it's a serious drink delivered in a really fun way. I think Australian bars do that so well and it's something we try to deliver in the lab.
Oki Doki Hinoki
Ingredients
50ml Changing Seasons Gin
12.5ml Tōji Junmai (shout out to Tōji #SendTheCheque)
12.5ml Yuzu Koji
12.5ml Hinoki Cordial
Instructions
Stir down. Serve down over Bare Bones Ice Co.