Natalie Ng is co-owner and bartender at Sydney bar Door Knock, and here she talks about why their latest cocktail list is their best yet.
Natalie Ng is one of the Sydney bar scene's leading lights, and through her long career — whether it's at the legendary Cafe Pacifico, opening Mojo Record Bar, or her time as an ambassador for Diageo's World Class program — she has always put her emphasis on making people feel welcome and encouraging them to have a good time.

The same goes for her Sydney bar, Door Knock.

Door Knock is three years into trade, and with the launch of their latest cocktail list they're at the top of their game.

The new list sees drinks like the Portside MC, which combines rye whiskey with blackberry and more; Livin' La Vida Coco, which is their delicious take on the Negroni; and the Chloe Amour, their riff on the ever popular Pornstar Martini.

The new drinks, designed by bar manager Liam Gavin and 2IC Anna Nguyen — and overseen by Ng — use some thoughtful techniques to deliver delicious, accessible flavours.

Which is what you want in the welcoming, inviting space that Door Knock is. Here, the hospitality is the thing: you won't find any cocktail snark, no bullshit attitude — what Door Knock gives you is a damn good time.

Below, lightly condensed and edited for clarity, Ng tells Sam Bygrave about what to expect at Door Knock, why their latest cocktail list is their best yet, and why some drinks have her asking for a tasteless lager.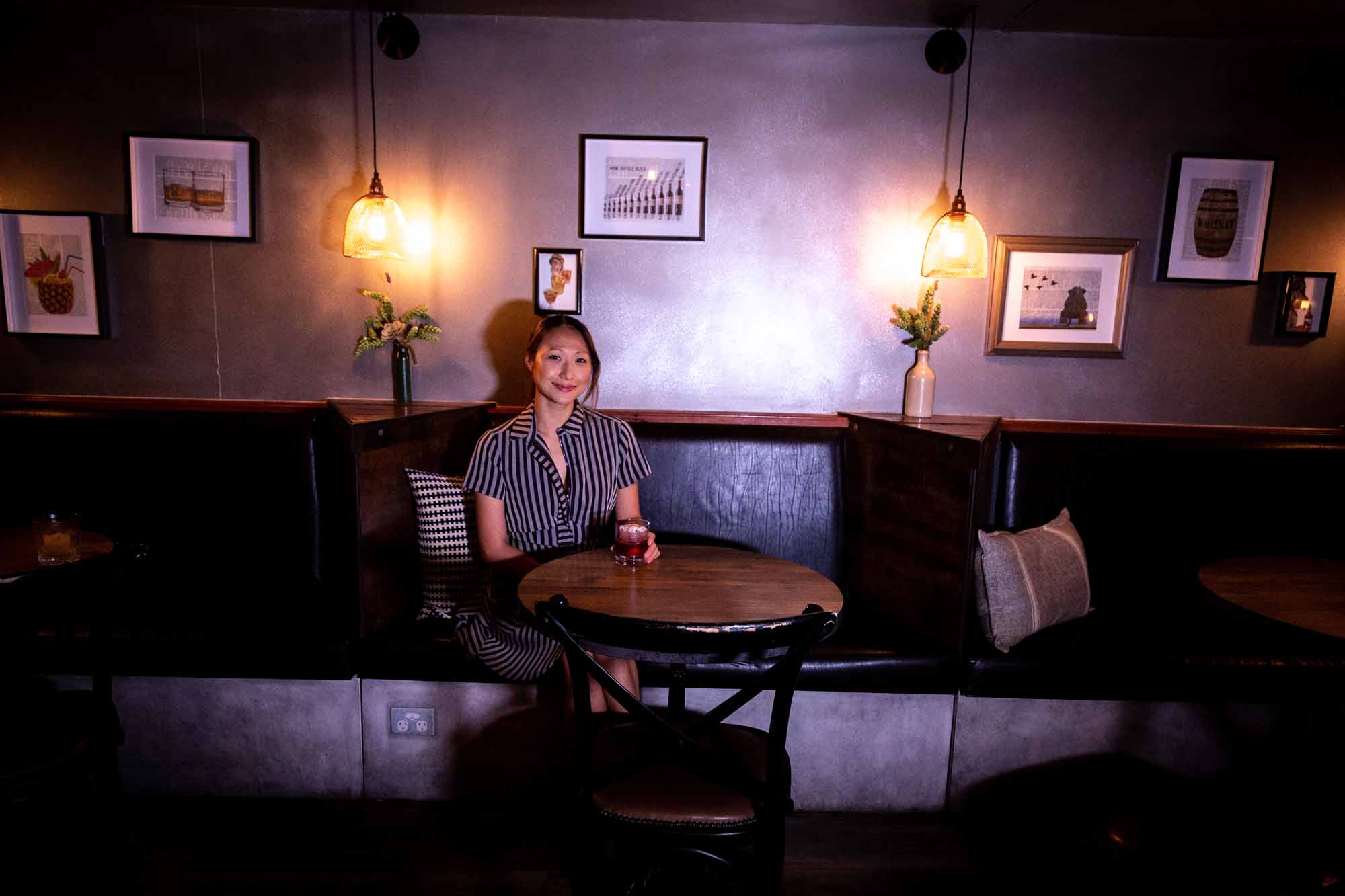 For those who haven't been here, what is Door Knock all about?

I think the concept came with the space: it's a very warm, inviting space. You have to go so far down, you have to make the journey worth it — there's three flights of steps down to the basement and it takes a little trust and courage as well.

The whole concept of having to knock on the door to get in came from inviting people into your house — people knock on the door before actually being invited into something that is quite welcoming. So the space had to be cosy, inviting, and somewhere that makes you feel at home instantly.

We didn't want a concept so to speak — like is it a whisky bar? Is it a gin bar? Is it a cocktail bar? We wanted to serve things that we know you'd be passionate about: a solid wine list, a solid cocktail list, nothing too expansive where it would scare someone off or need too much explaining.

At the end of the day everything has to be fun. As you know, a lot of people take themselves a little too seriously. That's why Maybe Sammy is doing so well — it's awesome. They make great drinks, but they don't take themselves too seriously. It's always a great time, as opposed to the very clinical way of making drinks before where everyone was wearing fucking suspenders and bow ties, you know what I mean?

It's going back to where you want people to come in and have a fucking good time. And not have the 'mixology', so to speak.

It also fits your way of doing hospo as well, right? Gregarious, welcoming, fun.

Yeah, exactly. I don't think I could ever work in a place that is too serious, to be honest.

It has been three years since you opened, as an owner, what has that felt like? Because it doesn't feel like it has been three years to me.

It doesn't feel like three years to me. Sometimes it feels like six months. The bar grows with the team; we had Jono Carr at the start and the drinks were very different to what they are now; organically the place grows. I think that the heart of the venue is always your staff. And if you give them growth the venue will grow organically.

It's important for an owner to step back and give your people the freedom, rather stepping in and micro-managing.
Tell us about the new cocktail list?

It's great. Liam Gavin is now our bar manager, and he has been with us almost since day one. He started as a barback and has grown into a talented bartender. He really wrote the cocktail list, with some direction from me, and with our 2IC Anna Nguyen.

They've made a really strong list, I think it's the strongest list that we've had. That might be because we had two months from COVID to think about drinks — that's a long time to quality control shit!

You can see almost the weather with each drink: there's some beautiful colours, spring and summer coloured cocktails. Even with the Negroni and the addition of coconut that makes it a little more bright. It's going in a direction where there is something for absolutely everyone, and they're all drinkable — even things like a Julep, which can be aggressive for some people — you taste it, and it might change some people's prior notions.

And isn't that what cocktails should be about? CocktaILS should be a bridge for someone who thinks they just really like vodkas and they try a whisky-based cocktail that suddenly opens up their world. Cocktails should always bridge the gap between what you think you like, and what you really like.

But it can be hard for punters sometimes, scary even, to spend their money on something unfamiliar — they don't want to be disappointed.

Well as you know, you've obviously tasted a load of cocktails, from my time at [cocktail competition] World Class I've tasted every cocktail under the sun: fucking mushroom and taco-fermented umami mixes served in a leather boot, fermented cow's udder —— at the end of the day can I have the most tasteless lager on the planet?

Budweiser looks real good to me.

Fuck yeah. Give me some of that Crown Lager in a wineglass.

The flavours of the cocktails on the new list, they're flavours a lot of people will enjoy — even though there's a lot of technique involved.

The technique and the sustainability aspect is not something we spend a lot of time to promote, but we keep a lot of our wastage down and reuse a lot of things but that's because it's what I feel you should do these days. We don't shove that down our guests' throats whatsoever.

What are three bars you like to send guests to?

I'll always send them to Maybe Sammy, and it's just up the street. I'll also always send them to The Baxter Inn, because it's one of my favourite places in the world, and Old Mate's Place and PS40.

All of them each have their own iconic offerings. They're such a great example of what Sydney does and what Sydney does best, and all of them do it such a different way.