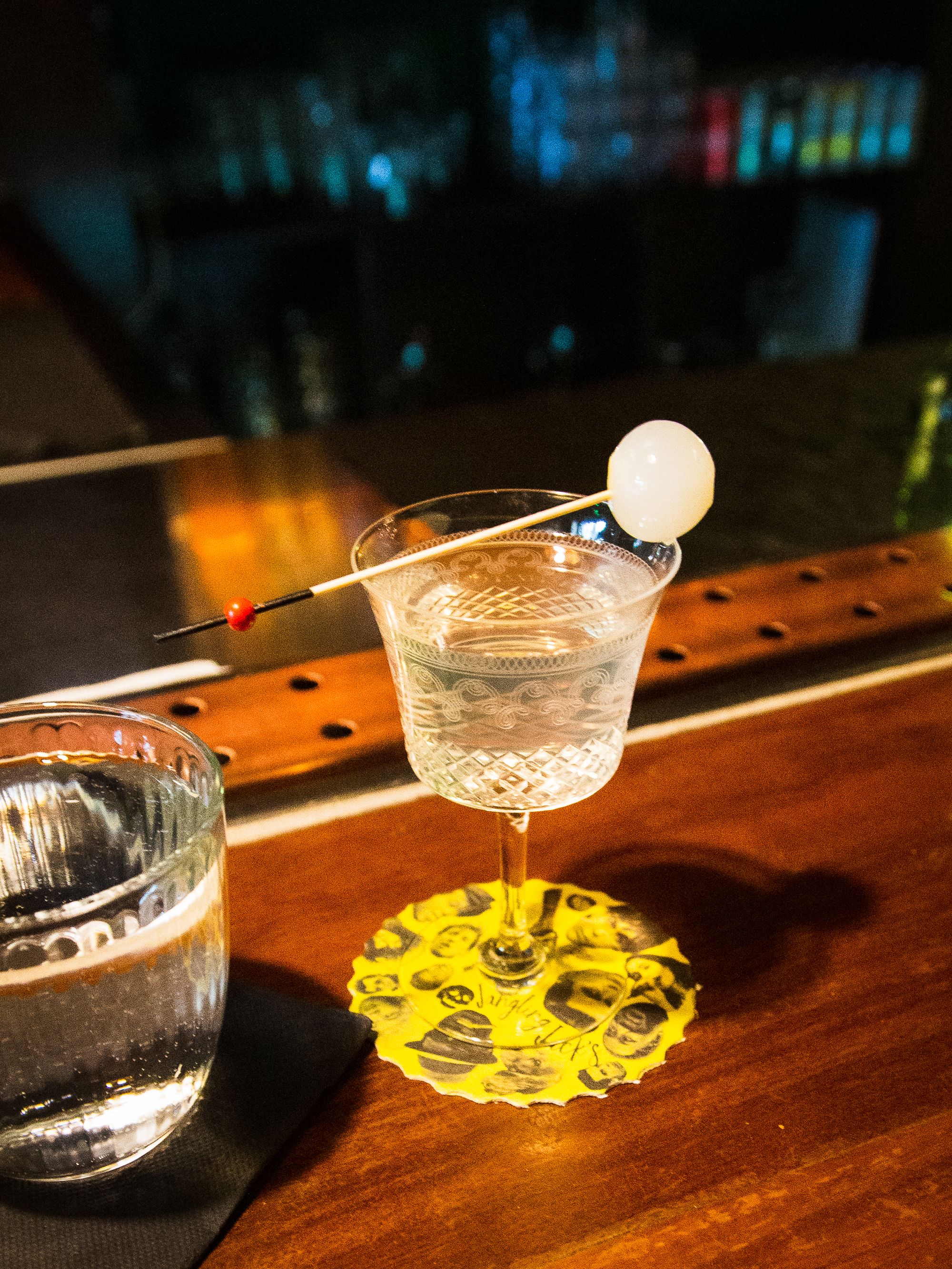 The earliest recipe for a Gibson Martini — as far as we know — dates to 1908 and doesn't mention an onion at all.
The Martini, it's fair to say, is the king of cocktails. But which one? What's your spec? There are, after all, many different takes on the Martini.
The Gibson Martini is one of them, and it's one of our go-to Martini variations, particularly when mixing them at home. Pop in a simple pickled onion to a dry Martini recipe, and you're off and away. It's the onion which maketh the Martini.
But the earliest recipe for a Gibson — as far as we know — doesn't mention an onion at all. You can find it in the 1908 book from Cocktail Bill Boothby (yes — this site's namesake), World Drinks And How To Mix Them.
"Into a small mixing glass place some cracked ice, half a jigger of French vermouth and half a jigger of dry English gin; stir thoroughly until cold, strain into a cocktail glass and serve," he writes.
The Martini aficionado will note that what Boothby is describing above is a 50/50 Martini: equal parts London dry gin and dry vermouth. But in his note on the garnish, Boothby goes a little further:
"Note — No bitters should ever be used in making this drink, but an olive is sometimes added."
An olive? Whilst bitters was the traditional accompaniment to a Martini, going back to its origins, what we have here is the first mention of a Gibson with no onion, but an olive (if the mood should strike you).
So how did the Gibson Martini pick up its defining garnish? No one really knows, but there's a couple of bar stories which — like any good bar story — are a little hard to believe.
The most common story you'll hear is that the Gibson was invented when Charles Dana Gibson, the guy behind famous Gibson Girl drawings from the 1890s to the 1920s, asked a bartender at the Players Club in Manhattan to improve his Martini — to which the bartender complied by dropping an onion in the drink.
Another — and possibly more probable — story dates to the late 1890s, and a San Francisco businessman named Gibson who didn't like the way his bartender was making his Martini. He was shaking it, and Gibson wanted it stirred, with an orange twist for garnish. Some versions of this story will add that Gibson believed that onions prevented the common cold — he therefore thought an onion in his Martini a day would keep the doctor away.
We don't see an onion appearing in Gibson Martini recipes until after Prohibition, however.
Then again, who gives a damn when the onion came into the drink? All you need to know is that, with this one simple addition, you've got a savoury style of Martini on your hands. Of course you can overdo the onion — we tend to think that there's rarely a call for more than one in one's Martini, and never a call for onion brine unless you really know what you're doing.
Like they do at The Duke of Clarence with their Clarence House Gibson. They create a tincture of onion brine with the use of a rotary evaporator, and in the process create one of the most complex Gibson's we've had.
Or you can keep it simple and let the choice of gin make the difference, like they did for us at Jangling Jack's with this version of the Gibson Martini: they used Four Pillars Olive Leaf Gin, and good old fashioned knowhow, to make one of the finest Gibsons we've ever had.
Gibson Martini
Ingredients
60ml dry gin
15ml dry vermouth
1 small pickled onion
Instructions
Stir down ingredients with ice in a mixing glass until very cold.
Strain into a chilled Martini glass. Garnish with a pickled onion.