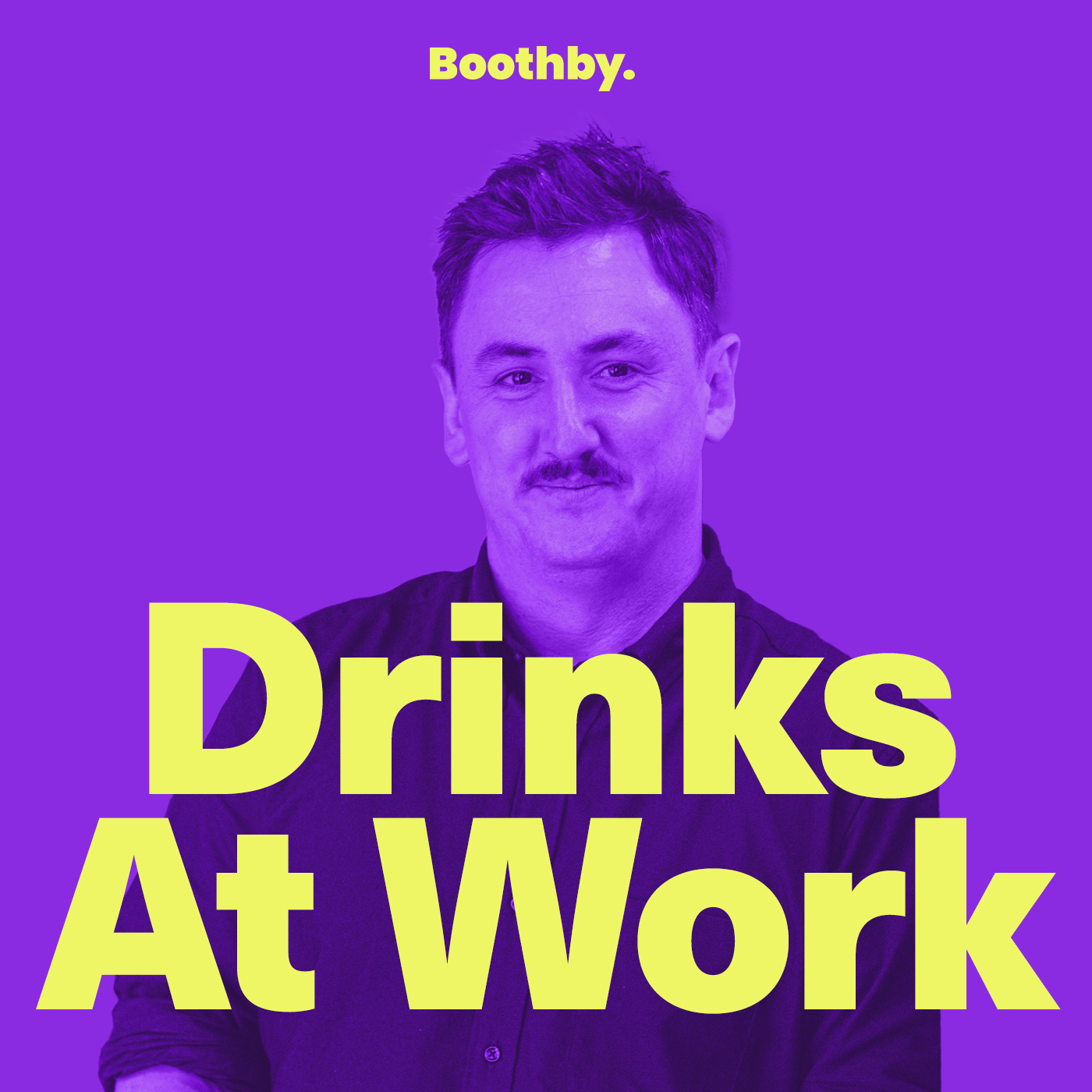 The first episode of the Drinks At Work podcast is here, with Jason Williams talking about his unplanned, unique and creative career in drinks.
Welcome to the first episode of Boothby's new podcast series, Drinks At Work.
You can find it on Apple Podcasts here, check it out in the player above, or subscribe on Android here.
Most of what I write and shoot on Boothby is about bartenders and bars, and I love that. But the range of what bartenders and others in hospitality can do career-wise is ever-expanding, as is the wide cast of roles out there in and around the world of drinks. That's what I want to explore with Drinks At Work.
Each week will be a new interview with people from all corners of the drinks industry: top bartenders and bar owners, yes, but also writers, photographers, marketers, ambassadors, distillers, consultants, whatever - if it's an interesting gig in the world of drinks we'll look at it. I hope it will inspire anyone wanting to work in the drinks trade and shine some light on creative, rewarding careers.
But I know there are a lot of podcasts out there and a lot of them ain't good. So I'll tell you what Drinks At Work isn't. It's not a chat for the sake of a chat. Hopefully it's a podcast with a point. It's not a sprawling, unedited, two hour conversation — I'm hoping to understand a range of careers in drinks, explore the challenges and opportunities they bring, and skip past the PR fluff and talking points to have real discussions with really interesting people. That's the plan.
Jason Williams offers a great example of the kind of people Drinks At Work is interested in. From his start in a small Queensland tourist town, to today being the creative director at Proof Creative in Singapore and creating some of the world's most talked about bar concepts, he's a smart and knowledgeable interview.
You can listen to the first episode in the podcast player above, or search out Drinks At Work in Apple Podcasts (we'll be on Spotify soon, too). I hope you like it, subscribe to it, share it with others.
Below are three, edited takeaways from my chat with Jason Williams.
💡
This episode is sponsored by Australian Cocktail Month, a great initiative to get people back into the bars, taking place this May. One ticket gets you access to exclusive cocktail menus in 144 bars across 12 cities for the entire month of May — you can learn more about Australian Cocktail Month at
australiancocktailmonth.com.au
. Tickets go on sale soon.
No plan, no problem
"I've never really planned my career," says Williams. "Like a lot of people in our industry, it just kind of unfolds."
That approach to his career has seen Williams be able to take new opportunities as they arise, and make a few leaps along the way; moving to Melbourne, from his home in Coolum on the Sunshine Coast, as a young buck bartender; moving to Sydney to take a big step up; and relocating again to Singapore to take on the role with Proof & Company. It has all led to where he is now: with his face and trademark moustache on a bottle of gin.
Get past office politics by being better
Working at the now disbanded Keystone Group, Williams learned how to navigate the often tricky dynamic between head office (where he operated from) and the multiple venues in the group. Faced with hesitation or resistance to what he needed to implement, Williams would put on his hospitality hat and see how he could be of service for the venues.
"I just tried to show value," says Williams. Being of service to the venue managers helped him to get things done and keep everyone on the same page.
The best rewards are more than awards
Many of the projects that Williams has led for Proof Creative — the creative and hospitality consulting agency under spirits distributors Proof & Company — have garned accolades and won awards.
But what Williams says about Atlas Bar in Singapore, a landmark bar that has become a destination to travellers around the world, is enlightening.
Speaking about Vicky Hwang, who took over Atlas and the building it sits in from her grandfather in 2012, Williams is most proud of the emotional impact of their work.
"She wanted to bring her grandfather's legacy to life a little bit more. It's been a wild ride. It's been quite successful. And the most satisfying thing is not the success of the business, not even the creative outcome, which I'm deeply proud of, [and] not the awards and such things as that. But it's actually the fact that Vicky got to put her mark on it. And there's a family legacy there. And, you know, her kids can run around the venue, it's their great-grandfather's building that he built, and she brought this venue to life. It's pretty cool."
If you like what you hear, please think about rating the podcast on Apple Podcasts — it helps to make the podcast discoverable and bring it to a wider audience. And I'd love to hear your feedback: you can get me on sam@boothby.com.au.