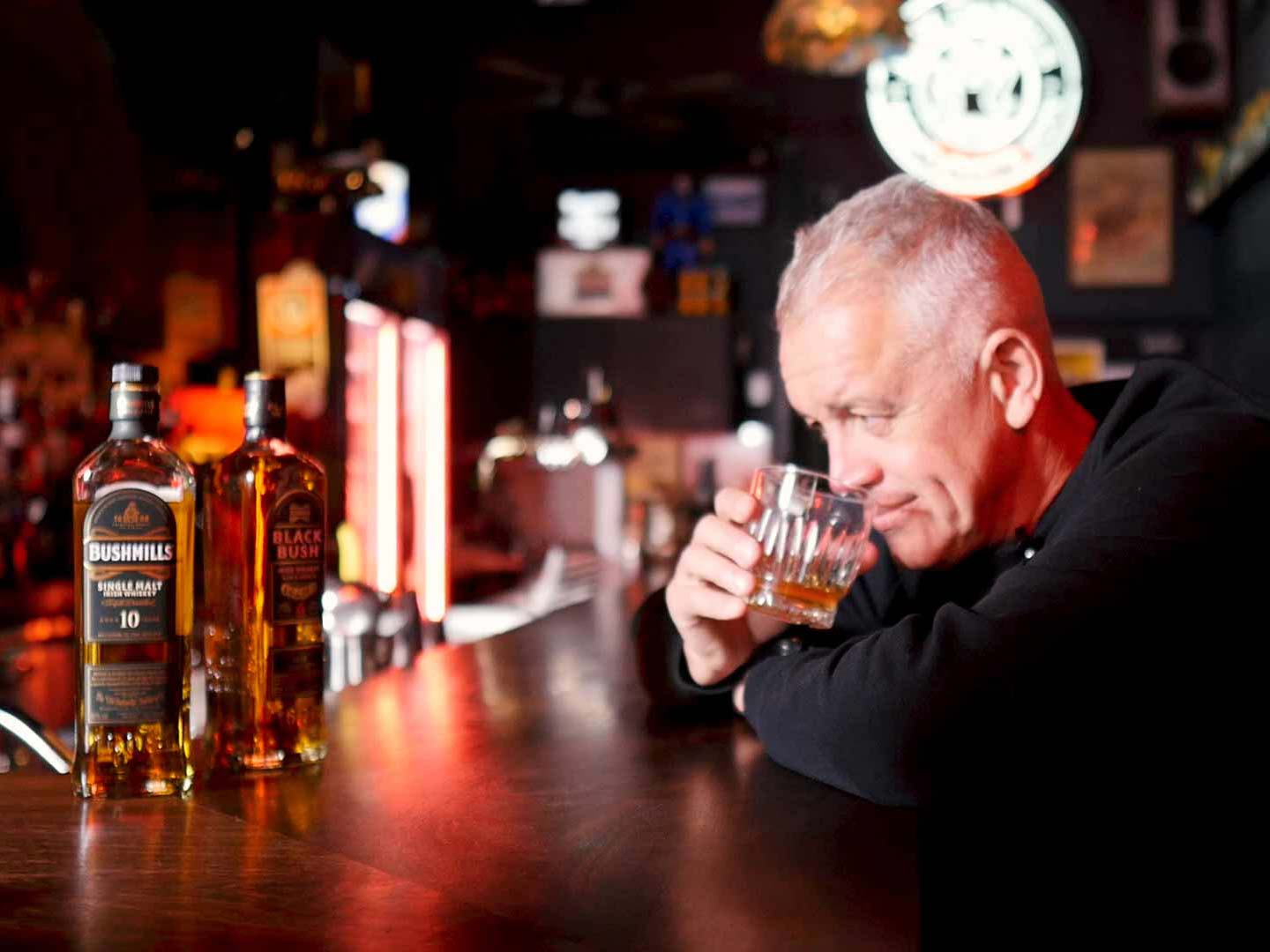 'You're just connecting the dots.' How looking after regulars helps Fortunate Son thrive despite the pandemic.
Bushmills has a saying: "without the village there would be no whiskey, and without the whiskey there would be no village." It's the Bushmills village — and the people — that makes the craft possible. In our bars we have our own 'village' — our regulars — the people who help make a good bar become great.
And good regulars are key to a good bar business, as co-owner and bartender at Fortunate Son in Enmore, Jason Crawley, explains in the interview below.
Crawley has decades of experience behind the stick, has trained thousands of bartenders in his time, and launched a number of drinks businesses. That's the kind of experience one might need when you open a bar, only to be shut down by a global pandemic 12 weeks later.
Fortunately, though, Crawley and business partner Dylan Howarth were focused on serving their community from the start. And, as Crawley says, "regulars are a fundamental, core pillar of what we do here — we've kind of shaped them and they've kind of shaped us."
That's something that our partners for these interviews, Bushmills, understands well. They know the importance of people, and that just as you can't have a great bar without good guests, you can't get Bushmills Irish whiskey without the people and their place. Read more about Bushmills in our primer, here.
Below, lightly edited and condensed for clarity, Crawley tells us more about what it means to be a good regular, what Fortunate Son is all about, and how he reads his guests.
Boothby: When did you open Fortunate Son? Did you open in December 2019?
Jason Crawley: December. Yes. Christ. Yes that's right. 2019, we were a little late opening, as openings are, we were supposed to open early November that year.
We opened mid December that year, and then obviously we got closed down 12 weeks later.
What's Fortunate Son all about?
I guess the whole reason for this bar's being is, we've always wanted — I've got a business partner, Dylan Howarth, who I'm sure most of you know – we wanted to deliver a neighbourhood bar, so not a dive bar, not a any particular theme of any kind, just that myth of a neighbourhood bar that you've find maybe in Boston or maybe any country in the world that has that kind of amazing atmosphere where everybody kinda knows somebody and it's a real kinda tight community.
Especially here in Enmore with all the diverse personalities that we get in this area, we're also very fortunate or very strategic that the site is bang opposite the Enmore Theatre. Which is, if you haven't been, obviously Sydney's premiere live music venue which kind of brings lots and lots of people to the area most nights of the week. So we never really get these Monday or Wednesday lulls, it's always kind of humming. And obviously the weekend's you just have to have a run at it to get in.
The whole rationale for it was to have a couple of quirky drinks but nothing too mad, but just well made classics, good quality brands, super comfortable seating — I guess our moniker is warm service, cool drinks which has come true. People come back. The Google reviews are still sitting on the rev limiter at five, which is wonderful — five stars.
It's kind of a bar which is just a bar, in a nutshell. It's not trying to be anything other than that. It's just a place you can come and relax and not feel weird. You're never gonna get challenged on drink stuff, it's just everybody knows what they're doing, we're really lucky to have a great team of passionate young guys.
We're open seven nights a week from five, we go until midnight, we have families, so the 5am finishes are a long time ago.
Are you guys back at full capacity?
No, [NSW premier] Gladys [Berejiklian] still wants us to be at two square metres, [which] sadly has us under half capacity.
How many people do you get in here?
We get 25 in here, 24-25, depending on the groups, as long as they're distanced from each other you can get up to 25 in here but usually we are licensed for up to 60, so it is a big hole in the P&L.
However the model has changed. We used to have a very expensive bunch of doormen, which we no longer need now with these kind of numbers, so we're kind of becoming doormen ourselves and hosts, so it's more like — even though it's still a neighbourhood bar – the positive out of it is that people are having a nicer experience, because it's more about experiences now; the world's changed a little bit. Until it changes back to what it used to be, where it's like screaming hordes, it's people sat enjoying a nice drink and a chat — it's kind of cocktail hour all the time.
I have been in here with the restrictions on and it did feel like midnight with screaming hordes…
Yeah.
Can you describe the atmosphere of the place?
Pre-covid or now?
Let's go with pre-covid in its full glory.
Pre-covid it was a bit of a rock and roll bar, again not a dive bar but just good quality music, you know, music everybody knows and loves, I won't call out any names, but some of the best bands in the world, incredible independent artists, what have you, everybody kind of sings along.
Tell us about the crowd you get in here, it's a good regulars crowd?
Most of the time it's all regulars, yeah.
We've got a whole range of incredible people, you know, from people that are fully dressed up as cowboys — like I thought they were on their way to a fancy dress the first time they came in. I was like 'Oh! Brilliant!' And they were moderately offended… and of course we've actually become great friends. They walk in like cowboys as well. They amble. They have the little match thing going and they've got the boots.
I live in the eastern suburbs of Sydney with all the no sock wearing wankers, and it was quite a challenge at first, it was kind of like, you know, amazing. I felt like it was almost like being on the set of Star Wars some days, I thought there was going to be a blue elephant walking in with a keyboard, but that didn't turn up fortunately.
We've got a guy that's incredibly regular and he's a well loved guy in the area, he's a motorbike enthusiast and engineer and also an air conditioning engineer, and he's lovingly referred to as Scruff.
We've got some photographs of him on the wall jumping his Honda Goldwing touring bike, so he comes in and he's semi cowboy — he comes in terms of like Marlboro man outfits.
It's a very warm and friendly atmosphere, so we kind of keep a note on what people do for a living in the old school sense. So I'll know that there's a plumber here and I'll know that Frances who has just moved house is having a plumbing issue with her attic or something, and you can say "Oh Frances, this is John, he's a plumber and if he can't help you he'll know someone who can." She'll move around and chat with him and then they'll become friends, it just organically evolves.
That's the bartender role, connecting people as well.
You're just connecting the dots, and you're listening to the conversations — not in a weird way — you can't help but have conversations, you end up finding [out] what people do, their story.
Do you find that happens that much anymore these days?
It happens in here. When I go out myself I find that it doesn't, it's very much a digital experience that even now, some of the more bigger venues, you're ordering drinks from a scan code on the table which I find quite challenging personally.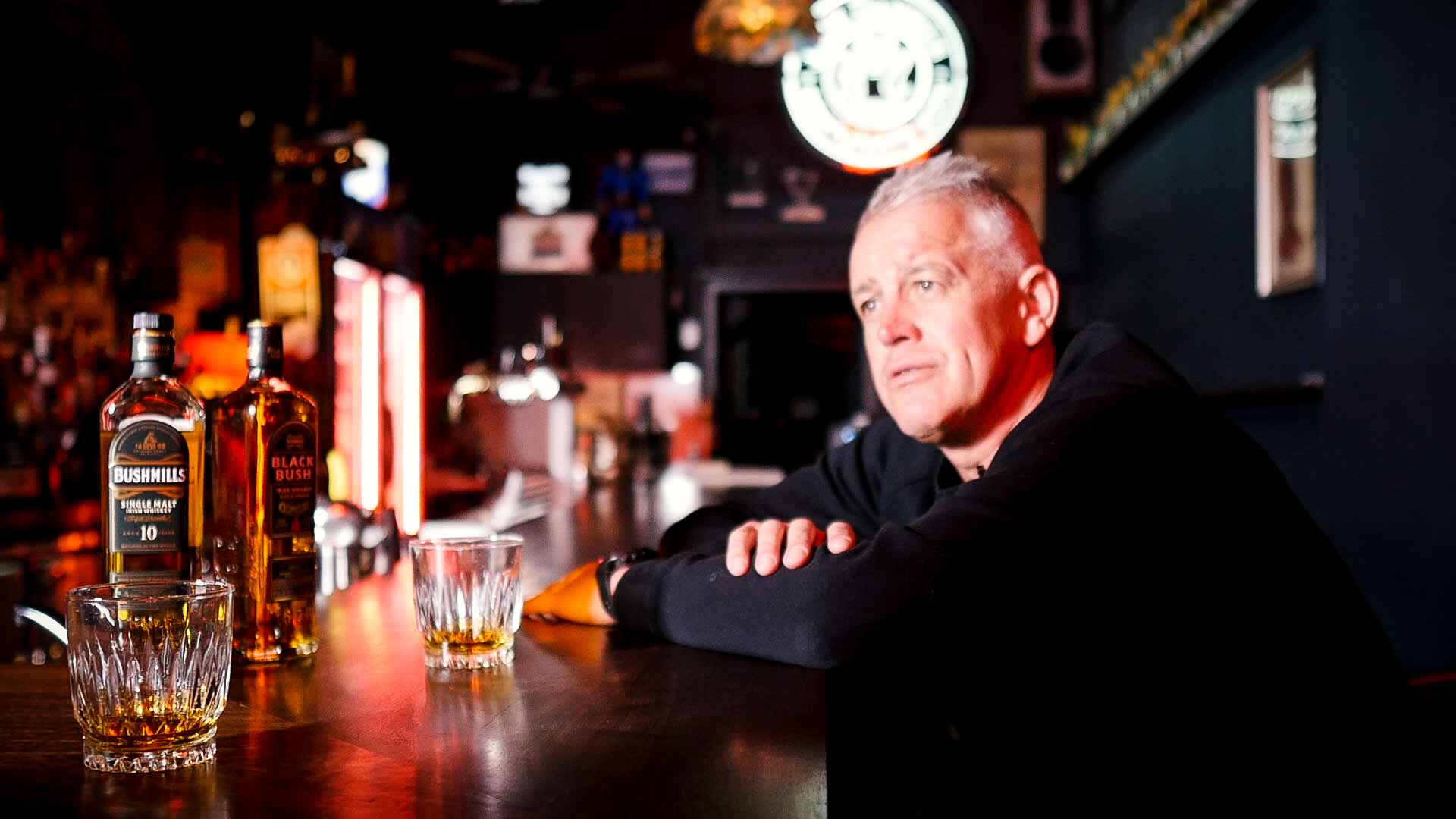 I find it difficult. We're on our phones all the time, my generation, but then there's another reason to be in your phone rather than having that conversation.
I don't feel there are many bars that can offer that these days, genuinely, without it being a theme where it's like, it's a friendly popup bar and we're gonna have a friendly week. I don't know. I guess it's largely driven by our generation and the way we've kind of shaped younger blokes in here who kind of watch how we do it, and they take it on board and they're genuinely into it as well.
But also it's a personality thing too, you have to kind of have that innate personality to be able to deliver that kind of thing and also be genuine and interested in people's stories, and have the nature of asking questions in your DNA. Because most of the time people just want to talk about themselves and you just get a diatribe of whatever that might be in whatever lane or industry they're in.
In classical customer service, you can't give customer service to its full capacity unless you really know who you're talking to, otherwise you might sound like a bit of a fool you know, and annoy people — there's nothing worse.
You've got plenty of experience behind the bar, do you have any teachable moments from dealing with customers, what have you learned from that interaction?
The way that I do it and it's genuine — you remember in Terminator 2 when he walks into the bar and he's trying to find people with the right size clothes so he can kill them and drive away with a good fitting leather outfit? When people walk in here, it's not judgement, but you're analysing what they wear, how they're acting, what they're kind of looking for — it's all about, the only tip I could suggest, you have to tailor-make experiences for people.
Bruce Lee famously said you have to be like water, and you have to adapt to the situation like water, you can't fight it, you can't punch it, you can't touch you've got to kind of just go with it, and you just kind of have to go with it, and the only way you can kind of go with it is to ask people questions.
You have to kind of learn just how to read people, and the only way to do that is to read people as a poker player.
But that comes obviously with experience.
It comes with experience but you've got to be focused on that as a bit of a mission to be able to really try and read people, and then it gets a bit easier with time. And of course you've got to match it with some sort of personality too, and not be overbearing, and just being like water.
What makes a good regular?
Good regulars aren't tiring. And good regulars don't want all your time.
Good regulars are obviously people who come in and spend a bit of cash most nights, but it's more than that — having a regular who gets it is almost like on the team. They come in regularly, they're not overbearing, they're always together.
You've got the wacky ones, you've got the dependable ones, and the ones who don't want to say anything at all.
Regulars are a fundamental, core pillar of what we do here — we've kind of shaped them and they've kind of shaped us.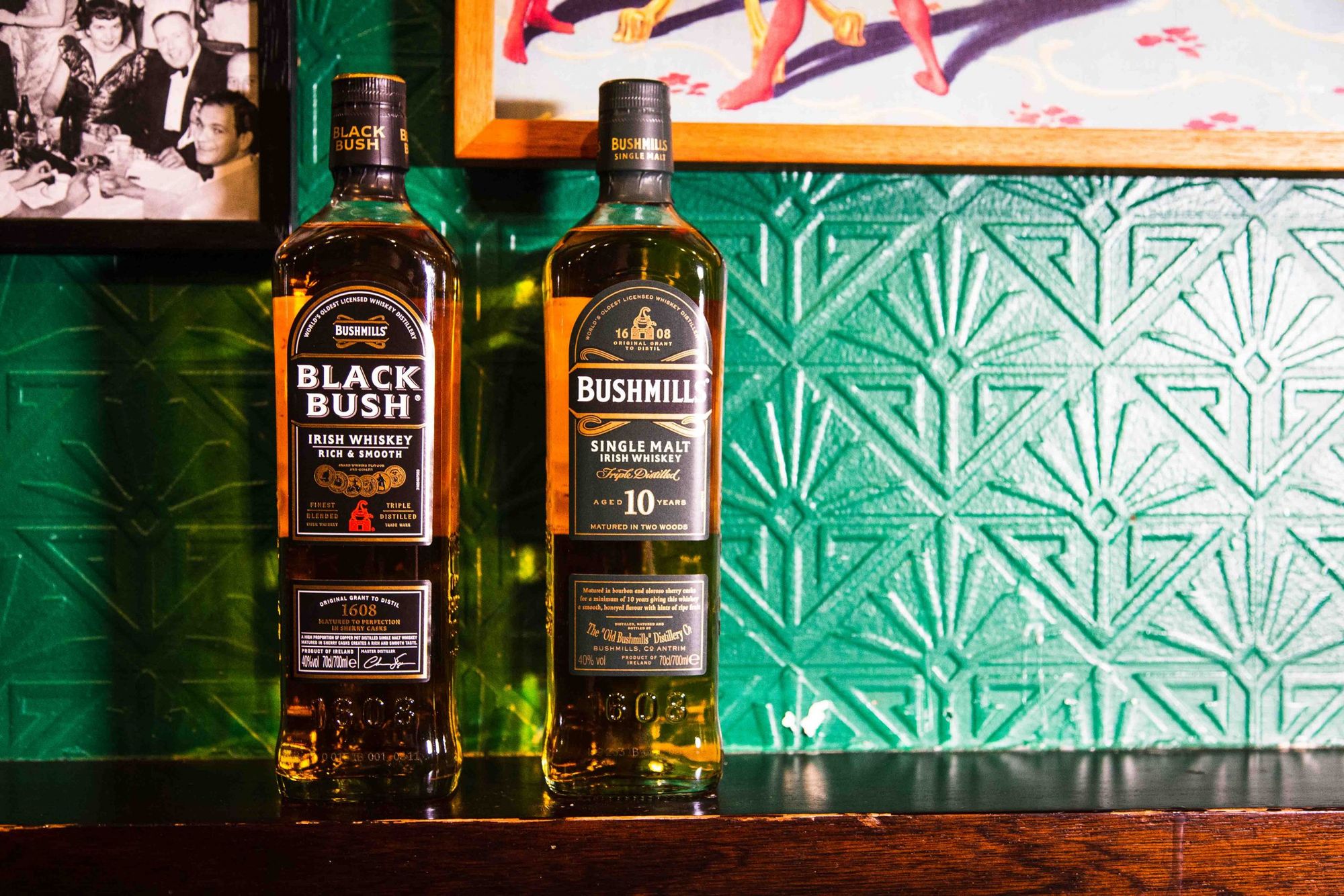 What we're drinking
Bushmills Black Bush is made with a high component of malt whiskey in the blend, and by using predominantly ex-oloroso sherry casks for maturation, means that Black Bush has a rich, malty character, with fruity sherries notes and a smooth finish.
Bushmills Single Malt Irish Whiskey 10 Year Old is triple distilled from a mash of malted barley before being matured for at least 10 years in both former bourbon and sherry casks. It offers up a light, fruity aroma on the nose, with honey, vanilla and milk chocolate flavours on the palate.