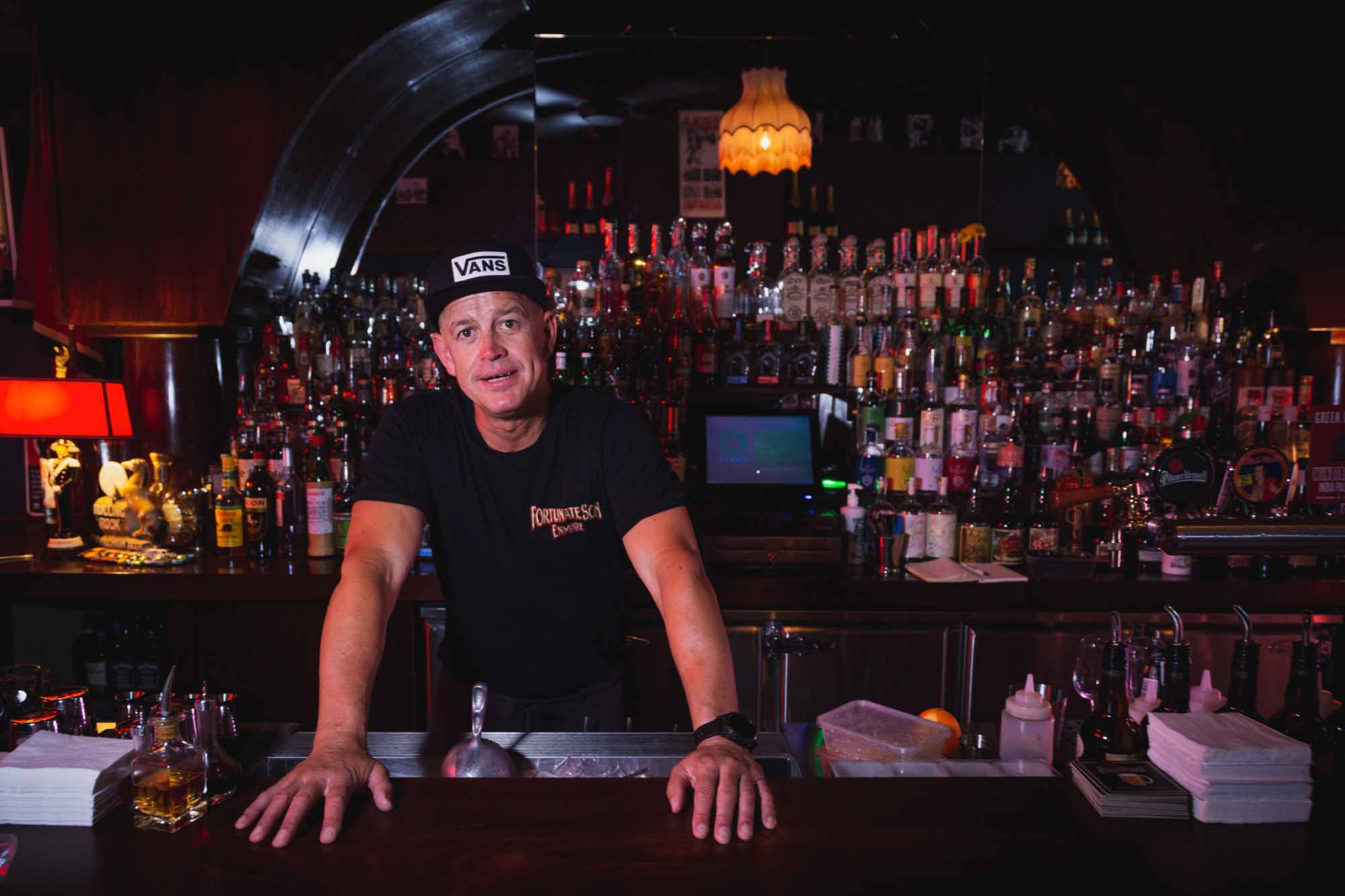 Jason Crawley talks about how Fortunate Son came to life, the inspiration behind the place, and what he looks for in a good bar.
Jason Crawley is a veteran bartender who wears many hats: co-founder of creative agency The Drink Cabinet; the brains behind the Crawley's Bartender Syrups range; maker of the Imperial Shaker Machine; and one of the global bar industry's most respected figures. He's trained thousands of bartenders, and consulted on many bar projects, but it was only in late December 2019 that he put on his latest hat, as co-owner of Fortunate Son in Enmore, Sydney.
Here, condensed and lightly edited for clarity, the UK-born Crawley talks to Sam Bygrave about how he and business partner Dylan Howarth opened Fortunate Son, the inspiration behind the place, and what he looks for in a good bar.
How did Fortunate Son come to be? How long have you and Dylan Howarth worked together?
It's about 10 years now, but it feels like 40 if we're honest with each other. Dylan and I have the agency The Drink Cabinet, so the whole idea was, an agency makes its bread and butter on insights: taking insights to clients and saying this is what we're seeing the market. But a lot of the time it was more instinctual than practical.
We had this big warehouse over in St Peters. And we thought, why don't we not have this big warehouse in St Peters, but operate out of a bar instead? Then we can have some fun, get away from our partners of an evening, and get some genuine insights as to what's happening. And also, reset the dynamic between client and bar and get some genuine insight. And have a good time doing it.
That was stage one. Then we were just looking for a site for quite a long time. We just couldn't find anything, everything gets snapped up — everybody's looking for something all the time, so you're like the fifth one in. It's like looking for rentals in Bondi.
But my business partner Dylan is kind of like the master of all things online. He's the guy that's grown up on Gumtree and grown up on Autotrader, and he's constantly looking for bargains online. Amazing at it. He phoned me and said, 'I've found a venue in Enmore.' And being an eastern suburbs guy, living in Coogee all my life, I said: 'Where's Enmore?' He said, 'You're an asshole.' And I said: 'I know'.
So he brought me over here, and the joy of it is that it's opposite a music theatre [The Enmore], and we're both passionate about music, and it kind of feels good. I had a walk up and down the street, and I used to live in San Francisco for a little while and it reminded me, of the quirky people and the whole colourful nature of the area; I just fell in love with it straight away. I thought, this is really good. So we put our hand in the air for the venue, came and had a chat with the current owner, cut a deal and we moved in.
For Dylan and I, our secret passion is music so we wanted to open — it's not all about music, it's not a music bar — but a big focus of it is music. If we're gonna be stood in it seven nights a week we want to listen decent music and not shit music.
Paul, our bar manager, he's a proper sound engineer and has worked with bands all his life, toured as a musician, really understands what an ohm is. He helped us along with the sound system and when it's cranking, it's pretty awesome.
The whole proposition was that we just wanted to open up a bar that was the mythical bar that you want to go to. Comfortable seats, music that you recognise, classic drinks that are made well, a bit of fun — try to get people off their phones and give people a bit of a good time. Not like raucous madness, not Alibi in New Orleans, but just a neighbourhood bar with unexpected luxuries: we only serve French champagne by the glass, at 15 bucks which is as cheap as you'll ever get, Krug by the glass, all that kind of thing. People can come in here, pre-theatre, have a glass of champagne and feel special that they're not drinking Yellowtail.
Again, from a food point of view we're not chasing hats, we've just put a very nice hot dog together with some nice accoutrements in there.
It's a neighbourhood bar, where you can get anything you want, from a Ramos Gin Fizz to a vodka-soda, and have a good time and be somewhere where you're comfortable coming back. Somewhere you can go on a date, somewhere you can meet someone, or somewhere you can just keep as your regular. We feel like with our time and experience, if we can see people that are struggling for conversation, we'll jump in and help them. And if they're having a whale of a time we'll leave them alone — we're just trying to do that classic bartending thing.
It's harder and harder to find these days.
It is. And we didn't want to be like a geeky cocktail bar either; we've got some nice drinks on offer, but there's no rotovaps, there's no homemade bitters, there's none of that.
Cool drinks, warm service. That's our tagline. We put hundreds and thousands on the Ramos Gin Fizz just to take the piss, and people love it — it's the most Instagrammed drink we make.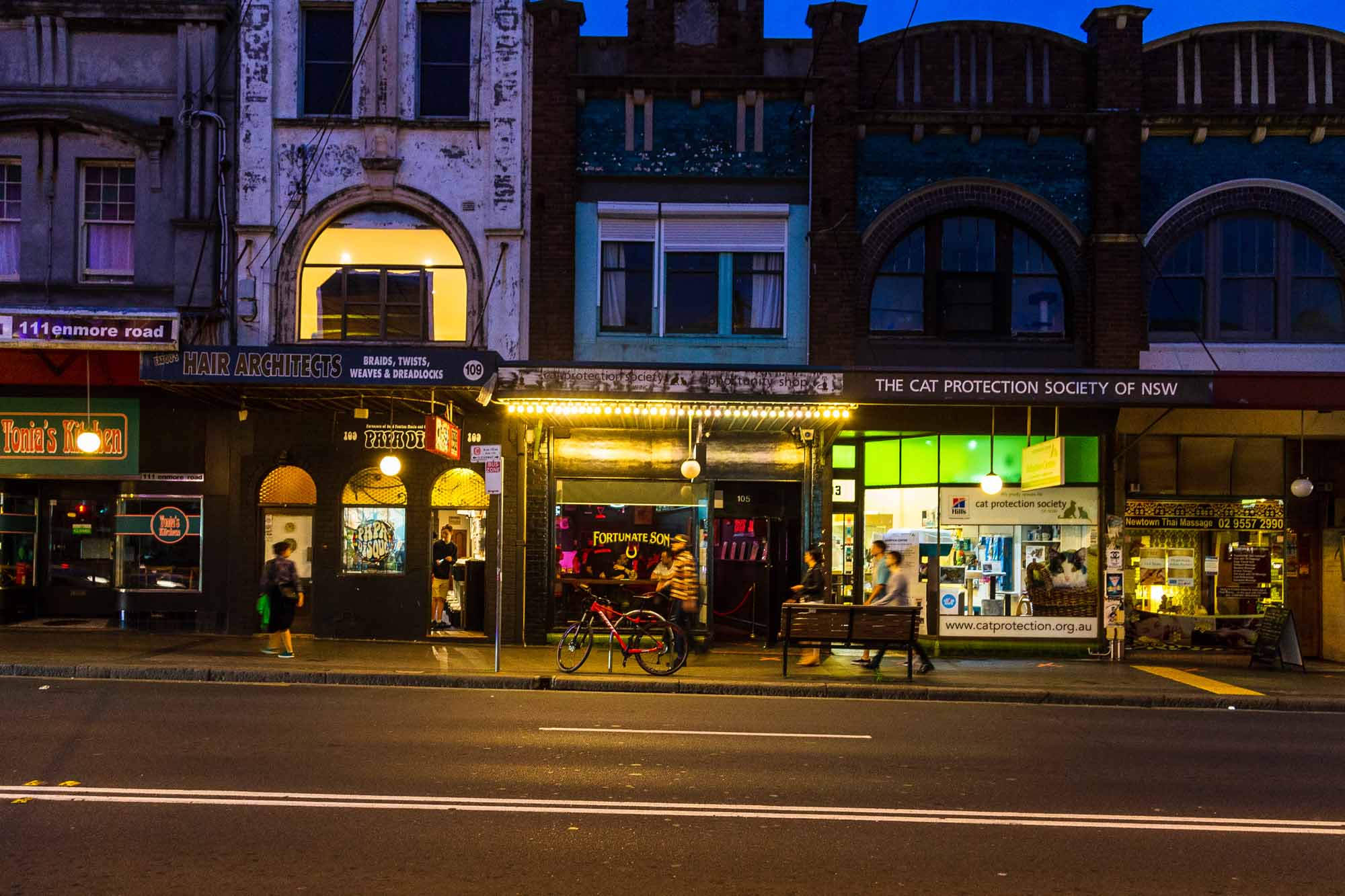 It took some time to build the bar, can you tell us about how it was built?
Dylan did two or three years of a carpentry apprenticeship, so he's really talented on the timber side of things, and he's got a real good eye for detail. We've spent a lot of time in New Orleans over the years, and we fell in love with Napoleon House. They've got that big arch back bar and we love that, and we also love the idea of Alibi's fun.
We just wanted to create that classic saloon feel, without it being too pigeonholed into the Americana style.
Dylan educated me through the build, I was like a labourer essentially and he taught me things as he went along. He did a lot of it with his dad and his uncle, and they came in tirelessly each day. Everything was all about proper Jarrah timber. We were going to do four timber arches on these solid timber columns, but it's ironbark so when you put that on a lathe the lathe is always going to break. We managed to get two, so we've got one big arch.
I learned this new word called shellac, it's nail stuff — it's the arse end of a beetle that's quite rare in Indonesia and makes a particular type of polish, like the Rolls Royce of French polishing. The whole thing was French polished for about two and half months — you have to build it up over layers.
All the walls had to be completely restored, we had four or five layers of different themed restaurants over the years layer by layer — we gained about a foot of wall. Then Dylan and his uncle did the walls, wallpapered the top part. We used the same green we had in the office, and we used Tootsie's purple — which is one of the famous bars in Nashville, one of our favourite rocks and roll bars there — everything in there is purple.
From an accoutrements piece, we went to the world's biggest flea market in Pasadena California, and went with some serious baggage and filled up a whole bunch of serious stuff; we got the boxing bell, and that gets rung quite a lot — it makes a proper fucking noise. The chairs are all from the US as well.
We got this guy to put the gold leaf sign in the window — interestingly his teacher got an MBE from the Queen for keeping that style alive working in the UK down in Devon, and the Sydney guy went over there and got trained by him, and now he's the only guy in Australia who can really do this style. He's incredibly talented.
Of course the name was all about the Creedence track, a rebellious song for a couple of moderately rebellious old farts.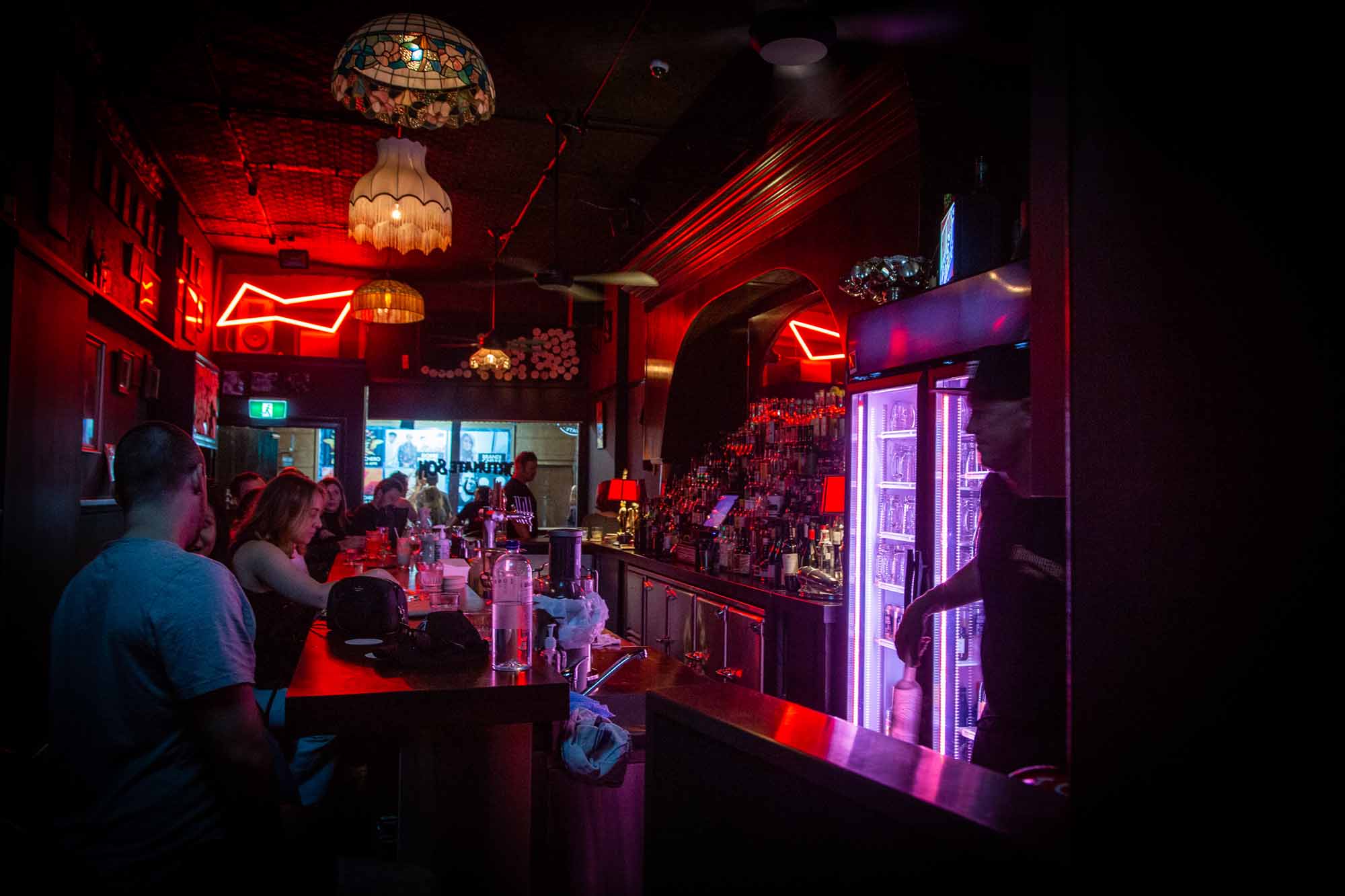 What to you makes a good bar?
Good air quality, good lighting, good sound system, good seats, attentive barkeeps. You just want to feel welcome, right? It's not about the drinks. I think Gary Regan always said he went to good bartenders not to good bars. It's kind of all about that.
As a guy who doesn't go out a great deal, it's just more about the service, and good quality music that you can talk over, you can penetrate the sound.
Taking that Gaz Regan advice, when you do get the chance to get out, who do you like to go sit in front of?
I like Andrea [Gualdi, from Maybe Sammy], because you feel like you're getting proper classic Italian service — you feel like you're at The Savoy when he's serving you. On the rare occasion I have a drink at a bar, it's nice to have someone who's really into the white jacketed bartendery thing. He's funny in his own way, he's in his own lane and I like that.
I'd probably send them to Jacoby's Tiki Bar (154 Enmore Rd, Enmore) across the road, and then, Sydney-wide — I'm always about The Lord Dudley (236 Jersey Rd, Paddington). But that's old man stuff.
You and Mike Enright [from The Barber Shop] love that place — tell us why the Lord Dudley is great?
There's no industry in there, you're completely anonymous, you can get a soft seat, pints of Guinness — it just feels like home. I guess for two English fellas who have prided ourselves in being in this lane all our lives, you just feel like you're at home.
If I had to go for a cocktail bar experience in Sydney, it'd probably be Icebergs Dining Room & Bar (1 Notts Ave, Bondi Beach) I guess. Because it's why expats live here: ocean, Martini.