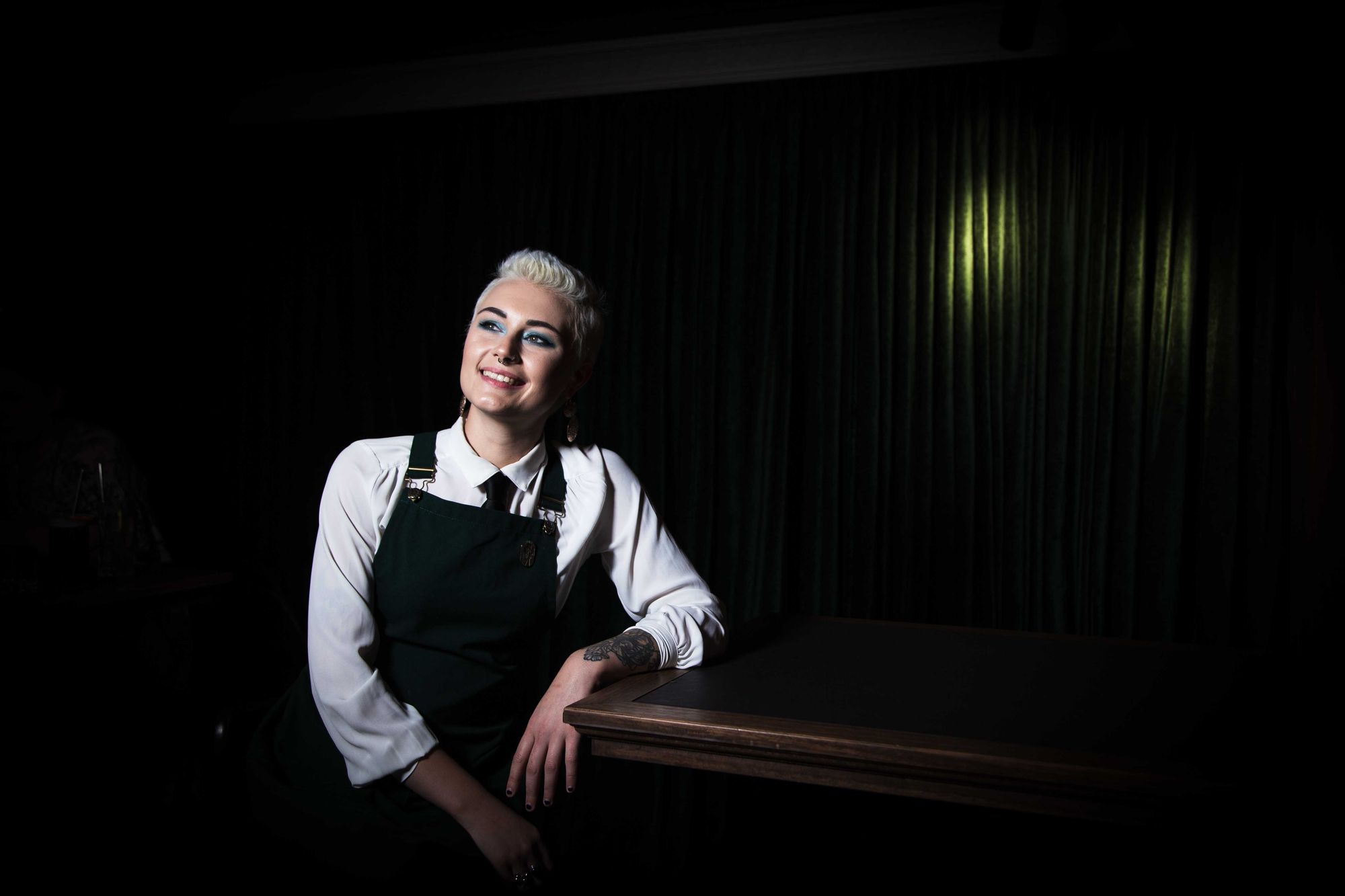 Plus, get the Patrón Perfectionists finalist's strawberry-led recipe, Delicate Duality.
IN PARTNERSHIP WITH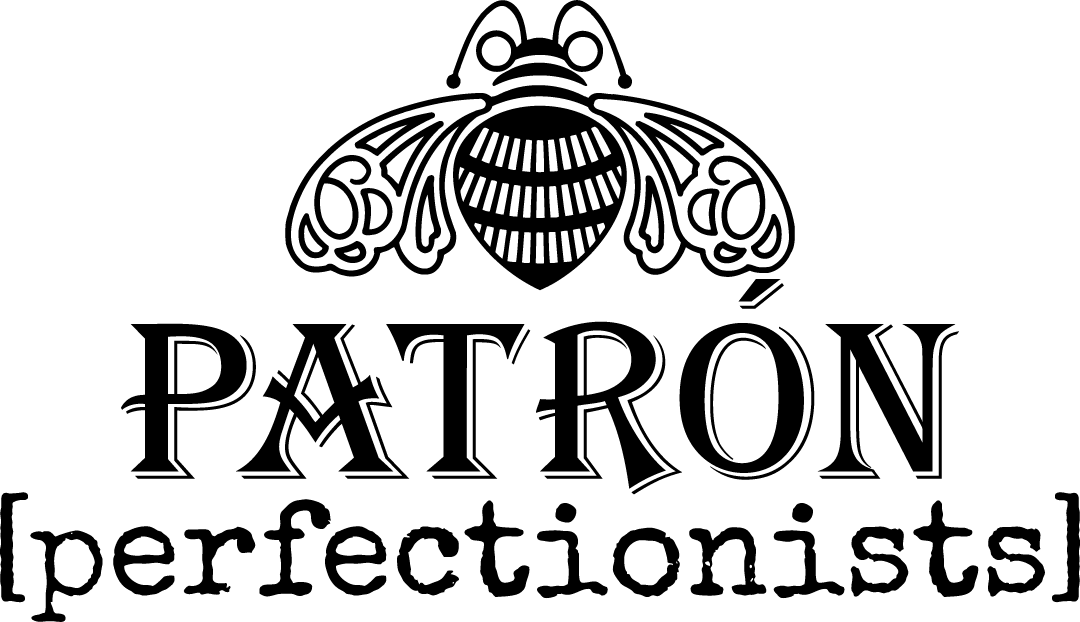 ---
Kayla Reid's role at the renowned Speakeasy Group is a unique one. Her official title? Beverage Creative & Mentor. Translated, that means she works across all of the group's venues (including the forthcoming venues Eau de Vie Sydney and The Sanderson), and gets to create a lot of cocktails.
Her entry into the 2022 Patrón Perfectionists cocktail competition is a delicious example of what she can do — and it scored her a place in the Top 10 and the national final, to be held in Sydney in November.
Below, lightly edited and condensed for clarity, we hear from Kayla about the inspiration and the process behind her drink, why she does what she does, and the drink's recipe.
Boothby: Tell us about your drink. What's your drink called? What's the big idea behind it?
Yeah, so my drink is called Delicate Duality. I had this concept on paper for a little while, I had these ideas and flavours that I did want to play around with, before I started putting it into practice. I guess the challenge kind of spoke to me a little bit because I had felt over the past couple of years that I had dealt with, I guess, some challenges. The past couple years have definitely taught me to be quite resilient. And there was this one image — as cliche as it sounds — that kept popping up into my head when I felt like I was struggling or I was having some sort of turmoil with work or life or anything in that kind of realm. When I used to go to my grandparents house — because I'm a Kiwi, I've been living in in Australia since 2006 — when I was growing up I would go around to my grandparents house to go visit as a kid, and they had strawberry bushes growing in the back area behind their house. It's frosty as hell in New Zealand, you know it's kind of similar to Melbourne — it's comparable but colder. So I'd go around there and I remember seeing the strawberry bushes and every year they'd be thriving, they'd still be soldiering on, growing; it'd be frosty, it'd be cold and  I just always remember [thinking] how are they surviving? They're still going strong every year, they would fruit and I just thought about those little strawberries just soldiering on and pushing through. And that was where my concept stemmed from with this brief. My hometown hero ingredient is the strawberry.
I called it Delicate Duality, because the strawberry itself can be quite a delicate berry, but it's also so hardy and it really wants to grow and it wants to survive and I wanted to create quite a delicate soft drink from such a strong robust berry.
Are you telling me you're a strawberry?
I guess so?
When it comes to mixing with tequila, Patrón Silver in particular, how do you approach creating a new drink with an ingredient like that?
I mean, I think tequila itself is super, super versatile, I think, Patrón as well. I really love the pepper in Patrón, which is why I did want to use strawberry for this, because I think strawberry and pepper also go beautifully. So that was kind of where I started. Initially, I actually wanted to use kiwifruit for it but I mainly moved away from that because of [last year's winner, Harrison] Kenney.
I think tequila, it can be sweet, it can be savoury, it can be whatever you want it to be. That's why I think it's so great to be able to work with a versatile product. And I think when people think about tequila, they think of the Margarita, or you know, something fruity and zesty. But you can do a delicious stir-down with tequila.
Yeah. Why do you do what you do, Kayla?
I love it. You know, I love it. I'm good at it. I love working with flavours. I love creating cocktails. I have such a huge passion for it. And I'm constantly writing drinks in my head, all the time, because that's just how my brain works. So I'm in the right job.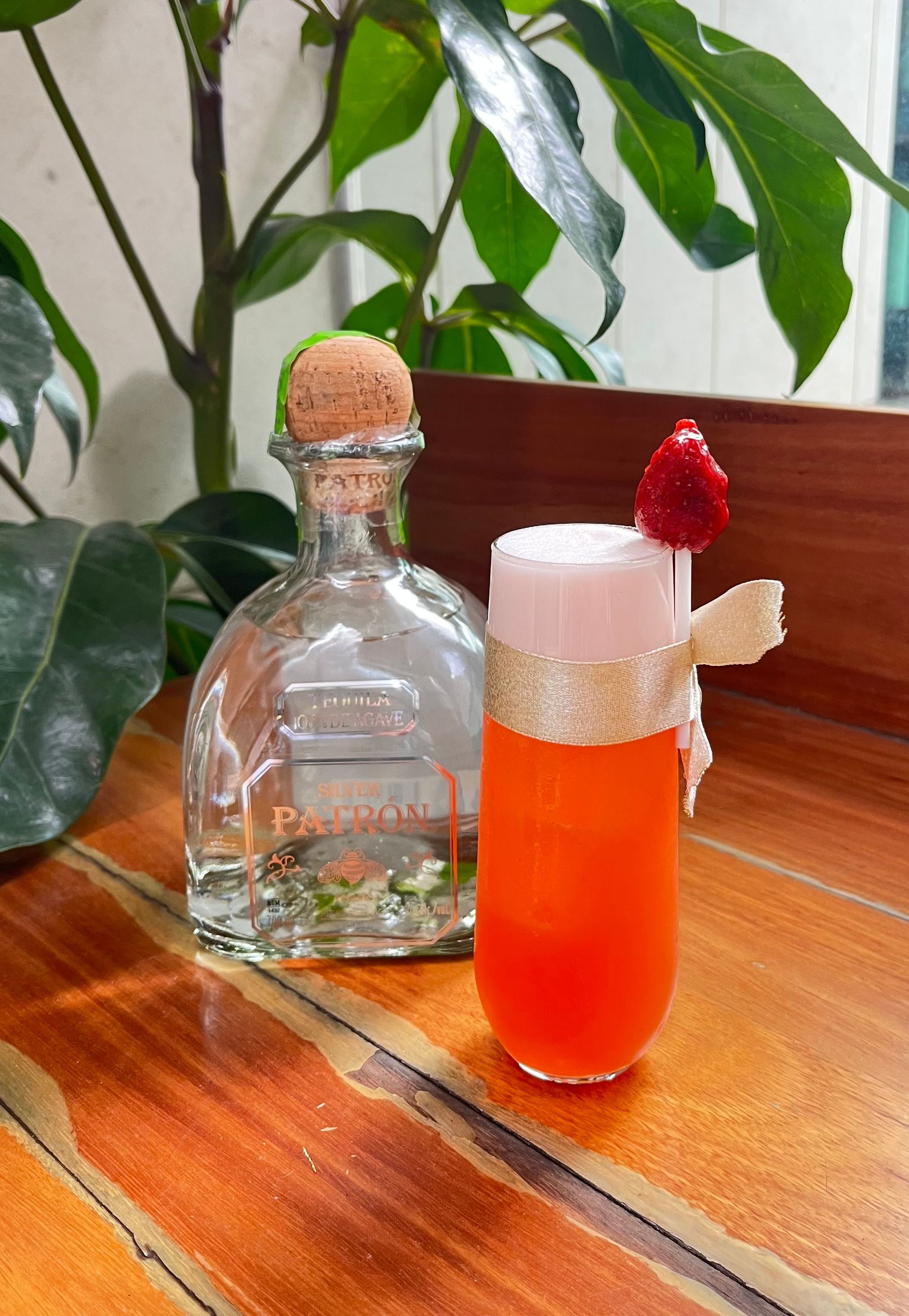 Delicate Duality
Ingredients
45ml PATRÓN Silver Tequila
15ml white crème de cacao
10ml apple cider vinegar
20ml egg white
40ml strawberry & kalamata olive soda
Instructions
Add Patrón Silver, white creme de cacao, apple cider and egg white to shaker and  dry shake. Add ice and wet shake. Add soda to tin and double strain into a stemless flute. Add 3-4 ice cubes until drink reaches brim of glass. Tie pop around glass with ribbon and serve.
For the strawberry and kalamata olive soda:
120ml fresh strawberry juice
95g castor sugar
pinch salt
1 kalamata olive
20ml 10% malic acid solution
40ml water
Juice strawberries and pass through oil filter until liquid is not cloudy (around 4-5 times). Combine juice with remainder of ingredients and blend until sugar has dissolved and olive is well blitzed. Sit to marry at room temp for 30 mins. Pass cordial through fine strainer and place in fridge until well chilled. Place chilled liquid into PT bottle and carbonate twice at 55 PSI.
For the sour strawberry and mezcal pop:
80g leftover strawberry pulp from juicing
150ml water
100g castor sugar
2g citric acid
30ml mezcal
Add all ingredients to saucepan and bring to a boil. As mixture thickens reduce heat but keep a bubble rolling. You will need to stir for the entire duration so the mix doesn't stick to the pan – it's similar to a toffee. The mixture should be thick enough to not drop from the spoon when you lift it. Drop a bit into water to ensure it's going to set. This will take around 30mins. Pour mixture into silicon moulds, allow to harden slightly and place lollipop stick in. Place in fridge to fully set overnight.