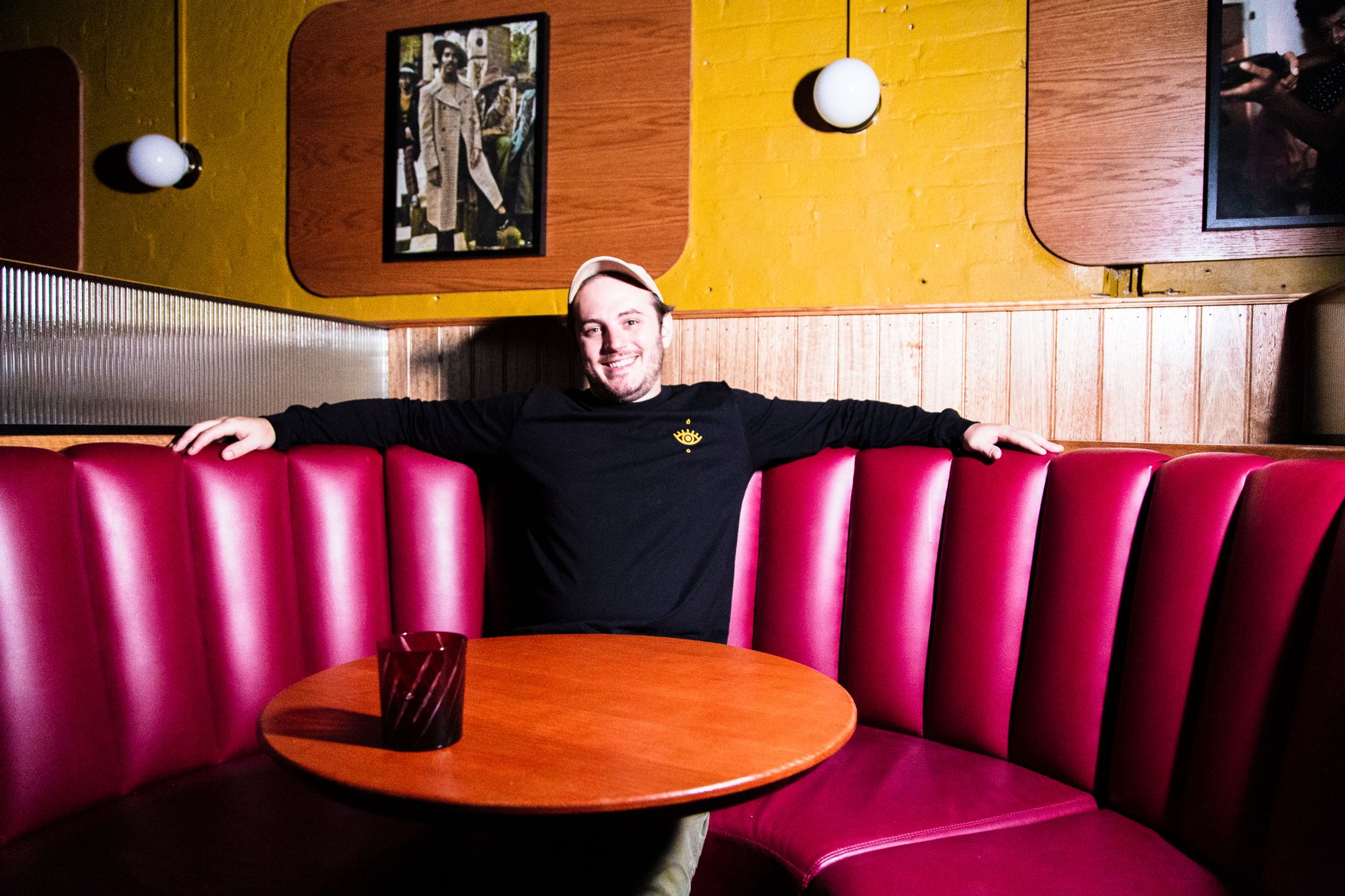 Oliver Churcher tells Sam Bygrave about Double Deuce Lounge, why he does what he does, and who he thinks is Sydney's best bartender.
Meet Oliver Churcher. He's the bar manager at Sydney cocktail bar, Double Deuce Lounge, and one of the city's finest exponents of the cocktail arts.
He's the kind of guy who thinks about the details. Take for instance, the Double Deuce riff on the classic after-dinner cocktail, the Stinger. Traditionally made with equal parts brandy and creme de menthe, Churcher has made it his own. He wanted a hit of lemon zest flavour in the drink that isn't usually present, so he started out squeezing the lemon zest on top of the drink.
"It gave the right flavour," Churcher says, "but then the drink smelled like lemon." And that's not what he wanted. "When you're sipping it you want it to smell like mint." Churcher's solution? Pop the zest into the mixing tin instead, a move you won't see many bartenders doing.
This is the sort of thing that goes through Churcher's head every day.
Below, Sam Bygrave asks him about what people can expect at Double Deuce, why he does what he does, his favourite bars, and who he thinks is the best bartender in Sydney at the moment.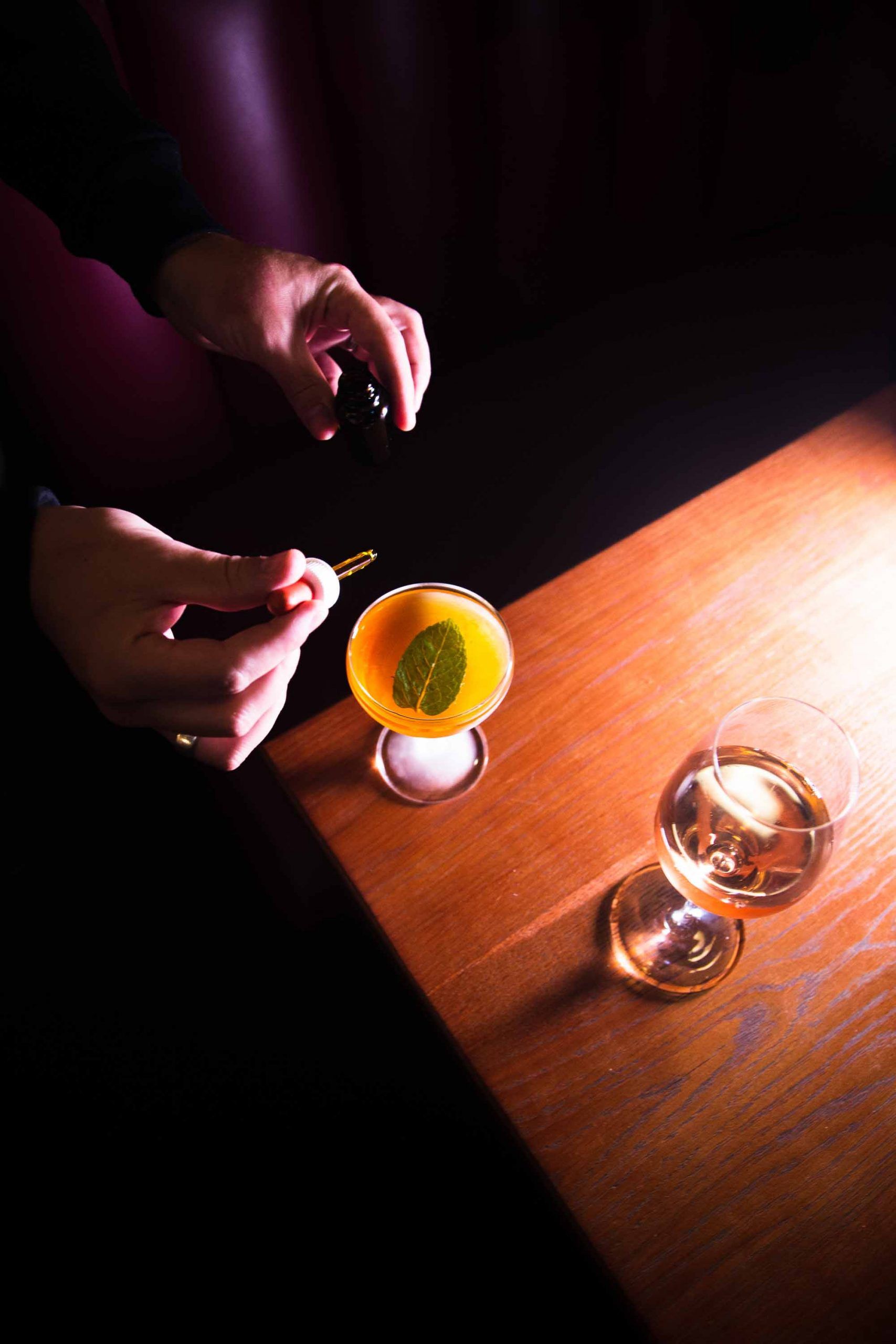 What is Double Deuce Lounge about?
We're a cocktail bar, in the Sydney CBD. We're a small bar so we can fit 60 people in regular times, but at the moment it is 24 [due to pandemic restrictions]. We're a sit down, table service cocktail bar but we also do a bit of wine and beer.
Double Deuce Lounge is the second bar from the owners of Ramblin' Rascal Tavern — how is it different?
So Ramblin' Rascal is a self-described five star dive bar, and that nails the vibe. You know they have quality products, but it has the trappings and the feel of a dive bar, and it's great. I guess as this is the boys' second venue this was always going to be a little different.
It's kind of a statement too, all the owners have proper cocktail experience.
Yeah absolutely. Bars at the end of the day are all pretty similar, you make drinks and you give service. The worst thing I think anyone can feel in a venue is uncomfortable, or pretentious; even small things, like I hate when people hold jiggers in the overhand, flair cut — some people like that. I can do it but I always feel dirty.
We care a lot about the drinks, but I think they speak for themselves.
It's not a 70s bar, right?
No. I wouldn't say it's overtly 70s. The way I think about it is, when people say they're going to open an 80s or a 70s bar, what they mean is they're going to open a caricature of a 70s or 80s bar. I mean, people going to bars in the 70s were like you and me, they liked the same kind of places — they wore stupid trousers — but would people in the 70s go into a bar, and there was a lava lamp and wallpaper and shag carpet everywhere? Probably not.
If you're expecting a full on 70s experience here you'd be taken aback.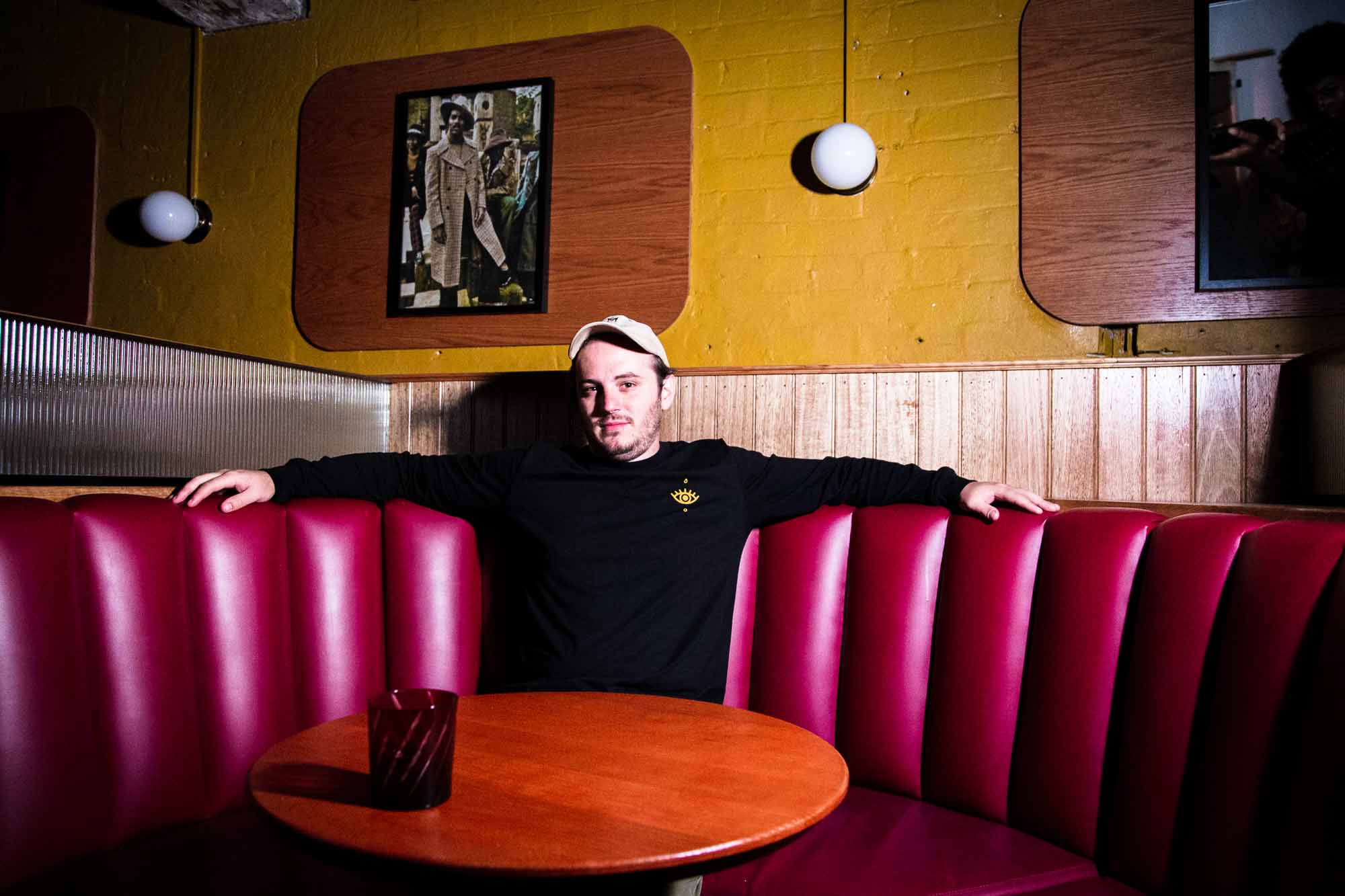 So how does that translate to the list — you have a Grasshopper on there, but it's a variation.
I was very conscious of this from the start; there's like 12 drinks from the 70s and half of them are shit. You make one menu with 10 drinks, you've done all the drinks — that's it forever. So we expanded the scope, to do drinks that may not be from the 70s, bit are older drinks that are delicious but may have gone out of favour because they're a bit daggy.
And then do you give them an update?
Of course, you have to — there's a reason some of these drinks are forgotten. The White Russian, for example, isn't a bad drink.
But it's a drink that high school students could make themselves.
Exactly. When you think about it, no one thinks: "I'm going to go to a nice cocktail bar tonight and get a White Russian." It doesn't quite work that way.
But we looked at that drink, and thought how can we make that into something that's a better experience? So we use a high quality Australian coffee liqueur in Mr Black; we don't dilute it down with milk; the drink is just put on ice and stirred and that's it. We float the cream on top instead. Instead of being creamy and boozy this one is rich and dry and with a note of bitter, and then that cream helps to sweeten it up a little. It's all the same ingredients, just a change in technique.
You've worked at hello Sailor, Ramblin' Rascal, here, and you've been around for a while. Why do you do what you do?
Well, I need to earn money so that I can buy food to live. Ha, I always thought that when it comes to doing a job, I never wanted to do a job just to do it and that's it; compartmentalise it and it's over. If you're going to be spending one third of your week and one third of your life doing something, you might at least enjoy it a bit. Hospitality has its ups and downs but overall it's pretty great; you get to talk to people, you get to be creative, you get to have a lot of freedom that you wouldn't otherwise. The hours are tough but at the end of the day, it's a great job.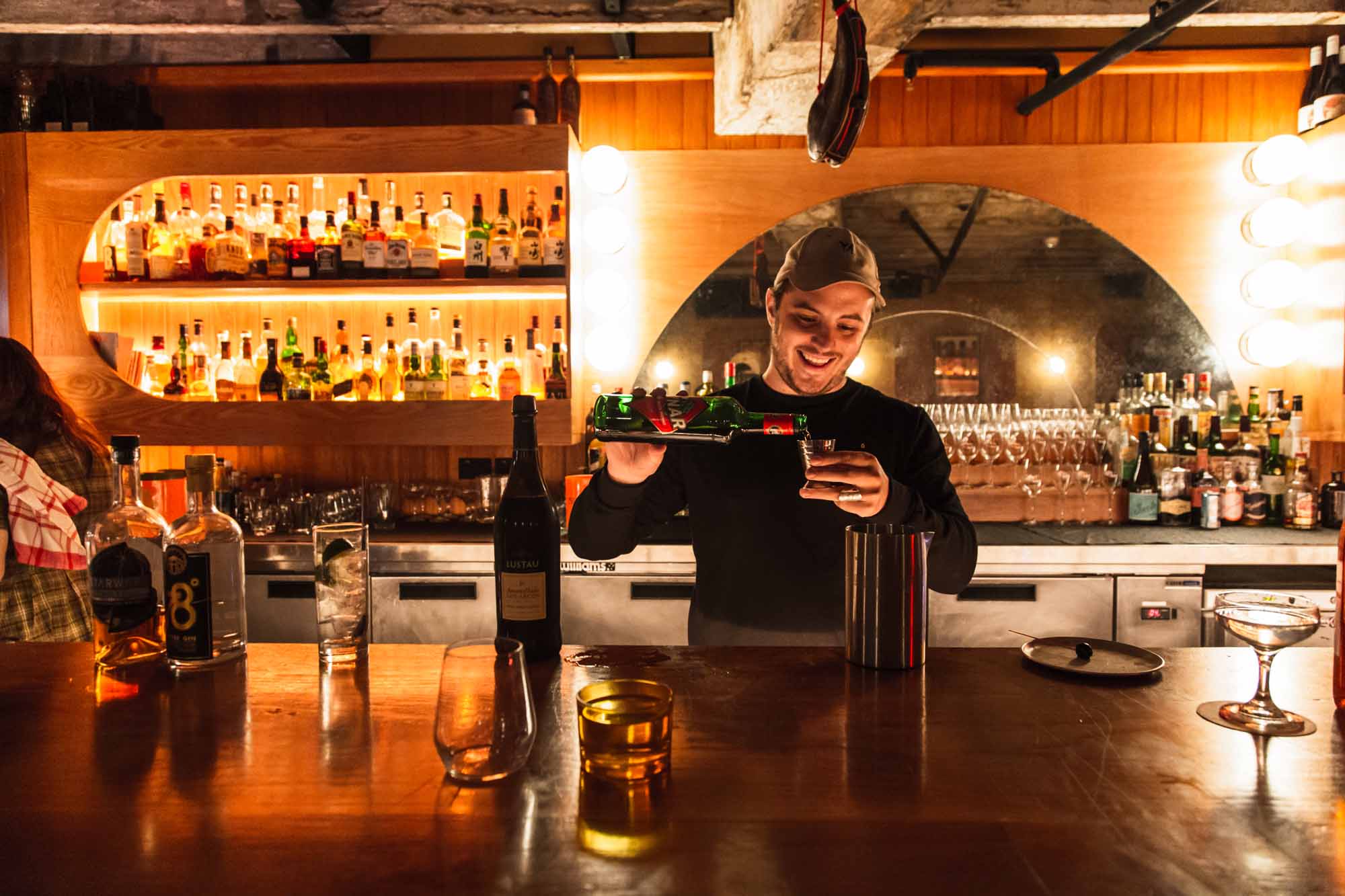 If you have people coming in from out of town, which are three essential Sydney bars you'd send them to right now?
Essential Sydney drinking right now? I'd say Cantina OK!, it's so unique and so well executed. I generally think it's really great. It kind of makes you wonder why no-one has done it before.
I'd say somewhere like 10 William St (10 William St, Paddington), if you're in Sydney you must visit them. Whereas Cantina is new and on the cutting edge, 10 William St is an institution. It has been around for so long, but it's great — it's timeless. It's in a really bourgie, fucking lame-arse suburb of Sydney — but that's kind of Sydney anyway so it works. It's nice to see that even in the crummy, loser parts of town there's still good things.
Where do you go on Sundays, when you have a day off?
I spend most of my Sundays down at Tio's Cerveceria (4/14 Foster St, Surry Hills). It's a great place.
Is it the new bartender go-to on a Sunday, like Shady Pines Saloon was?
Maybe, I don't think anyone has caught that market though — it used to be, if someone was out in Sydney on a Sunday, you could guarantee they'd be at Shady Pines Saloon (4/256 Crown St, Darlinghurst) by 10pm. There was always 50 bartenders in there you'd know. I don't think anyone has recaptured that.
But yeah, Tio's is great on a Sunday. Frankie's Pizza is great, too — it just nails what it does.
What makes a great bar?
For me, it's attention to detail. Are the lights right, is the music right, does everything fit together as a cohesive whole. These are the things in the business that you notice. Do they put a napkin down for every drink, that sort of stuff. Because, on a grander level, if I can't trust someone to put down a napkin for each drink, what the fuck are they doing with the limes, are they washing their hands when they're going to the bathroom?
It should be invisible. No one is going to sit there and point out that they got a napkin with each drink, but they have a great time. It's all these small, little things that connect together to make that experience. It's subconscious stuff.
Who are some of the best bartenders in Sydney?
I think the best bartender in Sydney right now is Alex 'Happy' Gilmour. IN the hospitality industry your job is to deal with people, and it's very easy — because you're not going to like every person that walks in the door — to start being cynical, and put on a show and be duplicitous about item with nothing behind it; it's all to tick the box. The reason why Happy is so great is because he doesn't do that, he's the opposite, he's very genuine. He's actually just a really nice guy. It's kind of disturbing [laughs].
You get the love for what he does.
Absolutely.