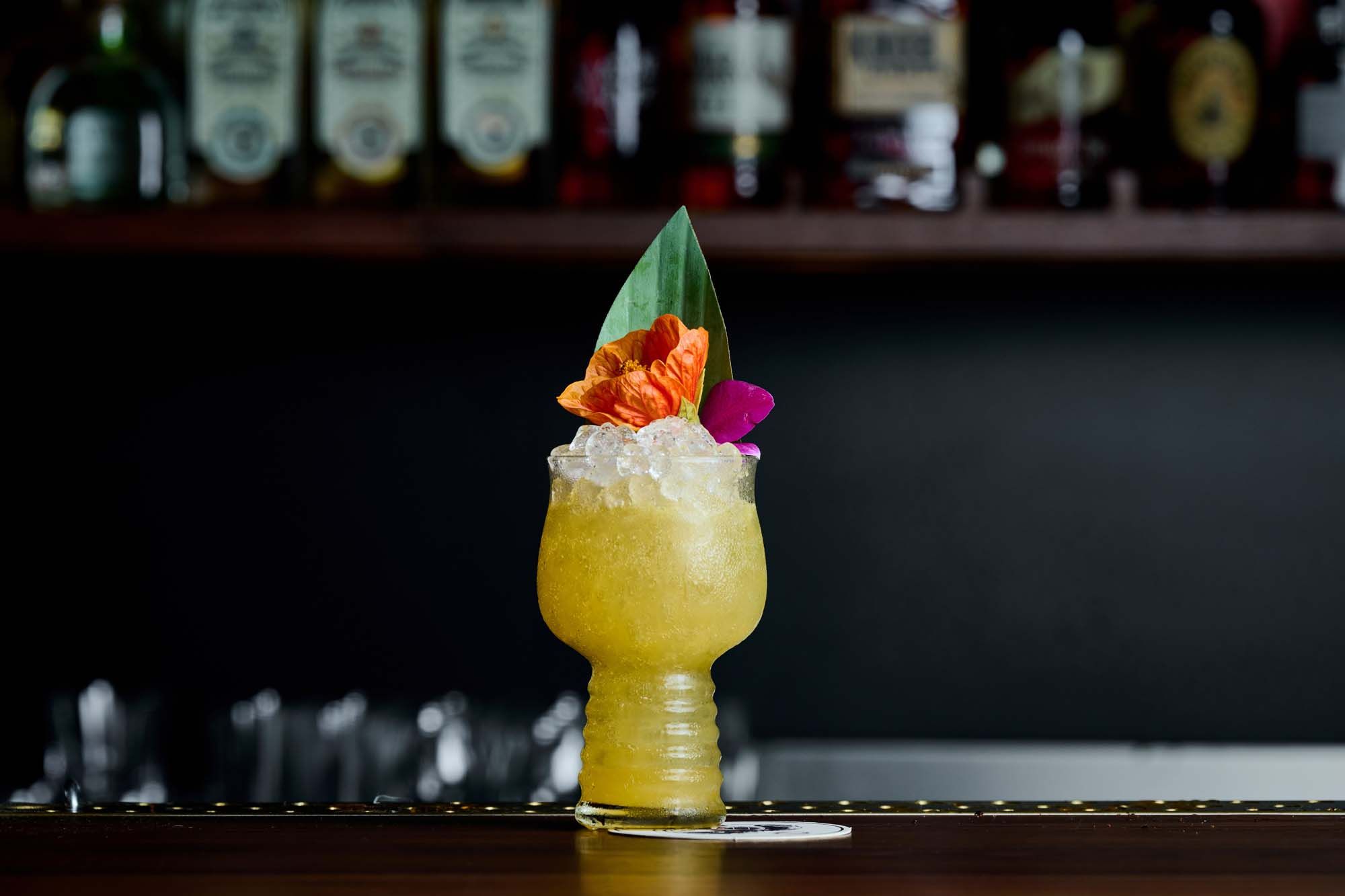 Try their take on the namesake drink at new bar Pearl Diver Cocktails & Oysters.
How do you take a drink — renowned for both its fussiness and its deliciousness — and make it better?
Alex Boon and Pez Collier are two of Australia's best bartenders — when they think about drinks, they think deep. Boon was the Australian winner of Diageo World Class cocktail competition in 2019, an event which attracts the best of the country's bartending talent. To win it is no small feat. And Collier has won his share of comps in the past, before taking time away to study winemaking.
So when they set about opening Pearl Diver Cocktails & Oysters — the bar they opened last week with the Speakeasy Group (Eau de Vie, Nick & Nora's, Mjolner, Boilermaker House) — they knew they were going to have to make a damn fine version of the Pearl Diver cocktail.
The Pearl Diver is a distinctive drink that dates to the 1930s and Don the Beachcomber, one of the founders of the whole tiki drink thing. It's a mix of rum, citrus, honey butter and spices — a drink which tiki historian and New Orleans bar owner Jeff 'Beachbum' Berry describes as "an utterly unique experience, with a luxuriant flavor and silky mouth-feel." Get his spec and a little history about the drink here.
Don the Beachcomber was notorious for protecting his recipes by combining ingredients and giving them a nondescript name — gardenia mix is the one used for the Pearl Diver, which thanks to the likes of Beachbum Berry we now know is a combo of honey, butter, cinnamon, vanilla and allspice.
It's a delicious drink. But with that butter, it's also a pain in the ass to make.
"There's a blender, there's butter — you're trying to strain butter through a strainer," says Boon. "And I'm just like man, this is hard work."
So their approach? Rethink everything, break each element down to its constituent parts, and reassemble — ideally in a manner which makes the drink quick to serve.
"We worked very hard to recreate this cocktail while staying true to its origins and flavour," says Boon. "Fatwashing the rums in different stages of melted and cooked butter and compounding the spices found in the original gardenia mix into a spiced honey syrup meant we had more control over the cocktail during service.
"The aim was to have to bottles, a batch and a juice mix, add a little crushed ice, whisk in a milkshake maker and have in a glass in under 30 seconds."
Oh, and that glass? Pearl Diver Cocktails & Oysters uses a traditional hard cider glass that is ribbed at the bottom and opens up into a bowl, similar in style to the type of glass Don the Beachcomber used to serve up his Pearl Diver.
Take a look at their recipe below.
Pearl Diver recipe
Ingredients
60ml PDCO Buttered Rum Blend
30ml spiced honey syrup
10ml lime juice
10ml lemon juice
20ml pink grapefruit juice
20ml orange juice
4 dashes Elemakule Tiki Bitters by Bittermens.
Instructions
Add ingredients to a milkshake maker tin with 60 grams of pebble ice, whisk in milkshake maker for 30 seconds, add to Pearl Diver glass.
Add crushed ice, cap with crushed ice. Garnish with seasonal flower and banana leaf fan.
For the PDCO Buttered Rum Blend — the exact recipe of which, in the way of Don the Beachcomber, remains a secret — they use a base of Bacardi Carta Blanca to which they add lashings of high ester Jamaican rums for richness.