What makes Jangling Jack's essential is the people who work there, and they're led by venue manager Rachael Merritt, one of Sydney's best.
Some bars are celebration joints, places where, in pre-COVID times, we'd gather with our friends in a big room of strangers and party the wee hours away; some bars are impersonal; some are built for passing through, like the hotel bars where people drop in for a drink one night and pick up and leave the next day.
But if this coronavirus pandemic has shown us anything, it has shown us how important — and how often taken for granted — neighbourhood bars can be. They are the kind of place where everybody knows your name, a place that encourages you to pop by a few times a week for a little bit of community.
Jangling Jack's in Potts Point is a place just like that. Jack's is an all-rounder of a bar: they hit high notes with great cocktails, interesting and delicious food, and there are plenty of good things to drink.
But what makes the place — owned by partners Erin Reeves and Jon Ruttan — so essential is the people who work there.
Their team is led by venue manager Rachael Merritt, and she's been on board at Jangling Jack's for over four years. She's one of Sydney's best bartenders — a dab hand with a Martini — and here, we get to know a little more about her, what she looks for in a great bar, and why she loves the Martini.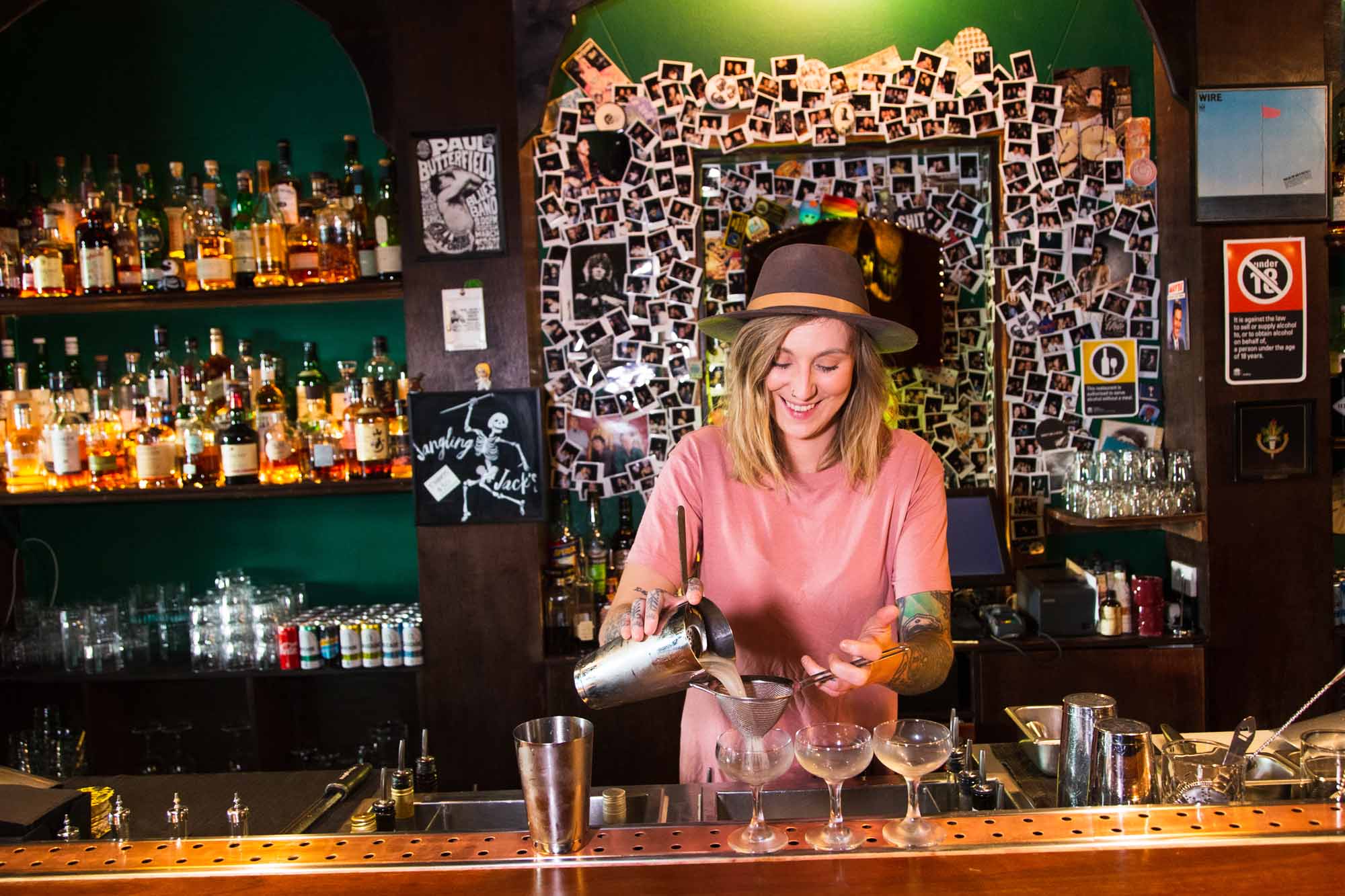 How long have you been here at Jangling Jack's?
At Jack's I have been here for more than four years now, so I've been here almost since the beginning.
What's your job here?
My job here is, I am the venue manager, so I make sure that everything keeps running behind the scenes, I'm nice to people when they come in — and sometimes I make them drinks as well.
You're from Edinburgh — how long have you been bartending?
Yeah I'm from Edinburgh originally, I've been working in hospitality for 15 years now; from my first job in a restaurant, to running nightclubs, fine dining, cocktail bars, and ending up here in Sydney about five years ago.
What is it about Jangling Jack's, why have you been here so long?
It's like a family. We have so many wonderful regulars, wonderful owners, we've created a little family here with this neighbourhood bar. I see the same people three days a week — I know more about them than I probably care to know, but I do — it's great. And then I get to create new regulars every week, and we're becoming like an institution in the neighbourhood. I think it's just nice to be a part of that.
Can you tell us what Jack's is and what Jangling Jack's does?
Jack's is a neighbourhood bar. No pretentiousness, come as you are, we've got great drinks, music, good food, a lot of atmosphere — it's just a place where we want everyone to feel welcome, to feel that you can come in with your mum, or your date, or by yourself, or with friends.
It's a neighbourhood bar, but it's not quite what this area — Kings Cross, Potts Point — has been known for in the past.
No, you've got your pubs and you've got nice restaurants but I think it's important to have a place where you can just come and hang out, where I can look around and — we might only hold 28 people at the minute — but I look around and I know everybody's name that is in here, and they're all people that come in regularly or semi-regularly enough that I can tell you what their job is, what they drink, when was the last time they were in here.
What's it like serving this regular crowd as opposed to serving the nightclub type of crowd, or customers who are more transient?
It's the ability to be able to develop relationships with customers which is nice. They trust us, they know that if they're having a good day or a shit day that they can come in, and they know exactly what they're getting and they can complain at me or tell me good news. It's really nice, people get engaged and they share that with us, or they bring their parents in: 'This is my Mum — Mum, this is Rachael!'
Like meeting your therapist?
Yeah, kinda! But it's a big deal. We have regulars who, they start dating someone and bringing that date into the bar is a really big deal for them. It's like introducing them to your family. I mean it's a great first date bar, but if you know us, you don't come here on a first date. You come here on a third or fourth date — you want to impress them but you also don't want to wreck the bar by bringing in someone you don't really like that much.
When it comes to the drinks here, obviously you do cocktails, can you explain the focus?
We have a real focus on simple, delicious drinks. With our house menu, it's never overcomplicated, it's always simple things that people can understand — but we also make so many classics, I've never made so many Martinis in my life before working here. Our customers have a real good understanding of what they like, but they're happy to be taken on a journey.
The wines — I saw you had a bunch of new wines come in.
Our wine list at the minute I'm obsessed with. Lots of really interesting winemakers and varietals. The way we think of our wine list is that it has to stand up to the cocktails — you might have an amazing Martini or a Trinidad Sour or something else with great flavour, so your glass of wine has to stand up next to that.
You have food here too.
We have our wonderful chef here, Gaspar [Tse] who is inspired by both Italian and Asian cuisine — everything on our menu is homemade, from the housemate focaccia right down to the pasta. And again, the food is simple and delicious, but you can come in here at midnight on a Friday and get a steak if you want. It's important for us to make sure you're not limited in here — our kitchen isn't just open from 5pm until 10, it's open from when we open at 4pm until when we do last call at 12:45am.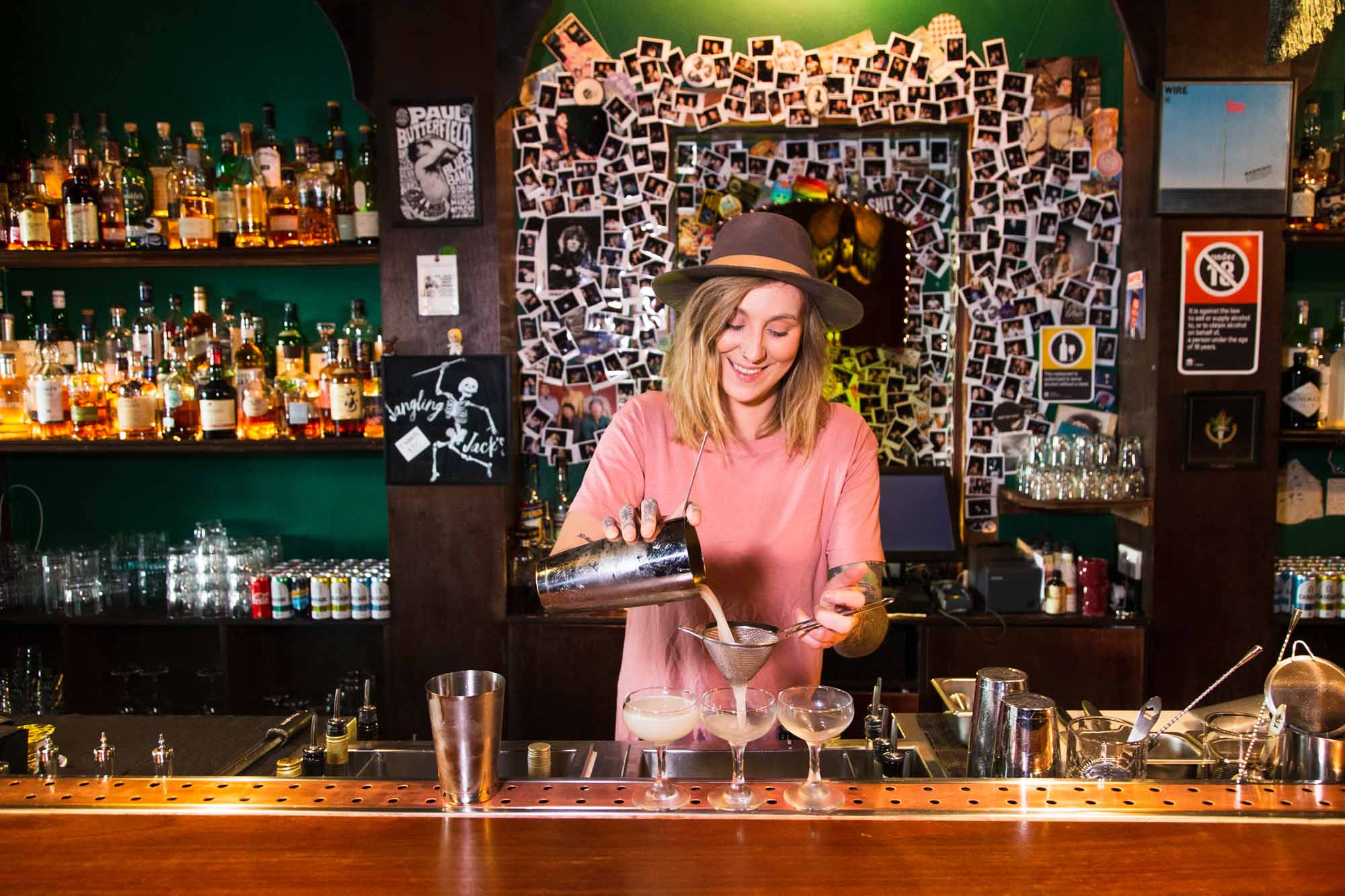 What do you think makes a great bar? What are the things you look for when you go into a place?
I think it's similar to what we do here: somewhere that's unpretentious, somewhere that is welcoming, and that's all to do with the staff, so good, engaging staff; interesting offering, it doesn't have to be groundbreaking, but just interesting and delicious.
Why do you do what you do?
Why? Why not — I can't do anything else?
That's funny. So how did you get into it? Was it a uni job or something?
Ah, my first ever job, that I got when I was 15, was as a waitress in a restaurant. I went to uni, and continued to do it through uni. But while at uni, I felt that I really hate being a student, and I hate other students, and I don't want to do uni anymore. So I stayed in hospitality, and worked in lots and lots of different places, until I found the niche I wanted to stay in.
If people came into Jangling Jack's and asked you where they should go, what would you tell them? What are some of your favourite places and why?
I love Dear Sainte Éloise, up on Llankelly Place, for wine — their wine list is incredible, and there's such a nice and relaxed vibe, the food is also delicious as well. I always send people to Cantina OK!, for a mezcal and Margaritas. It's that thing: the guys that work there, they're so welcoming, they're so warm and friendly. The drink offering is great — it's just mezcal and Margaritas — but they do interesting stuff with it.
At the minute, Chula up on Bayswater, delicious Mexican food and again, great Margaritas; the service is always really nice in there and the food is incredible. I also send a lot of people to Shady Pines Saloon, because it's fun and a good time — you try to explain it and I don't think you get it until you're in there and you've got the music and the taxidermy and the Whiskey Apple in front of you. People are like, 'I don't know, it sounds weird." But they go and they come back and they've loved it.
What's your go-to cocktail?
I like drinking Martinis and I like making Martinis. I'm not a big cocktail drinker, but when I do drink cocktails it's either a Martini or a Margarita.
What is it about the Martini that you like?
It's simple, clean, elegant — although I can only have three of them before I have to take myself home.