What makes a great bar? We polled the best of the NSW bar industry to point the way.
At one big hospitality party in Sydney on Monday, 120 of NSW's best bartenders and bar owners got together at the Boothby Best Bars NSW awards to celebrate what makes this state such a good place to drink at.
A quick spoiler: it's the great bars in Sydney and beyond, created by creative and innovative operators and run by passionate bartenders. If you look at the list of the top 50 bars below, I think you'll agree that, pound for pound, nowhere has better bars than NSW.
The list below is dominated by the state capital, Sydney, with a few notable entries from Newcastle and one a piece from the Central Coast (hello, Terrigal) and Wollongong. In coming editions of the list we'll look to spread the net even wider, with more voters from outside Sydney in the mix.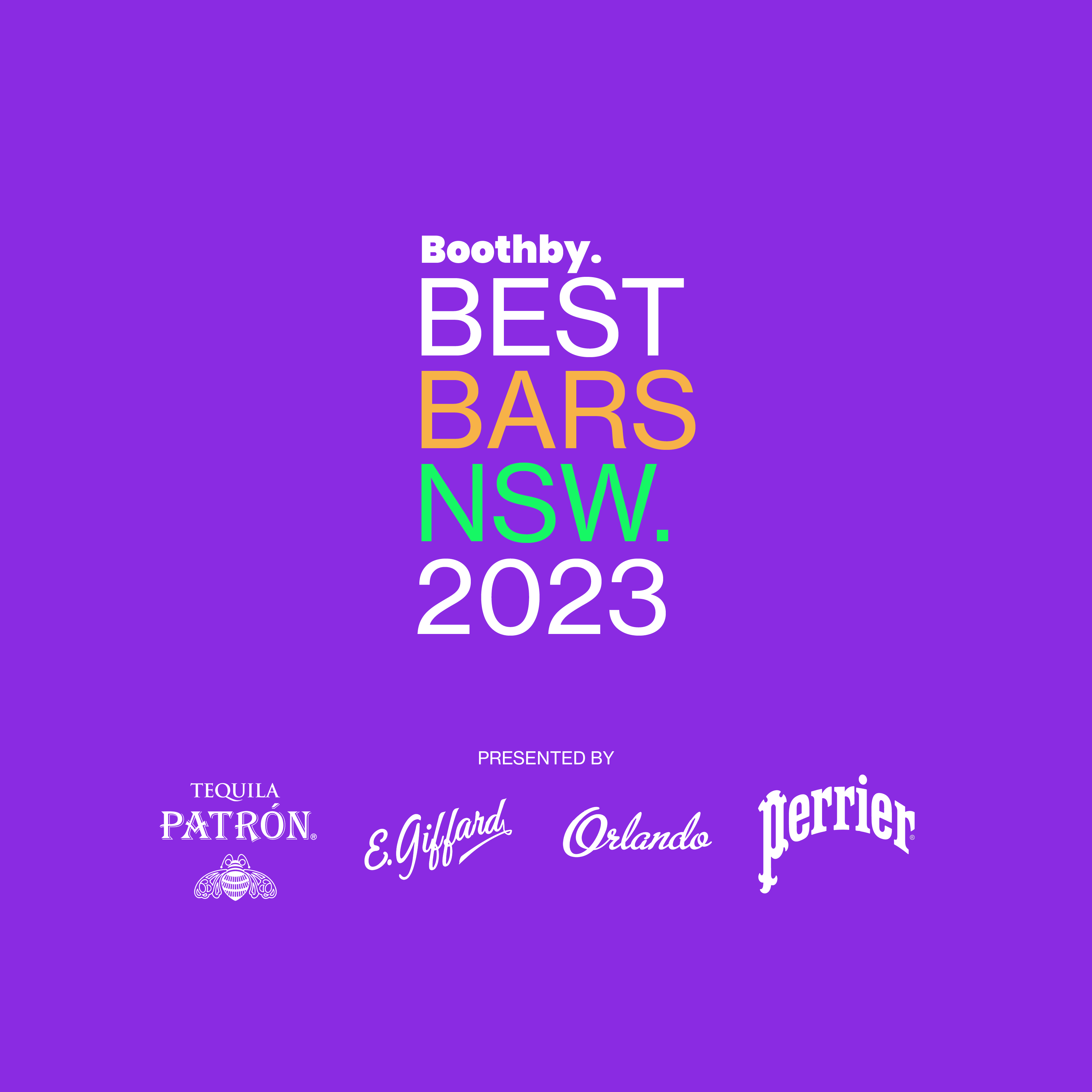 But the list as it stands is a pretty good one, especially in a state in which the capital city is such a locus of hospitality; I challenge you to visit any of the bars on this list and not have a good time or a great drink (you'll likely find both).
How did we get the results? In March, we asked bartenders and bar owners to nominate the bars they think are best in their state. We then polled over 100 of the best of them — elite bartenders, influential bar operators, and the smartest bar industry figures — to find out how the rankings should look. The result? The Boothby Best Bars NSW Top 50.
We've also awarded five major awards: the Best Bar in NSW sponsored by Giffard; the Best New Bar NSW sponsored by Patrón Tequila; the Best Cocktail Bar NSW sponsored by Perrier; Person of the Year NSW sponsored by Orlando (which was won by Stefano Catino from the Maybe Group); and the All Time Great, to a high-placed bar on the list that has been operating for seven years or more.
Get a look at the list below.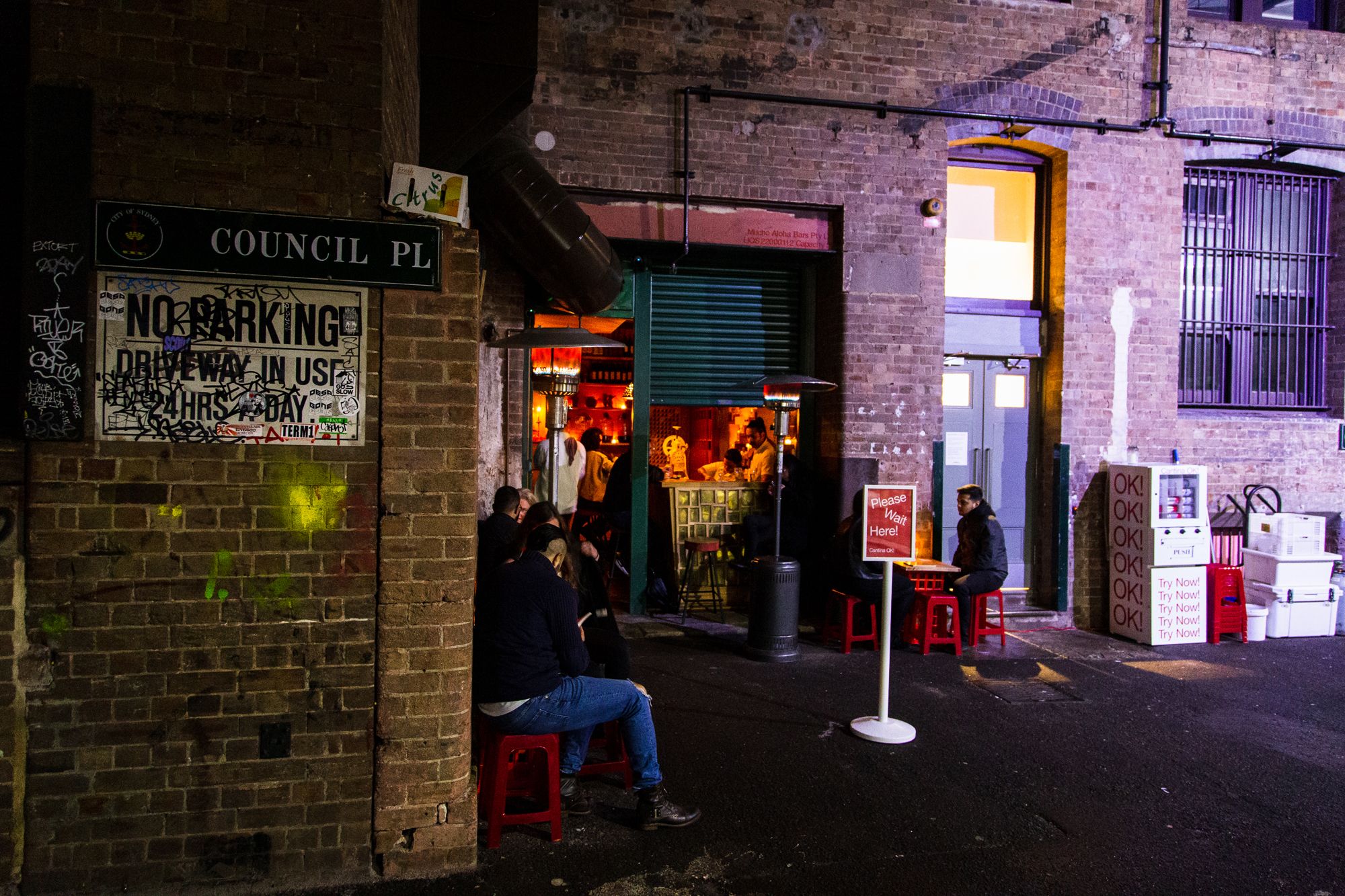 1. Cantina OK!
Council Pl, Sydney | Open in Instagram | okokok.com.au
THE 2023 BEST BAR NSW PRESENTED BY GIFFARD LIQUEURS‌‌‌‌
It's the little bar that does big things on the global stage. From the owners behind other Mucho Group bars like Bar Planet (number 7 on this list), Tio's (number 33) and nightclub Cliff Dive, Cantina OK! is unlike any other bar in the world. In a space the size of a one car garage they've put together a collection of mezcal you won't find anywhere else. That's because they've travelled to Mexico and visited the palenques dotted throughout the countryside to find the stuff. Top that unique product with some of the most knowledgeable and generous service in the city — led by the admirable Ryan Bickley — and you can see why this bar has been featured on lists of the world's very best bars. Our tip? Get there early — there's only space for a couple handfuls of people — order their Margarita OK! (one of the top 50 drinks of the year last year ), and let them take you on a journey.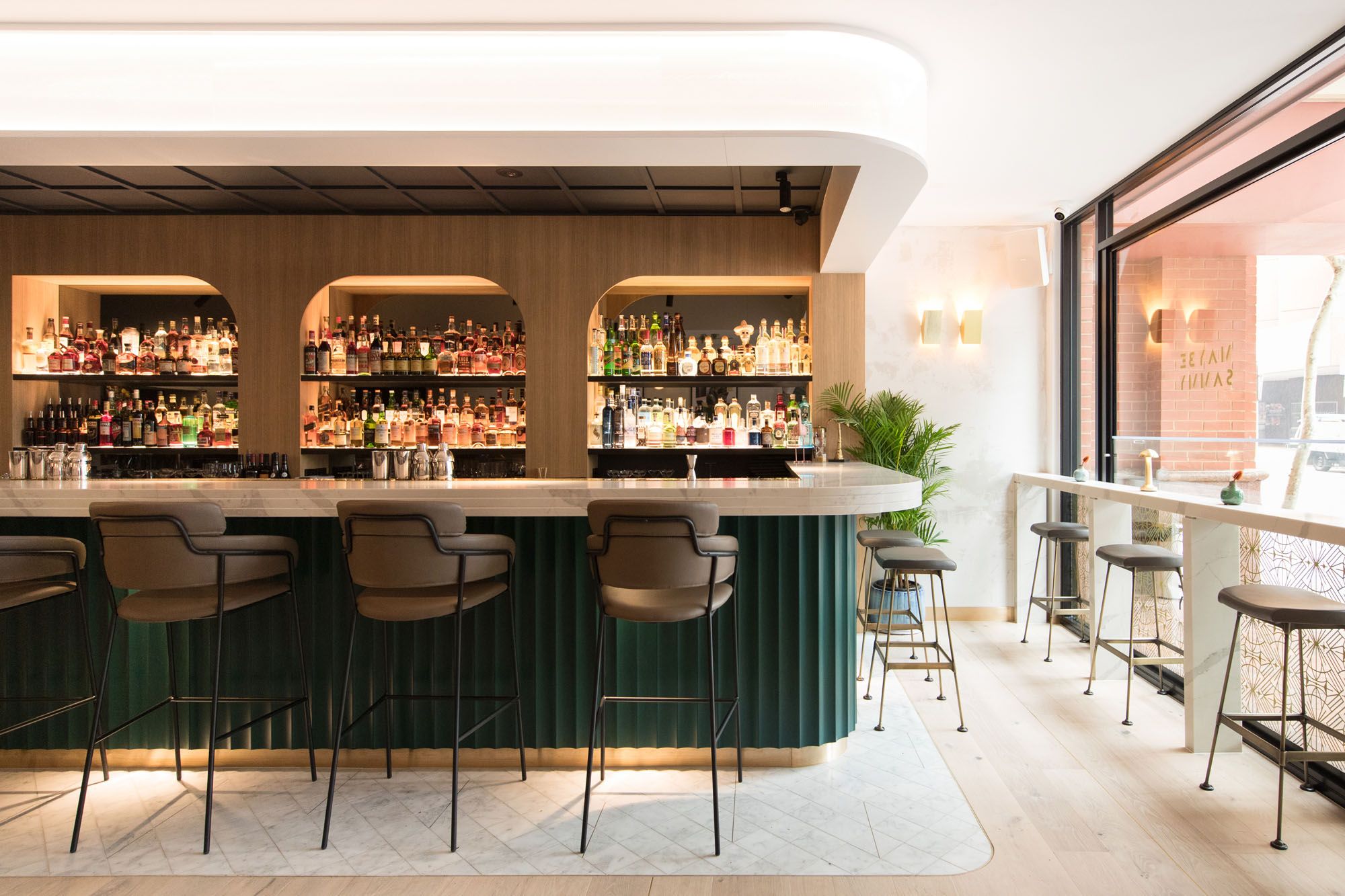 2. Maybe Sammy
115 Harrington St, The Rocks | Open in Instagram | maybesammy.com
THE 2023 BEST COCKTAIL BAR NSW PRESENTED BY PERRIER
Maybe Sammy has been the city's most talked about bar since it opened in 2018 on a dreary stretch of street in The Rocks; since then, a combination of theatrics, over the top good times, attentive and fun service, and delicious drinks have kept punters coming back. There's a reason they've been named the best bar in Australasia four times — they're irrepressible when it comes to the guest experience, the kind of bar you leave having had your night made better, and with a story to tell.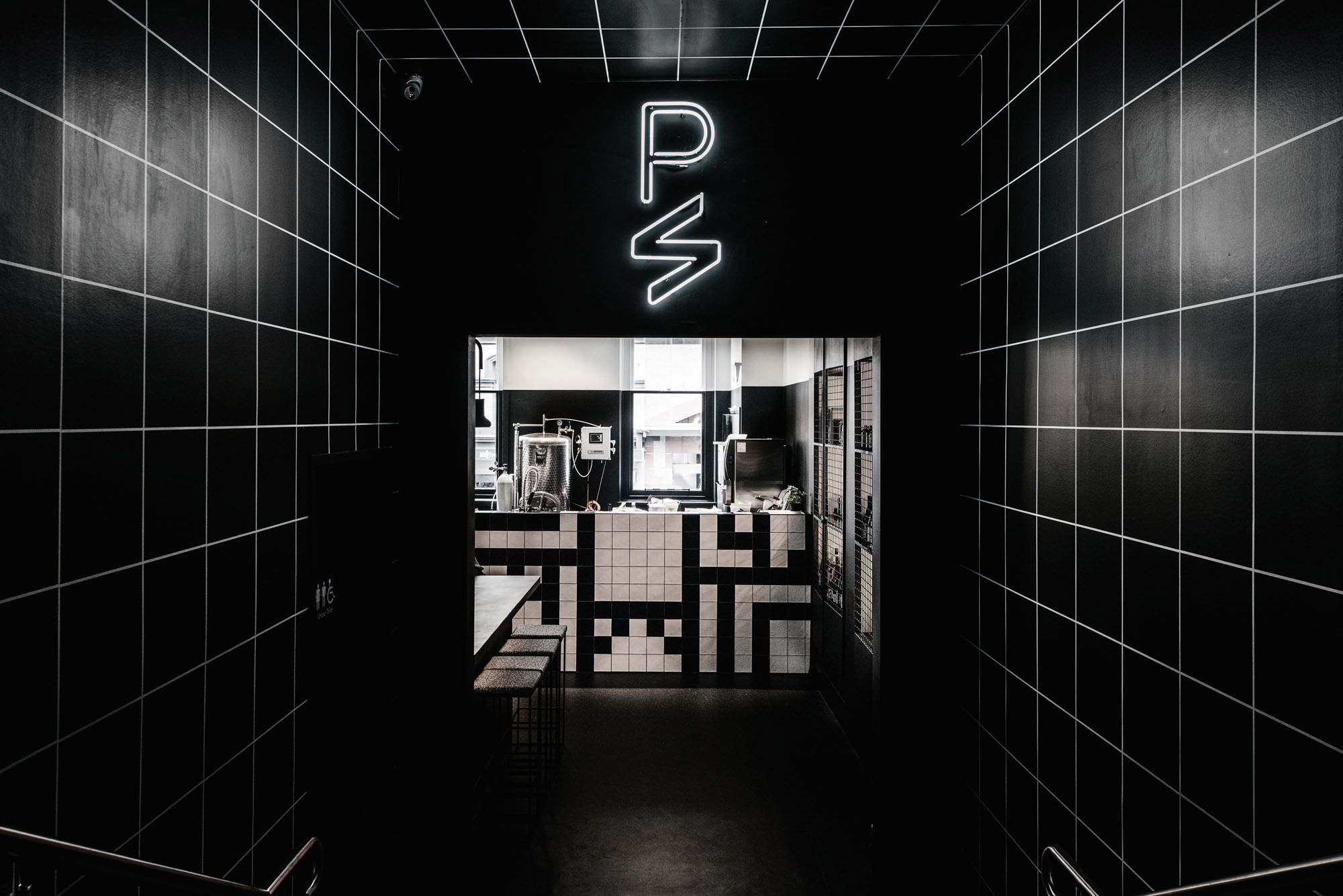 3. PS40
40 King St, Sydney | Open in Instagram | ps40bar.com
One thing is guaranteed on any PS40 visit: you'll be served some of the best drinks in Australia right now. PS40 is the home of the Africola, the confounding hot and cold drink that was named the 2022 Drink of the Year (the drink has become so famous that it even has its own tee shirt today). But skip past the Africola and you'll find a smart, delicious list of cocktails with rich flavour combinations and a focus on pleasing people's palates — smart drinks that everyone loves.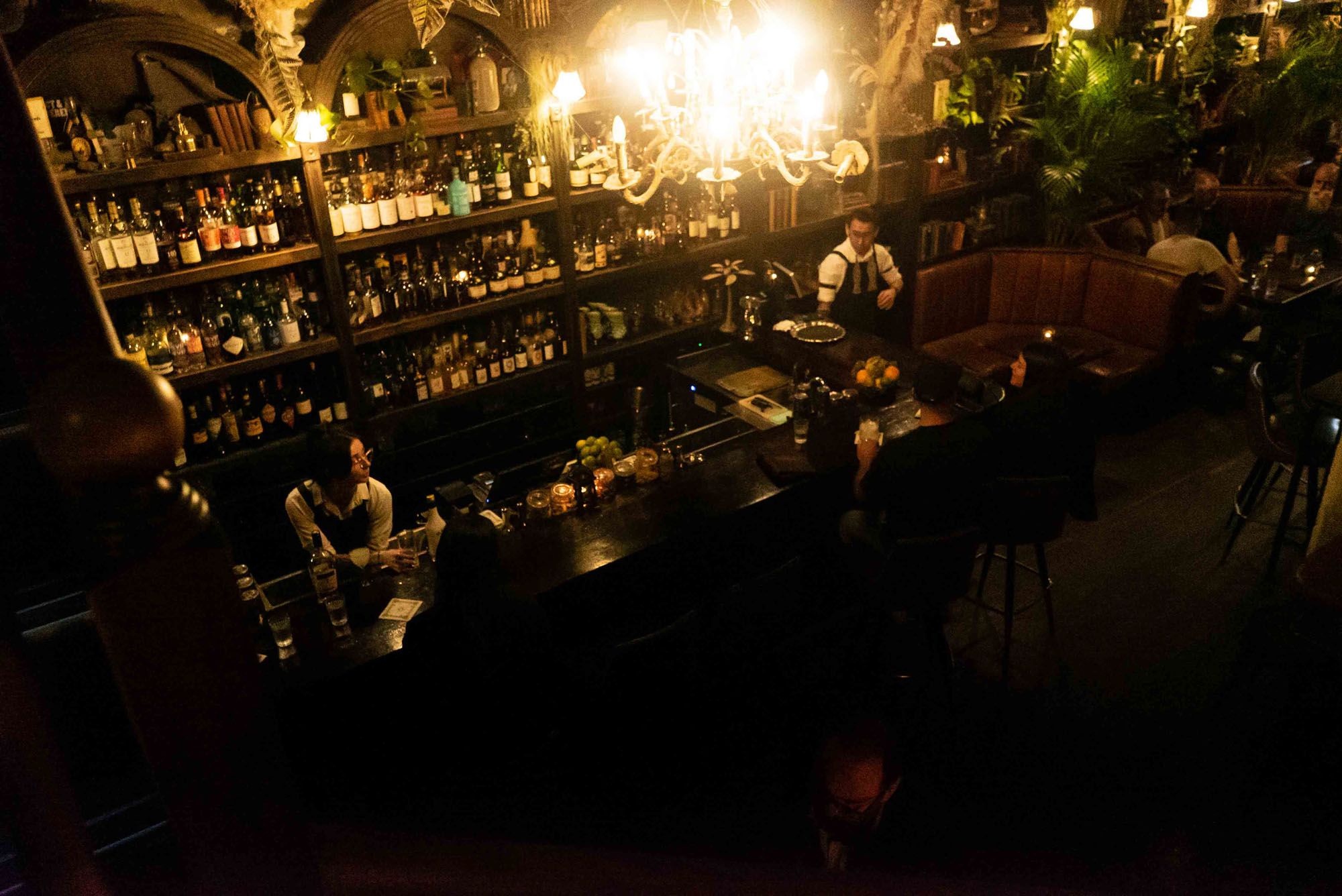 4. Old Mate's Place
Level 4/199 Clarence St, Sydney | Open in Instagram | oldmates.sydney
If you're going to Old Mate's Place — and you should be — you're best advised to get there early, particularly if the sun is shining, the weather is warm, and you want a seat on its small outdoor rooftop; it's often busy here, because people love it here. Ascend a rickety elevator to the fourth floor and you'll find Old Mate's Place — it's like walking into an old library overgrown with foliage, with a stately bar thrust into the middle of it all. You'll snack on Philly cheesesteak variations, and drink the cocktails — the Pandan Airways landed at number 15 of the 50 best drinks of the year last year — but the main attraction here has always been the service. It's friendly, familiar, relaxed — it has the comfortable feel of popping around to the place of a friend (or mate).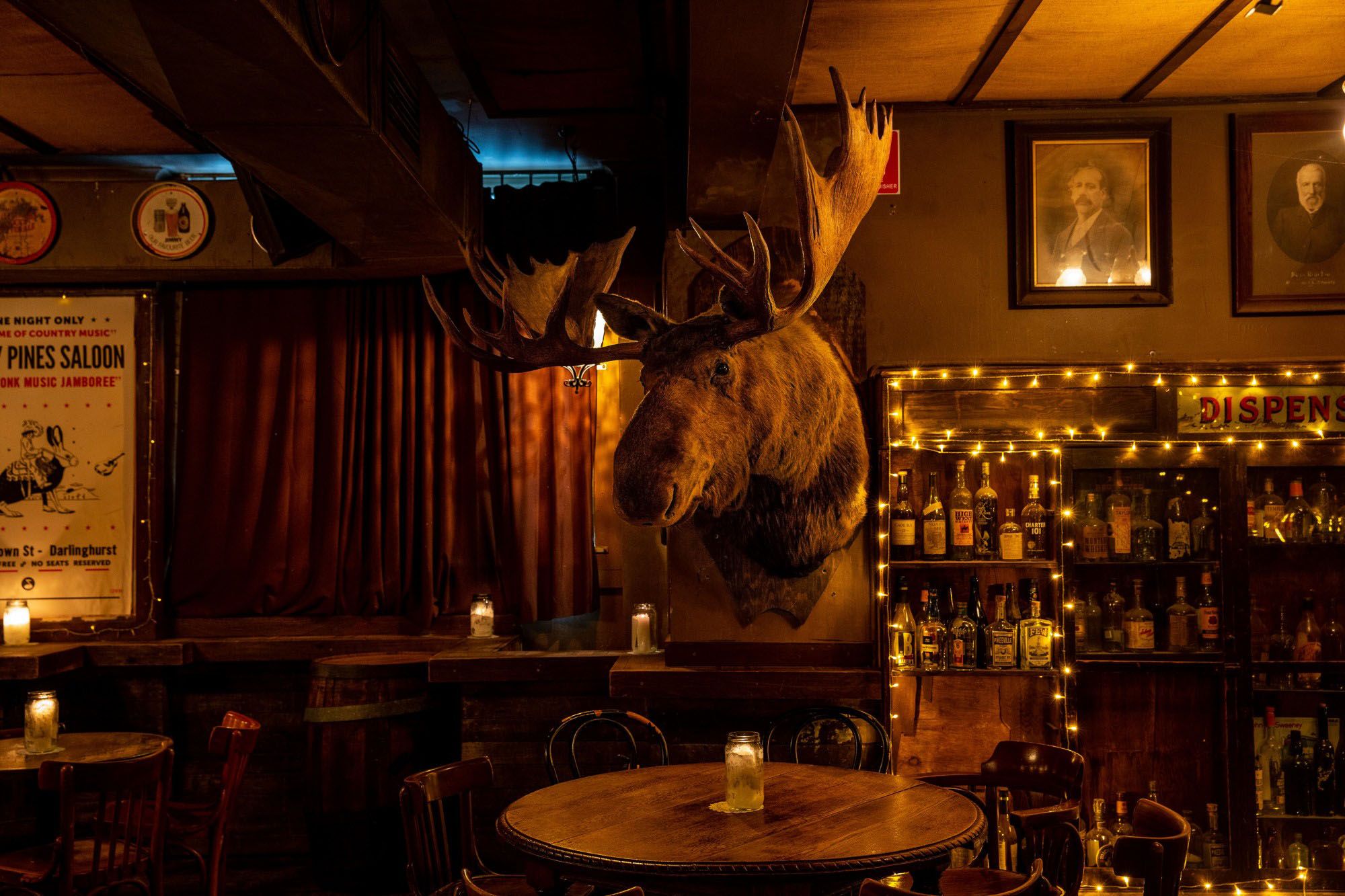 5. Shady Pines Saloon
4/256 Crown St, Darlinghurst | Open in Instagram | shadypinessaloon.com
THE 2023 ALL TIME GREAT NSW PRESENTED BY BOOTHBY
There's a reason that the drinking in Sydney's bars is so good these days, and Shady Pines Saloon is that very reason. All the hallmarks of the bar that first made it great when it opened in 2010 — the attention to detail throughout the bar, the knowledgeable but unstuffy service, the delicious drinks on offer (and all that American whiskey) — you'll still find at the bar today, and it's still a drawcard for off duty bartenders on any given Sunday. It's the home of the Whiskey Apple, and if you like taxidermy in bars, well, they're to blame.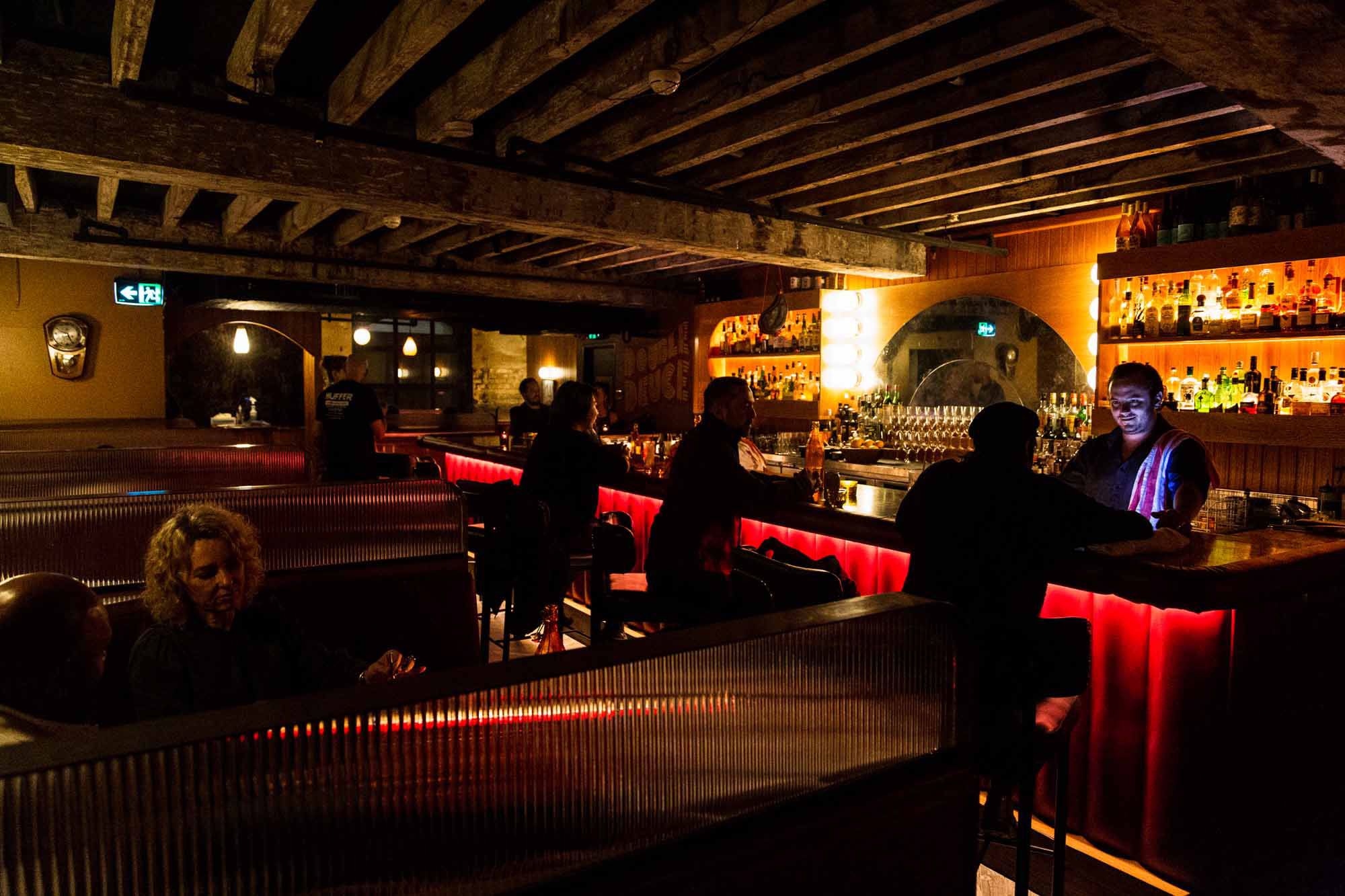 6. Double Deuce Lounge
6 Bridge St, Sydney | Open in Instagram | doubledeucelounge.com
Double Deuce Lounge is a cocktail bar, sure, but it's one without the pretence and the self-serving wank — which is to say that this place is a good time (one that serves some top flight cocktails made with world class technique). Set in the basement of an old building on Bridge Street in the Sydney CBD, Double Deuce Lounge is the second bar from the ownership trio behind Ramblin' Rascal Tavern: Dardan Shervashidze, Sebastian Soto, and Charlie Lehmann. It's also home to two cocktails that featured on the 2022 Drink of the Year top 50: the Seabreeze (an updated and all together more delicious take on the cranberry classic) and the Discretionary, a clarified milk punch made on tequila, and the number 9 drink of the year last year.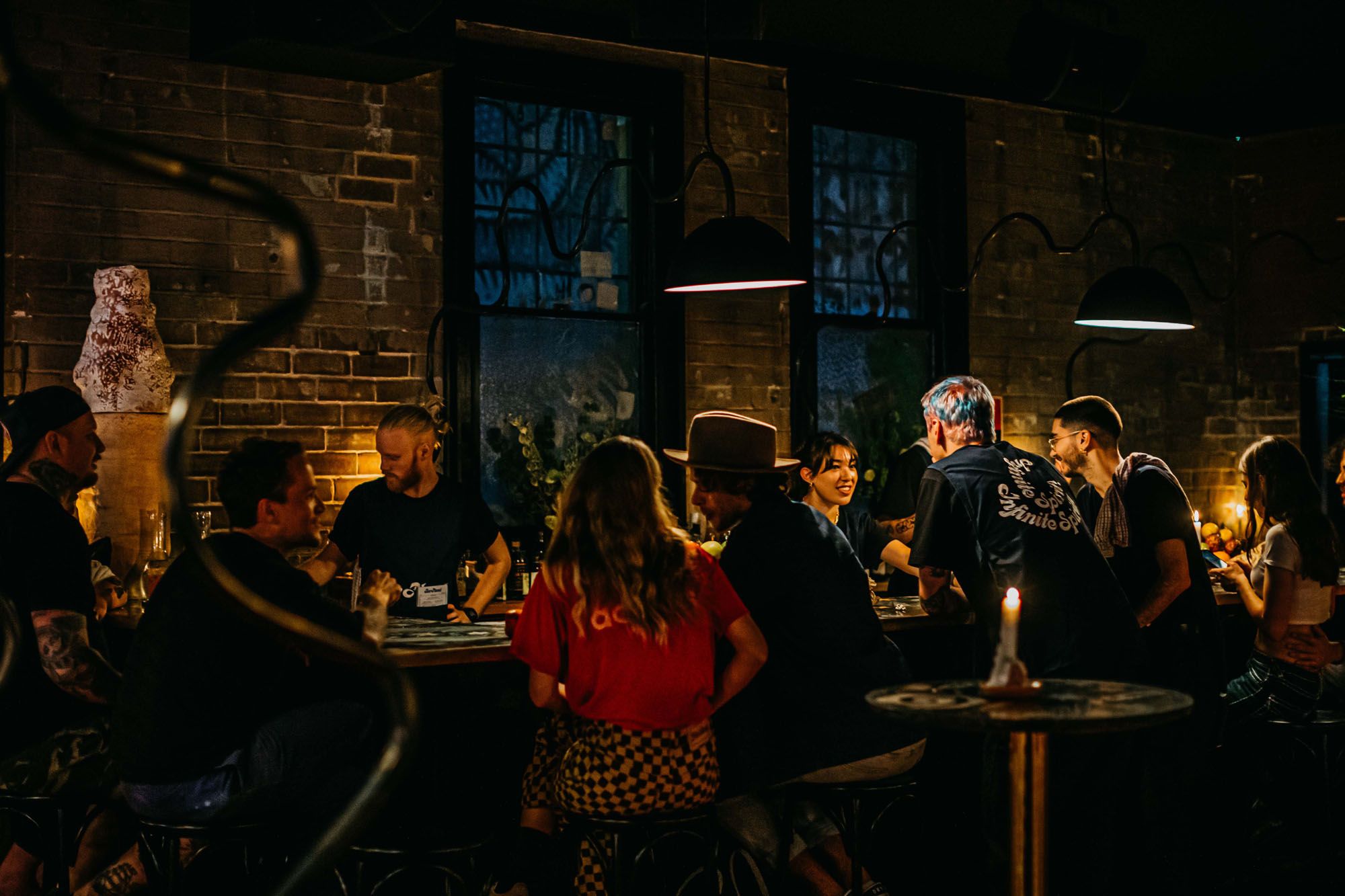 7. Bar Planet
16 Enmore Rd, Newtown | Open in Instagram | barplanet.com.au
THE 2023 BEST NEW BAR NSW PRESENTED BY TEQUILA PATRÓN
Bar Planet made a big splash when it debuted in April 2022; with a crack team of bartenders led by Harrison Kenney (ex-Cantina OK!) and the desire to upend the idea of a Martini bar into something out of the ordinary, the Newtown bar has been busy since day one. The bartenders here wear smocks, instead of tuxedos, and the decor is more hippy-psychedelic than pressed tin ceilings and brass fixtures. Their Infinite Spirit Martini uses a gin-like spirit they get custom distilled seasonally with different ingredients; the Martini is poured from a porron from a great height for a theatrical flourish. It's the most talked about bar of the year, and the winner of the Boothby Best New Bar NSW presented by Tequila Patrón.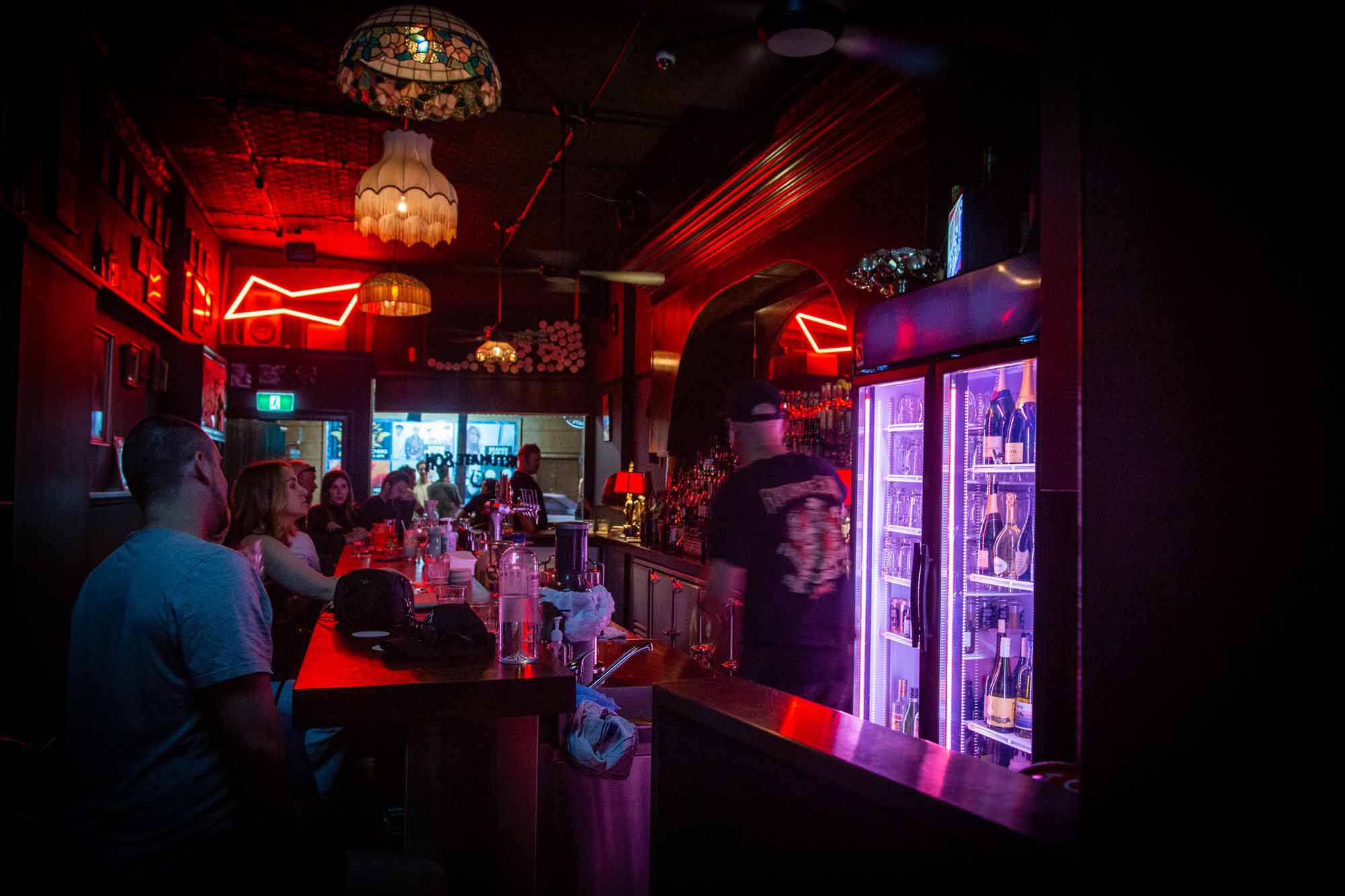 8. Fortunate Son
105 Enmore Rd, Newtown | Open in Instagram | fortunateson.com.au
The tagline at Fortunate Son is cool drinks and warm service, but this bar opposite the Enmore Theatre is so much more. There's a great selection of cocktails, for one, but it's the welcome you get, and the way you're hosted by the bartenders that make it special. Black and white music photography lines the walls of the bar, big neons bathe the place in red, the playlist is all killer, no filler. And better than that, Fortunate Son might just have the most comfortable bar seats in Sydney. Every neighbourhood should be so lucky to have a Fortunate Son in their life.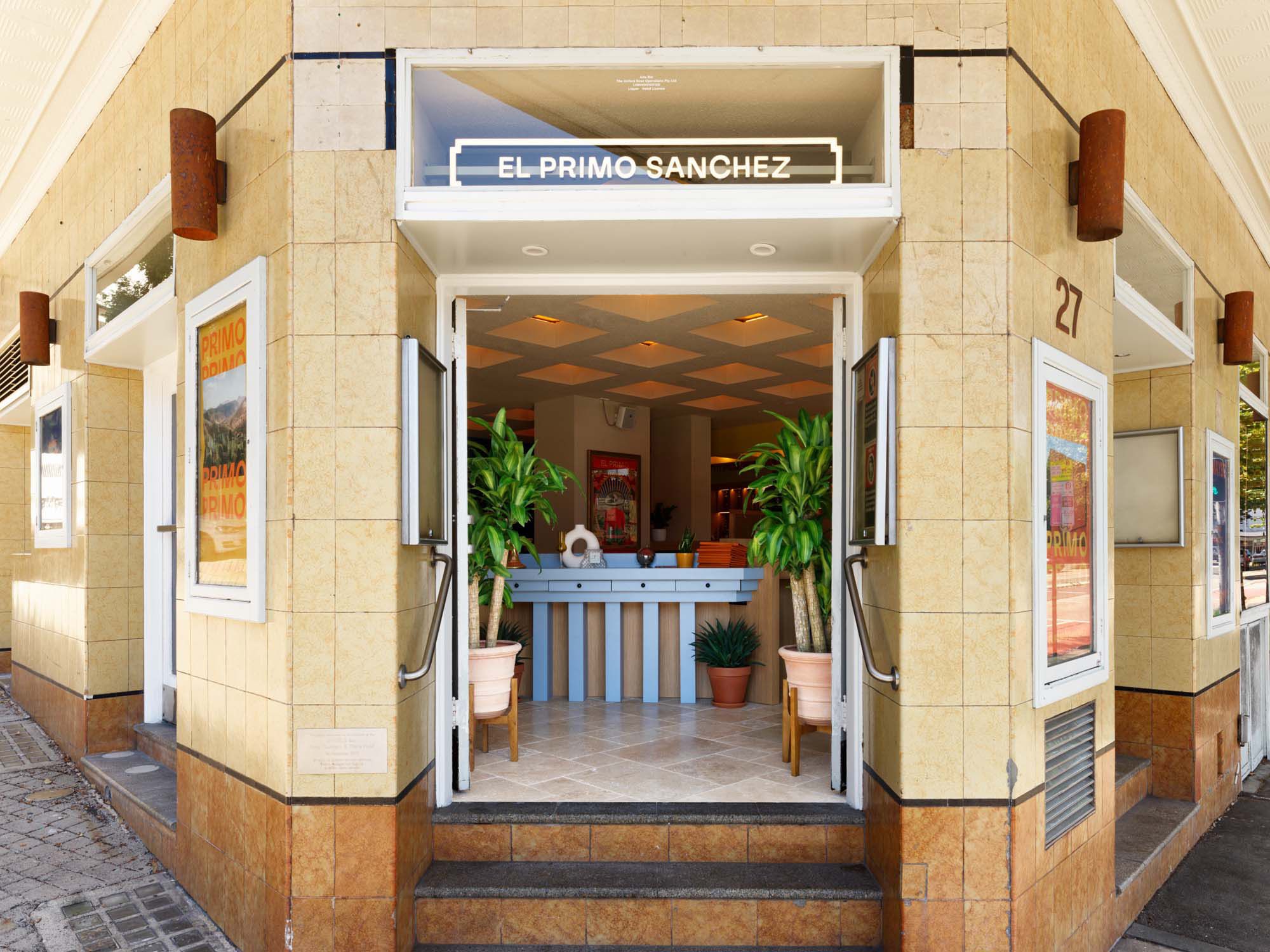 9. El Primo Sanchez
27-33 Oxford St, Paddington | Open in Instagram | elprimosanchez.com
El Primo Sanchez is proof that tequila and karaoke can be beautiful. This bar, from the folks behind Maybe Sammy (number 2 on the list), is their love letter to all things Mexico: the food, the spirits, the love for living life out loud. Bar manager Eduardo Conde is one of the stars of the next generation of bartending talents, and his cocktails at El Primo Sanchez are smartly packaged — they deliver on both flavour and accessibility, and his Primo Margarita gives Cantina OK!'s take on the classic a run for the title of the best Marg in town.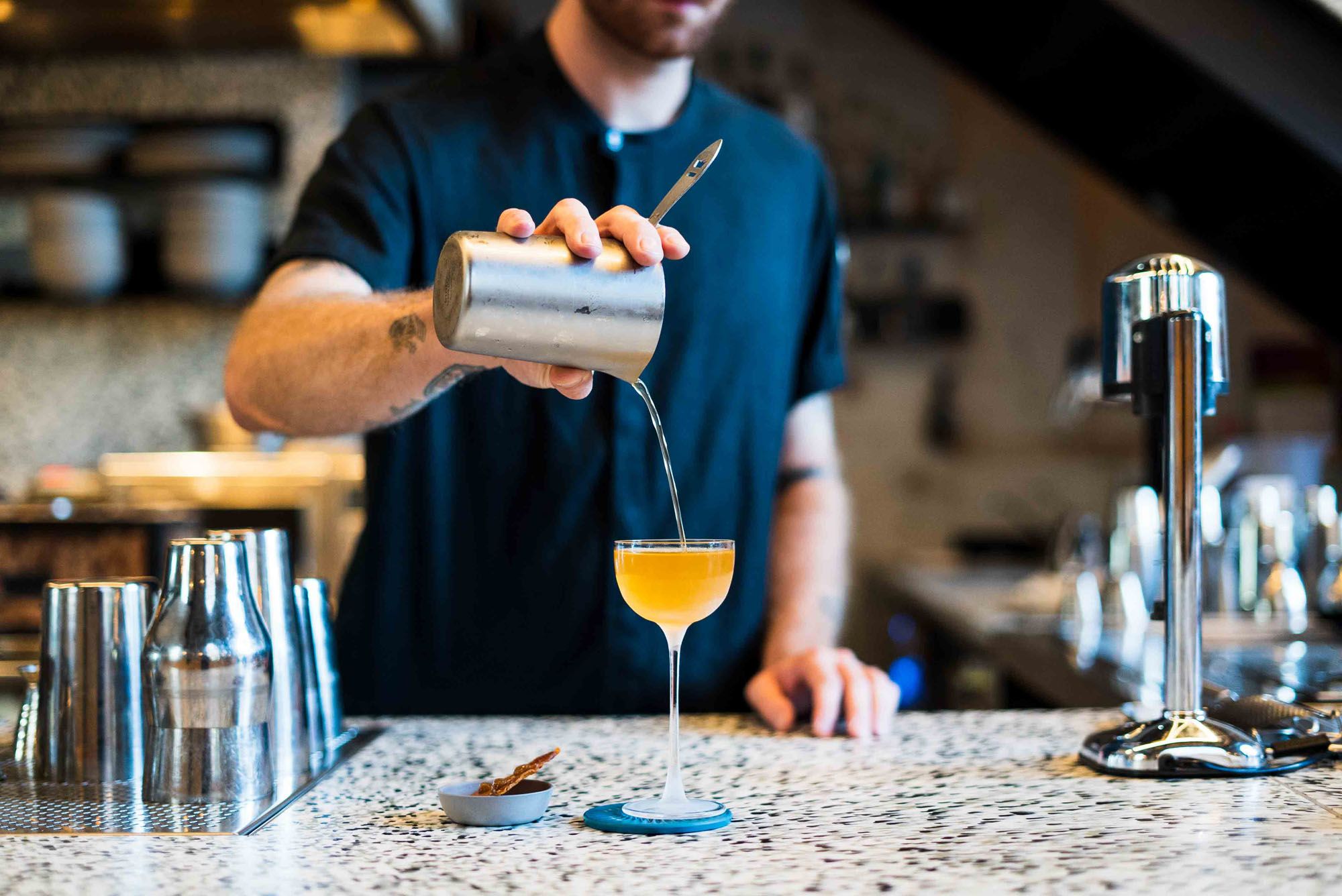 10. Re
Shop 8/2 Locomotive St, Eveleigh | Open in Instagram | wearere.com.au
Since opening in April of 2021, influential bartender and owner Matt Whiley's Re has sparked conversation about what really makes a bar sustainable and what we do with all our waste ingredients — all the while making delicious and inventive drinks. Their latest menu is the 10x10 menu, in which they take 10 of the most commonly wasted items across the world to work with as an ingredient, creating 10 new recipes from every ingredient in the process. Tasty stuff, too.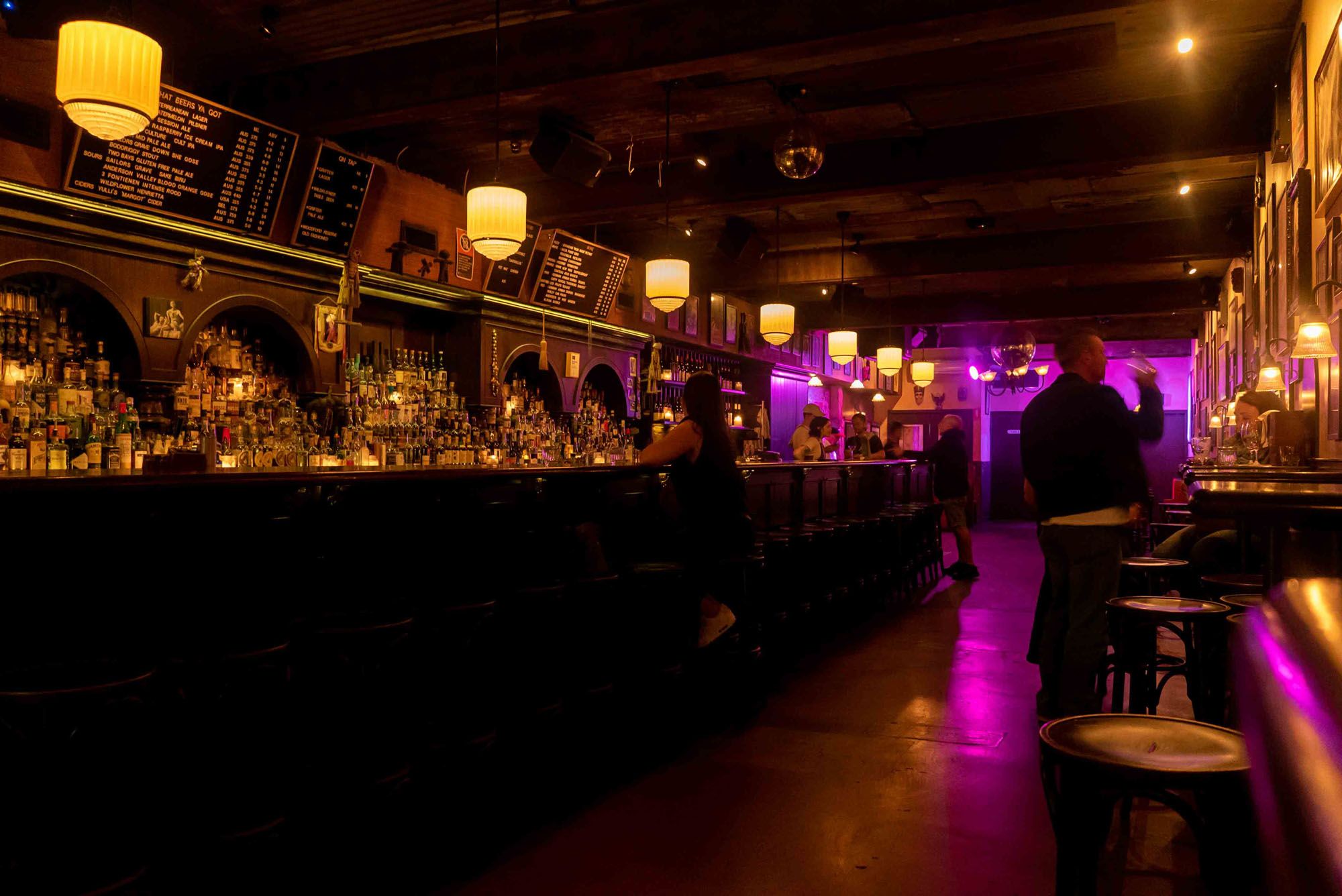 11. Earl's Juke Joint
407 King St, Newtown | Open in Instagram | earlsjukejoint.com.au
Earl's Juke Joint is the bar that put the suburb of Newtown on the Sydney drinking map. Before Earl's opened in 2013, Newtown was about big booze barns and cheap student drinks; today, thanks to trailblazers like Earl's, it's one of the most interesting bar scenes in Australia and home to some world class bars. And some 10 years on into its run, Earl's Juke Joint is still operating at the very top of its game.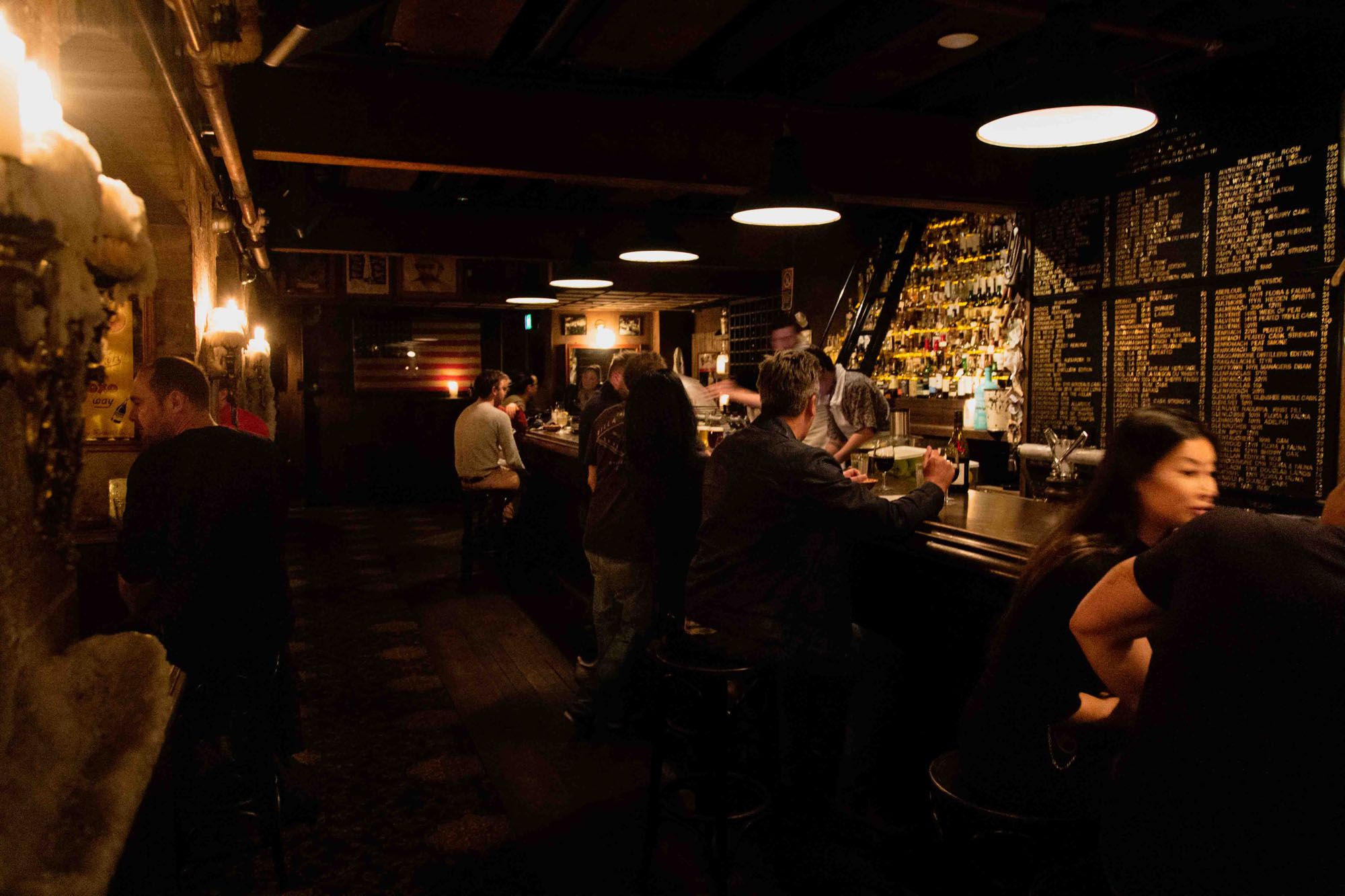 12. The Baxter Inn
152/156 Clarence St, Sydney | Open in Instagram | thebaxterinn.com
When The Baxter Inn made its debut in 2011, it changed what was possible in the Sydney bar world. What is it that makes The Baxter Inn one of the world's great bars? It could be the huge whisky selection, specialising in single malt Scotch, hundreds and hundreds of bottles on hand. It could be the short yet sharp cocktail list, or the well-drilled team's dab hand with classic cocktails. It could be the atmosphere — it's always busy and buzzy. It could be the the look of this basement beauty of a bar, inspired by the Boston boozers of the 1800s; grab a seat at the long bar that runs the length of one side of the room, and marvel at that back bar. Or you could pop your head in and admire the beauty of their whisky room, where they keep some of their most precious and rare whiskies. Essentially, it could be many things, because The Baxter Inn does many things very well.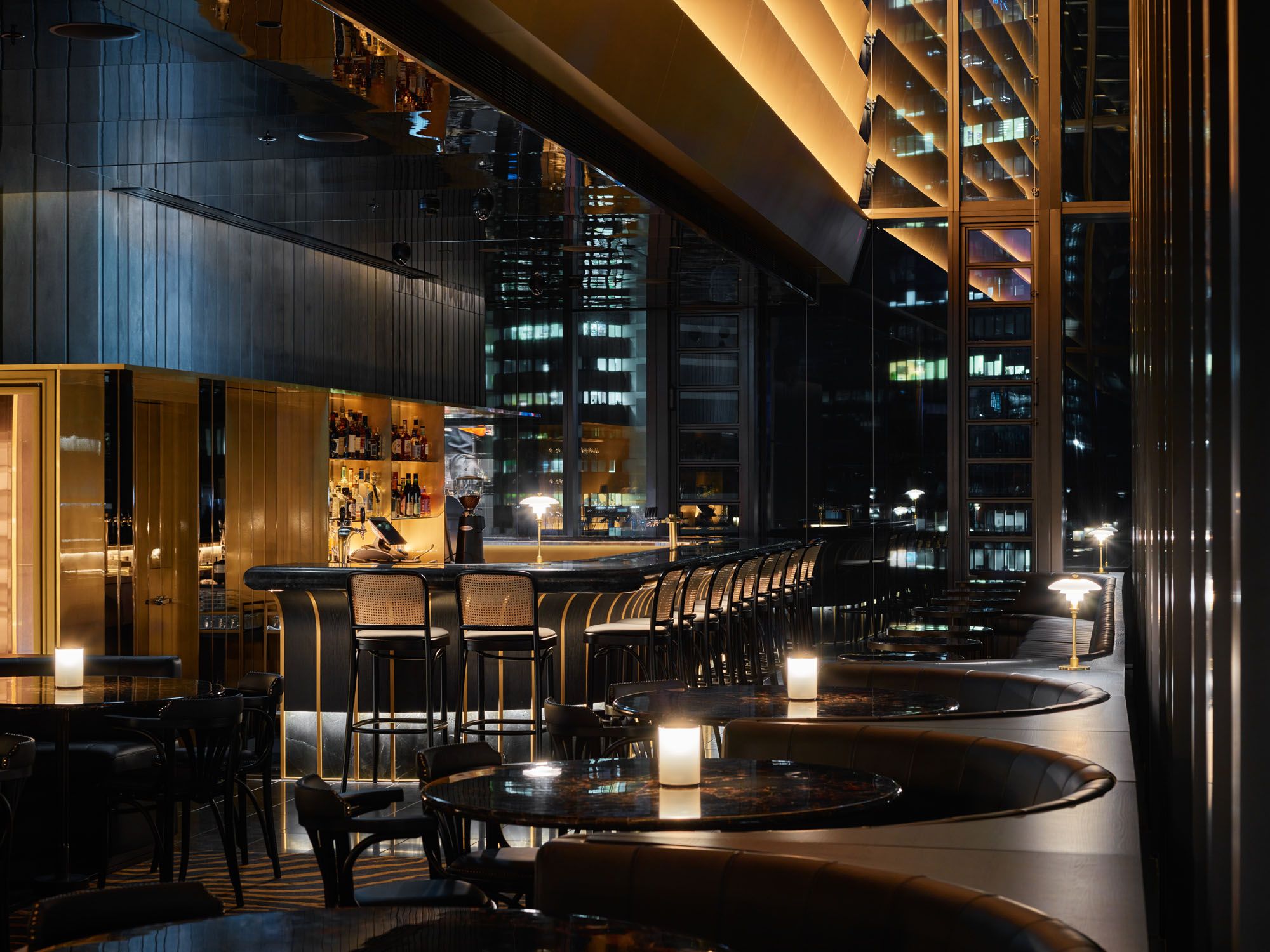 13. Dean & Nancy on 22
2 Hunter St, Sydney | Open in Instagram | deanandnancyon22.com.au
Dean & Nancy on 22 has all the makings of a great hotel bar. It has the setting right: high atop the city streets of Sydney on the 22nd floor of the A by Adina hotel, Dean & Nancy is perched among the skyscrapers, with floor to ceiling windows affording a view from the bar like nothing else in town. With a sweeping staircase ascending to the bar, a grand piano, and some top-notch, sharply-suited bartenders on the stick, it definitely has that 'grand hotel bar' feeling right. What it does best, however, is all down to the people who work there — they know how to make someone feel special, taking pride in creating moments for their guests to remember.
14. Burrow Bar
96 Clarence St, Sydney | Open in Instagram | burrowbar.com.au
It's not always the case that a bar can move from one location to another and keep their regulars, but Burrow Bar is one which has done just that. Owners Chau Tran and Bryce McDonough have created a home away from home for many an off-duty bartender, because the emphasis here has always been on sharing an intimate hospitality. After five years in a basement on De Mestre Place off George Street, the bar relocated to Clarence Street in 2021, bringing not just their regulars (and impressive collection of booze) with them, but bringing in new fans of the bar, too.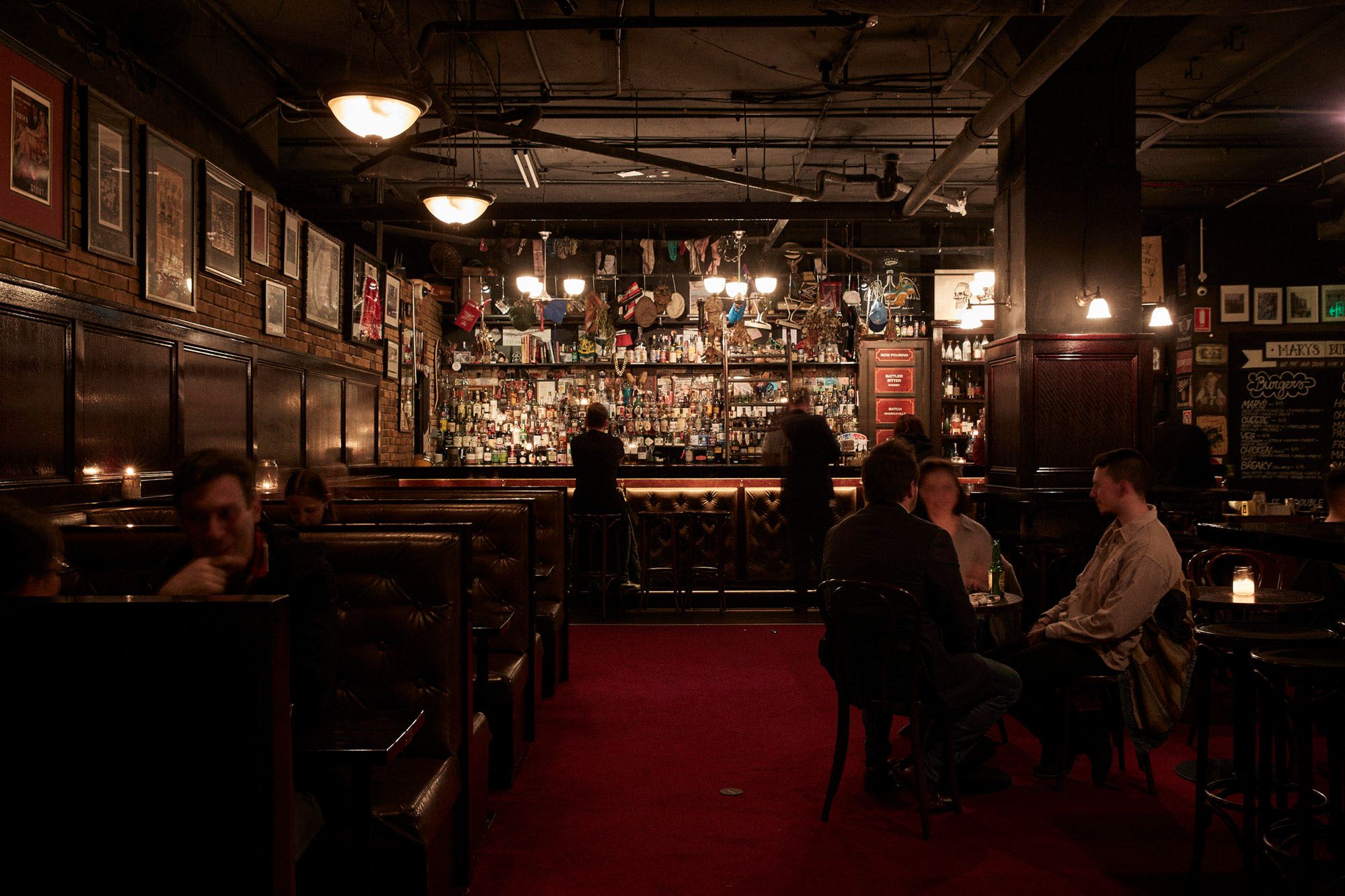 15. Ramblin' Rascal Tavern
60 Park St, Sydney | Open in Instagram | ramblinrascal.com
Ignore what you read anywhere else on the internet on social media — Ramblin' Rascal Tavern is the true and original five star dive bar. It's another bar on this list that got its start in the heady days of the 2010s, opening in 2014 with an emphasis on democratising cognac and selling 'shit tinnies' of lager for $6 a pop. It's truly a place for everyone, and popularised the only bar rule with enforcing: 'Don't be a dick.' Long may Rascals reign.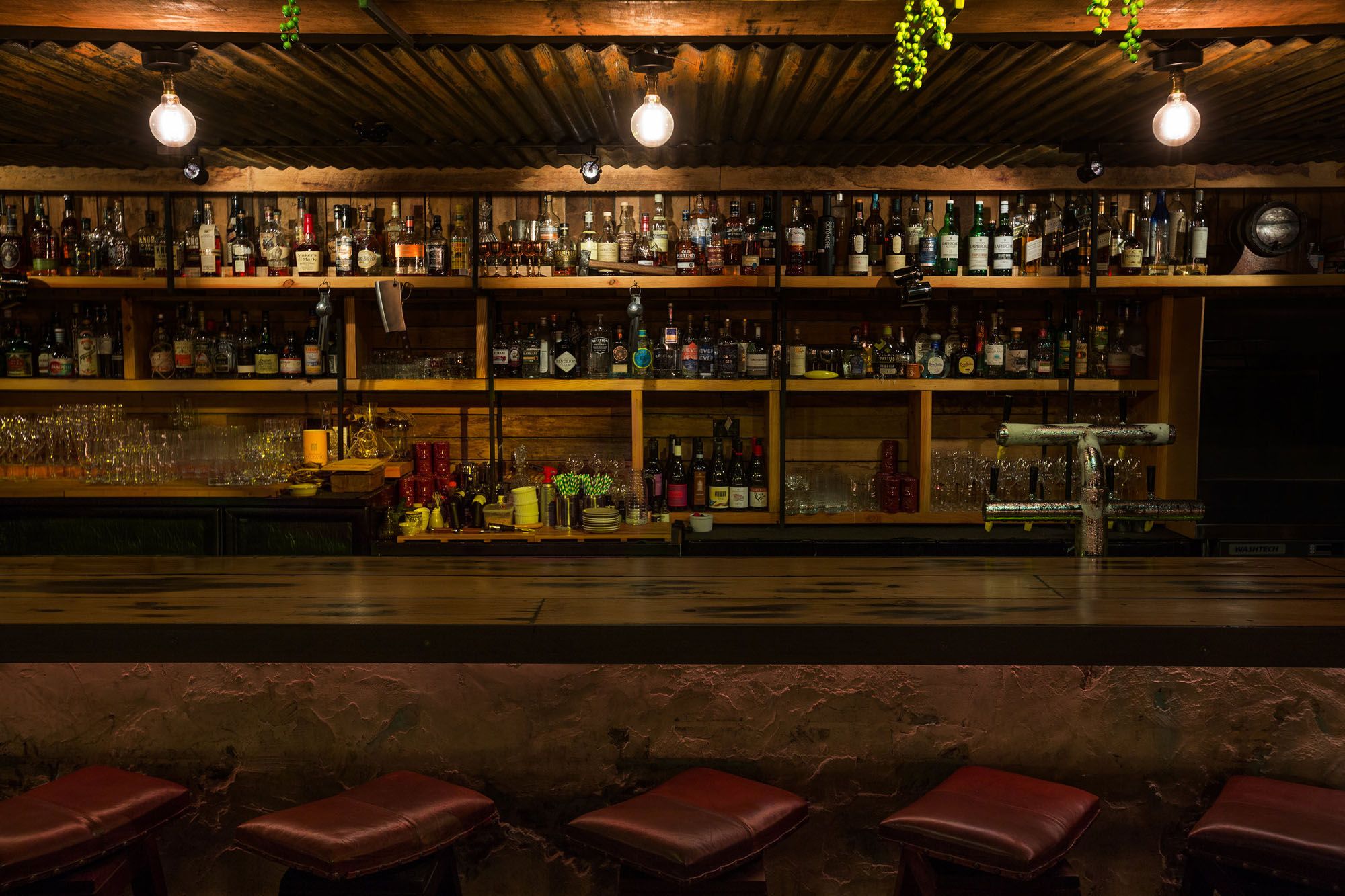 16. Door Knock.
70 Pitt St, Sydney | Open in Instagram | doorknock.com.au
Door Knock is proof that people will go to great lengths for a good drink — in this case, the great length of the corridor that leads to the entrance to Door Knock. It has to be the longest entry of any bar in Australia. But when you did hit the bar, you know the journey was worth it: it's one of the most comfortable bars in town, with service that cares, a strong regular trade, and cocktails that strike the right balance between interesting and approachable, whilst always being delicious.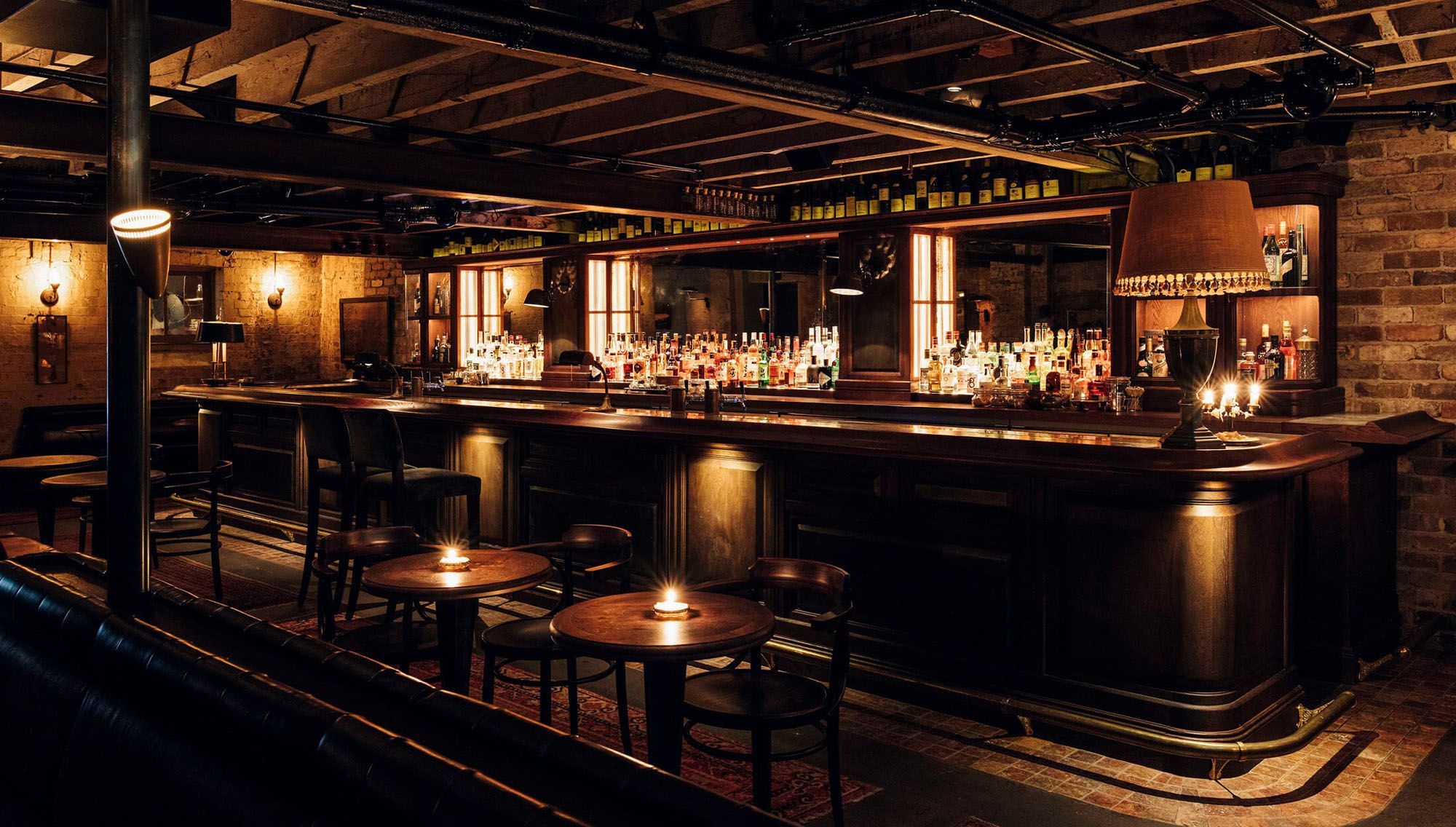 17. Charlie Parker's
380 Oxford St, Paddington | Open in Instagram | merivale.com/venues/charlieparkers/
Charlie Parker's is the bar that really put a plant to glass-based approach to bartending on the map in Australia. Since opening in 2016, the bartenders here — today led by bar manager Giacomo Franceschi — create delicious drinks using all parts of the plant, even tending to a rooftop bee hive. Just don't expect it to be all buttoned-down and serious; the bar gets very busy with the pretty young things of Paddington, and a great, raucous night can be had here.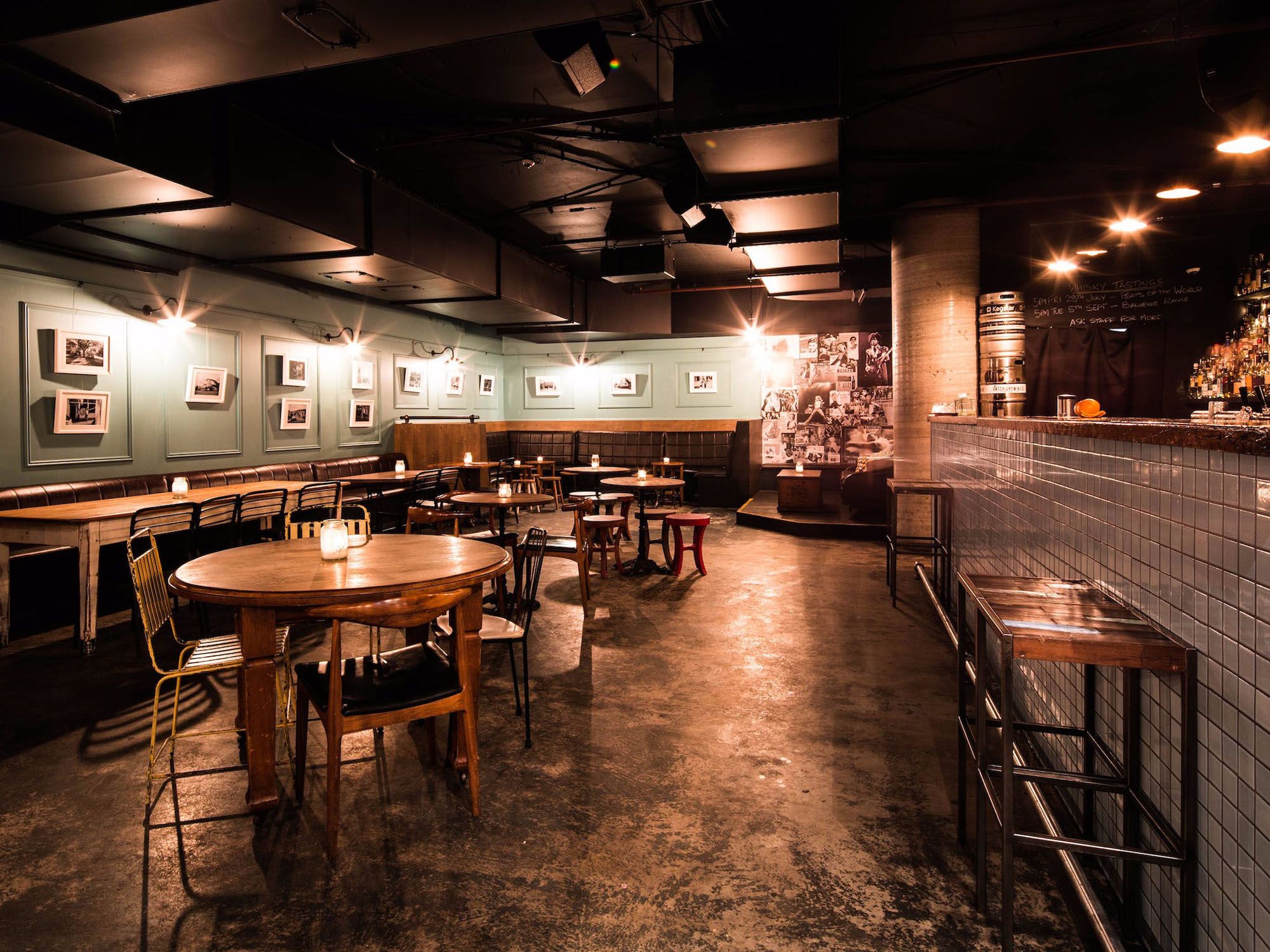 18. Howlin' Wolf
103/53-61 Crown St, Wollongong | Open in Instagram | howlinwolfbar.com.au
THE 2023 BEST BAR IN WOLLONGONG
Howlin' Wolf has been flying the flag for good time drinking  for the better part of a decade now, and here they love their whiskey, creating a vibrant, loud and distinctive space for Wollongong rascals to revel in.
19. Smoke at Barangaroo House
Level 2/35 Barangaroo Ave, Barangaroo | Open in Instagram | barangaroohouse.com.au/smoke
At Smoke, which is overseen by the accomplished bartender Pauric Kennedy, you'll get cocktails that are as delicious as the view is pretty — there's few spaces in Sydney with cocktails this good outdoors. You'll want to get here just in time for the sunset.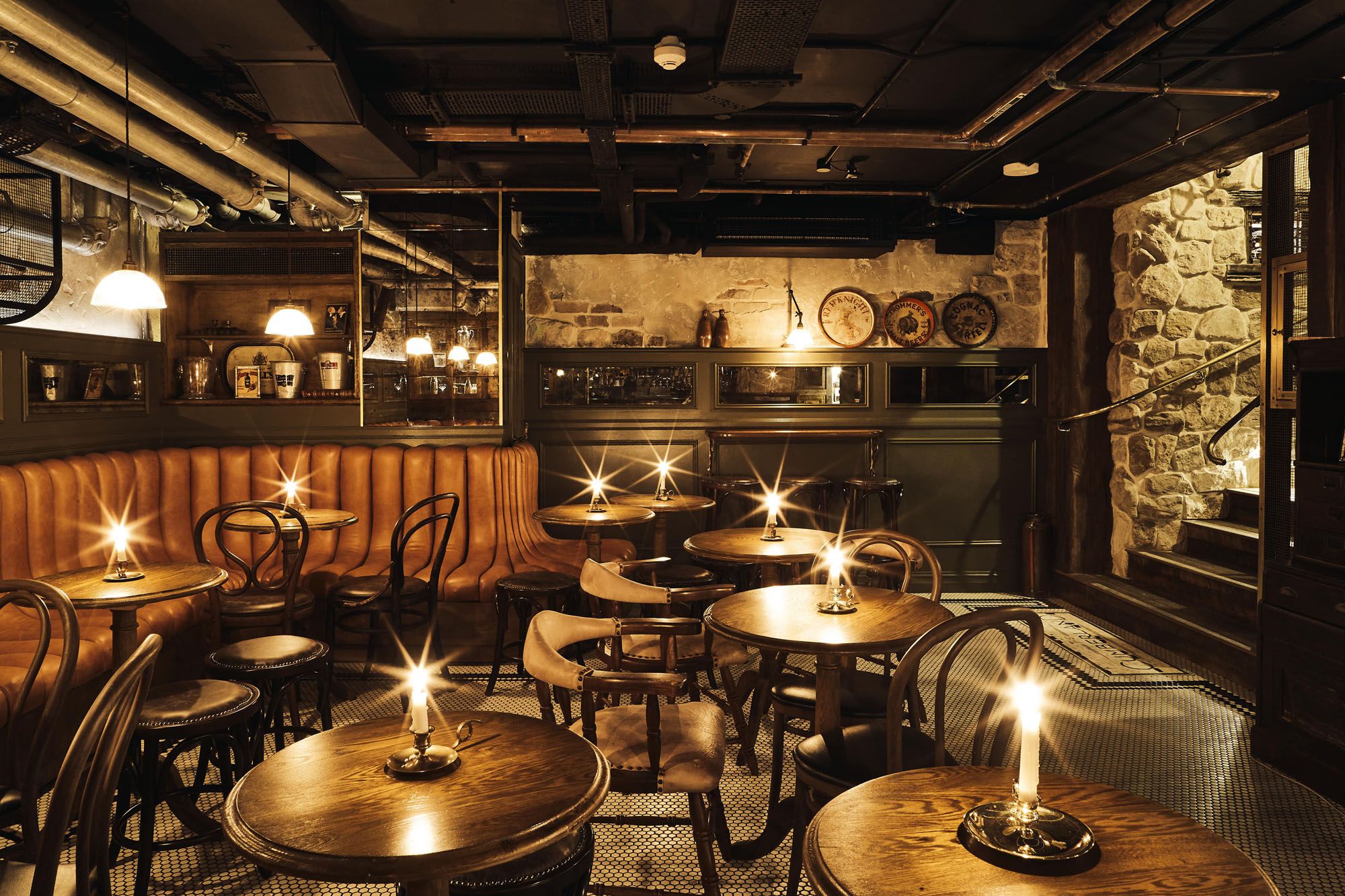 20. The Cumberland
17/19 Central Ave, Manly | Open in Instagram | cumberlandmanly.com.au
We're big fans of The Cumberland, which has found its ways — quite literally — through storms and flood. After the wrecking ball that was Covid came through, the basement bar was closed for many months after torrential rain flooded the venue. The good news is that The Cumberland is back and better than ever — owner and bartender Pete Ehemann has created something unique, elevated, and full of character — a beacon of good drinking on Sydney's Northern Beaches.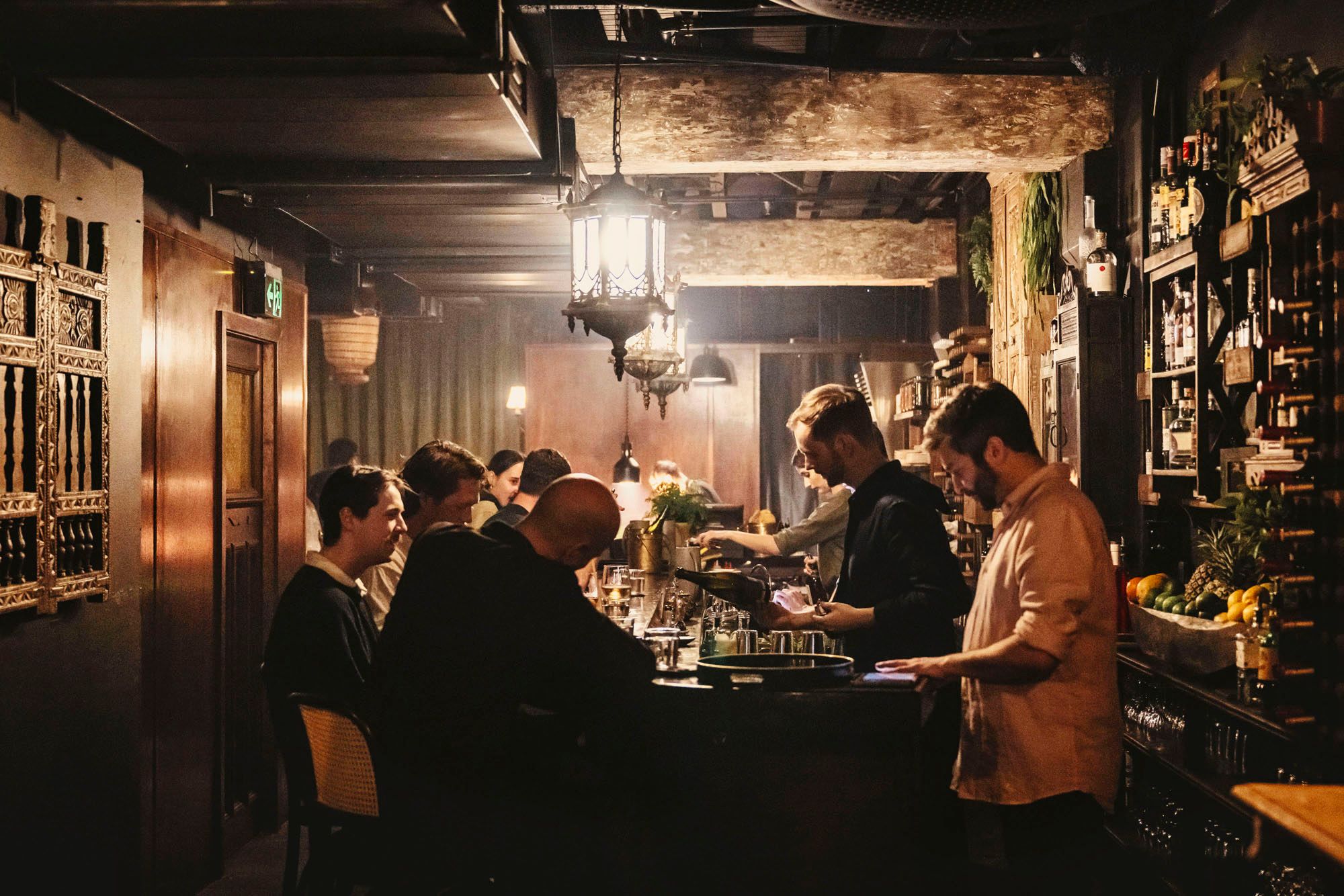 21. Ginny's Canoe Club
Basement/199 Clarence St, Sydney | Open in Instagram | ginnys.sydney
Ginny's Canoe Club isn't long for this earth, I'm afraid — co-owners Adam Cork and Andres Walters have plans to refresh and relaunch as a new venue in the coming months, and that has always been the plan — Ginny's is one of the most successful popup bars you're likely to see. It's full of dark timber, creating a moody, subterranean drinking den with great service at the forefront, and delicious drinks to be had. We reckon the next incarnation of the site will double down on these elements — stay tuned.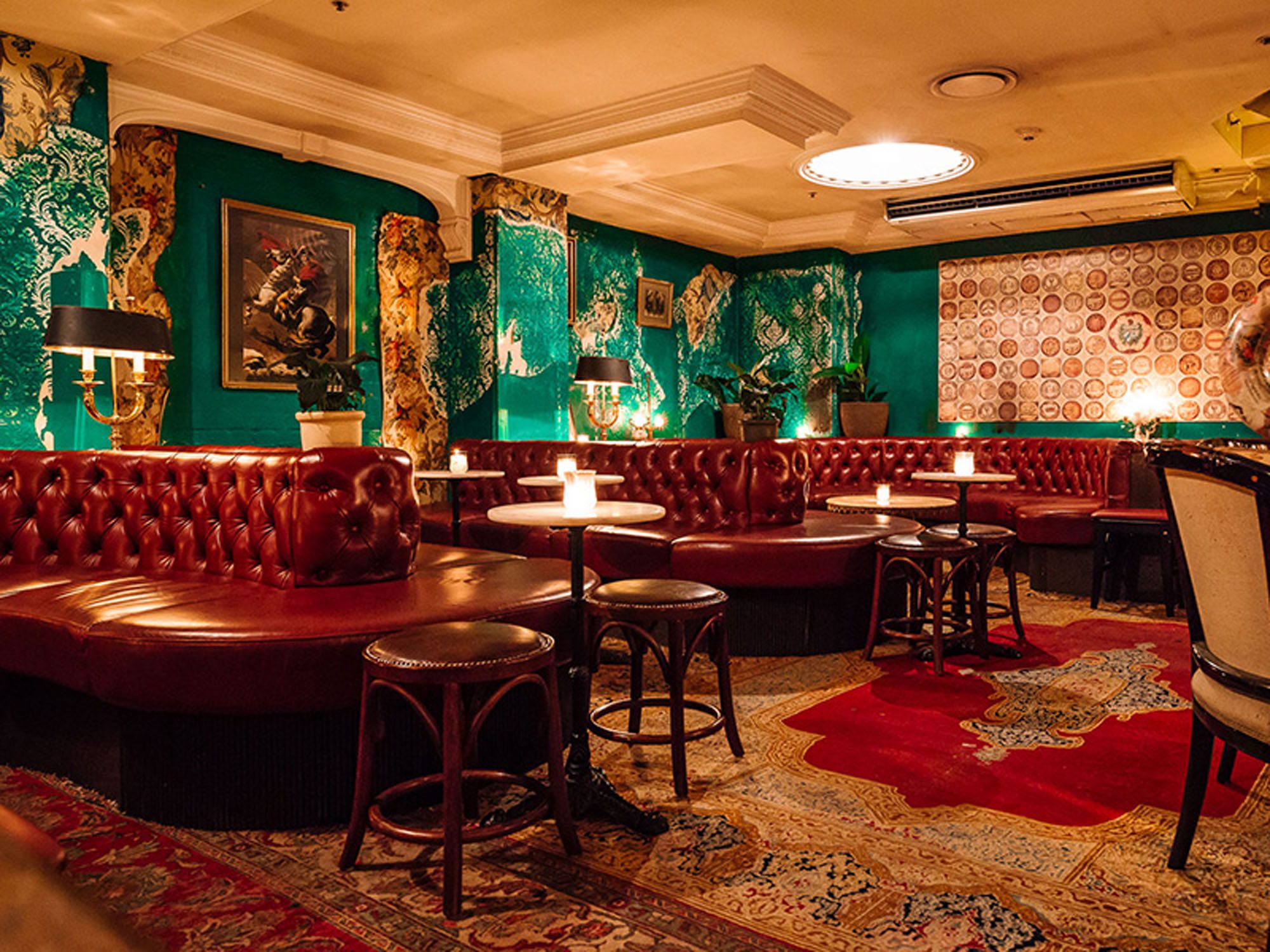 22. The Lobo
209 Clarence St, Sydney | Open in Instagram | thelobo.com.au
You folks like your rum, right? The Lobo celebrates 10 years of faithful service to the Clarence Street bar scene this year, and long may they continue: with a huge and comprehensive selection of rum, and a party starter feeling when the bar begins to hum, The Lobo embodies the good times that rum is all about.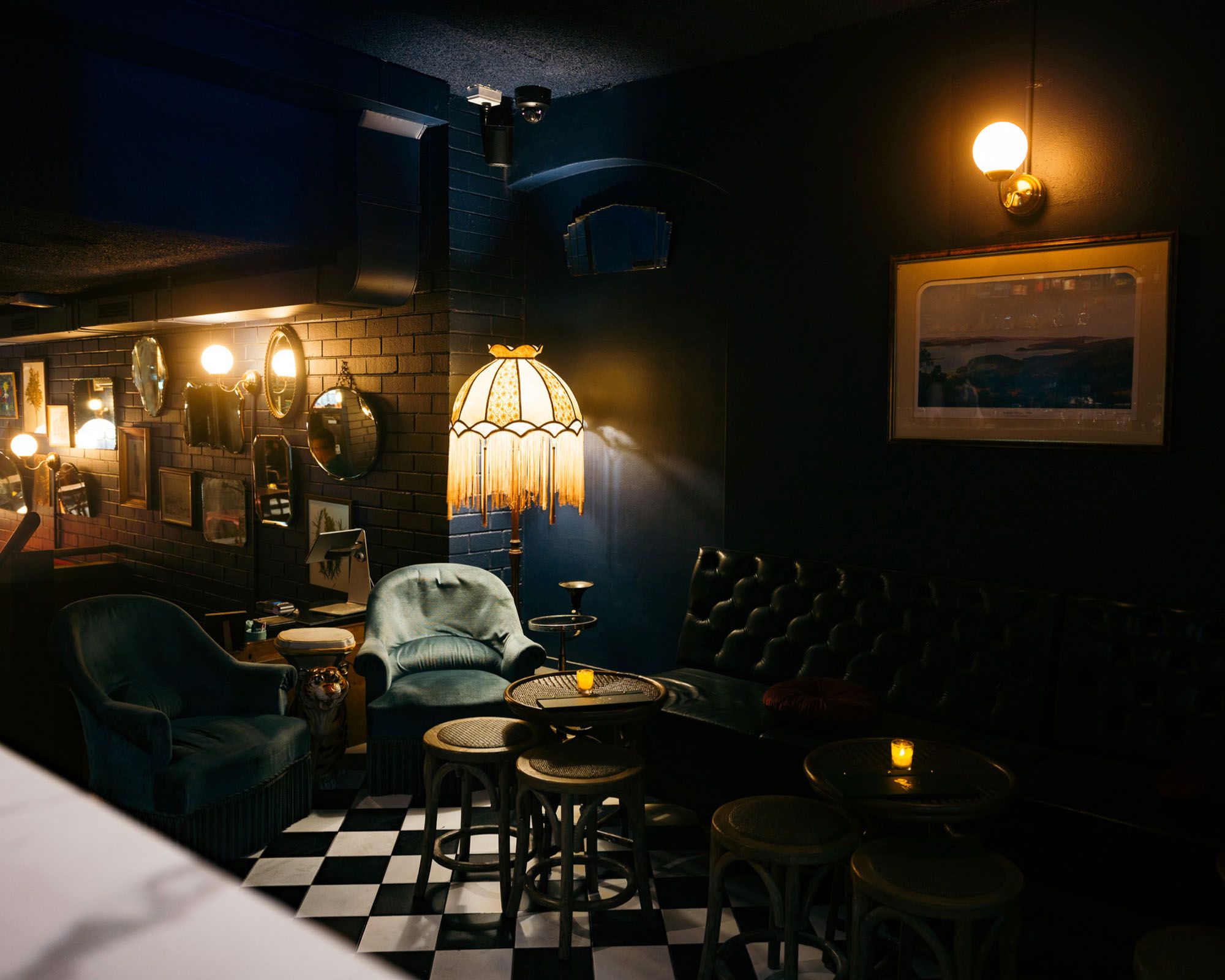 23. Dulcie's Kings Cross
44B Darlinghurst Rd, Potts Point | Open in Instagram | dulcieskingscross.com.au
Dulcie's might just be the most characterful bar on this list. Residing in a former strip club, the stage is still here, with seats ascending up, amphitheatre style, to the bar. But it's at the bar that the real show happens here, with native ingredients and Australian spirits the specialty.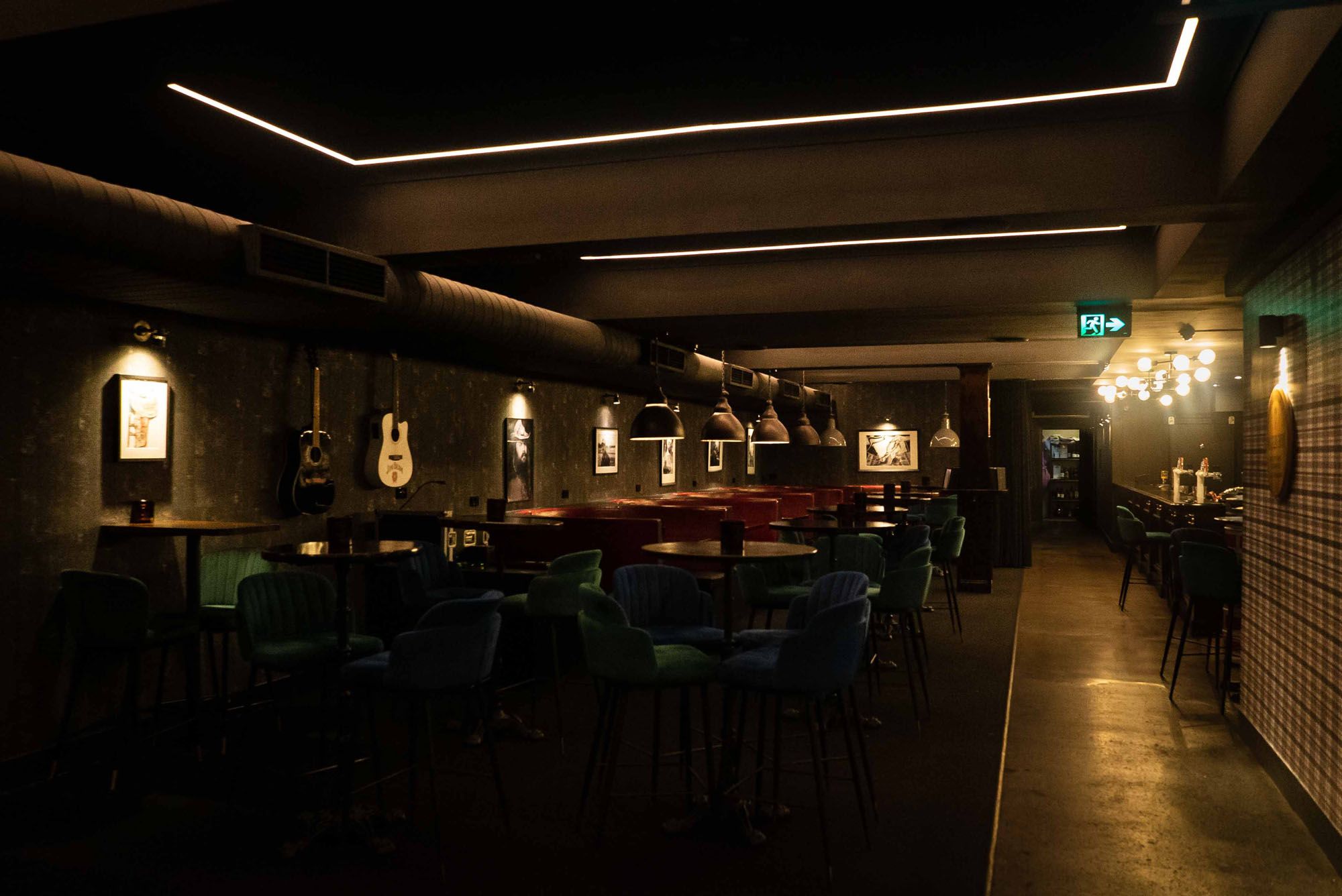 24. Jolene's Sydney
73 York St, Sydney | Open in Instagram | jolenessydney.com
Jolene's has brought something a special and unique to the Sydney CBD, with live music most nights and a big time emphasis on country and whiskey. Our tip? Snag one of the red lined booths under a photo of your favourite country singer, hit up the cocktails, and settle in as the lights go down and the volume turns up.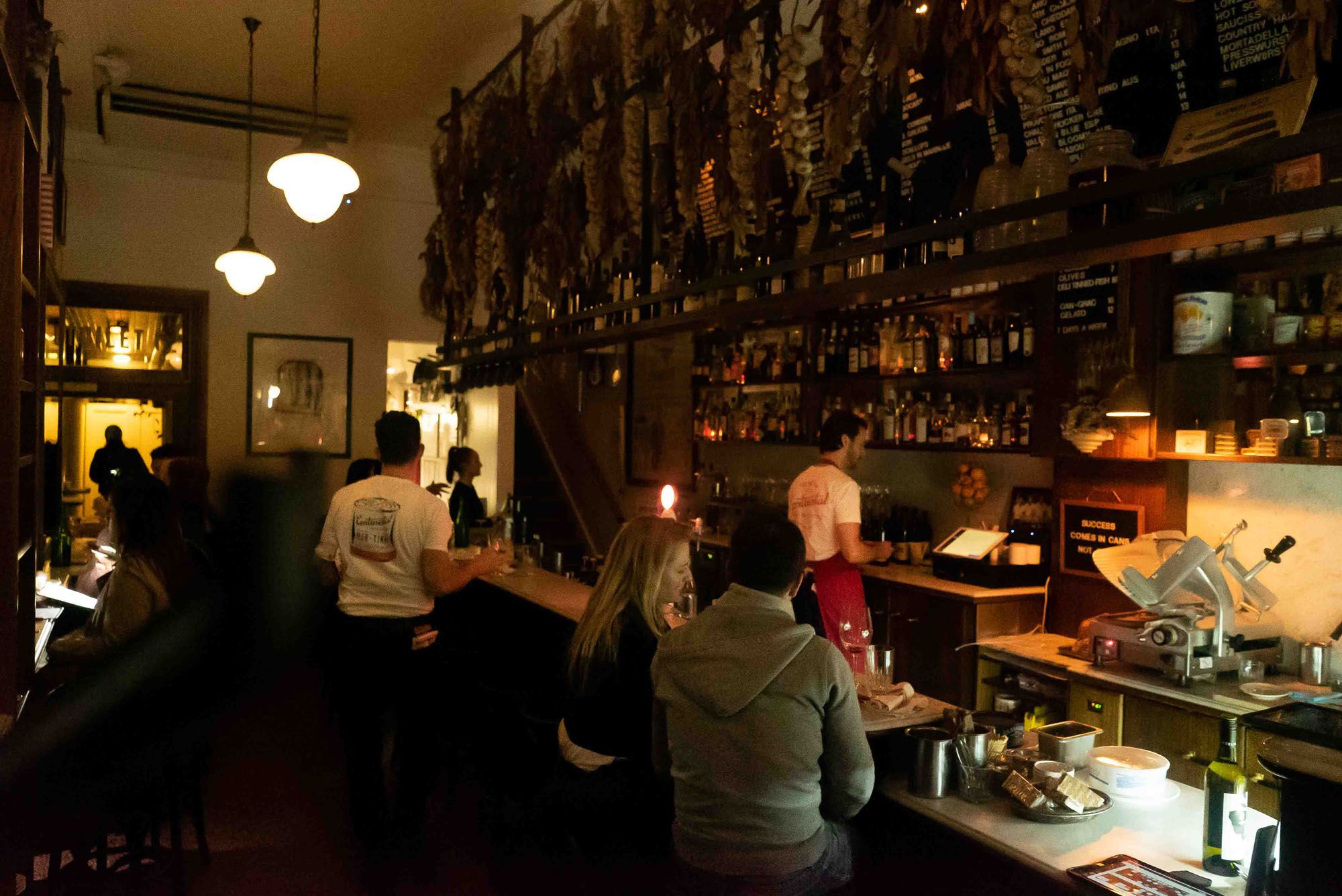 25. Continental Deli
210 Australia St, Newtown | Open in Instagram | continentaldelicatessen.com.au
Continental Deli Bar & Bistro in Newtown is unlike any other bar on this list. They've been making Gildas and canning drinks long before that became popular — their Martinny is, in our opinion, still one of the best Martinis money can buy. Here, there's an impressive selection of wine, great cocktails, and all the tinned eats from Europe you could ask for; for our money, it offers Sydney's best drinking and eating bar experience.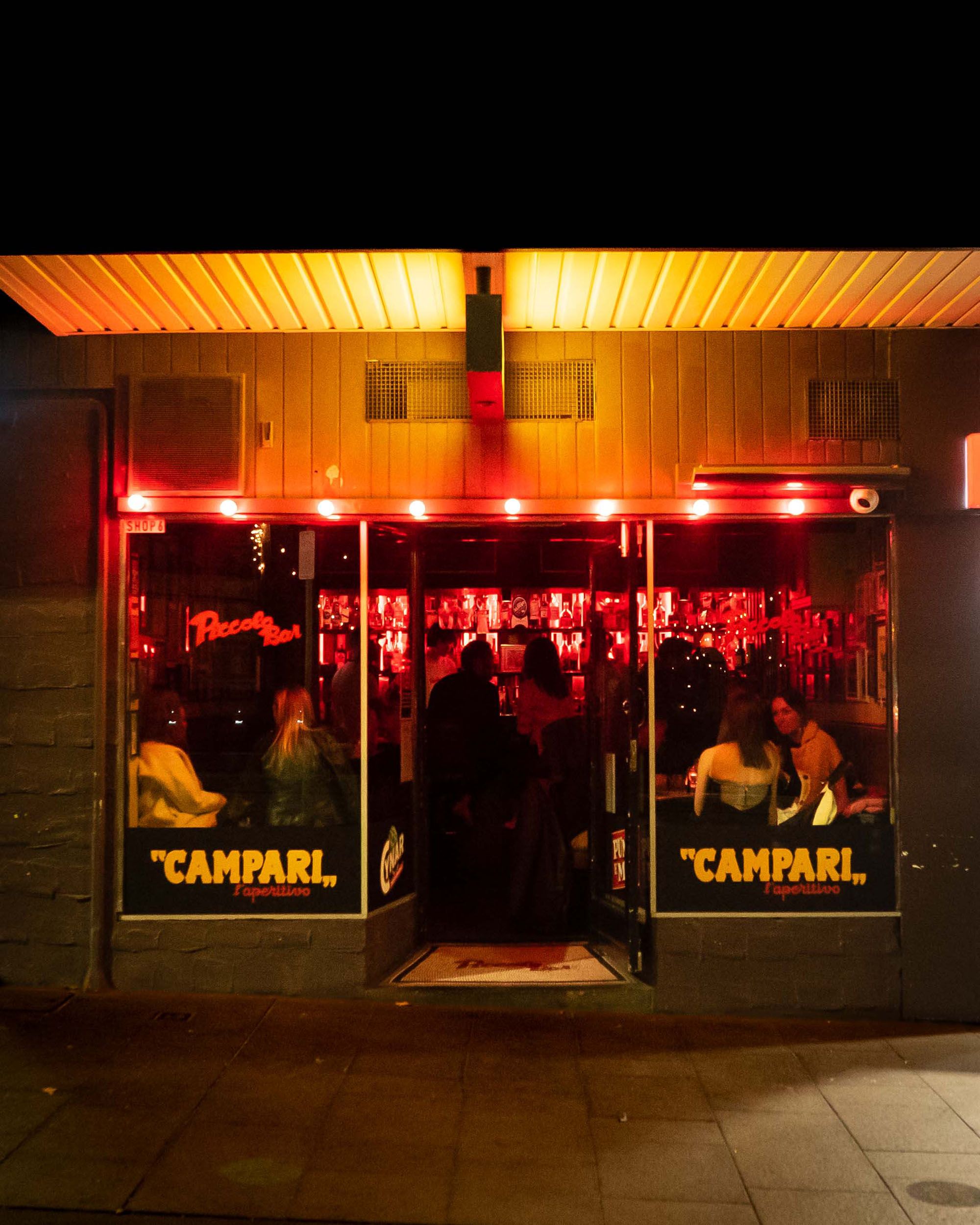 26. Piccolo Bar
6 Roslyn St, Potts Point | Open in Instagram | piccolobarkingscross.com.au
Australian Bartender magazine publisher (and my former boss) Dave Spanton opened Piccolo Bar in late 2021, queuing up Michael Delany (ex-Drink & Dine group) to create the distinctive design aesthetic — one that pays tribute to the site's long history (it first opened in 1952) and the long-gone golden age of Kings Cross drinking. It's one of Sydney's smallest small bars, with just a handful of seats available, but also one of it's most beautiful rooms.
27. Coal & Cedar
380/382 Hunter St, Newcastle | Open in Instagram | coalandcedar.com
THE 2023 BEST BAR IN NEWCASTLE
Coal & Cedar is one of the original small bars focused on quality drinks and with a smart selection of spirits that opened in the early 2010s. Here the service is friendly, the drinks well made, the surrounds a step up from many of their Novocastrian neighbours — and the 2023 Best Bar in Newcastle.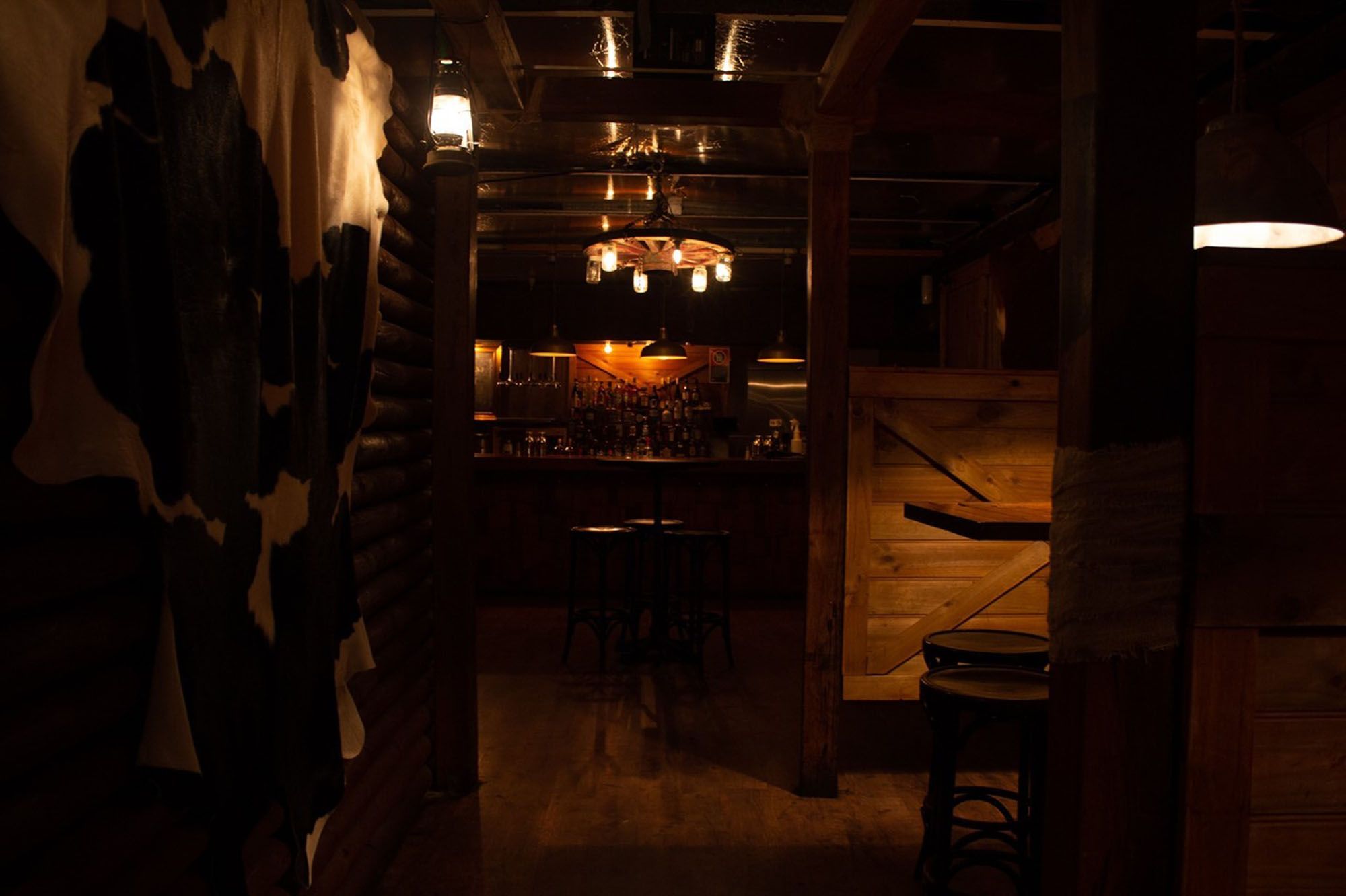 28. The Blind Bear
28 Cronulla St, Cronulla | Open in Instagram | theblindbear.com
Speak to smart Sydney operators, and if they've been to Cronulla they'll tell you that they love The Blind Bear. They've been serving up fine whiskey and cocktails in speakeasy-ish surrounds since 2013.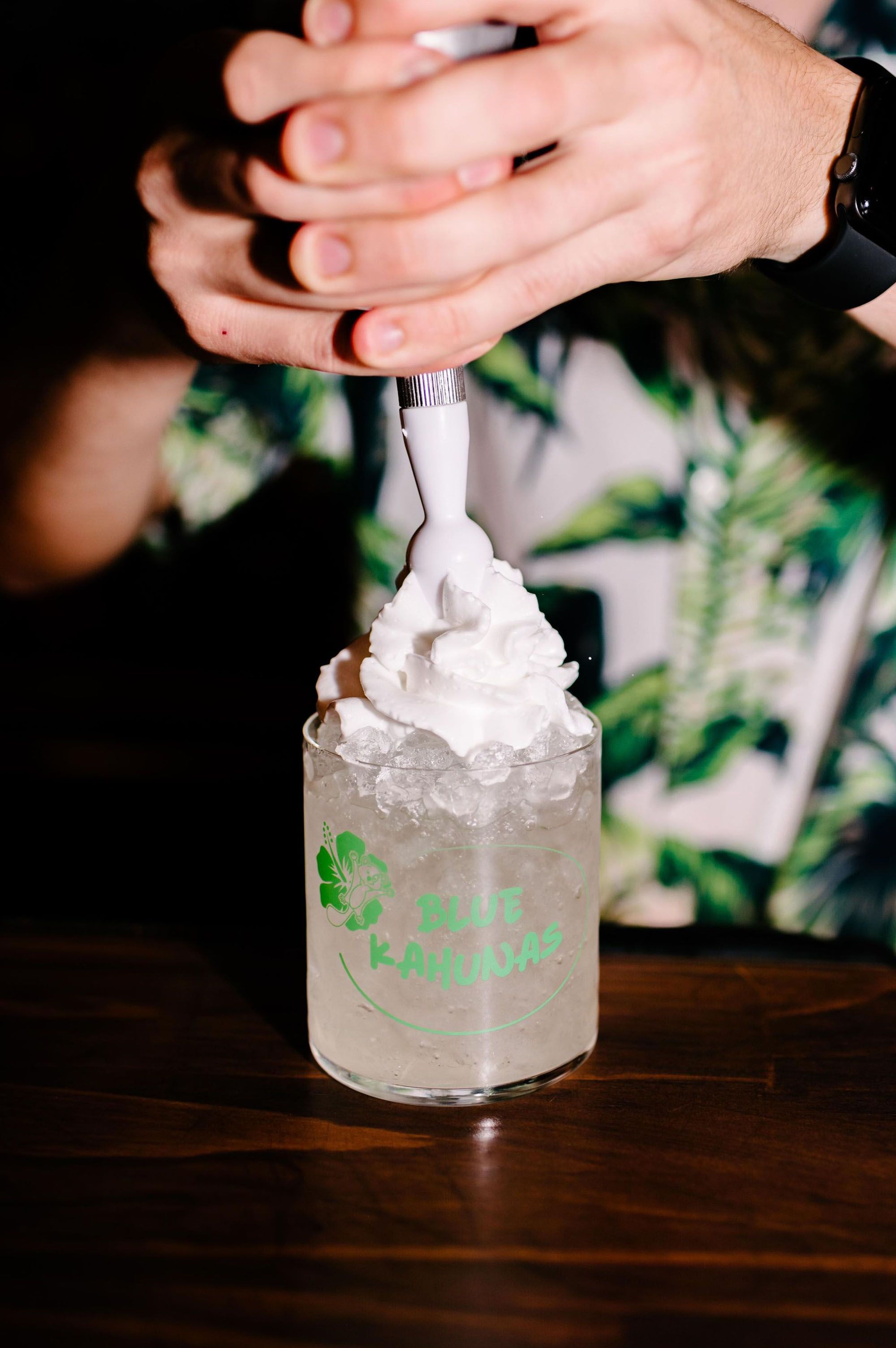 29. Blue Kahunas
3/146 Hunter St, Newcastle | Open in Instagram | bluekahunasbar.com
You folks like to get a little tropical, right? One of two bars under the stewardship of owners Byron Marzinott and Prudence Farquhar (the other being Bar Mellow, also on this list), at Blue Kahunas there's a distinctly tropical vibe, a smattering of tiki, and an emphasis on cocktail serves that maximise the good times.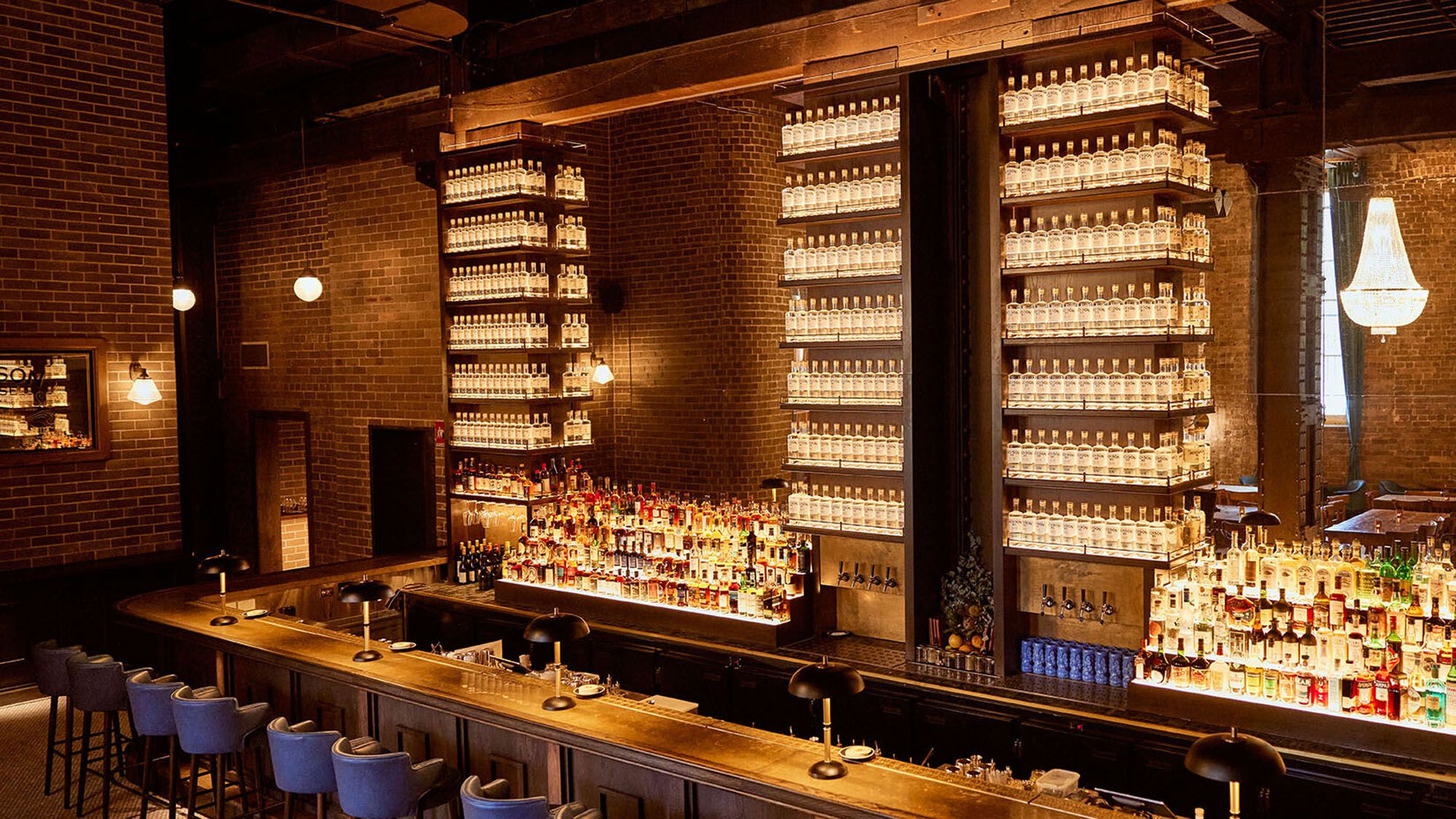 30. Hickson House
6 Hickson Rd, The Rocks | Open in Instagram | hicksonhouse.com.au
Hickson House is a distillery and bar hybrid located in the historic Metcalfe Bond Stores building; think high ceilings, a huge chandelier, and a proper working distillery where they make Hickson Rd Gin (and they're laying down whisky for the future, too). They've got a great Martini list, and top notch talent — bar manager Raphael Redant is a veteran of the Sydney scene and one of its best behind the stick.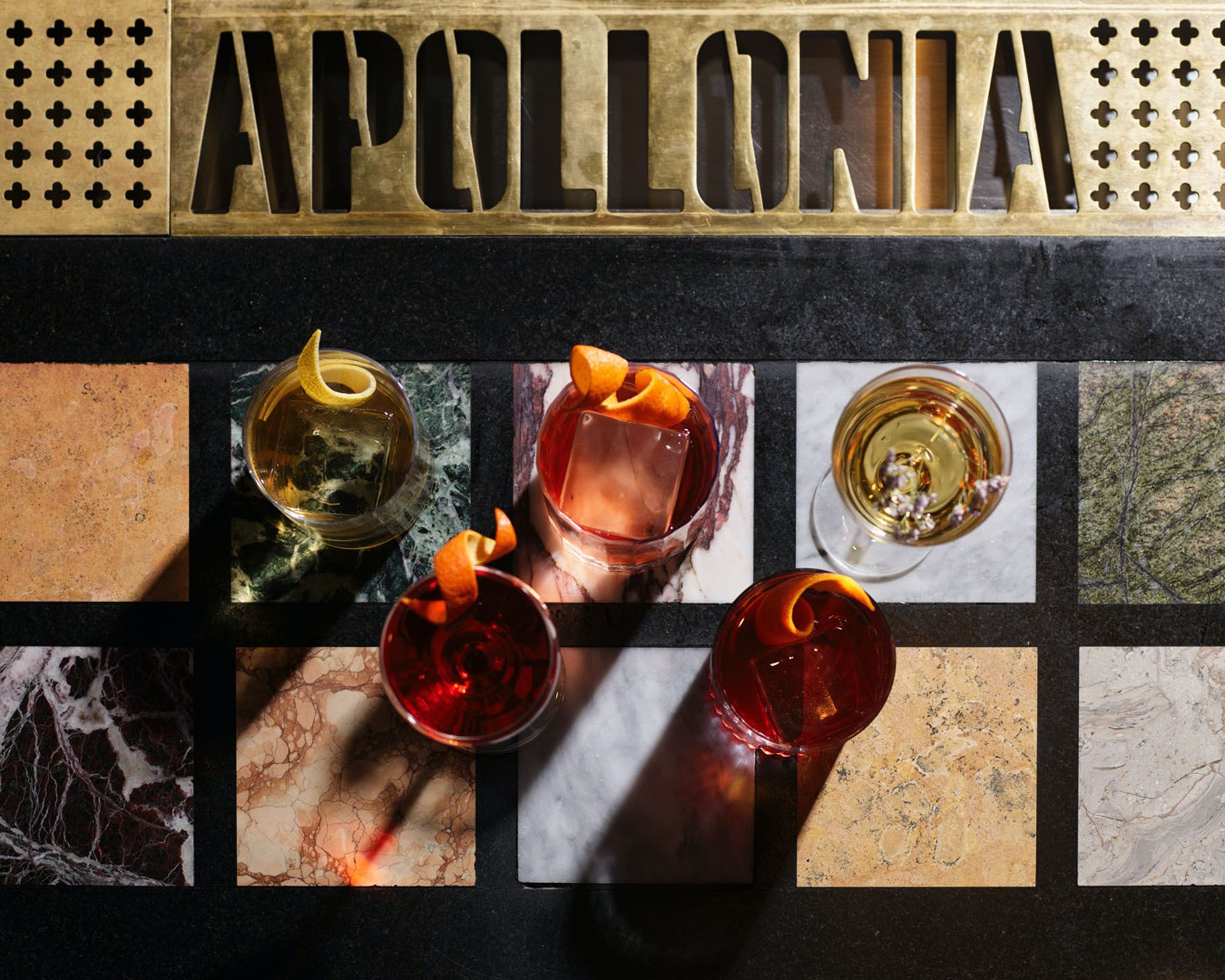 31. Apollonia
5-7 Young St, Sydney | Open in Instagram | apollonia.sydney
Apollonia is the Sydney basement bar named for a character from The Godfather, and home to some thoughtful cocktails and a buzzy atmosphere. The accomplished Jake Down is now on hand overseeing drinks and service throughout the building (which is also home to restaurants Grana and Lana), so expect a top flight cocktail list refresh soon.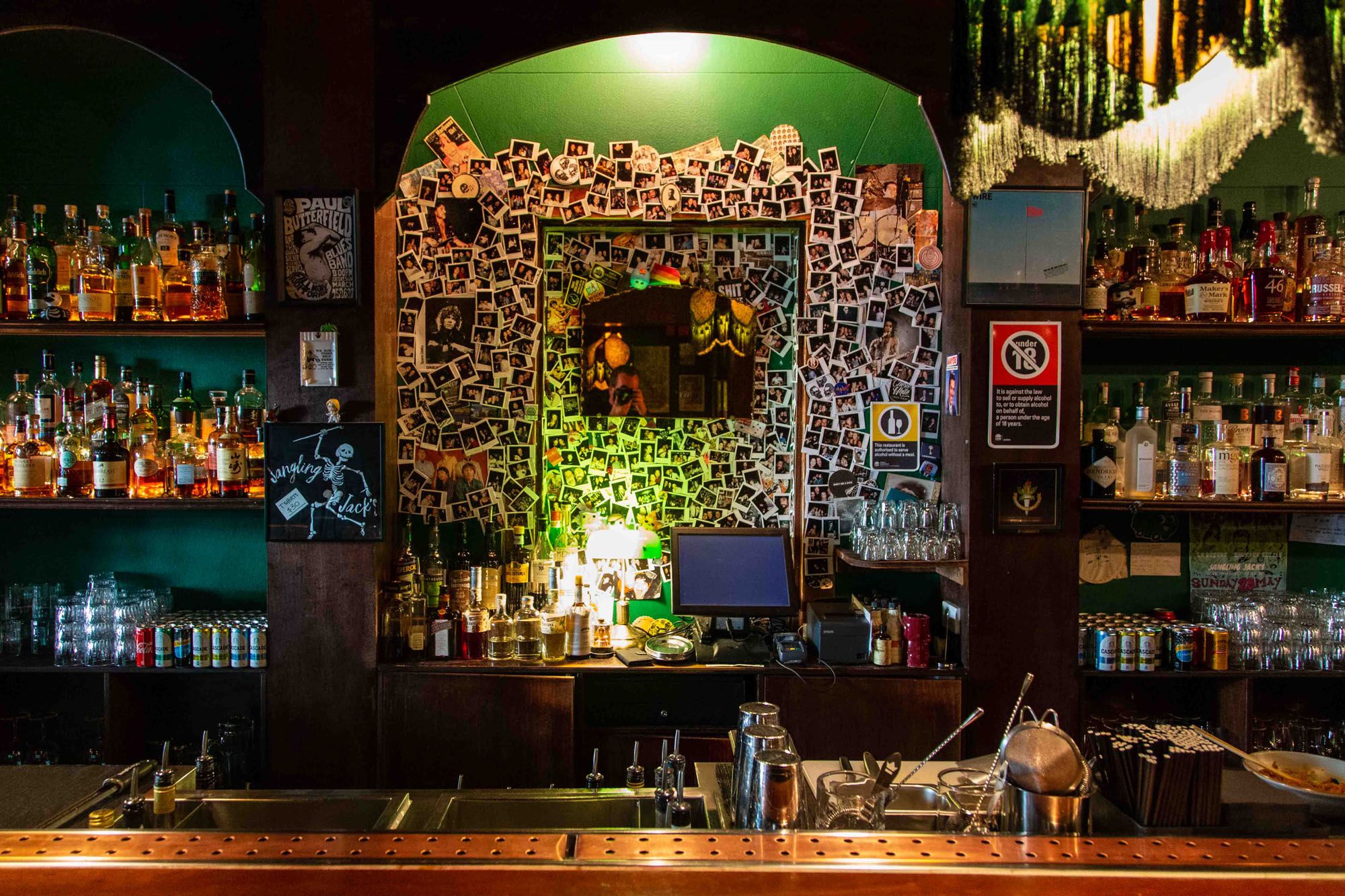 32. Jangling Jack's
175 Victoria St, Potts Point | Open in Instagram
Jangling Jack's has been one of the city's best neighbourhood joints since opening in late 2015, and that's because everything — from the fit out, to the rockingly well curated playlist, to the drinks and the eats — is well considered and take care of for you (you just have to sit back and enjoy it).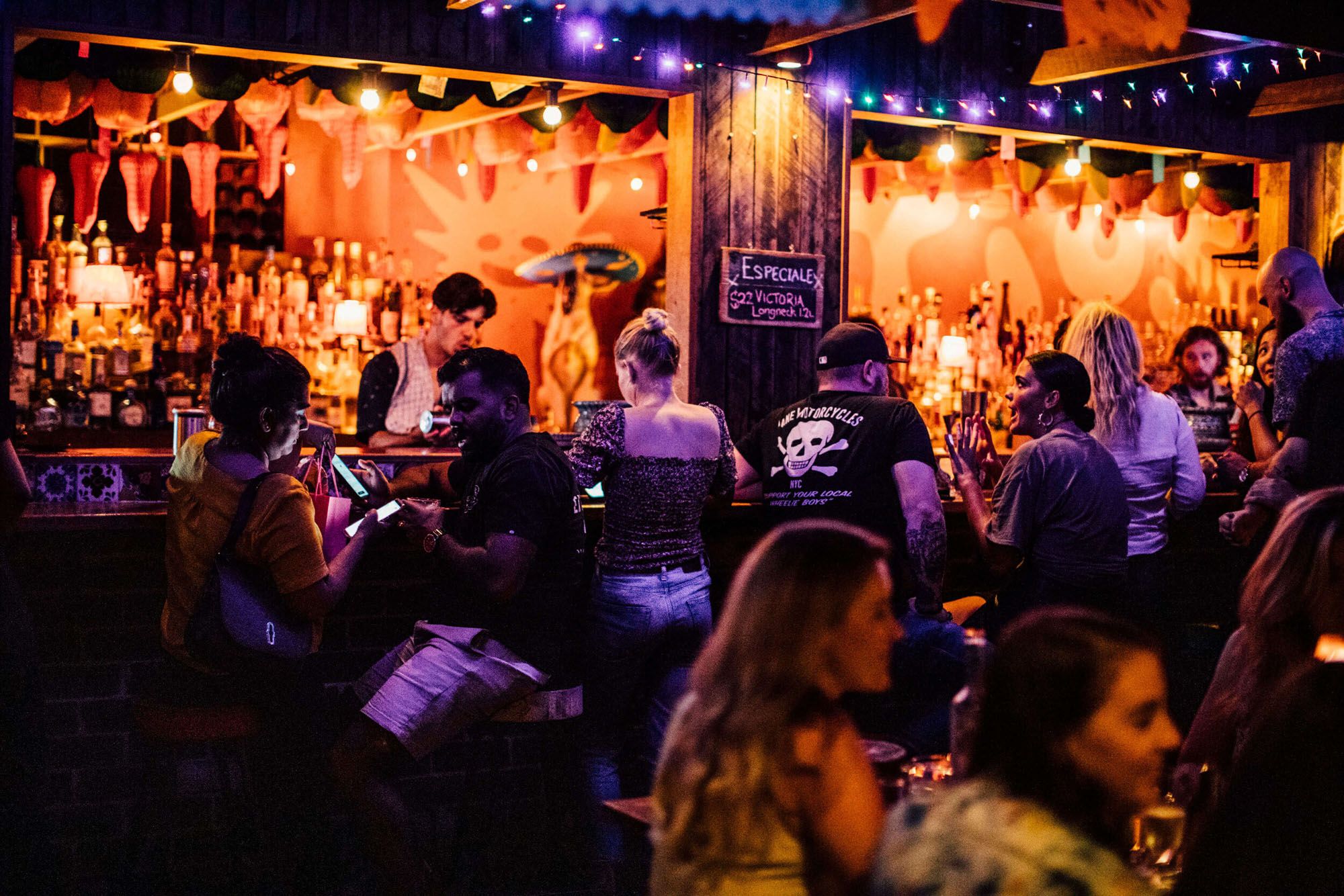 33. Tio's
4/14 Foster St, Surry Hills | Open in Instagram | tios.com.au
It's the original home of the tequila good time in Surry Hills. Tio's has always had a reputation for putting on the party, and celebrated its 10th birthday last year. But it's in recent years that the cocktails and the agave offering have gotten better and better, giving Tio's fresh relevance to a whole new generation of agave-loving animals.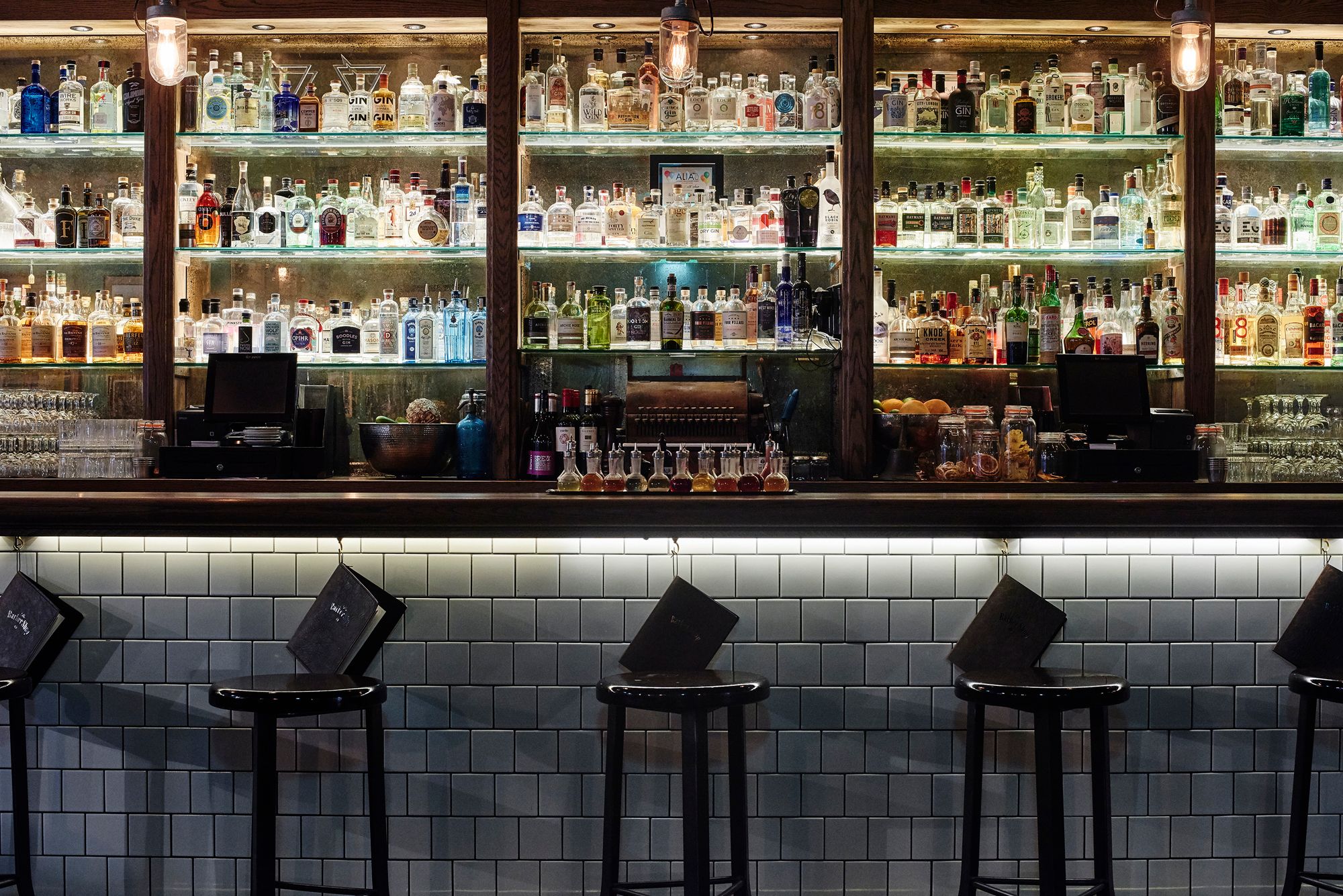 34. The Barber Shop
89 York St, Sydney | Open in Instagram | thisisthebarbershop.com
The Barber Shop just might be Australia's most-awarded gin bar, with hundreds of bottles of the juniper stuff killing its shelves. The namesake barbers out the front of York St might no longer be trimming hair shaving beards, but inside at the bar they're still putting out a smart list of cocktails and all the gin drinks you could possibly want.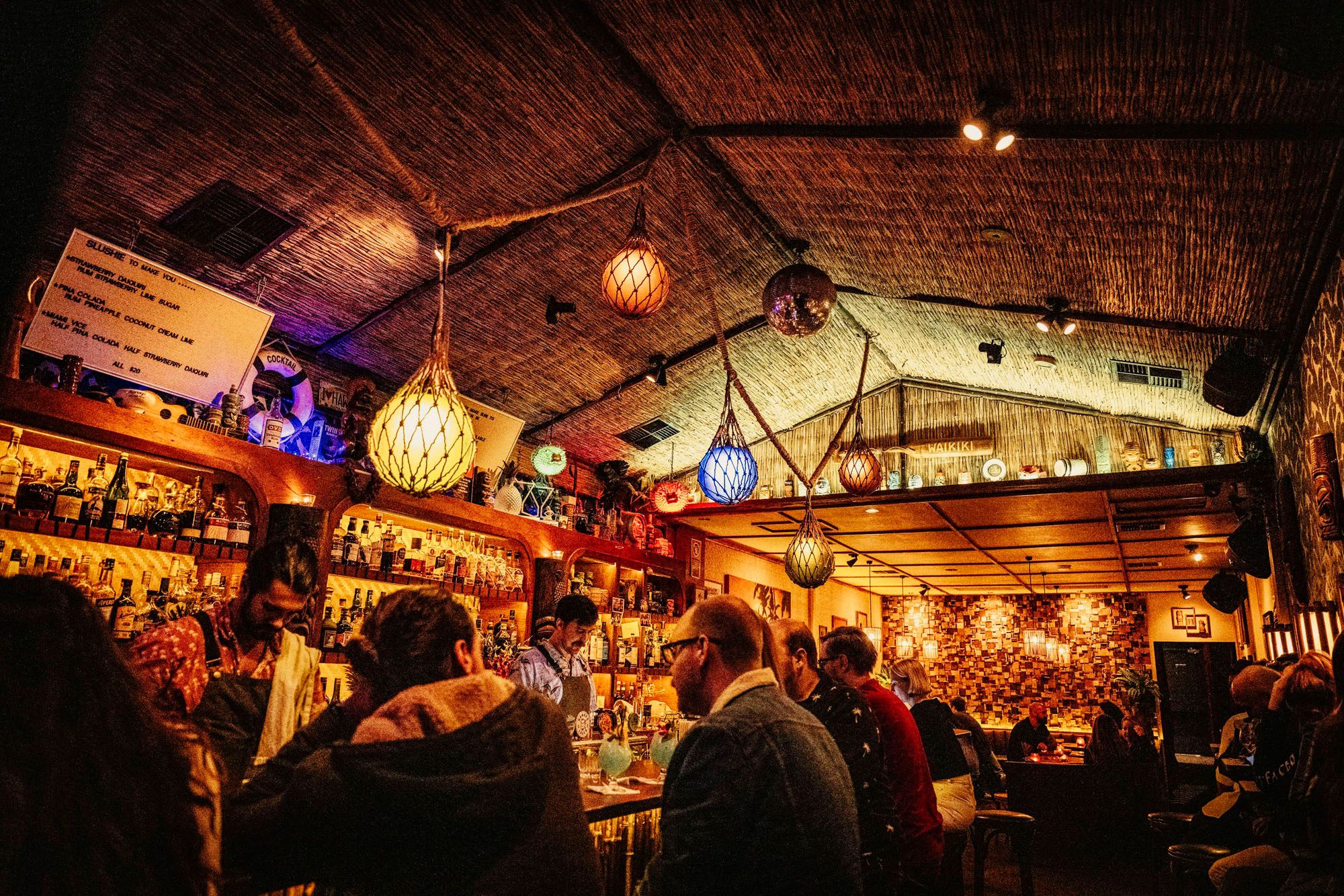 35. Jacoby's Tiki Bar
154 Enmore Rd, Enmore | Open in Instagram | jacobys-tiki-bar.com
If we had an award for the best damn tiki joint in NSW, then Jacoby's Tiki Bar would be the perennial favourite. Loosely inspired by the work of director David Lynch, but very much tiki in a considered, smart and tasteful sense, Jacoby's has created the standard for what every modern day tiki bar should aspire to.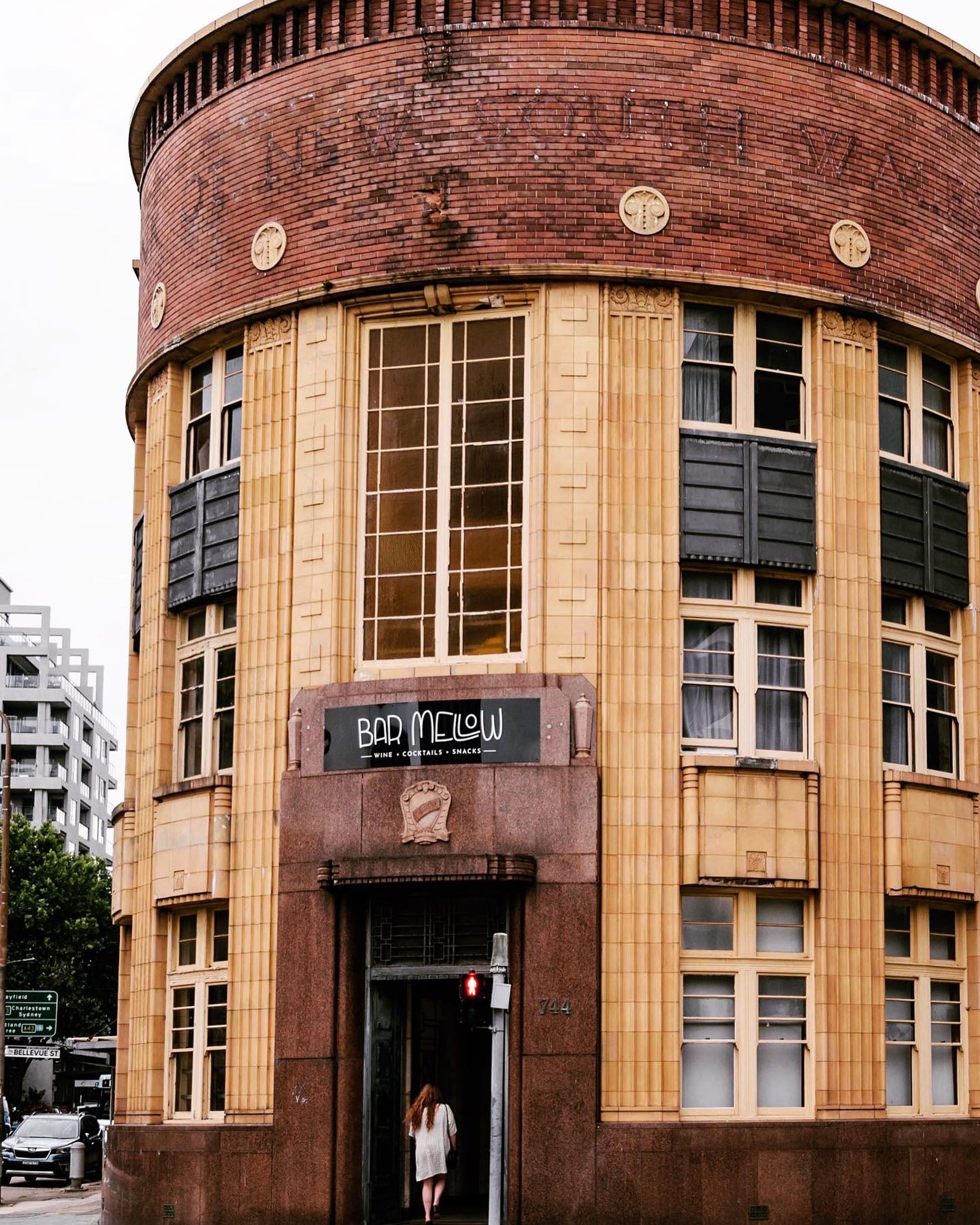 36. Bar Mellow
744 Hunter St, Newcastle West | Open in Instagram | thebarmellow.com
Located in a heritage-listed building that dates to 1922, Bar Mellow is the second Newcastle bar from Prudence Farquhar and Byron Marzinotto, the operators  behind tiki-inspired rum bar Blue Kahunas. This time out, however, wine is a bigger focus for the team, but you'll still find a short and sharp list of great cocktails to drink.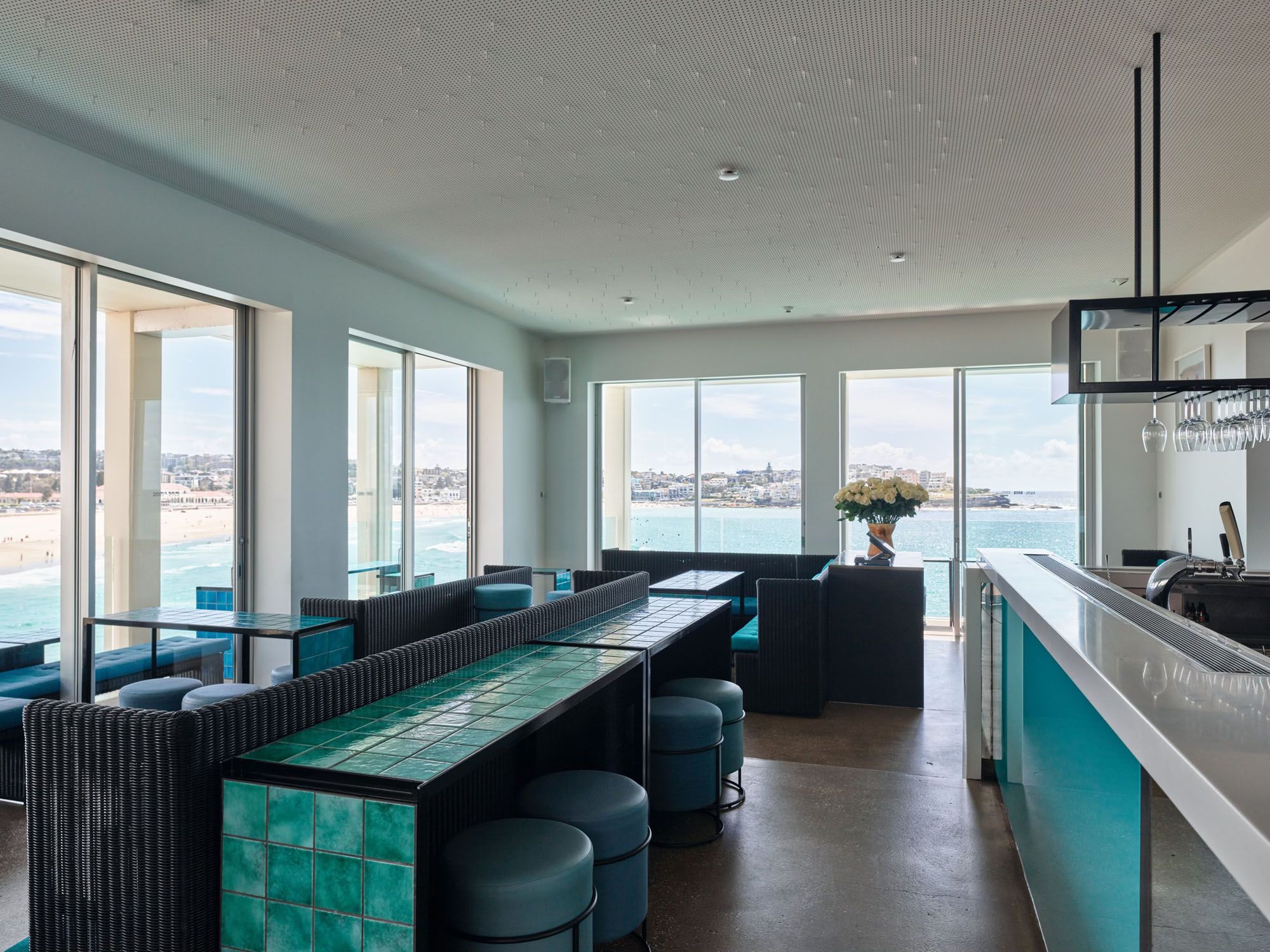 37. Icebergs Dining Room and Bar
1 Notts Ave, Bondi Beach | Open in Instagram | idrb.com
There's few dining and drinking destinations offering a better view — and certainly no venue more iconic than Icebergs Dining Room and Bar. Perched upon the cliffs overlooking Bondi Beach and looking out into the Pacific, the venue reopened in 2022 after renovations to celebrate its 20th year. If you're visiting for your first time, you'll want bar manager and industry favourite Matty Opai to fix you up a round of their take on the Sgroppino cocktail — an iconic drink in an iconic location.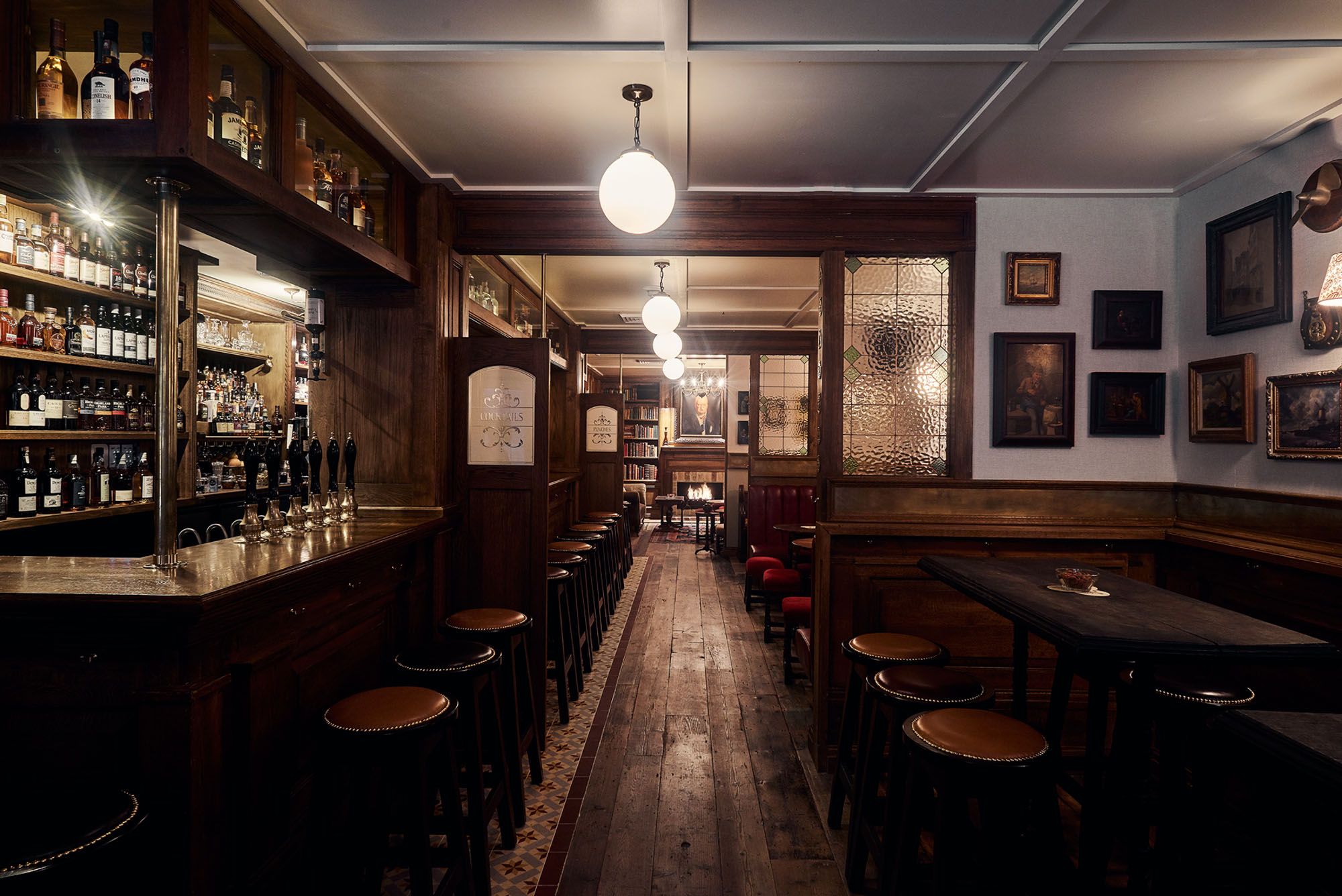 38. The Duke of Clarence
152/156 Clarence St, Sydney | Open in Instagram | thedukeofclarence.com
Call it a cocktail pub. It's small — no bigger than any of Sydney's other small bars — and it is fitted out with warm, inviting wood and stained glass all of which was sourced in the UK. There's a fireplace for colder evenings, above which a portrait of the pub's namesake hangs, surrounded on three sides by shelves and shelves of old books.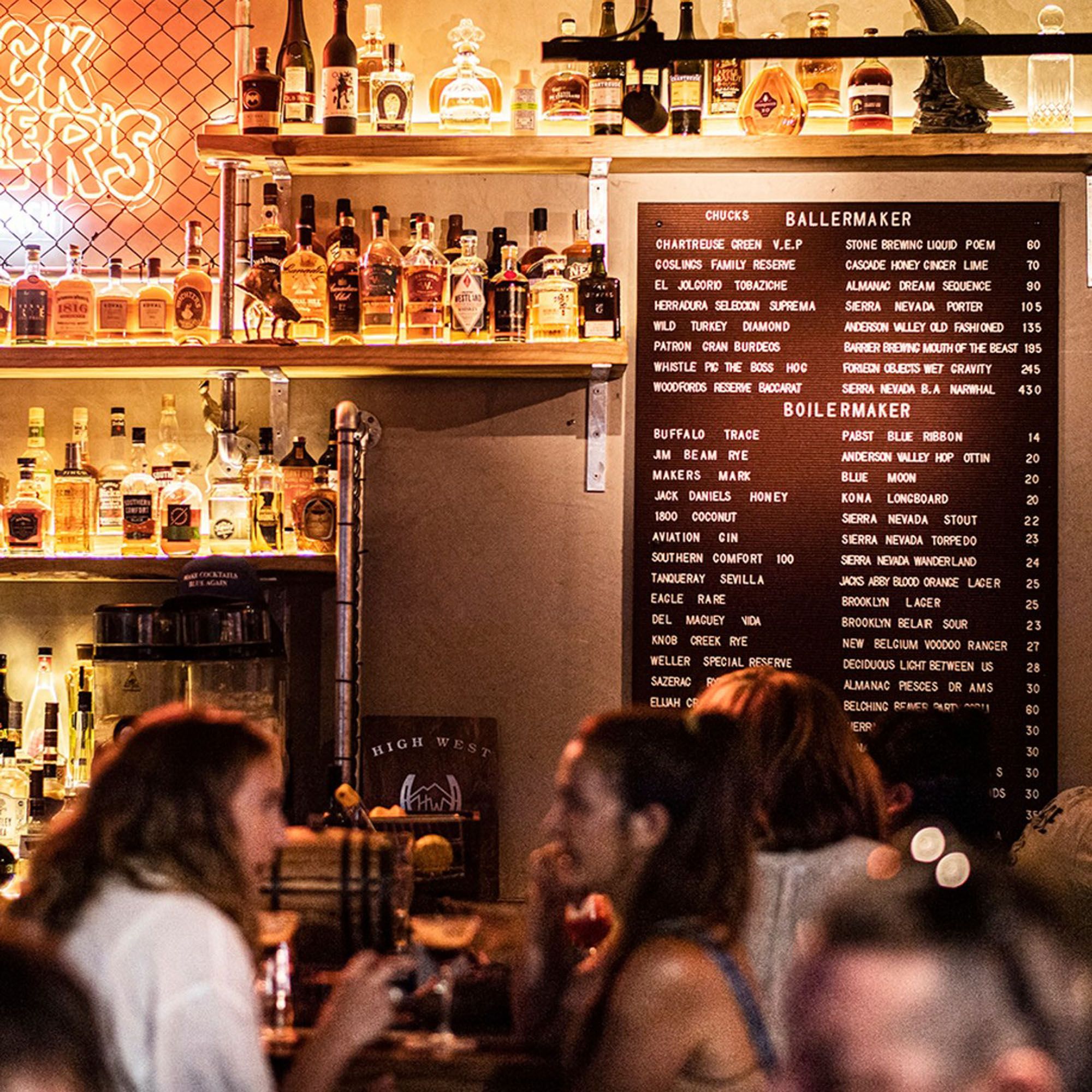 39. Chuck Trailer's
7/152 Campbell Parade, Bondi Beach | Open in Instagram | chucktrailers.com
If you're a fan of fried chicken and bourbon, then this Bondi bar is one place you're gonna want to go. Chuck Trailer's has quickly found favour with hospitality types both within the Bondi bubble and without, the kind of place it's hard to visit and not have a good time while doing it.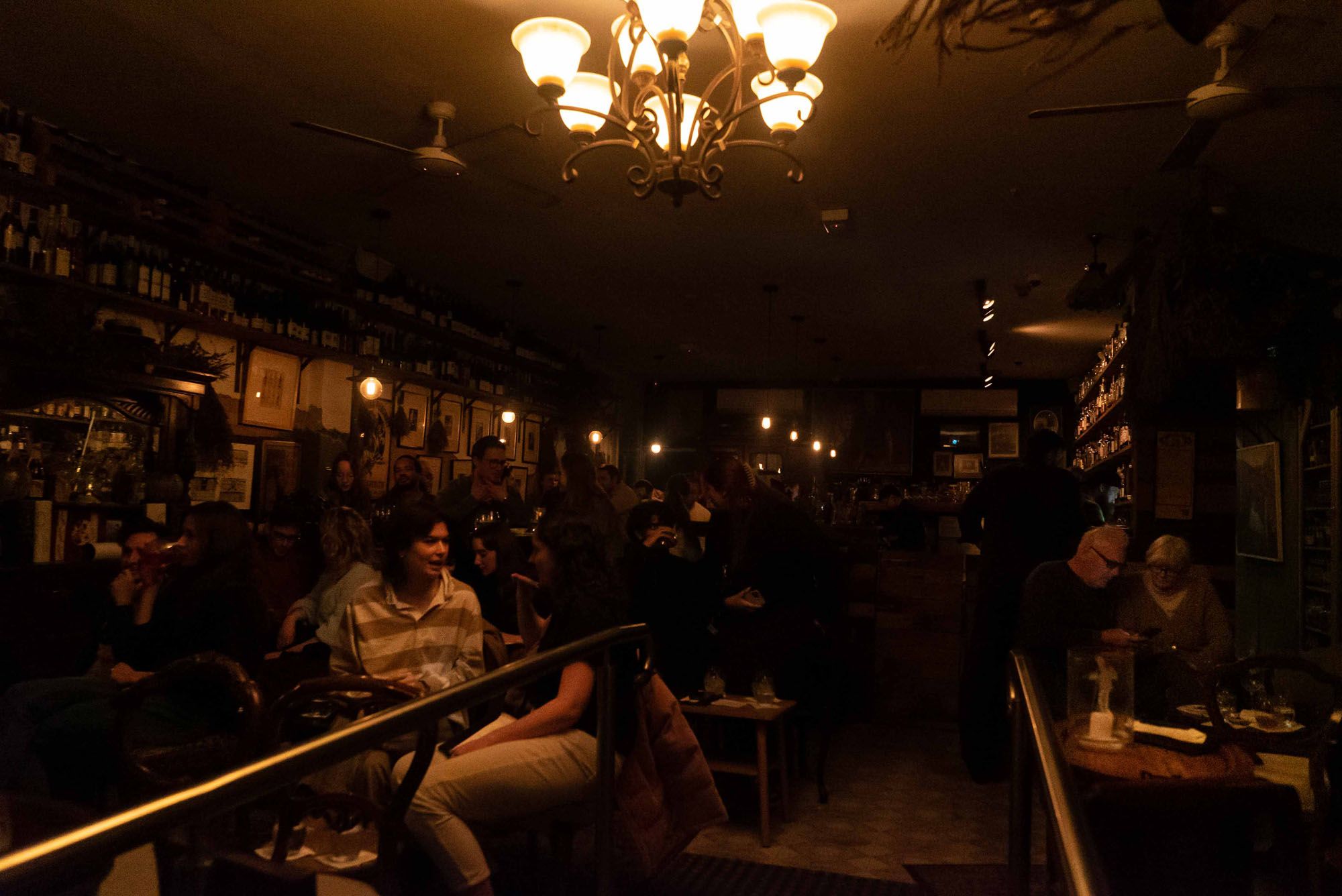 40. Moya's Juniper Lounge
101 Regent St, Redfern | Open in Instagram | moyasgin.com
Charles Casben has been fighting the good juniper fight at Moya's Juniper Lounge since 2016 with hundreds of gins lining the back bar. But it's not just gin you're coming here for — twice a week, the room fills out for live jazz set amongst the mismatched vintage furniture. You could be forgiven for thinking you'd visited a completely different era, and at Moya's that's a deliciously good thing.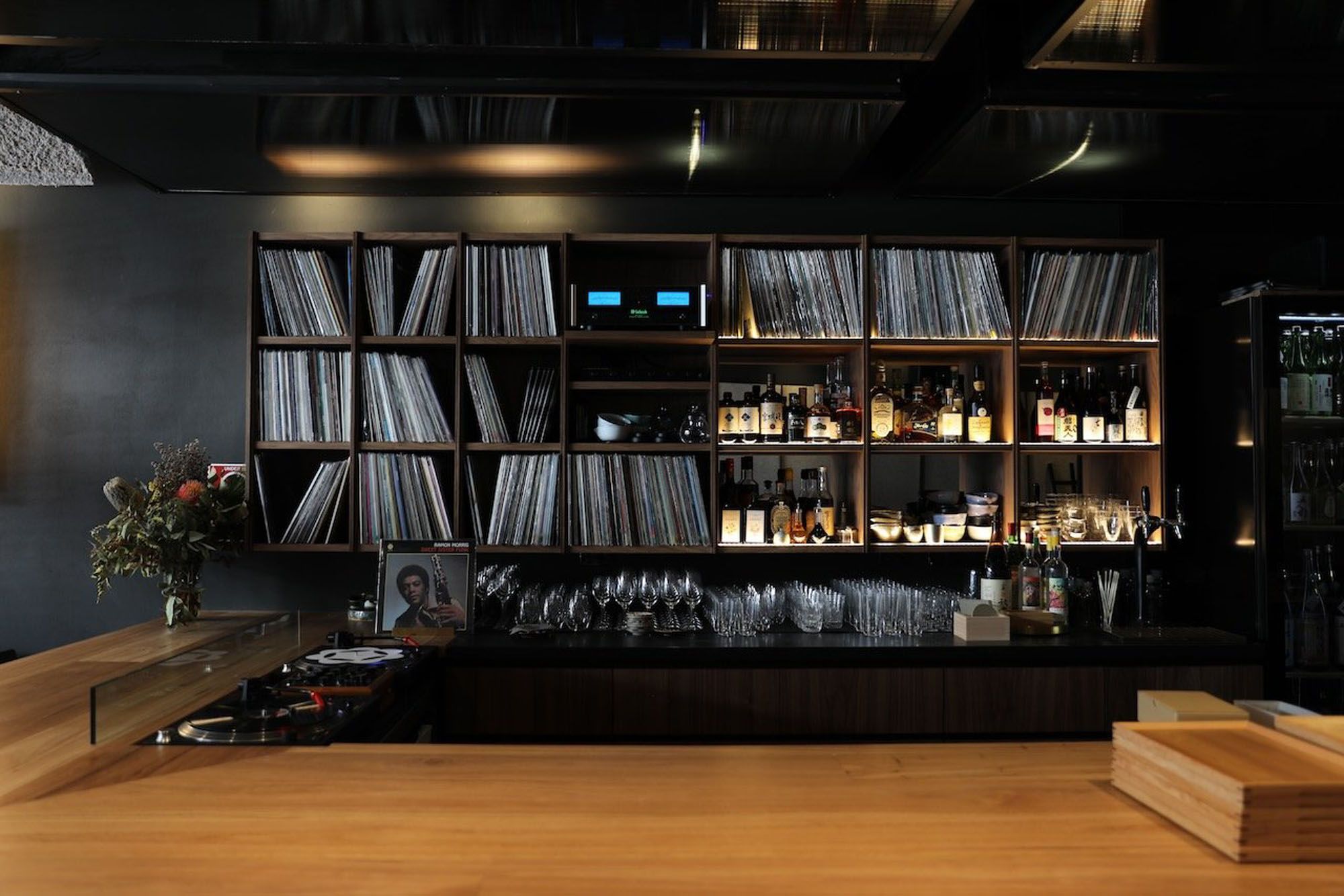 41. Ante
146 King St, Newtown | Open in Instagram | ante.bar
We're not sure sake will ever go mainstream in Sydney, but if one bar was to make a case for it to do so it would be Ante. Here you'll find a dark, moody interior inspired by the idea of the Japanese jazz cafes; there's plenty of vinyl here, and some considered Japanese-inspired eats too.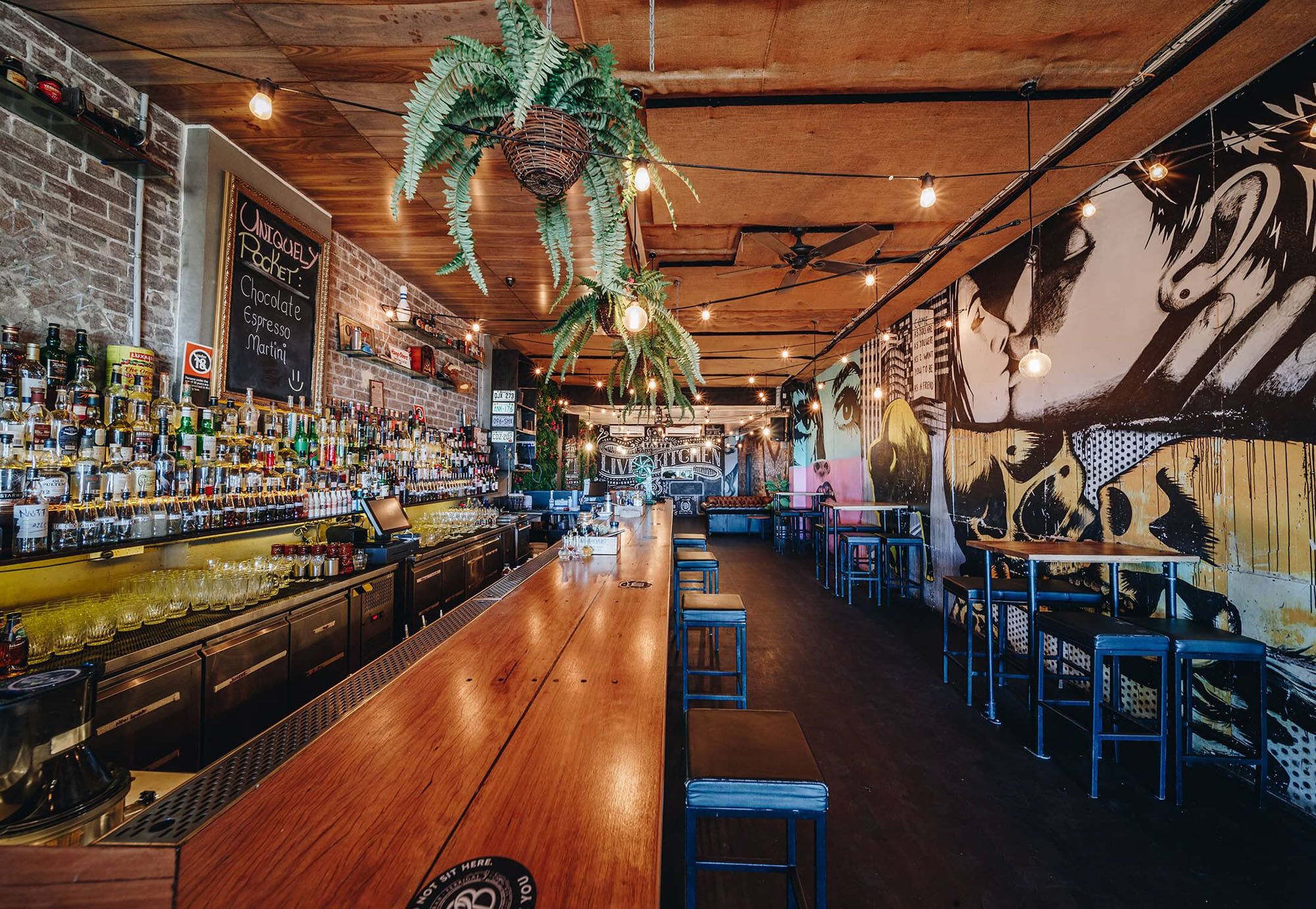 42. Pocket Bar Terrigal
74 Terrigal Esplanade, Terrigal | Open in Instagram | houseofpocket.com.au/pocket-bar
THE BEST BAR ON THE CENTRAL COAST
Pocket Bar Terrigal knocks up 10 years of service to the Central Coast this year, having brought with them all the lessons learned by the House of Pocket group since opening the original Pocket in 2009 in Sydney. Picture an exposed brick space, bug graphic murals lining the walls and an emphasis on accessible and delicious cocktails, and you've got the right idea.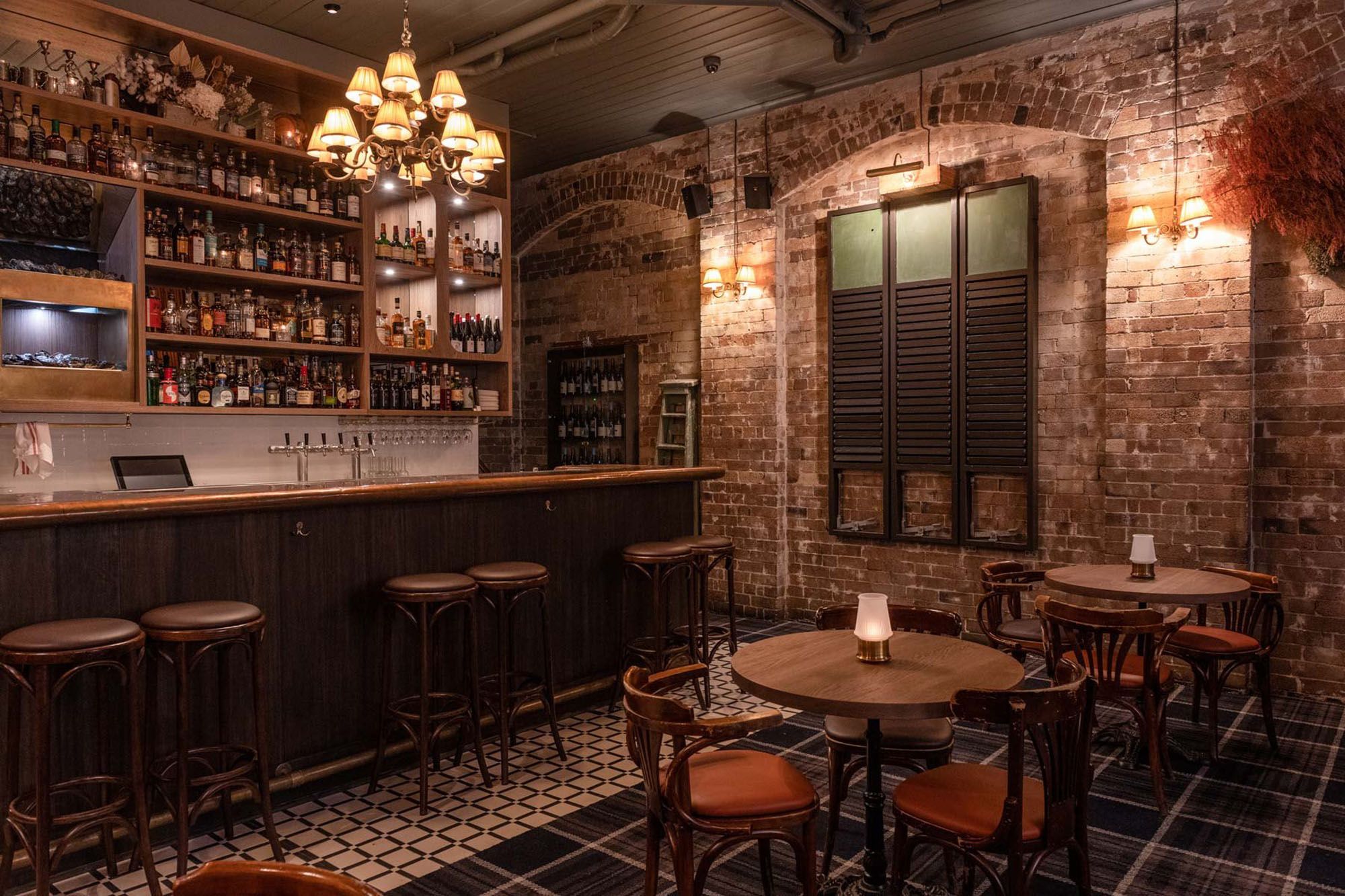 43. The Rover
75 Campbell St, Surry Hills | Open in Instagram | therover.com.au
Before a refresh and a name change last year, The Rover was known as The Wild Rover, a loosely Irish-ish bar with a focus on whiskey and oysters. After a brief closure for renovations, The Rover emerged in 2022 without the Irish shanties and Guinness; in their place, a smart new cocktail menu overseen by former bartender of the year Alex Gondzioulis (and one of those drinks landed on the 2022 Drink of the Year top 50).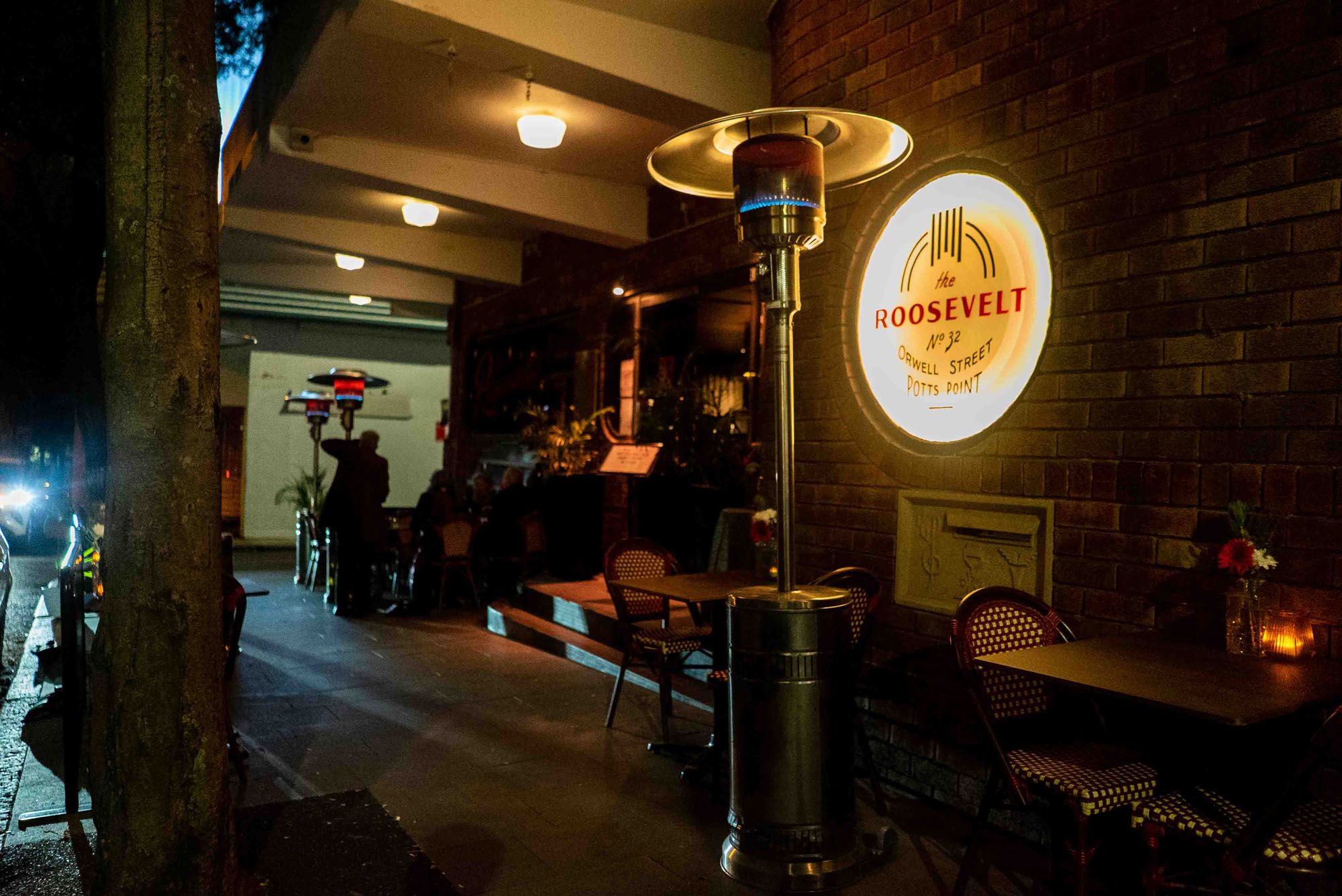 44. The Roosevelt
32 Orwell St, Potts Point | Open in Instagram | theroosevelt.com.au
You'll find The Roosevelt in a classic art deco building on Orwell Street in Kings Cross. It began life as a nightclub — called the Roosevelt Club — in the 1940s, before it was shut down in 1955 (the creative accounting of underworld figure Abe Saffron reportedly played a part). The Speakeasy Group resurrected the venue in 2012, with current owners Ben Hickey and Naomi Palmer taking it over in 2017. They've since seen it ascend new heights: the service is exemplary — get the Martini trolley service equipped with liquid nitrogen — and you'll feel a million bucks in the luxe setting.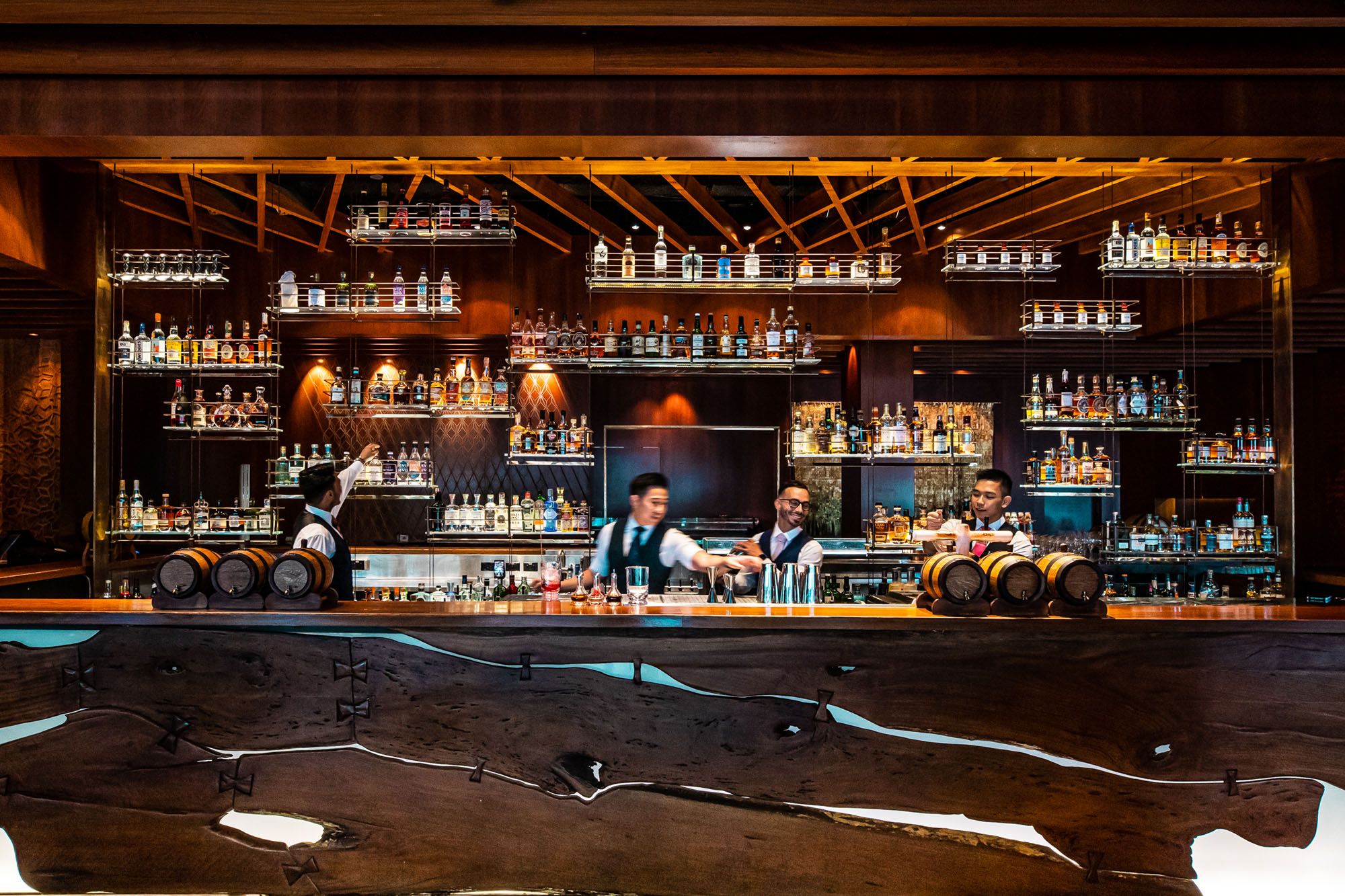 45. Grain
199 George St, The Rocks | Open in Instagram | grainbar.com.au
Many cities in the world are home to great hotel bars, the type of bars that become destinations in and of themselves. That hasn't always been the case in Australia. But since 2012, Grain at the Four Seasons in the Rocks has been an admirable stand out. The current team, led by the smart and generous hospitality from bar manager Adam Lau, have given the bar a renewed lease on life, with top quality cocktails on offer (and a smart barrel-ageing program) and friendly, enthusiastic hospitality.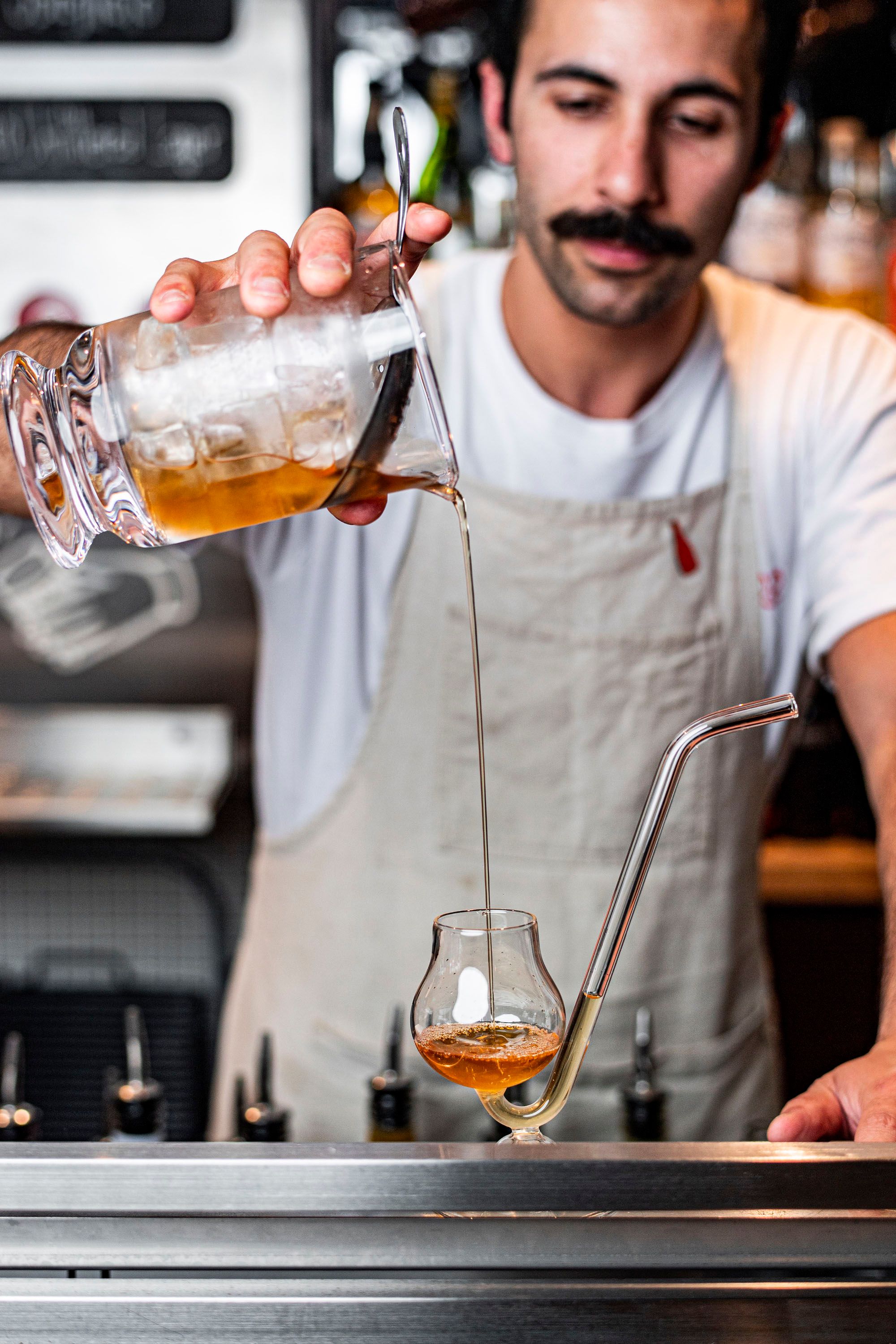 46. Banco
17b Whistler St, Manly | Open in Instagram | bancomanly.com
When Banco opened in Manly during the pandemic, it brought another good reason to visit the beachside northern suburb; teh cocktails here are all about flavour first and foremost, but given that it's a bar under the imprint of owner Kurtis Bosley, they throw a fair whack of technique to get to the delicious end result. Throw in some very good food and tasty wines, and you've got a wonderful all-round drinks experience on the Beaches.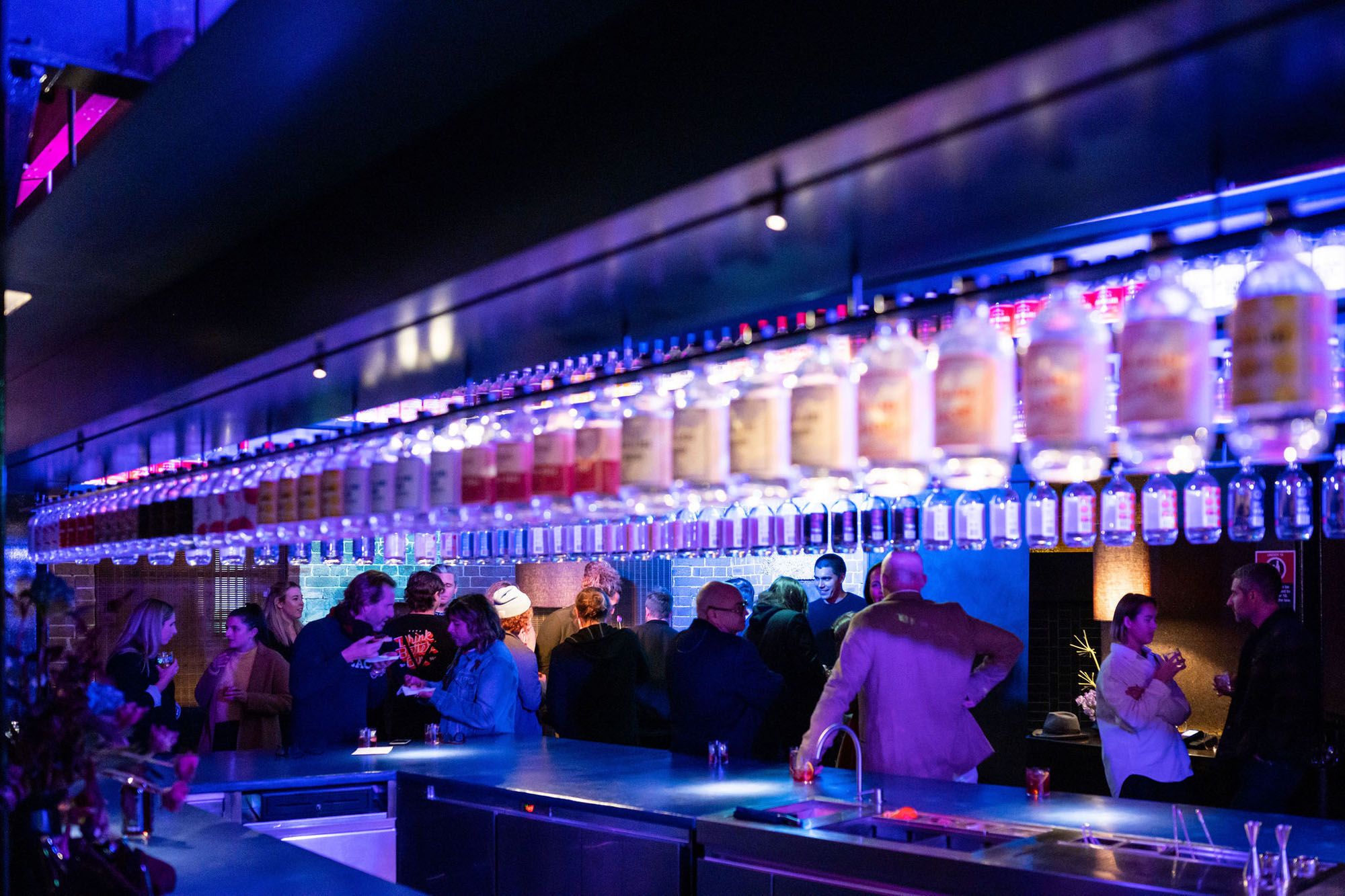 47. Eileen's Bar at the Four Pillars Lab
410 Crown St, Surry Hills | Open in Instagram | fourpillarsgin.com/eileens-bar
Look, Eileen's Bar is something of an anomaly — usually, the bar at a distillery isn't this exciting. But Eileen's Bar is proof that if said bar is stocked with top flight talent under the lead of a genuinely inspiring bartender, you can create something pretty special. Until recent months the drinks were overseen by Four Pillars creative director of gin drinks, James Irvine; he's since left, with the equally impressive Nick Tesar (ex-Bar Liberty, 2022 Diageo World Class Australian champ) now in the role, and Gabriel Hepworth leading the team at the bar.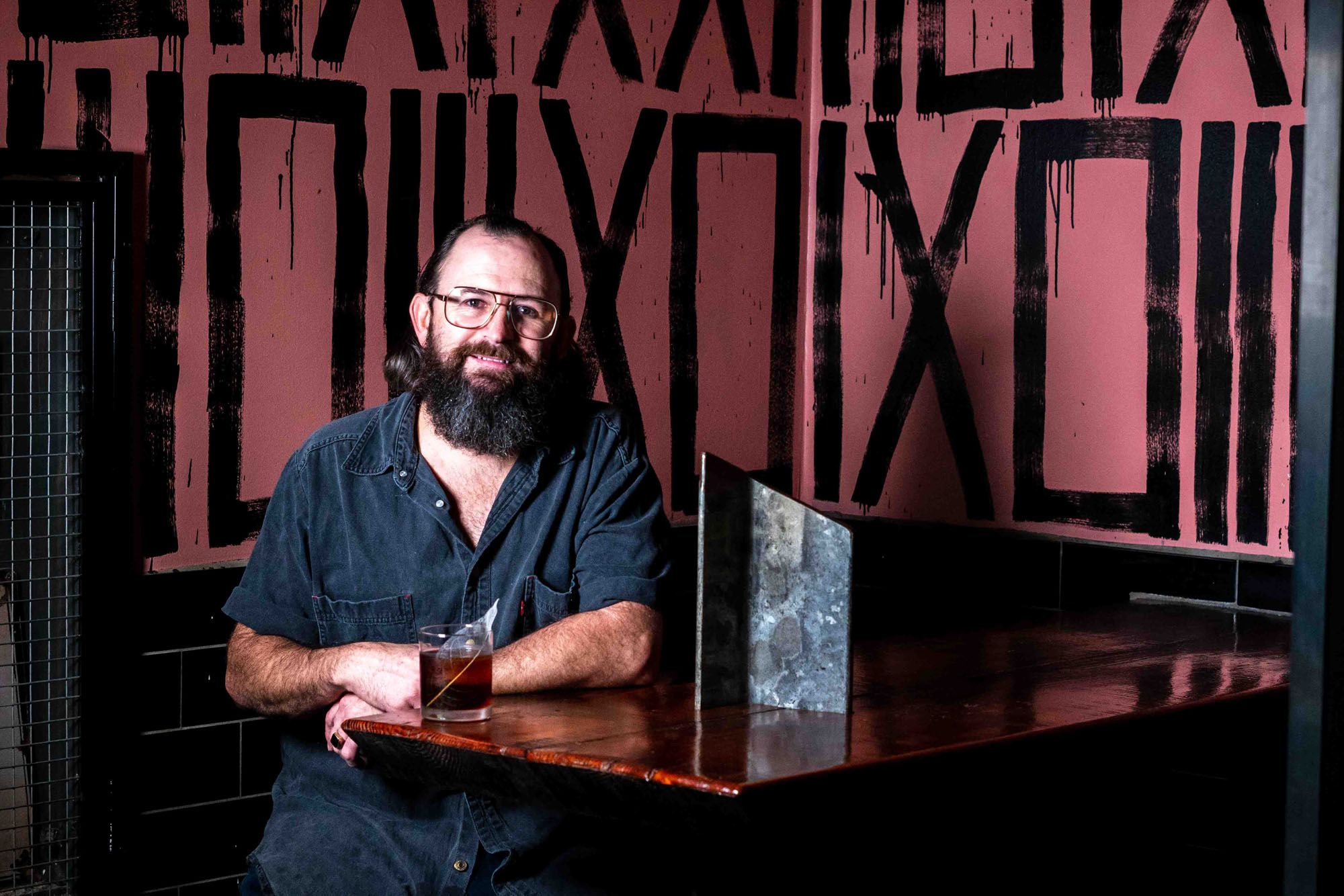 48. The Koutetsu
555 Hunter St, Newcastle West | Open in Instagram | thekoutetsu.com
We're a few visits in and we're still unsure what the name means, but this original Newcastle small bar is still going strong eight years after its debut. You'll want to be drinking cocktails here — they're as good as they get up here in Newcastle — and the industrial chic aesthetic feels of a piece with the history of the city.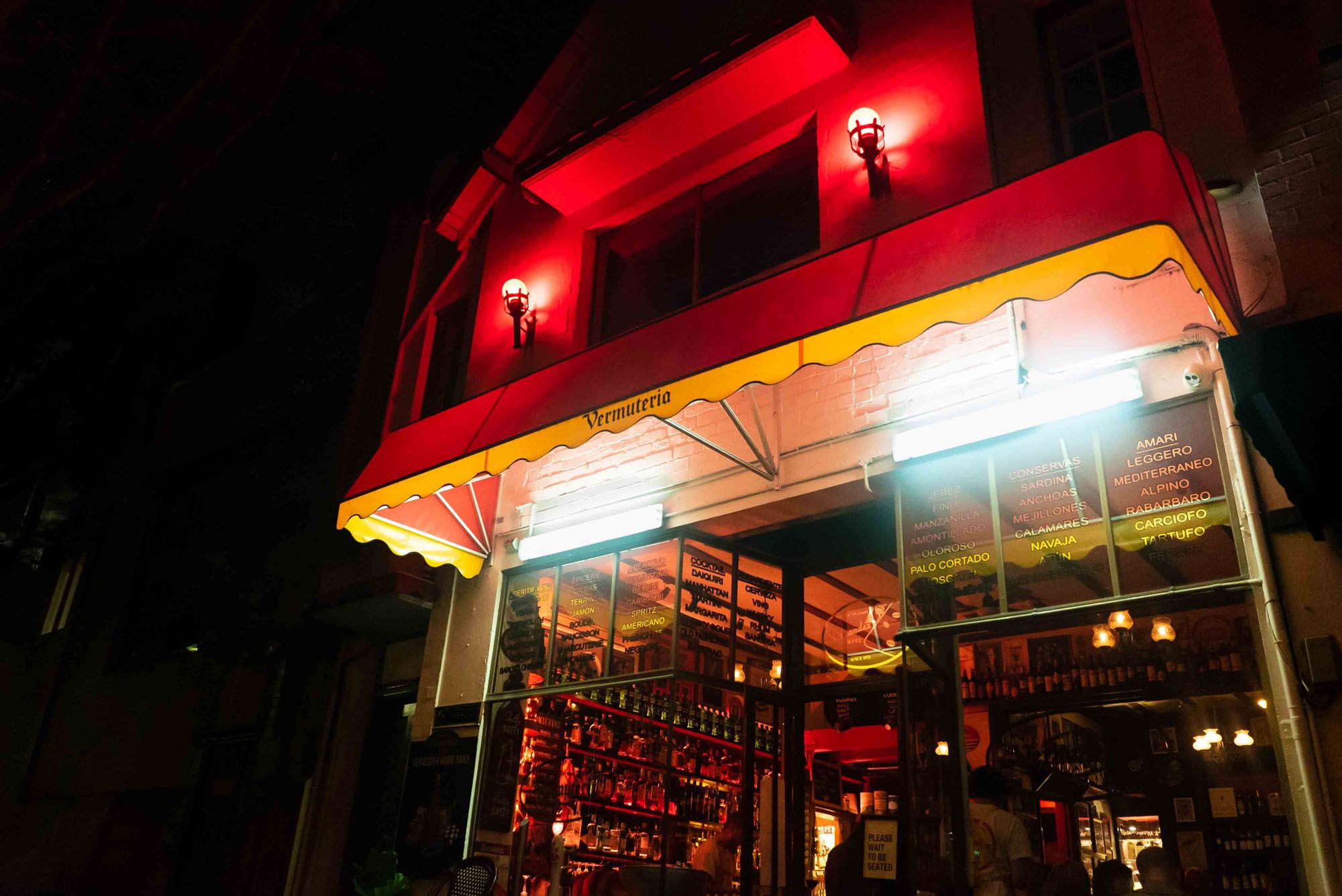 49. Vermuteria
60 Kings Cross Rd, Kings Cross | Open in Instagram | vermuteria.com.au
Vermuteria is one of the newest bars on the list, opening in February this year and from the team behind fellow King Cross venue, Piccolo Bar. It's a small place big on atmosphere' there's room for 30-odd people inside — with a detailed fitout, plenty of fortified and aromatised wines on offer, and the sense of being transported some place else.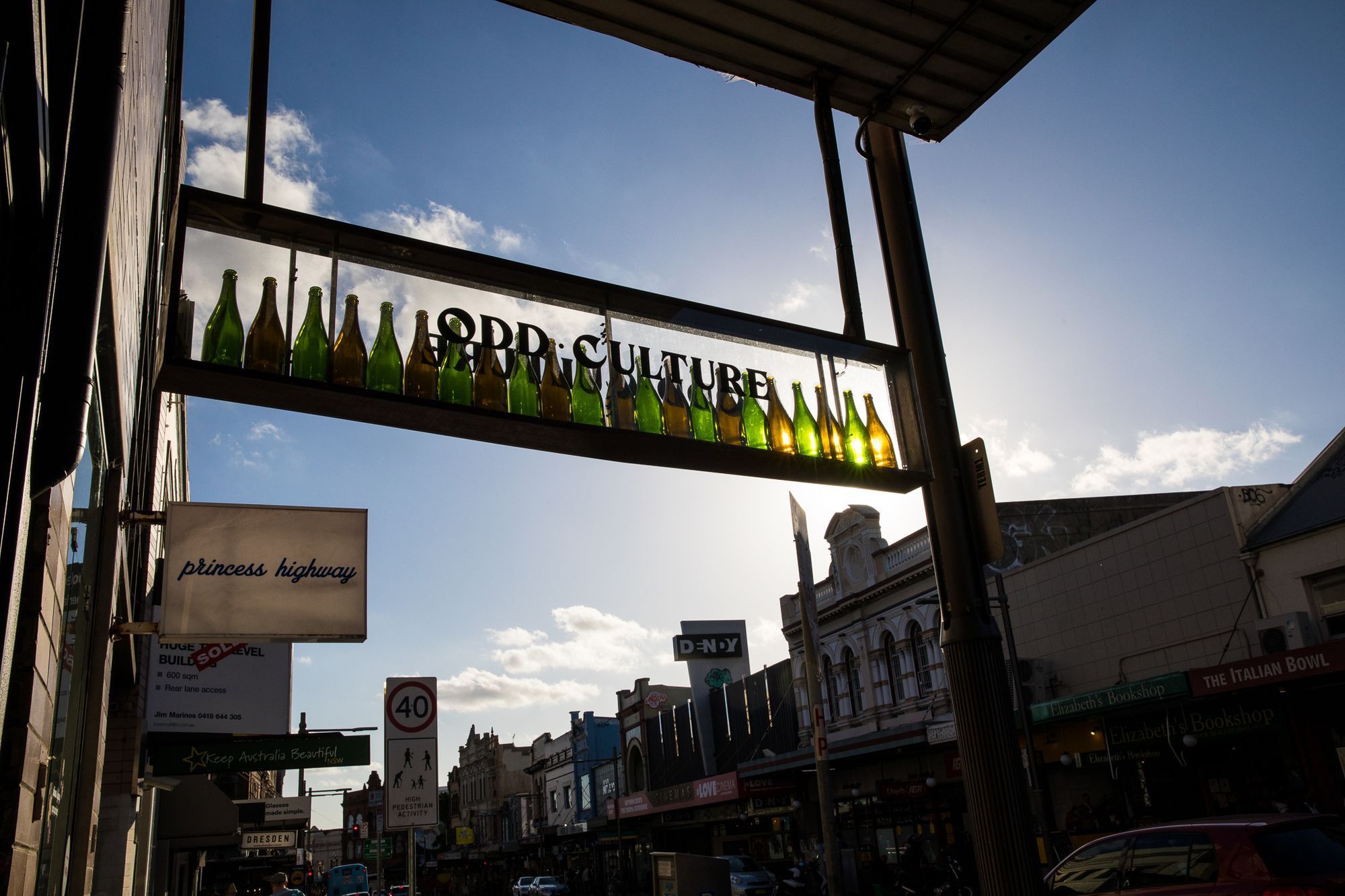 50. Odd Culture Newtown
266 King St, Newtown | Open in Instagram | oddculture.group/venue/odd-culture-newtown/
Odd Culture is an all-day eatery and bar, where they're pouring natural wine, wild ales, ferment-based cocktails and everything in between. They're one of the recent additions to busy King Street that are making Newtown the vibrant must-visit destination it is today.