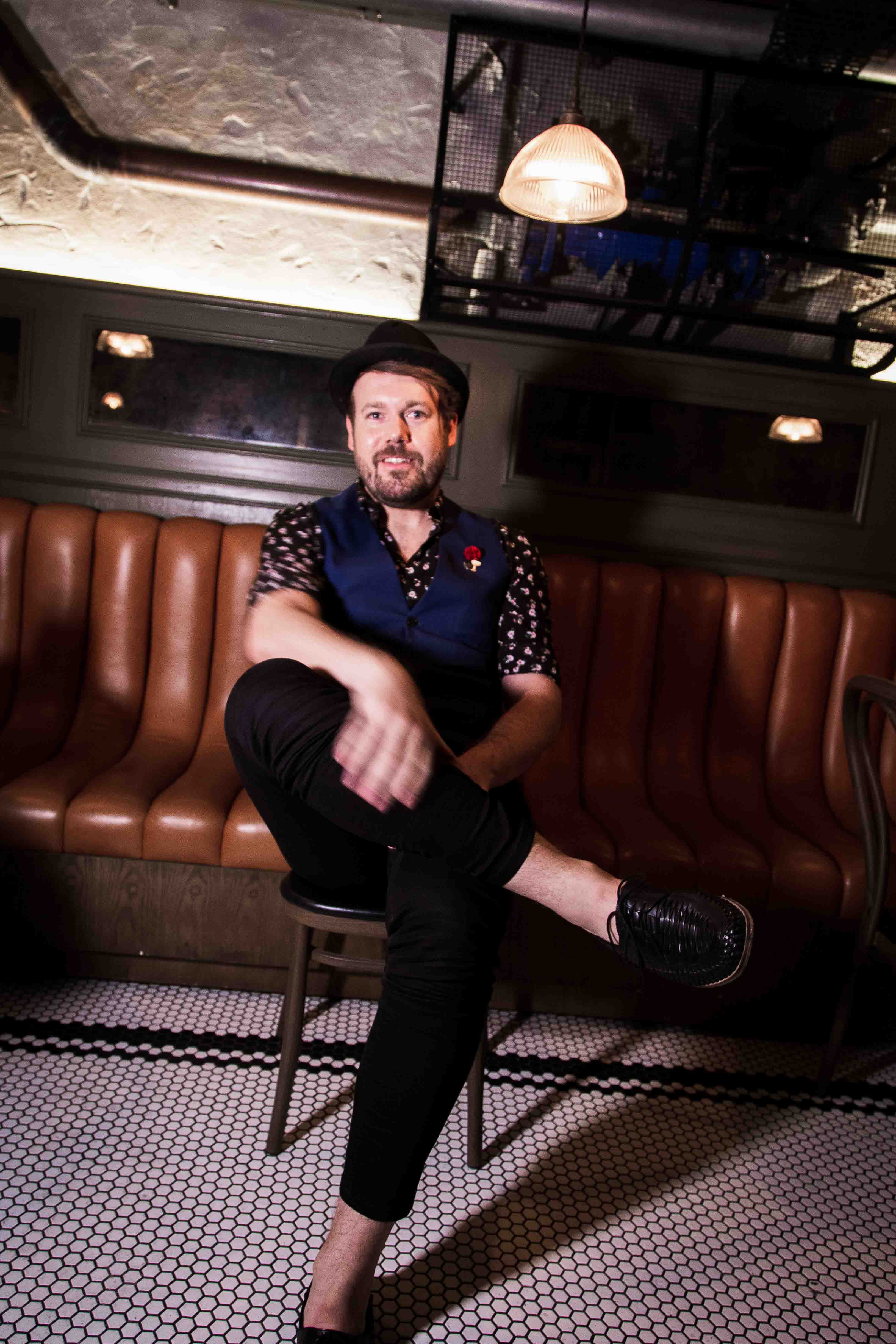 "You've changed the course of someone's life. And I get kicks out of that."
The Cumberland is something a little different for Manly. It's a small, speakeasy-inspired cocktail bar a street back from the suburb's famous beach. You enter via The Cove deli — essentially a front for the bar, and it's from where their deli meats and charcuterie boards come. Step down a spiral staircase, and you enter a room of sandstone walls, plush banquette seating, and a gorgeous back bar. There's knick knacks from all over the world dotting the shelves, and some of the best cocktails and service you'll find on the north side of the Sydney Harbour Bridge.
That's down to the owners of The Cumberland, Pete Ehemann and Matt Clifton, and their bar manager Petr Dvoracek. All three have spent formative years working and running Merivale's bars, and Clifton owns two other spots in Manly (Donny's and In Situ).
Here, Ehemann speaks to Sam Bygrave about how they've survived through the pandemic restrictions on trade, why he does what he does, and talks a little about their collection of Australian whisky — they've got some 40-odd Aussie bottles amidst some 300 whiskies.
Pete Ehemann, tell us what The Cumberland is all about.
The Cumberland is a speakeasy inspired whisky and cocktail bar. Everything in here, including the name, pays homage to the county of Cumberland which was the area that when Sydney was settled — or invaded — by the British, the area from the Hawkesbury down to Mascot. A really large area. Where we're actually sitting now was the parish of Manly.
Everything in here, from the old sandstone to the menu, pays homage to that.
Upstairs, it's a sort of Spanish-inspired deli: charcuterie, cured meats, cheeses, it does all the food for downstairs.
Downstairs, it's prohibition-inspired with just over 300 whiskies on the back bar — there's quite a few under the stairs as well! [And] obviously a huge cocktail focus. Even now we're still [selling] about 80 percent cocktails. Which is great — it's good to have a quality cocktail bar in Manly.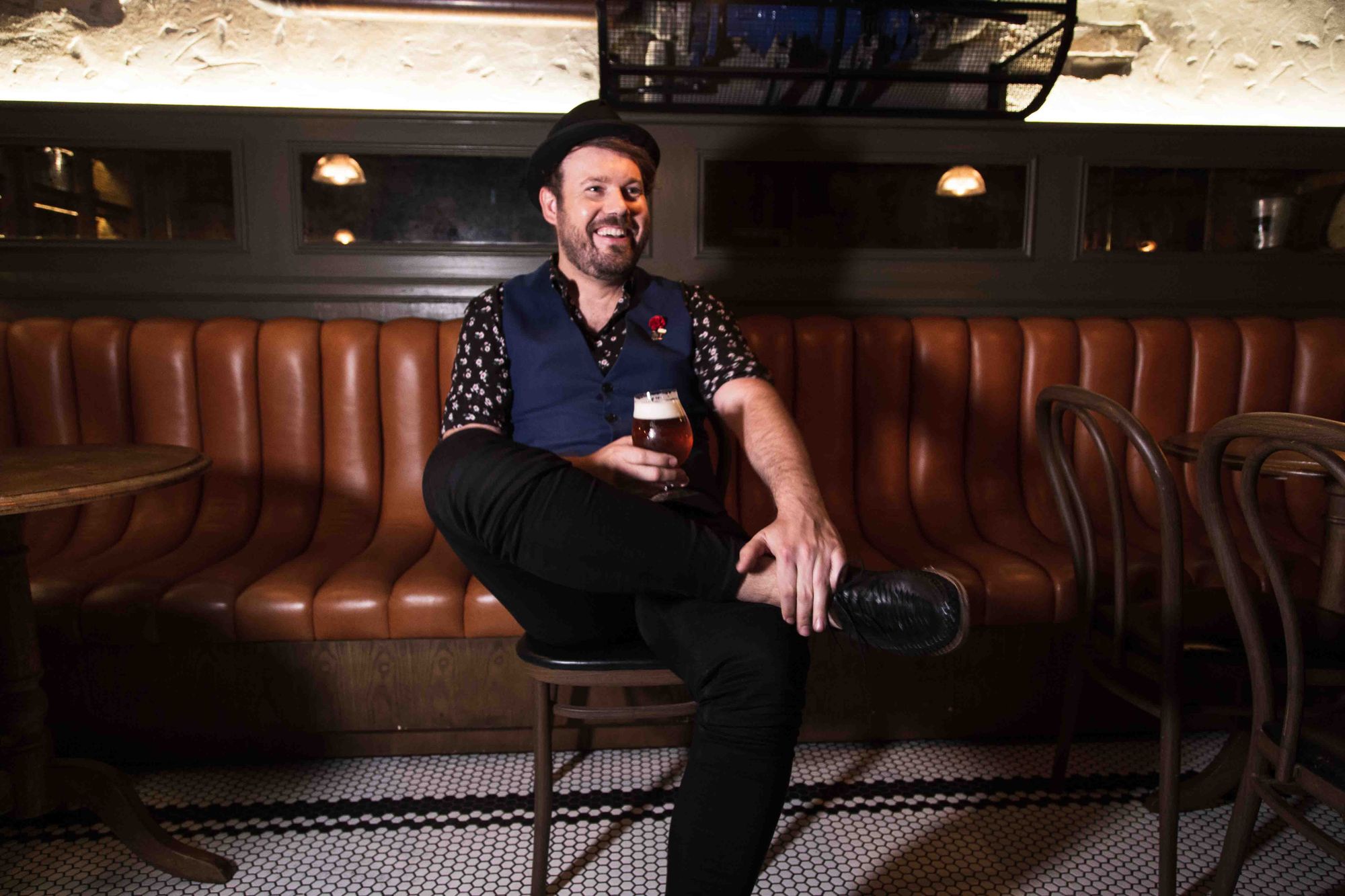 Last time we chatted, you mentioned you were doing a lot of Australian whisky — is that still happening?
Absolutely — we're doing a load of it.
What's driving that?
Single malt Scotch whisky has always had a big following. I think the locals have a real appreciation for Australian spirits, and being a whisky-focused bar we've started doing whisky nights every four or five weeks. The last one we did was with Starward and Lee Potter Cavanagh, and the tickets were $140 — we sold out, no problems. Everyone, we're finding knows their Australian whisky brands — even some of the more obscure ones you don't often hear about. Like Timboon Railway Shed Distillery — it's a tiny little distillery in Victoria.
So how many Australian whiskies do you have?
We have around 40 at the moment, and we're still expanding.
That's a decent Aussie selection already.
Totally. And it's not all your Sullivan's Cove and your award winners, there's some really cool, smaller distilleries up there as well.
What are two or three Australian whiskies that you really like, and that not many people know about yet?
Obviously Timboon. They do a port cask expression which is only aged for three years, but it's absolutely outstanding whisky, made in a little train shed in Victoria. It's really cool.
And I guess another one, I've never really been a big fan of rye whiskey, but the Belgrove Distillery in Tasmania — Peter Bignell — they do some crazy stuff like smoking sheep dung instead of peat, but we've got four or five of his whiskies up there and all of them are — they're expensive — but absolute crackers.
You've got a reduced capacity at the moment in these COVID times.
Yeah. Pre-COVID, we were licensed for 75 people and we didn't take bookings at all. Most nights of the week, we had a line up out the front and for Manly, that pissed a lot of people off, yeah? Because they'd never had to line up anywhere other than the Steyne and the big pubs.
Once COVID hit we completely changed our business model. It's essentially just [bar manager] Petr Dvoracek and I here now, and we've opened up the bookings.
We're now allowed 25 people. We're trading Wednesday to Sunday, and do three sittings a night: 5pm, 7pm, and 9pm. And we're booked out every night.
People are out there looking to get out again.
How has it been? It's not an easy time.
When it first hit, it was really tough, yeah? We weren't sure if we were going to stay afloat, what was going to happen — we did a bunch of stuff which worked in our favour. A lot of bottled cocktails, a lot of home delivery.
That kept our spirits up. Since we've reopened, I'd love to say that it has been more chill, but I've been working a lot longer hours and huge weeks.
But it's nice. We've seen a bigger focus on guest experience. It is only Petr and I here, so not only everyone who is coming in here getting completely the best service that they can imagine, but the drinks are always amazing. They're getting a better service than possibly they were previously.
Why is it you do what you? Why are you in this game?
Obviously I love what I do, yeah? I think that if you can change someone's day, and make someone who has had a rough day leave your venue with a smile on their face and thinking, "Fuck, that was amazing,"? You've changed the course of someone's life. And I get kicks out of that.
So this bar is a little bit different to other bars in the area, and you guys aren't from the area — how did that go?
For me it was a huge life change. I moved over here when I opened the bar up — pretty shortly after — when I realised the commute was torture.
I've lived in the east, Surry Hills and Bondi for the last 10 years and generally walked in the CBD or in the east. It was a complete lifestyle change for me to move to Manly.
So for those who don't know Manly, can you explain what the difference is?
I grew up just near Byron Bay, and Manly has got a very similar culture and ethos. You've got a big tourist crowd, and you've also got a big locals crowd; both are very beach and weather focused. But both aren't as much accustomed to finer drinks and finer dining. So to inject a bit of that, those niceties? I was with Merivale on and off for 10 years, ran some of their best bars.
So you know how to get shit done at a certain level.
I would like to think so, yeah. And the response, to having a high-end cocktail or a high-end whisky or charcuterie board, with full table service, is pretty new to Manly. The response we've seen has been amazing. There's obviously a market for it and people seem to love it.
Say you get a night off, where do you want to go to?
Purely because I've lived around the city for such a long time, I didn't want to get stuck in the Manly bubble. So on my nights I head over to the city.
I love going to Old Mate's Place and seeing the guys. Besides the venue being absolutely beautiful, it's the service. The guys — Dre, Noble, everyone behind the bar — it's just so lovely. You just feel like you're at home, like being in your lounge room being served by someone amazing.
I love going to Ramblin' Rascal Tavern and Double Deuce Lounge if I get the time. To be honest with you, though, I don't really get out as much as I'd like to at the moment.