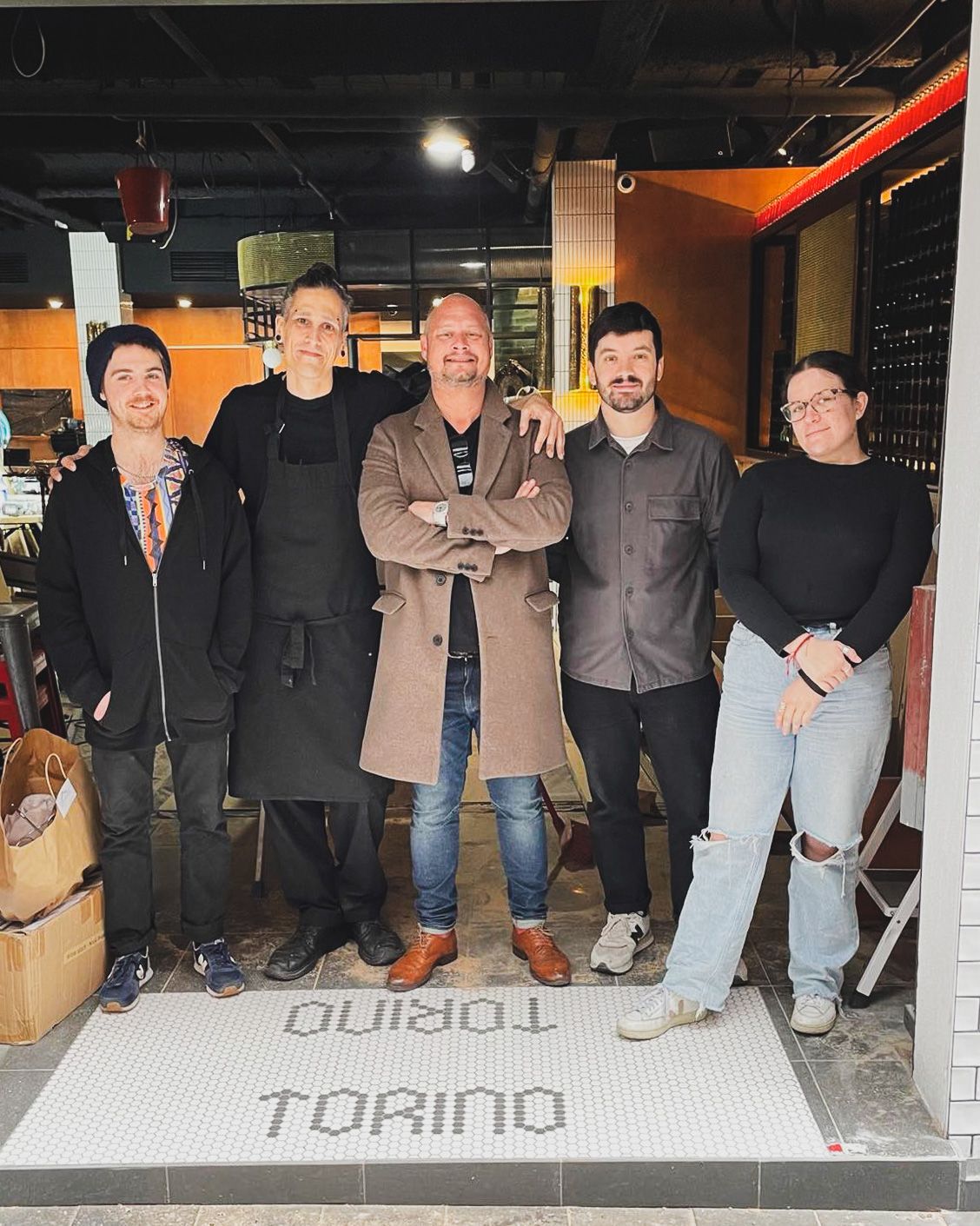 The next bar from Beneath Driver Lane's Hamish Goonetilleke.
Updated Saturday 4 November
There's a new Italian-focused bar on the way to the Melbourne CBD. Torino Aperitivo is the next bar from owner Hamish Goonetilleke and the team behind bluesy basement whisky joint, Beneath Driver Lane.
Torino Aperitivo has opened on Driver Lane above the basement bar, and is inspired by Hamish's love of that Italian aperitivo moment.
"Everyone who comes back from Europe, one of their most favourite things they always talk about is this aperitivo tradition — the catch ups the afternoon, you order your Spritz and you get you get some snacks and it's just great," he says.
"But then you come here and there's none of that tradition. So it's about creating a Melbourne interpretation of a proper aperitivo culture."
We'll get into what you can expect from the bar below — there's plenty of amaro to be had. But something from my chat with Hamish stood out to me, and it's something that I think is important to note when you're creating anything, whether it's a cocktail list, writing, or indeed a new bar. You can't please everyone, and when you try to do that, you sometimes end up with something that's pretty average.
Hamish says that he's trying to really dial in the focus for Torino Aperitivo.
"The mantra I've tried with all the bars is to be something to someone, not something for everyone," Hamish says. "That's why the cocktail list is so cool — the brief was very narrow. We've got a grappa-based Negroni which is unbelievable. It creates some really creative concepts because the brief is so narrow — we're not going wide, we're going deep."
What's the big idea?
"We're creating a proper aperitivo bar," says Hamish. "It's about focusing on the culture from Italy, and the aperitivo culture as opposed to happy hour specials.
"Aperitivo is a lot more than that. I did a trip in March across Italy and went to, you know seven or eight different places around Italy to check out the way they do aperitivo. I grabbed a whole lot of my favourite things from over there and I've brought quite a few of them back."
They'll be opening earlier in the day to capture that afternoon, daytime — yet civilised — drinking occasion, opening from 2pm each day. There'll be space for 90 people inside, but it's out on the laneway where the real aperitivo feel will take place, with seating for 20 to 30 people.
"I've walked down this laneway for almost six years," Hamish says. "In November, Beneath Driver Lane turns six years old. The building that we're below, is one of the original buildings of Melbourne and it has a very European style to it. So in creating a venue, I think the location, you know, you always talk to the location and the venue — it has to feel organically correct, even to walk into the venue. So walking down this laneway feels quite European to me."
What's the feel of the place?
Whereas Beneath Driver Lane is a dark, moody, candlelit space, Torino Apritivo will be the opposite.
"We've got lots of timber panelling, because I really like timber panelling, but we've got lovely finger mosaic tiles on all the columns, beautiful brass lights, lots of golds, lots of matt brass in the venue, and the central point of the venue is the bar. It has been completely rebuilt, we've got handmade Italian tiles, it's an all green Brazilian quartzite solid bar top which is just bloody magnificent.
Lots of high tables, four large booths, plus a private 20pax non thoroughfare area by the window, it's raised by one step so it feels really special standing in there."
What's on the playlist?
"It's all Italian, Italian disco funk and soul, very 60s 70s inspired, it's really vibing," says Hamish. "It's riding that line between tacky-cool, and tacky-shit. I think we're on the tacky-cool side."
"I worked with an Italian DJ who has as en epic repertoire of Italian music, I'v e worked with him over the last four weeks to work out the soundtrack."
What to expect from the drinks at Torino Aperitivo
As you might expect from an aepritivo bar, there will be Spritzes — five of them, to be exact — and five Negroni variations. But the centrepiece of the bar is an ornate Italian water feature from which will their classic Spritz and Negroni will be dispensed.
"We've got an Italian water feature with a Spritz and the Negroni coming through the mouth," Hamish says. "It's an actual water feature, where we've rewired everything in it so that it's all food safe. The Negroni is under nitro and the Spritz under CO2. It's unreal."
Venue manager Kealán Brady says that they'll have 10-strong list of signature cocktails, too.
"We wanted to keep like a kind of focus on the Italian style drinks, more bittersweet in profile," Kealán says. "It starts your evening and gets you ready.
There will be some 60-odd amaro on the bar, more than a few of which you won't be able to find elsewhere.
They've also got big emphasis on Italian wines. "We've gone heavy on the wines," Hamish says.
"We've got 90 bottles, and it's solely Italian with a couple local pinot noir and chardonnays. We've tried to keep it pretty focused."
What's to eat?
Given this is a bar that celebrates aperitivo culture, there's a strong emphasis on small bites to accompanying your drinking.
"From open, from 2pm to 3pm, we'll do the complimentary aperitivo just like in Italy — you order you drink, you're going to get a small platter with a couple of olives, some taralli from the north of Italy — it's like an Italian pretzel — then you're going to get a small, little crostini with some fresh bruschetta on top. A little one bite. That's all complimentary," Hamish says.
After your first round of complimentary snacks, there are a number of other small dishes to be had until 6pm, when the menu emphasis changes slightly.
"Then we'll move into probably 10 to 12 small dishes, two large, which is a homemade pasta and a 500 grams sharing scotch fillet," Hamish says. "A couple sides, and two desserts."
What are the trading hours, when will it open?
Torino Aperitivo will open to the public on Thursday 26th October, and trade from 2pm to midnight, five days a week from Tuesday to Saturday.
Where to find Torino Aperitivo
You can find them at Shop 2 Driver Lane in Melbourne's CBD, online at torinoaperitivo.com.au, and on Instagram at @torinoaperitivo.