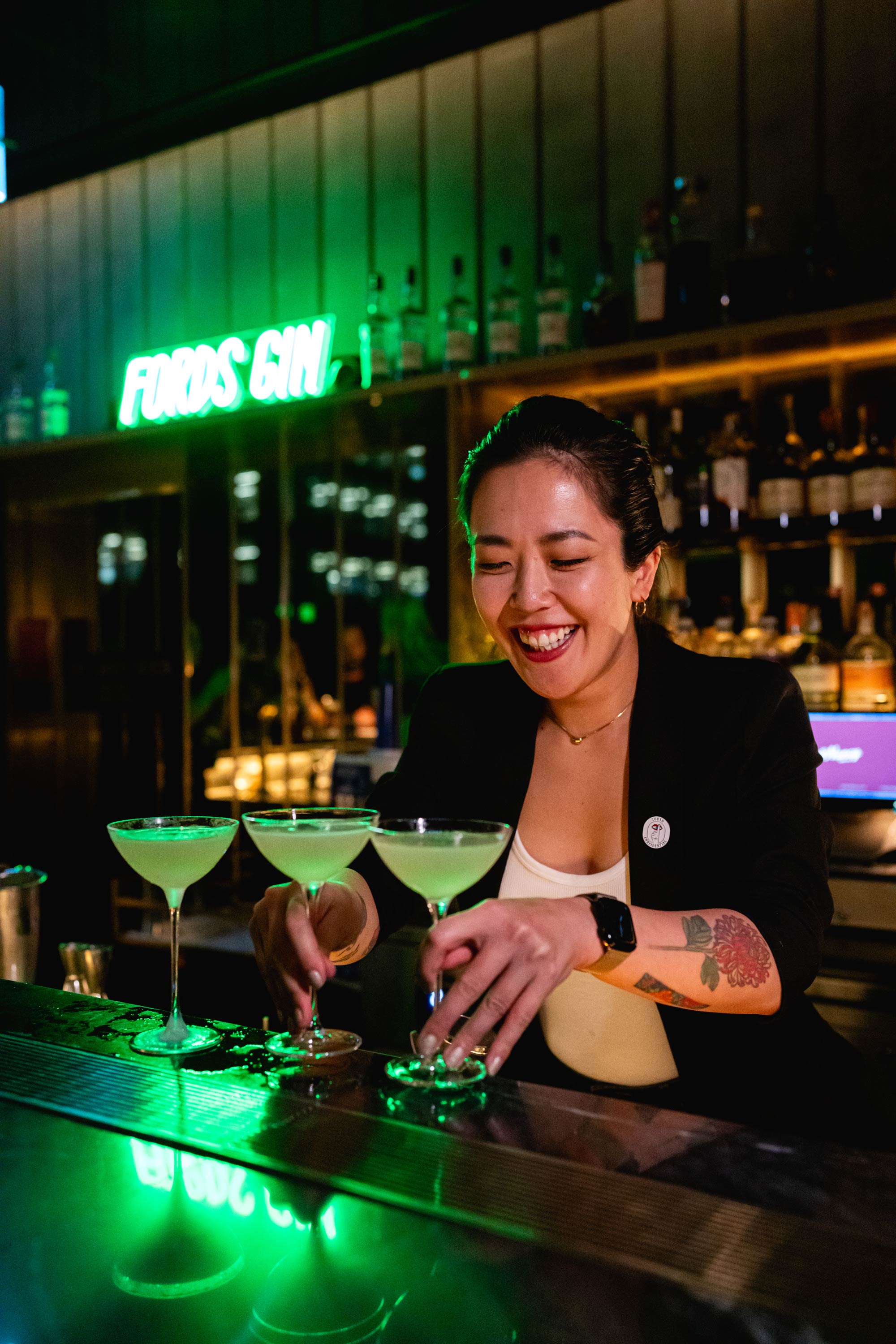 The Tea Sea cocktail is a striking and unique riff on the Gimlet using unexpected ingredients.
Drinks at Work will be out tomorrow, as we're busy tabulating all the nominations for the next round of voting in the Boothby Best Bars awards for Victoria.
---
Sometimes a cocktail makes you sit up and take notice. That's how I felt drinking the Tea Sea cocktail at Tokyo Confidential's takeover Dean & Nancy on 22 in Sydney last week.
The drink comes from the hand of Wakana Murata, the head bartender of Holly Graham's forthcoming bar, Tokyo Confidential, in Japan.
Both Waka and Holly were in town for the takeover at Dean & Nancy, and they followed through on Holly's desire for Tokyo Confidential to be a place where you can "cut loose and have fun." (I certainly did more than a bit of both.)
they had three drinks on offer for the takeover, but there was one drink I ordered again and again, however, and that was this Tea Sea cocktail. It's delicious, with a cast of perhaps unexpected ingredients, assembled with precision and properly balanced.
Naturally, I had a few questions for Waka about how this drink came to be, and how green tea, gin, and sauvignon blanc came together to create something so good. So below, you'll find Waka's answers, along with the recipe to this unique combination of flavours.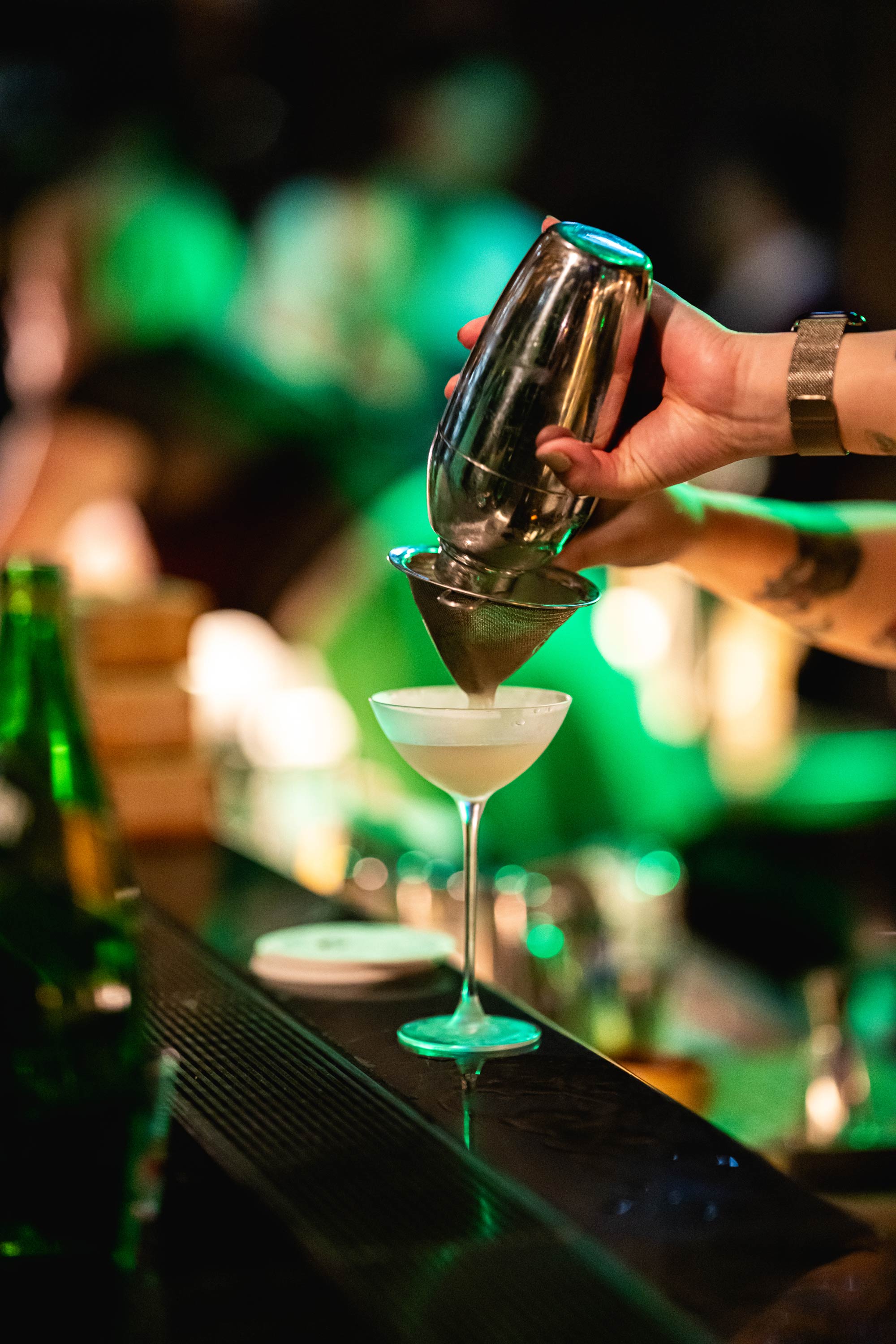 Sam Bygrave: Waka, what's the story behind this drink? How did gin, sauvignon blanc, and green tea find themselves together in a cocktail?
Wakana Murata: I wanted to create a riff on the Gimlet because, one, it's my favourite drink and two, Fords Gin sounded like a perfect gin for a Gimlet (I had never tried fords gin until I arrived in Sydney.). And as Tokyo Confidential, we're not a Japanese bar but we're based in Japan, so we want to cherish local ingredients as much as possible. Green tea came to my mind, and it would've been a shame if I didn't use a wine from an amazing wine country. So I'd say it's a perfect marriage of Australian and Japanese flavours.
How would you describe your approach to creating cocktails?
I search for inspiration from people that I follow on social media, whether that is a bartender or artist or friends because there're so many great inspirations and ideas there. And my approach to cocktail development is usually based on colours. I think of the colour of the ingredient I want to use first, and I bring the same 'colours' from other ingredients to build a drink (if that makes sense.) So for Tea Sea, the base spirit was Fords Gin, which to me is white/green/blue. And I search other ingredients to combine that have same colour scheme. So sauvignon blanc (green), tropical green tea (green), grappa (green/white), and the rest goes on. This way always works for me. Sorry if you're lost now by reading this!
What was the experience like taking over the bar at Dean & Nancy? What did you think of Sydney?
It was the best guest shift I've done! The Dean & Nancy team and the Fords team were not only helpful but also so much fun and amazing entertainers. I definitely want to put the inspiration I got from them into the Tokyo Confidential team. I fell in love with the city. The bars and restaurants we visited were all incredible. I loved how the staff of the places were engaging with guests by having a small chat and making guests smile, because you don't really see it in Japan. Overall, Sydney became one of my favourite cities.
Tea Sea cocktail recipe
Ingredients
15ml Fords Gin
15ml moscato grappa
15ml sauvignon blanc
30ml tropical green tea syrup
15ml lime juice
2 dashes of salted Benriach single malt whisky
Instructions
Shake all ingredients with ice and strain into a chilled coupe glass.
Recipe by Wakana Murata, Tokyo Confidential, 2023.