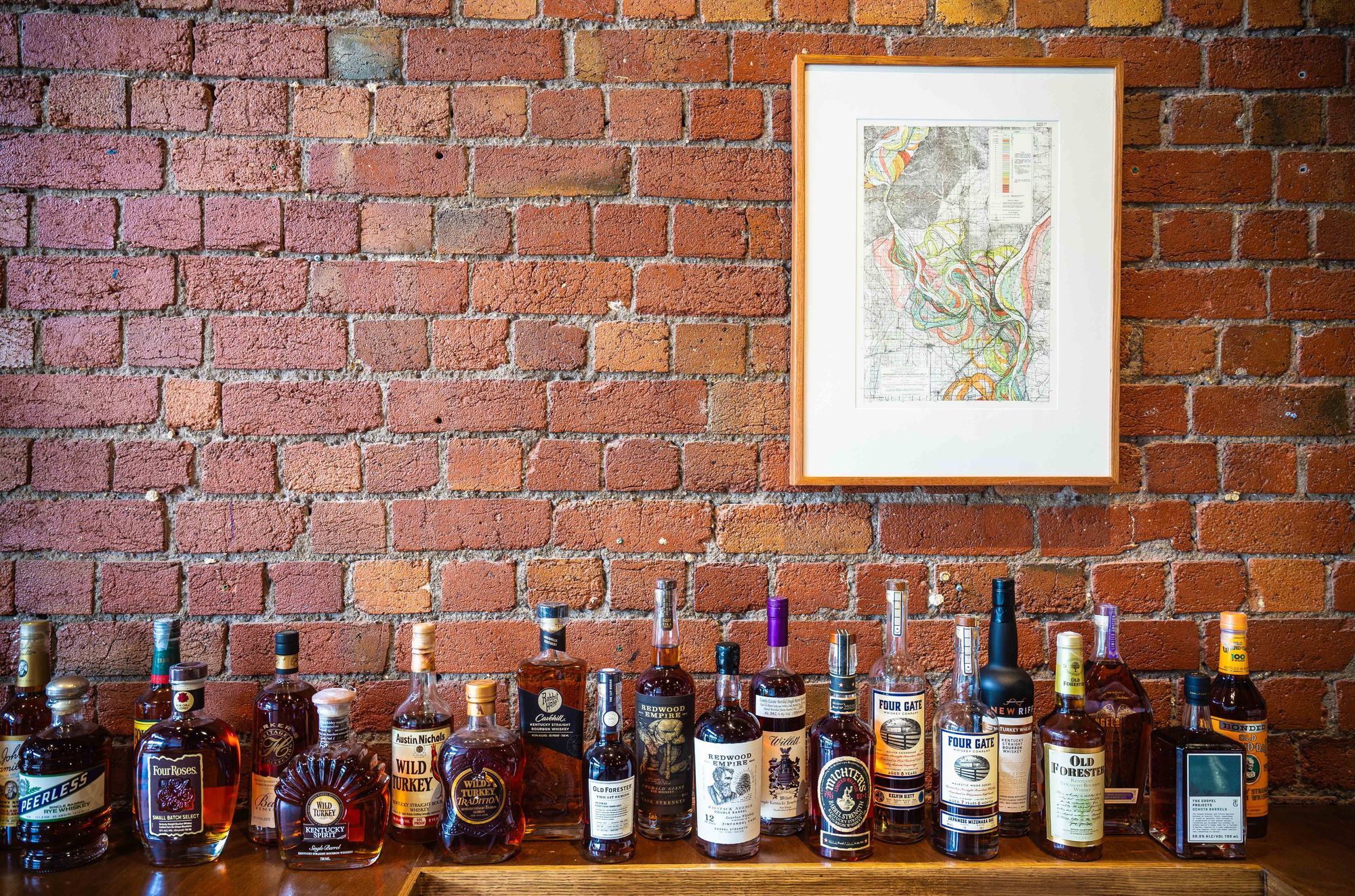 There's quite the supergroup of bartenders behind it.
There's a new cocktail and whiskey bar opening in early 2024 in Melbourne, on High Street in Northcote — and it comes from something of a supergroup of bartending talent.
The new bar is called Goodwater, and it's led by Nathaniel White (whom you may know from his time at Bar Margaux, or as the Australian Angel's Envy Bourbon brand ambassador) with drinks communicator and bartender Cara Devine (Behind The Bar on YouTube, Bomba — and the Boothby Victoria Person of the Year 2023), drinks writer and bartender Fred Siggins (Whisky & Alement, Black Pearl), Yao Wong (co-owner of The Elysian Whisky Bar), bar manager John Hallett (ex-The Everleigh), April Hudson (The Keys), and Kia Rasteh, who owns American whiskey retail site, Honey Barrel.
Or, as Fred describes the team: "Just a bunch of whiskey and cocktail obsessives, and people who really like snacks."
I spoke to Fred to find out more — here's everything we know.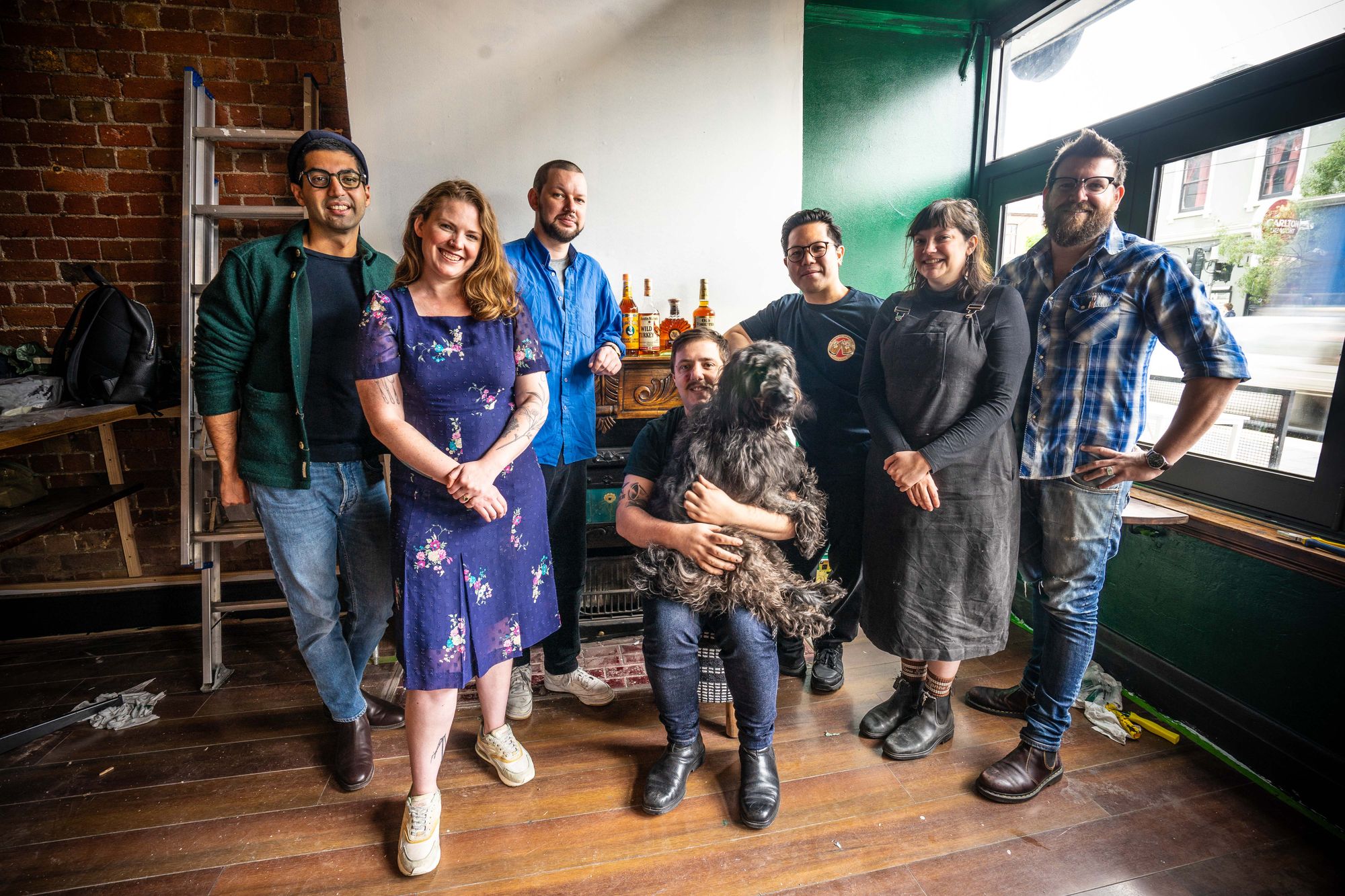 What's the big idea?
Goodwater is their take on a modern American cocktail bar, done the Melbourne way.
The working tagline is "cocktails, whiskey and sandwiches," says Fred. "Essentially it is a modern American-inspired cocktail bar.
"We are not trying to be a honky tonk. We're not trying to be a dive bar or anything like that. The idea is we're inspired by the modern cocktail bars that you find in places like LA, Brooklyn, Washington DC, Atlanta, Georgia, New Orleans, you know, the amazing bars that we've all visited on trips over there. They're not themed. They're just really good American cocktail bars.
"I suppose we're kind of going for something sort of in between Black Pearl and the Kodiak Club."
Those two bars are important pieces of Fred's career to date — he led the food side of things for the North American-accented — and now defunct — Kodiak Club in the early 2010s, and spent a significant period of time behind the bar at Fitzroy cocktailing institution, Black Pearl (which itself was named the All Time Great at the Boothby Best Bars VIC Awards back in September).
What's on the back bar?
Lots of American whiskey. There'll be something in the order of 200 bottles on the back bar.
"Nathaniel has spent the last 10 years or so building up a really impressive collection of vintage American whiskeys, so we've got 80s and 90s bottlings of all sorts of fun stuff, and some really rare and hard to find bottles that'll be on the back bar," says Fred. Some notable inclusions: a 1967 eight year old Jim Beam, and a 1989 bottling of Wild Turkey 101.
"Obviously we'll have some other stuff there as well. We'll have a couple of Scotches and a couple of Japanese and Irish and Australian whiskies and all that. But it'll be American whiskey that'll be the focus."
What to expect from the cocktails
That focus on American whiskey will follow through to the cocktail list, too. But they're doing cocktails a little differently.
"We're going to have two parts to the cocktail list," Fred says. "One will be signature drinks. The concept that we've gone with is that all of the signature drinks will be able to be served however the customer wants them to be served. They'll all be available basically as a straight up, on the rocks, or as a tall drink."
Sometimes, as Fred explains, you might want the flavours of a stirred down, boozy drink, but it's a hot day outside and you want your drink lengthened out a bit and served in a tall glass on ice.
"It's funny, when I sometimes ask people for Manhattans on the rocks, they look at me like I've got three heads," he says. "And I'm like, yeah, it's the same drink mate, it's just on a cube of ice. It's OK, I promise, you'll be OK.
"I guess the point that we're trying to make is that these are really easy small modifications for a bartender to make. As long as the flavours are there, we want people to be able to experience the drink however they like. And we really want to move away from people sort of worrying about what kind of glass it comes in, you know?"
The second part to the cocktail list is their classics list.
"[It] will all be the sort of stuff that you would obviously expect to find at an American whiskey bar: Manhattans, Sazeracs, Whiskey Sours, that type of stuff," says Fred, "and then some less expected classics."
While the classics list will skew heavily towards the American whiskey side of things, they'll make non-whiskey classics on request, and the signature cocktail list will feature a range of spirits that aren't spelled either whiskey or whisky.
Are they offering food?
You know they are. The food program will be spearheaded by Fred, given he's spent a lot of time working in American kitchens in the past, and has a deep love and fondness for the country's food.
"It's not gonna be a wings and burgers joint," he says.
"We're not really trying to be that sort of like American dude food."
Instead, they'll explore the cuisines of the US through the handy vehicle of the sandwich, in all its many forms.
"One of the things that we all really love and are obsessed by is the kind of weird little micro regional sandwiches that you find all over the US," he says.
"What we're starting out with is some kind of weird funky versions of po' boys. And you know, I'm kind of like Fred-ifying it and Melbourne-ising it and running it all through the filter of our obsession with food. You know that [co-owner] Yao is totally obsessed with food as well.
"We're starting out with po' boys. Some of them will be pretty traditional, like a proper shrimp po' boy, which I don't think anyone has really properly nailed yet. And then we're going to do really fun and silly stuff, like General Tso's chicken po-boys. General Tso's is not Chinese, it's American. We're not trying to take ourselves too seriously, but you know, we are going to try to sort of elevate the food a little bit in terms of the ingredients that we're using and the way that we're presenting it."
What's the deal with the name?
"The original Native American name for the Mississippi River translates to good water," Fred says, and the focus on getting good water to make whiskey is ever present.
"You hear a lot of whiskey people saying that you need good water to make whiskey," he says. "So there's a few different reasons why we thought it worked."
When will Goodwater open? Where can I find it?
The bar is getting built right now, but expect Goodwater to open in early 2024.
In terms of trading days, they'll look to begin with five days a week. "We have the potential to do industry events and on the days that we're closed," Fred says.
You can follow them on Instagram right now, though: hit them on @goodwater.melbourne and online at goodwater.melbourne.