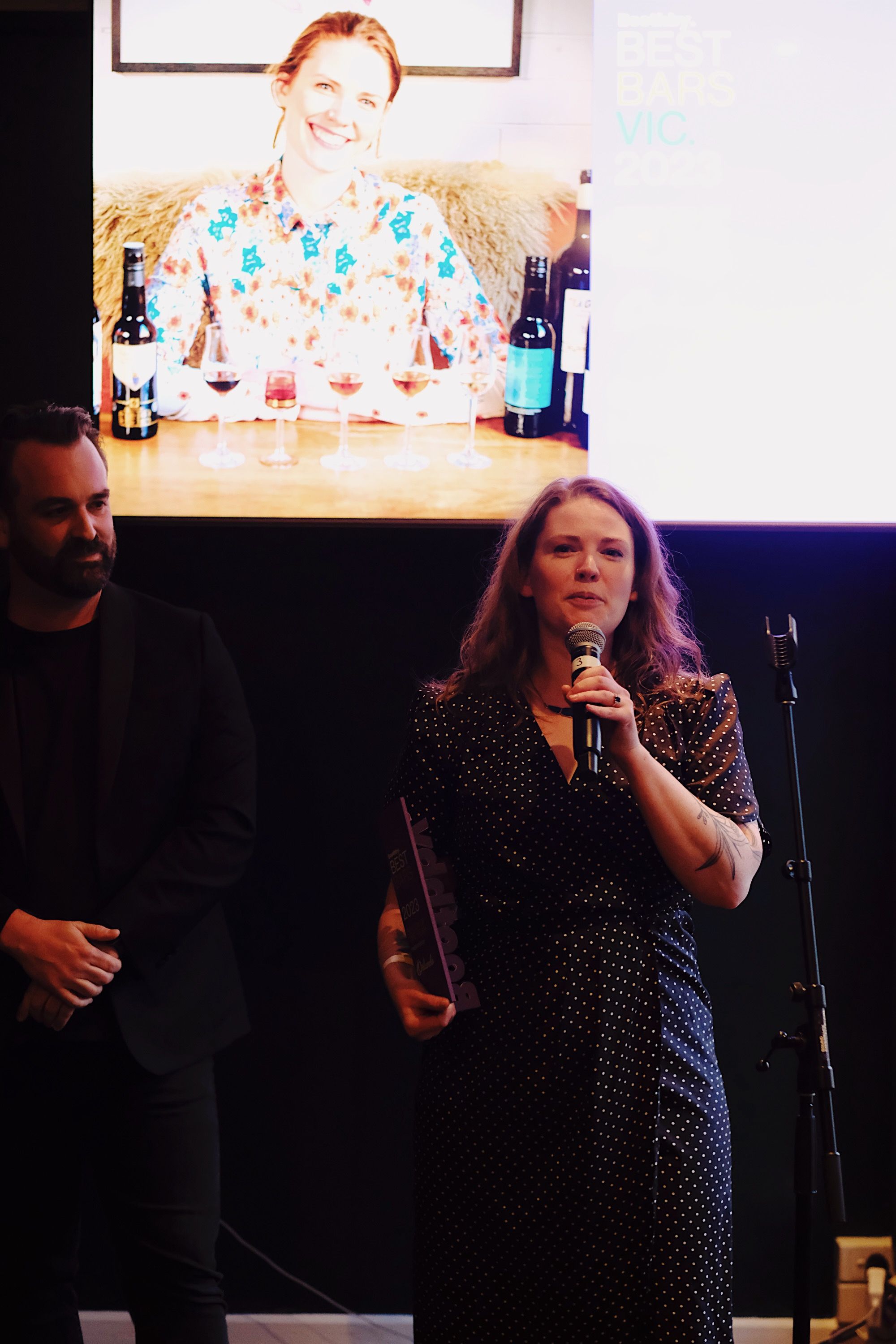 Cara is a bartender, bar manager, writer, YouTuber, and a favourite of the industry.
Last weekend we held the first Boothby Best Bars Victoria awards, and a good times party for 130 of the industry's best and brightest bar owners and bartenders. It was at The Lincoln, and we handed out a few awards on the night as well as counting down the top 50 bars in Victoria. Caretaker's Cottage were on hand to mix the drinks for the night with a takeover — it was incredible, with an amazing turnout, and a whole lot of fun.
One of the awards we handed out on the night was the Person of the Year presented by Orlando — the previous winners in Queensland and NSW were Millie Tang and Stefano Catino, respectively. The Victorian winner was Cara Devine.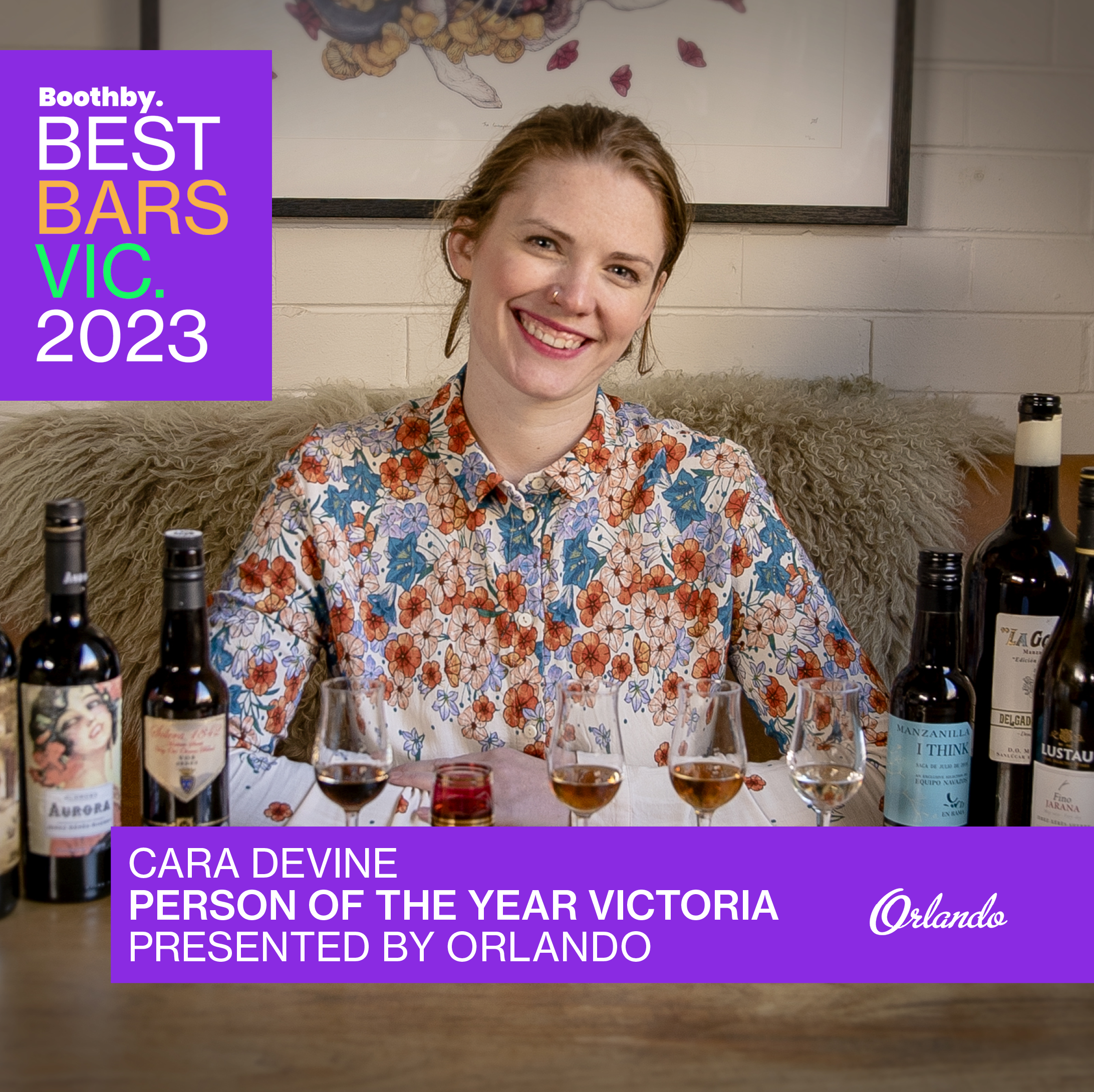 Cara is a bartender and bar manager at Bomba in Melbourne, but you might know her as the host of Behind the Bar with Cara Devine on YouTube, where she has over 150,000 subscribers, or as Bartender magazine's Melbourne-based writer, or you may have read an early piece by Cara back on Boothby back in 2021 (you can read that here).
She is one of my favourite writers to read when it comes to the Australian bar world, she's an excellent communicator and demystifies the world of cocktails and spirits better than most, and you can read that in her book on cocktails, Strong, Sweet, & Bitter. She's a great voice for the industry, and that's why a panel of more than 100 Victorian bartenders, bar owners, and bartendery types voted her to win the Person of the Year presented by Orlando.
So this episode is one I recorded with Cara back in July 2022 when the podcast was just a few months old — in it Cara talks about writing, how and why she got started on YouTube, what works on YouTube, and loads more. Congratulations again for the win, and thank you to Orlando for sponsoring the award.
You can listen to the latest episode above, in the Apple Podcasts app, on Spotify, or your podcast player of preference.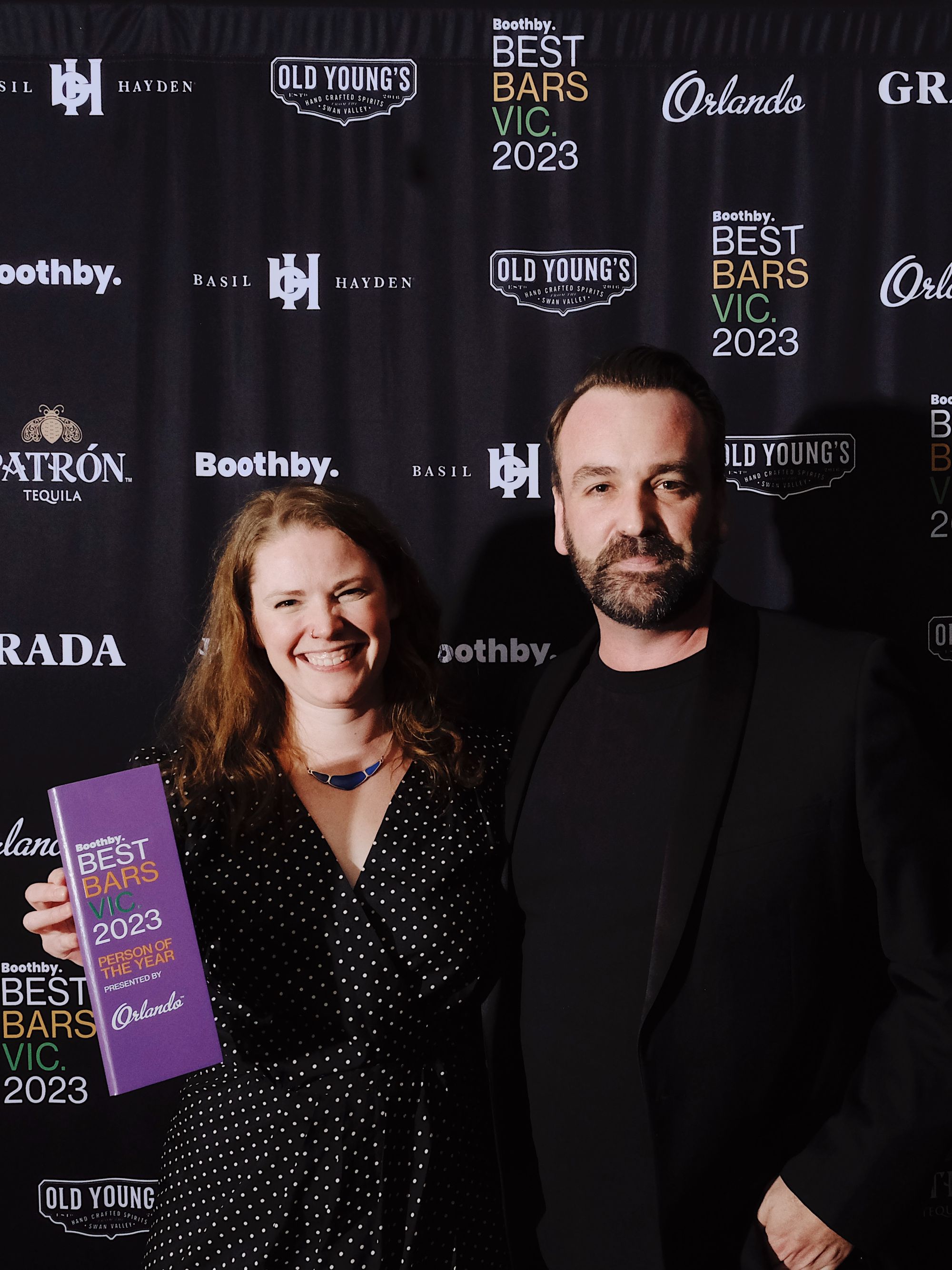 "That is just what I'm like."
If you spend enough time on YouTube, you'll begin to notice some common tropes unique to the platform. There's the titles for a start — often written in all caps lettering and adorned with not one but several exclamation marks, they do tend to scream for your attention. Because that's what it's all about: getting someone's attention.
You'll also notice a style of presenting. It's often one person speaking directly to camera, and there's a lot of exaggeration and a fair whack of shouty people.
But it doesn't have to be that way. As Cara points out, YouTube and the people who watch the videos tend to reward authenticity.
"On YouTube, they talk a lot about authenticity," Cara says. "People can tell if you're not doing something how you would... in real life, I suppose. So I think in terms of the actual speaking style and just how I explain things — that is just what I'm like and I'm writing the scripts, and I'm saying it."
Being herself seems to work for Cara, so don't feel like you need to adopt the YouTube persona if you don't want to.
"That did take a bit of initial investment from the guys at Bomba."
How cheaply can you set up a YouTube channel? Well, the platform costs nothing to use, and just about everyone has a decent quality video camera on their phone these days, so the barrier to entry is virtually non-existent.
But as Cara mentions, to increase the production level on any given video not only requires better equipment, it also requires proper editing and most importantly, time.
"Josh, who was the original partner, he is a very well renowned cameraman, who had all of his own equipment," Cara says. "So even on shoot days, because it was just the two of us, he would do two different cameras, one sort of static one and one for close ups and things like that. He was also doing the sound and lighting, because I don't know anything about any of that. So it was a pretty amazing feat that he managed to do all to that same [high] quality. And then we've always outsource the editing, because it does take quite a long time.
"I'm a bit of a perfectionist. So I do like having a pretty, high quality production."
Better equipment, more people, more time might equal better production values — and Cara's videos do look great — but it also results in more cost.
How does Cara make money on YouTube?
Is YouTube paying all Cara's bills? No, it's not — but it's not a pro-bono proposition either.
For a start, as we discussed above, the production values on Behind The Bar With Cara Devine are pretty high for a YouTube show, and that costs money — but it might be a net positive if those higher production values result in a better product and higher viewership, which in turn opens up the possibility of sponsorship deals.
"I'm not gonna lie," Cara says, "the amount of production that goes into Behind The Bar is pretty intensive.
"I guess in terms of the financial aspects of it, basically our ad revenue from YouTube pretty much just gets fed right back in to cover the editing and things like that. And then it's just sponsorships and things that are above and beyond that. So [the YouTube channel is] basically sort of self sufficient, but I'm not retiring on a yacht."
That isn't to say that there isn't the potential for Cara to do this full time.
"Maybe I just need to bite the bullet and give up Bomba and just do it full time, like, there's a tipping point there, if you actually just put in heaps of effort. But I think doing it the way that I am where there's only so much time and content that I can actually produce in a month, it's always just going to be a bit more of a side hustle, I imagine."