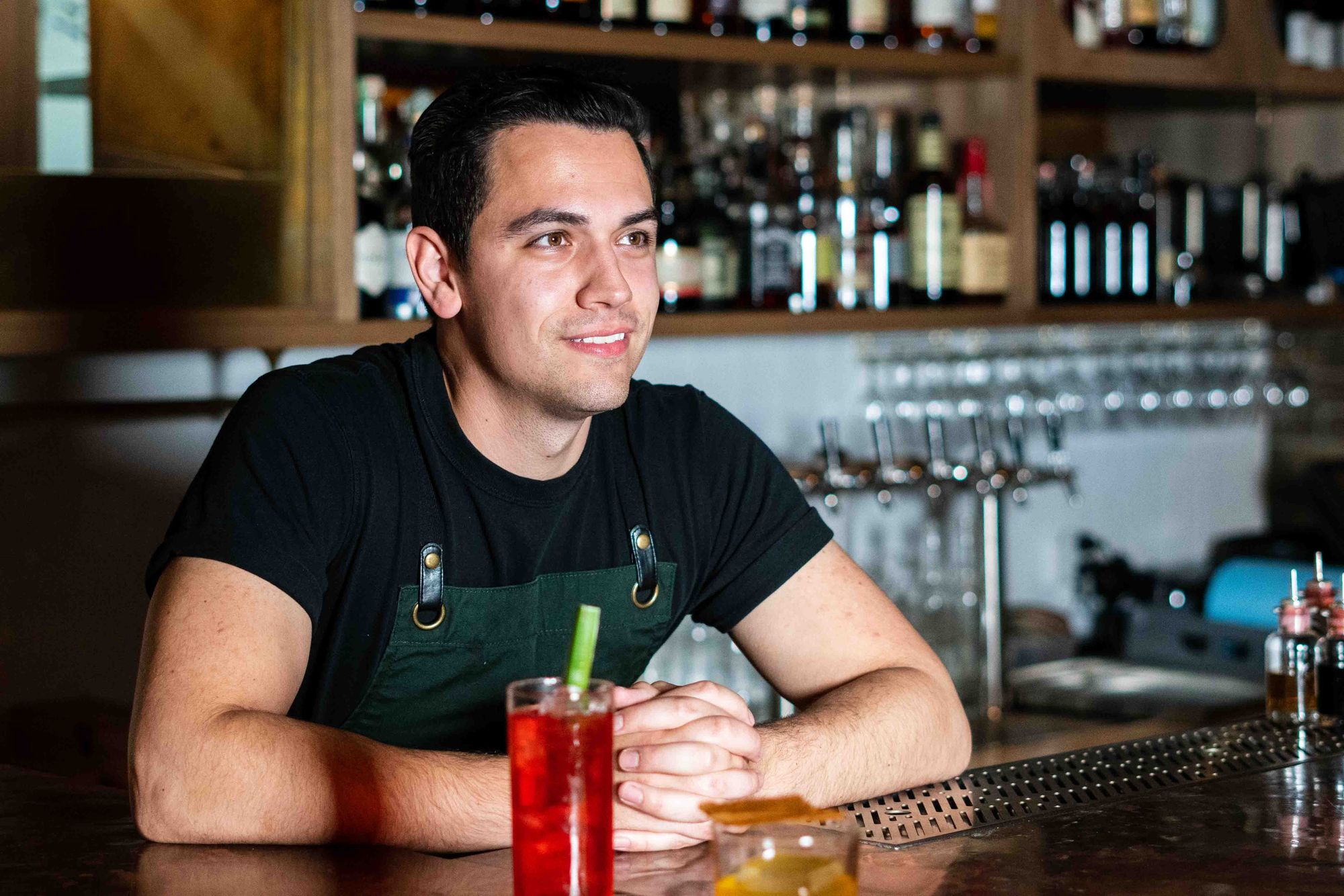 As The Rover — nee The Wild Rover — approaches its 10th birthday, Alex Gondzioulis sheds light on how they revamped the drinks, and how he's tackled the move from managing three people to 40.
If you've been reading these pages over the last few weeks, you will have noticed we've featured a couple of cocktails we love from Sydney bar, The Rover; it's the Surry Hills bar that once was called The Wild Rover, and is all grown up now (and entering its 10th year of service). The drinks there are some of the best we've had this year, and that's due in no small part to the guy behind them: Alex Gondzioulis.
He's the group bars manager for Liquid & Larder, the hospitality group owned by Warren Burns and James Bradey and behind Sydney venues Bistecca, The Gidley, Grandma's and The Rover.
It's no surprise that the drinks are great, either. Gondzioulis won the title of Bartender of the Year at Australian Bartender magazine's Bar Awards in 2019, and was running things at the multi-award winning Bulletin Place until he made the move to Liquid & Larder in 2021.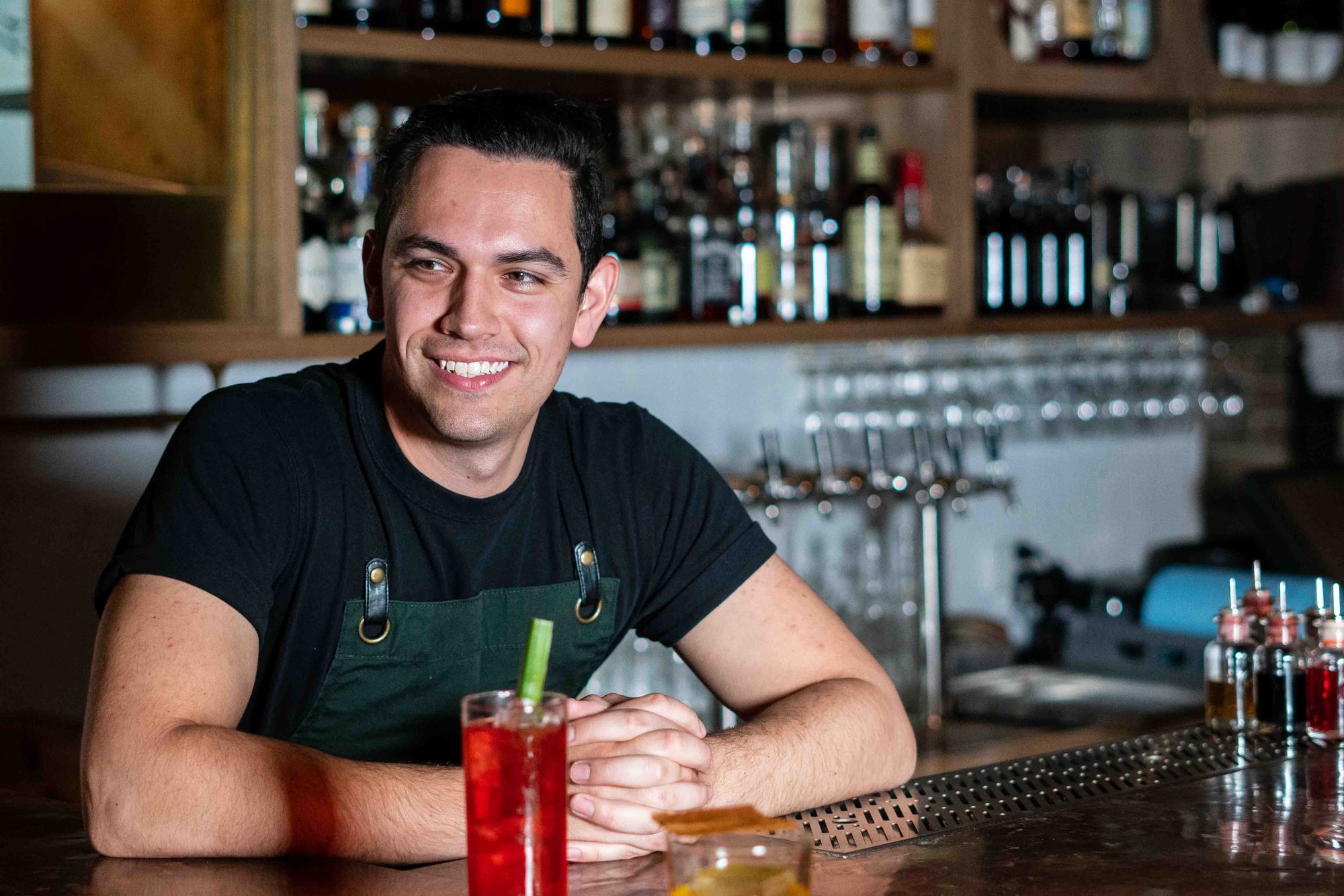 Sam Bygrave: So is this an evolution of The Wild Rover?
Alex Gondzioulis: That's what we're calling it. It's definitely an evolution of the brand — it's effectively the venue growing up. I think when Waz and Jimmy, the owners, talk about it, they talk about how when they opened this place, they were very different people to how they are now. And they'd like the venue to reflect that growth, but also the growth of the area as well. It's an evolution, it's not a complete change, or a complete redo.
So the sort of Irish focus is...
It's there in spirit and not so much in offering; much to the chagrin of some people, the Guinness is gone. We've still got some Irish whiskey. The intense Irish shanties and Mumford & Sons on the playlist is gone. It's more of an Irish tavern in spirit, that welcoming atmosphere and delivery of service. But yeah, it's more like a grown-up, New York chic, cocktail wine bar, with a pretty killer kitchen as well.
In terms of the cocktails you're doing here these days, how are they different to the old days? Because they look different to me.
Essentially, when I was given the brief for the place, it was a very sparse brief, it was kind of like: use an Old Fashioned as a baseline and make some drinks that fit The Rover — we have an idea of what we want The Rover to be, but it could be a bar for anybody. So what I wanted to do was take what we were already doing, which was pretty easy to understand,  neighbourhood kind of drinks, and just elevate that all up. So new techniques, new flavours, bringing fresh market produce, which is kind of my bread and butter anyway, bringing that in, making it a really tight, small list. I mean, it's 10 cocktails and a couple of non-alcs, so it's by no means a big exhaustive list. I think the list beforehand was a bit too big, a bit lumbering.
You don't see a lot of big lists any more, because it's hard to execute everything well, right?
Exactly. And then eventually you just end up doubling up. Realistically, how many stirred whisky drinks are you going to do that are different to the other three that are already on your list? It's just not gonna happen. The goal was to bring something that was similar in terms of the approachability, but elevate all of the backend that maybe the guest doesn't see and will get told about if they ask, and for it to be evident, effectively, in what you taste.
You opened in March, how has the response been so far?
The response so far has been great. I think people have really jumped on the change and have enjoyed it, engaged with it. What we found is we kind of wanted to bring wine a little bit more to the forefront of the beverage program.
And that sort of fits in with what the rest of the group is doing.
That said though, you open a bar that's known for cocktails and beers and stuff for eight years, the guests are going to still want that. So cocktails are still insanely insanely popular. They're the bestseller by far, they outsell food three to one — it's still absolutely the focus it's what people are wanting to drink.
The place looks good, too.
Jimmy [Bradey], I think he's put a fair bit of work into how he wanted the place to look and feel, which is very much in his wheelhouse.
What's with this little room next to the bar?
It's our semi-private room; private in the way that you can't really see it that well. It's a big booth — we call it the Boom Boom Room. I don't know how that name became a thing. It's just a space for bigger groups, we don't have a lot of space for groups larger than six. And that can fit about eight.
So what happened with upstairs?
It's coming. We're going to do something. I don't actually know yet what it's gonna be, whether it's this but upstairs or more dining or more bar.
So it's all up in the air?
It's all up in the air at the moment. It still looks like it used to go eight years ago upstairs. But something will happen eventually. This [downstairs] has been so popular and done so much — if anything, it's done better than we expected — that we've got to really think about upstairs.
That's a good problem to have. I suppose keeping it to one floor at the moment with the staffing crisis doesn't hurt either — you can actually staff this bar.
Absolutely. I mean, it was a bit grim when we opened. I think it's the probably the first and maybe the only time I'll see both our owners and our other two heads in service. Every so often you'll see Jimmy and Warren working host at the restaurant. But we've got 14 [staff] now, it makes it a lot easier, that is one floor. Granted, we need more staff for the style of service. Now it's all table service. It's seated only. So you need more staff to do that kind of style.
Has that service style helped turnover? Is it doing better than having everyone just sort of standing and running around doing whatever they want?
Well, I mean, looking at the numbers, yes in terms of money and per head spend has gone up. But we've done other things to do that anyway.
Is it because you get to spend more time with the guests?
Absolutely. You spend more time with them. People get their own space. And I think if there's one thing that Covid has taught us — Covid taught us a lot of things — but it taught us one thing, is that people like having their space, that the idea of being jammed together like sardines is less popular now. I think I talked to Dean [Simpson] a while ago before this place opened, and he said, we've been wanting to run The Wild Rover as a sit down bar where you had a bit of table service, very casual, but a bit of table service for years. And no one wanted it. And then Covid happened and everyone had to do it. And then they found out, Oh, we like this. And now the concept lends itself more towards it anyway.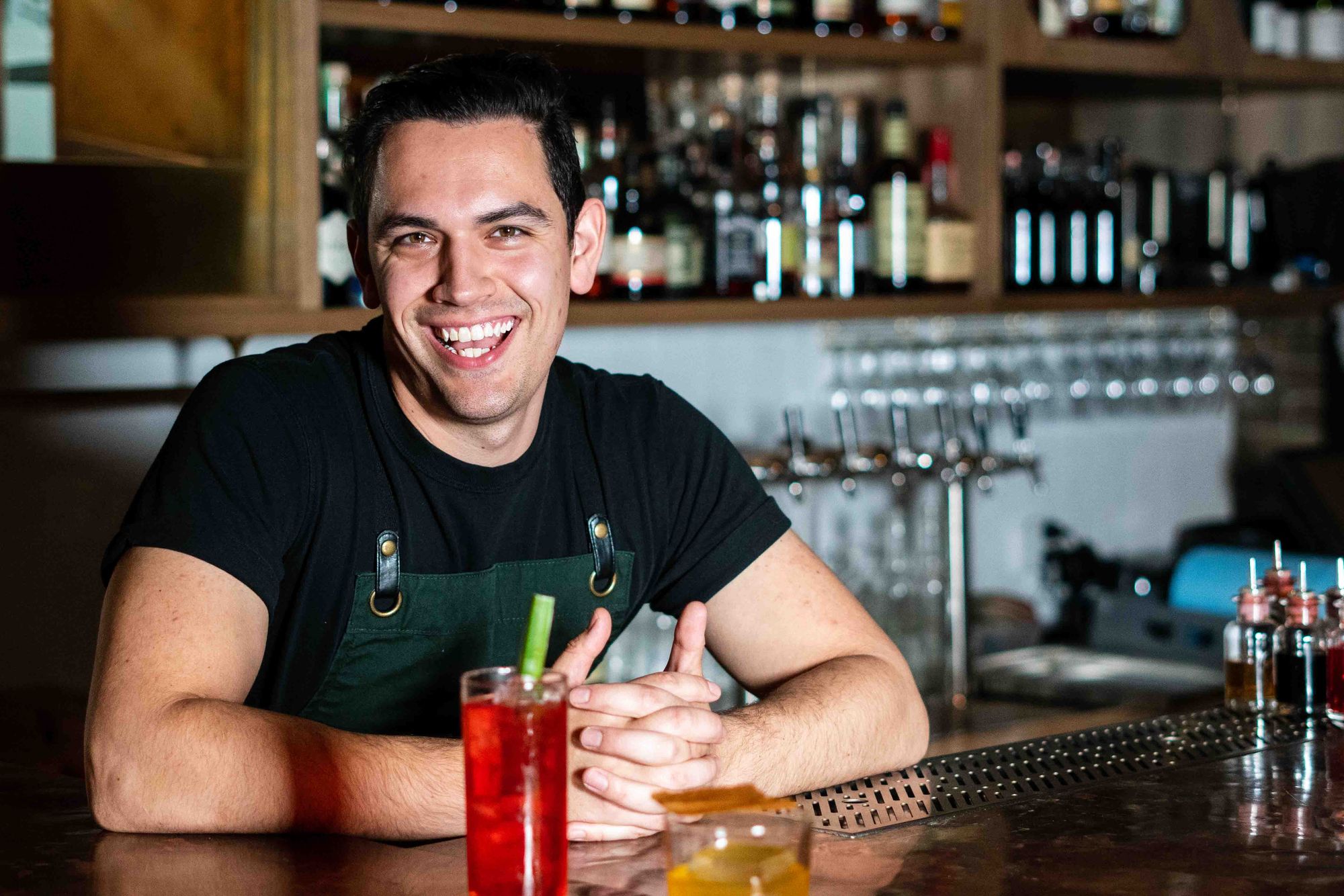 So what's the food offering?
So it's seafood-driven. The big thing being the [rotating menu of] oysters. We'll get them in every few days, where it comes from will vary depending on the situation. It was a bit grim at the start with all the rain, we only had one type of oyster when we opened, but we're up to four now and will probably max out at six.
The rest of the food is designed to share, seafood-driven as I said, with a couple of other options. The sausage roll is still there, the famous sausage roll. We just have a bit of caviar too now, so some luxe stuff too, as well as the more rustic stuff.
You've gone from running a small bar, Bulletin Place — an intense place — but now branching out into four venues: Bistecca, The Gidley, this place and Grandma's. What does that change for you?
The role is group bars manager. What it means is that I sort of look from a creative standpoint, over all of the beverage for the group barring wine — we have a group somm who does that — with a specific focus on service itself. So I'm the guy that comes in, helps write or does write the cocktail lists, helps with spirits, trains staff.
You're spending a bit of time in service at the moment?
Yes, when I interviewed for the role, it's a service-based role. So I might do a day like this, where it might be PR, admin, R&D, all that kind of stuff. And then the other four days on my roster will be service, I'll bounce around. So it might be lunch service at one of the restaurants, I'll work with one of the new guys, answer questions, help out. Might then go down to one of the other restaurants for dinner, do the first sitting and then come to the bars for the later part of the night. That's in an ideal world. If staffing is an issue, then I'm bartending. So I think the first couple of weeks here, when we had a pretty sparse team, I was Friday, Saturday nights in the bar. It was like old times.
Very good. How are you enjoying the change?
It's awesome. It's given me a lot more independence. I get to  set my own roster, I'm not so much responsible for the rosters of the venues. So I can pick where I need to be when I need to be there. That's awesome. And then it's so much more. Bulletin Place was very much like, service, guest, creative. There's this other element with this role that is team, people, development. That's been a big part for me to learn, which has been really interesting. Doing leadership training, constant progression reports, meetings, learning how to get a team driven, or at least get my management team driven so that they can drive their team. It has been a massive learning curve, but it's been really good.
Because I guess, like, at Bulletin Place it was a small, tight-knit crew.
I mean, there were aspects of learning how to manage people there as well. But when you're managing three people, well you're managing three people and that venue definitely gave everyone a lot of freedom to do whatever they wanted with beverage, which is unlike most other venues in the entire industry. It's very different to going, I'm responsible in a way for 30 or 40 staff. And not only that, there's four managers under me that I need to work with, and general managers as well who have separate but similar goals.
You're in a bigger team, in leadership, but also part of a team. Is there a bit of politics that you've got to deal with at all?
Not as much as you'd think. So much of it's about understanding what they need from you first, right? And then kind of making yourself or what you need apparent. You can't just come in like a fucking whirlwind and go, "Do this. Do this. You've missed this. You've missed that. Drinks need to look like this, this drink's shit, what's going on over here?" Because no one's gonna like you. It doesn't matter about the size of the venue — if you do that anywhere, sure, you're gonna have a fucking terrible, terrible reputation.
It's about learning, seeking to understand, then trying to be understood after that. And then working together, making it clear to whoever you're working with — bar manager, GM, whatever — that you guys have the same purpose and the same end goal, and that we're responsible for different parts to achieve that same goal. Doing that is tough. But it's so important. And that's what I've had to learn the last few months.