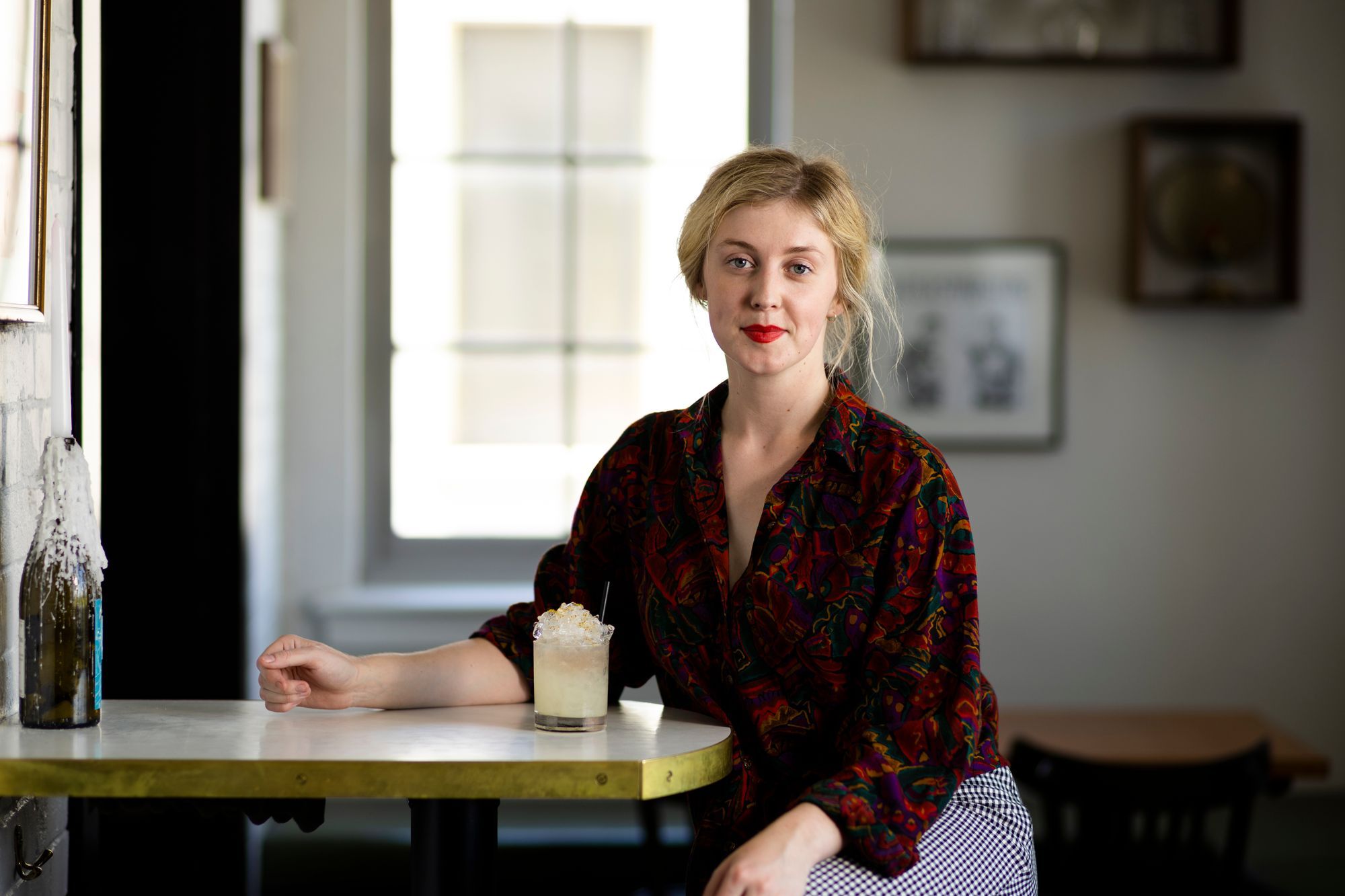 Bar Rochford's bar manager talks about Canberra's vibrant scene, and what to expect from one of Australia's best bars.
Ask people who get to Canberra regularly — whether they're brand ambassadors, bartenders, or restaurant types — about their favourite bar down there, and you'll find that they typically come back raving about one place in particular: Bar Rochford.
Bar Rochford regularly appears in lists of the country's best bars — Gourmet Traveller named it their bar of the year in 2018 — and it's their equal focus on service, great drinks and brilliant food that you'll find people talking about. It's an all-rounder kind of a place, as bar manager Liv Kelly tell us here.
Below, lightly edited and condensed for clarity, Kelly tells us what we can expect from Bar Rochford (and why it's still her favourite bar to sit at), how younger people are injecting passion into Canberra's bar scene, and more.
Sam Bygrave: How would you describe Bar Rochford for people who haven't been there?
Liv Kelly: It's equal parts, food, music, wine, and cocktails — we strive for really sharp restaurant service, up until about 10:30pm. And then aprons off, lights go down a bit, music a bit louder, and then [it's] much more of the bar service, which we really enjoy.
How long have you been there? What's your what's your role at Bar Rochford?
I'm bar manager here at the moment, and I've been here for a bit over two years now.

What is it about that place that you love?
Look, I think I can speak for everyone that works here, even though we spend every day here, it's our favourite bar. I still love sitting up at the bar — it's always such a welcoming atmosphere. It's always so much fun. There's such a big offering. And yeah, it's still where I come on my day off.
Yeah, it's a place that whenever I hear people go to Canberra, they come back, they rave about the place.
That's really nice to hear, that's definitely what we aim for.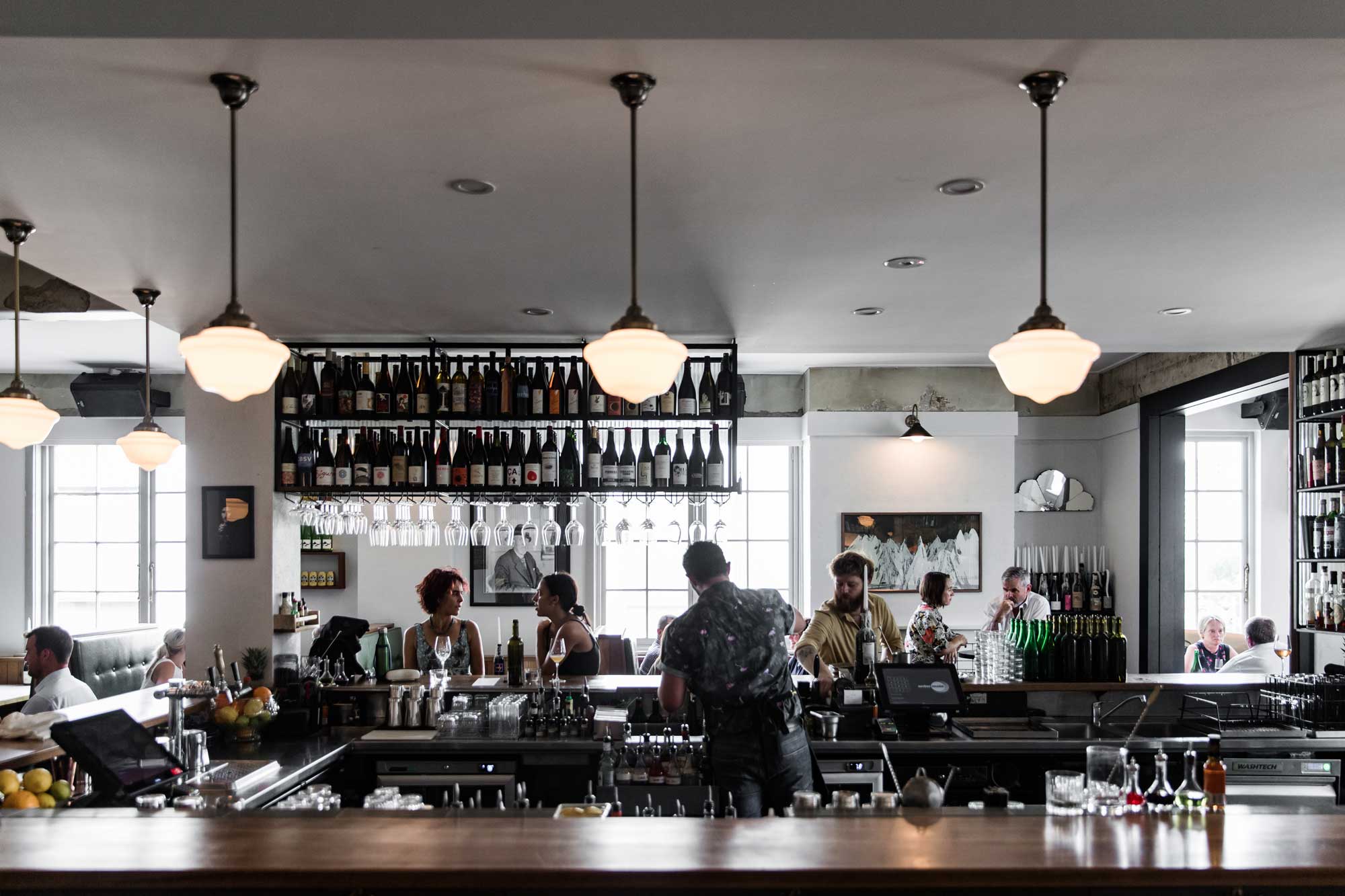 So how long have you been in hospitality — how'd you get started?
I started like, so many of us do, just accidentally as a 19 year old needing money. I started out barbacking about four years ago now at Hippo Co, which is a bit of an institution here in Canberra, an awesome whisky bar, and then just sort of gradually started to learn my way around the bar.
I ended up at Bar Rochford, which was always sort of my dream place to work. And then learning from my amazing mentors here, and then I sort of fell into management, pretty young, and I'm learning every day and really enjoying it.
How important are initiatives like Australian Cocktail Month in encouraging the punters back to bars?
An initiative like Australian Cocktail Month creates an intriguing and welcoming environment for booze explorers and veterans alike. I am especially looking forward to the world of cocktails and spirits feeling more accessible Australia-wide, and particularly within the sphere of Canberra this year. There is so much youthful and keen energy to the city's bar scene at the moment and I think that ACM will encourage people to delve deeper.
How would you describe your approach to hospitality?
Well, I'd say that definitely whisky was my first love. Followed closely by cocktails, and especially old classics, I love old cocktail books and learning about the historical structures of drinks that inform the way we make drinks now, that's still really important to me. I guess the second thing would be [that] accessibility has always been a big thing for me making sure that this big world of drinks, that can be super intimidating, is welcoming for everyone. And I really love learning different ways to talk about the things that I learn to the person sitting across the bar from me, whether it be someone that's, you know, been drinking whisky for 20 years and might want to learn about a more obscure region of Scotland or whether it's, you know, a uni student wanting to branch out from Espresso Martinis. I think that's something I really strive to do in my service.
Where else will you be going for a drink during Australian Cocktail Month?
I can't wait to see what concoctions my dear friends at Miss Vans come up with this year. Swizz and Josh are two of the most creative minds on the scene in Canberra and always put out refined yet playful drinks. I learn a lot from them and their cheeky, bang-on service will make them a perfect stop throughout ACM.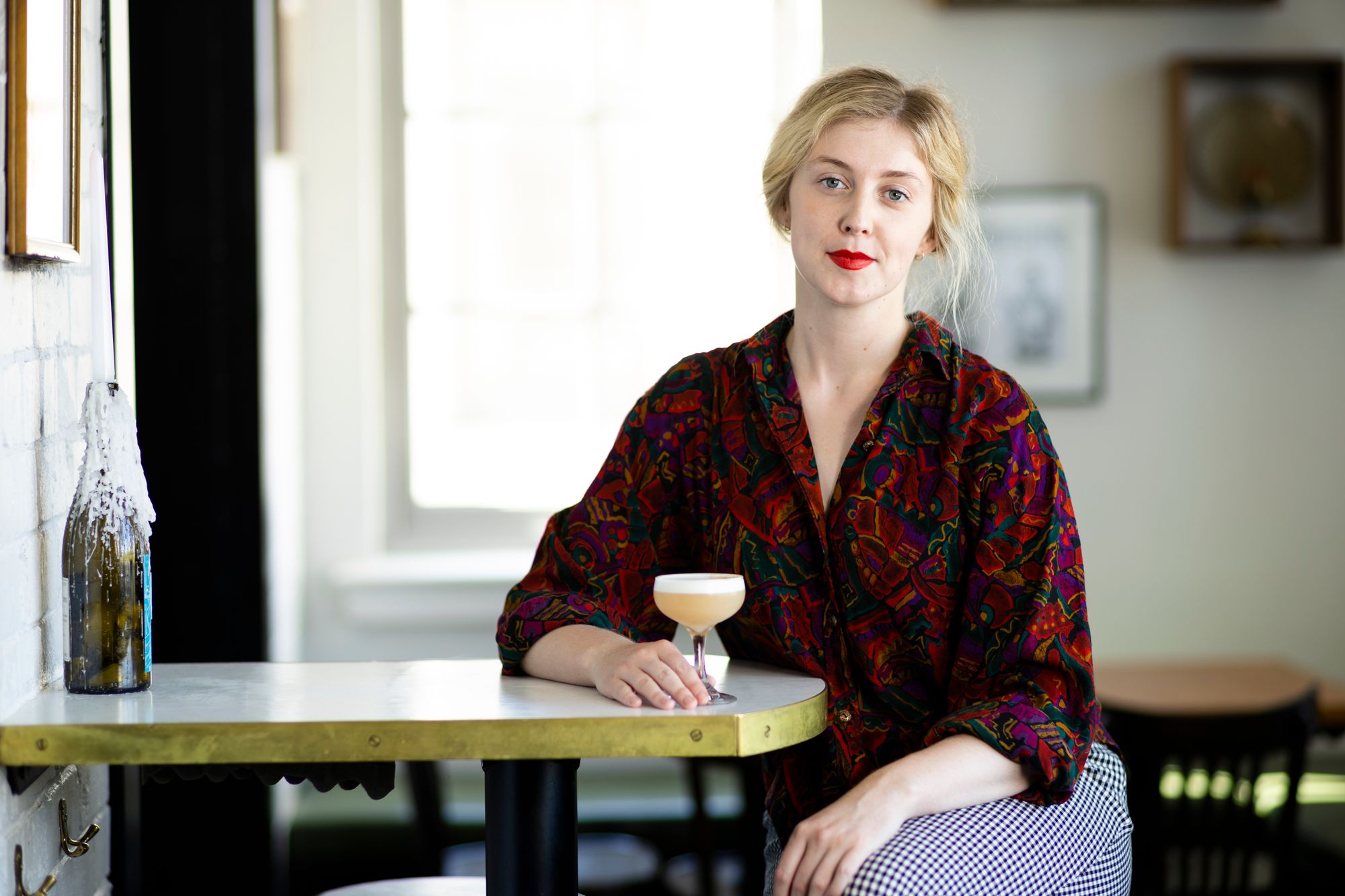 Are there any things that when you go into other bars, where you cringe a little bit because it's making things a little bit more elitist than they need to be?
I hate redundant garnishes. I think it's wasteful and I think it takes away from a really sharp drink otherwise, that's definitely something I noticed. Because I think that says a lot about a holistic approach to drinks.
Do you have any offending garnishes in mind?
I can think of one: pineapple fronds. Yeah, just the lone pineapple frond. It really bothers me. What's it doing there?
Yeah, right? Do you have a go-to cocktail that you love to recommend?
One that my dear friend Lucy Pallett-Jones put me on to, it's a Sasha Petraske number called the Fallback. Rye whiskey, applejack, Amaro Montenegro, sweet vermouth. I fell in love with brown stir-downs sort of early in my cocktail journey, and that's probably my favourite one. I think it's great for people that already love brown stir-downs. It's also a really nice sort of gateway into the world of them.
How are things in Canberra at the moment? What's the scene down there, is it easy to find bartenders to work at the moment?
I think shortages are occurring everywhere. But something really exciting about the scene in Canberra at the moment is the amount of young people looking to enter the industry. Despite the industry's hardships in the past couple of years, I think if you go to any bar you'll notice this youthful excitement, you know, people standing alongside their veteran mentors and just really excited to learn. So I think that's a really exciting part of the scene at the moment.
I think also, just the sort of larger demographic of people looking to get into drinking a bit more deliberately, if that makes sense. So you know, I guess, people wanting to learn more about classics and vermouth and sherry and stuff is something I've noticed has been happening a lot more on the scene here, which is super exciting.
People are actually asking about vermouth?
Yeah, younger people and just people wanting to sort of expand what they're drinking. I think it's really cool to see.
What do you what do you think's behind that?
I'm not sure. I don't know. Maybe people are reading more, I guess publications like yours, and people writing about these bars doing cool things, I think always helps.
Yeah, it's interesting to me, because it's always been such a bartendery thing. I mean, no one cares about vermouth, even among bartenders — they're like, okay, I guess I care a little bit. But, you know, the, the fact that things like that and are getting a bit more popular with the general public astounds me.
Yeah, definitely. I think also, this culture of wine bars, and the more casual fine dining scene could be set to increase that because you're looking at drinking as part of this whole dining experience — it's a sort of different format, you know, your starter, your finisher, that sort of thing.
I wonder if the natural wine thing's got anything to do with it, too, because people are getting a bit more used to having things that are a bit more challenging?
Yeah. Wanting to know how it's made, where it's from, that sort of thing. Maybe not in depth so much — as you said, most of the time, we don't care. We just want a nice drink. But I think there is an element of that.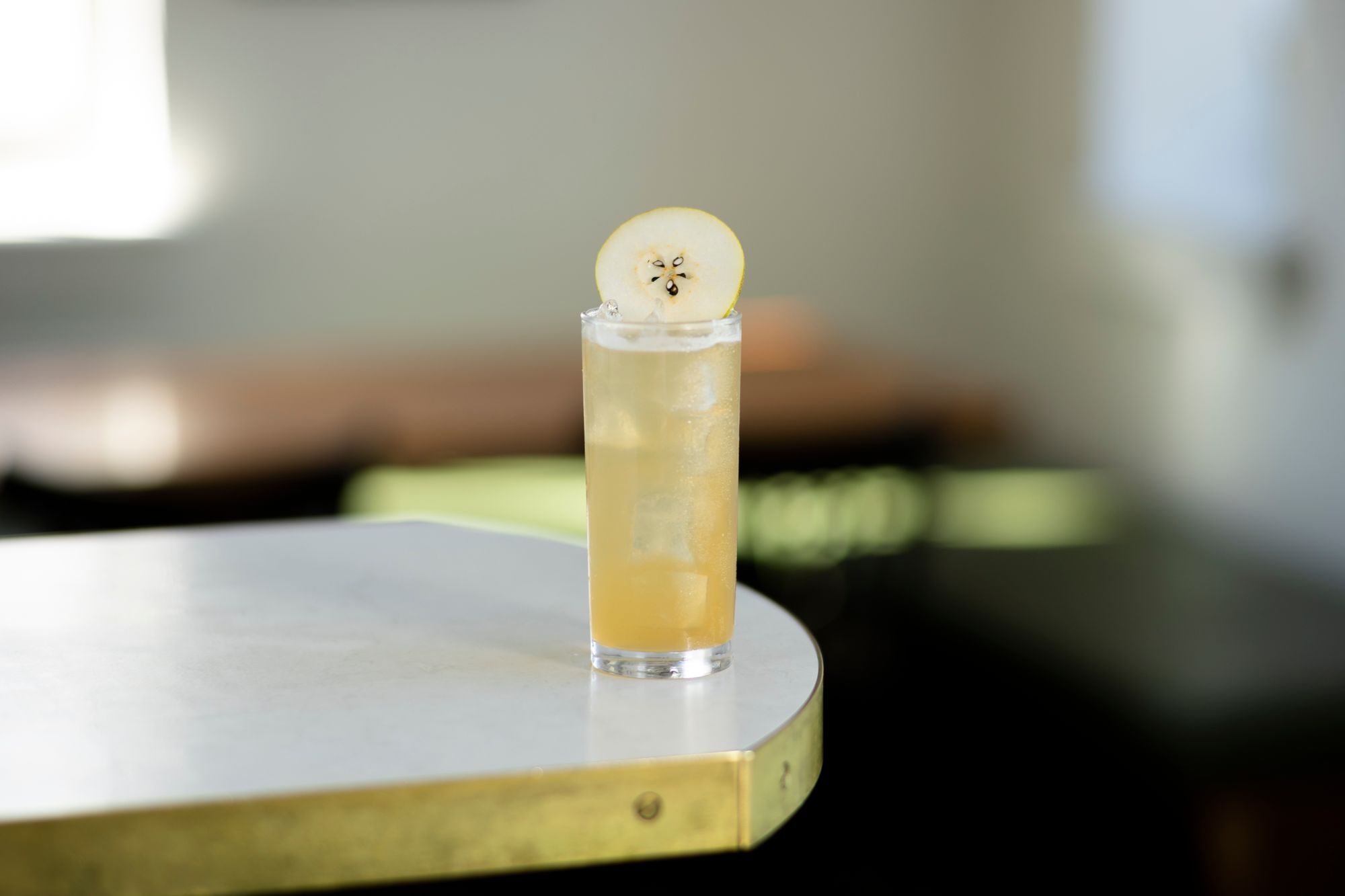 Midnight Marauder
Ingredients
45ml Black Sesame Bacardi Ocho
15ml apricot brandy
30ml nashi pear juice
15ml lime
top with Fever-Tree Soda
Instructions
Shake all ingredients with ice, and fine strain into a chilled  Collins glass over ice. Garnish with a nashi pear wheel.
Recipe from Bar Rochford, Canberra, for Australian Cocktail Month.