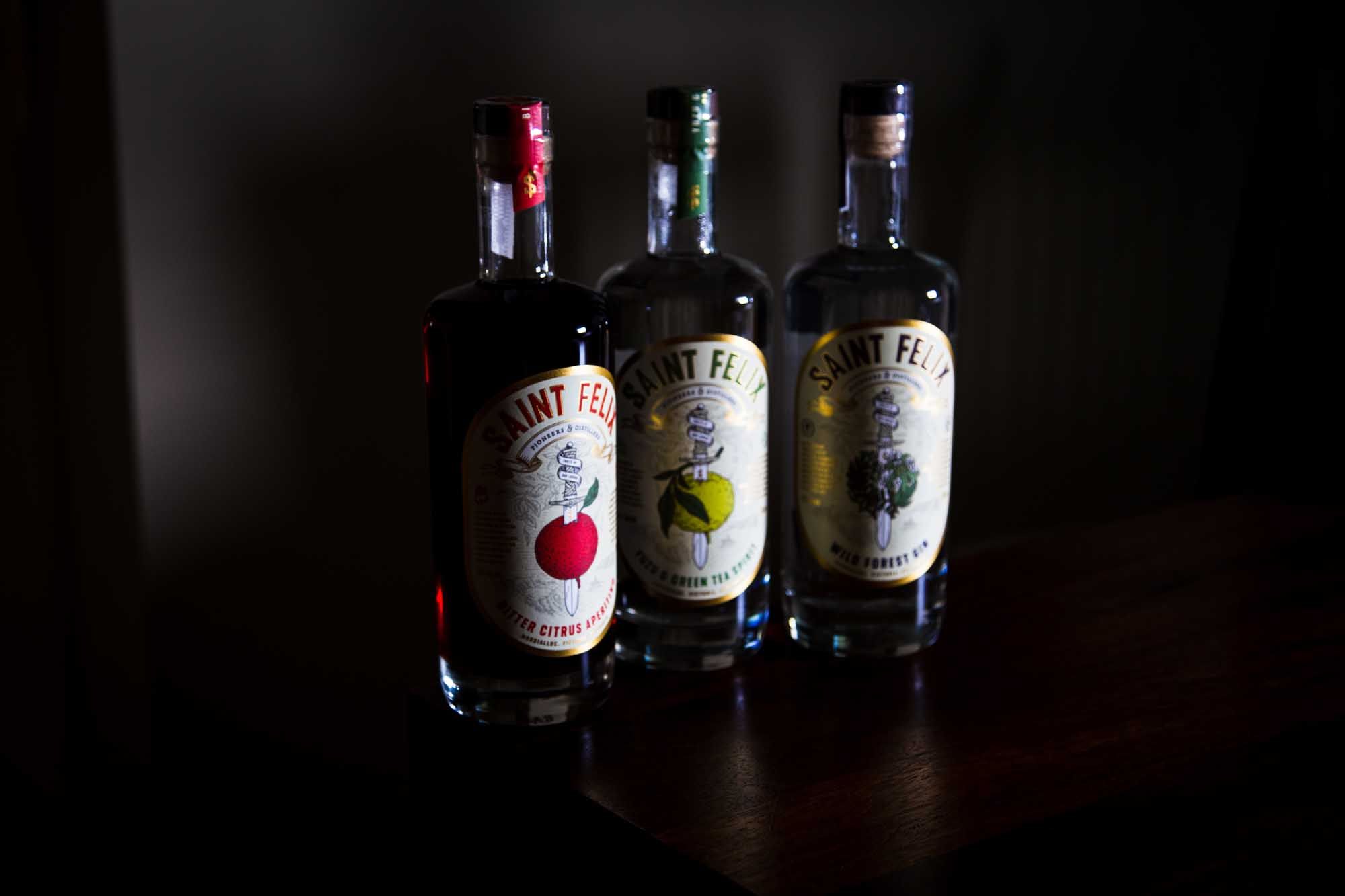 Here, we take a look at three bottles from Melbourne's Saint Felix Distillery: their impressive Wild Forest Gin, the Yuzu & Green Tea Spirit, and their Bitter Citrus Aperitivo.
From time to time, interesting bottles cross our desk; we don't review every one, just the bottles we find notable. These reviews are independent and not linked to advertising.
Prior to the pandemic last year, the Australian craft spirits scene was booming; just about every week would see a press release touting the launch of a new brand (usually a gin — and often containing lemon myrtle).
It's too early to say what the long lasting effects of the pandemic will be on the spirits boom, but if we continue to see impressive Australian distilleries like Saint Felix popping up, the Aussie spirits industry will be in good health.
Saint Felix is a distillery based in Mordialloc in the suburbs of Melbourne; it sits within Urban Grounds, a site that is also home to a bar and cafe, a beer garden, and a rotating weekly selection of food trucks.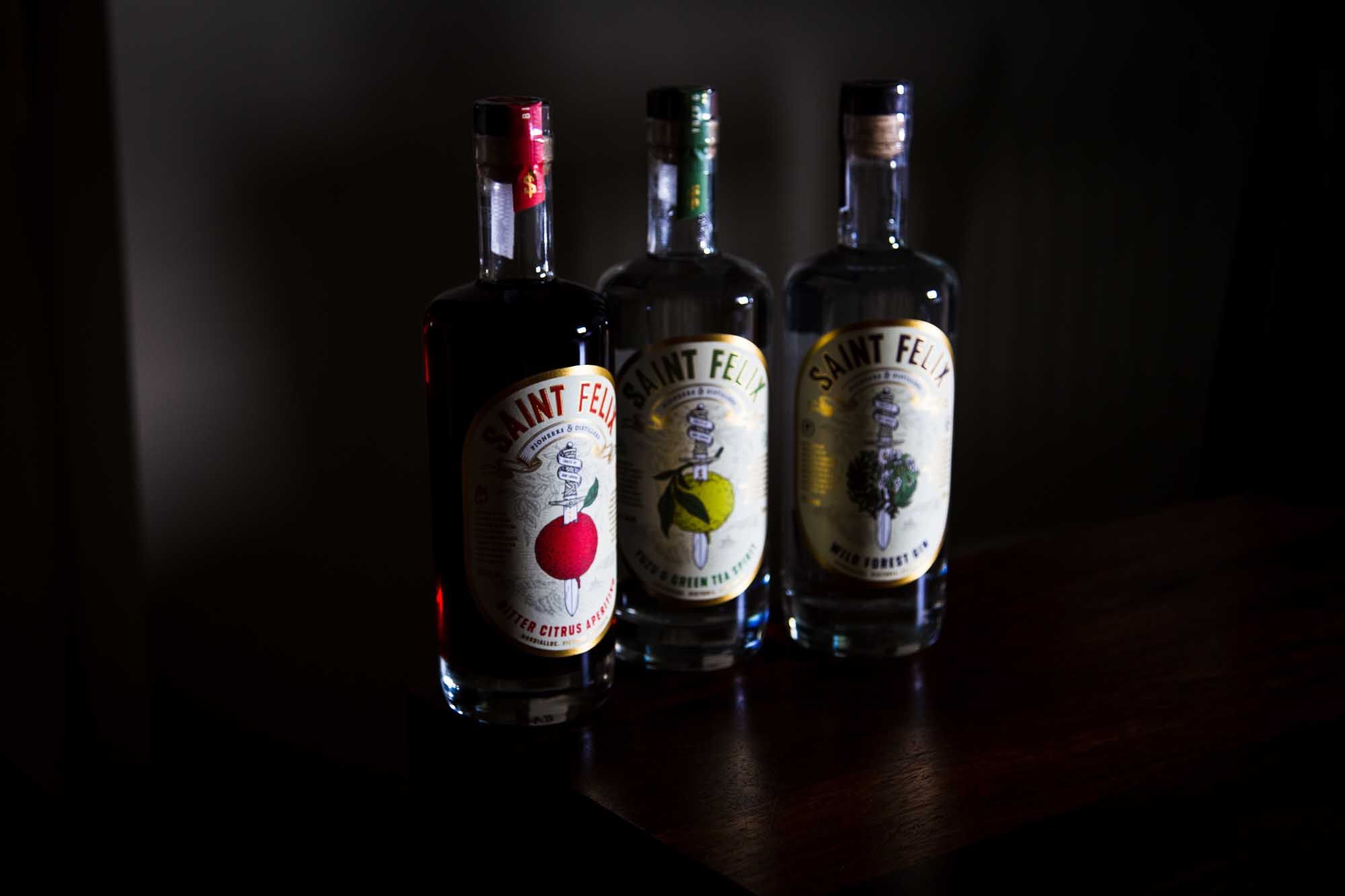 The bottles themselves are appealing — the label design is striking — but it's the way what's within the bottle comes together that Saint Felix stands out.
Xavier Nalty is Saint Felix's head distiller, and you can see the benefits of his previous career as a chef in the spirits he's making; Nalty has Melbourne's Vue de Monde and Sydney's Moog on his resume, and was the head chef at The Rocks on the Mornington Peninsula. You can see a knack for flavour in the way the Bitter Citrus Aperitivo comes together, and the wonderful cast of aromas you pick up tasting his Wild Forest Gin.
Prior to Saint Felix Distillery — where he rejoined The Rocks owner Robert de Santis for the project — Nalty spent time honing his distilling skills at The Craft & Co in Collingwood, and spent time in France learning the craft at Calvados Christian Drouin. (Expect to see fruit brandies being released further down the line.)
They have also had some early success at spirits competitions, picking up silver medals for both its gin and its Yuzu & Green Tea Spirit, as well as a bronze for its Bitter Citrus Aperitivo at the Australian Distilled Spirits Awards in November last year.
Take a look at each of the spirits below.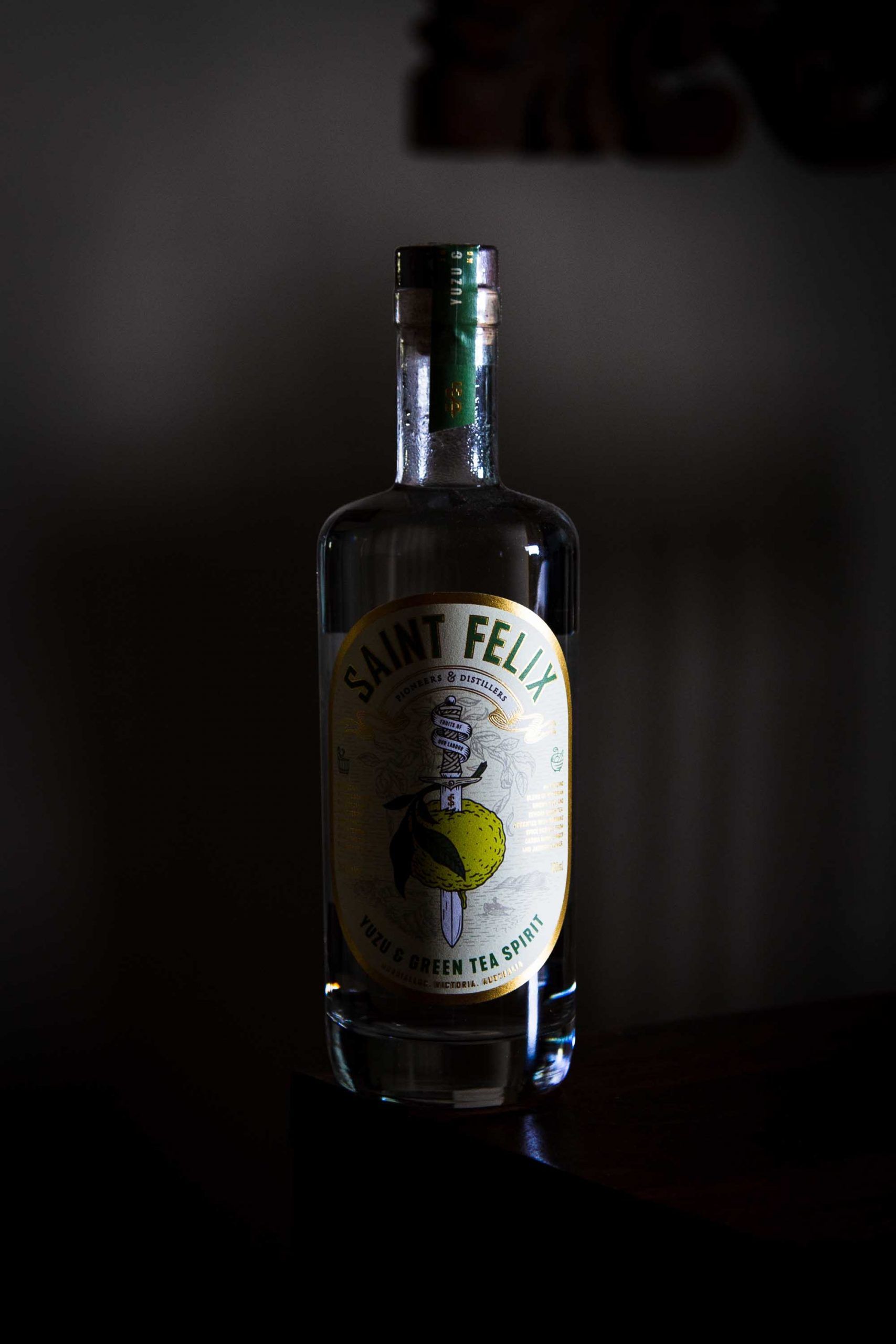 Saint Felix Yuzu & Green Tea Spirit
Pop the cork on the bottle and candied lime is the first thing that leaps out.
It's different, that's for sure. It's pleasant. The lime and nutty green tea notes are complemented by a cast of warming spices, which gives it depth — the finish is good, a little vanilla, a little floral but not overly so. It's lovely. What do you do with it, though? That I don't know.
It's not got enough punch to stand up to too much soda — it weighs in at a considerate 35 percent ABV — so don't drown it. But it's a pleasant sipper, something you might want in the afternoon sun. Keep it simple.
Saint Felix Yuzu & Green Tea Spirit – $69.90 saintfelix.com.au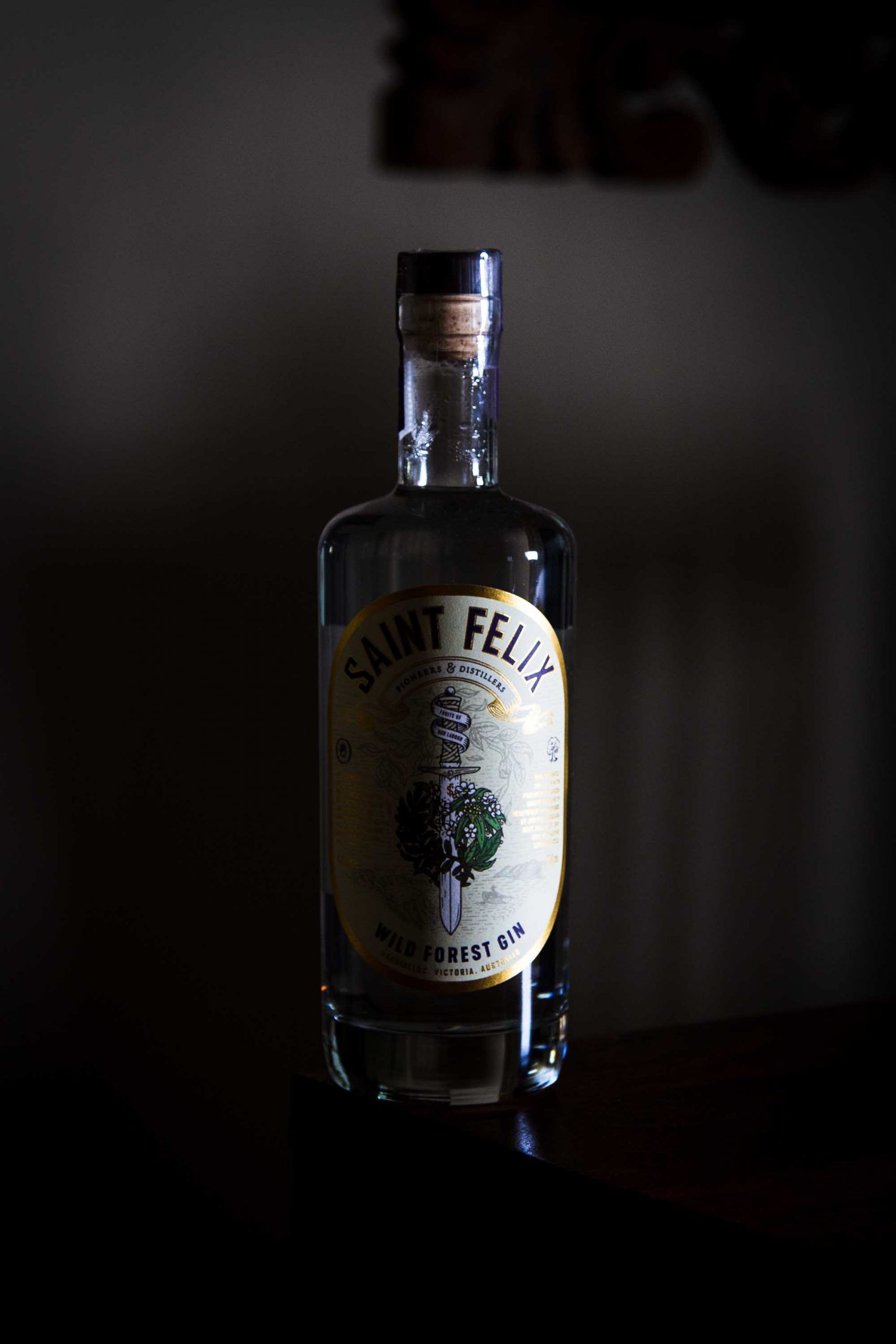 Saint Felix Wild Forest Gin
The big thing with this gin, they say, is that it uses mastic gum as a key botanical. But juniper is there too, along with warm spice botanicals, a little citrusy piney note from the mastic — it's delicious gin. It'd make a flavoursome G&T, the kind I tend to enjoy as move into the winter months.
I'm a big fan of the Alaska cocktail, a Martini variation which sees Yellow Chartreuse replace vermouth. And with the addition of a few dashes of orange bitters the Saint Felix Wild Forest Gin might just make the best Alaska I have had. It's citrusy but undergirded by this warmth and richness and just hits the fucking spot. Great products together in one drink, served bracingly cold. What else do you want?
This is the kind of gin that can find a place on anyone's back bar.
Saint Felix Wild Forest Gin – $79.90 saintfelix.com.au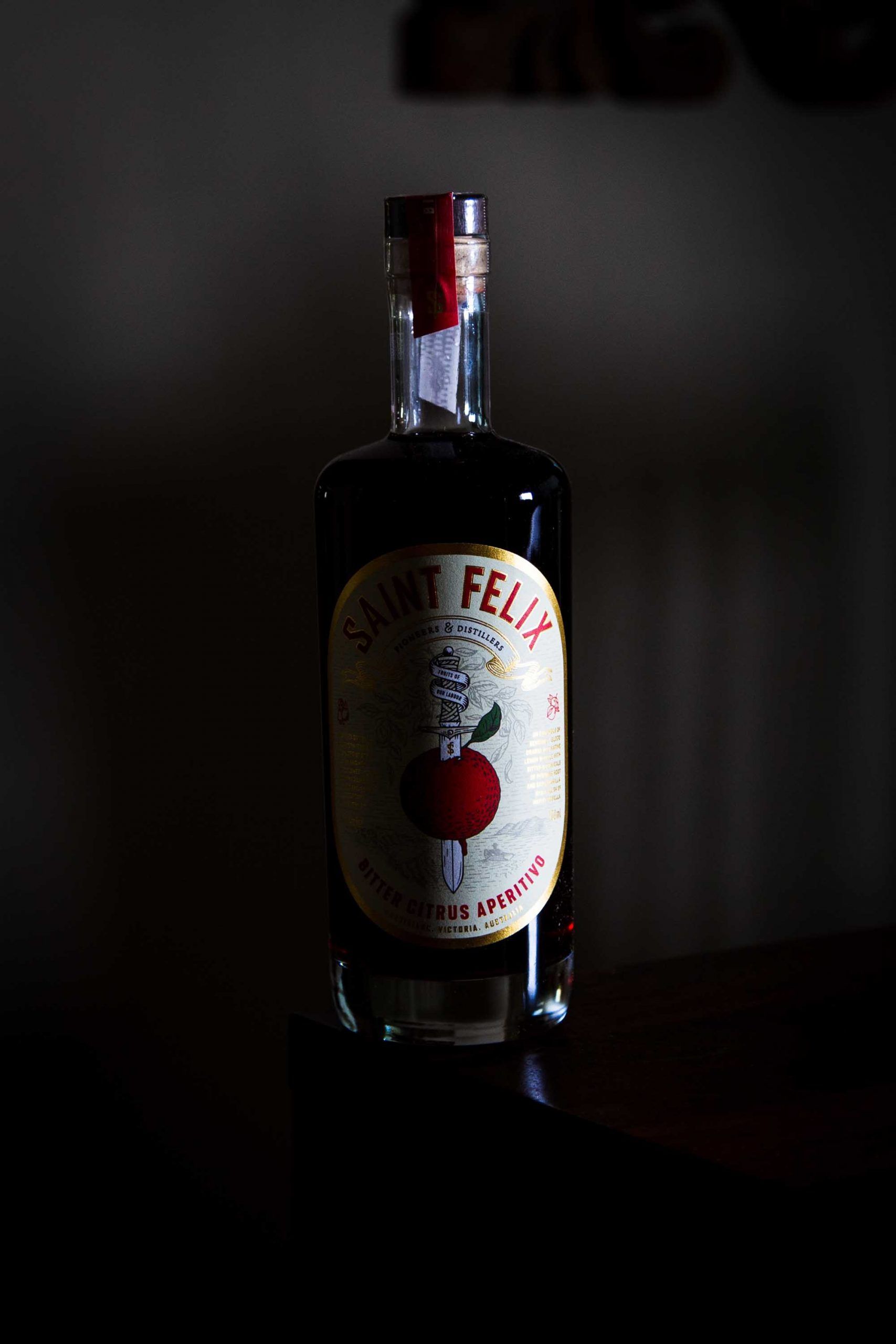 Saint Felix Bitter Citrus Aperitivo
Bitter? Citrusy? Aperitivo? These are words that make me happy — they also tend to be the drinks that make me happy, too.
People who pop the top of the bottle and don't reflexively stick their nose into the bottle — I don't know, I don't understand them. Because that's the first time the spirit has been released since it was bottled. Its first greeting of the world. It's not always pleasant, by the way, but I love that part because that first impression so often changes once you've poured it in the glass. My first impressions of this bottle? That's weird. It's different.
It's plummy at first nose, but that gives way to further notes: some spice, something a little earthy, some rich red fruit.
It pours cherry red in colour, like a light pinot; it's a little thin on first gulp, but go back to it and there's some real juicy fruit acidity happening, balanced out with sweetness; it's layered with flavour, there's a tea note in there, and it changes as you taste it. Super interesting. Splash that with some champagne, and you've got yourself a good time. Heck, switch it in for cordial in a lager top and you could be on your way.
It's tasty stuff. There's real fruit character here — not the semblance of something that used to be fruit. It's fresh and vital and put together nicely. There's an ever so slightly bitterness from tea on the finish, which just makes you want another sip.
Saint Felix Bitter Citrus Aperitivo – $41.50 saintfelix.com.au