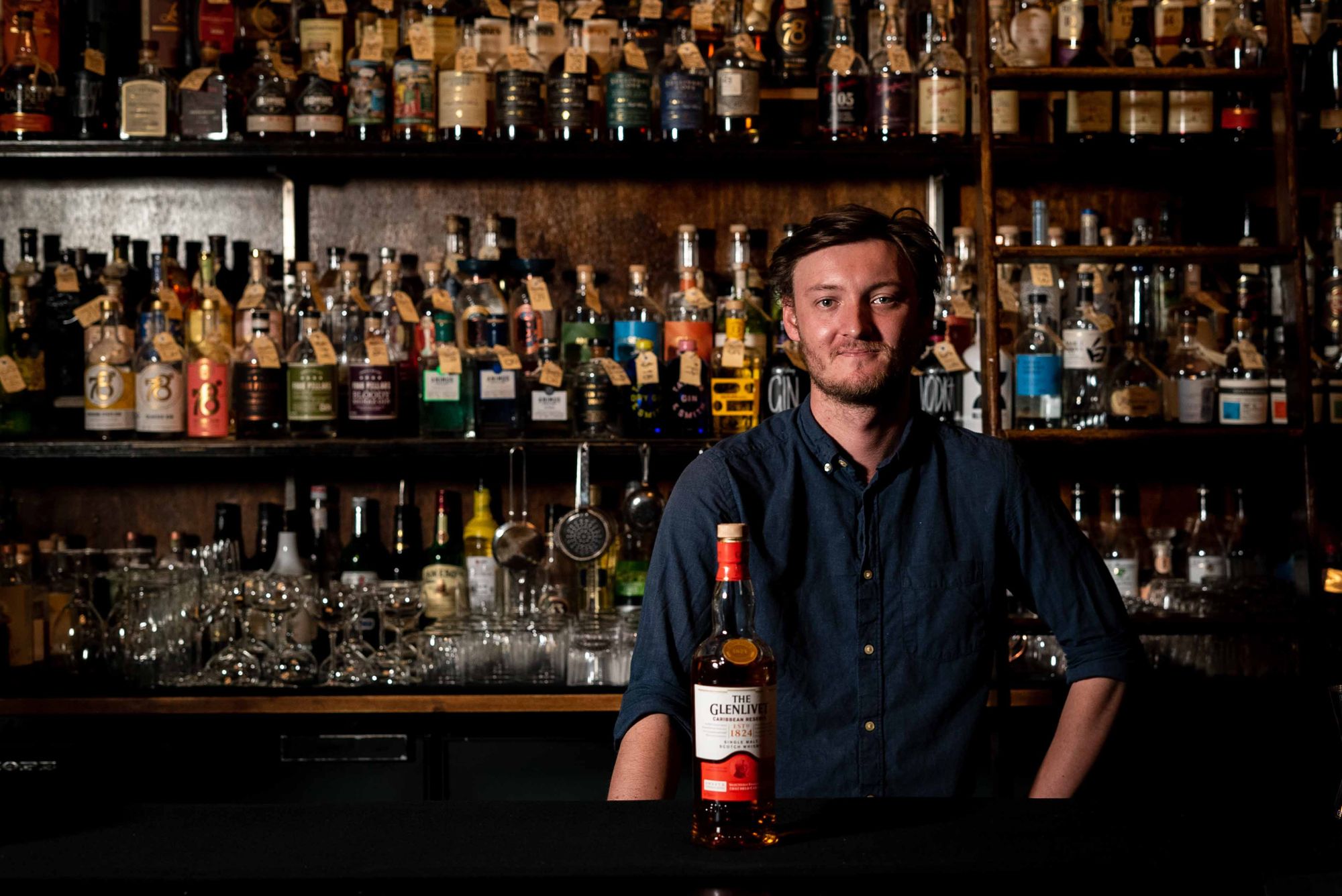 Bar manager Nick Sebar talks about "precision without pretence."
MADE POSSIBLE BY THE GLENLIVET

---
Welcome to a new series on one of my favourite parts of the bar experience: the drinks list.
A good drinks list — or cocktail menu, or whatever your preferred description is (I can never land on just one) —should speak to the bar it's in. You can pay all the money in the world for a fancy fit-out, but if your menu doesn't sit nicely with its surrounds you'll end up turning people off.
The latest list to land at Savile Row in Brisbane is a great example of a menu that ticks all the right boxes: right feel, great concept, and it suits the bar and its punters.
The Brisbane bar is six years old this year, and as bar manager Nick Sebar explains to me in the first video of a new series on The Craft of the Menu, they have a particular set of challenges to meet.
First up? The clientele. Savile Row is located in Brisbane's long-established party precinct, Fortitude Valley, a place not known for its discerning, craft cocktail-appreciating customers — and the drinks on the menu need to take that into account.
"We describe ourselves as a whisky and cocktail bar," says Sebar. "But at that same time, we try and walk that fine line of being a higher-end bar. Our thing is precision without pretence — I tell all of our staff that. We have an amazing product. Obviously, we have an amazing back bar as well, but our service is casual. It's a friendly party vibe. It's very Valley-orientated."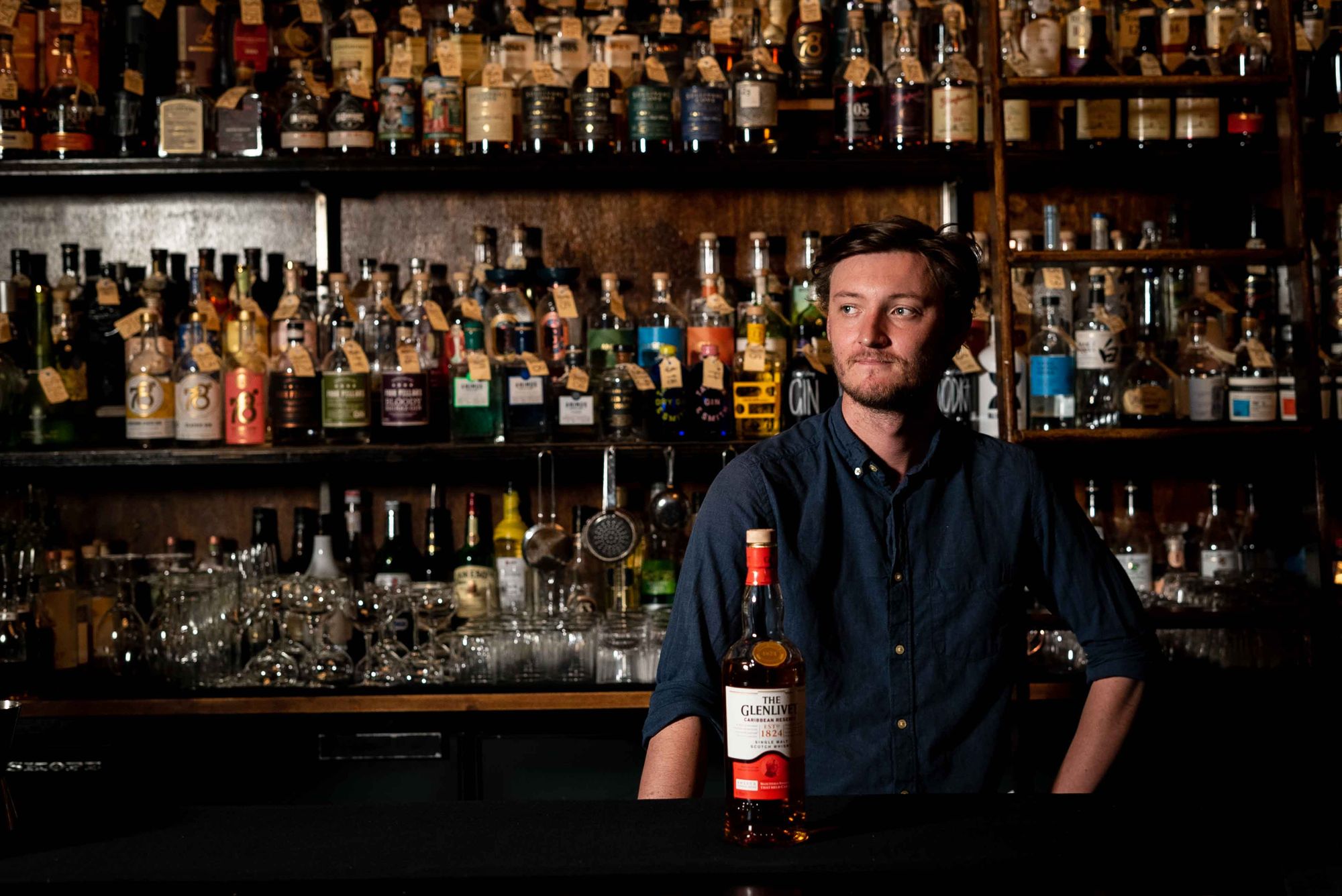 Second, they've got a considerable range of whisky — there is something in the scope of 1,000 bottles on the back bar — and that means that each new customer is confronted with a lot of choice.
"You're coming off the Valley, walking in here, no signage, it's dark," says Sebar. "It's a massive back bar. The last thing you want is your bartenders giving you a stiff upper lip and saying like, 'Did you walk in here by accident?', or 'You don't belong.'"
So with the cocktail list, they don't want to complicate things further.
Each of the 25 drinks is given a full page in the fabric-bound book, and presented clearly and simply. And each cocktail is presented on the page so as to give you what you need to know, quickly.
Take the Corduroy drink on the menu, one of Sebar's cocktails (and a favourite of his, no less). Each page comes with a simple illustration of the drink, so you know what kind of vessel it's served in and its colour. Above that illustration, is a brief descriptor of the style: 'Light and punchy' for this particular drink. There's another short descriptor next to that, 'A sweet take on the classic Martini' which gives you more information. You kind of know what you're getting by now, right?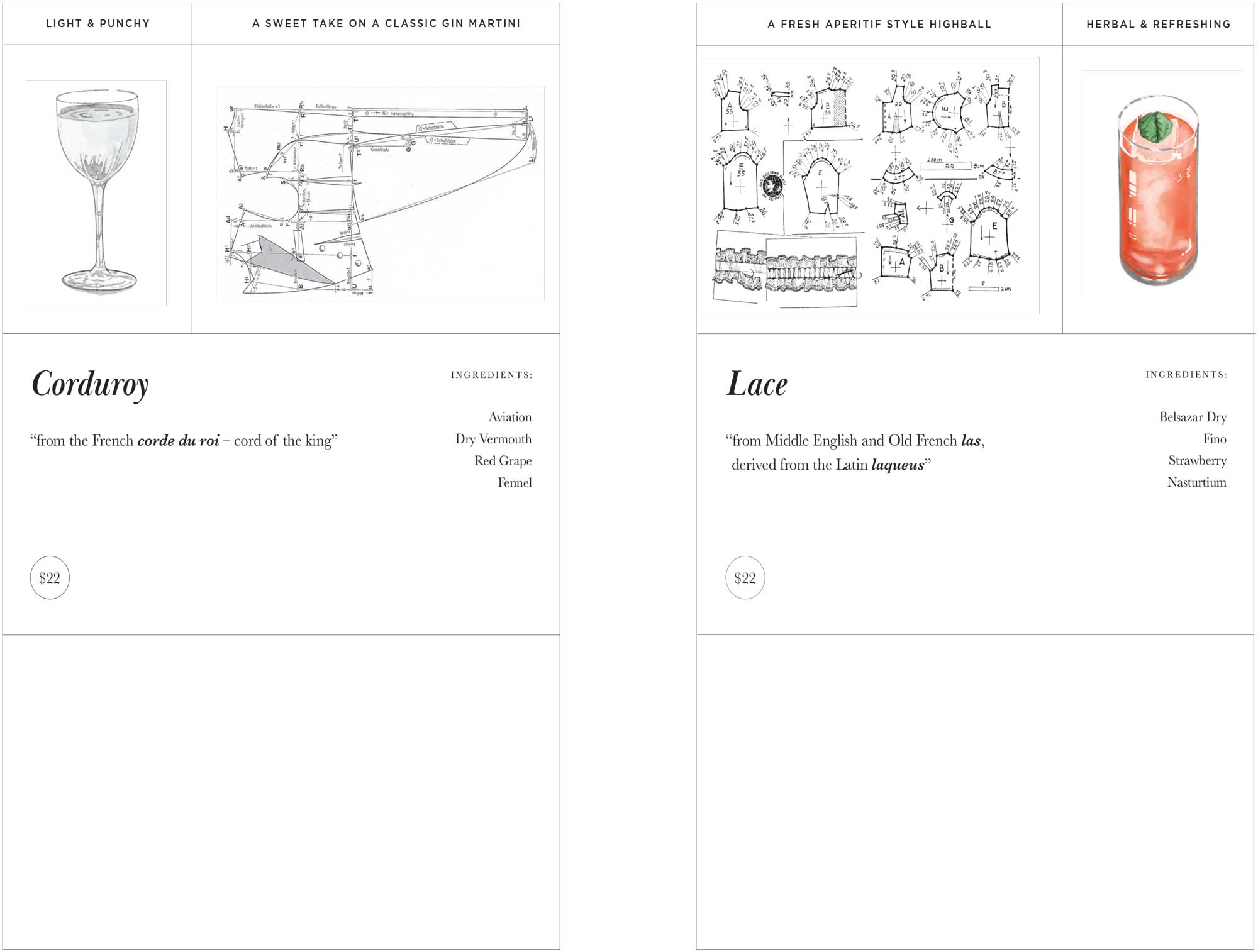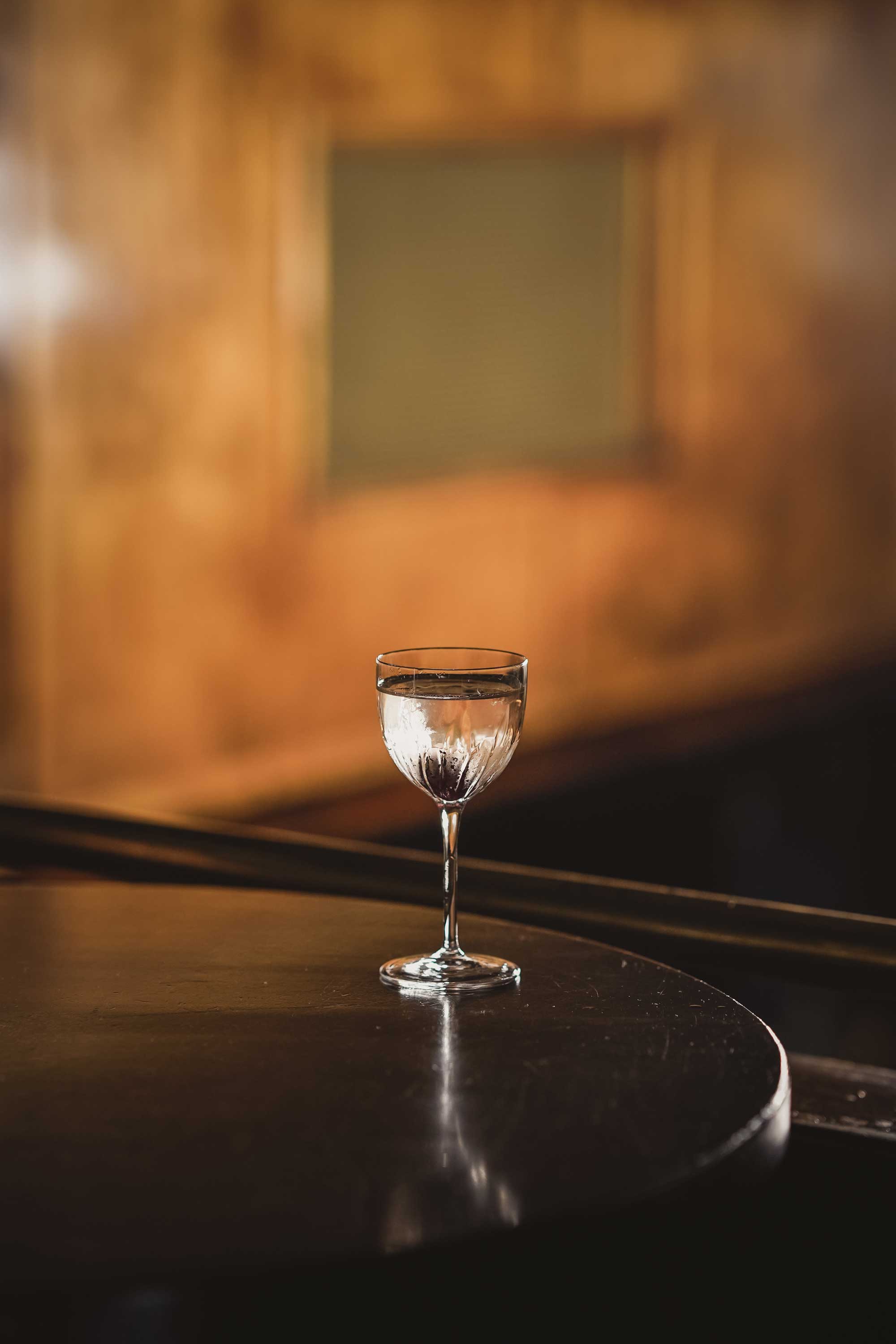 There's also a simple list of ingredients on the page — Aviation, dry vermouth, red grape, and fennel in the case of the Corduroy. Below that, and underneath the drink's name, you'll find a line describing the etymology of said name.
That's because each drink on the 25-strong list is named for a fabric, in order to pay homage to the bar's namesake, Savile Row in London. A street in Mayfair, it was home to many tailors from the 1800s onwards — hence the fabric tie-in on the bar's menu.
So on each page, you'll also find a sample of the fabric each cocktail is named for, to give the feel of a swatchbook a tailor might use.
It's a pretty neat menu, but it won't be there forever. Sebar says that they look to change their menus every nine to 10 months, and that means that he's already talking to Savile Row's general manager Jacob Cohen about the next menu.
"I'm really excited about this [menu]. But also what I'm really excited about is the fact that with the next menu [comes] the opportunity to reinvent slightly. Because this isn't gonna be the same next time. So that's exciting to me."
You can visit Savile Row for yourself at 667 Ann Street, Fortitude Valley, Brisbane, and follow them on Instagram at @savilerowfortitudevalley.
---
Thank you to Nick and Savile Row for sharing their time and experience, and thanks too to The Glenlivet for sponsoring this video series and making it all possible. You might like to consider The Glenlivet Carribean Reserve for your next whisky cocktail or new menu — contact your Pernod-Ricard ambassador for more.
I found the chat with Nick super interesting, and I hope you do too. They've really made a beautiful menu there. Please, if you've got any feedback on this piece — or perhaps you've got a new menu on the way — I'd love to hear from you. You can drop me an email at sam@boothby.com.au.
---
MADE POSSIBLE BY THE GLENLIVET