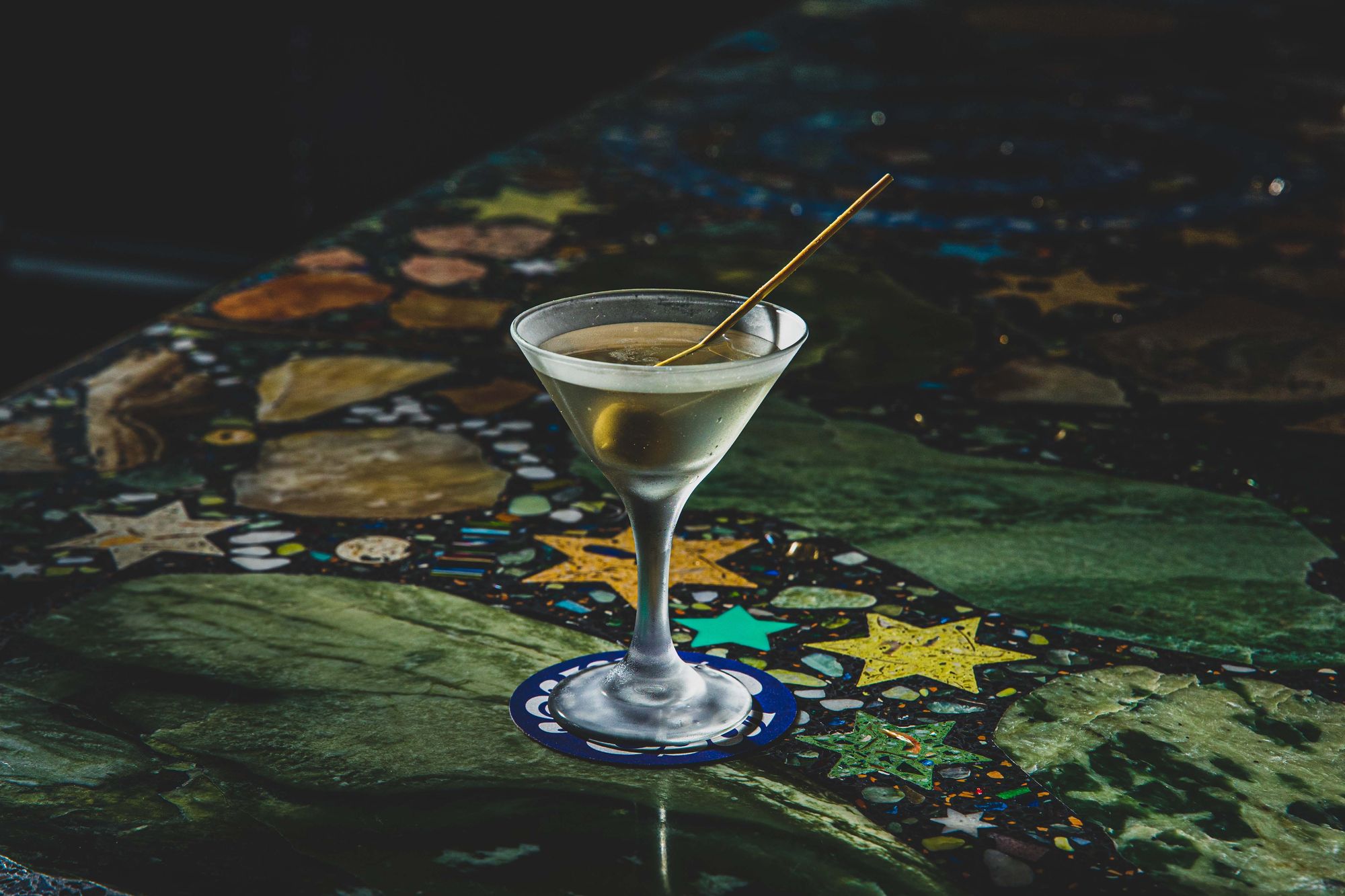 "The Bar Planet aesthetic came from the thought: I wonder what it would feel like to accidentally stroll into a 1940s French Bistro on 'shrooms?"
A quick note up top: thanks to everyone who has subscribed to the newsletter recently. We now number over 880 members, with more than a few of you as paid subscribers — your support is much appreciated. It's really wonderful. And if you'd like to become a paid member, you can help to support Boothby from $10 a month or $99 a year right here.
---
When you think of the Martini, what do you think about? Sophistication? Elegance? A fancy gin delivery vehicle? The Martini looms larger in popular culture than any other cocktail; there's a reason it's thought of as the king of cocktails.
And the Martini is back. I've never seen so many people ordering drinking them. When I was tending bar in the early 'aughts, a Martini was an uncommon order — though that might just speak to the kind of bar I tended to — and there was little guarantee that they were any good.
Today, you'll find respectable Martinis and their variations in high-end cocktail bars, neighbourhood joints, restaurant bars, just about wherever you'll find a bartender. Long live the king.
But few places are stripping back the hoopla and mystique the drink wears the way they are at Bar Planet on Newtown's Enmore Road. It's one of the bars in the Mucho Aloha group, along with Tio's Cerveceria in Surry Hills, the Cliff Dive in Darlinghurst, and Cantina OK! in the CBD, and a fixture on The World's 50 Best Bars list since it debuted in 2020. At Bar Planet, the bartenders wear smocks, instead of tuxedos; the decor is more hippy-psychedelic than pressed tin ceilings and brass fixtures; it's more, well, Newtown, than grand and fancy New York. They talk about dream weaving, "the little moments that make someone's experience really memorable."
And they're doing the same thing for the Martini, democratising it in a way — and all the while adding a new and unexpected take to the drink's story. As you can tell in the chat below with co-owner Jeremy Blackmore, general manager Harrison Kenney, and Mucho Aloha group's design and art director Clayton Ciolac, a lot of thought and attention to detail has gone into what they call the Infinity Spirit Martini.
How did the idea for an 'infinite spirit' Martini come about?
Jeremy Blackmore: The Infinite Spirit started off as a question, 'What is the bar version of a master stock?' Something that evolves, but at the same time contains the history of the venue baked in at its core. In the whisky world, geeks create their own infinity bottles by emptying the dregs of anything they drink into their own house blend; their own constantly changing special mix. The Infinite Spirit is our version.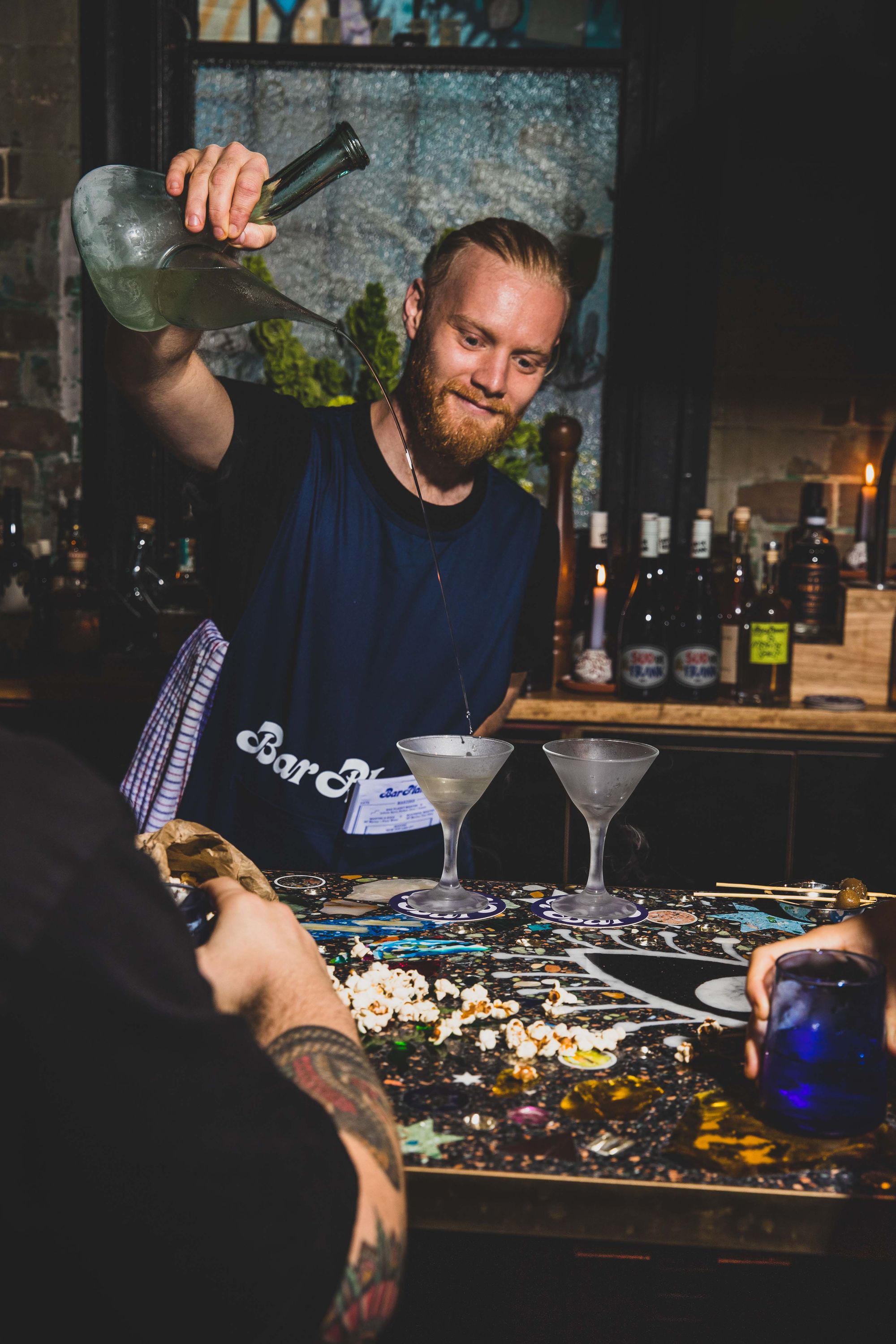 Can you unpack what you mean by infinite spirit? How is it made — and how has that changed since Bar Planet has been open?
JB: The infinite spirit is made like a gin at Poor Toms, distilled using fresh botanicals and fruit in batches of 300 litres. So far we have made four seasonal spirits, the first with eight types of heritage apples, the second with blood limes and coriander seed, the third with African olive leaf and backyard mandarin and the latest with fig leaves and macadamias. 20 percent of the previous spirit remains in the mix meaning the spirit becomes more and more complex. In 10 years there will still be a little of those first apples.
Harrison Kenney: We like to think about these recipes as time stamps, we pick the fresh fruit and botanicals when they are ripe and in season, and we're forever able to taste those moments in time. it's a unique journey for our guests and they love to watch it evolve each iteration.
How did the porron serve come to life?
JB: We always try to bake a little theatre into what we do at Mucho, like the hand squeezed limes at Tio's or the ice shaving at Cantina OK!. The porron, the pour felt right, plus it's a really funny way to pour shots of ice cold Martini directly into people's mouths.
Is there any particular tips or advice you have for pouring from a porron?
HK: Have confidence in your conviction, practise by decanting directly into your own mouth.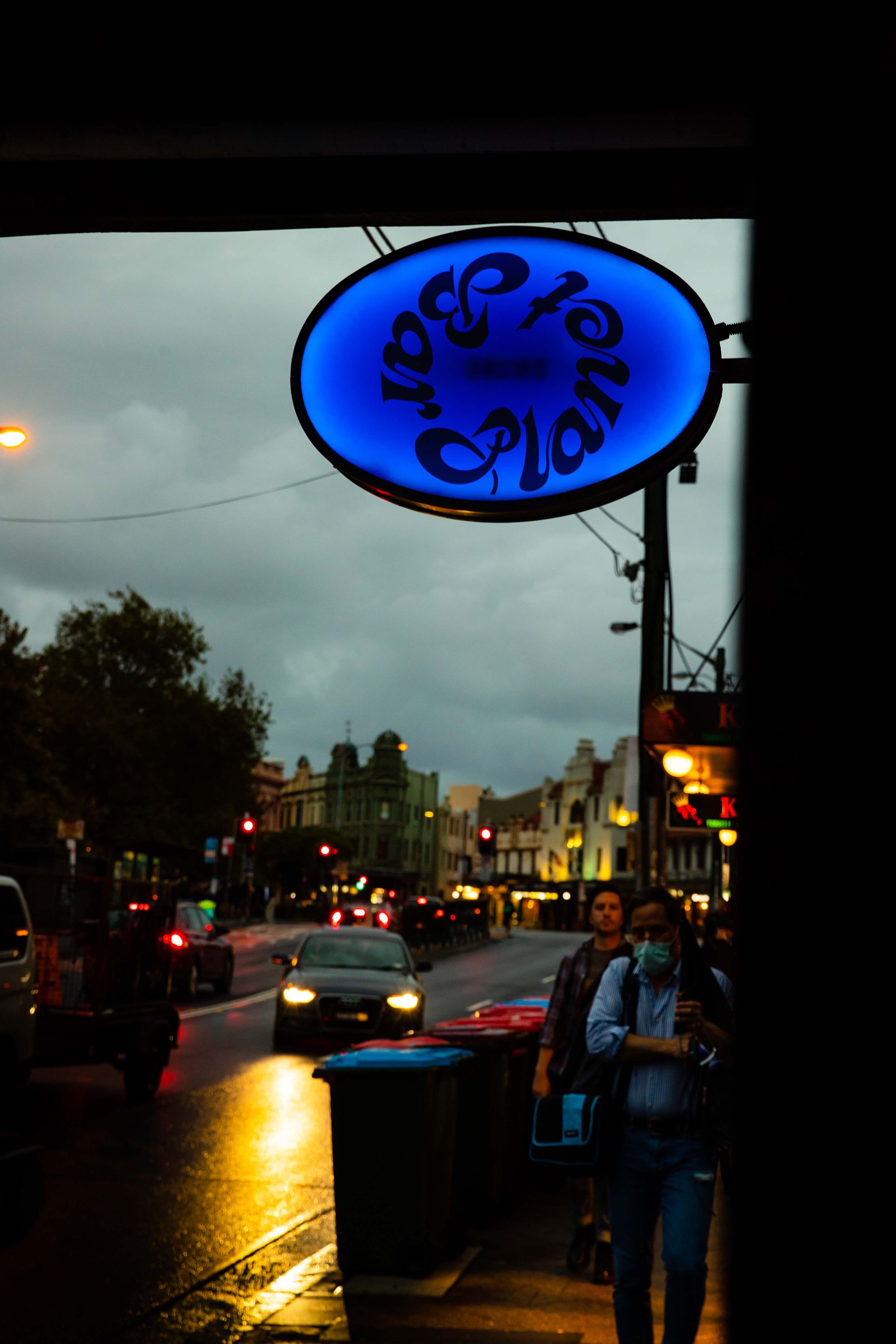 Tell us about the bottled Martinis you're now doing — what's the thinking behind offering them?
JB: They started as stocking stuffers for Christmas, people have been loving them so I think they are going to stick around. Out of all the bottled cocktails, martinis have to be the best, just get them ice cold and they are ready to go.
Where can people get their hands on the bottled Martinis?
JB: We are selling them direct at the bar, through our website or at PNV and DRNKS.
Tell us about the label design and the fonts and colours and style and all that — how did the Bar Planet aesthetic come about, and what's the thinking behind it?
Clayton Ciolac: The Bar Planet aesthetic came from the thought, "I wonder what it would feel like to accidentally stroll into a 1940s French Bistro on 'shrooms?"
With that core idea behind our visual identity, we explored the tropes and design elements found in bistro menus of the early 1900s and their exotic, dilapidated shop fronts. There was a sense of 'magic' being lost in time, which is what spurs the psychedelic take on our logo and typographic system.
We use two typefaces that were made over 100 years ago. Our menu and Martini bottles are typeset in a digitised version of a font from the late 1800s — a little bit freaky, but ultimately very analog and traditional — whereas our logo is set in a far more vivid, Art Nouveau style from the same period.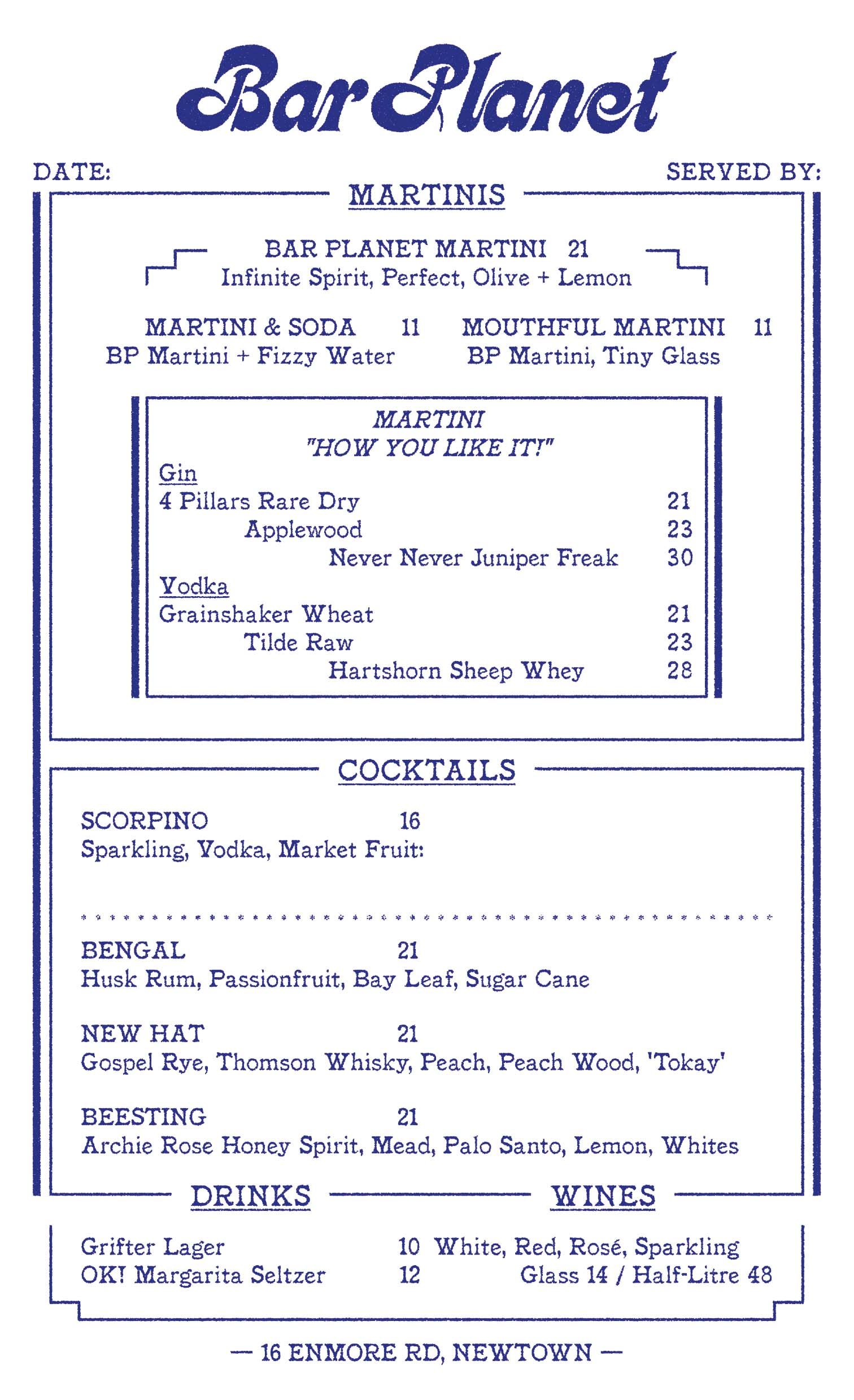 To further fuel the twisted bistro energy, we envelope it all in a saturated, hyper blue slap in the face.
The ultimate intention with all of our print material is to encourage a personal interaction — to 'make it your own!' Things are designed to feel like they've lived many previous lives before they live a new one every night.
Every menu is hand-signed and illustrated by the hosts, each Martini coaster results in an artistic gesture of the guest's order, even the hand-painted weekly special on the brass panel is mimicked onto the Martini bottles.
It feels human.