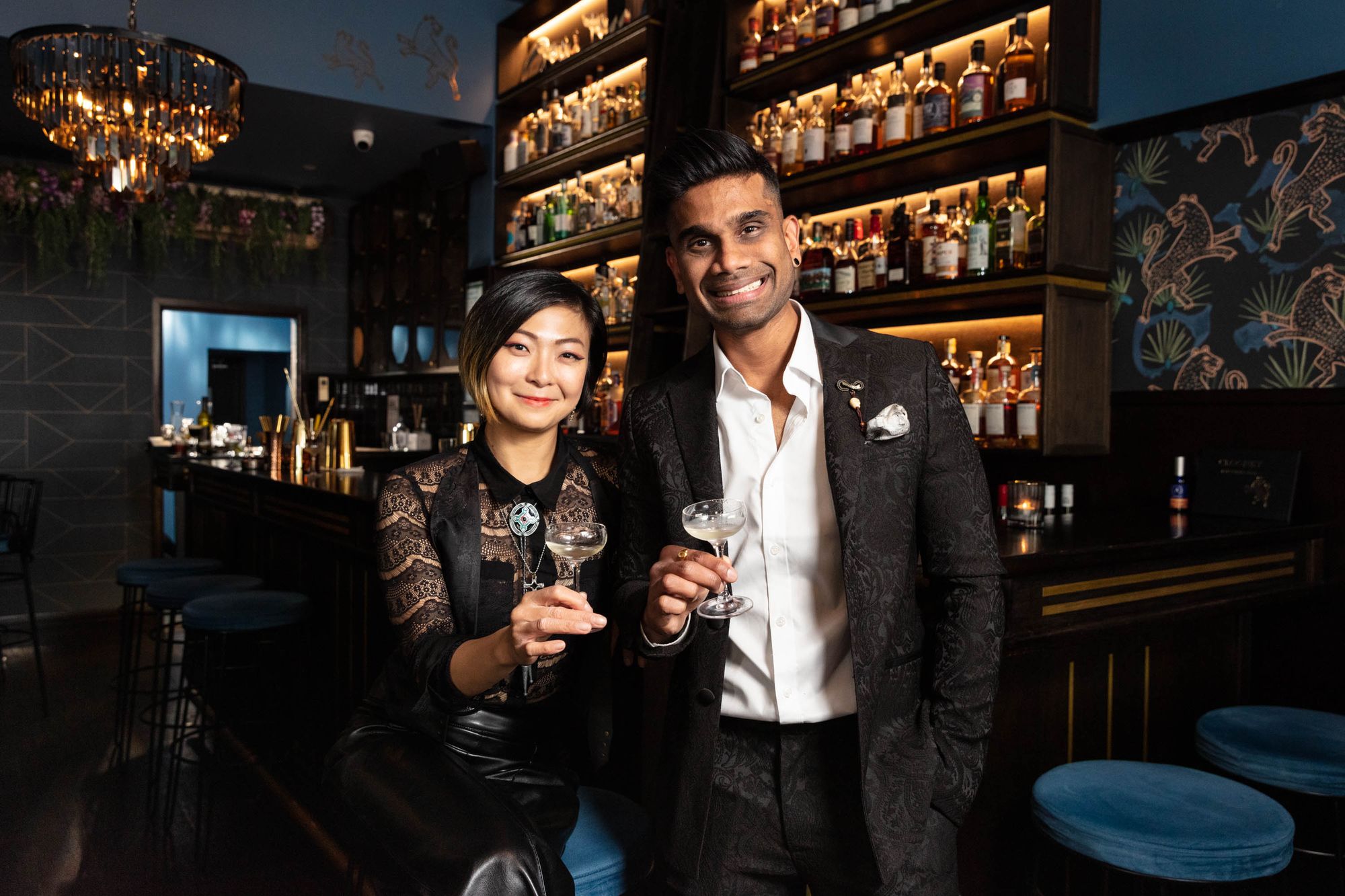 What happens when top bartending talent comes to the suburbs? Clooney by XO in Port Melbourne has the answer.
In Port Melbourne at the end of last year — far from the buzz of the city's world-renowned laneway bars and restaurants — two of the country's top bartending talents quietly took over an art deco space to open their own bar, Clooney by XO.
Joey Tai, Sai Hamsala, and business partner Shree Ramdas took over what was once known as Clooney Kitchen & Bar in October of 2021, and since then have been bringing their take on classic cocktails to the people and tourists of Port Melbourne.
You may know Tai from her time travelling the country as a whisky ambassador, and Hamsala is the ambassador for Diplomatico Rum. As they explain below, they've got some 30-years of hospitality experience between them, and when the opportunity to take over the site became available they jumped at it — despite the uncertainty of Covid still featuring prominently at the time.
Clooney by XO is a beautiful space — one that feels a world away from the busy high street outside their front door — and there's the kind of top flight, friendly and warm service that comes from bringing together high-end, inner city polish with that get-to-know-you, neighbourhood hospitality that is crucial to any good local bar.
Below, lightly edited and condensed for clarity, Tai and Hamsala tell us how they came to open a bar together, what the often difficult first three months of owning a bar were like for them, and the drinks proving popular with their punters.
Sam Bygrave: The first question I want to ask you is, how does it feel? Is this your first venue?
Sai Hamsala: Yeah, it's amazing man. Like, I had a a nightclub and a cocktail bar in New Zealand, actually. And then I won the global competition for Diplomatico [Rum]. Always wanted to do another bar. So after the role with Diplo, I moved to Melbourne and Joey and I were in touch a while ago, even before we actually met each other on social media. And we've been planning it for quite some time. It's been close to five years we've been looking. We were like, oh, let's do something in the city. But obviously, we couldn't for good reasons, Covid and all this came in, like thank God, that didn't happen. Finally, we found this bar in Port Melbourne, quite a nice suburban bar. So we thought, well, let's do a small little cocktail bar and do our best to make people have a good time.
Joey, what's it feel like for you? Is this your first bar?
Joey Tai: Yeah, it is my first bar — it's amazing. It has always been my dream since I started in the industry, but I never thought that I can do it by myself. It's just something that I thought I'd want to do it with, you know, with someone that shared the same ideas, same dreams as me, which happens to be Sai. We worked really well together from hosting events, to the style that we wanted to offer and experience. I'll be honest, it is probably the most scary thing in my life.
Fantastic. And what's the big idea behind the bar?
Sai: Our style is mainly classics. So we do have most of the classics available, but the drinks on the menu are classics with a bit of a twist. We try and specialise in gin and whiskey — obviously, there's a decent selection of rum. We're completely dependent upon word of mouth, especially as it's a suburban bar, so we try and look after the locals as much as possible. The word is spreading fast, and we're pretty steady during the weekends, especially Friday and Saturday. But the remaining week is slowly picking up as well, which is pretty good because we have bills to pay.
That's what you want in a neighbourhood bar, right? How was the first three months of trade?
Sai: Yeah, the first one was a bit slower, which was good, because it gave us the time to set up everything properly. It was more of a teething phase. But early January was a bit slower just because of Christmas and people going away and the whole Covid Scare. Yeah. But just as soon as January is done in Feb, first week of February, we're pretty packed, which is, which is good.
That's great. Well, what possessed you guys to open a bar at such an uncertain time in history?
Joey: I have to say, like Sai mentioned, we had this idea over almost five years now. We were just constantly finding the right timing with the right approach and the right location. So I think it's the timing and the right people involved.
Sai: I personally think, to be very honest, I think it's just a passion in making cocktails. And we just thought we really needed a spot to kind of showcase what we do. And we genuinely love people. Joey and I have been in hospitality for together about 30 years. She's got about 15 years of experience, and so do I, and so just being those old guns, we thought, you know, it'd be a nice, perfect time to take over a spot and give people a good time. And we always believe that, you know, bars are not really not what delivers good hospitality, it's always the people inside them. We are very lucky that we have a great team. We've got Chelsea from Boilermaker and Black Pearl.
Can I just tell you that walking into that bar and seeing Chelsea behind the bar and that big smile of hers was amazing — made my day.
Sai: Yeah, she's really, really amazing. And those two guys live close to the bar as well. The other guy's name is Evan, he used to work at Beneath Driver Lane. And they're both extremely hospitable and very talented with their drinks. And one lucky thing with our bar menu is most of our drinks can be batched as well, which means we spend less time making the drink but we spend more time with that clients to you know, give them good service and just talk about the day. And that's what kind of makes us a little bit different from any bar. That's that's our focus — guests are our focus.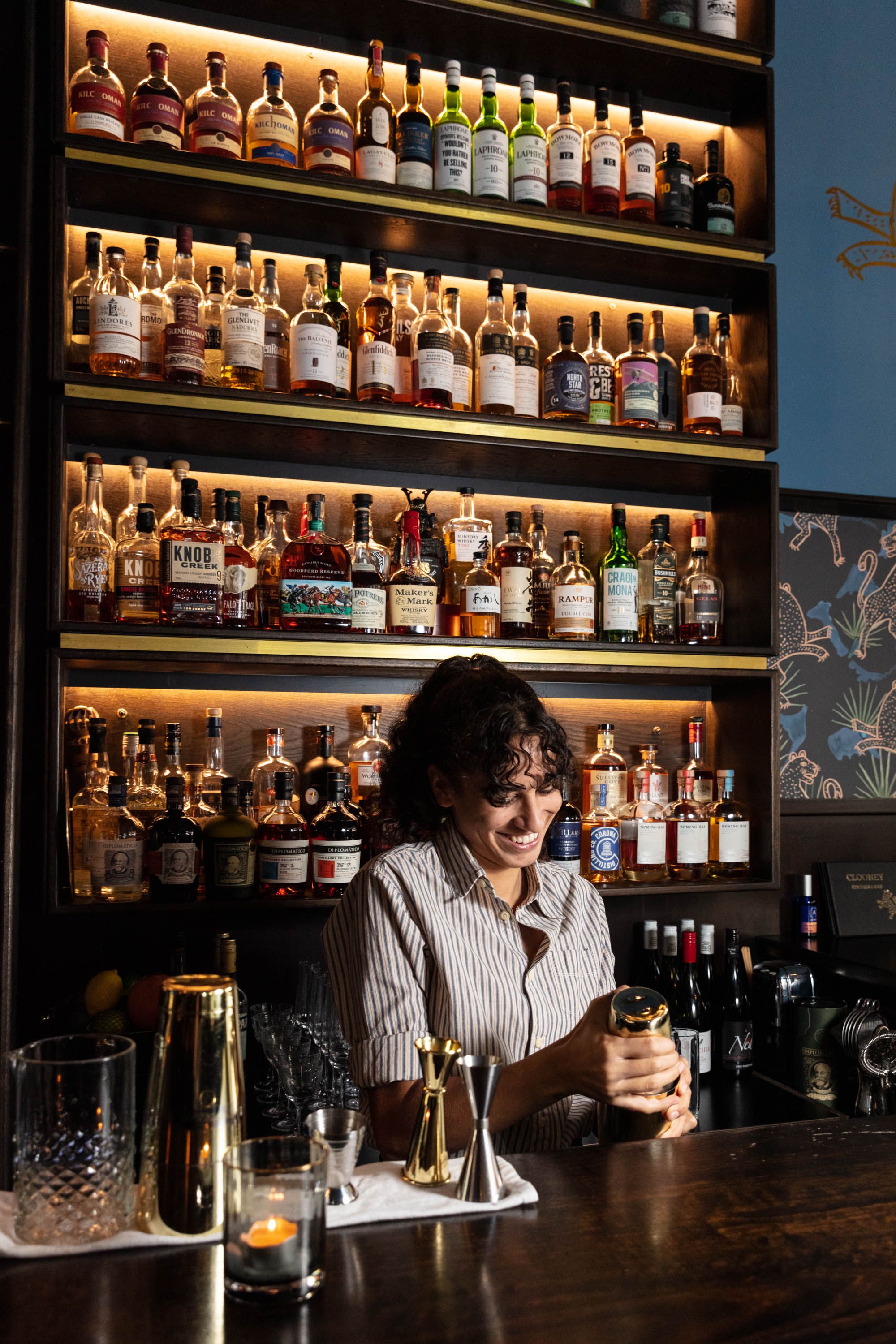 Yeah, I think you can do a really great neighbourhood bar that's executing really great cocktails, right? There's this idea that cocktail bars can only be in the big city, but actually, you need the good stuff outside of the city, too.
Sai: Yeah, totally, especially Port Melbourne, because it's close to the beach, you do get a lot of tourists and people living around the area. There's only pubs and pokies and restaurants. But people were always kind of looking for a spot where they could just come in, you know, relax, nothing pretentious — yes, it is, you know, the 1940s Art Deco style and whatever, but —
—but it just looks nice.
Sai: You know, because it's a beach area, they wear singlets and shorts. They're like, Can we come in with like, Hey, you, you can come in as you want. That's beautiful. As long as you have a great time. That's what we want.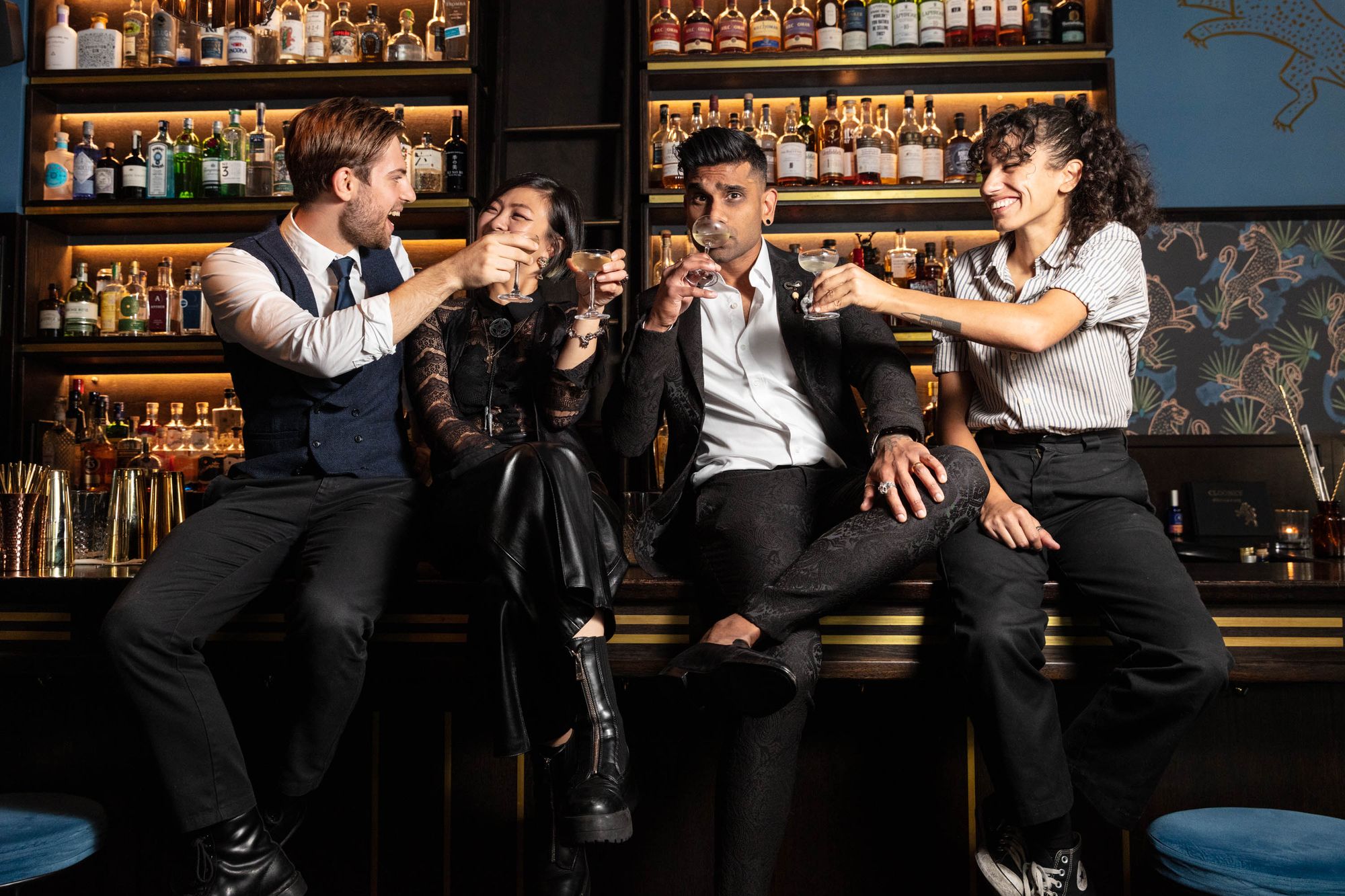 That's what it's all about hey. What would be the one or two drinks you'd recommend anyone coming in? For the first time? What should I have a go at?
Sai: Can we go three please? First and foremost would be the Clooney Martini, which is a little riff on a classic  Martini made with Anther gin. So Lillet Blanc, fino sherry, a lemon oleo, and some bitters. The reason we made that is because people want to try Martinis for the first time, and when you give them like a super boozy drink, they're like, whoa, okay. That's not what we thought or what we imagined. We wanted to make something light and easy. So they could have a good time and try another one later on.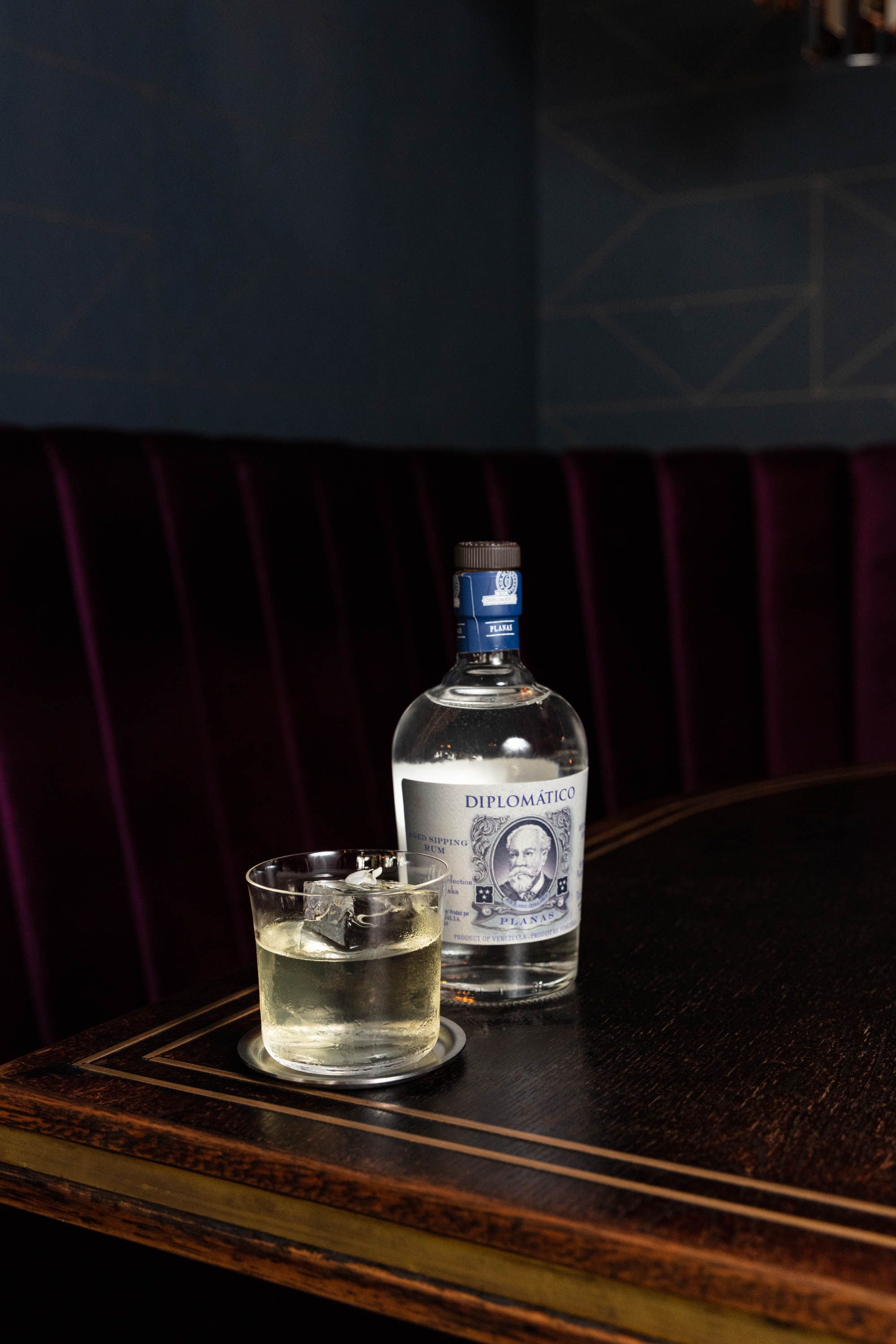 The next drink we recommend them is a clarified Pina Colada. We wanted to give our guests an experience that you would get with a Pina Colada but you know, when you have one or two, you just get bloated and so heavy. You're not sure if you want another one.
But we wanted to give them that flavour profile of what you could get from a Pina Colada, but it's more approachable, and easy to drink.
And finally, we've got the Espresso Martini. It is very different from a regular Espresso Martini. So it's got Diplomatico Mantuano, cold brew coffee, a coffee liqueur. It's a stirred drink, funnily, and people ask 'Why are you stirring an Espresso Martini?' Like, there's one more element we need to add, so we have an orange cream — fresh cream with some orange liqueur. And we just kind of put it on top with some chocolate garnish. And that's by far definitely one of our most popular cocktails.