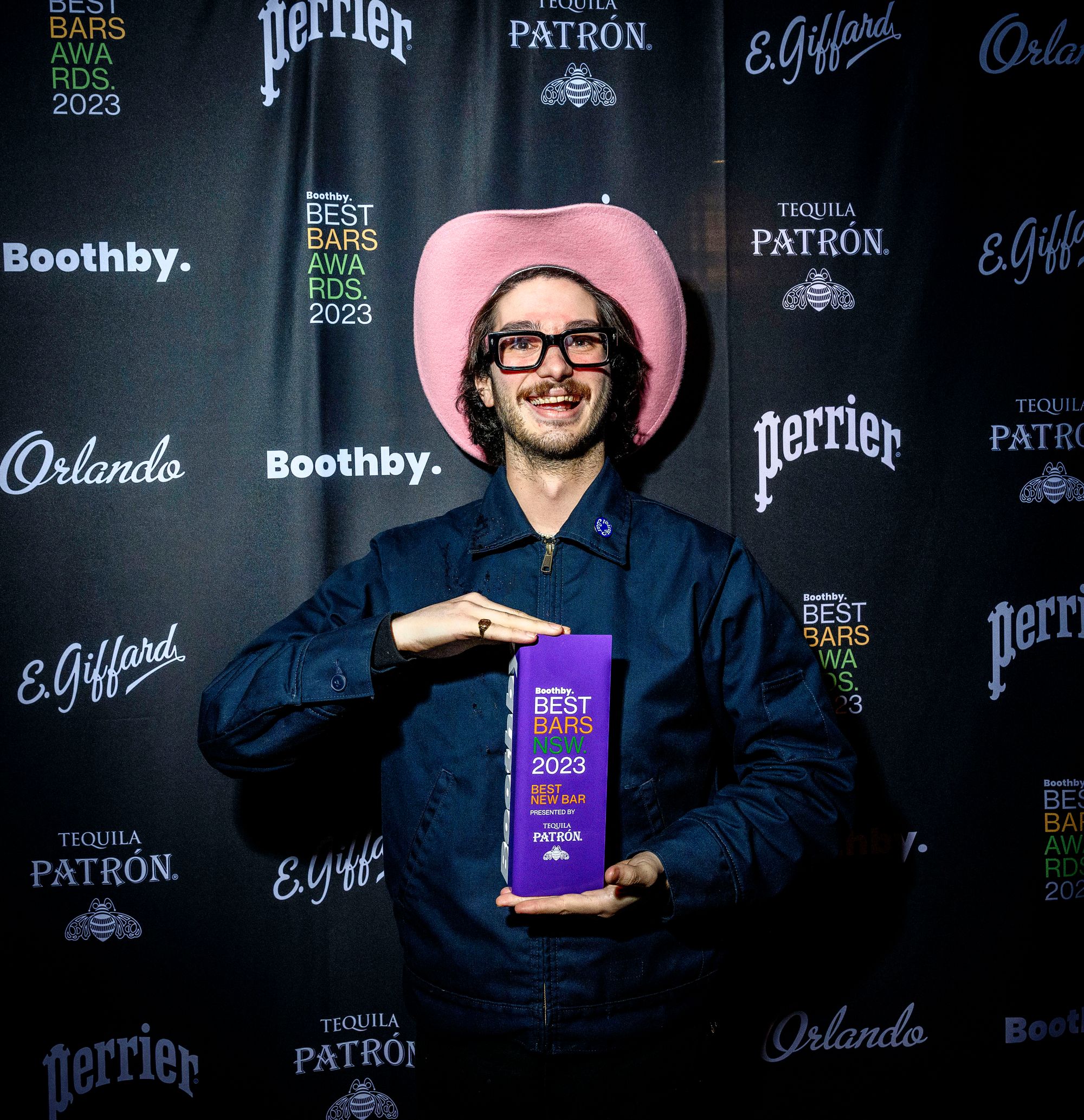 The award-winning bartender on what makes an award-winning bar.
At the Boothby Best Bars NSW awards last month, Newtown Martini joint, Bar Planet, landed at number seven on the top 50 — and in the process picked up the trophy for Best New Bar NSW presented by Tequila Patrón.
Bar Planet has had a pretty good run since opening back in April 2022, with punters loving the "idiosyncratic" bar's take on Martinis served up with a little Newtown psychedelia. At Bar Planet, they do the Martini bar differently — the bartenders wear smocks, instead of tuxedos, and the decor is more hippy-tripped-out mosaic than pressed tin ceilings and brass fixtures.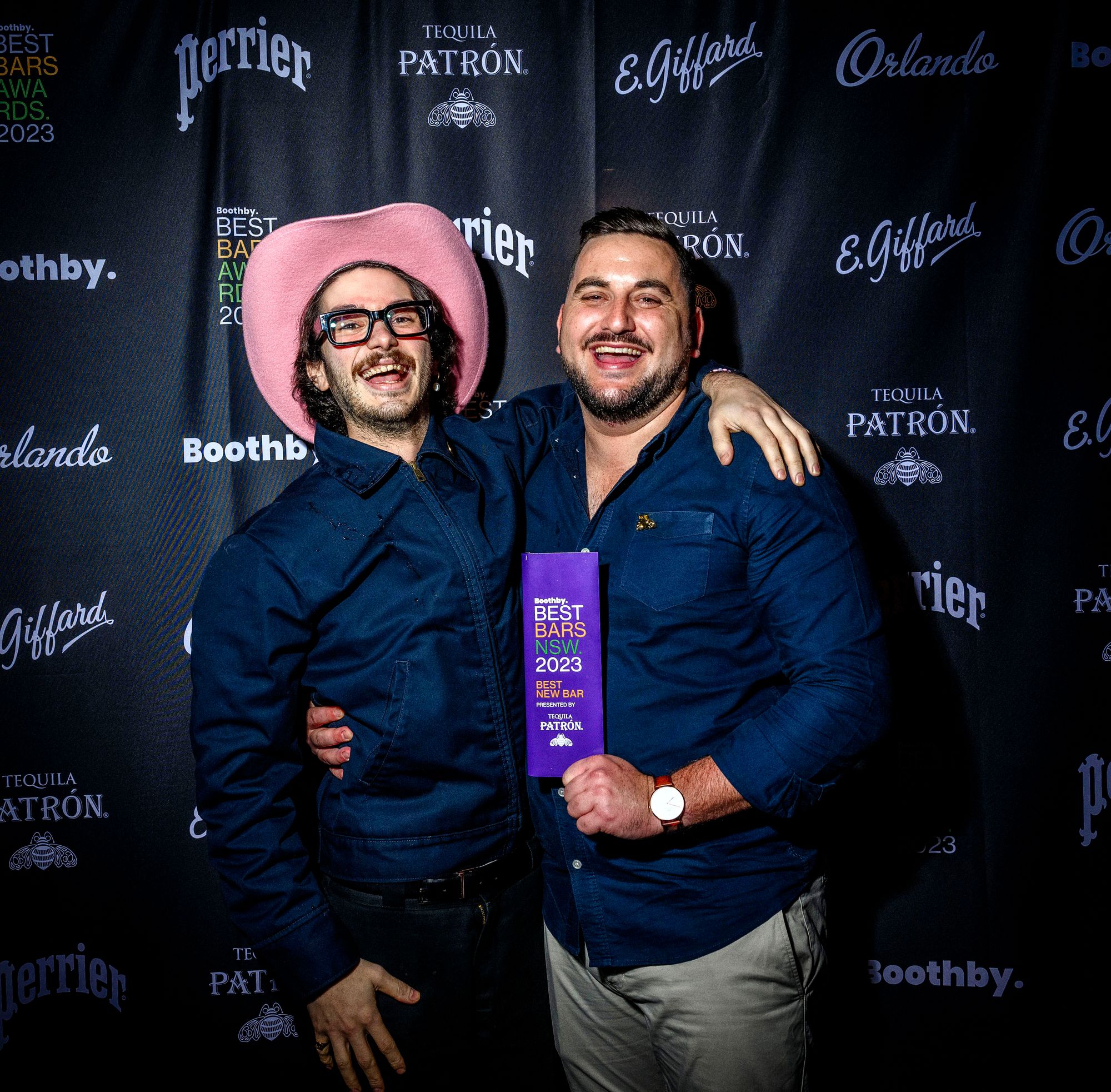 One of the instrumental figures in Bar Planet's out of this world atmosphere and identity is bartender and general manager, Harrison Kenney, who has just hung up his smock for the last time. You may know Kenney from this video during his time at Bar Planet sister bar, Cantina OK!, or this one on how to win a global cocktail comp (Kenney took out the global final of Patrón Perfectionists in 2022). Now, after a year and a half working on Bar Planet, and three years before that at Cantina OK! (during which time the bar landed on the World's 50 Best Bars list), Kenney is about to spread his wings and take the time honoured route of the professional Australian bartender and try his luck overseas.
So below, I've got something of an exit interview with Kenney in which he talks about what makes Bar Planet the award-winning, special experience that it is, what he learned at Cantina OK!, and what he's up to next.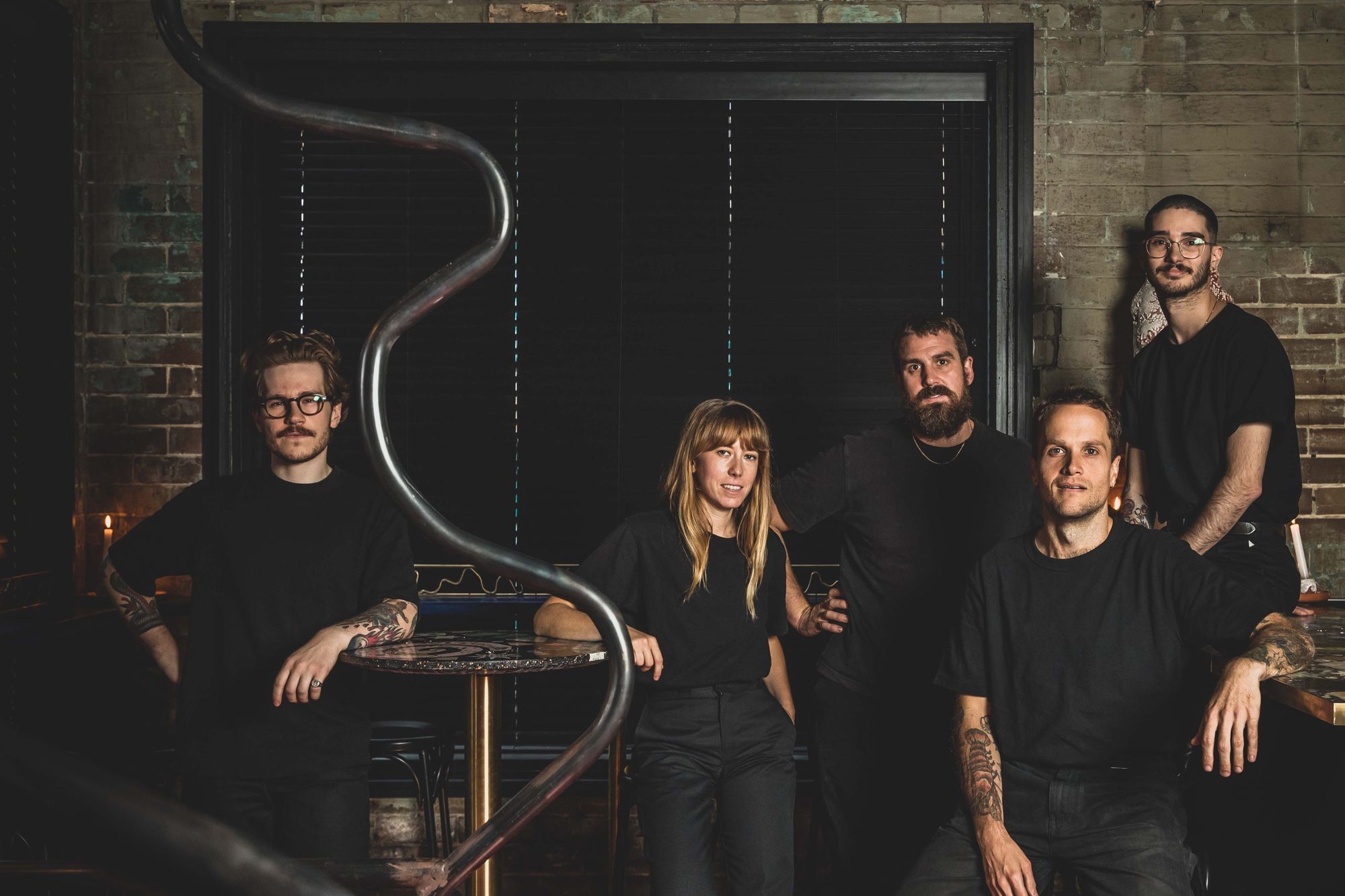 Sam Bygrave: You've just finished up a run at Bar Planet, you were there on the opening team, you've been the guy responsible for Bar Planet. How does it feel? Are you happy with where it is now?
Harrison Kenney: Oh, I can't believe it. It's been what, 18 months now, about a year and a half? Generally, I think it probably takes about a year at the very least for a venue to start finding its feet. But definitely now as I'm leaving I feel like it's almost at its very best. It's a pretty highly conceptual and unique idea for a bar. There's a lot of moving parts in there, it really should struggle in the real world to come together but I feel like now everyone is pretty comfortable in the space, it's the best it's ever been.
When you first took this on as the opening general manager for the bar, what did you think of the concept? How much were you involved in the concept and how did that whole process happen?
Yeah, I had a lot to do with Jeremy [Blackmore, Mucho Group director], side by side, coming up with the conceptual side of the drinkmaking. So they kind of came up with this idea of a Martini bar, post-lockdown, and felt like it was the right thing to do and what everyone wanted. People weren't riding their pushbikes anymore making kombucha, they wanted a nice stiff drink.
And you look at Cantina OK! and they've got this hero cocktail being the Margarita OK!, like, I reckon we put our eyes on that and wanted to make another banging drink. We had this idea of doing a Martini, and making it in a familiar space, which is where the bistro idea comes in, but then also this twisted concept where we looked at it through the lens of someone walking into a space on mushrooms and bringing out this psychedelic energy inside the bar.
Yeah, it kind of feels like 1990s Newtown in a way, a little bit hippie.
Exactly right. It's so idiosyncratic. It is ridiculous. You're drinking this infinite batch of Martini that's poured directly into your mouth from this Spanish carafe over this treasure filled terrazzo, and you're listening to this mixture of post-punk 2000s music and then occasional disco bangers — it's such a wild ride.
What do you reckon it is that made this work and proved so popular with people?
I think how unique it is, it's fanatical, but the service itself is genuine. So these groovy cats are in there and they know what they're all about. It has such a strong visual identity, it makes it so transportative. You know not even just in the venue, but online. I actually think so many people are drawn to it because of the social media around it.
Yeah.
It feels like a real place with real people. I do think it's the best social media that is in the game right now.
Like Ramblin' Rascal used to be the best, right? Because they did all this meme stuff, but you guys are taking a different approach to that. Was that was that something that was a conscious decision from the get-go or did it grow over time?
It found its own rhythm as we started posting online. Daisy [Tulley, Mucho Group general manager] is really super conscious about what's happening in the social media world.
But I think it's such an eclectic mix of people in there as well. You've got these fantastic shots of Martinis that bring these cocktail drinkers in there, and meme stuff to bring in other people, of all ages.
Let's talk about you for a minute. You've had something of a golden age, I guess, from Cantina OK! onwards. You were at Cantina for how long?
Three years.
Yeah, then Bar Planet. How do you feel about how you've grown since you first started at Cantina OK!? How important is Cantina to you?
So important — it is the foundation of who I am now as a person! I needed to be put into this confined space to see if what I had to offer was actually magnetic to people around me. But yeah, it changed everything for me and made me feel so comfortable with who I am in a space which allowed me to then move on to bigger things and still know that I could bring it.
What was it about Cantina and that experience that allowed you to be comfortable with who you are?
I think that space was like nothing I'd ever seen before and me as a person was like something that people had never seen before, and together we harmoniously put out the best of each into the world!
How does it feel now to be wrapping up and getting out of not just the group or the bar, but the country as well?
Man it's super surreal. It's a weird feeling because I've become so close with Mucho Group in particular, and obviously everybody involved in that... I don't think I'll ever really leave them, knowing that I have that support network from everyone in Mucho, and you know, in Australia itself. I've seen how many people have been there with me, how many people have come to however ungodly number of going away shifts there have been — it makes leaving the country feel so much easier for me because I know these people have got my back and they believe in me and that's really beautiful.
Yeah, that's lovely. Now just quickly, tell us what you're up to — why are you leaving the country?
I've always been a big fan of Remy Savage [owner of A Bar With Shapes For A Name in London, and Bar Nouveau in Paris]. He's a bit of a savant in the industry, we met maybe a year and a half ago judging the UK Patrón Perfectionists final. I think we were both really pleasantly surprised at how well we got on. We just told great stories and had a really mutual feeling, and that already built this foundation of trust with us. I thought that this would definitely be someone I want to work with in the future. Fast forward about a year, he was here for the Maybe Cocktail Festival, we met up and we drank cognac. And we thought we could do great things together. The next step for me now is to go meet Remy over in London and work at Bar With Shapes For A Name, which is inspired by minimalism and the Bauhaus movement, going to go over there and work together for the next couple of months at least over the course of the summer time. And then after that I'll be heading over into Europe and continuing to work with Remy for the future.