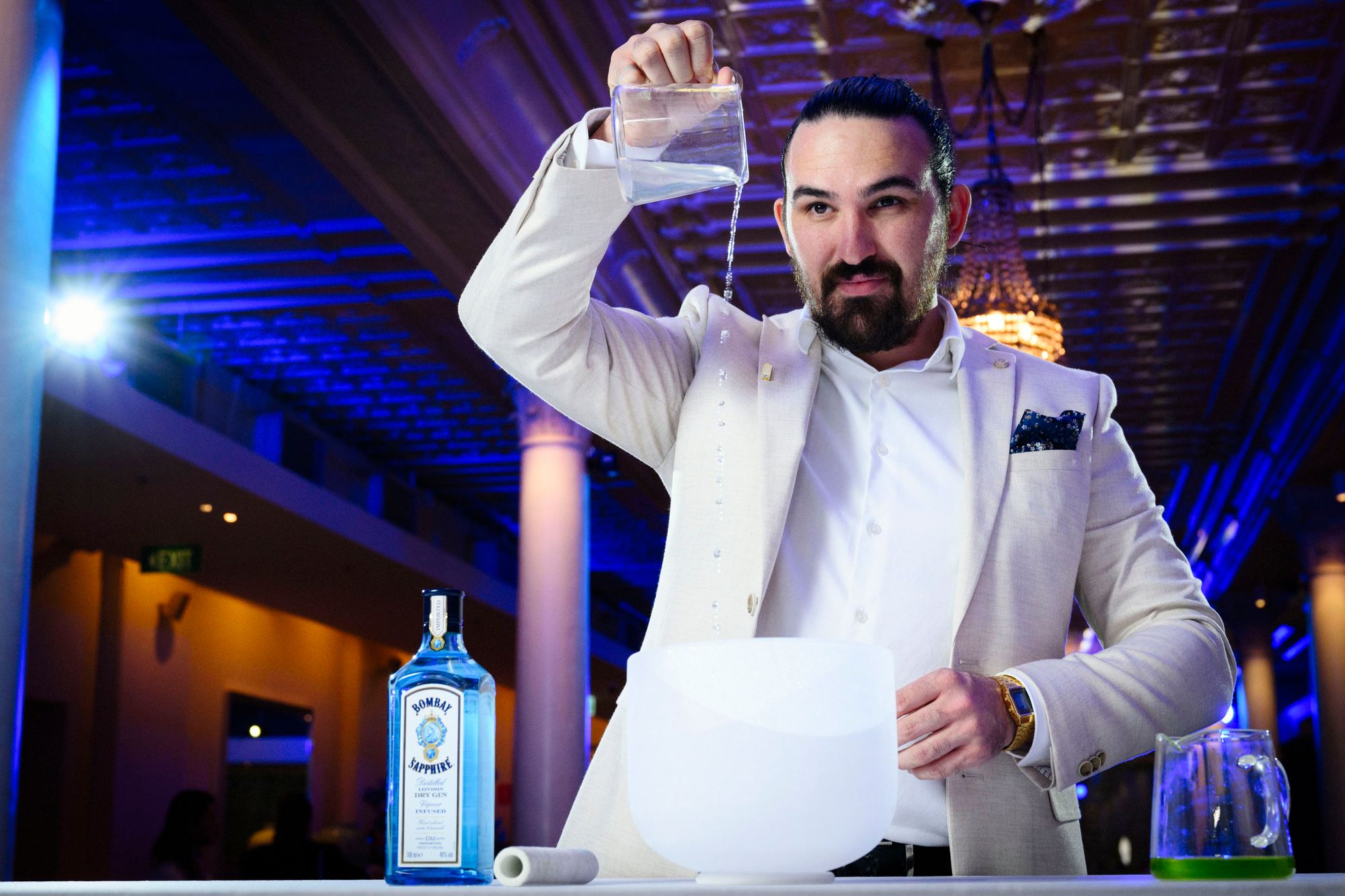 His recent win saw him use sound and petrichor to bring a winning drink to life.
MADE POSSIBLE BY BOMBAY SAPPHIRE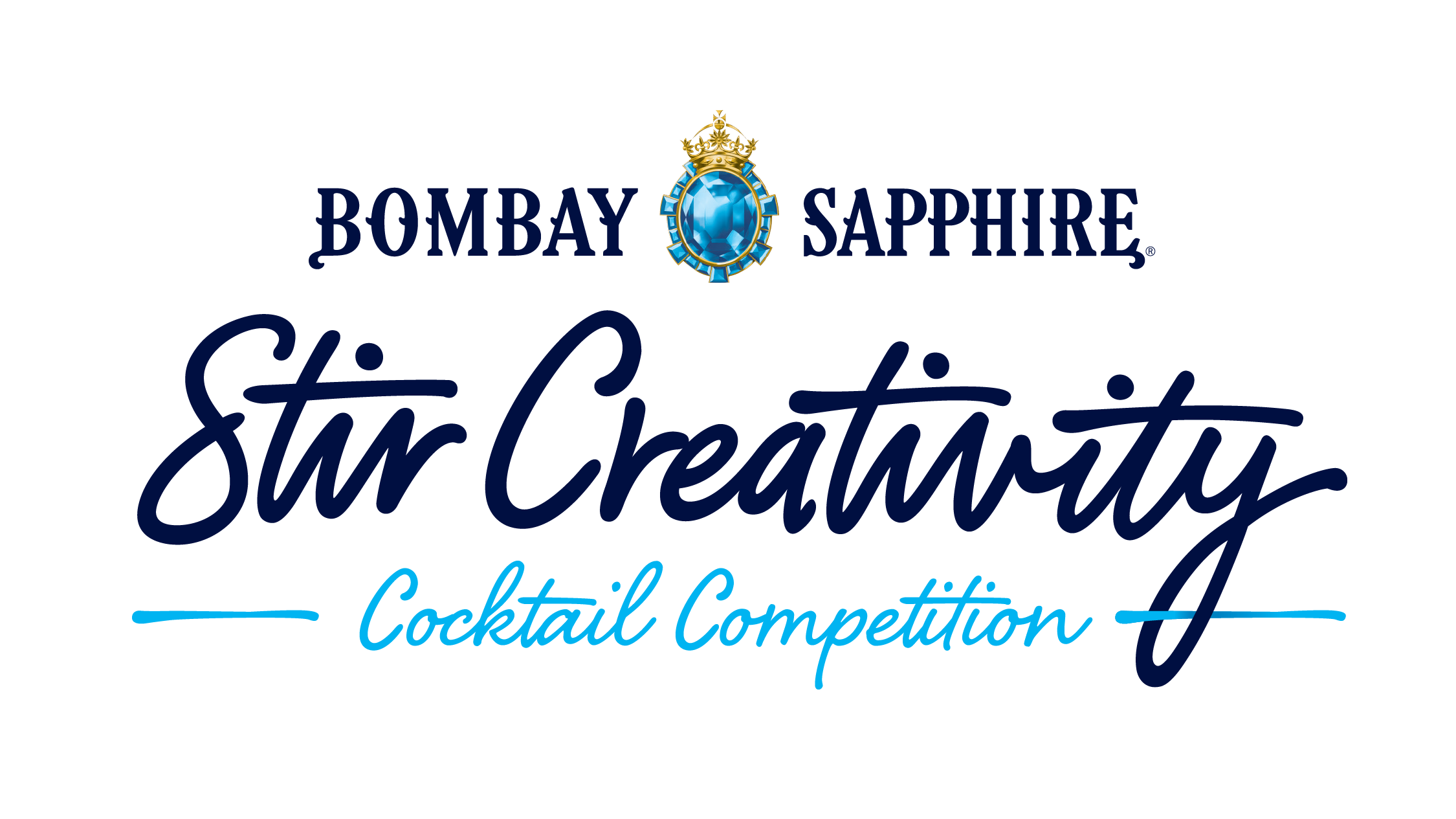 ---
What does it take to win the national final of a cocktail competition? To get up on stage, make a drink and talk the audience through it — and impress the judges?
Earlier in April saw the final of the Bombay Sapphire Stir Creativity Cocktail Competition take place in Sydney, with a smart lineup of four top bartenders making drinks before the crowd. On stage were Lachlan Bentley from Gimlet in Melbourne, Martin McConnell from Frog's Hollow Saloon in Brisbane, and Pauric Kennedy from Barangaroo House and Jake Down from Apollonia in Sydney.
As one of the judges on the night, I can tell you that each of the bartenders put up great drinks. But, as is the way with these things, there could be only one winner and to me it was pretty clear who it would be.
Jake took to the stage with gusto, captured the attention in the room and — contrary to the idea that you never want 'dead air' in a cocktail comp presentation — was able to keep that attention, and even coax out a laugh, by not saying anything. It's one of the best cocktail comp performances I've seen.
So I thought it was worth asking Jake what he did to win this competition — you'll find the Q&A below — and about how he deals with nerves on stage (you can get his winning recipe here, too).
But I also talked to Jake about what he had to do to get to this winning point, before the comp even started. That's because great bartenders are in part a product of the bars they've worked.
And Jake has worked at some very important bars in his career: he bartended at the seminal This Must Be The Place in Sydney, before moving to London and working at Matt Whiley's groundbreaking bar, Scout. During Covid, he returned to Australia, and helped Whiley to open the sustainability-focused Re in Sydney. His current role, as the head of bars for Hinchcliff House in Sydney, sees him running the basement cocktail bar Apollonia and executing the beverage program across the building's two restaurants.
You can hear what he learned from each of the bars and his mentors in the video below.
Sam Bygrave: You've just won the Bombay Sapphire Stir Creativity Cocktail Competition.
Jake Down: Mm hmm.
What did it feel like to win on the night?
Unreal. Like I was going to cry a little bit. It was amazing. Like, it was good to have a lot of my friends of the industry there. And, you know, I'd worked quite hard on this one. And done my spiel a thousand times and just felt really good. I would recommend it.
Can you talk about how you presented on stage?
I made a drink based off the Sydney Opera House utilising sound and making a drink through the lens of sound. And then on the day I presented, I think, fairly well, there were some bad jokes in there, which is part of my wheelhouse.
But I would have done the same terrible chat at the bar. So I thought, you know, be myself, obviously present in a way that I felt was authentic.
And I was proud of the drink, so that was half the battle.
And you used petrichor — the earthy scent that comes from the first rains on dry soil after a dry spell — to mist over your drink.
Yeah. I've used petrichor a couple of times, and originally [at] Scout in London with the infamous Matt Wiley. It's very transportative. It's very bold, but it can take you to  a rugby match or you know, that summer rain and yeah, I think it's a super immense and amazing product.
So with that petrichor spray, the drink was served in a ceramic cup — how intentional was that choice of vessel?
It's playing on all these senses of texture, aroma, and touch. I was just so lucky that the color palette followed the Opera House as well. But again, it's tactile, it's textural, plus the aroma — I think those all build into a tasty drink. Tastes good, feels good, smells good... It must be good.
How do you control your nerves when you're up on stage — or do you not?
I dunno. I didn't really feel too nervous prior. But then once the competitor before me, Marty had gone off, it really started to set in and I was like, you know, be myself, do my spiel one last time, feel strong on that, and then just leave it.
Like I was feeling really confident. I don't want to sound arrogant, but I was feeling good. I was having fun and  just a certain feeling of like, I'm confident in what I've done. Just go with that, you know? I don't feel like I've missed anything or I've fallen short or have not done a certain thing because I've done everything I could. If I didn't win, then I felt good about it.