Is good Australian whisky becoming more accessible? Sam Bygrave and Andy Ratcliff taste and rate Kinglake Distillery O'Grady's Stand single malt whisky.
A quick note before we get into this review, which is something new for Boothby. I'm hoping to spotlight some of the good and great bottles that come across my desk — much of which is Australian — but to do it in a way that is credible, independent, interesting and engaging. I want them to be useful to you.
Reviews are by their nature subjective — anyone who says otherwise is just wrong. I'm happy to argue all day about that. That doesn't mean, however, that reviews can't be useful. Of course, you want to strive to be as impartial as you can, but the things you've tasted before, the experiences you've had — heck, what you ate for breakfast that morning — all play a role in how you perceive whatever it is you're reviewing at that time.
So we'll be trying a few things and tweaking these reviews as we go along. I want them to be a conversation of sorts, with people whose opinion and way of looking at the world of hospitality and drinks I admire.
That's why I've asked bartender and writer Andrew Ratcliff to share his opinion for this first review. He's an experienced veteran of the bar, one who spent a lot of time behind the stick at The Baxter Inn, a former brand ambassador, and is currently running things at the Clocktower Bar at Shell House in Sydney. He's written reviews for Time Out Sydney, and written on this website before — he's also a good friend.
I've included both my and Andy's scores for this bottle, not because I think individual scores are everything — numerical scores can sometimes miss the point of drinking good hooch — but because I think it can be useful to set a baseline of quality over time. I'd love to hear from you about these reviews — you can get me at sam@boothby.com.au. Sam Bygrave
What we know about Kinglake Distillery
Established in 2018, Kinglake released a cask strength version of this whisky to solid reviews last year — weighing in at 62 percent ABV, Julian White scored it 88 and wrote favourably about it over on Luke McCarthy's Oz Whisky Review.
The distillery is in Kinglake — I guess the clue is in the name? — in Central Victoria.
This version of the whisky lands at 46 percent ABV. O'Grady's Stand is a small batch whisky made from four different malts: three from Griffith New South Wales, and a peated malt imported from Scotland. It has been aged for just under three years in small re-coopered octave casks (50L) to provide more contact with the wood.
The casks are ex-bourbon and were imported from Kentucky. The mash is fermented in uncovered, open fermenters, as Max Allen writes in the Australian Financial Review, with the aim of incorporating a sense of place into the final spirit; native pollen and wild yeasts will, with the distillery doors open, inevitably find tehir way into the fermenters and — well, this is the idea anyway — have some effect on the flavour of the whisky.
Interestingly, we didn't pick up much in the way of peat in the final bottling.
The Whisky
Andy Ratcliff: I've never really been a fan of Australian whisky, whether it be the horrendous price tag or the ambiguous details around production and time in a barrel, I'm a stubborn traditionalist at heart.
Having been handed a bottle of the Kinglake I immediately groaned, but after having an evening drink in my recliner (I'm old enough to do that now) and immersing myself with the music of Leonard Cohen, I was quietly surprised by this tasty little drop.
It's not often you'll see transparency with Australian whisky but this company has all the details you need right smack bang on the bottle.
The whisky deserves better than the Vegas-inspired branding on the bottle but I don't work in marketing, it's just my opinion.
Sam Bygrave: Like Andy, I'm not big into Australian whisky — partly because the best is often pricey stuff. But tasting the Morris Australian Single Malt Signature Whisky last year was a revelation — it's a great Aussie whisky at a reasonable, affordable price point.
The Kinglake Distillery O'Grady's Stand, which lands at $100 for 500ml, might not be as affordable as the Morris, but it's pretty reasonable when compared to what some other Aussie single malts command at the cash register. The question is, will it deliver on the palate?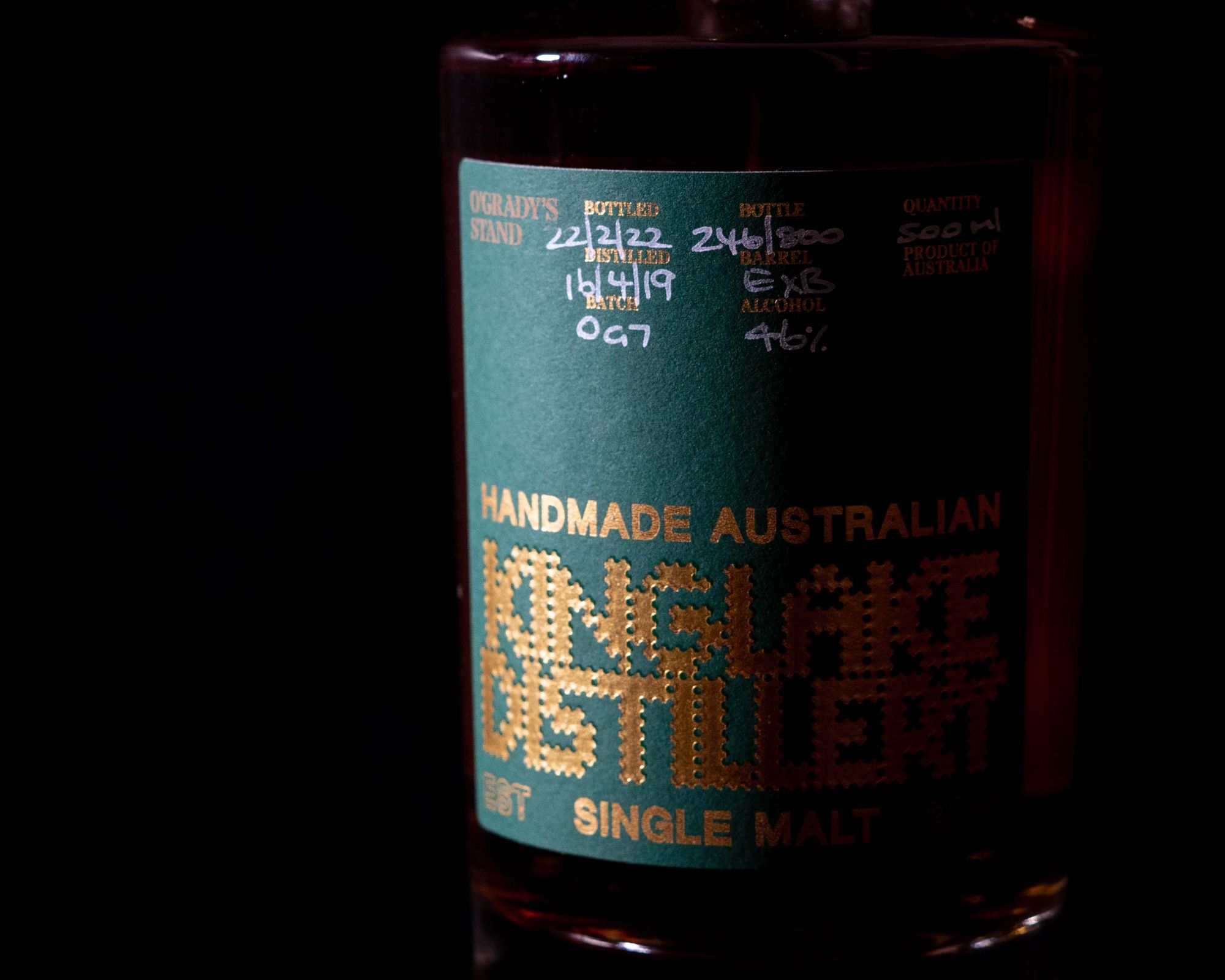 Kinglake Distillery O'Grady's Stand tasting notes
The Nose
AR: On the nose I get that sickly sweet candy that usually prepares you for something horrendous, like a sweet, young bourbon.
SB: For me, the nose shows red apples, toffee, and perhaps a hit of something floral; lemon zest too, and raisins. It's appealing, reminds me of toffee apples — but not in a fake confectionary way.
The Palate
AR: On the palate is an oily, heavy and superbly well-balanced mixture of orchid fruit, dark chocolate and almost tannin-like flavour that is usually reserved for wine-cask finished malts.
SB: Weighing in at 46 percent ABV, the palate shows a good spot of wood spice, and more of those big red apple vibes; it's fruity, a little spicy, and lands with a lick of salted caramel.
The Finish
AR: The finish is longer than what it would take you to read the collected works of Charles Dickens. It's complex and leaves you wanting more.
SB: It's a medium-long finish, with some toasty oak, black pepper, and toffee characters, and perhaps — if I'm being picky — it's got a little alcohol heat.
The Conclusion
AR: I can't really fault this, it's very good. I need to drink more Australian whisky. 8.5/10
SB: This is tasty whisky. Some might see it as a little simple, but there's an elegance to it; it's fun, fruity, and the kind of whisky that makes you want to take another sip.  8/10
Further reading...