Some 45 bartenders will be donating their time behind the stick to raise money for flood relief.
It is an understatement to say that it has been a hard time for people from the north of NSW to Brisbane and beyond, with record floods wreaking havoc and turning people's lives upside down.
It has left a lot of people — many of them in hospitality — asking themselves, "What can we do?"
That's why on Sunday, to help raise money for flood relief through the charity GIVIT, some 45 bartenders will be donating their time to work the stick at the 500 person venue Welcome to Bowen Hills, with raffle prizes, live music and plenty of good times on offer. Led by Brisbane bars Alba Bar & Deli, Savile Row, and Welcome to Bowen Hills, more than 20 brands and bars have donated stock and prizes so that they can raise as much money for flood relief as they possibly can.
It's a great cause, and you can get behind it by buying a raffle ticket (you can do that here) and getting along on the day. It all kicks off at 3pm this Sunday the 20th of March.
Below, we hear from one of the organisers, Savile Row's Tim Speechly, to find out more.
Mud Sweat & Beers
What: Family Day of Fundraising, Raffles, Live Music & Games
When: Sunday 20th of March
Where: Welcome to Bowen Hills (631 Gregory Terrace, Bowen Hills QLD 4006)
Time: 3pm - 10pm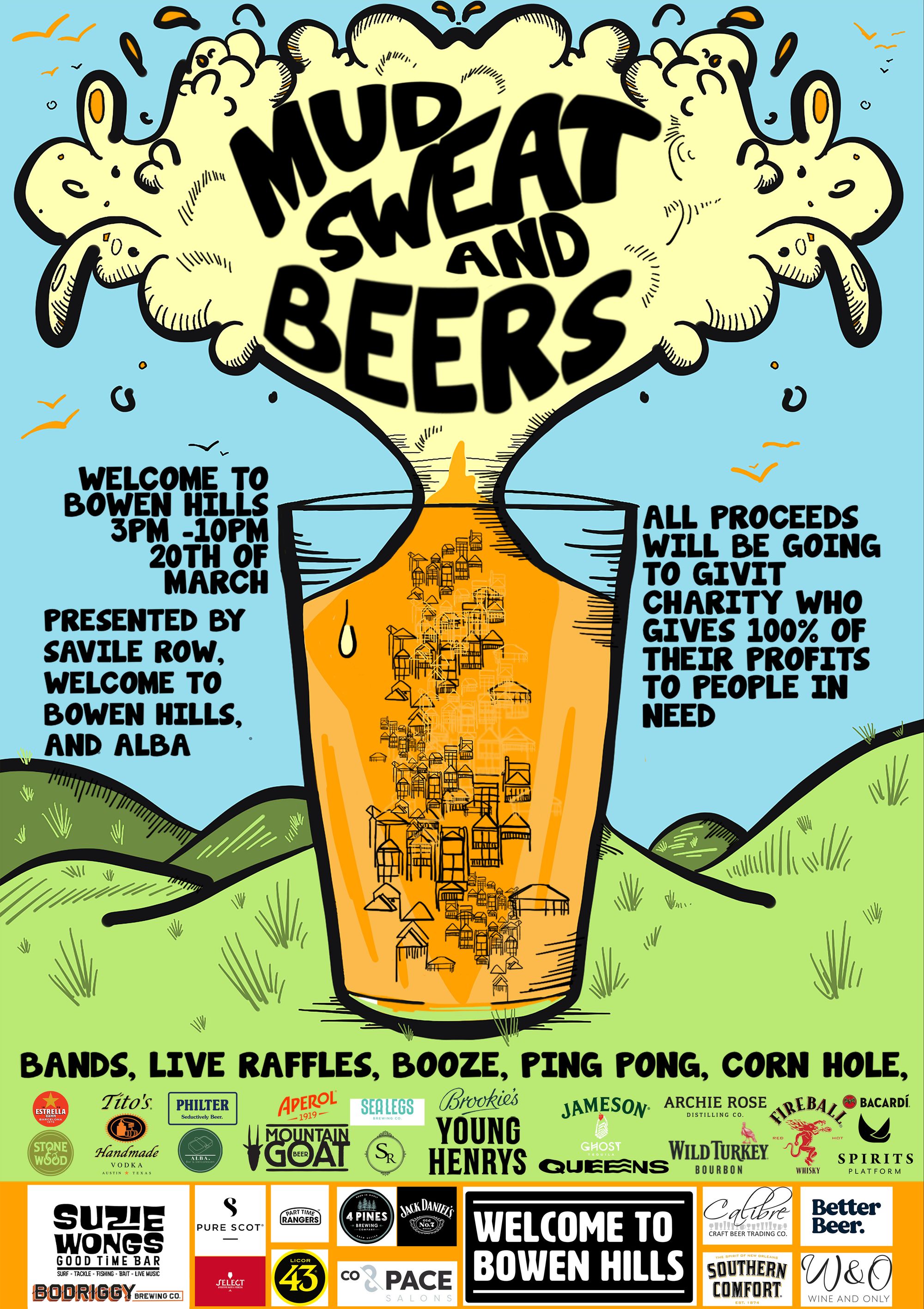 Boothby: How are people feeling up there right now?

Tim Speechly: Some people are worse than others obviously, I've had friends lose their whole house and it just crushes you to watch. Throughout the whole of Brisbane, Queensland and Northern NSW people are just trying to help one another and that's the bottom line really. If these past years have shown anything it's how humans inherently band together in times of struggle and uncertainty. It makes me so proud to be from Queensland, I think we are just bred different up north. I have friends driving down to Lismore with cars filled to the brim of water, dry clothes, food and cleaning chemicals and it's just incredible to see the selflessness of people when they see other people who have lost everything. With regard to hospitality it's doing what we can and this event is just a gigantic extension of that.

Why do you think it's important to put on events like this?
I think it's important to the hospitality culture in general. Brisbane has had events  put on, like some of the top chefs from 10 different restaurants getting together for a night at Gerard's Bistro and doing an incredible dinner for their farmers and fresh produce suppliers, to about six different pubs and live music venues putting on flood relief gigs and selling out. This event was born out of one question, which was: What can we do? Gibby Odlum and the Alba Bar & Deli team (fronted by Jamie Fleming and Joe Steadman) were floating ideas separately then we just all decided to join forces and do the biggest event we could possibly conceive. We just got every single rep, BA and bar manager together who we know would put everything aside to help and assist and we just got an overwhelming response. Even after going live with the event I still have emails from more brands wanting to do whatever they can and give what they can so we can raise the most money possible.

There's two groups of people that made this possible: First ones are the brands, just incredible to see this many different and normally competing brands putting everything aside to put on the best day we can. They are all absolute legends in their own right. Please check out or poster to see them all — there are alot!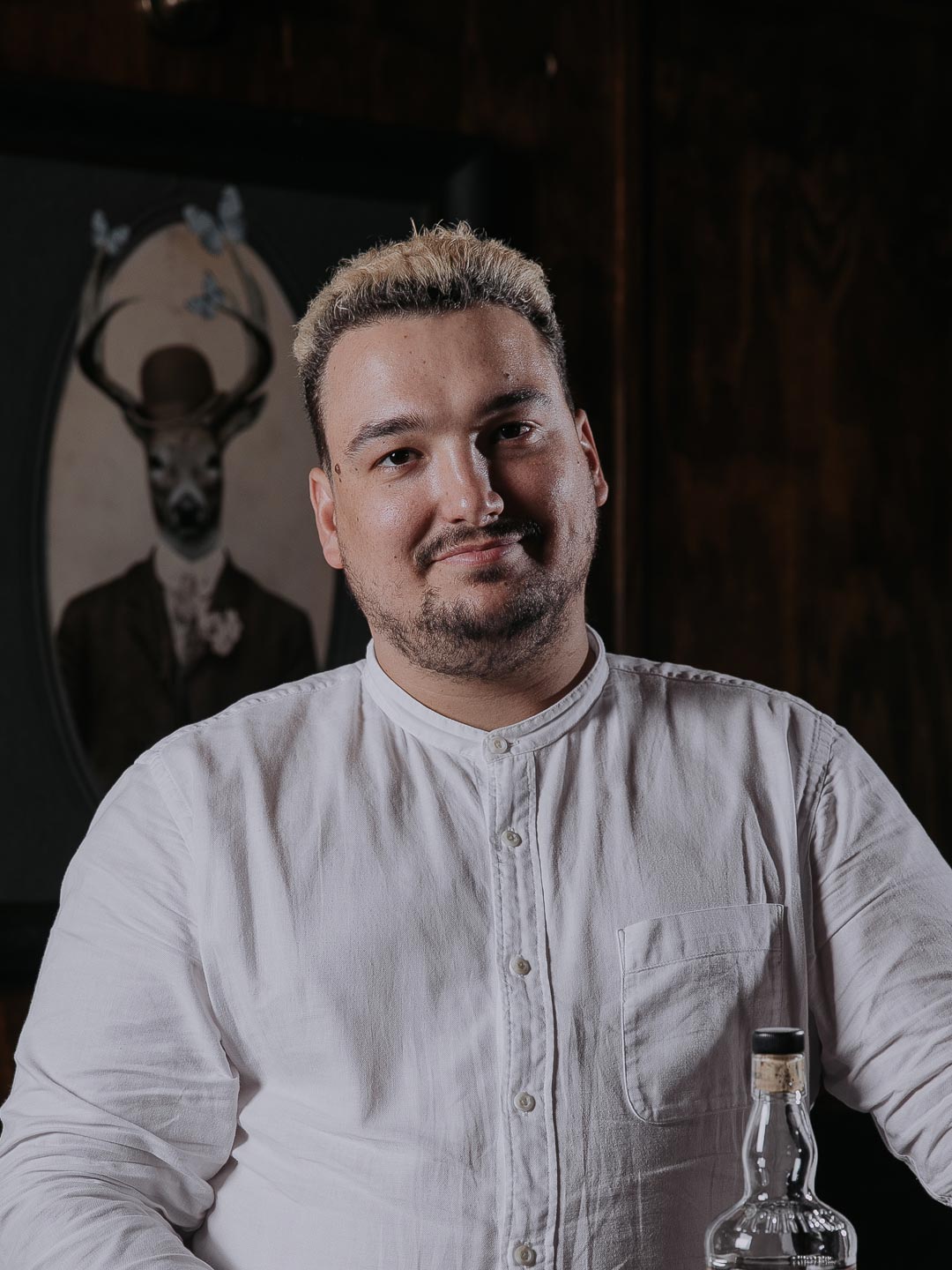 The other group of people is the bars and bartenders, from venues like Suzie Wongs Goodtime Bar sorting the live music and sound techs, Queens and about five restaurants and bars for fronting up gift vouchers, dinners and everything in between to be put up for raffle. Alba Bar & Deli organising the raffle, the website and sorting out 45 bartenders who have donated their Sunday to work in rotating shifts to cover wage cost for the day so we can be as profitable as possible. And lastly, Welcome to Bowen Hills for hosting it in their big, beautiful, 500-capacity venue (which we hope to have at full capacity all day).

How is the recovery coming along?
I think its going well, I think most people have been in their homes now for a week or two and just sorting through their lively possessions which they have then had to dump on the street in front of their houses for kerbside pick up. I'll be the first to admit I didn't realise what you have to do to get your house back to normal after something like this, managing mould, insurance companies and trying to just get your water and power running can seem like a simple task but they're just not. And for some people it will be months until they can move back into their homes and try to get their lives back to normal. I think charities like GIVIT are just incredible by allowing people who donate to opt to give all their donations to charity instead of some of it going to the charity itself. The biggest questions brands had for us when doing this was how much of the money we donate goes to GIVIT themselves and we could happily say none, it all goes to those affected by the floods.