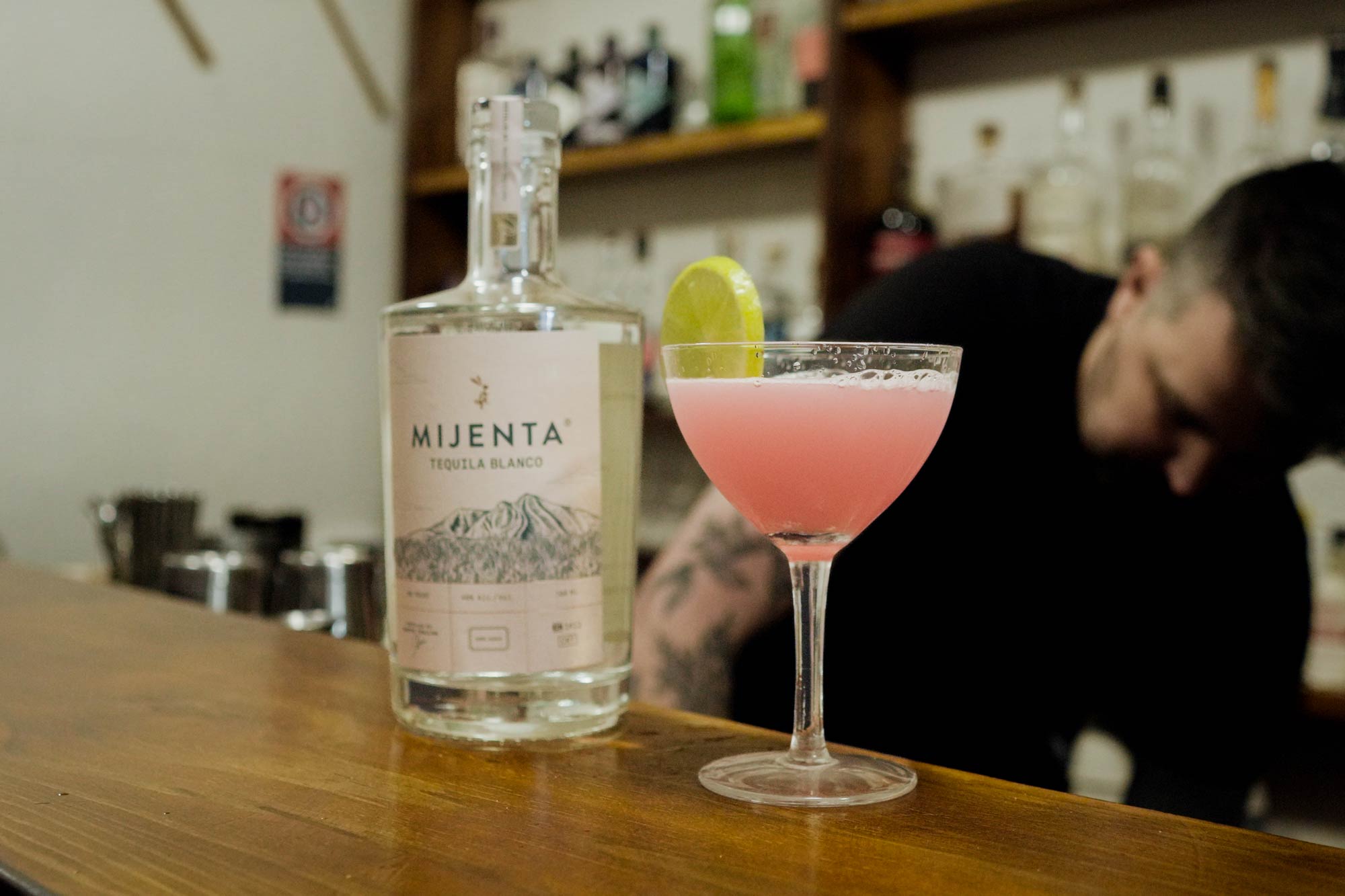 It's a killer pink drink with a little lick of bitter.
MADE POSSIBLE BY SPIRITS PLATFORM
In Breaking Down, I look at what makes classic drinks so delicious and, well, classic.
To that end, our sponsor for this series, Spirits Platform, are offering training across the country on classic cocktails, spirits and more — contact your state's ambassador (details below) to learn more.
---
I'm often on the lookout for new tequila drinks. I love a Batanga. The Margaritas at Cantina OK! and El Primo Sanchez are some of my favourite drinks. The Toreador is a criminally underrated drink. But there does seem to be a dearth of tequila drinks out there, particularly when compared to something like gin or rum.
So, a tequilafied riff on the Hemingway Daiquiri? Let me at it.
This drink — the Siesta cocktail — isn't exactly new, but I must confess I'd never had one before Spirits Platform ambassador Josh Varna made one for me at Huelo in Newtown a few weeks back.
(And yes, this drink sports a pink hue, but Barbie had not yet figured in the conversation when I shot this drink).
This drink hails from Flatiron Lounge, which opened in New York's Flatiron district in 2003 and was owned by bartender Julie Reiner (whom you may know from this Drinks At Work podcast interview). The bar closed after 15 years of service in 2018, but through that time saw some of New York's best bartenders put in time behind the stick — people like Speed Rack co-founder Lynette Marrero, Giuseppe González, Phil Ward (owner of the dearly missed Mayahuel in New York), and the creator of this drink, Katie Stipe.
Stipe created the Siesta cocktail some time in 2006, somewhat early on in her bartending career. It's a riff on the Hemingway Daiquiri, with Campari switched in for the maraschino liqueur, and blanco tequila taking the place of white rum.
It has also been called a modern classic cocktail by Robert Simonson, the writer for The New York Times who quite literally wrote the book on modern classic cocktails. Whether or not it hits modern classic status, I don't know - it's a drink I don't think I've ever actually seen listed on a menu, but I'm happy to be proven wrong.
The result, however, is a killer pink drink, one that's perfect for the afternoon, sure, but also one to turn to whenever the weather starts heating up.
Spirits Platform brand ambassador — and frequent recipe presenter here on Boothby — Josh Varna shows us in the video here how he makes the Siesta. He's substituted Select Aperitivo for the Campari of the original, and range slightly sweeter nature of Select means you'll get a less bitter take on this drink, but he's also reduced the sugar syrup from the original by a healthy dash.
Siesta cocktail recipe
Ingredients
45ml Mijenta blanco tequila
10ml Select Aperitivo
22.5ml lime juice
15ml grapefruit juice
15ml sugar syrup
Instructions
Shake all ingredients with ice and strain into a chilled cocktail coupe.
Garnish with a lime wheel. Lime wheels are fun.
Adapted from a 2006 recipe by Katie Stipe at New York's Flatiron Lounge.
---
Want to learn more?
This primer was made possible by support from Spirits Platform's Spirits Academy. Their team of ambassadors conduct trainings around the country, sharing their in-depth knowledge of spirits, cocktails, and their big portfolio of products.
Get in touch with your Spirits Platform ambassador for your state to find out more.
National Ambassador Manager: Mark Hickey — email him on mhickey@spiritsplatform.com.au
NSW, ACT: Josh Varna — email him on jvarna@spiritsplatform.com.au
QLD, NT: Jack Creighton — email him on jcreighton@spiritsplatform.com.au
VIC, TAS: Max Borrowman — email him on mborrowman@spiritsplatform.com.au