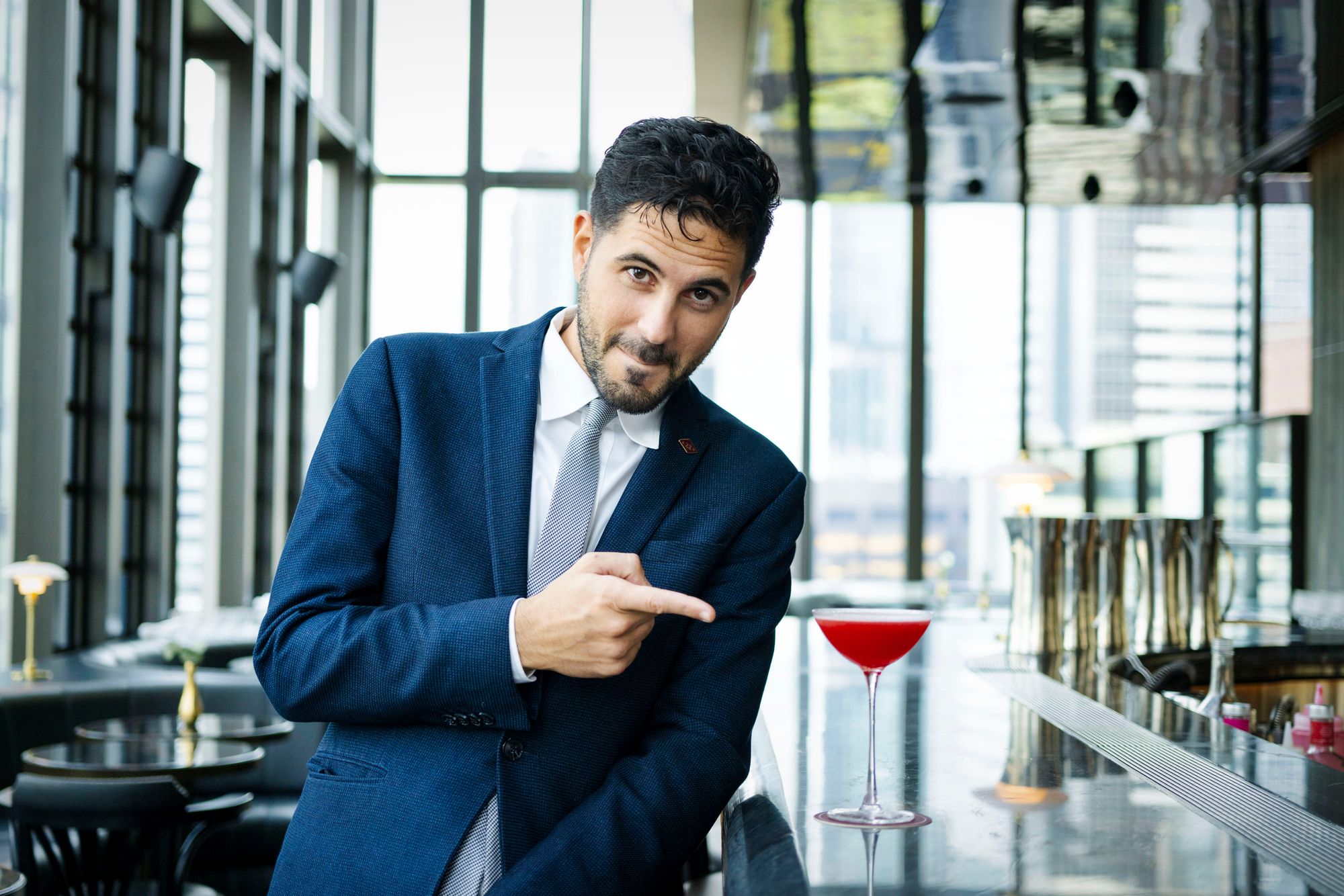 Today he's bringing old world hotel charm to Dean & Nancy on 22 in Sydney.
---
It takes a special breed of operator to open a bar in the midst of a pandemic — especially a high-flying bar like Dean & Nancy on 22 — but in 2021 that's what the team behind Maybe Sammy and Sammy Junior did. It's an ambitious space, visually spectacular — the ceiling to floor glass windows reveal its perch high above the streets of the Sydney CBD, nested in among the skyscrapers. They're also on a mission to bring some of that old world hotel bar panache to Sydney's bar scene; Stefano Filardi is the guy tasked with doing that.
Filardi is the restaurant and bar manager whose goal is to bring something that he describes as "elegant, decadent, but at the same time, fun, and professional" to Dean & Nancy on 22. Italian-born, he had already been bartending a while when he landed at the storied American Bar at The Savoy Hotel in London, where, he says, he again started from scratch as a barback, working his way up to assistant manager.
Below, he talks about what makes Dean & Nancy special, what he learned working at the American Bar at The Savoy Hotel, and what makes a great bar, whether it's a high end cocktail bar, hotel bar, or a dive.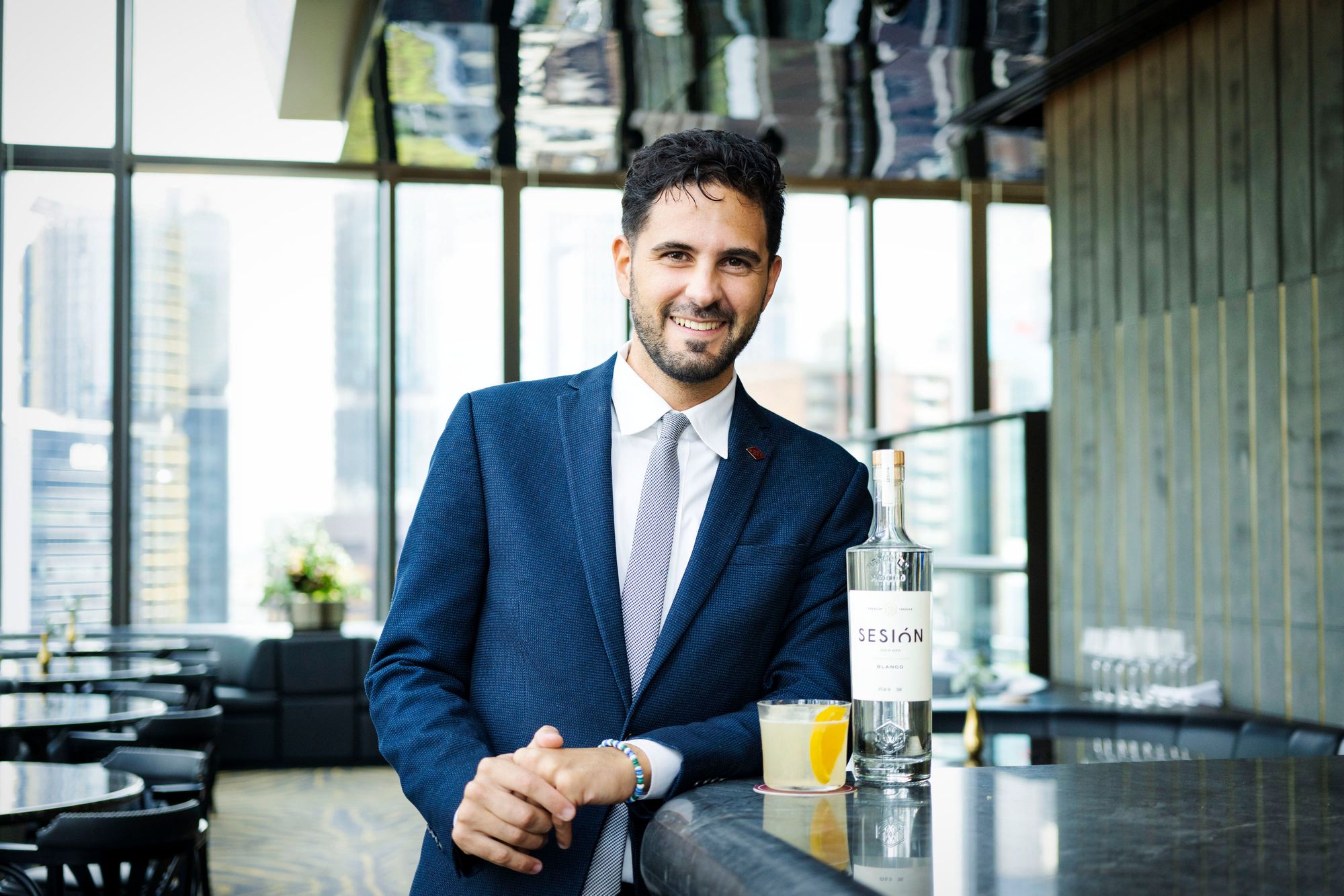 Sam Bygrave: Tell us about Dean & Nancy, what's the idea behind the bar? How do you describe it?
Stefano Filardi: So the idea behind Dean & Nancy is, it's part of the Maybe Group, so what we wanted to bring is a sort of hotel bar idea as much as they do in Europe, they do in the US. We wanted to bring a proper hotel bar culture, that here, in Sydney, you know better than me, it's not as common as in other parts of the world.
We wanted to bring something more elegant, decadent, but at the same time, fun, and professional and not too — you know, my previous school was the American Bar at The Savoy in London. I love that place. But sometimes it can be a little bit intimidating going to those kinds of establishment.
We wanted to bring some of the same concepts such as being elegant, classy and professional, but at the same time being more casual and more adapted to the Australian market.
That was the idea, and it has been a little bit of a rollercoaster — we opened, we closed, we opened...
2021 wasn't the easiest time to open was it?
Yeah. I have to be honest though, I'm very happy of where we are after a year. The team is is amazing, and you know, it's all about the team. I'm super happy. We are doing better and better, and we are learning more things every day.
And it's exciting. I'm super happy to be a part of it.
How important are initiatives like Australian Cocktail Month in encouraging the punters back to bars?
​I love this kind of initiative — it helps to bond the industry even stronger and will help to bring people together.
Other than your bar, where else will you be going for a drink during Australian Cocktail Month?
​I haven't visited Jolene's yet and I think is the best excuse with ACM.
On a Friday or Saturday night, when you're there and you're looking out to the crowd in the bar, what's your favourite thing? What's the thing that you really love about the place?
I love first of all of the venue itself — the design and looking out over the city. It's amazing. It's a privilege to work there. It's such a cool spot. So a lot of the atmosphere the venue creates — and we do have a lot of live music and you know, great artists and DJs, they always set a nice vibe and a nice atmosphere. I just love having a buzzing venue, people having a good time, the team is having a good time. And there is cool lighting, a good atmosphere, nice music and you have a great, great view of the city. So it's all there's — it's not just one single thing. That's amazing. I'm proud.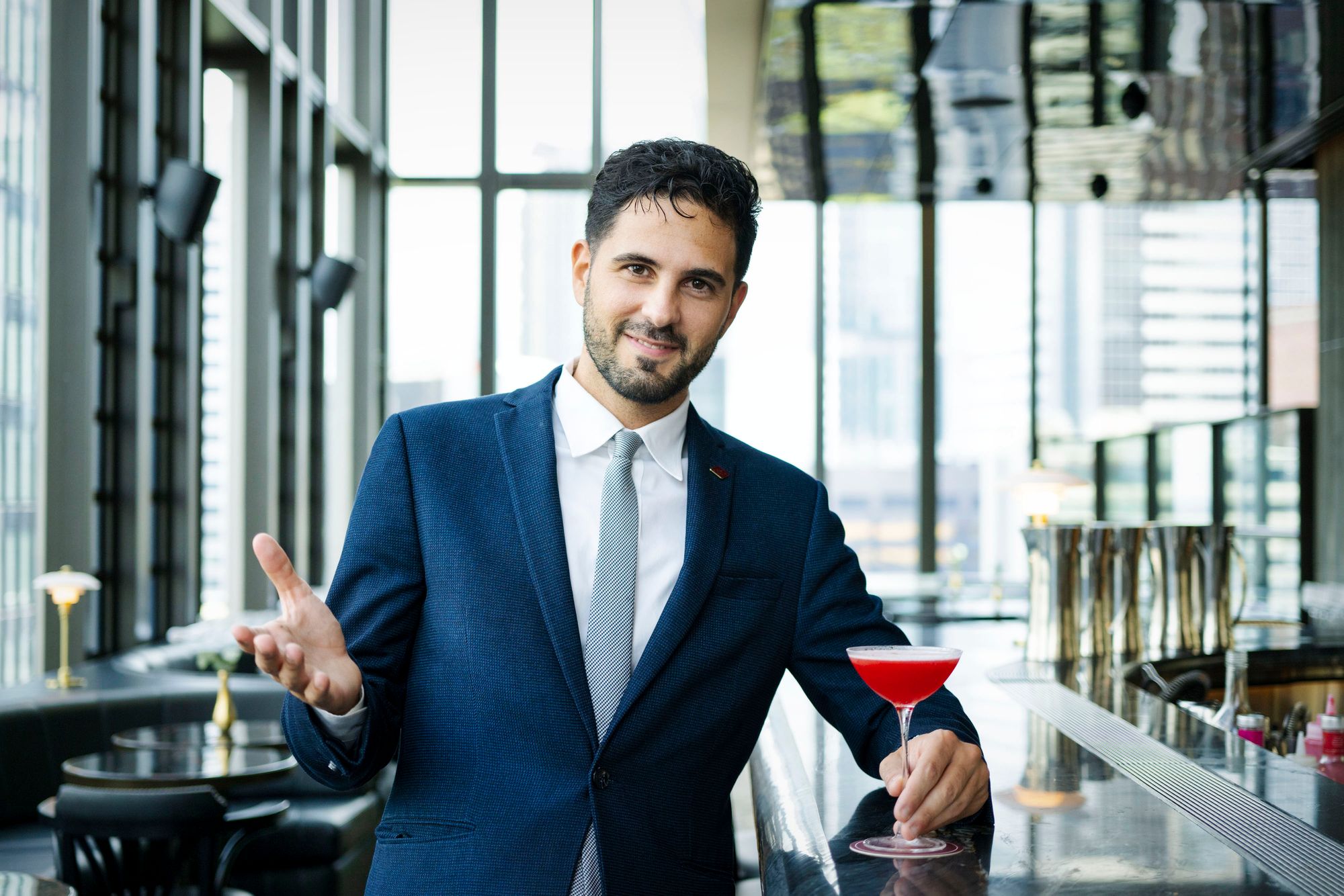 You mentioned that you did work at the American Bar, what did you learn from your time there? It's such a such a big bar in  the minds of many bartenders, it's been around for so long. What was it like working there?
I learned many, many, many, many things. It's hard to pick one and it's a great school. I had been bartending before but of course, the American Bar is another thing. So I restarted from from zero as a barback. And then I moved all the way through, and I finished as an assistant manager when I left London.
The thing that I loved and what I learned is dealing with stress and dealing with very, very challenging situations and very challenging guests. I'm a very humble person, and this is not showing off, but you know, daily we were dealing with Hollywood stars, with Prime Ministers. I have goosebumps now that I'm telling you this stuff. In a way it's super exciting, like you can't wait — I used to play a lot of sports, and before going to the pitch, you're excited to play the game. Before doing the shift [at the American Bar] I felt the same way — you do the briefing, and they tell you that there is Johnny Depp, that there is the prime minister of whatever country, and it's insane. And you think I'm here every day, and I'm serving these people. A great lesson is there — you see that everybody's the same, even if they're Hollywood stars, even if they're a billionaire, or whatever they are. They're human beings like you. So that's a great lesson.
What do you think makes a great bar? What do you look for when you go into bars, whether it's a hotel bar, or even a dive bar?
For me it's, I'm not gonna say only but it's 99 percent about people. [I look at] if people are smiling, if people are positive, and they're happy to serve you, and they're genuine in the service that they provide. I look to that first, absolutely before the quality of the drink, the glass, or the music.
This business is driven by a community, by people, and by looking after each other. So if someone is having a bad day and shows you or doesn't want to really be there in the moment, and is annoyed and is negative, then it's affecting you. Even just a little smile from the host at the beginning, it can change your bad day if you're a guest. And that's what I look for in venues before everything else.
I think people are the most important.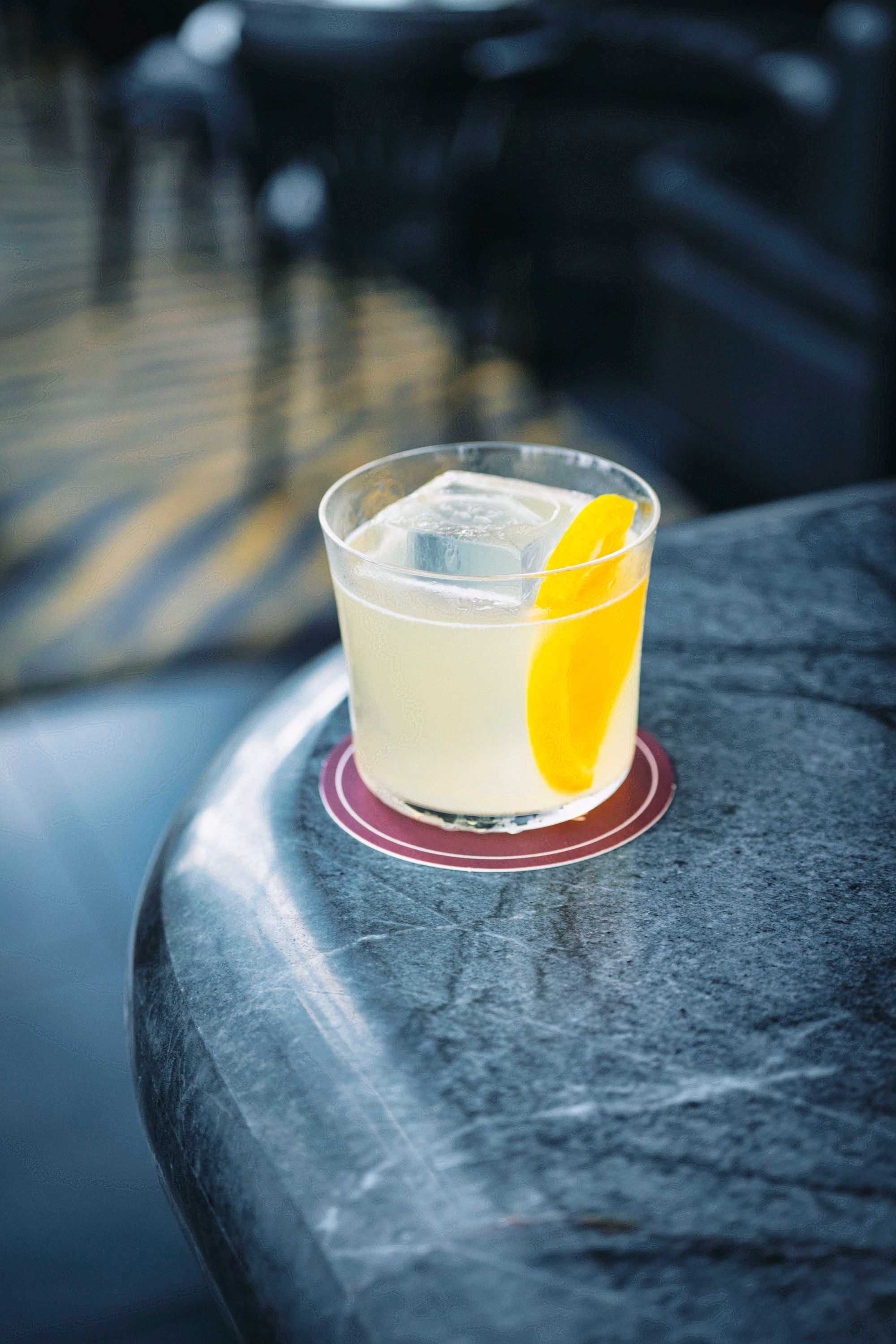 Calave Rita
Ingredients
50ml Sesion Blanco Tequila infused with tonka bean
25ml fresh lime juice
15ml falernum
10ml dry curacao
a dash of agave syrup
Instructions
Shake all ingredients and serve over ice, with an orange slice as garnish.
A festive twist on the No.1 favourite Margarita featuring Sesion Blanco Tequila. Recipe by Krisztian Csigo at Dean & Nancy on 22, Sydney.