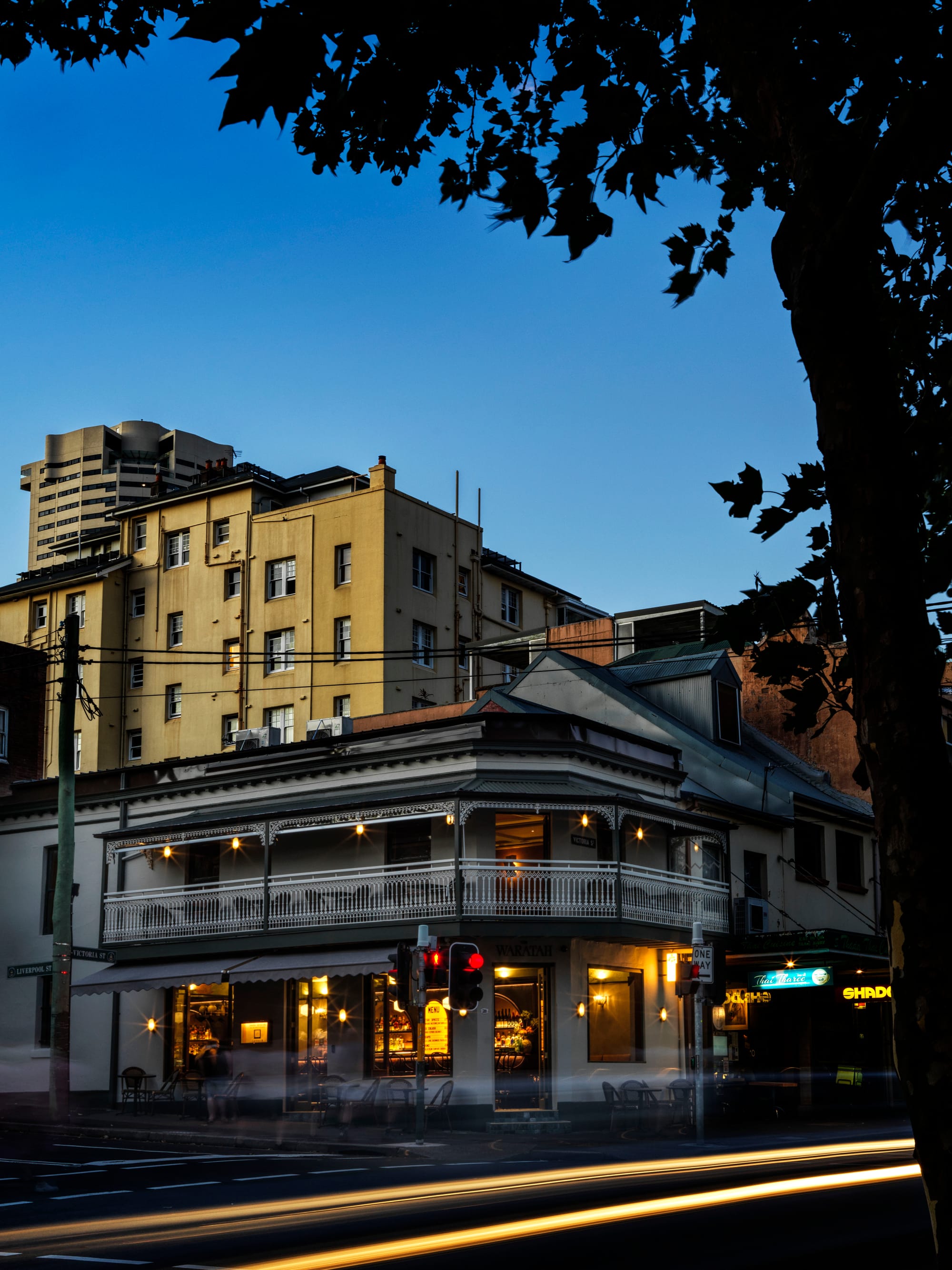 The Waratah is a highly anticipated opening from one of the country's best bartenders.
Updated Monday 4 December
"My sleep has been pretty good lately — that's going to change pretty quick," bartender Evan Stroeve tells me.
The 30-year old award-winning bartender foresees some late nights in his future, because come mid-November he'll be opening the doors to The Waratah, his first foray into bar ownership.
"I always wanted to open my own bar," he says. "I just like the idea of doing my own thing, and working for myself."
Evan has quite the resume, too: he's worked at Shady Pines Saloon, The Baxter Inn, Bulletin Place, and most recently was on the opening team at Matt Whiley's RE. He won the Australian final of Diageo's World Class Bartender of the Year in 2021, and he's the co-founder of indie Australian spirit, Rhubi Mistelle.
But the first few months of getting the build for The Waratah underway was a new experience for Stroeve.
"It's the first time in a long time that I've felt completely out of my depth," he says. "It's awesome."
They've had some delays — work began last year, but termite damage (which the landlord subsequently fixed), delays in DA approvals, and a change in design firms all combined to push back the launch date.
But everything is coming together now. If you follow Stroeve on social media (find him on Instagram at @evanstroeve — the bar is @thewaratahsydney) you'll see things are taking shape.
So what can you expect from the year's most anticipated bar opening?
We've just got word that The Waratah opens to the public on Wednesday 6th December — and the first pictures from the bar are now in. Get a look at them below.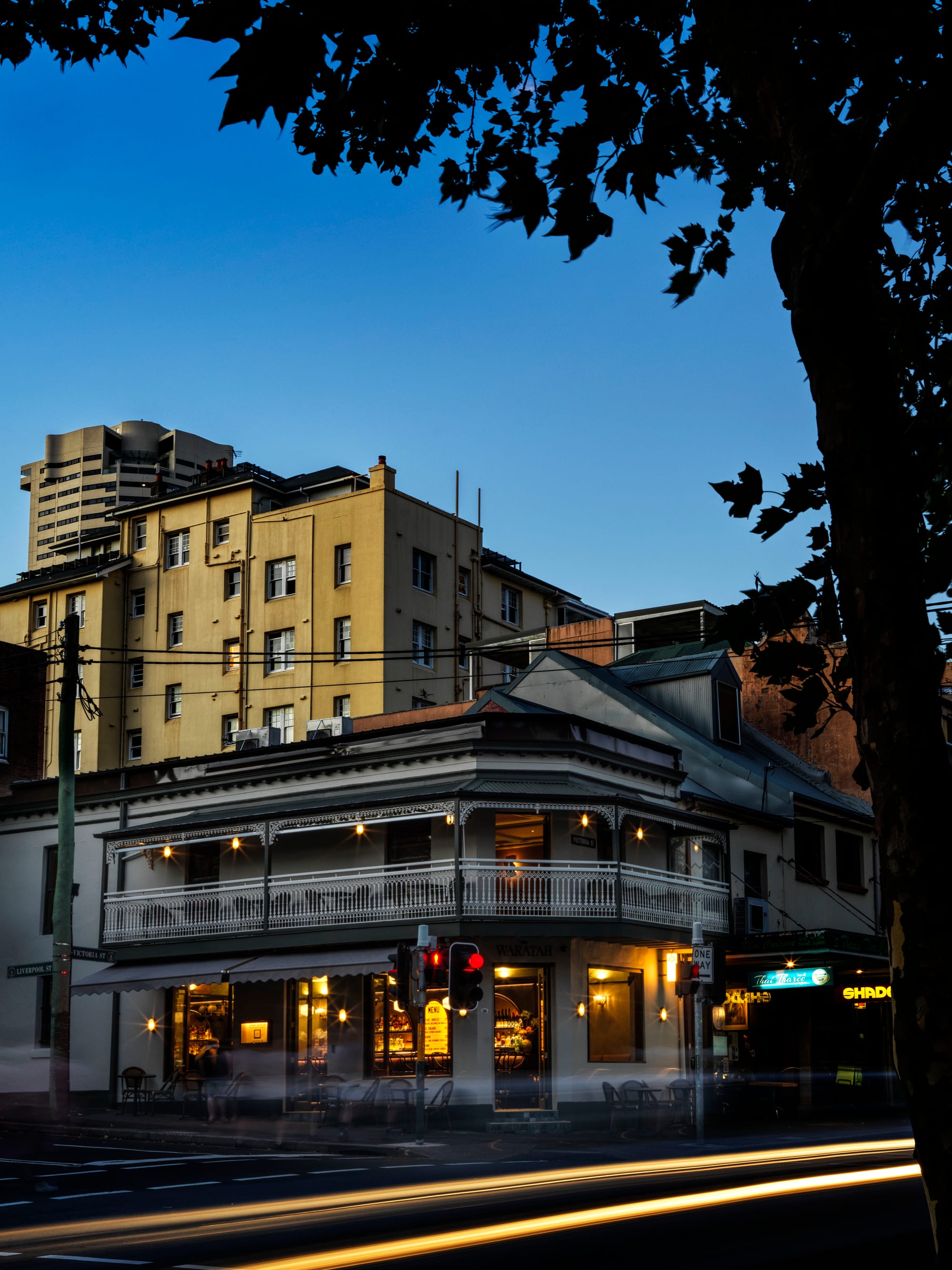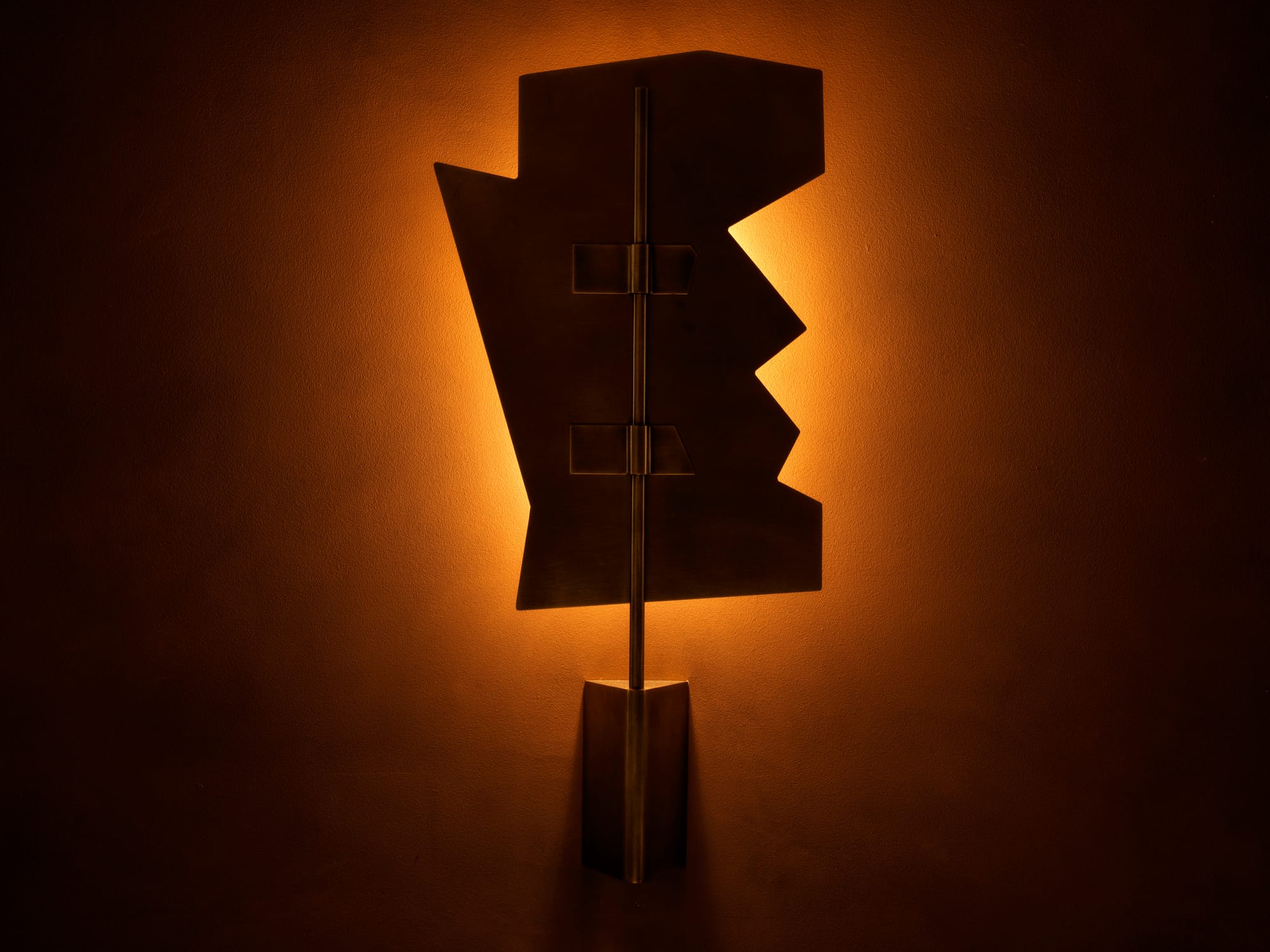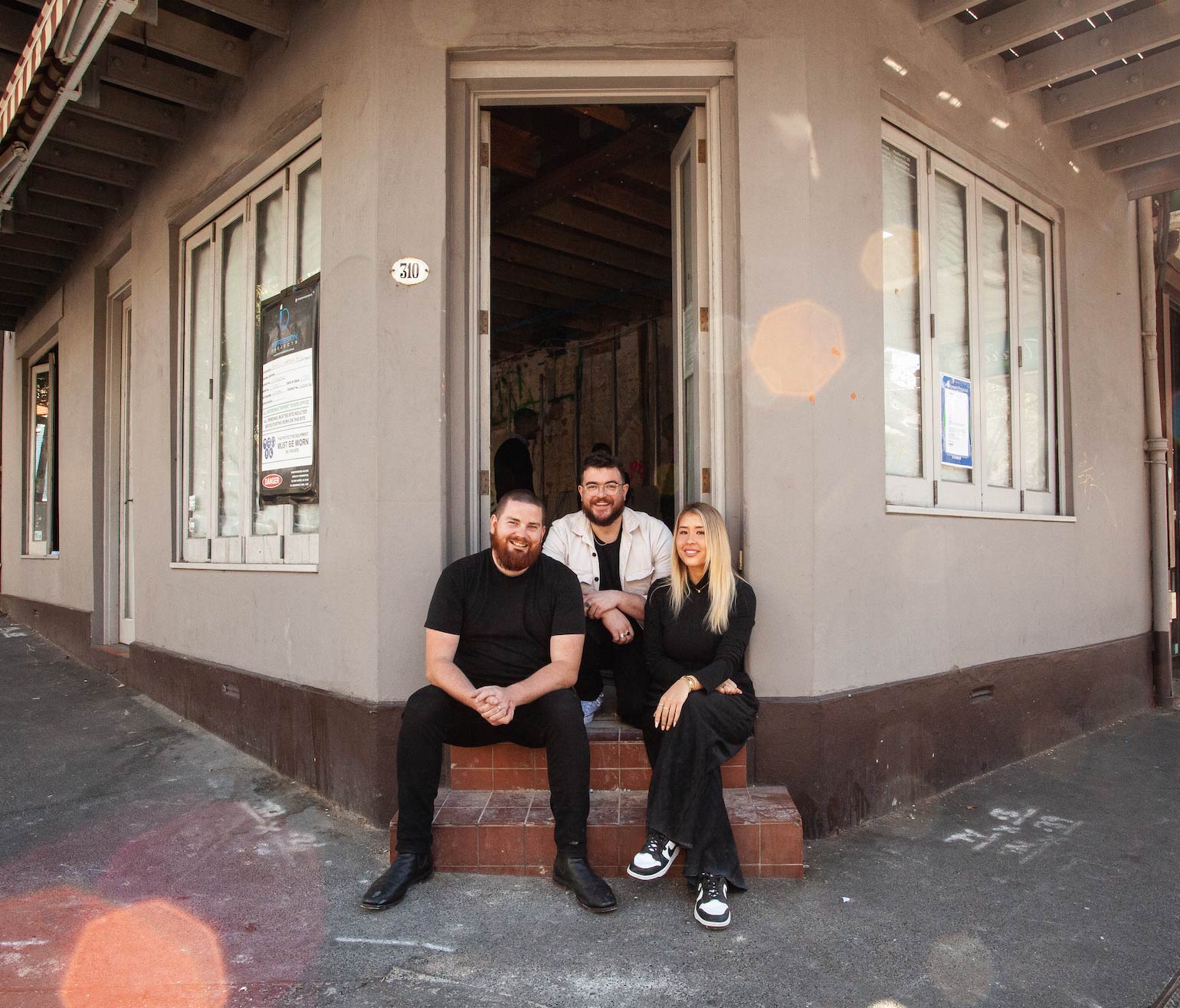 What's the concept?
Evan has long been a passionate advocate for quality produce, but more importantly, the people behind the food — the growers and providers who bring it to the bars. And that's what animates the big idea behind The Waratah: seasonality, championing producers, telling the stories behind the ingredients they love (for how that works in the drinks program, we get into that in a moment).
The Waratah lives in a two storey corner building in Darlinghurst that has the feel of a classic Australian pub — just don't think of it that way. "It does look very pubby," Stroeve says, "and I wanted to do something that has the community and colloquialism and feel of a pub, but the last time I worked in a pub I was 20 so I still wanted it to be a bar." Think of a neighbourhood bar with world class drinks, and you'll be on track.
There's a lot of old recycled timber inside — and some large scale decorative art.
"Mum did all the artwork," Stroeve says. "She's designing a big mural that's going to go completely across the roof on the ground floor. So as soon as you walk in, you're kind of enveloped by it."
"One of the first artworks I remember her showing me was The Waratah, it's so iconic and yeah, beautiful."
The downstairs space is small; there's space for 20 people to sit out front along the street, with minimal seating inside and standing room encouraged.
"Think about Cantina OK!, not having seats and having people standing," he says, "there's this invisible force between you. That's kind of what we're going for downstairs, a bit more energy, everything's done at the bar.
"Upstairs is all bookings and table service," Stroeve says, although they'll keep some space for walk-ins. There is space for 70-odd people, with a terrace that wraps around the face of the building and an open air courtyard out the back.
It's a two venues in one type of approach the likes of which you may be familiar with from Tayer + Elementary in London, or Dead Rabbit in New York — bars which have a simpler offering out front (or downstairs), with a more elevated and ambitious cocktail bar offering in the second space. For Stroeve, what they offer upstairs "will be a little bit more refined and modern."
What can you expect from the drinks at The Waratah?
"The drinks list is more or less finished," says Stroeve, but the overall direction is could be described as Stuff Evan Likes To Drink.
Downstairs, there will be a short cocktail list premised upon classic cocktails and riffs on classics, and changing more regularly.
"It's very Bulletin Place in style, it's behind the bar, changes when we want to change it, and if it's not an out and out classic, it's an out and out classic with some mango," he says.
"That's for two reasons. One, they're the drinks that I want to drink anyway. And they're the drinks that most people want to drink. But it's also an outlet for staff. The upstairs menu, it changes every three months so there's not a huge outlet really. I'm a creative, and I know that I want to hire creative staff. So having that menu downstairs that changes [more often] gives them the opportunity to participate in that, and take some accountability and ownership over that."
There will be beers on tap, and Australian wines, but he's not implementing any particular natural wine program.
"There will be a lot of that," Stroeve says. "But I'm not fixed on that as part of our identity. You know, we've got people have been wine for four or five generations — they know how to do it and how to do it really well." Expect wines from winemakers young and old.
Upstairs you'll find a different approach to drinks, with Stroeve unleashing his creative side, and playing with ferments and technique-heavy cocktails.
"It's similar, I guess, to Little Red Door [in Paris] in a way," Stroeve says. "You've got a bunch of hero producers, and their produce and what we purchase from them is the main ingredient of the drink. And then we supplement that with New South Wales growers and people like [grower] Peter Dryden who I've been working with for eight years.
"We change [focus] every season, we just focus on a different region within Australia," he says.
So what's the focus of their first menu? The menu is inspired by North Queensland for summer, championing producers up in the Daintree Forest and the Atherton Tablelands.
"Up there you've got you got coffee growers, you've got tea plantations, you got cacao plantations and obviously pineapple and mango, all the tropical fruits," says Stroeve. "[We're] working directly with eight producers from there."
And will there be food?
You know there will. Alex Prichard is the executive chef at Icebergs Dining Room & Bar, and has come on board as a consultant to get The Waratah going (he won't be leaving Icebergs).
"I don't know shit about food, man," Evan says. "Alex and I have known each other for eight, nine years. He thinks the same way about food as I do about drinks, that's producer-focused. Simple where required, and technique where required as well. And he offered to come over and oversee the menu and help me find a head chef." Lewin White — who Stroeve worked with back on the opening of RE — is that head chef, and comes to The Waratah from Icebergs. Expect some smart takes on contemporary pub food.
What are the trading hours of The Waratah, and where is it?
Stroeve is expecting The Waratah to open in mid-November 2023, and you can find the bar at 308-310 Liverpool St, Darlinghurst in Sydney. They'll be trading 4pm until late, Wednesday through to Sunday (and we reckon it's going to be a very good Sunday session there).
Who is behind it?
There are two owners behind The Waratah: bartender and co-owner of the Rhubi Mistelle brand, Evan Stroeve, with family friend and marketing lead Cynthia Lister, who together form Pollen Hospitality. "She does custom sneakers — she's cool," says Stroeve. "She's got an eye for that kind of stuff, which is good because I don't."
Who are the staff on board?
As you'd expect from a bartender opening their own joint, you'll see Stroeve there night in and night out. But he will be more than ably assisted behind the bar: fellow ex-Bulletin Place bartender, the engaging Jeff Santony, is on board as bar manager, and Brisbane up and comer, Andie Bulley (one of our three bartenders to watch in 2023, no less) is making the move to Sydney to take on a creative lead role at The Waratah. The talented Thomas Opie (who appeared on the recent Boothby Drinks of the Year Top 50) is also on board.
What's on the playlist?
The atmosphere upstairs will be a little more relaxed, Evan says, and a little more refined. Downstairs, on the other hand, "will be a little more raucous." Expect the playlist to reflect that. "The playlist downstairs, there's going to be some classic Aussie rock later on at night, bluesy Aussie artists early on," says Evan. "And then upstairs, a bit more hip-hoppy, reggae. I don't want to do just Australian artists, for me, that doesn't define the feeling of the space."
And something nerdy for bartendery types
The bar upstairs will operate in a way similar to how Bulletin Place was set up, says Stroeve. There'll be two stations: number one makes the drinks, while number two finishes the drinks with ice and garnishes and whatever other adornments are needed. "Like a chef would garnish a plate and then send it," Stroeve says.
Further reading