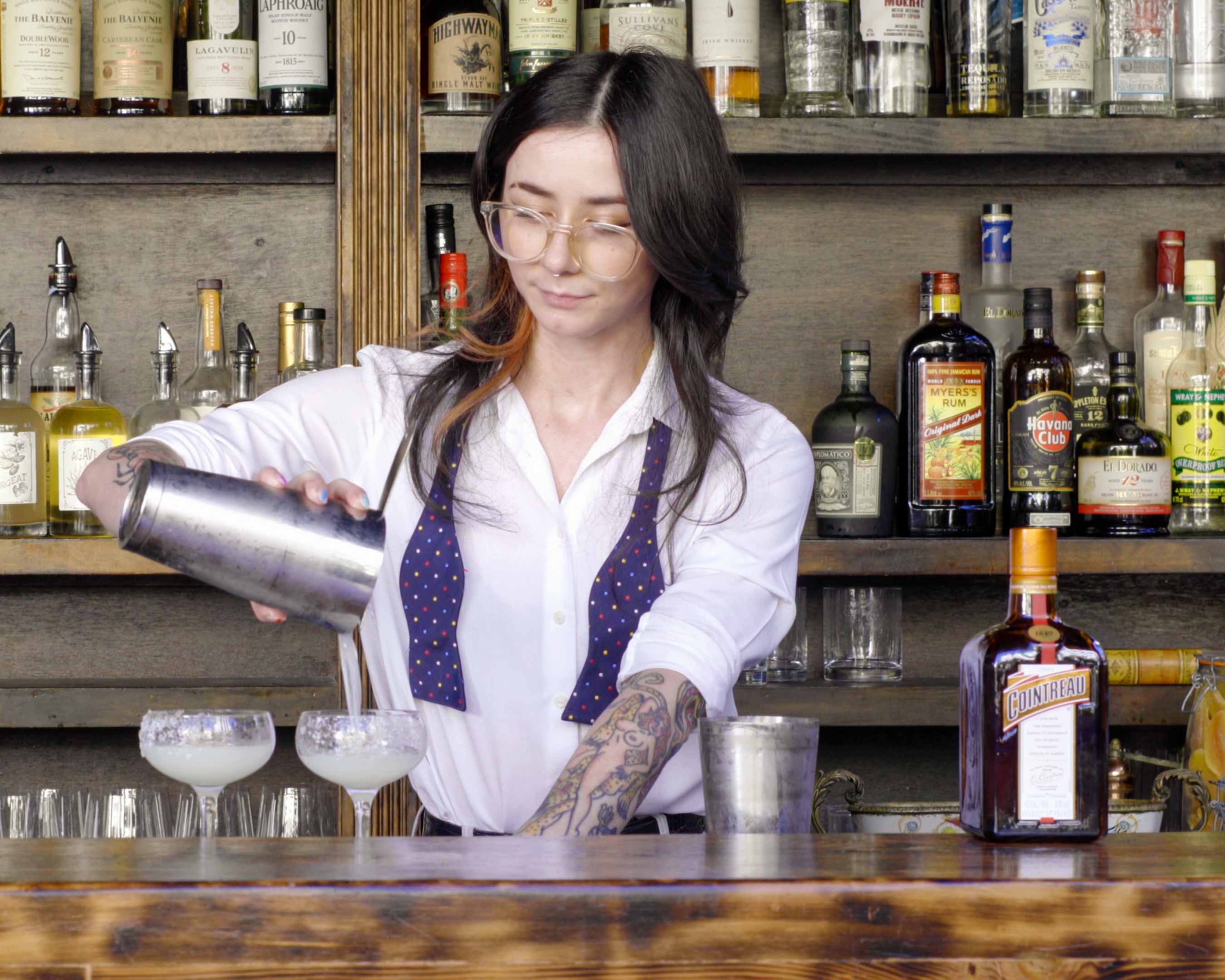 The Old Mate's Place manager on how hosting prepared her to work the bar at one of Sydney's best.
PRESENTED BY COINTREAU

---
When Old Mate's Place opened in Sydney back in 2018, its aim wasn't to be a gin bar or a rum bar or a cocktail bar; rather, owners Gabrielle and Andres Walters and Daniel Noble wanted to open an all-rounder — a bar for everyone.
And it has turned out that's a proposition that people love, with the award-winning bar becoming one of the Sydney CBD's busiest.
"People ask me, when's a quiet day to come into Old Mate's?" says manager and bartender Sarah Mycock. "It just doesn't exist."
Even when the place is busy, however, you're still getting a good time in a great bar. And the key to a great bar — one that does everything, offering something for everyone — is in the hospitality, and that comes from the people who work there, as Mycock points out in this month's At The Bar video.
You can watch that here, and get the full extended interview (lightly edited and condensed for clarity) below.
Sam Bygrave: So, what's what's your role here at Old Mate's Place?
Sarah Mycock: I'm a manager.
What does that involve?
I'm not the bar manager, but just below that I guess. Running a shift day to day, managing staff, doing all the money things, which is just surprising because I'm really bad at math. So don't know how I manage to do that every day? It's just going around, putting out fires.
This is one of those bars that other bar owners are a little bit jealous of, because it's always busy. What is that like?
It's nuts. People ask me like, when's the quiet day to come into Old Mate's? It just doesn't exist. Every single day [is busy]. Tuesday's actually pumping which is so weird.
What is it about Old Mate's Place that you think attracts people like that? What's this place all about?
I think that it's the staff to be honest, I think that we have a really good team, everyone is super friendly. And they're really, really welcoming. It's not anything that's kind of phony — I think that people can spot a phony from a mile away. So if someone comes in and the bartenders are like, "Hey!" super loud, people get a bit like okay, this feels a bit false whereas we're all really genuine. If we're really busy, we're not gonna yell over the bar at another couple who are having a conversation, we just might give you a small wave. I think people really like that it doesn't feel intimidating to come in here. And the staff are all super friendly, like to have a yarn with everybody and have a joke with everybody.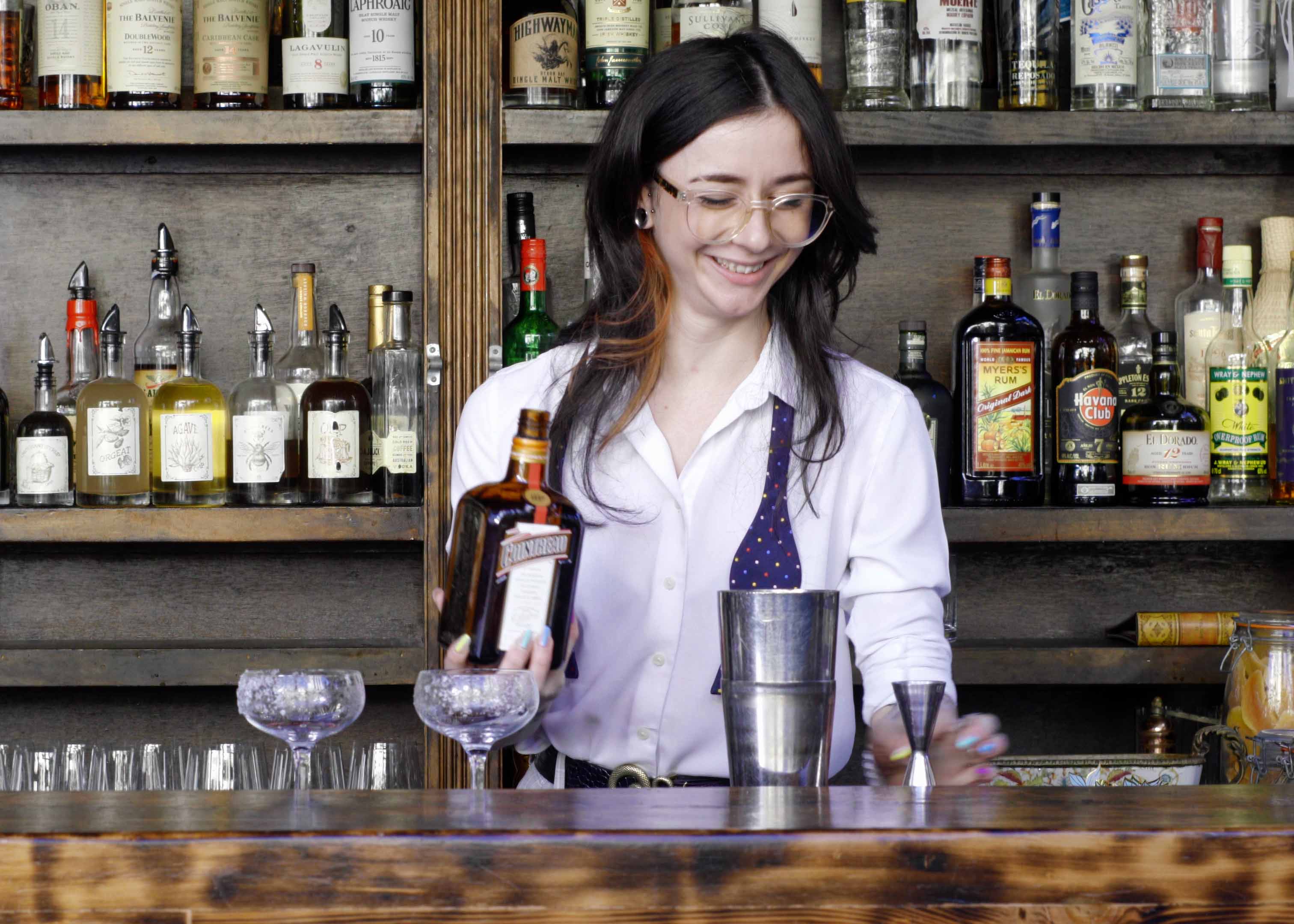 How do you go about finding staff? I know at the moment, trying to find staff is difficult. But what do you look for in somebody who's going to be a bartender at Old Mate's Place?
One of [owners] Dre and Noble's main things is like, would you have a beer with this person after work? Like, we're all really, really good friends. We'll hang out outside of work all the time. I think that's really important. I think that people can see that coming into the venue as well, you can tell that we're all super tight. So if you don't really gel with the team, it's probably not really going to work [spending] so many hours together. I spend more time with these people than I do with anybody else. I think if you have that behind you, then it's makes it a lot easier, more enjoyable.
And it kind of fits with the whole Old Mate's Place vibe.
Yeah, exactly.
How did you come to be working here at Old Mate's? Because you started out in hospitality on the floor?
Yeah, I did. This is actually only my second bartending job, which is pretty crazy.
So you probably spent most time at The Lobo?
Yeah, I was at Lobo for about three years.
And what were you doing there?
Floor. Just taking orders and running around again, doing cash up. Don't know how I did that. I really do enjoy hosting. [It's] something that you can definitely take from the floor and use when you're behind the bar. A lot of people that start off in the bar, yes, we talk to people all the time, but [it's] small little snippets here and there. I think that starting out on the floor and starting out as a host really helps you to get your confidence in talking to people for a longer amount of time.
So this is your second bar job, you were last at PS40. What did you learn?
Like, everything. [Owner and bartender] Michael Chiem is amazing. The way his brain works is amazing. And I learned just so many different different methods on how to make things like syrups, stuff like that — just stuff that you wouldn't even think of using or methods wouldn't even think of using. It's definitely helped me a lot. I don't think that I would be where I am, if I never worked there.
How did you go from not really having bar experience to jumping on a bar like that, which is kind of — it's on the avant garde end of mixology. I can't believe I just used that word. It's on the avant garde end of bartending.
I had massive impostor syndrome. When I got hired, I was like, you know that I never bartended before. And they're like, we'll teach you! It was very, very hard, but I wouldn't take any of it back because it was very fun. If it wasn't for that place, I wouldn't be here for sure.
You guys get a lot of hospitality people in here.
So much.
Is there pressure with that, or is it something you enjoy?
I enjoy it. I love it. I think at the start I was a little bit like, oh my god everyone's gonna be judging me and all this kind of stuff, but they're just here to have a good time. You do get a couple of people who you know are watching you and they're watching every move.
Coming out of Covid and the lockdowns that Sydney went through, how's it been? Are people back to being their normal selves? Or are they different from before Covid?
Since the second lockdown, since we've been open, we've been balls to the wall busy. But at the start, people were a little bit [cautious] where they come in with the masks and all that, which is fair. Even after it wasn't mandatory. People still do it, which is great. But people were a bit scared. A lot of people would be like, Oh, I don't really want to sit too close to another table. But now it's all out the window, and people are like, fuck it, we don't care.
So much communication is done with your face, right? Especially in hospitality. And when the bartender is all masked up, it's hard to get a read on [them].
I tell a joke, like, a very sarcastic joke and I'd have my mask and I'd be smiling. They're like, that chick's a bitch. And I'm like Oh no! I'm smiling! I've got dead eyes, [but] I'm actually smiling. It was really difficult. And I think that [masks] intimidated a lot of people coming in and seeing at [us]] wearing masks — it was just a bit daunting.
What do you think people should expect when they come to Old Mate's Place? How would you describe it to people?
Just a really good time. Yeah, I think that hopefully most people that come here leave being like, that was fucking sick, and can't wait to come back.
What's the go-to drink here?
It Takes Two To Mango. It's been there since day one. And I don't think we're ever going to take it off.
[We can also recommend Sarah's drink, the Pandan Airways — it's a drink we love.]
What are the things for you about bartending that you think are important for people to understand, especially if you're starting out in the industry?
Back yourself. If you think you can do it, you can do it. I was on the floor and I wanted to bartend, and I was like, I'm never going to be able to do this.
What was the barrier there?
I just never thought I was good enough. I'd asked at many jobs if I could do it, and they were like, you're on the floor and that's it. Which is a bit shitty. But yeah, just believe in yourself — just believe in yourself — and push it. Just try. That's it.
---
This story was made possible with the support of Cointreau. Cointreau is an aromatic feat and owes this impact to a complex blend of orange peel essences. Zesty, fresh, floral, sweet… With a spectrum of more than 40 olfactive notes, Cointreau is a captivating ode to orange on its own and an enhancer of other flavours when mixed.